Caesar Chicken is the perfect melt in your mouth chicken recipe! It's creamy, simple, and filled with flavor. This easy baked chicken recipe only has 4 Ingredients and takes less than 30 minutes to make. It's one of the absolute BEST weeknight dinners out there.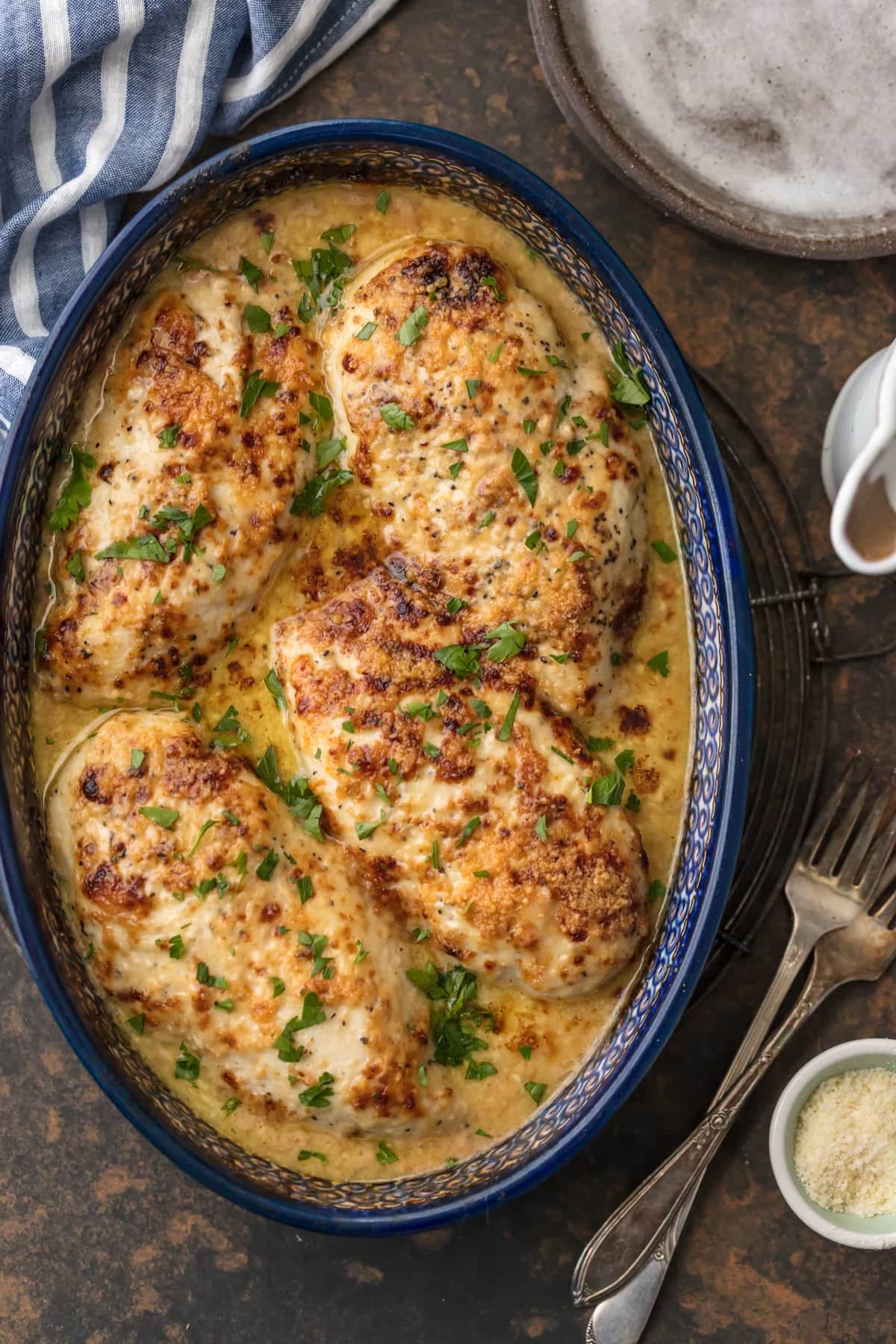 Baked Caesar Chicken Recipe
This Baked Caesar Chicken Recipe is an easy 4 ingredient recipe you can make any night. It's the type of pantry recipe you can throw together in minutes and happily feed the whole family!
My absolute favorite thing in the world is easy chicken recipes. I have about a million of them, and I never get tired of making (or eating) them. This delicious melt in your mouth chicken is just another amazing recipe to add to the list!
This Creamy Chicken Bake only needs four ingredients and about half an hour in the oven to become the best dinner ever. Now that's an amazing dish!
You'll look like a chef with this dish, but this couldn't be more simple. My absolute favorite type of easy weeknight meal to make on a whim. After you've made it once, you'll remember it for a lifetime!
When I posted this recipe, it immediately took off and became one of the most popular on my site. It's the type of recipe this site was built on…SIMPLE!
Don't miss out on one of the easiest and best baked chicken recipes. The whole family will devour this in a heartbeat!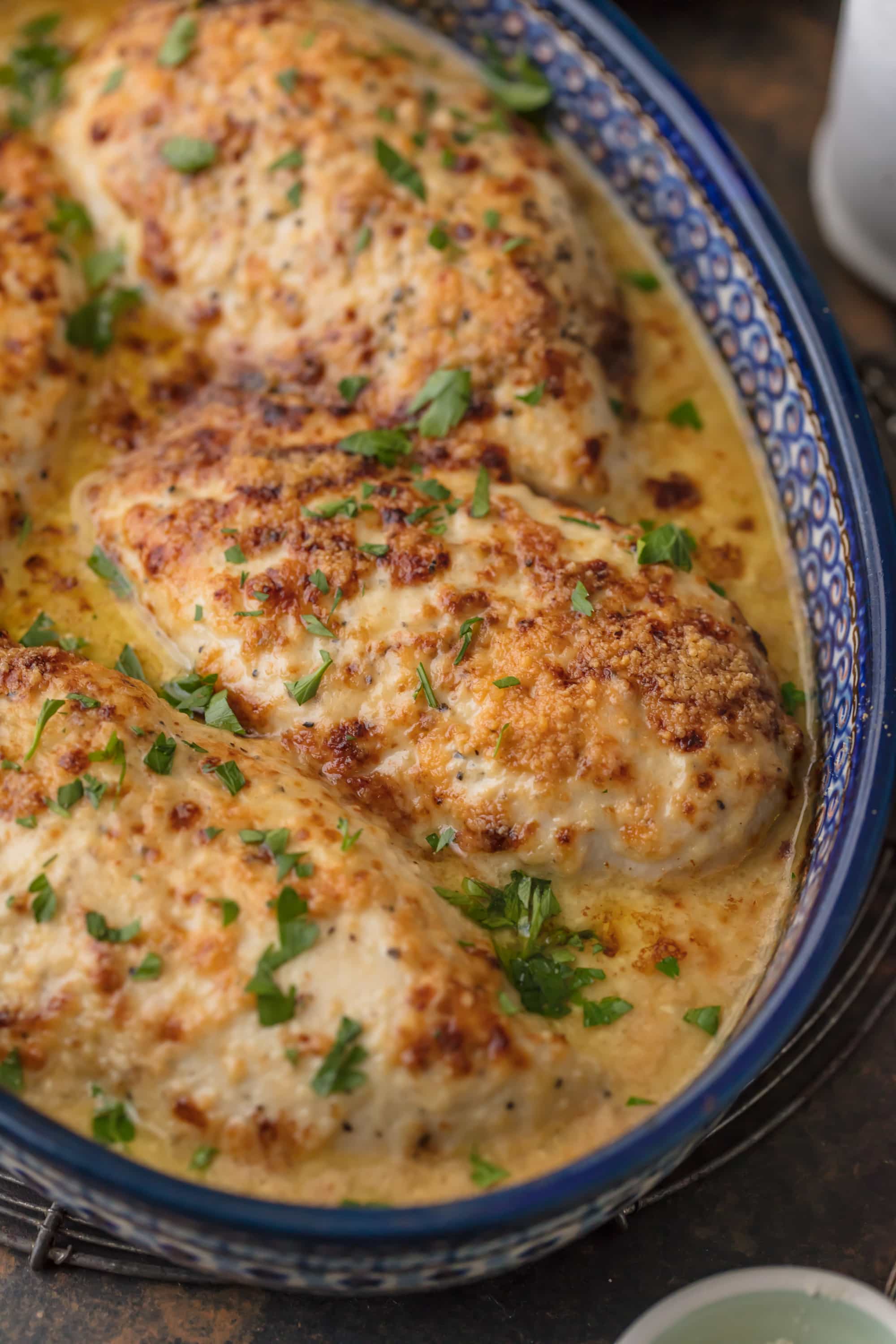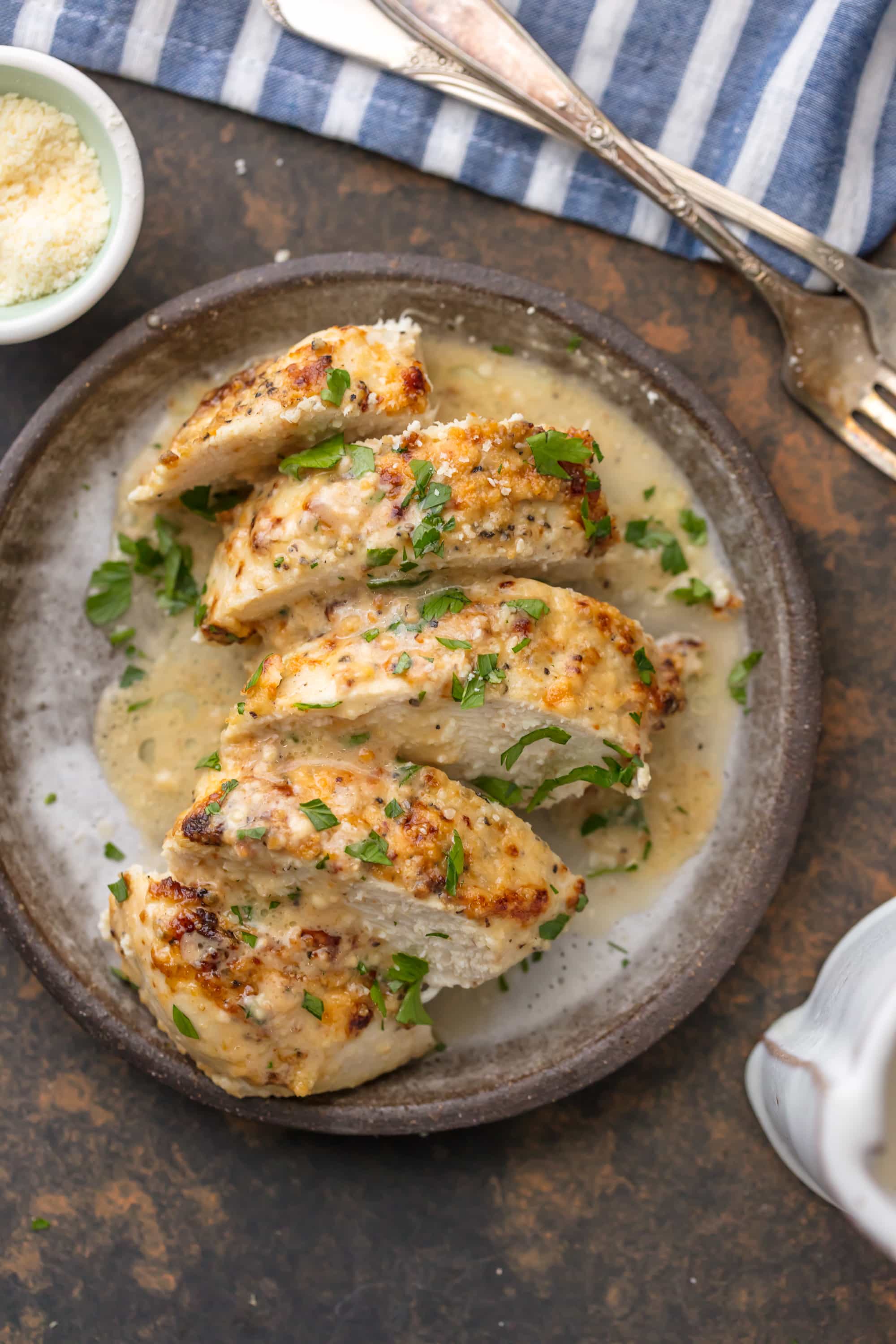 Melt in Your Mouth Chicken!
There's nothing worse than dry and overcooked chicken. You won't have that problem with this juicy recipe, because this melt in your mouth chicken is anything but dry. So moist, so creamy, so delicious! You'll come out with the best chicken every time.
This Caesar Chicken recipe is sure to make you look good in front of your dinner guests. Even better, there's only one dish to clean up, three ingredients to put away, and 5 minutes of prep. Perfection! For me, recipes just don't get better than this.
4 Ingredient Chicken Bake
Creamy Caesar Chicken is the perfect EASY CHICKEN RECIPE to make for a crowd because you can spend time with friends instead of spending time in the kitchen.
This moist and tender chicken is as easy as smothering the chicken breasts in caesar dressing and parmesan cheese. The parmesan helps to thicken the sauce and it all bakes down to cheesy creamy perfection. No need to even season the chicken because the caesar dressing already has enough flavor to go around!
Easy 4 Ingredient Recipe:
Chicken Breasts
Caesar Salad Dressing (try my homemade recipe)
Parmesan Cheese
Sour Cream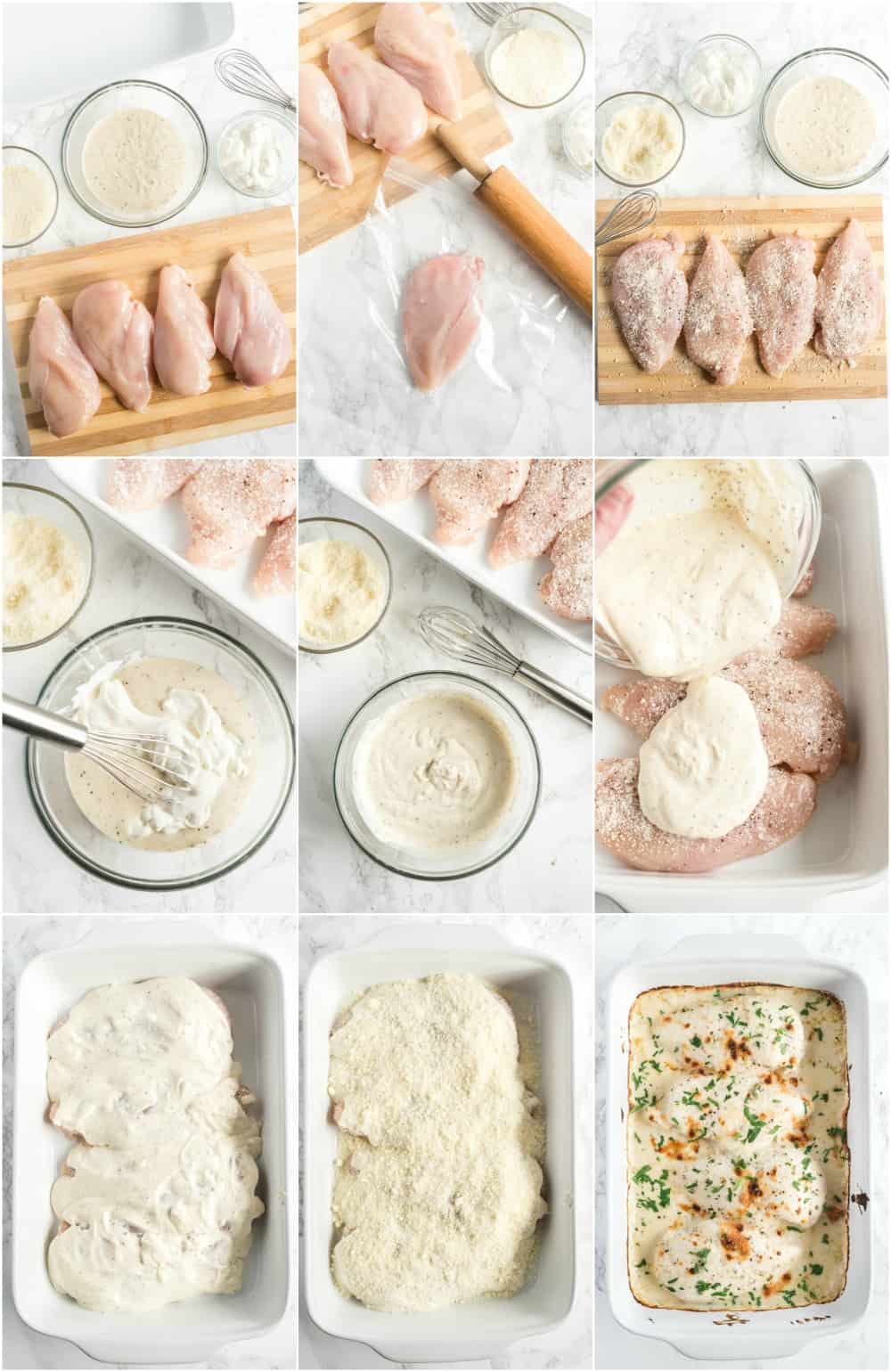 How to Make Caesar Chicken
This baked chicken caesar recipe couldn't be easier.
Just place the chicken breasts in a baking dish,
Smother it in a caesar dressing and sour cream mixture (SO creamy),
Then bake chicken in the oven for about 30 minutes at 375°F.
Broil the chicken at the end for just a couple of minutes,
Then cover it and let it rest before serving.
So simple and so yummy! Watch the video and check the recipe card below for the full detailed recipe.
Caesar Dressing
This baked caesar chicken would be nothing without the caesar dressing. Be sure to grab a creamy version of this dressing for ultimate goodness. It's the creaminess that really makes this melt in your mouth chicken recipe absolutely perfect.
You can find my homemade caesar dressing recipe here (along with my classic caesar salad) if you prefer to make your own.
This chicken breast recipe is so easy to make, you can surely wow your guests any night of the week.
Check out our full Baked Chicken Guide for more EASY baked chicken recipes!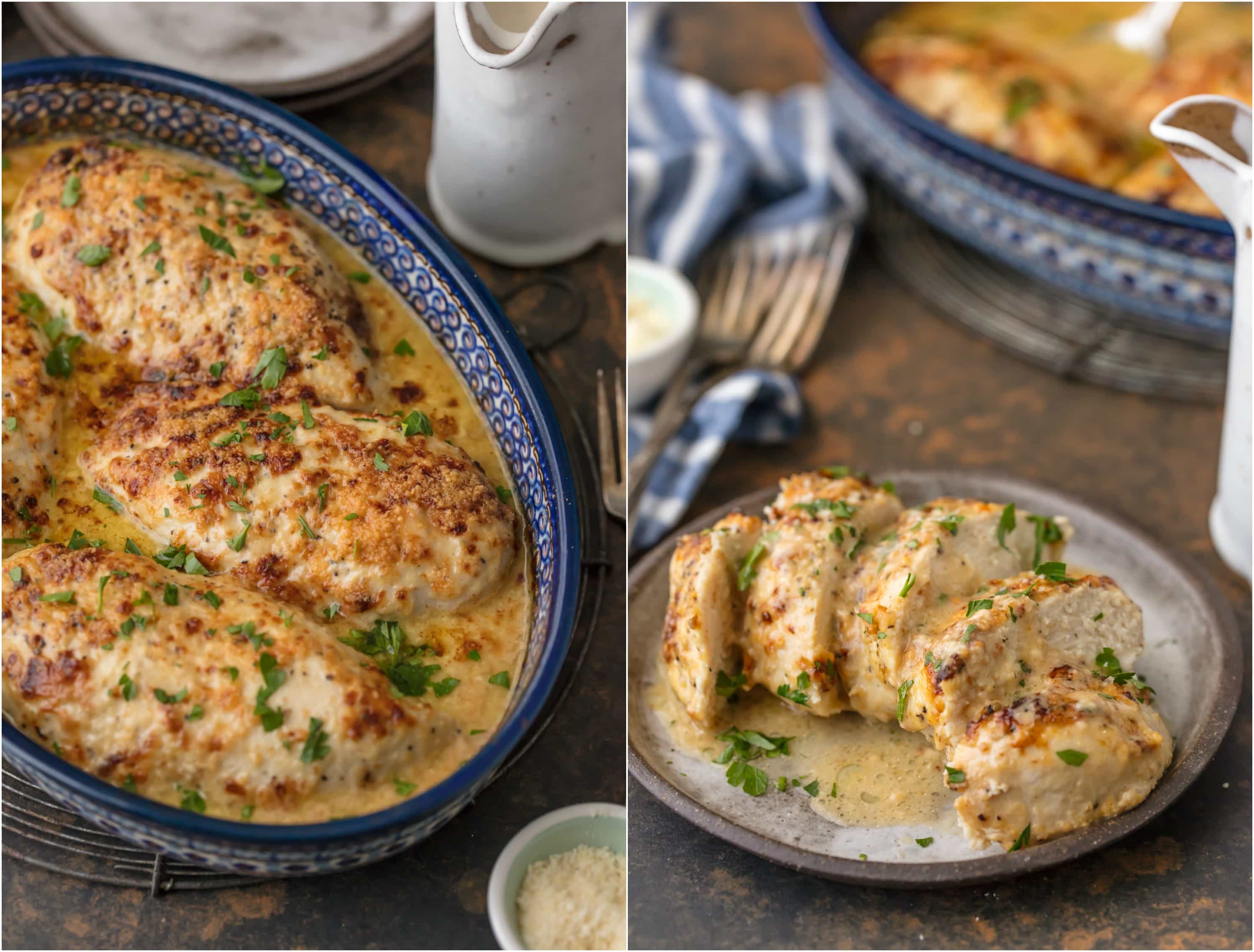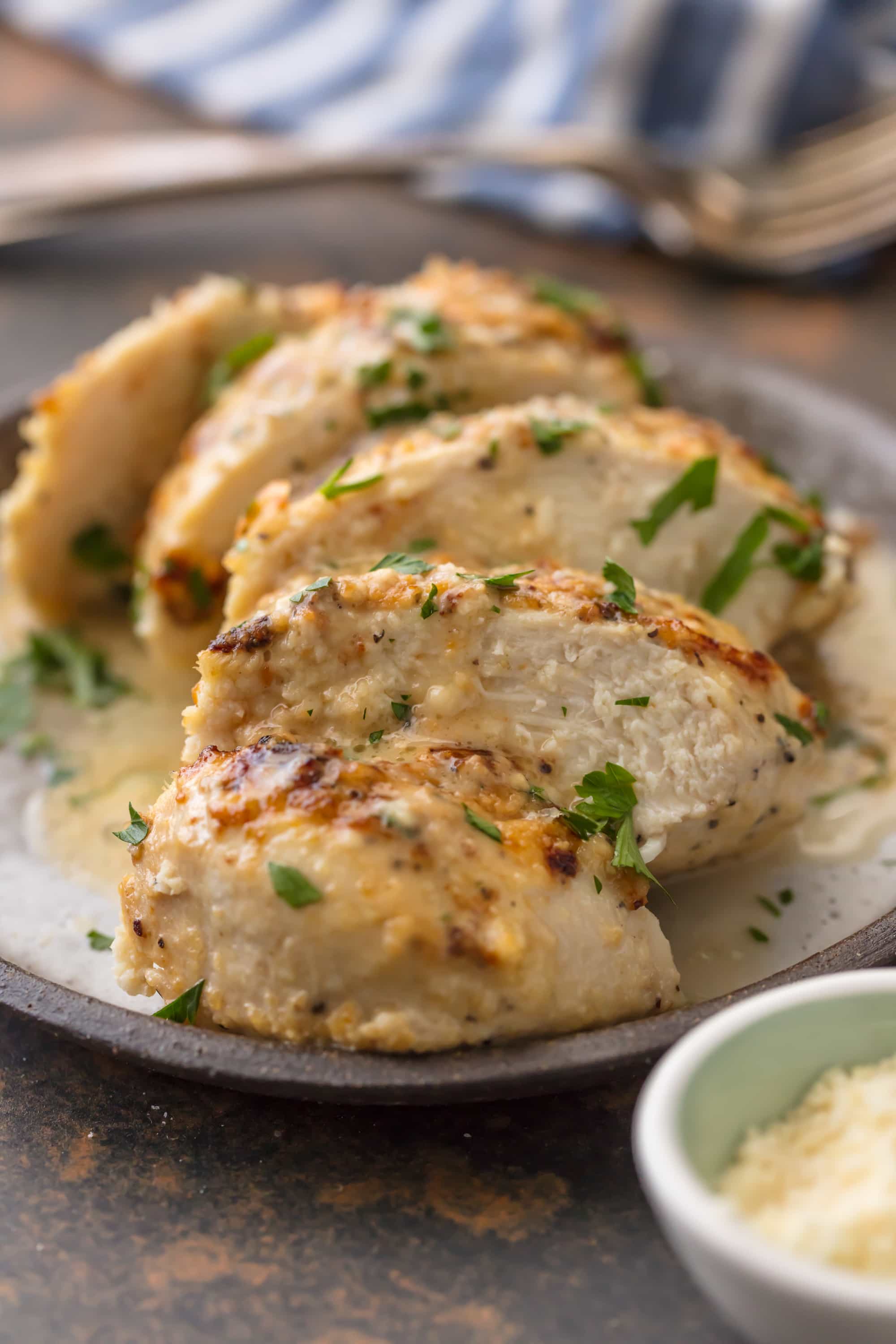 Serving Suggestions
This Caesar Chicken Recipe can be eaten on its own, served over rice, served with sides like Herb Roasted Potatoes or Lemon Butter Asparagus, or shredded and turned into amazing nachos, tacos, sliders, and more! The possibilities are endless.
What is the best Internal Temperature for Baked Chicken?
The FDA is very clear that chicken should be cooked to an internal temperature of 165°F to avoid salmonella poisoning.
Everyone should own a quick digital meat thermometer to make sure your meat is cooked properly (but not overcooked!). Here is one of my favorites. That one even has the best temps for different types of meats printed right on it. Even someone who cooks often can always use safety reminders.
Don't forget to download my FREE printable Meat Temperature Chart (<–CLICK) for a handy reminder you can keep right in your kitchen.
What I love most about this easy chicken recipe is that the Caesar sauce covers the chicken, allowing it to cook but protecting it from drying out. It helps to bake the most perfect, moist, flavorful chicken breast. Completely and utterly fool proof. Truly MELT IN YOUR MOUTH.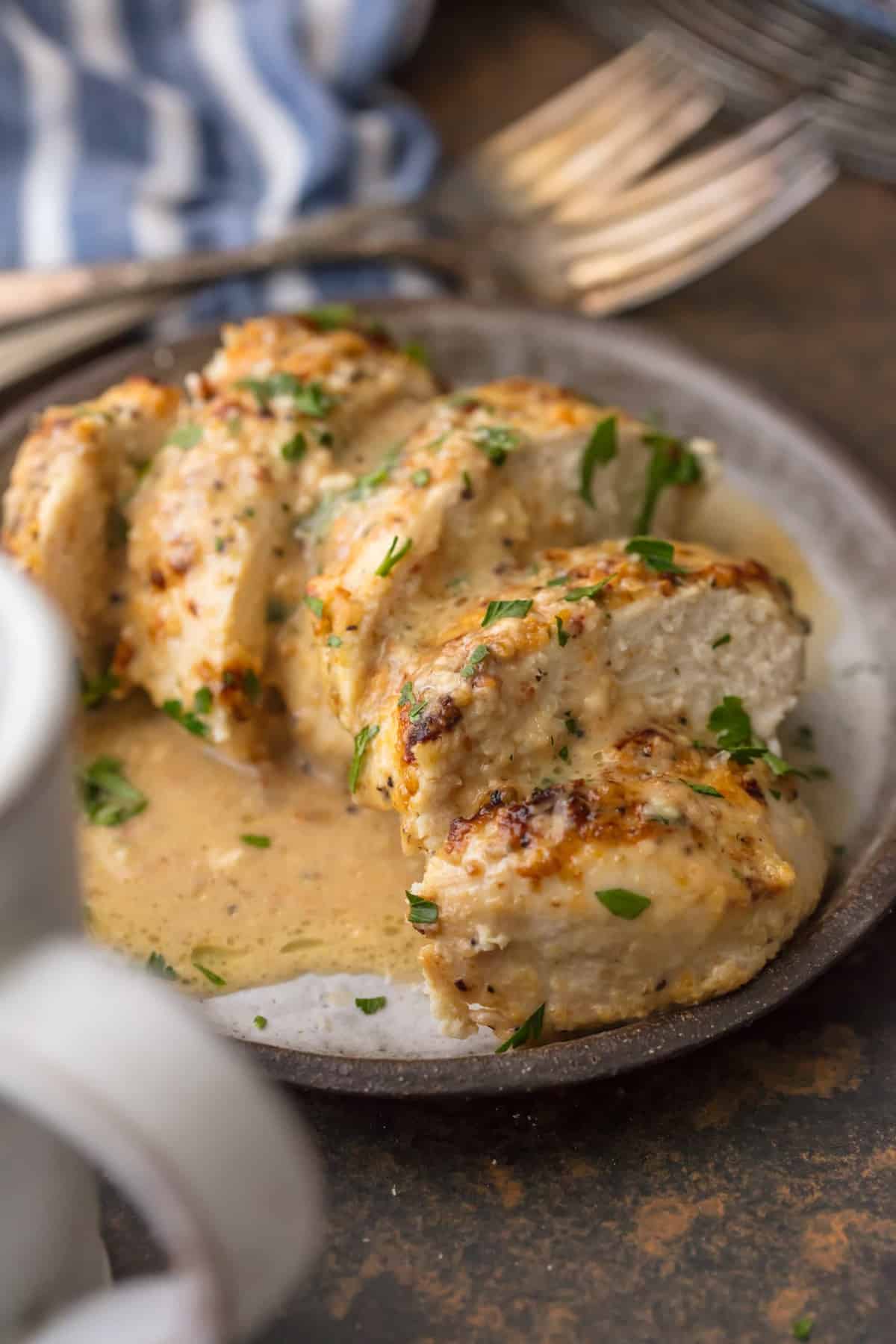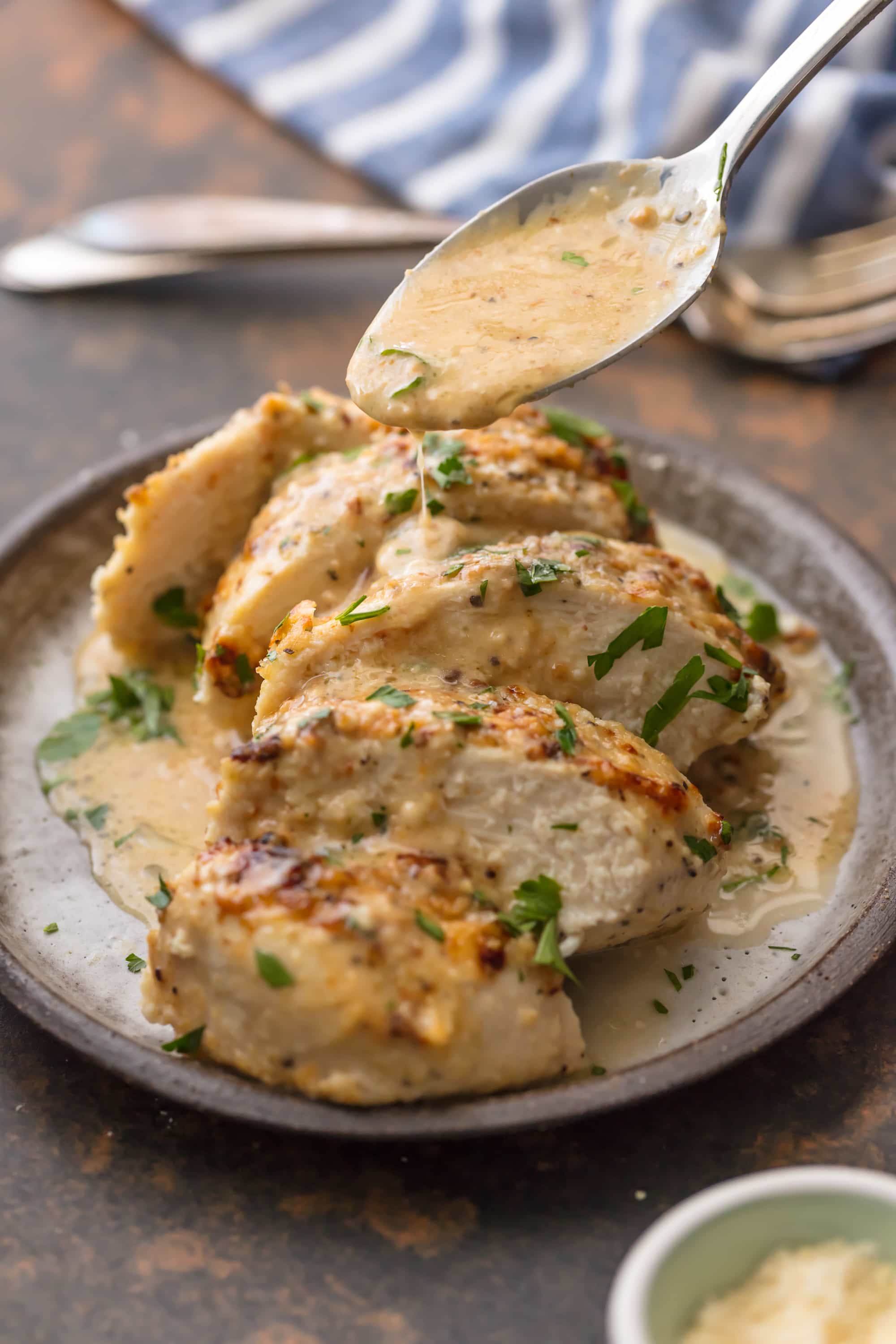 Best Caesar Chicken Recipe
In my opinion, this really is one of the best chicken recipes. It hits all my main requirements: easy (less than 5 ingredients), fast (about 30 minutes to make), and delicious (MELT in your mouth chicken)!
The Caesar dressing sauce that covers this Creamy Caesar Chicken bake is SO amazing, and it's perfect for eating on other things too. We especially love to serve it over Baked Potatoes!
I know your family will request melt in your mouth baked Caesar chicken time and time again. You'll be secretly happy because you're the only one that needs to know how easy it is. It can be our little secret.
Have a Caesar night in by pairing it with my Classic Caesar Salad or Chopped Chicken Caesar Salad Dip. Throw in some garlic bread and you are all set!
Check out the videos or the recipe card below for full details on how to make Creamy Baked Caesar Chicken. Enjoy!
Check out some of our favorite easy chicken breast recipes:
If you like this EASY Chicken Recipe you'll especially LOVE our Ranch Baked Chicken with Bacon or Cheesy Southwest Baked Chicken. Same idea, different flavor!