Caesar Chicken (MELT IN YOUR MOUTH and only 4 Ingredients!) is made with only 3 ingredients (say WHAT?!) and is oh so tender and delicious. Easiest tastiest weeknight dinner ever.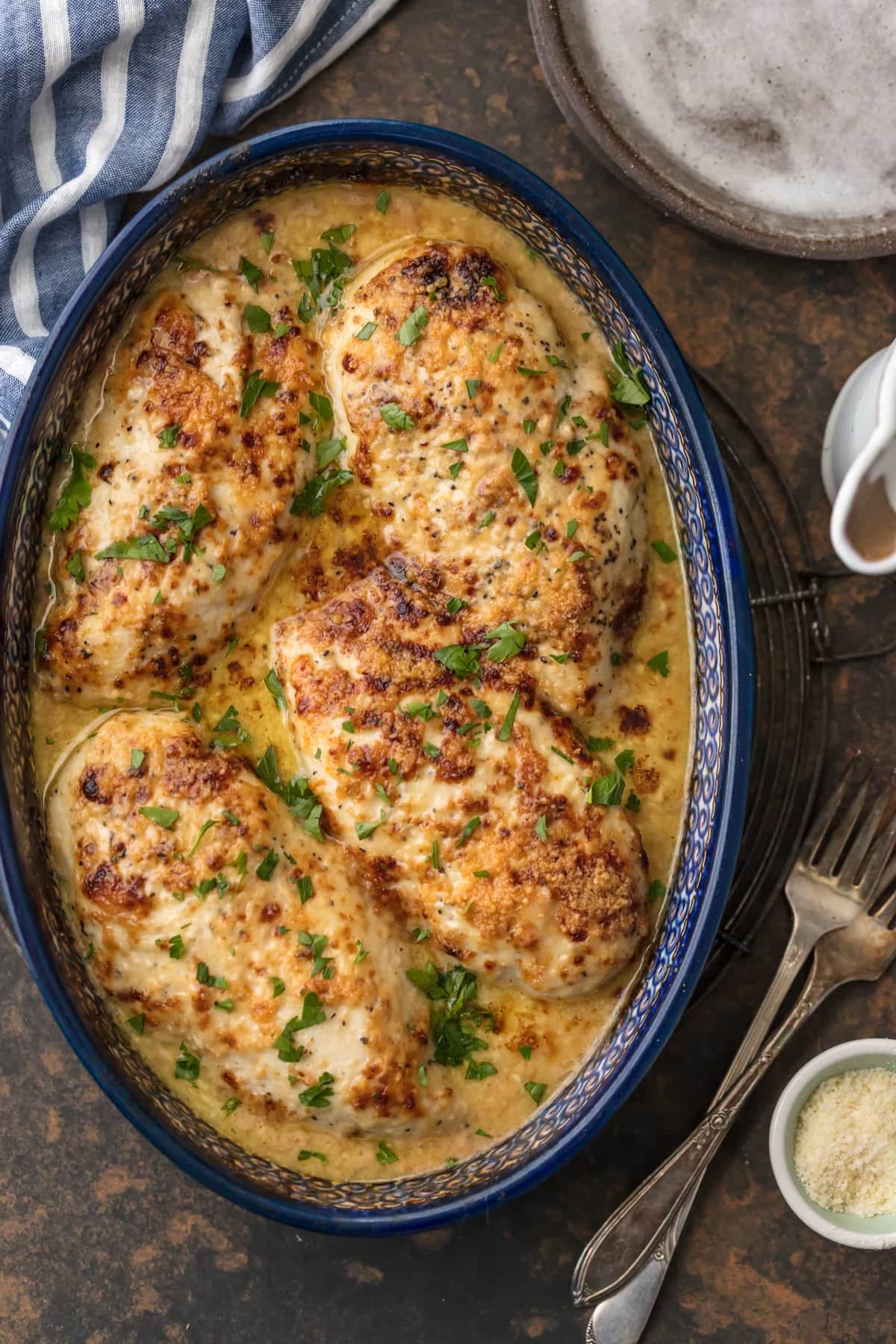 This Melt In Your Mouth Caesar Chicken is one of those recipes that you'll want to make again and again and again.
With only FOUR INGREDIENTS…It's the type of pantry recipe you can throw together in minutes and happily feed the family.
You'll look like a chef but this couldn't be more simple. Budget, tummy, and time friendly. My absolute favorite type of easy weeknight meal to make on a whim. After you've made it once, you'll remember it for a lifetime! When I posted this recipe, it immediately took off and became one of the most popular on my site. It's the type of recipe this site was built on…SIMPLE!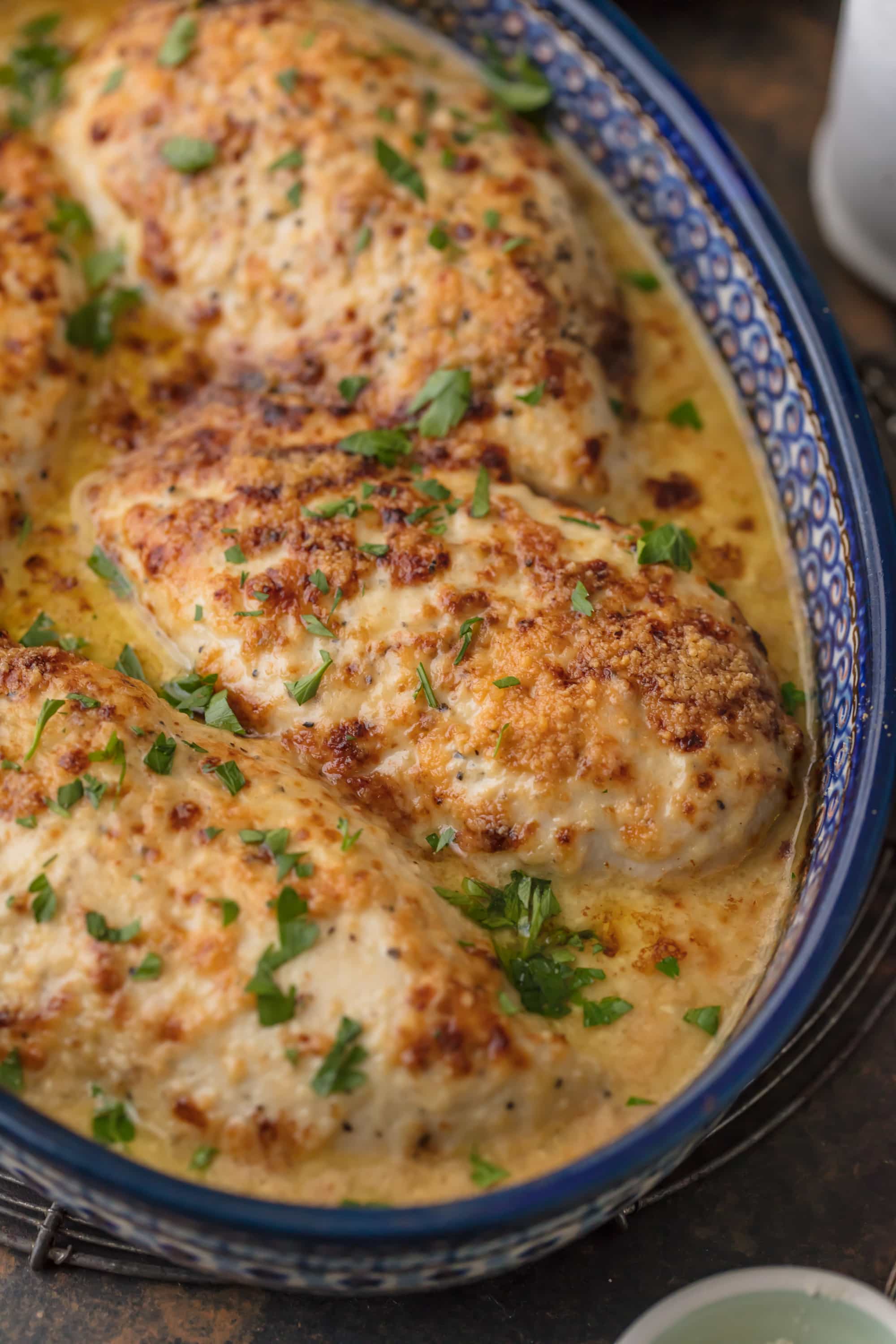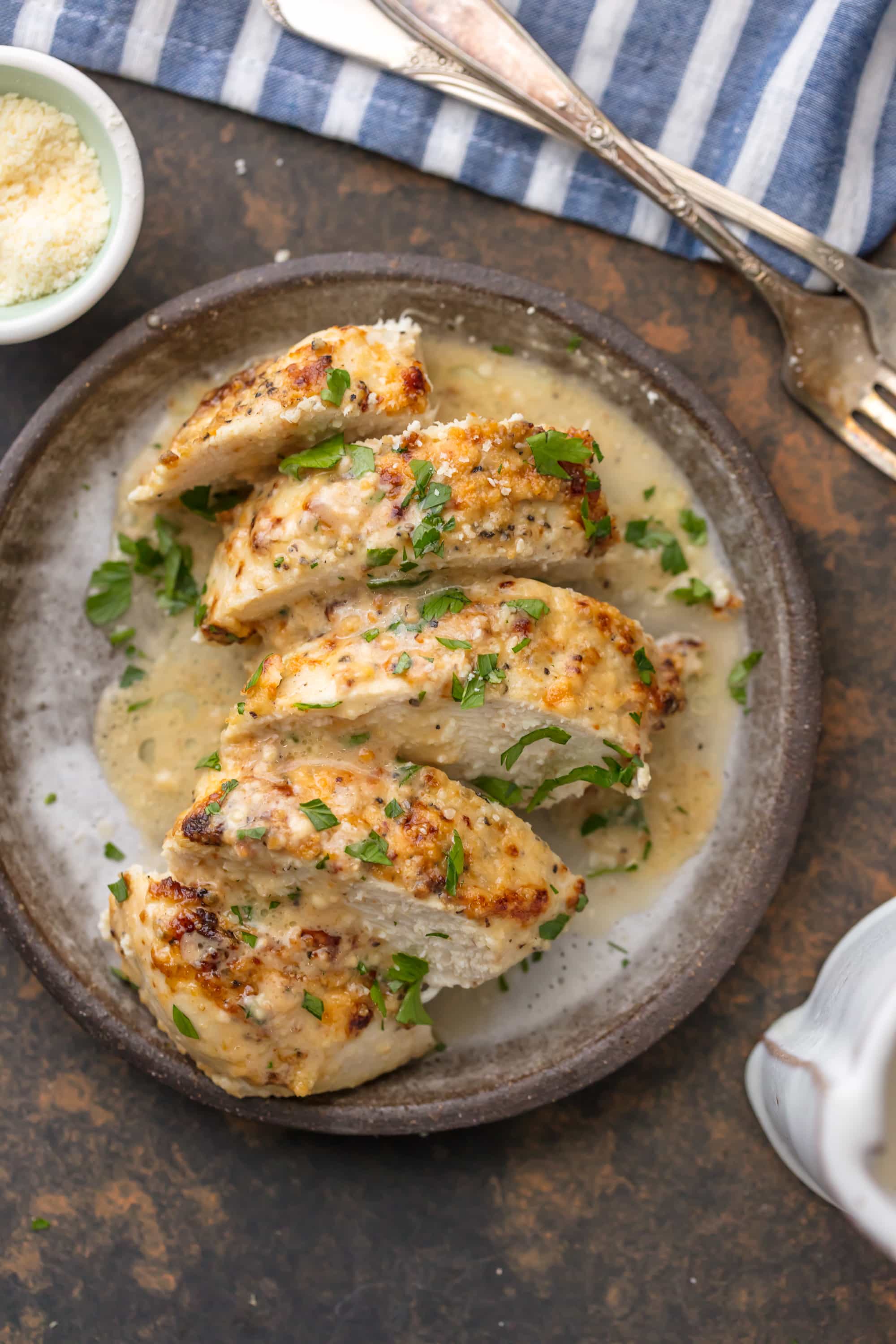 Chicken Caesar is made with only chicken, sour cream, creamy caesar dressing, and grated parmesan cheese. It's the perfect EASY RECIPE to make for a crowd because you can spend time with friends instead of spending time in the kitchen.
This moist and tender chicken is as easy as smothering the chicken breasts in caesar dressing and parmesan cheese. The parmesan helps to thicken the sauce and it all bakes down to cheesy creamy perfection. No need to even season the chicken because the caesar dressing already has enough seasoning to go around.
Be sure to grab a creamy caesar dressing for ultimate goodness. This melt in your mouth caesar chicken recipe is is easy to make, you can surely wow your guests any night of the week.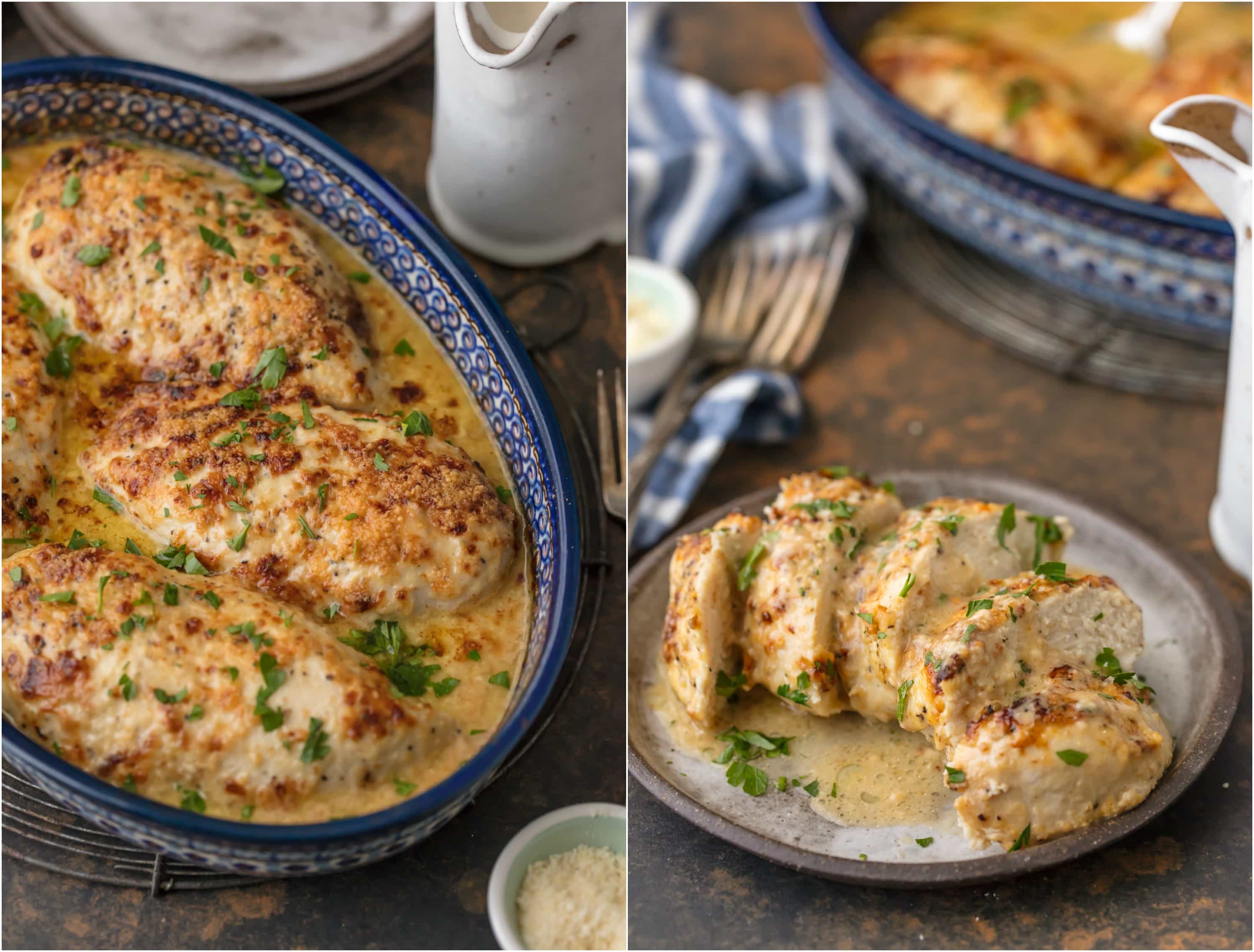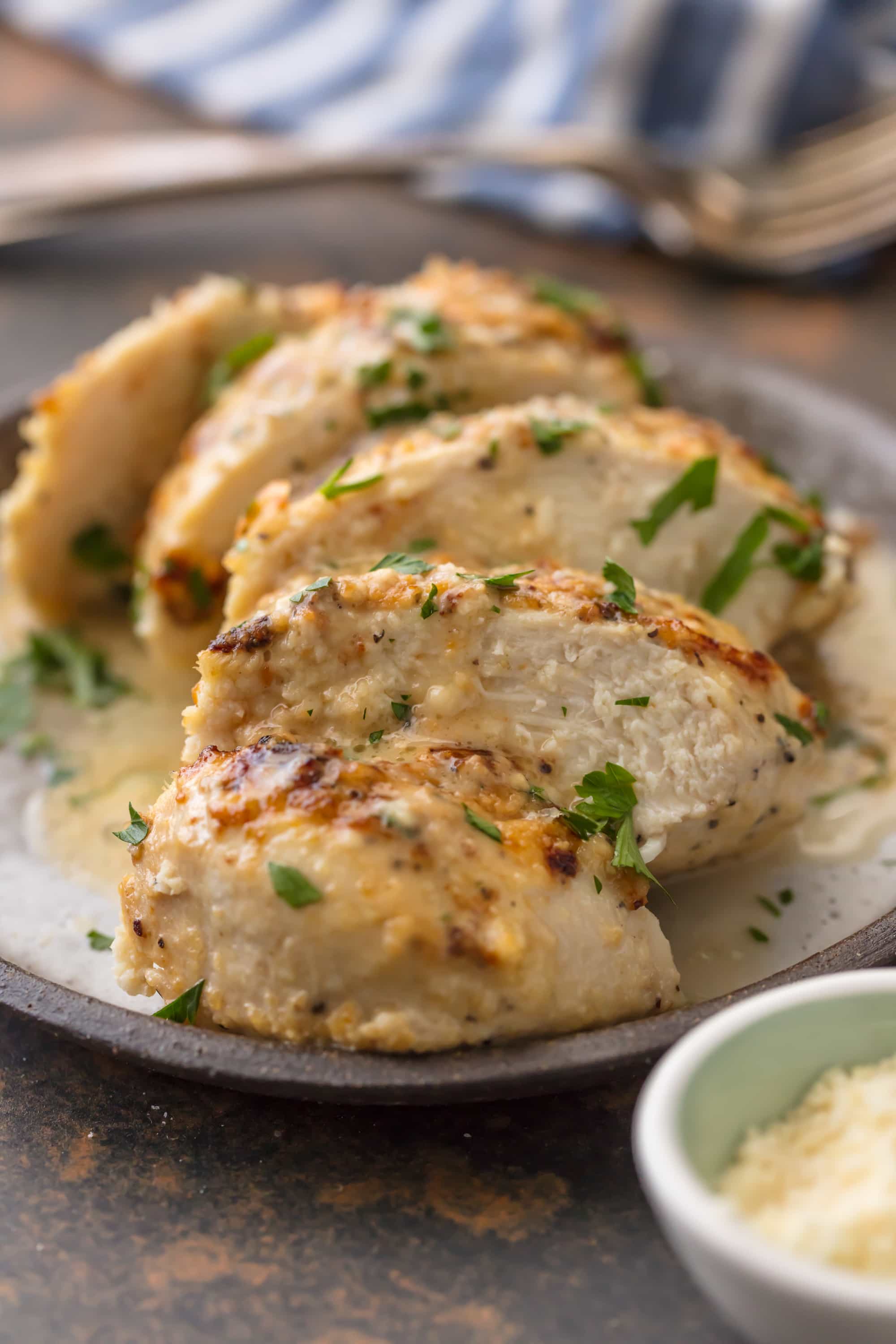 This Chicken Caesar Recipe can be eating on its own, served over rice, served with sides like Herb Roasted Potatoes or Lemon Butter Asparagus, or shredded and turned into amazing nachos, tacos, sliders, and more! The possibilities are endless.
There's nothing worse than dry and overcooked chicken. This easy recipe for Melt In Your Mouth Caesar Chicken makes sure that doesn't happen. You'll come out with perfect chicken every time.
This recipe is sure to make you look good and BONUS there's only one dish to clean up, only three ingredients to put away, and only 5 minutes of prep. Perfection! For me, recipes just don't get better than this.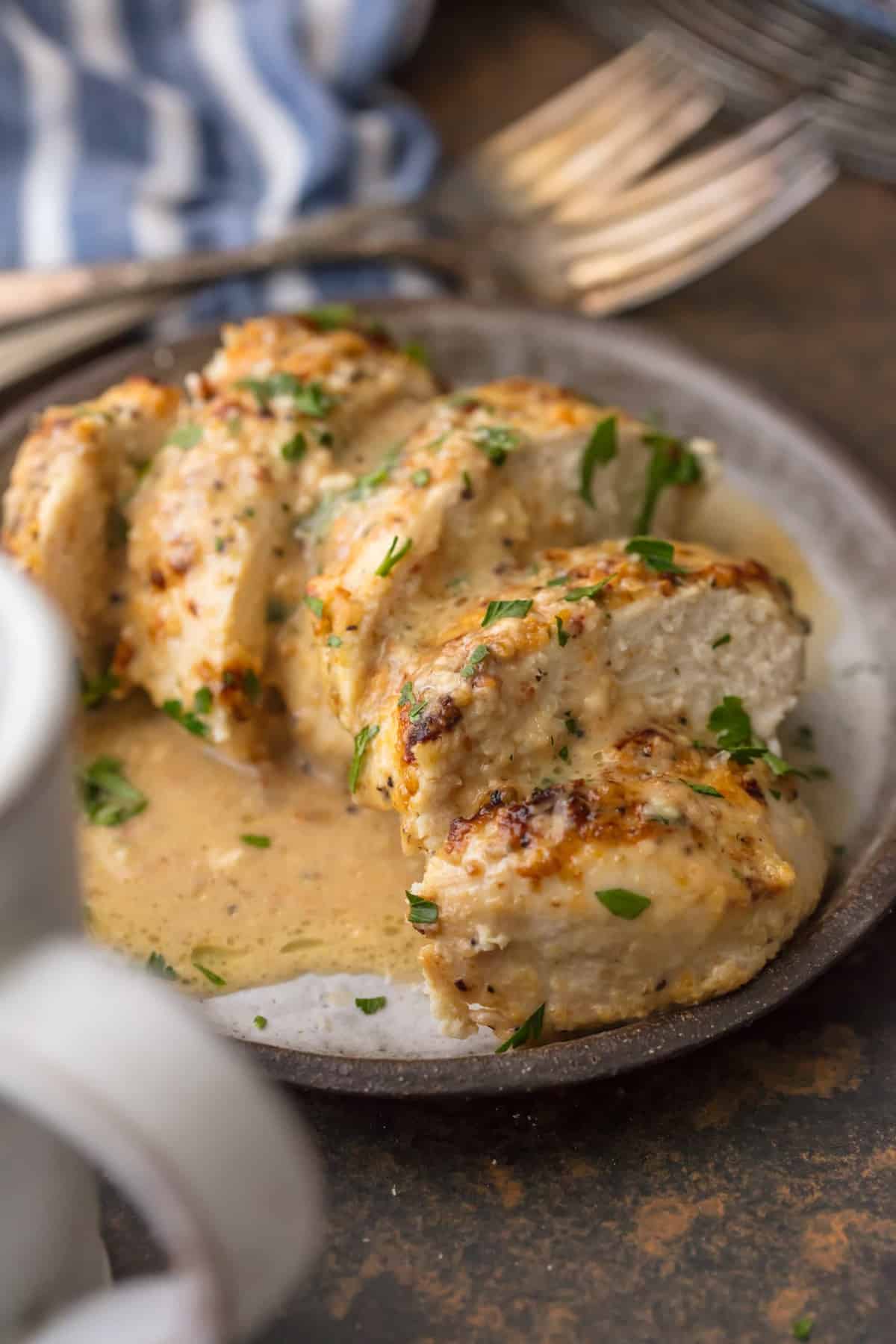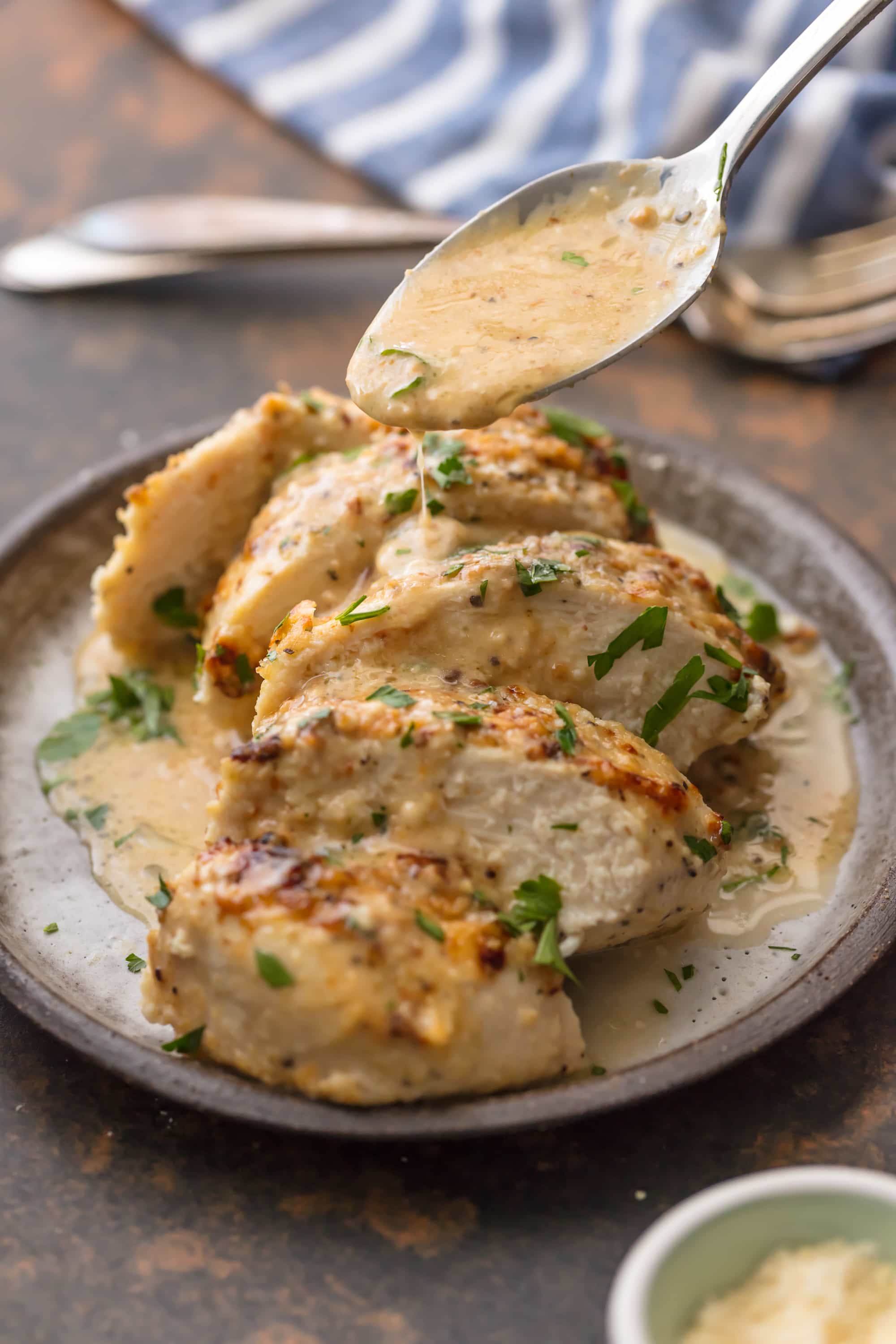 The Caesar Dressing crust that's created when baking this chicken is TO DIE FOR. Save a little and serve it over a baked potato if you really want to be in Heaven. Trust me!
I know your family will request melt in your mouth Caesar chicken time and time again. You'll be secretly happy because you're the only one that needs to know how easy it is. It can be our little secret. Have a Casaer night in by pairing it with my Chopped Chicken Caesar Salad Dip. Throw in some garlic bread and you are all set!
Enjoy!
Melt in Your Mouth Caesar Chicken
MELT IN YOUR MOUTH CAESAR CHICKEN is made with only 3 ingredients (say WHAT?!) and is oh so tender and delicious. Easiest tastiest weeknight dinner ever. 
5 minPrep Time
30 minCook Time
35 minTotal Time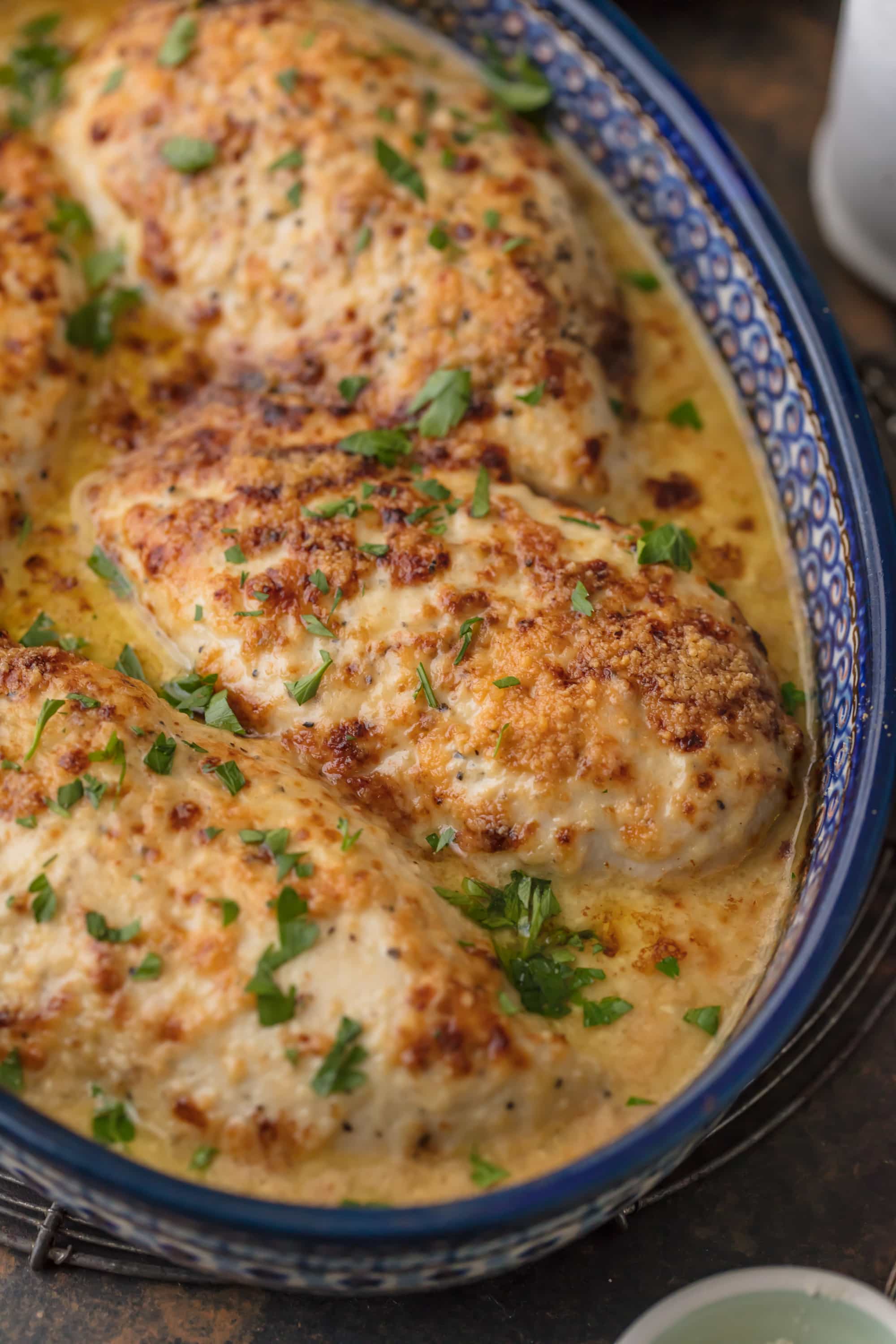 4.6 based on 14 review(s)
Ingredients
4 skinless, boneless chicken breasts
1 cup Caesar salad dressing
½ cup sour cream
1-1½ cup grated Parmesan cheese
Instructions
* Note: Do NOT salt the chicken.
Heat oven to 375F and spray the inside of an 8" x 11" baking dish with cooking spray.
If the breasts are uneven thickness, pound them (placed in a Ziploc bag and on a flat surface) to an even ¾"-1" thickness using a meat pounder. Sprinkle the breasts (both sides) with grated Parmesan cheese & freshly ground black pepper, and place them in the prepared baking dish.
Whisk together Caesar dressing and sour cream in a small bowl. Pour ¼ cup Caesar/sour cream mixture over each breasts then sprinkle grated Parmesan cheese on top.
Place the prepared chicken in the oven and bake at 375F for 30 minutes or until a meat thermometer inserted in the thickest part of one of the middle breasts reads 150°F.
Turn the oven to broil and broil the breasts an additional 2-4 minutes or until the chicken turns golden brown. It can burn quickly, so watch it closely. When done, a meat thermometer should register 160F when stuck into the thickest part of one of the middle breasts. Remove from the oven, cover loosely with foil and allow chicken to rest 5-10 minutes before serving.
If desired, garnish with chopped parsley.
Enjoy!
7.6.7
2427
https://www.thecookierookie.com/melt-in-your-mouth-caesar-chicken/
Want more easy chicken recipes to try? This easy chicken parmesan recipe from Crazy for Crust looks fantastic!