Let me show you How to Make Mashed Potatoes. These creamy mashed potatoes are so delicious, so easy to make, and so perfect for any meal. Russet potatoes with heavy cream, milk, and butter turns into the smoothest, richest, creamiest side dish. Better yet, they're ready in just about 30 minutes!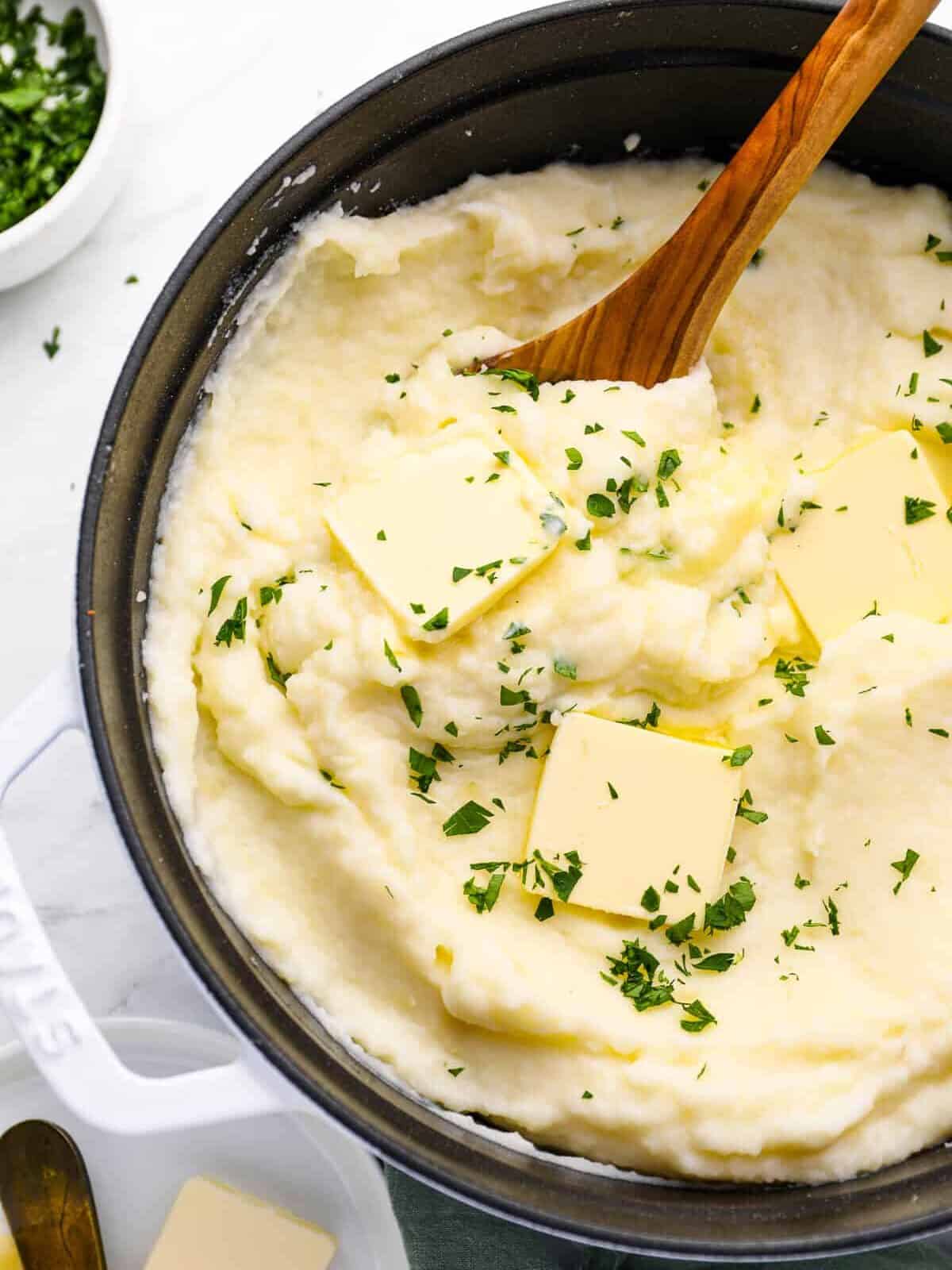 What's in this Mashed Potatoes Recipe?
If you're wondering how to make mashed potatoes, keep reading. It's all about getting perfectly cooked potatoes and adding those creamy, rich ingredients (like heavy cream). So simple! It's a crowd-favorite side dish that should make an appearance on every holiday table, from Thanksgiving to Christmas and beyond.
Potatoes: For creamy mashed potatoes, I like to use russet potatoes. They have a great texture when cooked and mashed, and get nice and creamy. Yukon Gold potatoes are another good option. I do not recommend using red or new potatoes, as they are waxy and do not mash as well.
Heavy Cream: Makes these potatoes extra rich and creamy.
Whole Milk: Adds moisture and flavor.
Unsalted Butter: Enhances the richness of the potatoes.
Salt + Pepper: Enhance the natural flavor of the potatoes.
Pro Tip: Heat the dairy before adding it to your potatoes to help it combine more easily.
Variations on Creamy Mashed Potatoes
Once you've learned the basics of how to make mashed potatoes, you can start to get creative!
For dairy-free mashed potatoes, use dairy-free butter, milk, and cream! You can also use some of the starchy cooking liquid from the potatoes in place of the milk or cream.
For cheesy mashed potatoes, add ½ cup of your favorite cheese!
For loaded mashed potatoes, add cheese, chopped cooked bacon, and chives.
For ranch mashed potatoes, add a packet of ranch seasoning.
For herby potatoes, feel free to add some of your favorite chopped herbs.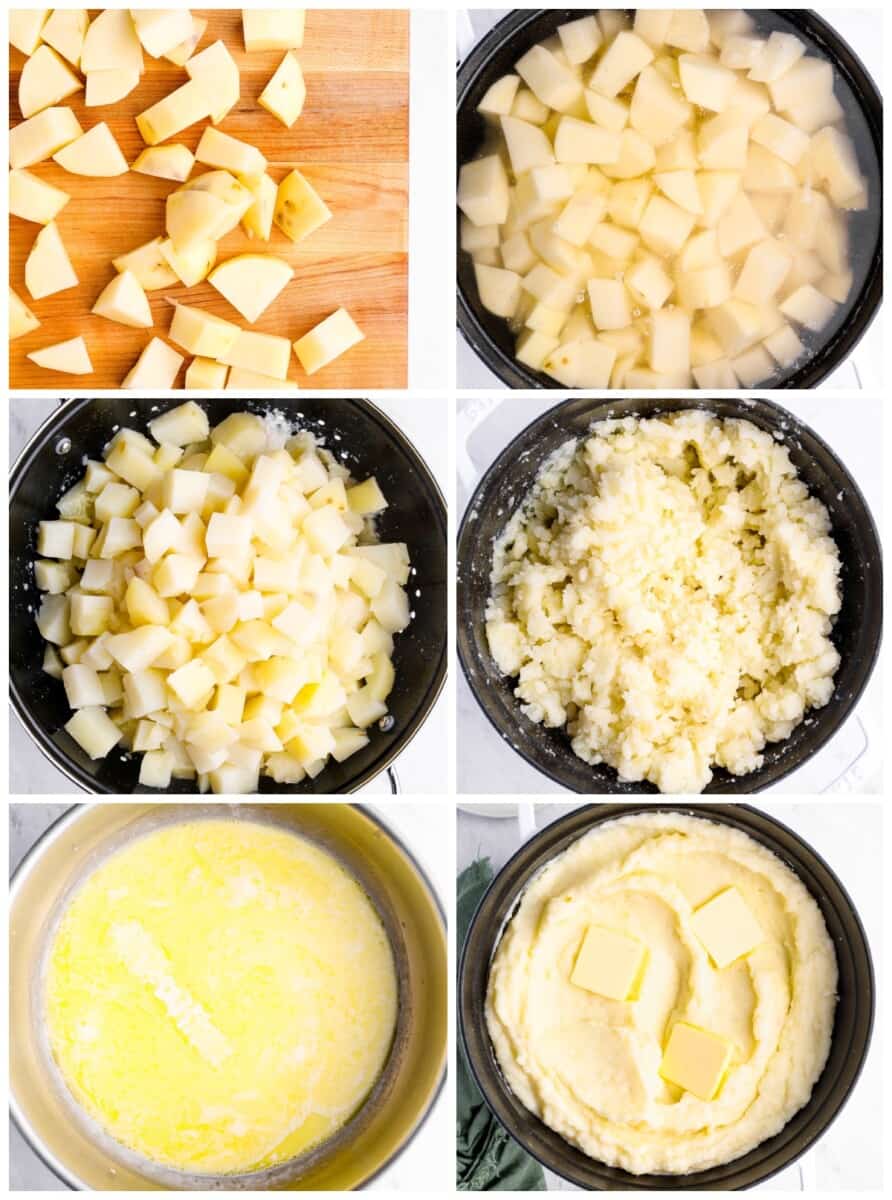 Are mashed potatoes gluten-free?
Yes! These mashed potatoes are naturally gluten-free!
Is it better to boil or bake potatoes for mashed potatoes?
I prefer to boil my potatoes since it is quicker and you can mash them right in the pot!
How long do I boil potatoes for mashed potatoes?
If you cut your potatoes into 1-inch chunks, they should take about 10-15 minutes to cook. For larger chunks, increase the cooking time. You want to cook the potatoes until they are fork-tender!
Is it better to use milk or heavy cream in mashed potatoes?
I like to use a combination of both! The cream makes the potatoes rich, and the milk helps keep them moist.
Should milk be cold or warm for mashed potatoes?
The potatoes will turn out creamier if the dairy is slightly warmed.
What is the easiest way to mash potatoes?
Using a good old potato masher works just fine. For extra smooth potatoes, pass them through a ricer before mashing.
Why are my mashed potatoes not creamy?
When you're learning how to make mashed potatoes, one of the easiest mistakes to make is overmashing them. Overmixed mashed potatoes will turn gluey rather than creamy.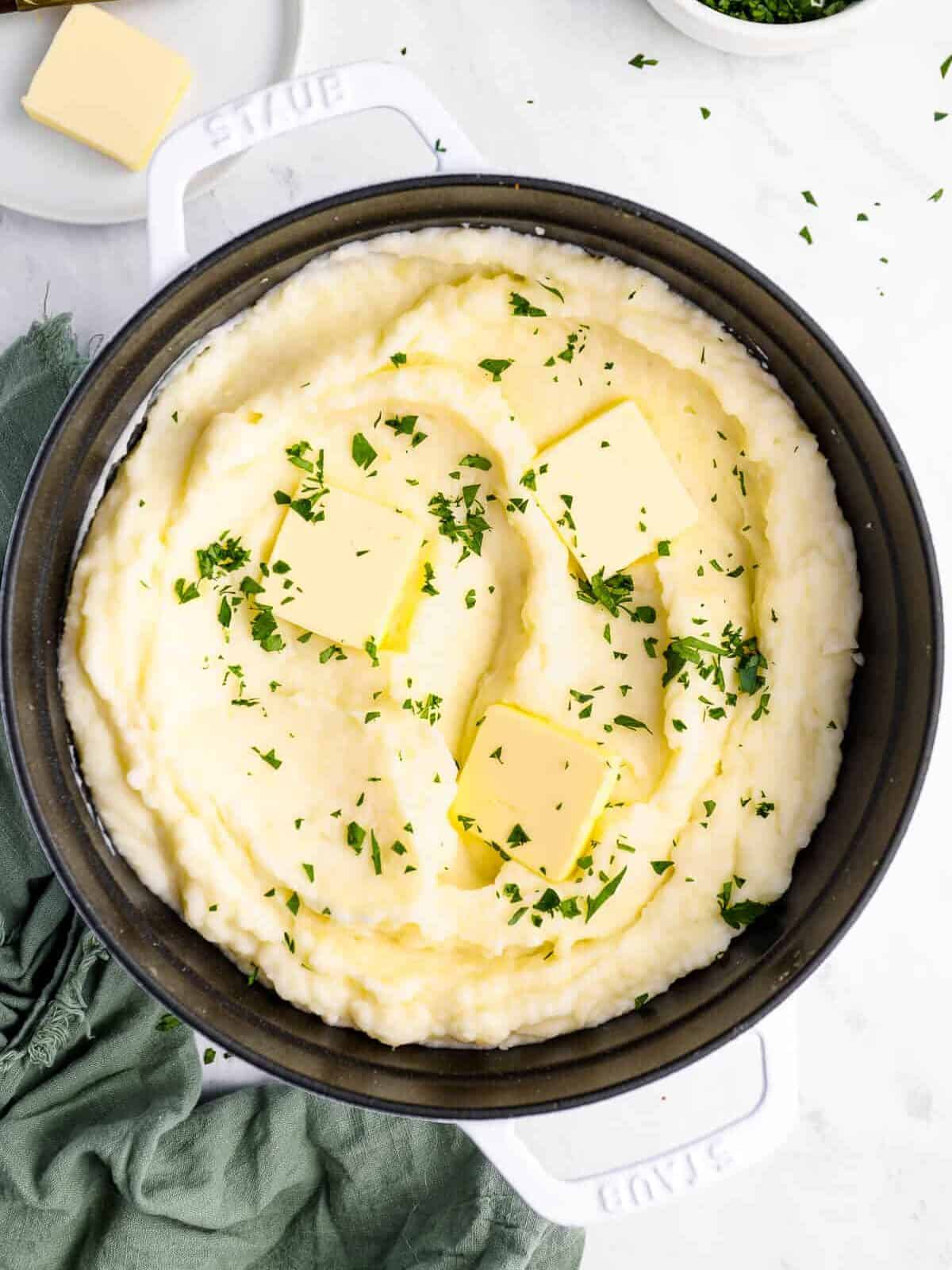 How to Make Ahead and Store
You can make creamy mashed potatoes up to 1 day in advance of when you plan to serve them. Prepare the recipe as directed, let cool completely, then cover and place in the refrigerator until ready to serve.
Store leftover creamy mashed potatoes in an airtight container in the refrigerator for up to 4 days.
How to Freeze and Reheat
Scoop 1-cup mounds of mashed potatoes onto a lined baking sheet and freeze uncovered until solid, about 1-2 hours. Transfer to an airtight container or Ziplock bag to store for up to 3 months. Let thaw overnight in the refrigerator before reheating in a Dutch oven over medium-low heat or in the microwave on high for 1 minute.
Serving Suggestions
Now that you know how to make mashed potatoes, what do you serve them with? In short: everything! It's the best side dish for holidays, so be sure to serve them alongside your Thanksgiving turkey recipes or Christmas ham.
Don't worry, this recipe won't go to waste as a holiday-only dish. It's easy enough to make any night of the week, whether you're serving baked chicken, pork chops, meatloaf, or whatever you're cooking for dinner.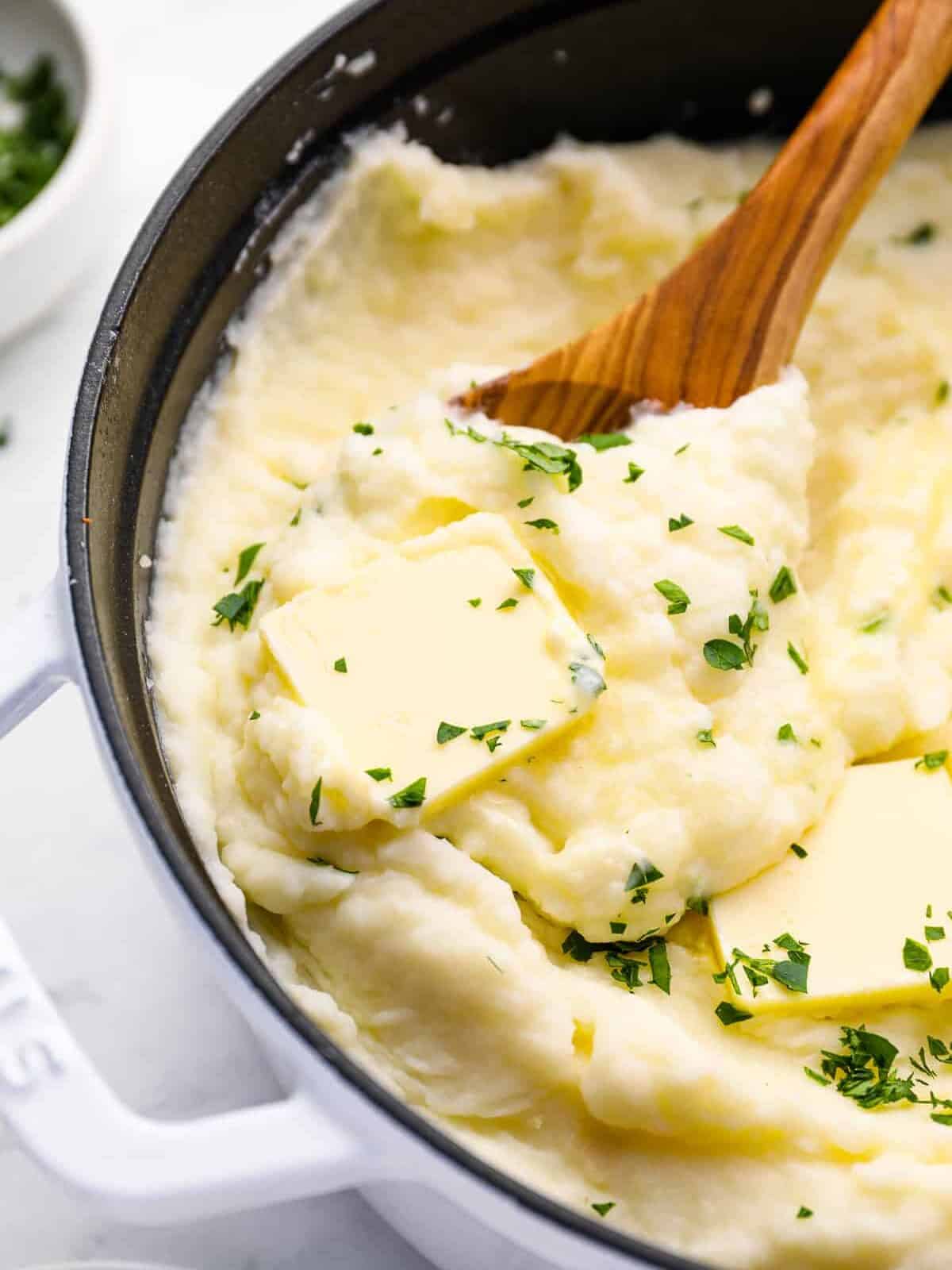 More Mashed Potato Recipes We Love