Beef Tenderloin is one of the best cuts of meat, so it deserves to be cooked right. This beef tenderloin roast is perfectly cooked and full of flavor. Learn how to cook beef tenderloin for an amazing main course dish to serve on the holidays or special occasions. This is the BEST beef tenderloin recipe, just wait and see!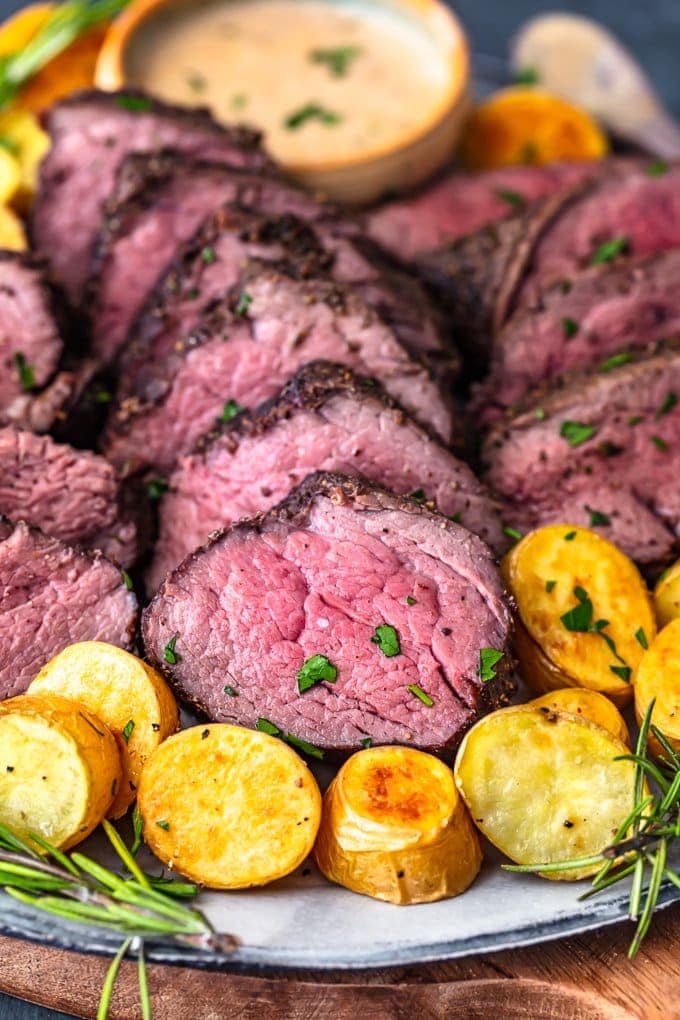 Beef Tenderloin Recipe
Beef Tenderloin Roast is a great dish for Christmas day, or any big holiday. This is the best beef tenderloin recipe, slow roasted and broiled to perfection!
It's important to have an amazing main dish at the center of every holiday meal. Whether it's beef, pork, or chicken, it needs to be simple and taste incredible at the same time. If you're going with beef for your meal, then you can't pass up the Best Beef Tenderloin Recipe!
This beef tenderloin roast is just so good. This dish comes out so moist and flavorful, it's absolutely to die for! The best main course for a big feast. It takes time to prepare, but it's well worth it. Make sure you get it in the refrigerator a day or so ahead of time to get the process started.
Let me show you how to cook beef tenderloin to perfection! Make it for Christmas, Easter, or any other occasion that deserves a special meal.
This is the best Beef Tenderloin Recipe, perfect for holidays and special occasions!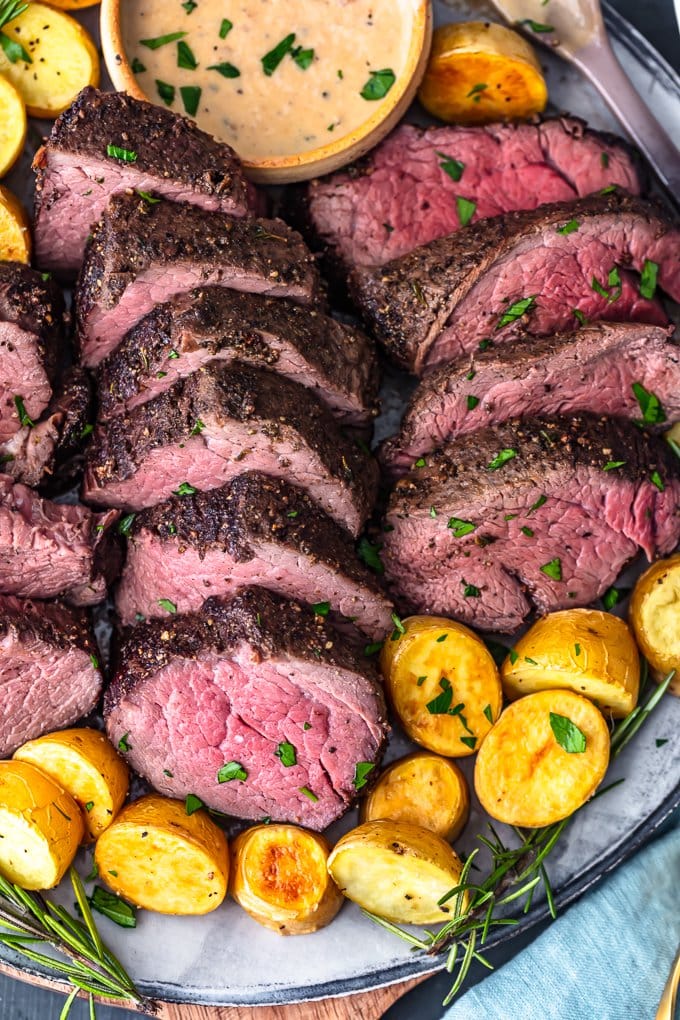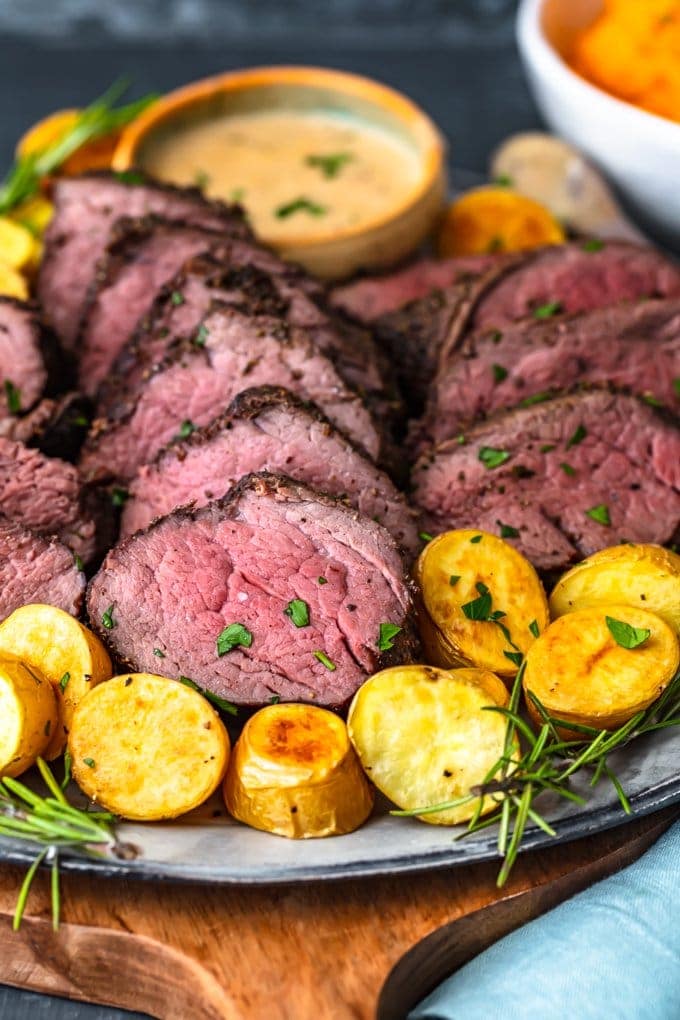 Beef Tenderloin Roast
This beef tenderloin recipe definitely takes some time to prepare, but every minute is worth it for the incredible flavor that comes out in the end. This dish requires planning, so it's perfect for special occasions and big feasts, when you know you're going to need an amazing main course.
Prep needs to start about 1 or 2 days before cooking. The beef needs to be seasoned and refrigerated for AT LEAST 8 hours, but I recommend going up to 24-48 hours. Slow roasting the beef tenderloin at a low temperature ensures that the meat is fully and evenly cooked, without drying it out. And then it's finished off under the broiler to give it a beautiful color and even more flavor.
This beef tenderloin roast is a really great option for Christmas, Thanksgiving dinner, or Easter dinner. Serve it with plenty of veggies and side dishes to complete the meal. I think it goes great with Honey Glazed Carrots, Roasted Melting Potatoes, Broccoli and Cauliflower Gratin, and Savory Mashed Sweet Potatoes.
What seasoning do you put on beef tenderloin?
Before cooking, rub the beef tenderloin with salt and pepper, then refrigerate. This is just the initial seasoning, but most of the flavor is added during the basting and broiling phase. We're using a seasoned butter marinade (with shallots, garlic, and thyme), and it adds so much flavor!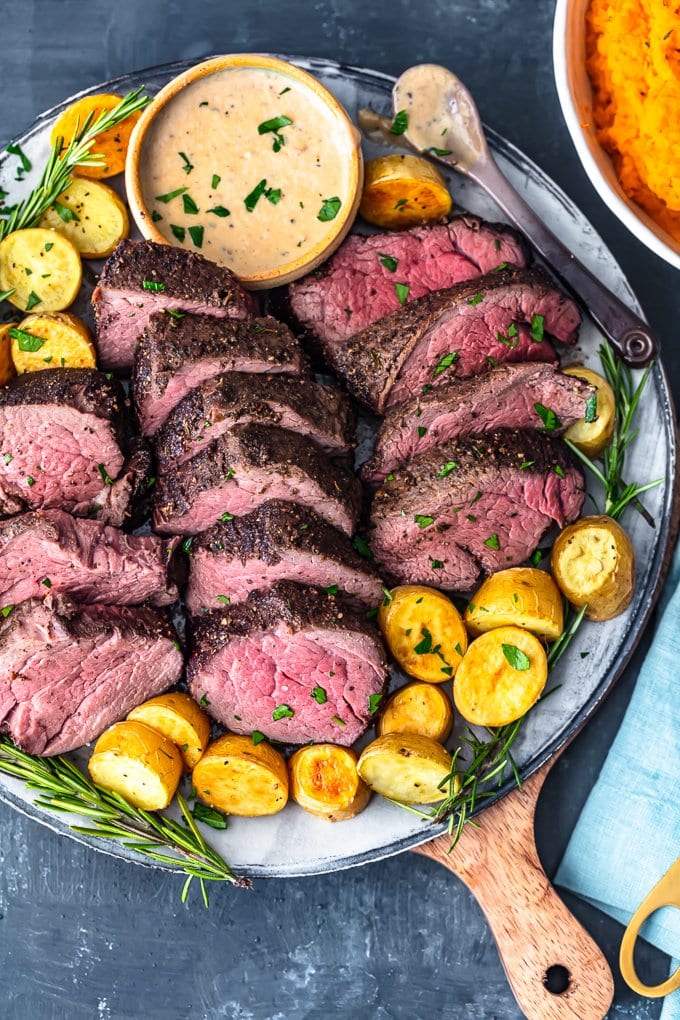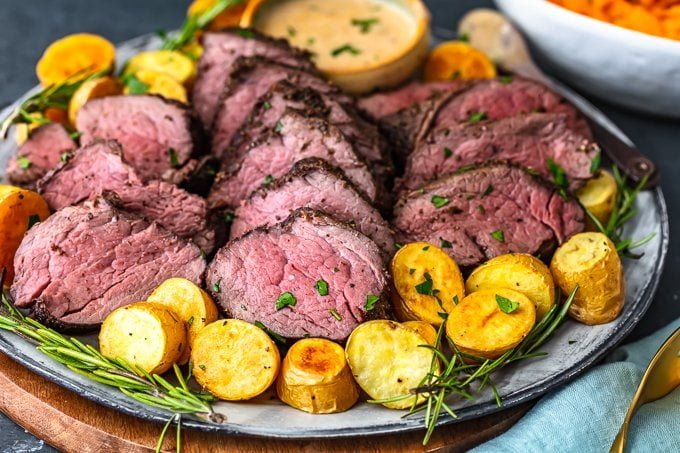 How to Cook Beef Tenderloin
If you're wondering how to cook beef tenderloin, don't fret. This recipe is time consuming, but overall, it's a pretty straightforward and simple process. To make this the best beef tenderloin recipe, we're going with slow roasting followed by broiling. This beef tenderloin has SO much flavor, it's going to blow you away.
Here's a quick overview of the recipe. Detailed instructions can be found in the recipe card below!
How to cook beef tenderloin:
1-2 days before cooking, tie up the tenderloin with twine, season with salt and pepper, and refrigerate.
To roast, place the beef tenderloin in the oven and cook for 2-3 hours at 225°F. The internal temperature should reach 120-125°F. Take meat out of the oven and cut off the twine.
Melt butter in a skillet, add in the thyme, garlic, and shallots, and cook for about 30-60 seconds. Pour the mixture through a mesh strainer and into a bowl.
Baste or brush the butter mixture evenly over the beef tenderloin.
Place the tenderloin under the broiler, turning it every 30 seconds to make sure each side gets browned. Baste as you turn the meat.
Once it's done, transfer it to a cutting board and let it rest for 5-10 minutes.
To serve this beef tenderloin recipe, cut it into 1/2 inch slices and sprinkle with sea salt and chives. I recommend serving it with this amazing Brandy Peppercorn Sauce or this Mustard Cream Sauce.
What temperature is medium rare beef tenderloin?
You can cook beef tenderloin to your desired doneness. Use a meat thermometer to check internal temperatures.
Rare – 120-125°F
Medium Rare – 130-135°
Medium – 140-145°
Grab our Meat Temperature Chart so you always know what temperature to cook your meats!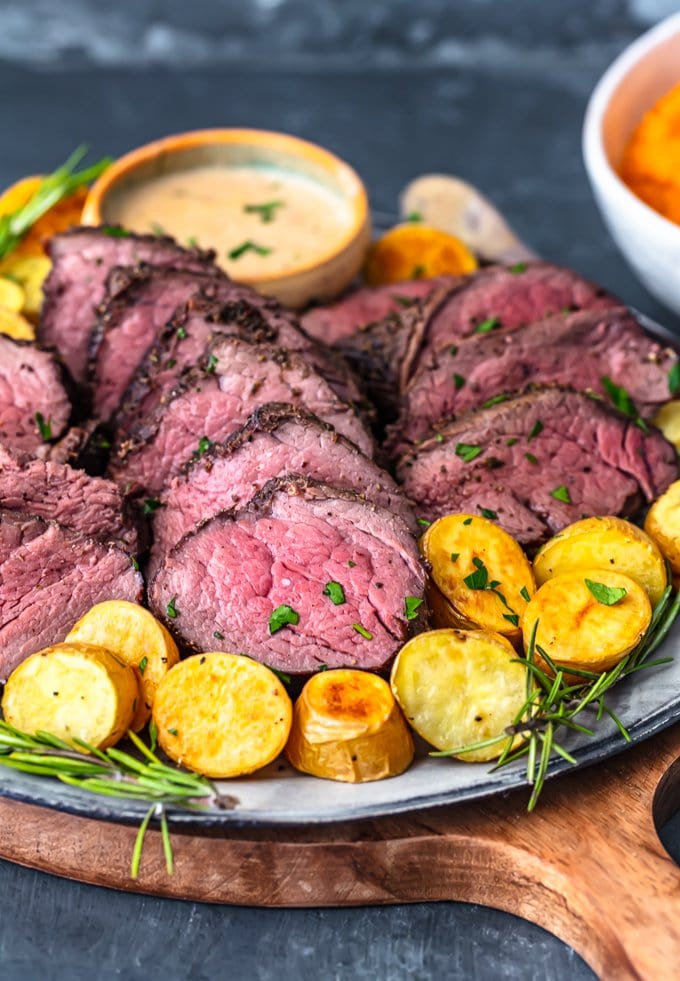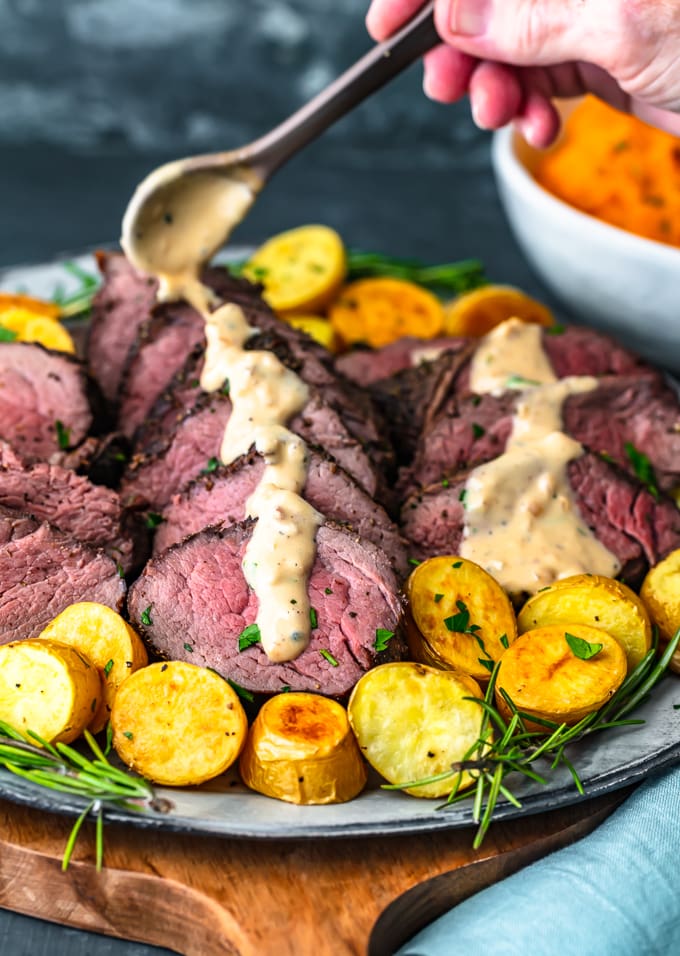 This is by far the best beef tenderloin recipe I've ever made or eaten. This beef tenderloin roast needs to be at the center of your holiday table!
See the recipe card below for details on how to cook Beef Tenderloin (The BEST Beef Tenderloin Recipe). Enjoy!
If you like this beef tenderloin roast, try these other main dish recipes: