Beef Tenderloin is one of the best cuts of meat, so it deserves to be cooked right. This tenderloin roast is perfectly cooked and full of flavor. Learn how to cook the perfect tenderloin for an amazing main course dish to serve on the holidays or special occasions. This is the best tenderloin recipe, just wait and see!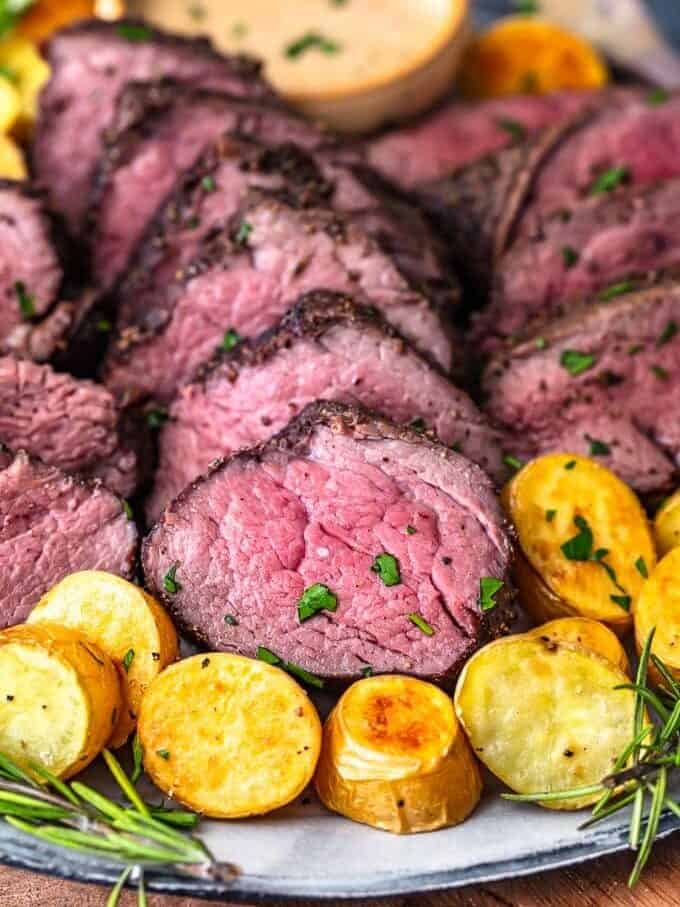 What's in this Beef Tenderloin Recipe?
This roast is just so good. This dish comes out so moist and flavorful, it's absolutely to die for! The best main course for a big feast. It takes time to prepare, but it's well worth it. Make sure you get it in the refrigerator a day or so ahead of time to get the process started.
Beef Tenderloin: You'll want to get a center-cut tenderloin (also known as chateaubriand).
Kosher Salt: Helps to dry the outer surface, leading to more browning.
Black Peppercorns: Add a bit of spice.
Unsalted Butter: Browning the butter adds nuttiness and richness.
Fresh Thyme: Adds a rich herbal flavor.
Garlic: Adds an earthy flavor and a pungent aroma.
Shallot: Adds a touch of sweetness.
Sauce: Brandy Peppercorn Sauce or Mustard Cream Sauce are perfect pairings for this tenderloin.
Pro Tip: Prep early! The beef needs to be seasoned and refrigerated for at least 8 hours, but I recommend going up to 24-48 hours.
Variations on a Beef Tenderloin Roast
You can change up the spices and sauces for this tenderloin to give it a different flavor. Rosemary, sage, parsley, cilantro, or chives are all great choices. A balsamic glaze, apple cider sauce, aji verde, or chimichurri sauce would also change up the flavor.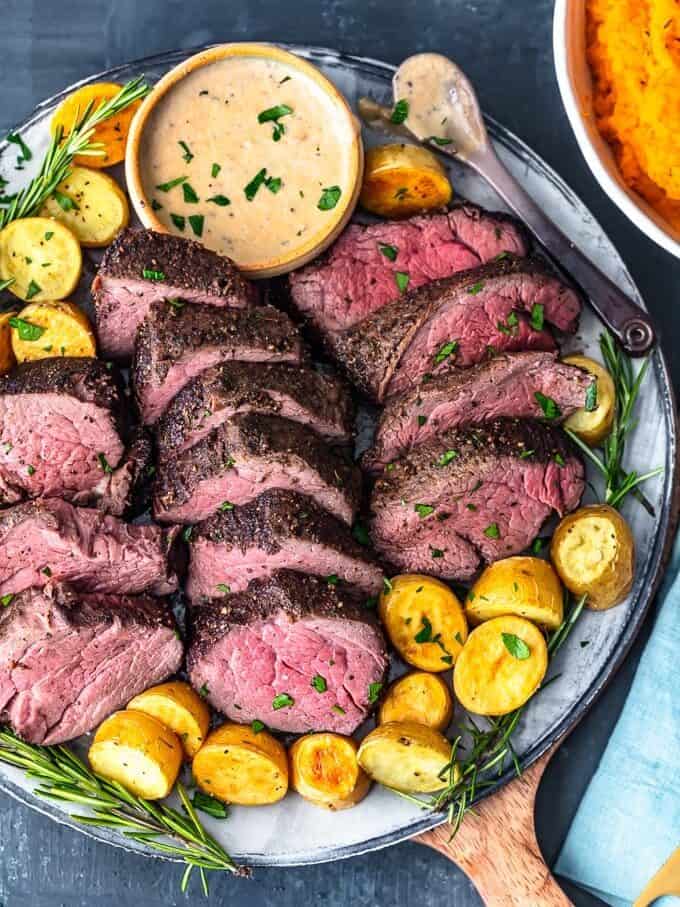 Is beef tenderloin the same as filet mignon?
Yes and no. Filet mignon is part of the tenderloin, so all filet mignon is tenderloin, but not all tenderloin is filet mignon.
How many people does a 3-pound beef tenderloin feed?
No matter the size of your roast, you should plan on about ½-pound of beef per person. So, a 3-pound tenderloin will feed 6 people.
What seasoning do you put on beef tenderloin?
Before cooking, rub the tenderloin with salt and pepper, then refrigerate. This is just the initial seasoning, but most of the flavor is added during the basting and broiling phase. We're using a seasoned butter marinade (with shallots, garlic, and thyme), and it adds so much flavor!
How should tenderloin be cooked?
There are so many different ways to cook beef tenderloin. This method opts for reverse searing it in the oven, which I think is arguably the best method!
What temperature do you cook beef tenderloin?
This tenderloin is cooked low and slow at 225°F, then broiled to develop a rich, dark crust.
Why is my beef tenderloin tough?
If your tenderloin is tough, it's likely that you overcooked it. Tenderloin is best served rare or medium-rare, so I don't recommend cooking it beyond an internal temperature of 140°F or you'll risk it turning out tough and dry!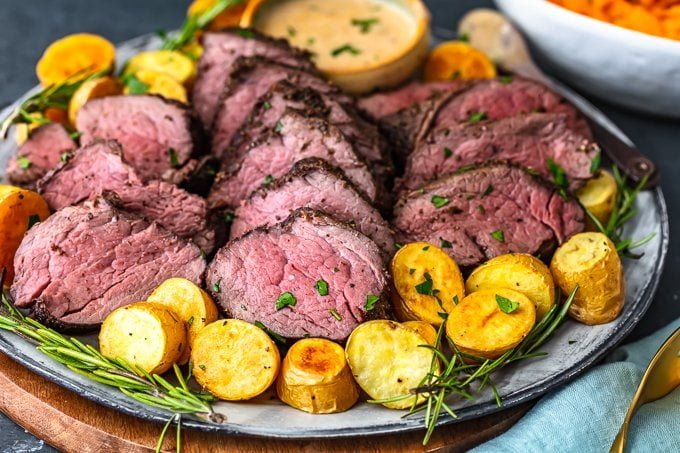 How to Store and Reheat
Store leftover roast tenderloin in an airtight container in the refrigerator for up to 5 days. To reheat, I recommend wrapping the individual slices in aluminum foil and baking in a 350°F oven for 10-15 minutes, or until warmed through.
How to Freeze
Freeze tenderloin slices tightly wrapped in 2 layers of aluminum foil for up to 3 months. Let thaw overnight in the refrigerator before reheating.
Serving Suggestions
This tenderloin roast is a really great option for Christmas, Thanksgiving dinner, or Easter dinner. Serve it with plenty of veggies and side dishes to complete the meal. I think it goes great with Honey Glazed Carrots, Roasted Melting Potatoes, Broccoli and Cauliflower Gratin, and Savory Mashed Sweet Potatoes.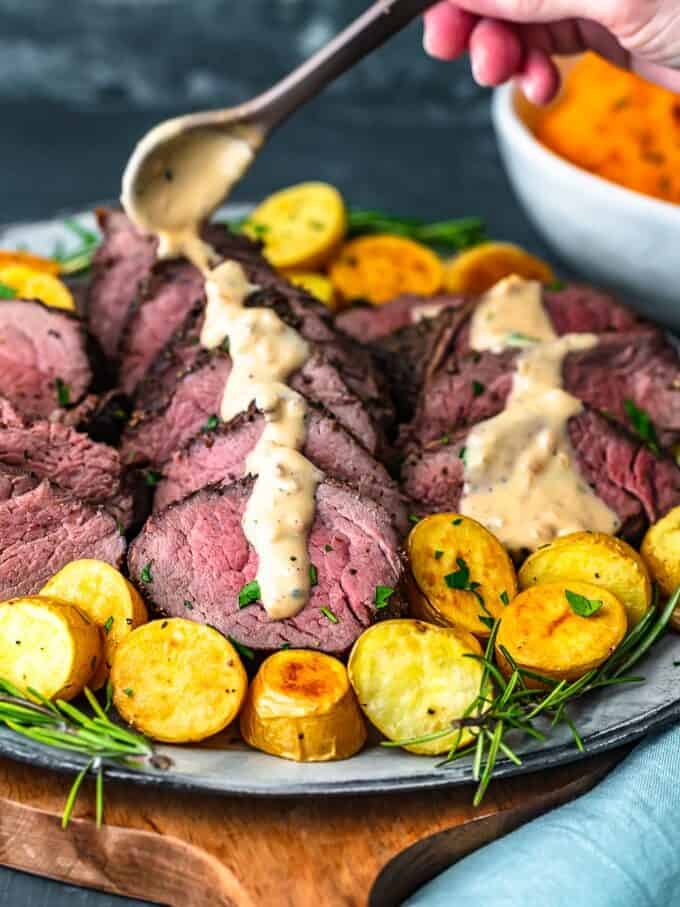 Grab our Meat Temperature Chart so you always know what temperature to cook your meats!
More Beef Tenderloin Recipes We Love