Roasted Cauliflower is one of the best side dishes, because it's healthy, simple, and versatile. This oven roasted cauliflower recipe with homemade Chimichurri sauce is one of my new favorite ways to eat my veggies! You get the crispy garlic cauliflower covered in amazing chimichurri. One of the best cauliflower side dishes to pair with a steak, chicken, or pork.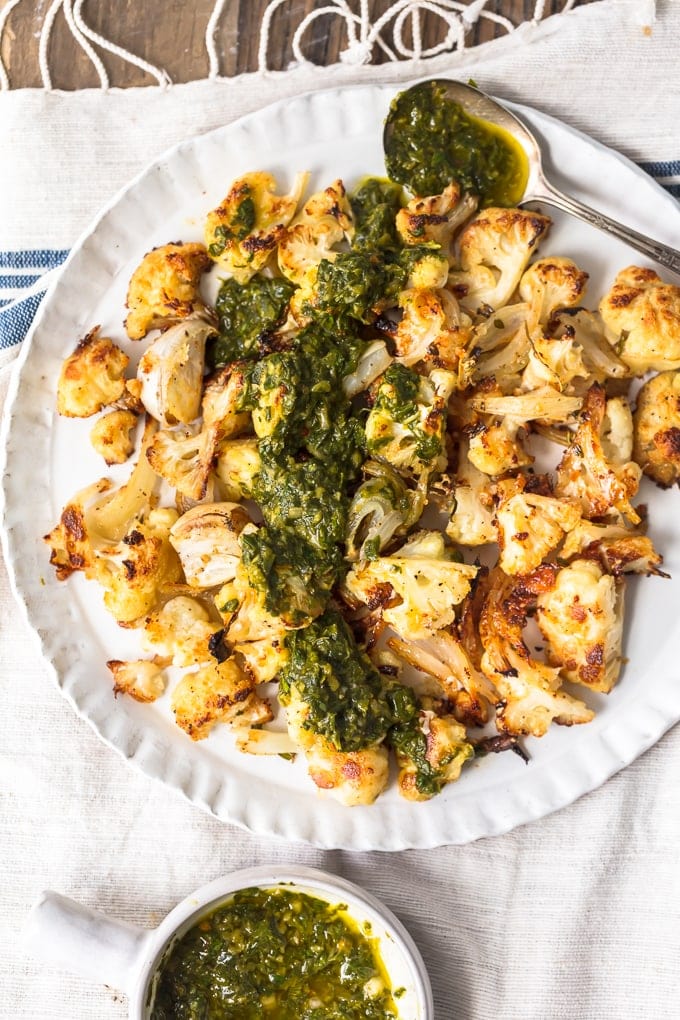 Roasted Cauliflower Recipe with Chimichurri
Roasted Cauliflower is the best side dish, and this garlic cauliflower with chimichurri sauce is absolutely perfect with steak or chicken.
This roasted cauliflower recipe with chimichurri sauce is a new favorite! I'm always looking for more vegetable side dish recipes to pair with my favorite meat dishes so I have something healthy AND flavorful to complete the meal.
Oven roasted cauliflower is definitely one of the simplest yet most versatile dishes. You can add in any flavors, spices, or herbs to create something new and tasty. I cooked it with plenty of garlic, onion, and thyme to get the best flavor, and then topped it with my homemade chimichurri recipe to make it EVEN BETTER.
I love serving this healthy cauliflower side dish with steak or grilled chicken!
Roasted Cauliflower with Chimichurri Sauce is a simple, healthy, and delicious side dish. Serve it with steak, chicken, or any meal you like!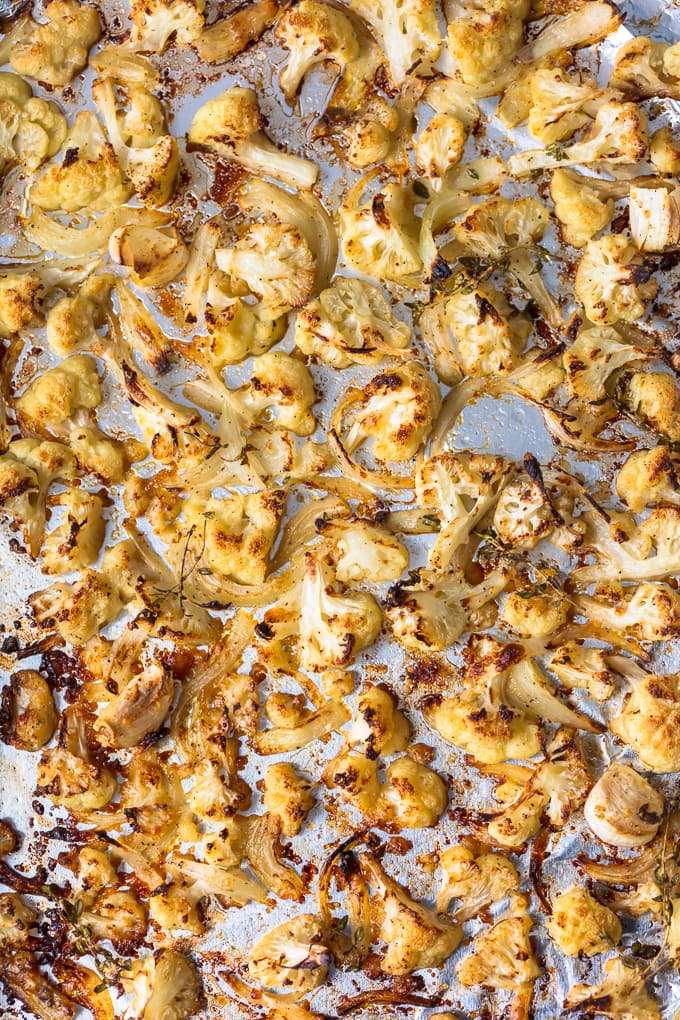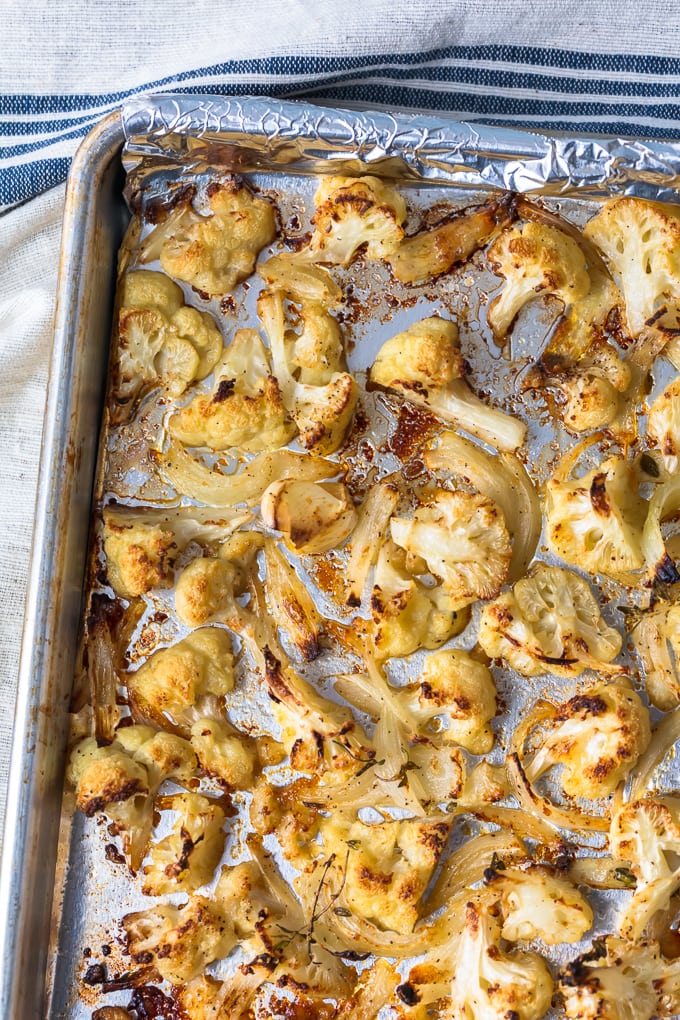 How to Roast Cauliflower
Oven roasted Cauliflower is really easy to make. It's one of those simple side dishes you can just throw in the oven while you're focusing on cooking your main dish. Let it get crispy and flavorful without worrying too much about it, and then it's ready to go! I like to roast cauliflower with chunks of garlic, onion, and lots of herbs so it can soak up all the flavors.
How to Roast Cauliflower:
Preheat oven to 425°F & cover baking sheet with aluminum foil
Place cauliflower florets on baking sheet along with garlic & onion
Drizzle olive oil over everything, sprinkle with red pepper, thyme, salt, & black pepper
Roast for 35-45 minutes
You can use different spices, herbs, and seasonings if you prefer, but this is the basic process for making roasted cauliflower to follow every time. It comes out nice and crispy and full of flavor.
The homemade chimichurri sauce is my favorite part of this recipe! Roasted cauliflower is SO GOOD, and the chimichurri really brings it to the next level. I created my own chimichurri recipe based on the traditional Argentinian sauce. While it's generally used on grilled meats as a marinade, I love the garlicy flavor so much that I wanted to use it on other stuff too! I think it is just perfect on this roasted cauliflower recipe and really makes an amazing cauliflower side dish.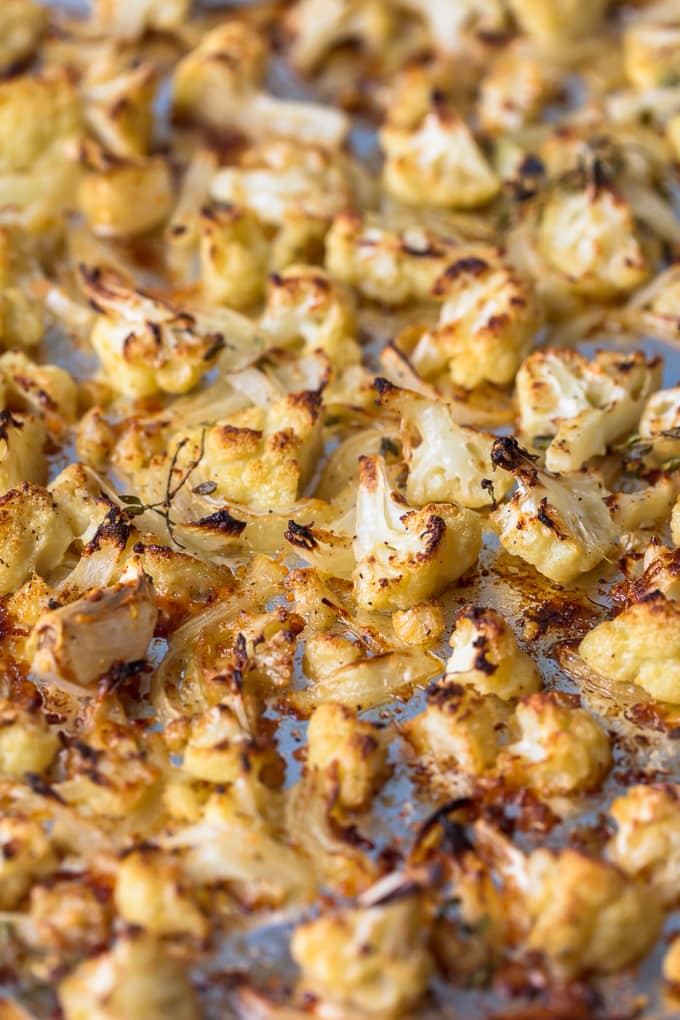 Delicious Cauliflower Side Dish Recipe
I'm always on the hunt for easy, healthy, and delicious side dishes to cook up for dinner. Once I have a great meat dish in mind, I need the perfect thing to pair with it. This amazing roasted cauliflower side dish recipe goes well with just about everything! I love crispy and flavorful it is, especially topped with the chimichurri verde.
Serving Suggestions
I'd love to pair this with a Chimichurri Steak so I can use the sauce on both dishes! But I also love it with salmon, brined chicken breast, pork tenderloin, chicken roll ups, or even as a healthy french fry replacement with a turkey burger.
Here are some other favorite dinners to serve this chimichurri cauliflower with: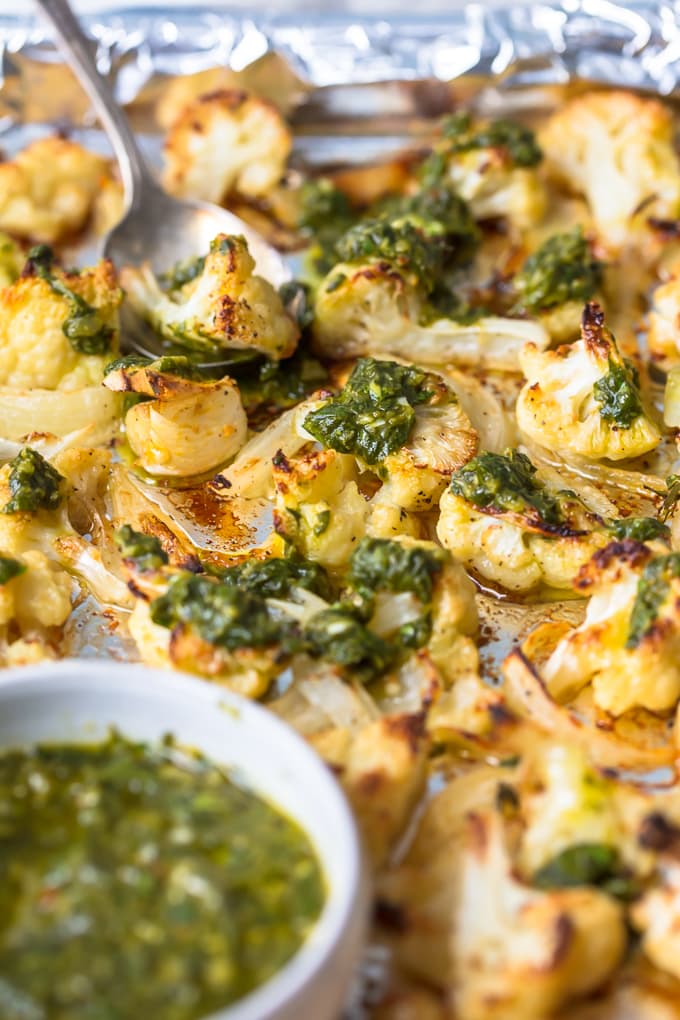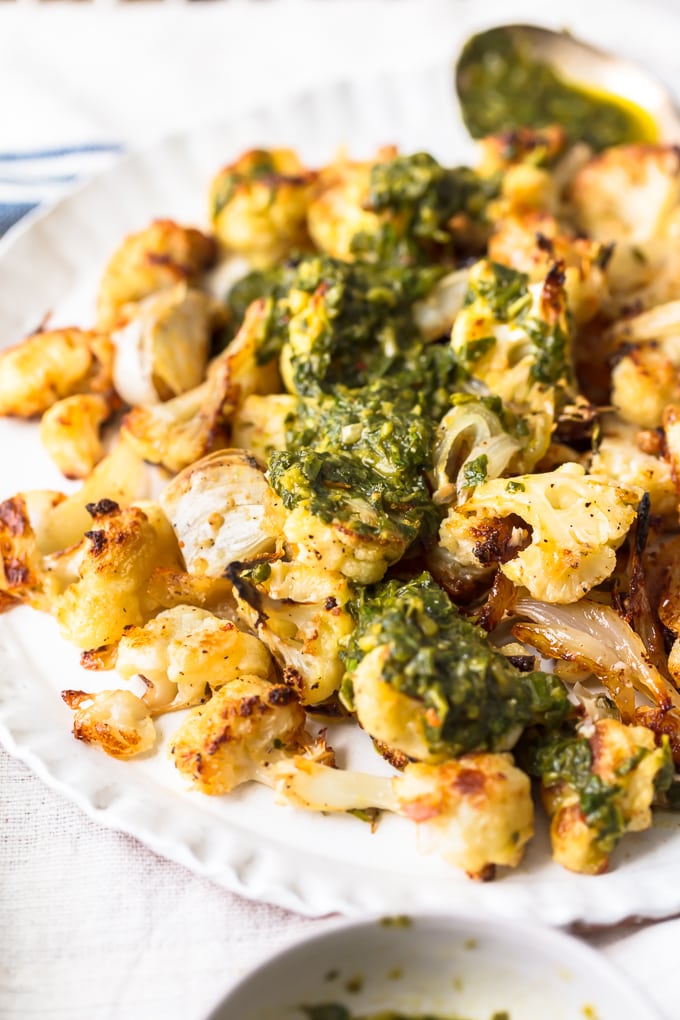 How long do you roast cauliflower at 425°?
To get it nice and crispy, roast cauliflower at 425°F for about 35-45 minutes.
What are the benefits of eating cauliflower?
Cauliflower is really great vegetable with lots of health benefits. It's considered to be a "cancer-fighting" vegetable; it's anti-inflammatory and rich in anti-oxidants; and it's filled with tons of important nutrients like vitamin K, riboflavin, fiber, folate, potassium, and more.
How long can you keep cauliflower in the refrigerator?
A fresh head of cauliflower (uncooked) should usually last in the refrigerator for up to 2 weeks. It tends to hold up better than a lot of other produce.
This roasted cauliflower recipe can be stored in the refrigerator after cooking if you have leftovers. Store the cauliflower and the sauce separately. The cauliflower should keep for up to 1 week, while the sauce can last for 2 or 3 weeks.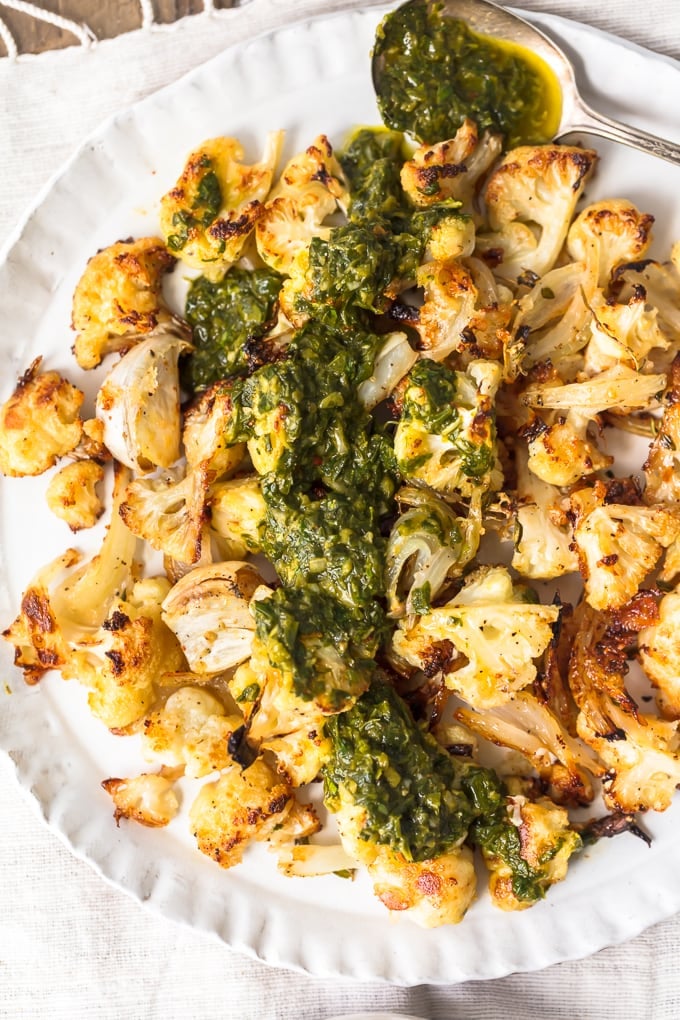 I absolutely love this oven roasted cauliflower side dish recipe! It goes with everything, it's easy to make, and it's just so darn delicious slathered in that tasty chimichurri sauce. And if you love this sauce, try these grilled potato wedges with chimichurri too!
See the recipe card below for details on how to make this roasted cauliflower recipe. Enjoy!
Try these other healthy side dish recipes too: