This Spinach Berry Salad is filled with fresh strawberries, blueberries, and raspberries, as well as walnuts and goat cheese. It's finished with a homemade, creamy poppy seed dressing for a tangy and fresh flavor. It's such an easy and healthy salad to throw together for summer gatherings or light lunches!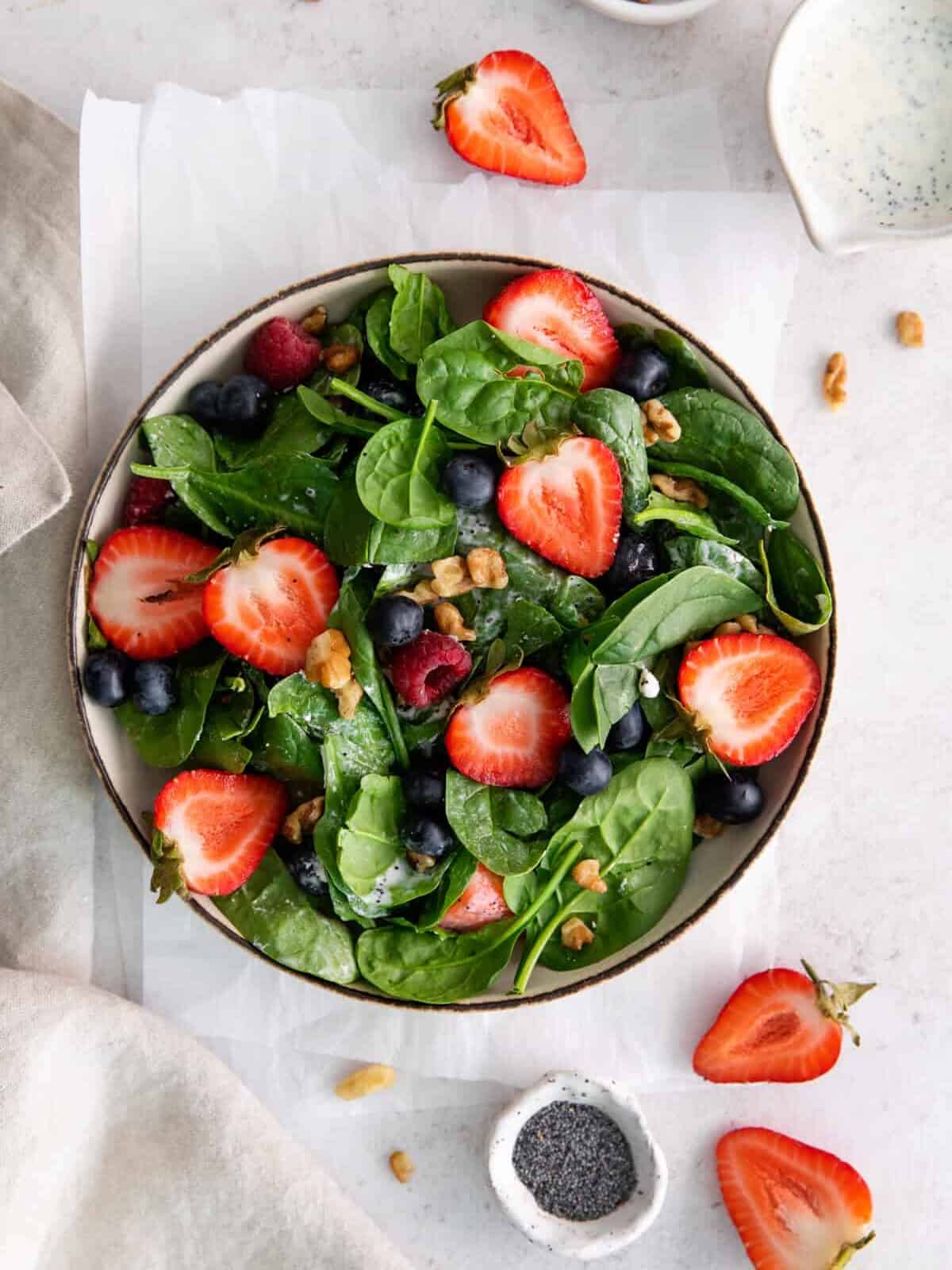 What's in this Salad with Berries?
Spinach, mixed berries, and goat cheese topped with a creamy poppy seed dressing makes the perfect salad for your next healthy meal.
Spinach: The base of our salad. I like using baby spinach but regular spinach works too. You could also swap it for baby lettuces or watercress if you prefer more crunch.
Berries: I'm using mix of strawberries, raspberries, and blueberries, but feel free to use whatever fruit you have on hand. Apples, cantaloupe, peaches, etc. all work for a quick and fruity salad.
Greek Yogurt: Using this for a light and creamy dressing base. Make sure to use unsweetened, unflavored Greek yogurt.
Milk: Thins the dressing so it has a pourable consistency.
Honey: Adds just a bit of sweetness to the dressing.
Dijon Mustard: Adds a little bite to the salad dressing.
Poppy Seeds: Add great texture to the tangy dressing.
Goat Cheese: Adds a bit of funkiness and creaminess to the berry salad. Blue cheese would also be delicious in this recipe!
Walnuts: Add a bit of salty crunch to finish off this spinach salad.
Pro Tip: Store the salad and dressing separately to prevent wilting!
Variations on Summer Berry Salad
There are so many easy ways to modify this spinach and berry salad. Swap the berries for whatever fruits are in season (like apples, peaches, or grapes). You can make it a bit heartier by adding in chopped red onion, cucumber, avocado, or cooked quinoa. Or, make this salad a meal by topping it with grilled chicken, air fryer salmon, or seared steak. Switch things up and serve this salad with spicy sweet dressing or Italian dressing for a change of pace!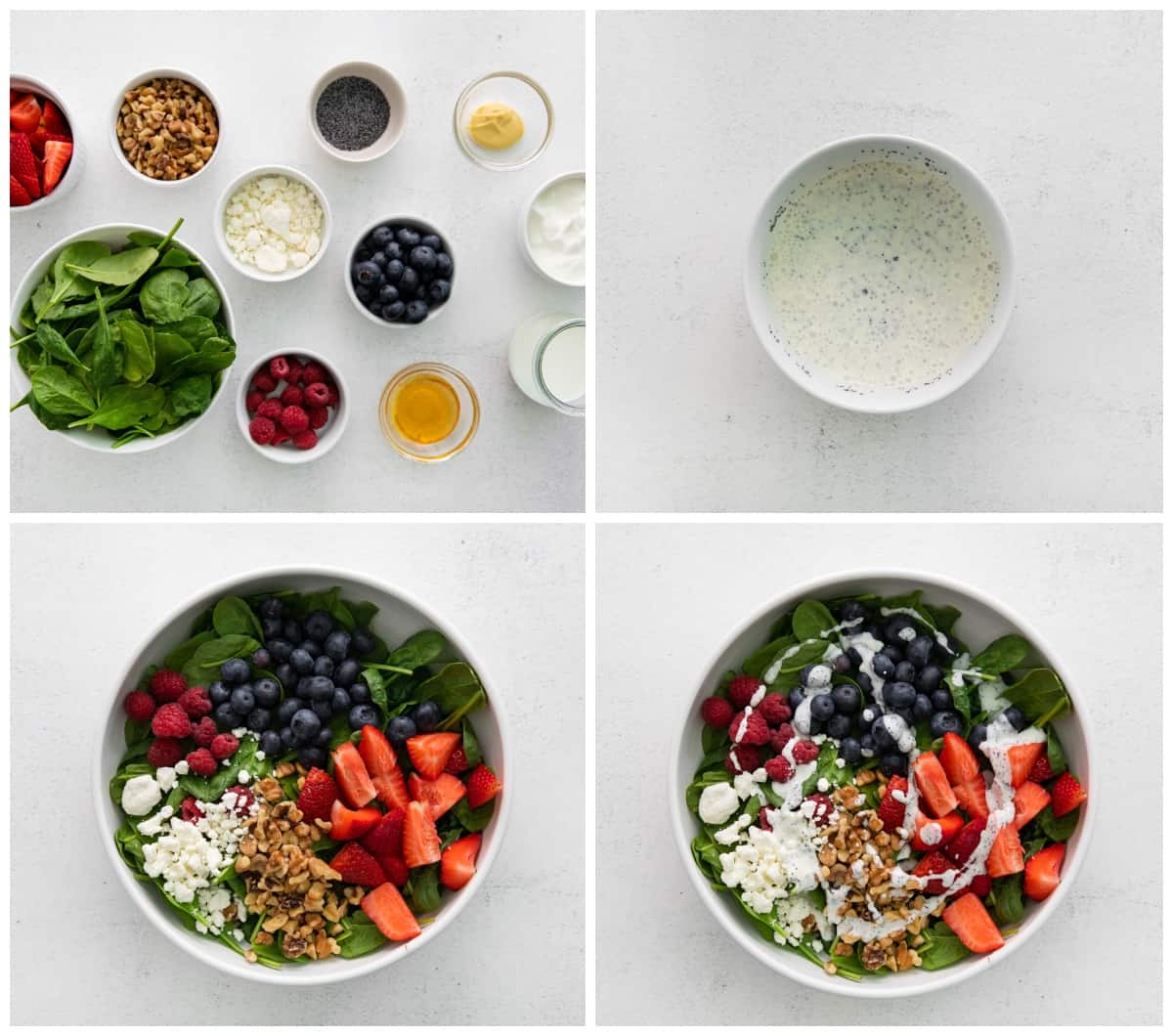 Can you eat raw spinach in a salad?
Yes! I prefer baby spinach, as it is more tender, but you can eat any kind of spinach raw!
How healthy is spinach salad?
This salad is super healthy! Spinach is rich in vitamins A, C, and K; iron; folate; potassium; and fiber. Berries are rich in antioxidants and fiber, walnuts are chock full of healthy polyunsaturated fats, and goat cheese is a great low-calorie source of protein and calcium!
Do I have to use the poppy seed dressing?
Nope! While this dressing is a great healthy salad dressing, you could make the full-fat version of poppy seed dressing, or try spicy sweet dressing or Italian dressing. For a different healthy alternative, you could also dress this salad with a simple mixture of oil and balsamic vinegar or balsamic glaze.
How to Make Ahead and Store
If you want to prep this dish ahead of time, I recommend waiting to toss the salad with the dressing until just before serving to preserve freshness. Store the poppy seed dressing and the spinach berry salad in separate airtight containers, in the refrigerator for up to 3 days. Toss just before serving!
If you have leftovers after tossing everything together, you can store that the same way. Just note that the leaves will get soggy the longer it sits, though it will still tastes delicious.
Serving Suggestions
This spinach and mixed berry salad is one of my favorite summer salads, and it's the perfect pairing to your next healthy weeknight meal! Serve it with honey balsamic chicken, turkey meatloaf, cabbage soup, caprese stuffed salmon, air fryer shrimp, or teriyaki tofu. It also makes a great side for a hearty Air Fryer hamburger or chicken sandwich. It's also a great salad to bring to potlucks!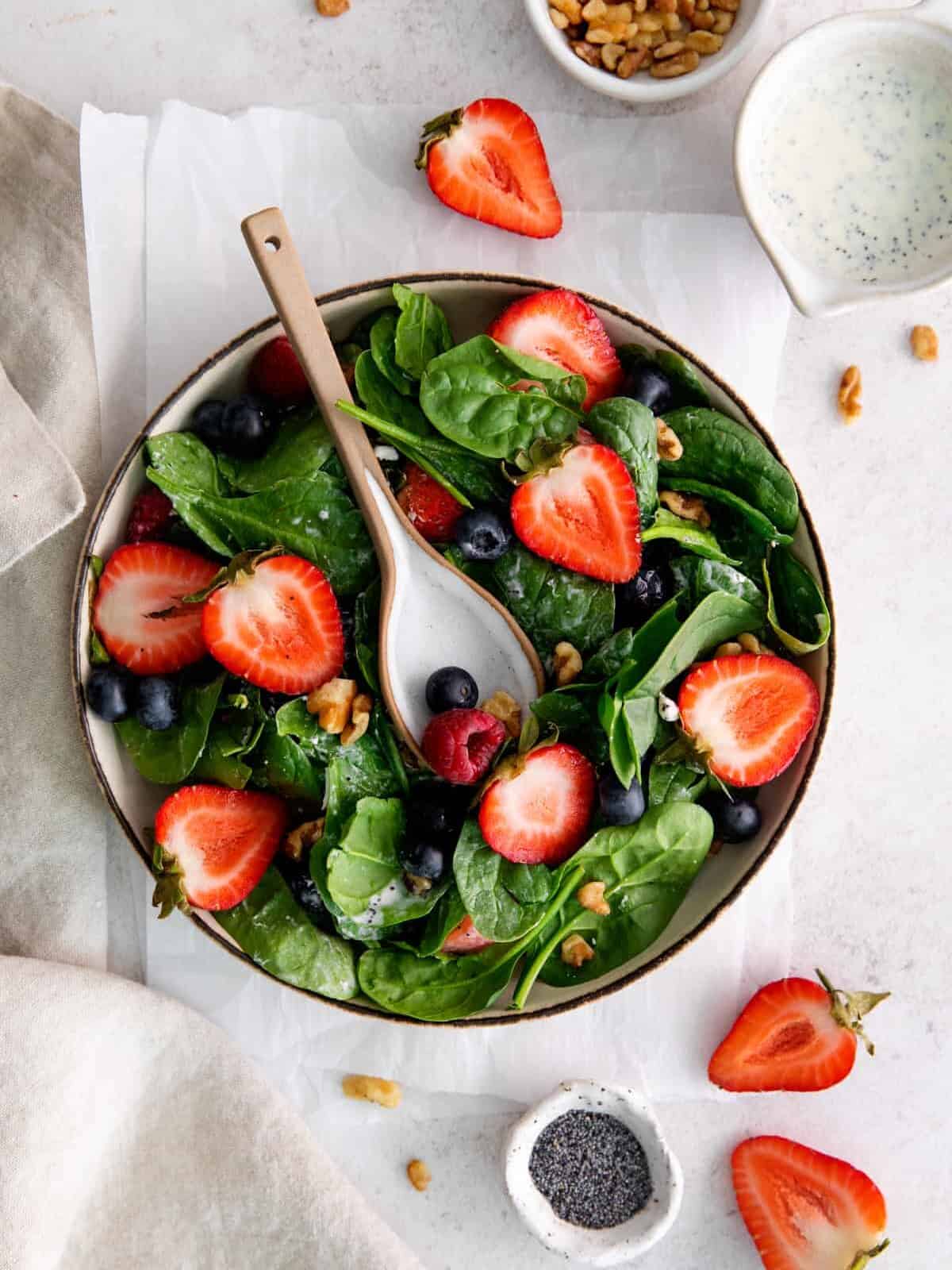 More Fruity Salad Recipes We Love