This honey baked ham recipe is a holiday must! Everyone will love this deliciously sweet, oven baked ham for Christmas, Easter, or any other holiday feast. This copycat recipe is such an easy way to make that spiral ham extra flavorful!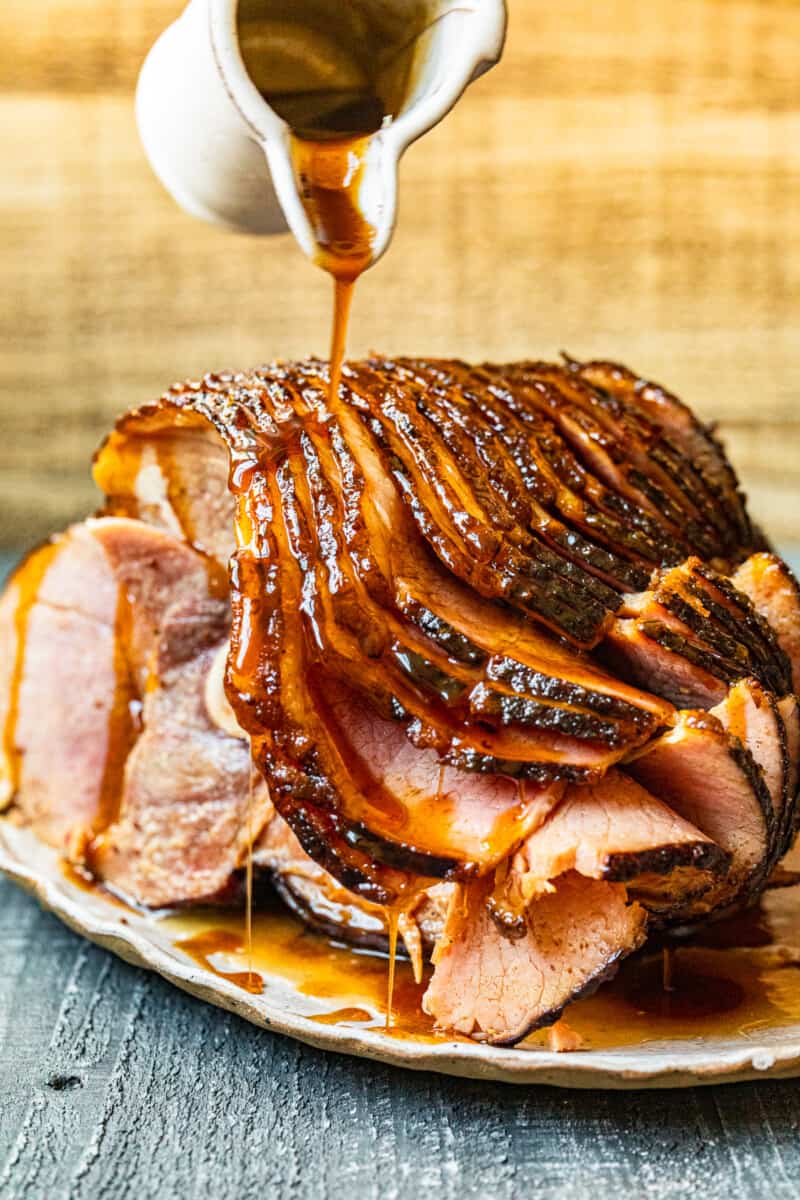 Oven Baked Ham Recipe
This easy baked ham is covered in a delicious honey glaze, baked to perfection, and then caramelized to create that crunchy, sweet crust on the outside. It tastes just like a classic honey baked ham, and it's simple to make at home!
This oven baked ham recipe will be your new go-to for any holiday gathering or special occasion. Serve it along with all your favorite side dishes!
Why You'll Love this Honey Baked Ham Recipe:
Holiday Ham: Baked ham is the perfect main to serve for any holiday. Make this for Christmas, Easter, or as an alternative to turkey on Thanksgiving.
Oven Baked: This copycat honey baked ham recipe is so easy! Baking it in the oven is simple and creates the most amazing flavor.
Flavorful: Speaking of amazing flavor, that honey glaze is delicious! And the caramelized dry rub packs in a sweetness to the crust that everyone will love.
Prefer to use a pressure cooker? Try this easy Instant Pot Ham recipe instead!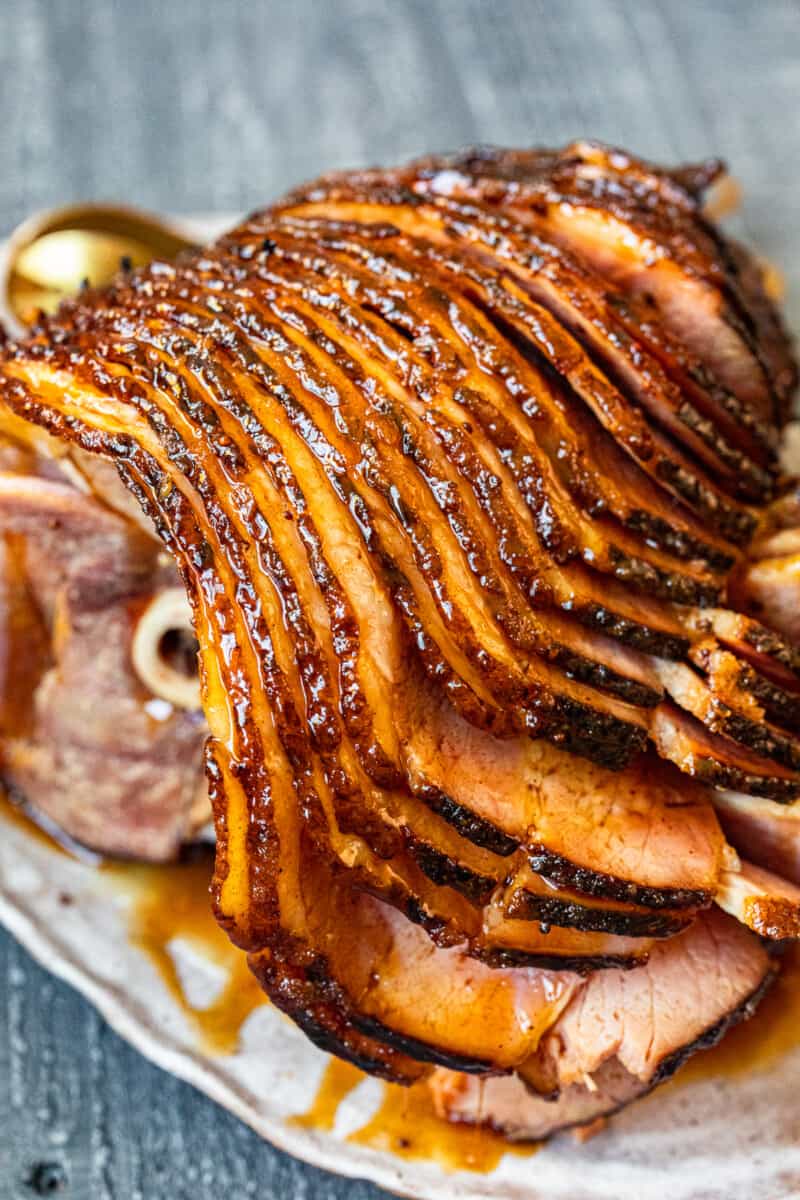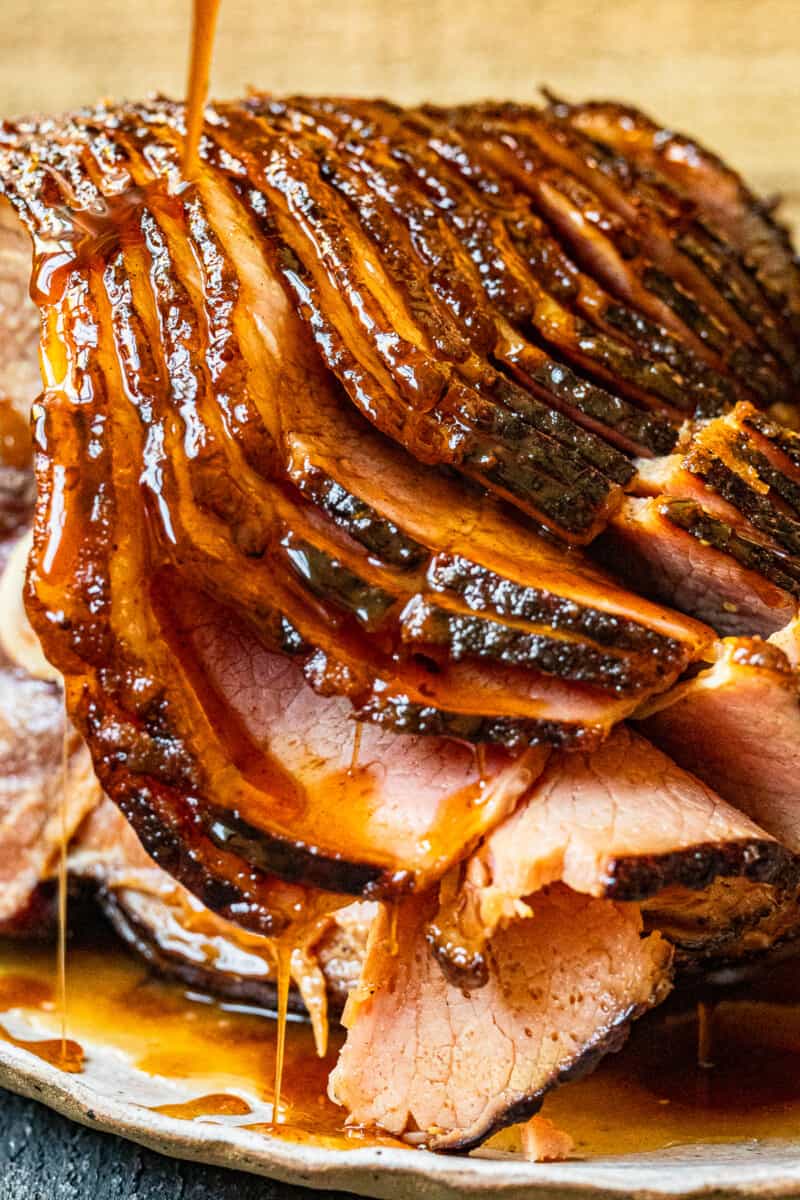 How to Make Honey Baked Ham in the Oven
You can jump to the recipe card for full ingredients & instructions!
Preheat oven to 325 and prepare the ham to bake.
Combine ingredients to make the honey glaze, then rub it over the entire ham.
Pour apple cider into the baking pan with the ham, and cover with foil.
Bake ham in the oven for 2-3 hours, or until the internal temperature reaches 140F.
Remove from the oven and let it rest for 15 minutes while you make the dry rub mixture.
Rub the sugar mixture into the skin of the ham. Then use a kitchen torch of the broiler to caramelize the skin.
Make the glaze and serve it alongside the honey baked ham. Slice and enjoy!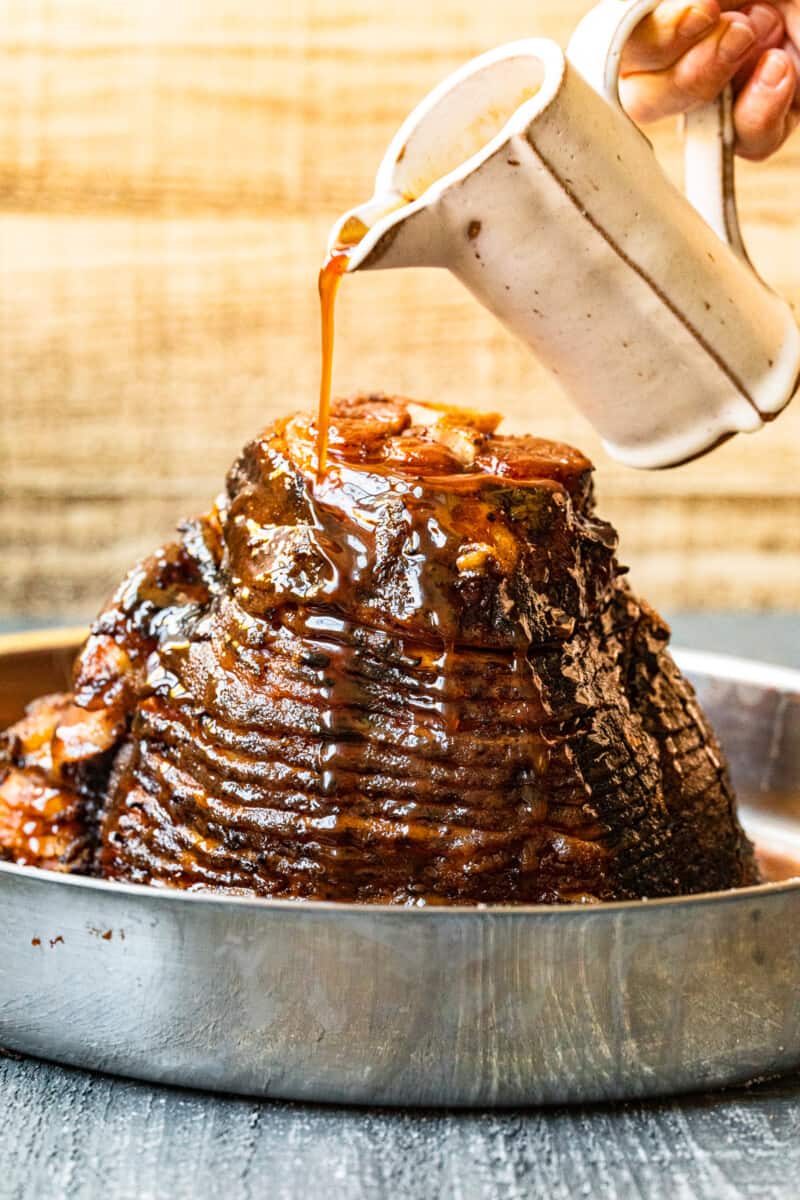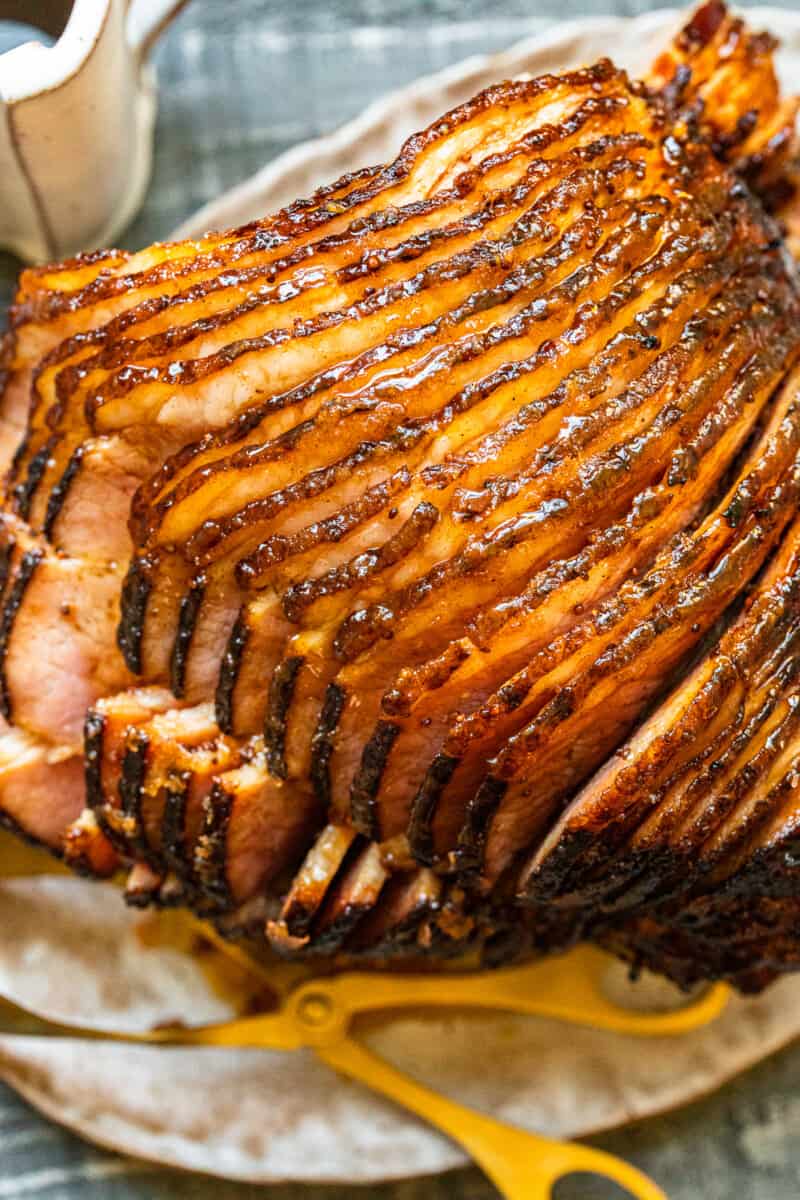 What kind of ham should I use?
Use a pre-cooked spiral ham for this honey baked ham recipe. We're just adding lots of delicious flavor and warming through to serve.
How much spiral ham should I plan on per person?
With a boneless ham, you should estimate about ⅓ pound of ham per person (up to ½ pound if you want to be on the safe side). An 8 pound ham will be plenty for most holiday gatherings!
How long does ham take to bake in the oven?
Estimate 20 minutes of cooking time per pound of ham. For example, an 8-pound ham will most likely need about 2 ½ hours to bake in the oven.
What is the best way to reheat this ham?
If you have leftovers, it's best to reheat them in the oven. Place ham in the oven at 325F, and bake until fully heated through. Make sure the internal temp reaches 140F, even if just reheating.
Can I freeze honey baked ham?
Yes, you can freeze leftover ham. I recommend slicing it up first, then placing it in freezer-safe bags. Freeze up to 12 weeks. Thaw and reheat to 140F.
Serving Suggestions
This delicious honey baked ham recipe goes so well with all your favorite side dishes! Add potatoes, veggies, and rolls to the table for the perfect holiday meal.
If you have leftovers, you can eat slices of cold ham straight from the fridge. The flavor makes a great cold sandwich! Otherwise, you can reheat it and enjoy it warm for another round of dinner or lunch!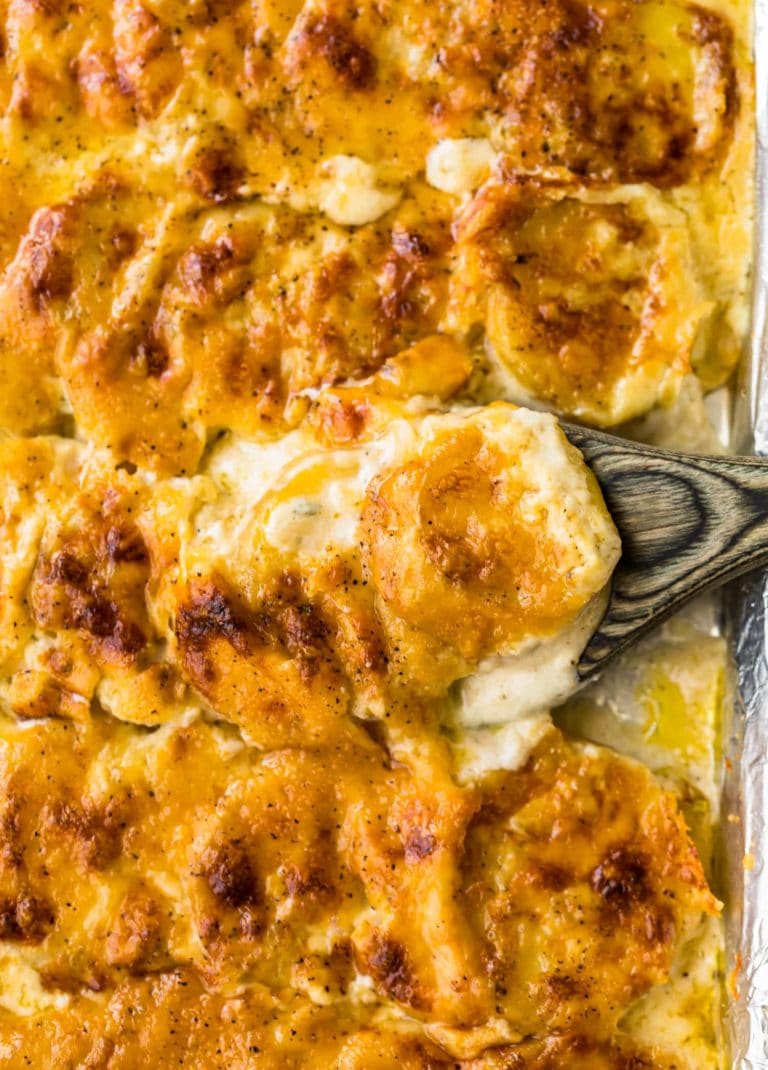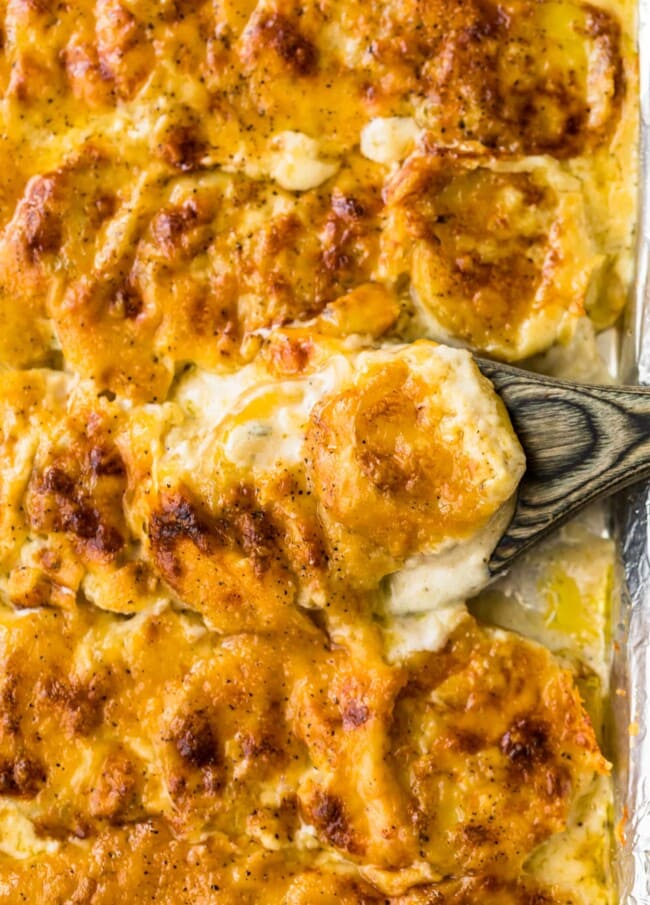 All the Holiday Sides
60+ Holiday Side Dish Recipes
This holiday season be sure to check out our sides guide for all the recipes plus tips and tricks for entertaining.
See Sides Guide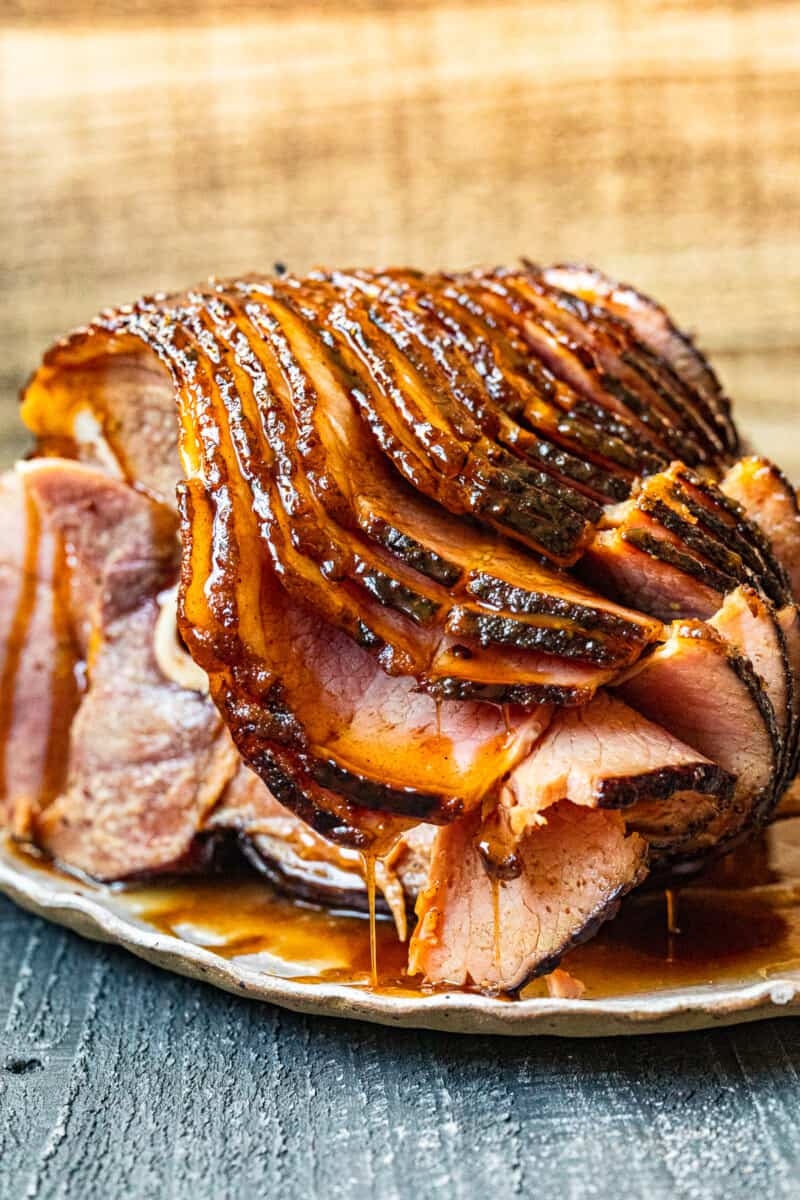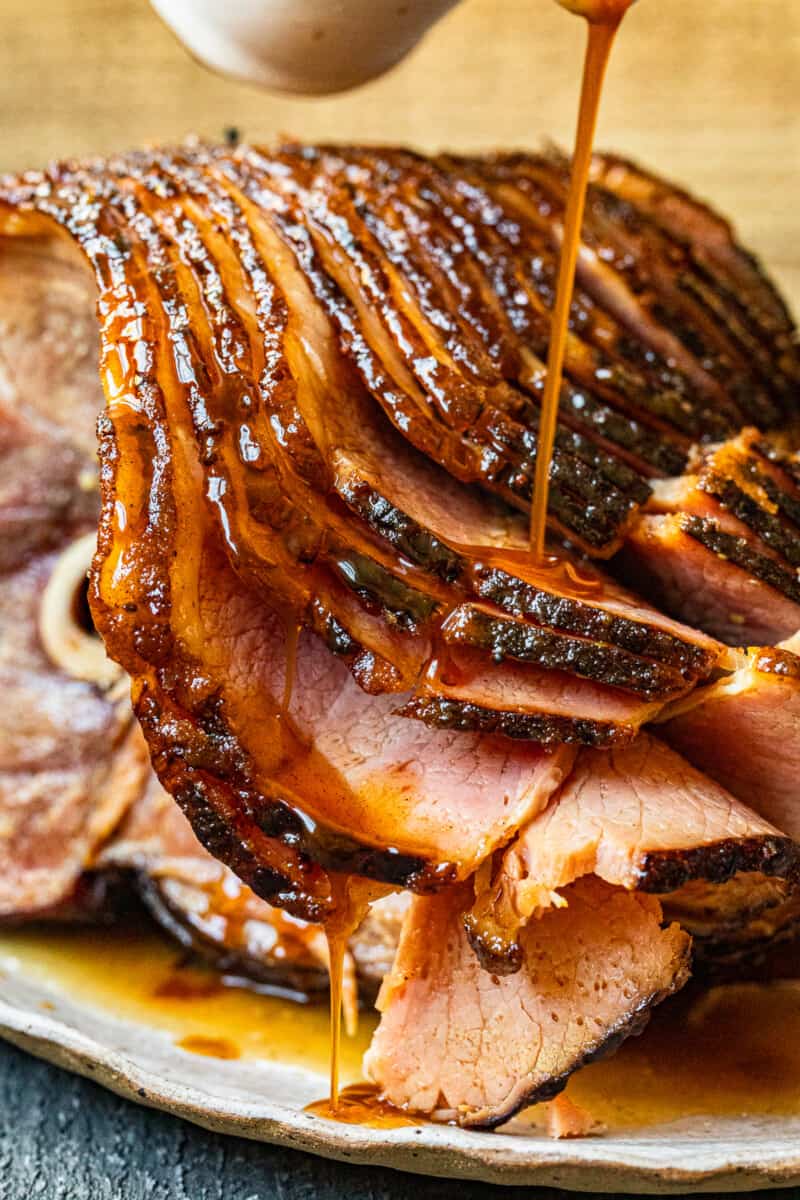 Tips!
Even though the spiral ham is pre-cooked, it should be fully heated through to an internal temperature of 140F.
The ham should be baked in the oven flat-side down.
Be sure to rub the honey glaze all over the outside of the ham, and between slices, for best flavor.
Cover the ham with foil while baking. This will keep it from drying out, so it stays juicy and moist.
I like using a kitchen torch to create the caramelized coating on the ham. But if you don't have one, you can just broil it in the oven for a similar effect.
Leftovers can be stored in the refrigerator for 3-5 days, or frozen for 12 weeks.
What is a dry rub?
A dry rub is a mixture of dry spices and seasonings that is rubbed into meat to add more flavor. We're using a mix of sugar, cinnamon, paprika, and more to add a caramelized coating of flavor to the skin of this oven baked ham.
What kitchen torch do you recommend?
We love this Kitchen Torch from Amazon (affiliate link). It's well priced, easy to use, and pretty heavy duty. It does a great job!
Can I use brown sugar in the dry rub?
Yes! Brown sugar can be used in place of regular granulated sugar in the dry rub mix. Brown sugar adds such a nice sweetness and goes really well with ham.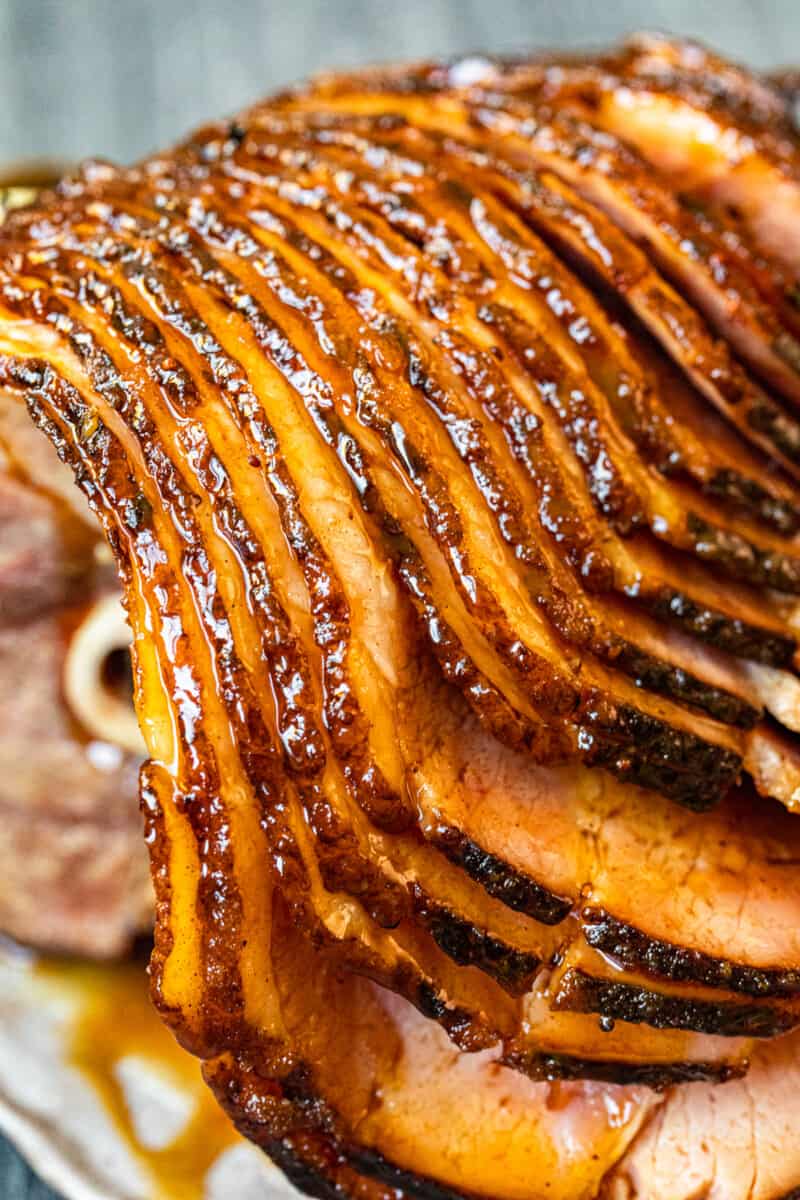 This oven baked ham is so full of flavor! It's definitely a favorite for the holidays, but it tastes just as good no matter when you make it. So be sure to make this honey baked spiral ham recipe at home for a main dish everyone will love!
If you make this recipe be sure to upload a photo in the comment section below or leave a rating. Enjoy! You can also jump to recipe.