Chocolate Mint Cookies are a fresh and flavorful mint chocolate treat. These Creme de Menthe Thumbprint Cookies are just perfect for winter, and especially Christmas!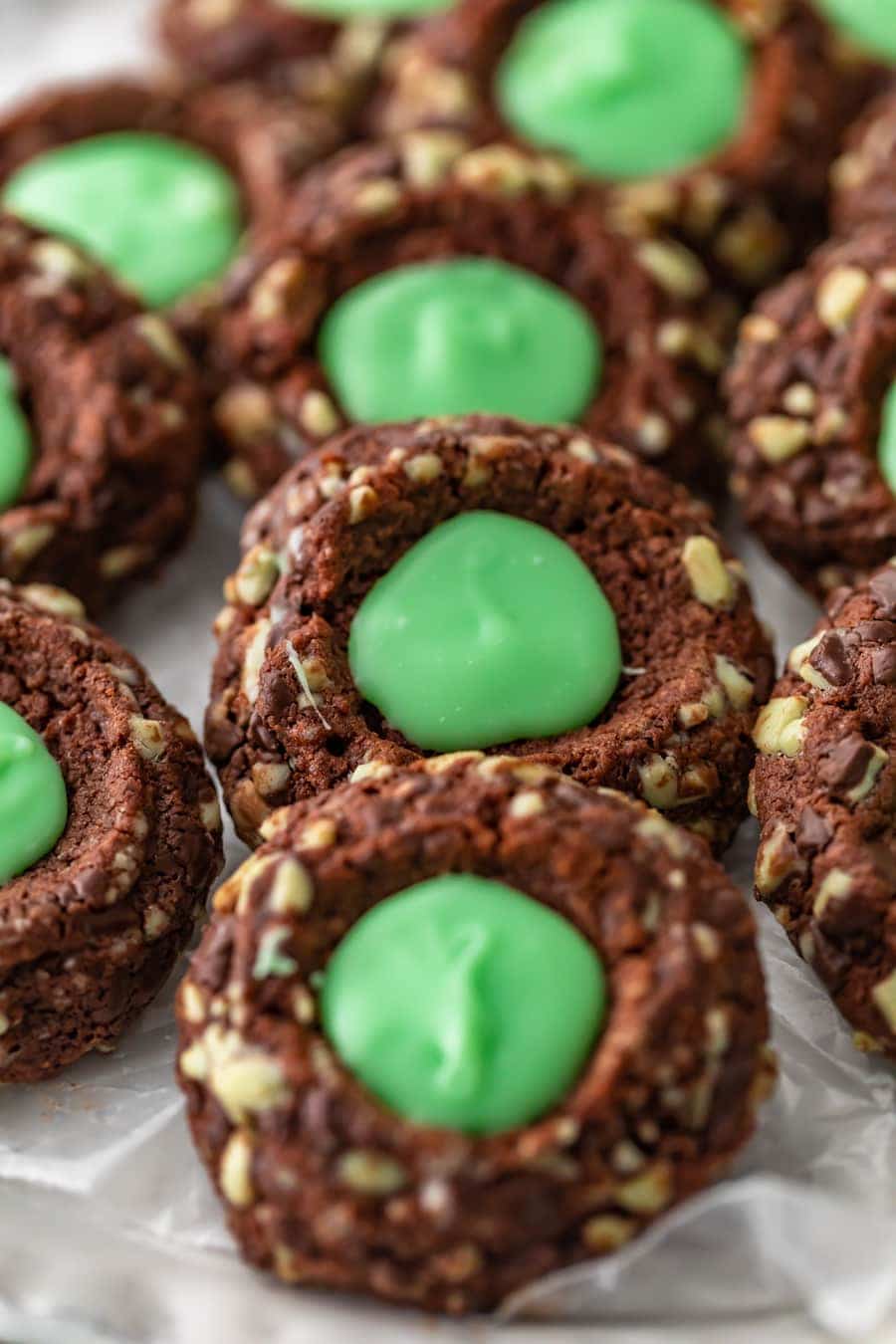 Chocolate Mint Cookies
These Chocolate Mint Cookies are just so good. Mint chocolate thumbprint cookies with a Creme de Menthe ganache. Yum!
Delicious cookies are a must during the holiday season. I feel like pies are the official Thanksgiving dessert, but COOKIES are the best dessert for Christmas. There are already so many easy cookie recipes to choose from, but these Chocolate Mint Cookies are one of my favorites this year!
Chocolate and mint is one of those flavor combos that I just can't get enough of. I've always loved Andes chocolate mints (I even made some Andes Mint Fudge), and these cookies taste just like them! They are mint chocolate thumbprint cookies with mint chips baked right in. But that's not all! We're finishing them off with an amazing Creme de Menthe ganache to fill in the middle, and it makes all the difference. I'm telling you, these are SO good, and they are the perfect flavor for Christmas.
This thumbprint cookie recipe is really easy to make, so start baking a batch of these and enjoy!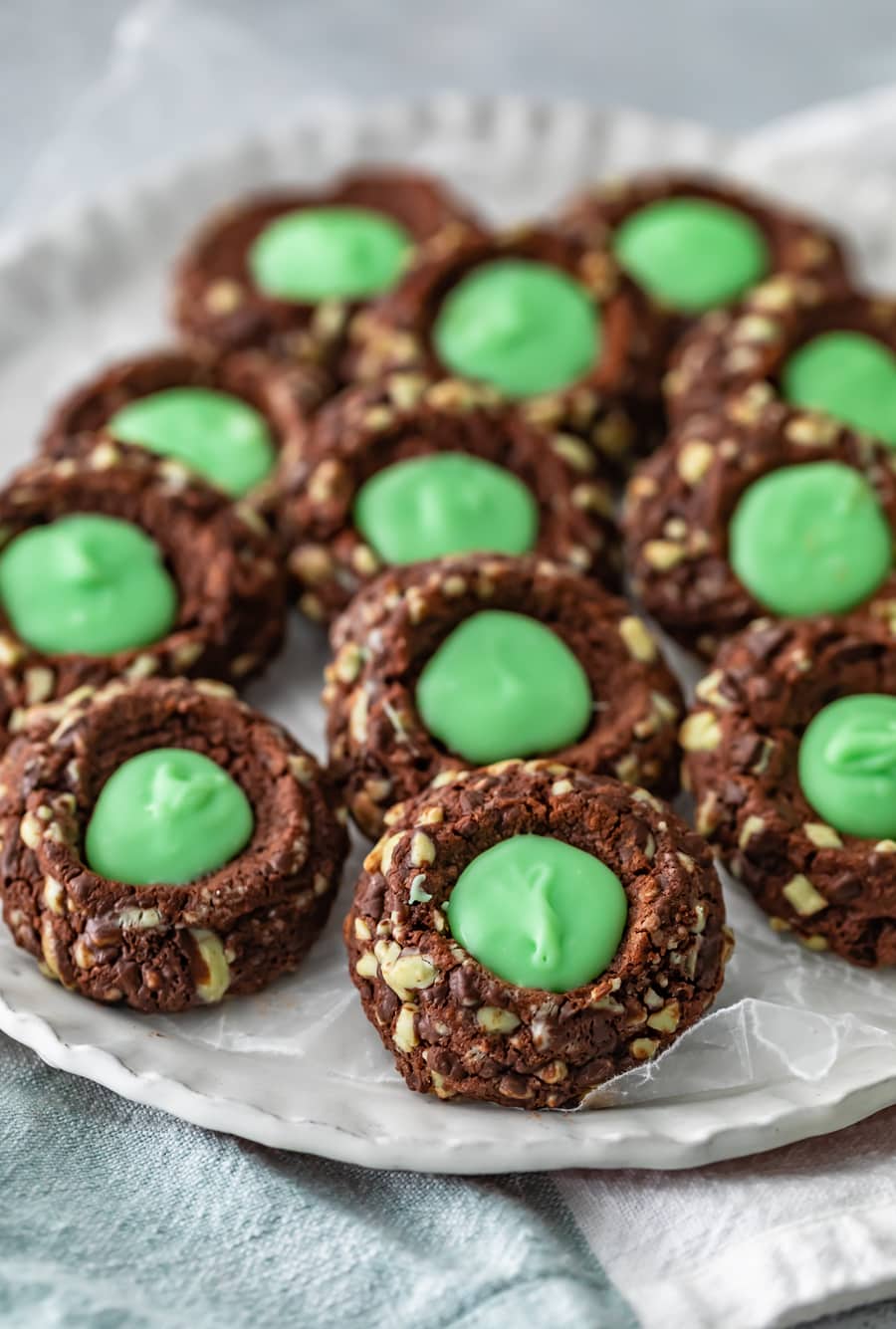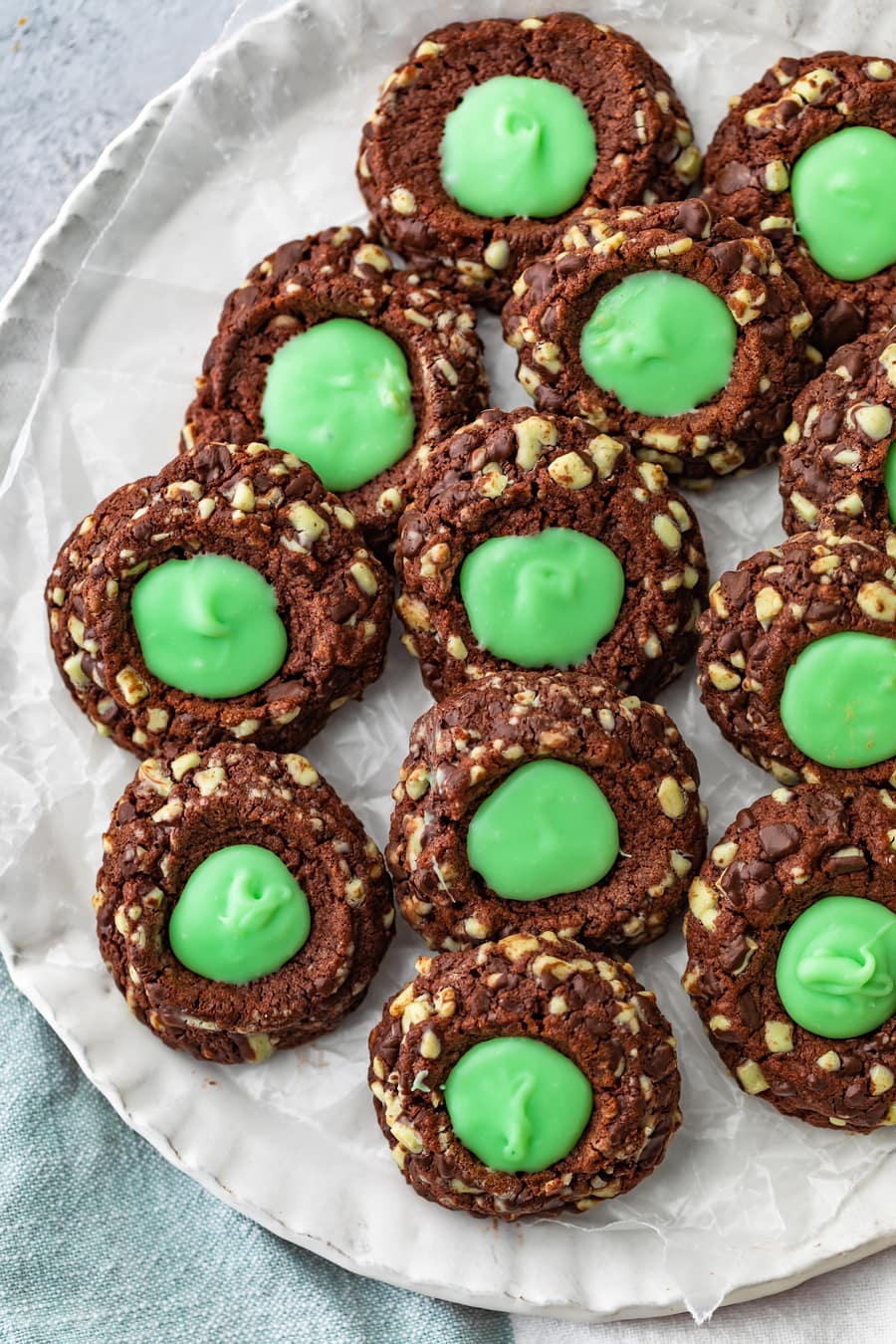 Mint Chocolate Thumbprint Cookies Recipe
Thumbprint cookies are so fun to make. Not only do you get a delicious cookie, but you get an amazing filling to add even more flavor! These chocolate mint cookies are the perfect combination: a mint chocolate cookie with a Creme de Menthe ganache filling. The chocolate and the mint balance each other out really well, and I love the flavor explosion when you bite into the ganache.
Find all of my easy Christmas cookie recipes right here!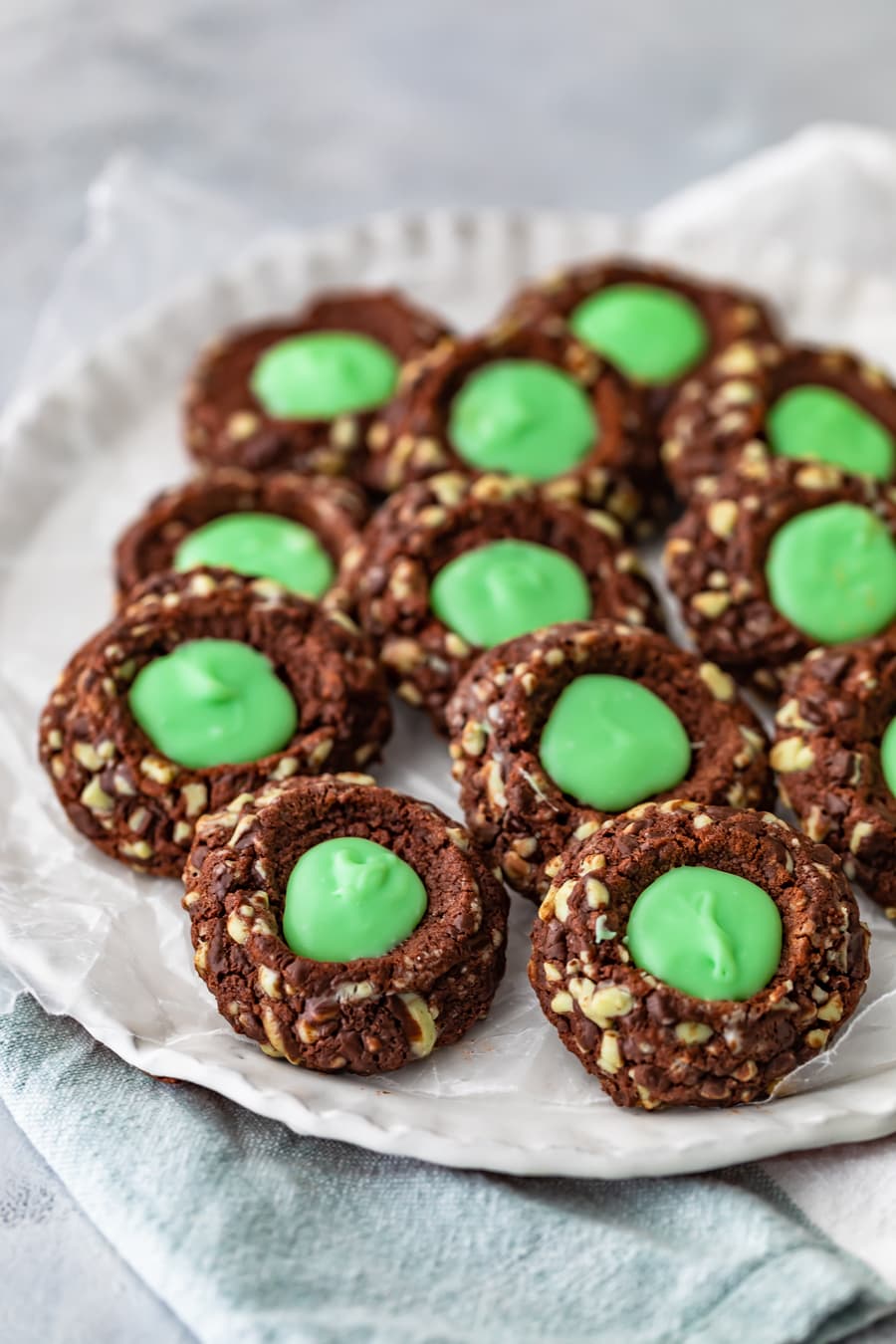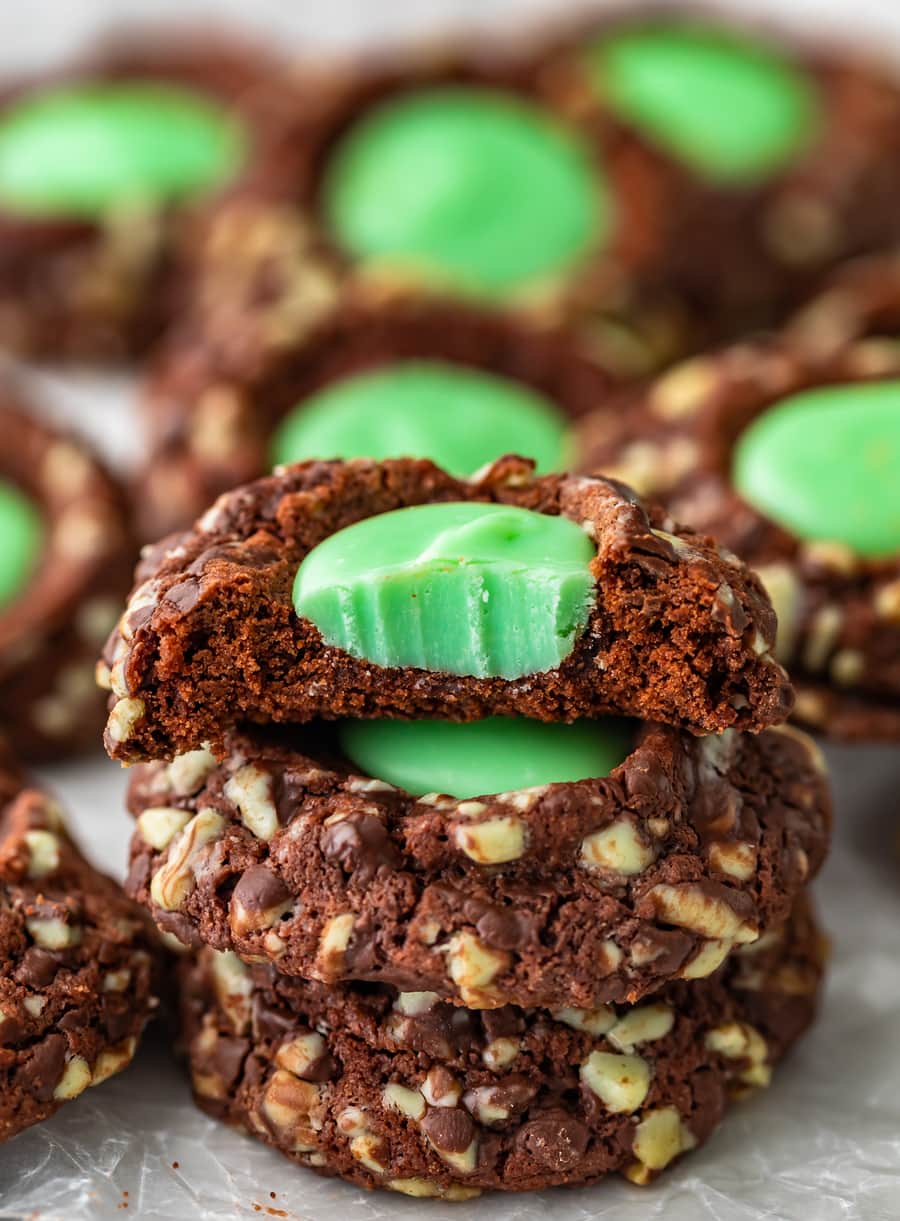 Creme de Menthe Ganache
The chocolate mint cookies are good, but I think my favorite part of this recipe is the Creme de Menthe ganache! These little thumbprint cookies wouldn't be complete without the minty filling to finish them off. Luckily the ganache is pretty simple to make, and can be done in just a few minutes while the cookies are cooling.
Mint Chocolate Ganache Ingredients:
Heavy Cream
White Chocolate
Unsalted Butter
Creme de Menthe Liqueur (or flavoring)
How to make Creme de Menthe Ganache:
Chop up white chocolate and butter into small pieces and place in a bowl.
Heat up heavy cream in the microwave (just to a simmer), then pour over white chocolate and butter.
Stir it all together, let it sit for a couple of minutes, then stir again until smooth.
Add in the Creme de Menthe and stir.
This ganache adds a delicious explosion of flavor when you bite into the cookies. Yum!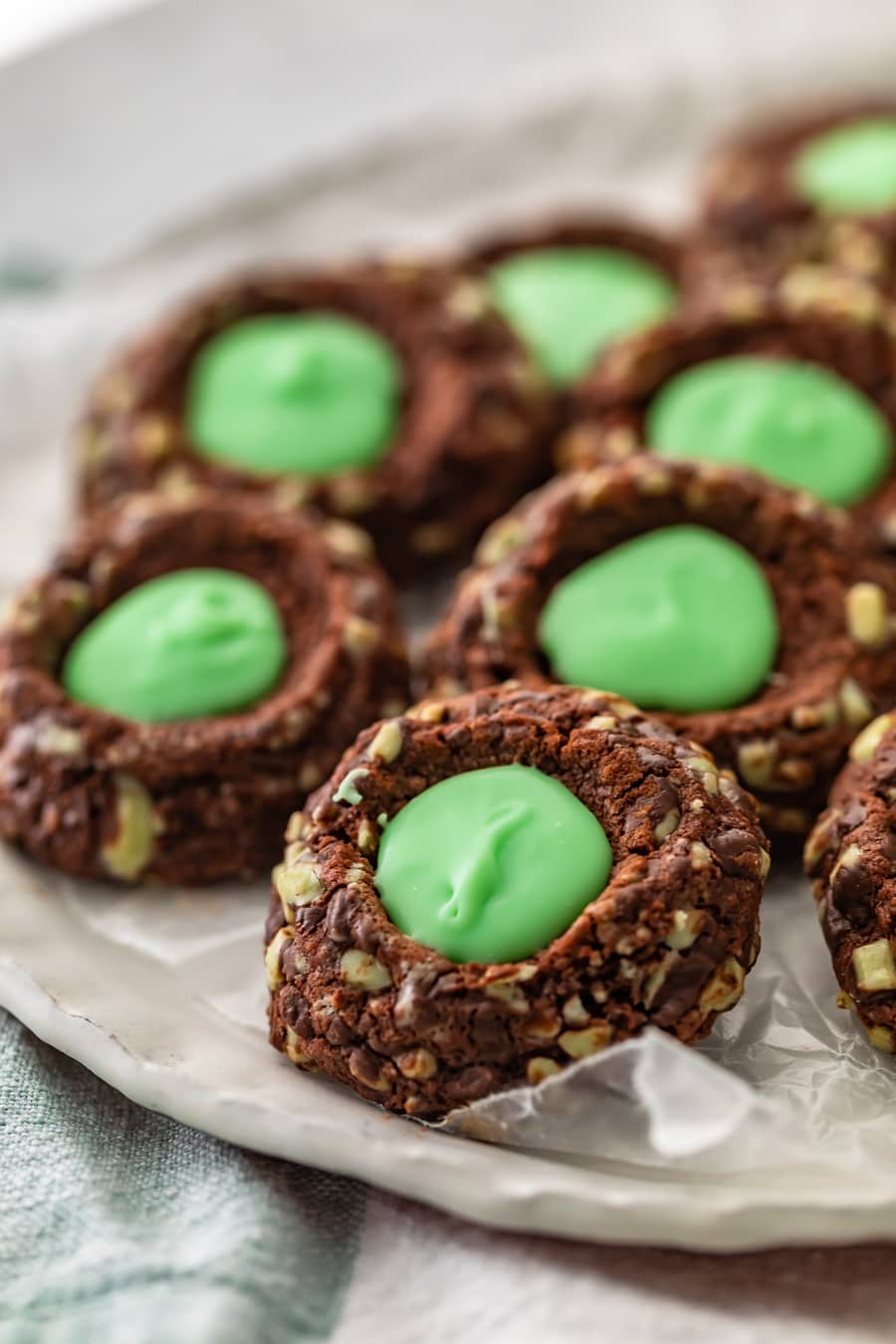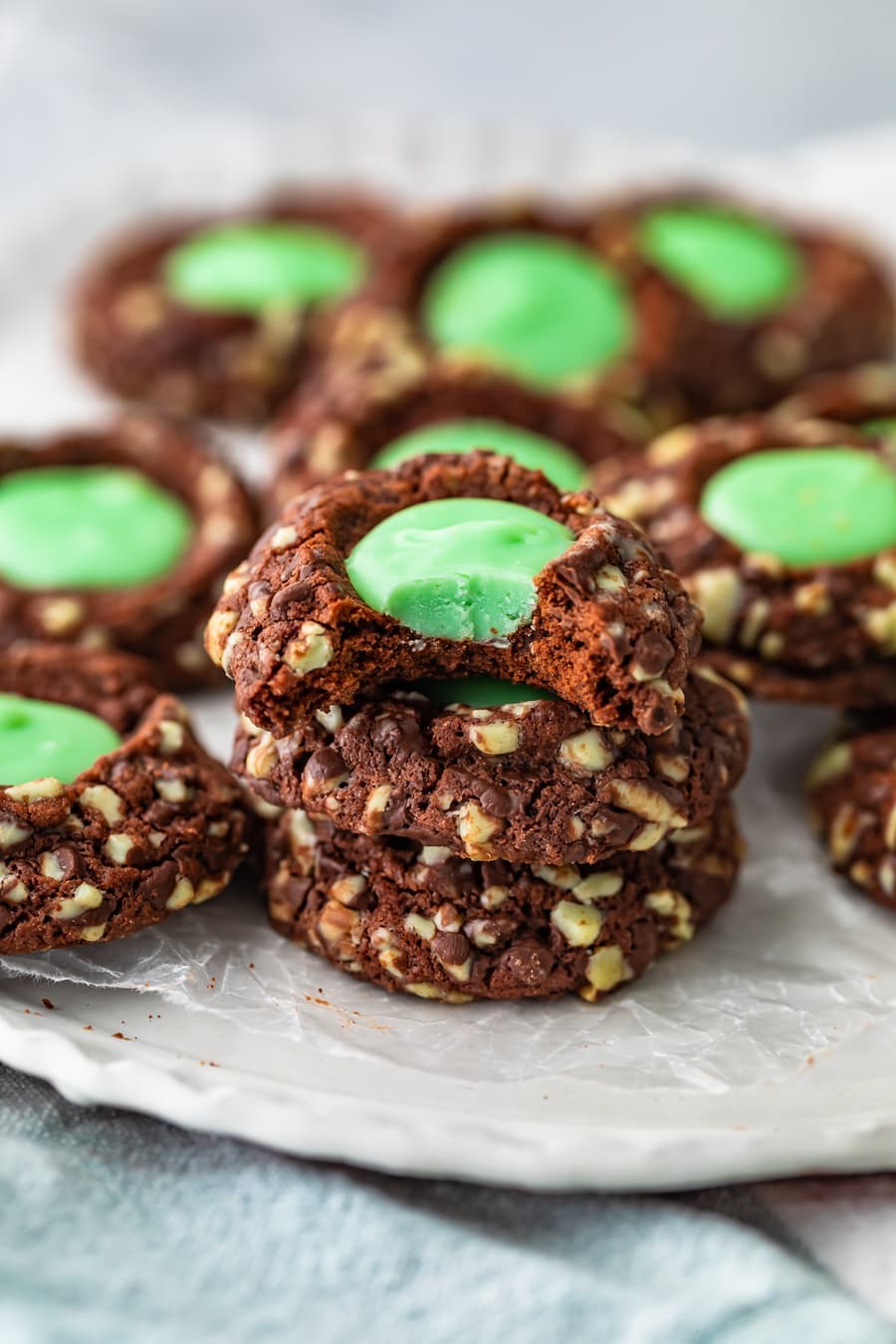 How to Make Chocolate Mint Cookies
Making mint chocolate thumbprint cookies is so simple. Make the cookies, make the ganache filling, then combine. We talked about the Creme de menthe filling above, so let's go over the cookie part.
Whisk together the dry ingredients.
In another bowl, beat butter and sugar together, then add in the egg yolk, milk, and vanilla extract.
Combine the wet and dry mixtures in a mixing bowl, then cover the bowl with plastic wrap and refrigerate for about 1 hour.
When the dough is ready, roll it into 3/4 inch balls, then roll each ball into the creme de menthe baking chips.
Place the balls of dough on a baking sheet, and use a 1/2 teaspoon measuring spoon to make "thumbprint" indentations.
Bake cookies for 10-12 minutes at 350°F.
Once the cookies have baked and cooled, fill them with the creme de menthe ganache.
Can thumbprint cookies be frozen?
Yes, you can freeze thumbprint cookies. If you know you're going to be freezing them for later rather than eating them right away, freeze the cookies without the ganache. You can then make the ganache fresh and fill them when serving. However, if you just want to store the leftover cookies, they are fine to freeze as is. I just prefer the filling when it's fresh.
These Chocolate Mint Cookies will surely be a favorite this Christmas season. So much delicious mint flavor in one amazing cookie. Everyone will love them!
See the recipe card below for details on how to make Chocolate Mint Cookies. Enjoy!
If you like this thumbprint cookie recipe, try these other holiday cookie recipes: