This HAM AND CHEESE BREAKFAST CASSEROLE is our favorite make ahead breakfast for any special occasion. Loaded with ham, cheese, , bread, eggs, herbs, and more! Sure to please everyone and just so easy to make!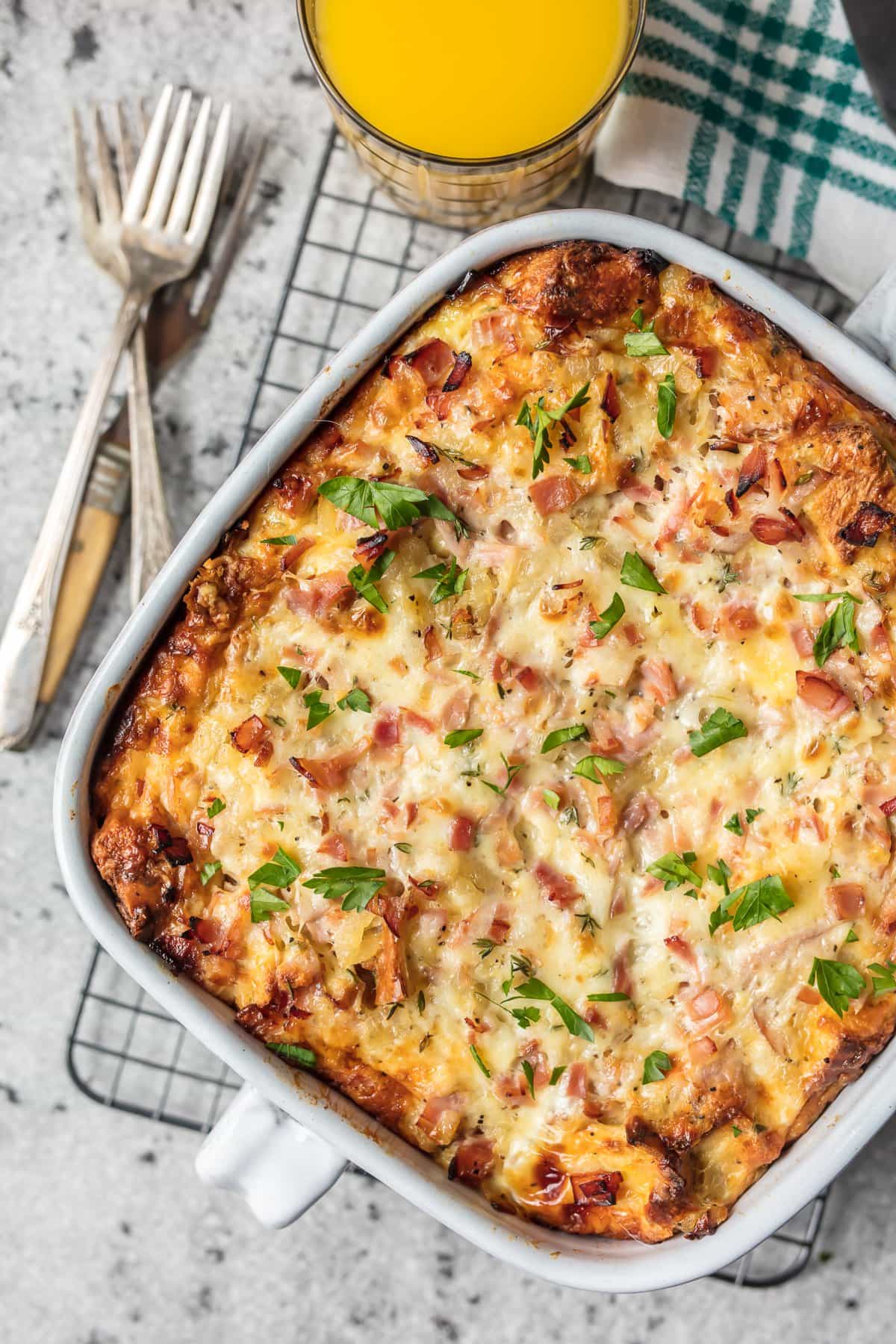 Welcome to one of my favorite recipes of the year! I am OBSESSED with this easy and amazingly delicious HAM AND CHEESE BREAKFAST CASSEROLE and I hope you love it as much as we do! It's so hearty, creamy, SIMPLE, and bursting with flavor. I was excited about it from the start, but after eating it for about 4 mornings straight
I was even more excited! It heats up like a dream, is absolutely addicting, and so filling. You're looking at my new go-to breakfast for any time friends or family comes into town; its just simply sure to please. Come on over!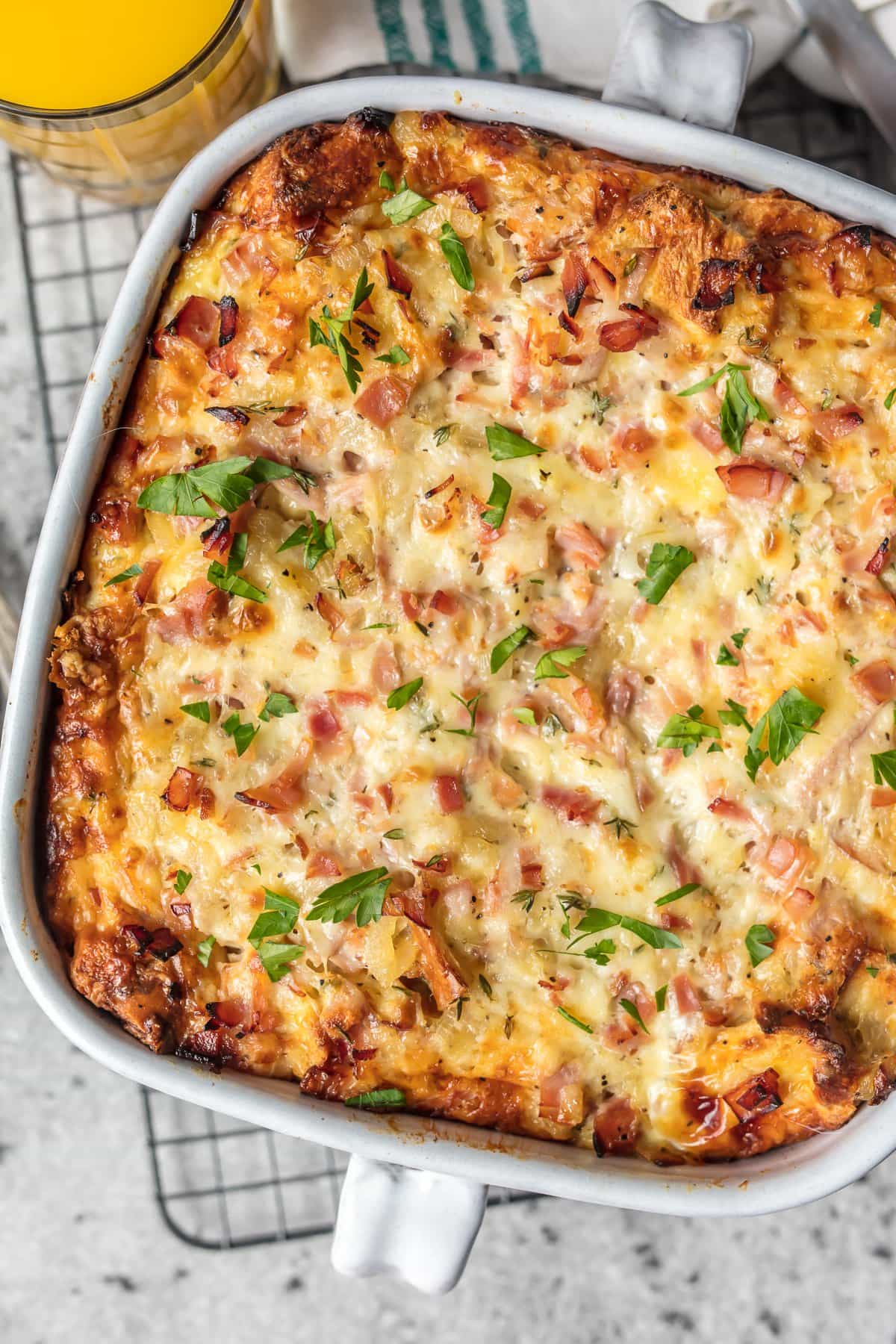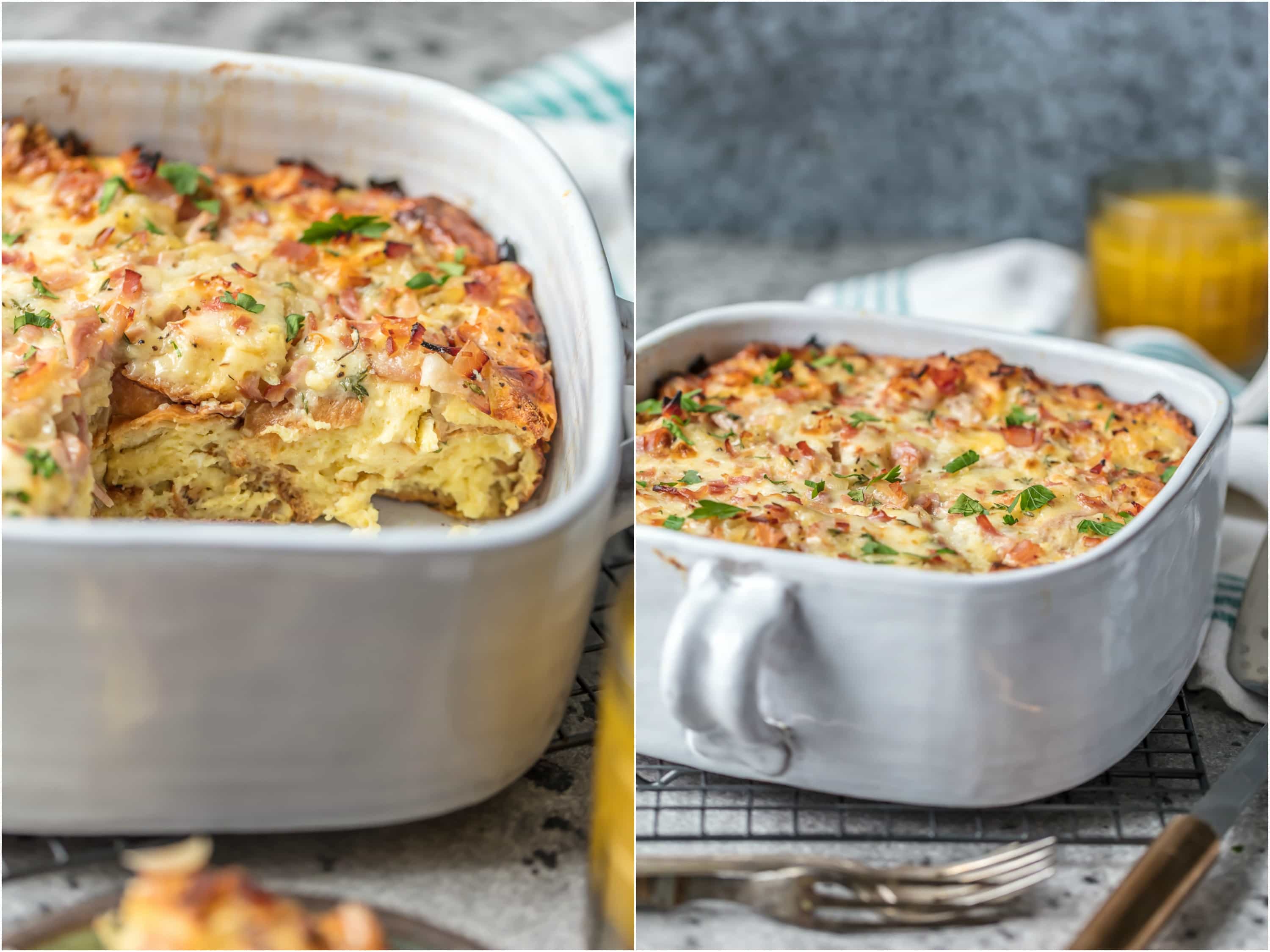 This Ham and Cheese Breakfast Casserole is loaded with Challah Bread, ham, cheese, herbs, and eggs. It's just so cozy and savory…a dream breakfast. I LOVE a casserole for breakfast because you can prep it the night before and just bake it when you're ready to serve your guests or your family. Anything to make mornings easier is a plus for me. I'm no morning person! I'm always looking for quick and simple ways to make mornings delicious and simple. This casserole does it all!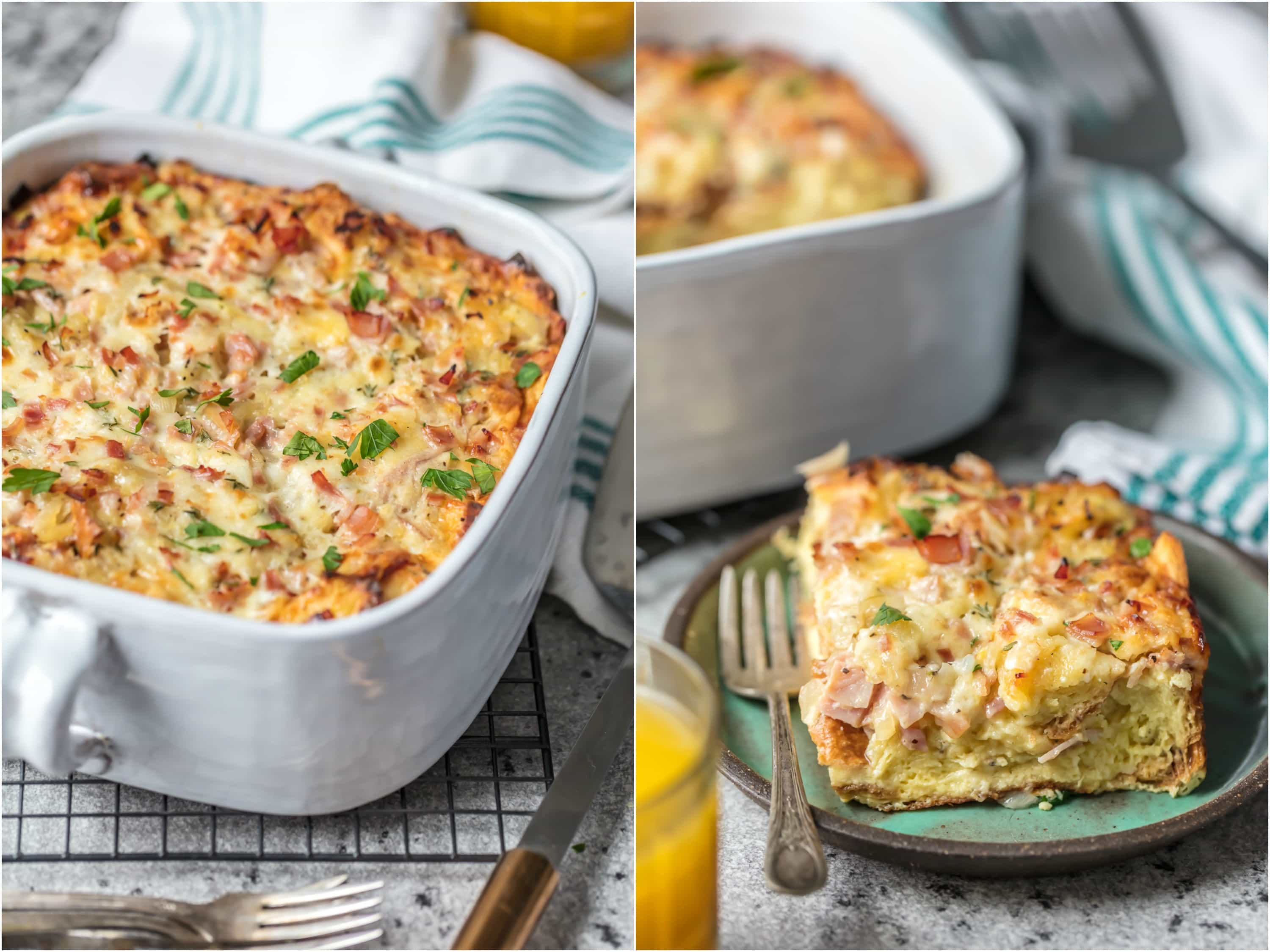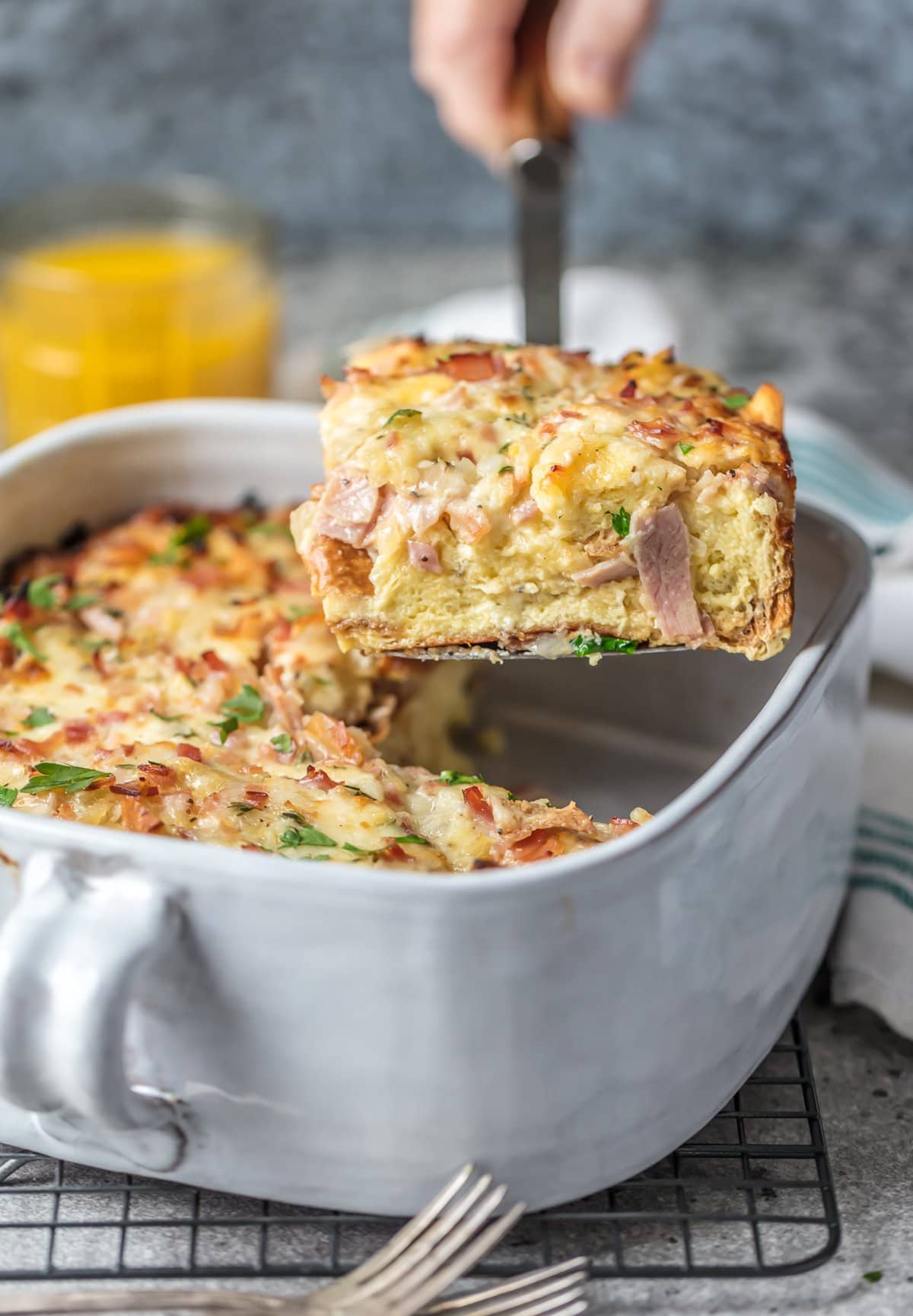 If you don't love ham, you could stuff this with whatever add-ons you love best! You could make it a veggie casserole, make it with spicy sausage, or even use pizza flavors. The sky is the limit and you can't go wrong. I plan to try lots of different varieties, but I am partial to this ham and cheese version. Just simple flavors, prep, and big love.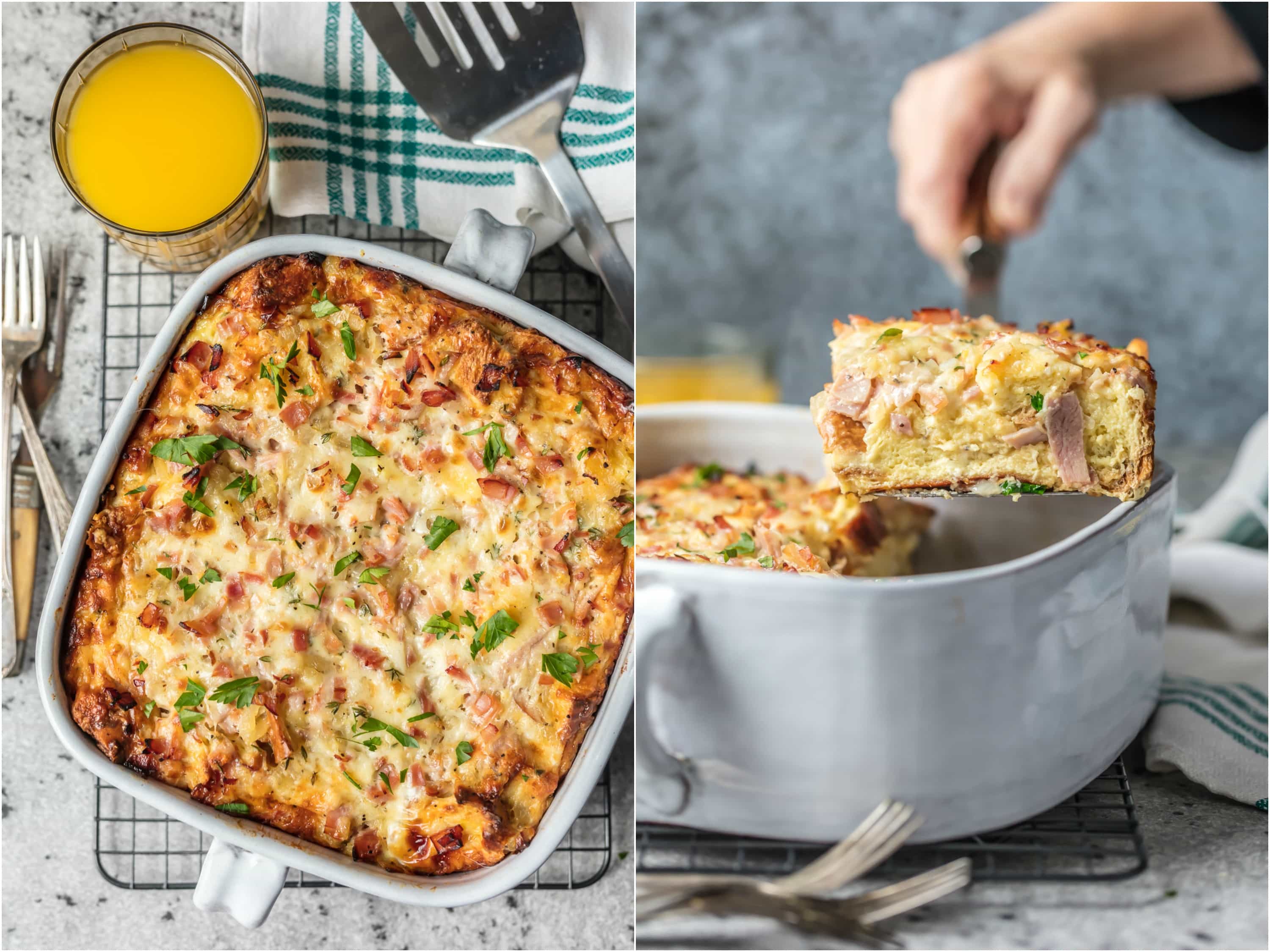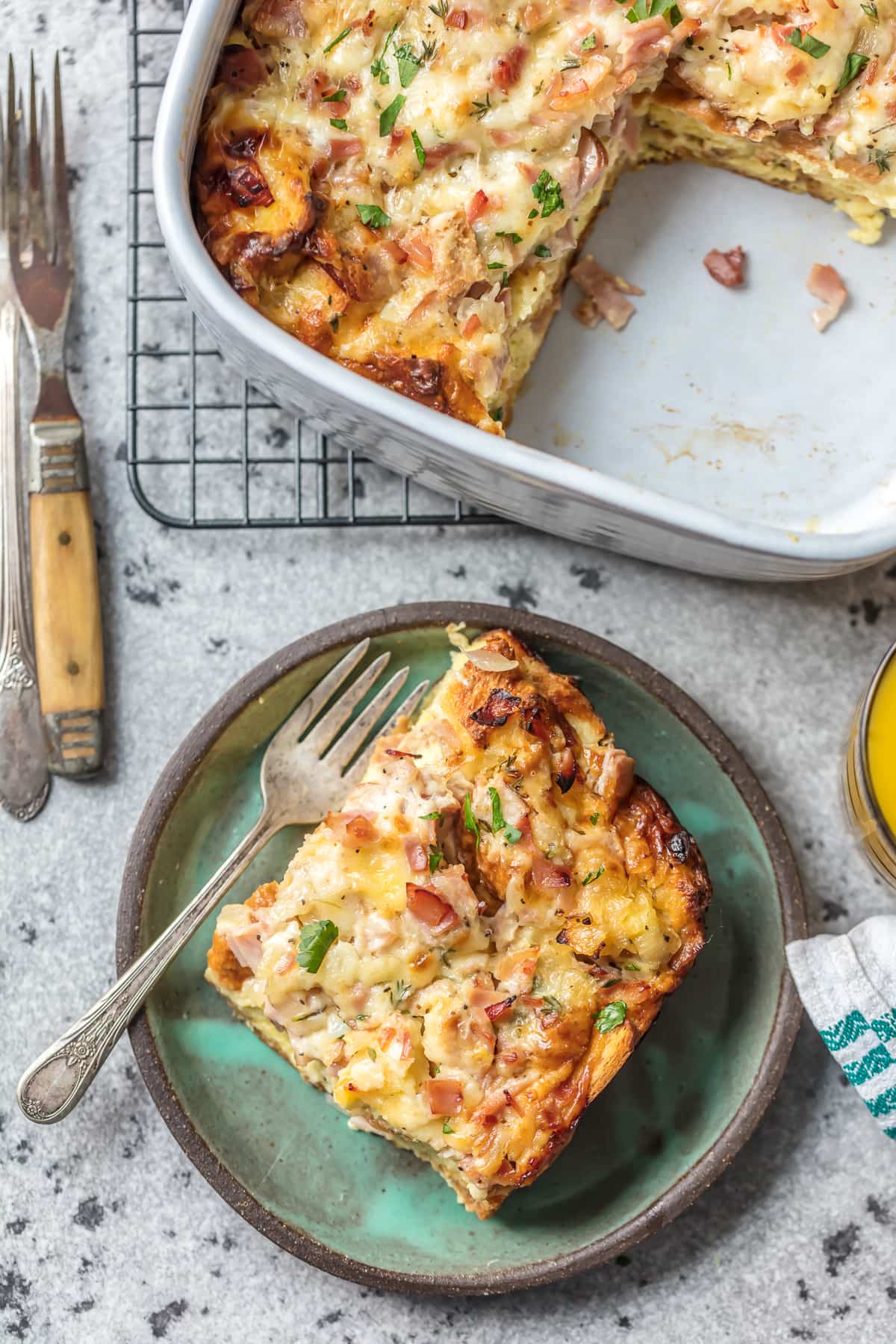 I hope you give this Ham and Cheese Breakfast Casserole a try and I hope you love it as much as our family does! If you try other flavors and fall in love, please let me know!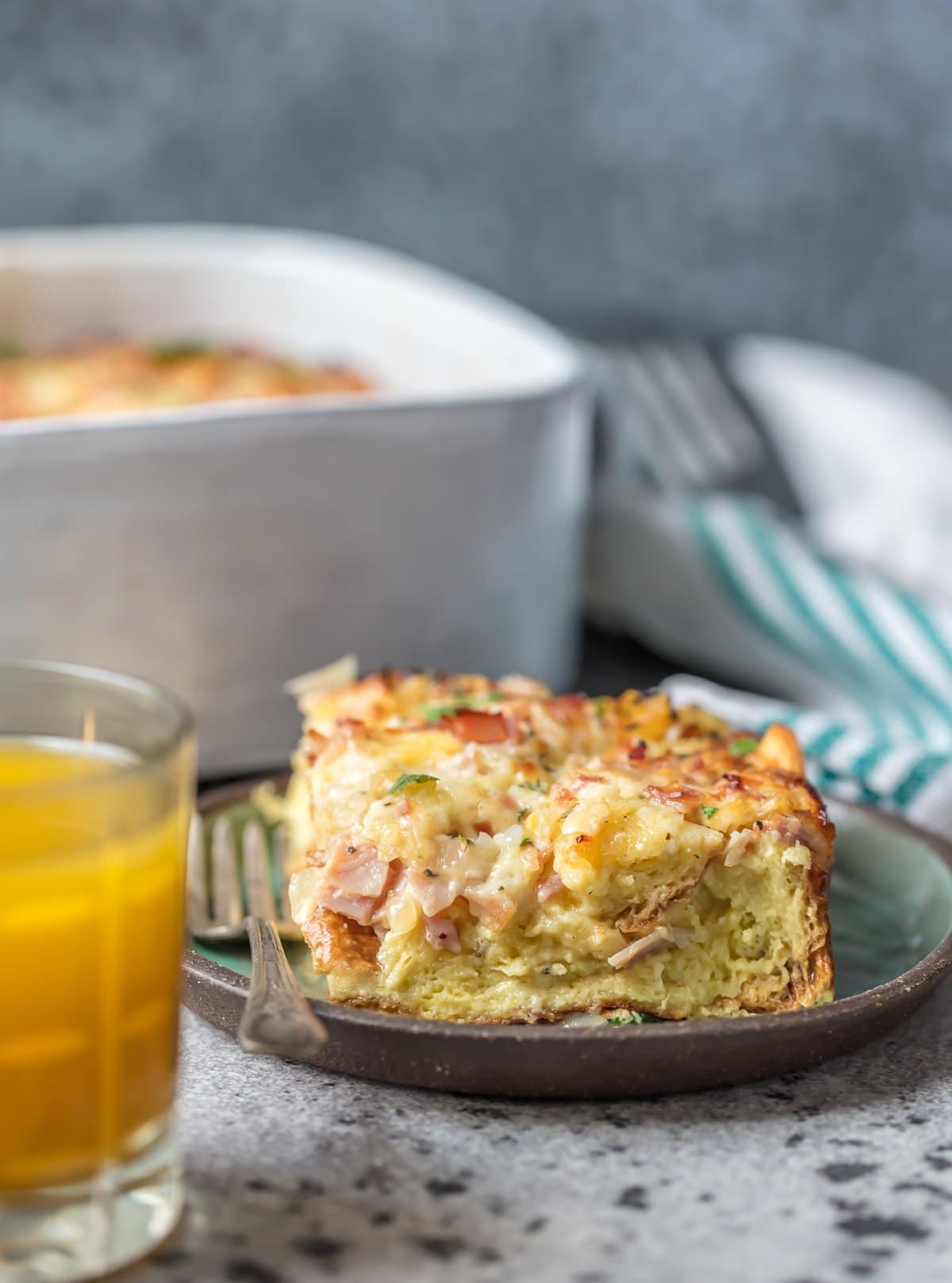 Enjoy!
Ham and Cheese Breakfast Casserole
20 minPrep Time
40 minCook Time
1 hrTotal Time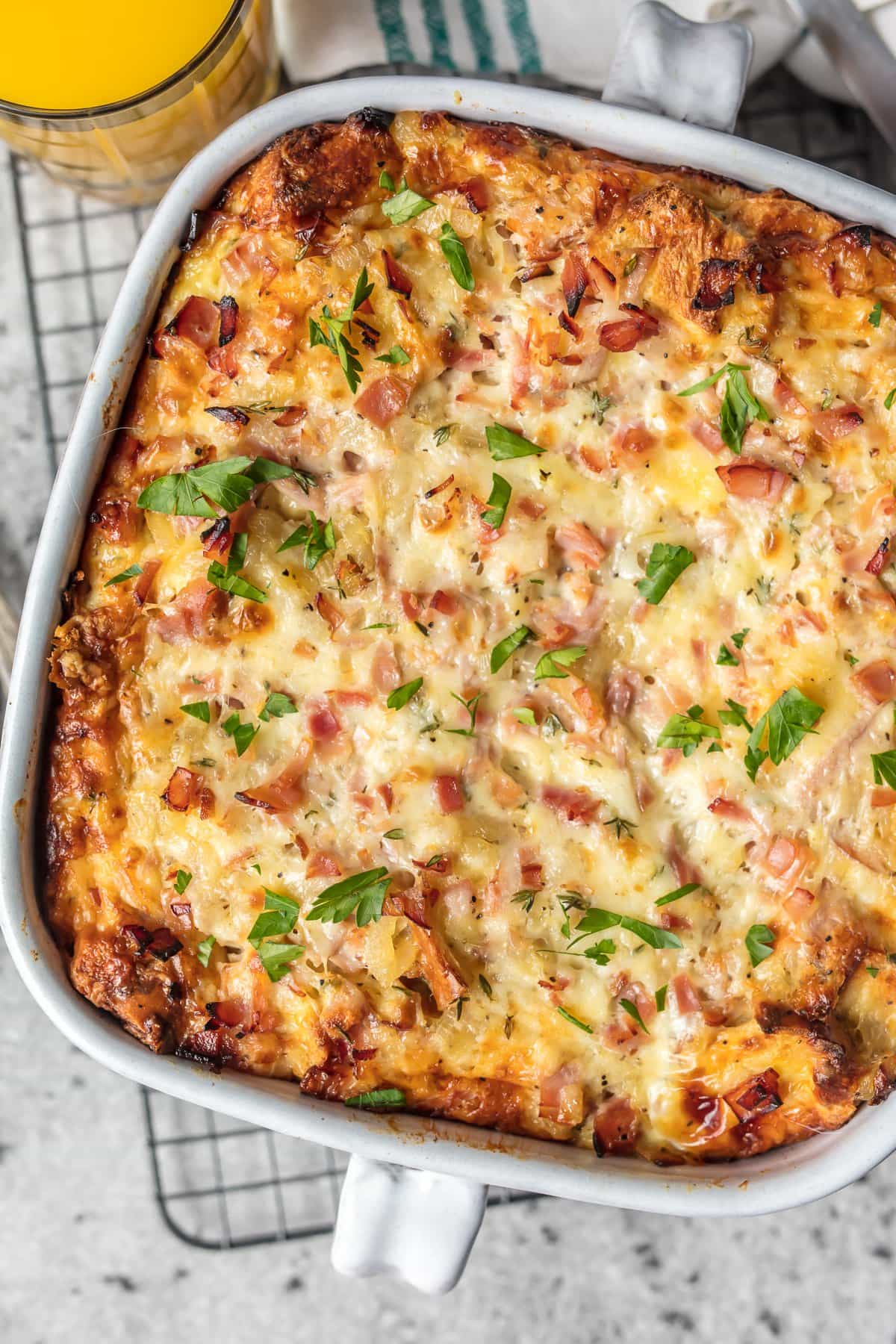 4.5 based on 15 review(s)
Ingredients
4 cups, day-old, challah or brioche bread, cut into 1-inch cubes.
2 tablespoons olive oil
1 tablespoon unsalted butter
1 medium sweet yellow onion, peeled and diced
½ teaspoon kosher salt
½ teaspoon freshly ground black pepper
¼ teaspoon granulated sugar
½ lb. thinly-sliced good deli ham, roughly cut
6 large eggs
1½ cups milk or half 'n half
½ teaspoon dry mustard
¼ teaspoon grated nutmeg
2 teaspoons fresh thyme leaves, minced
Salt & Pepper, to taste
1 cup shredded Gruyere or Swiss cheese
Instructions
Spray an 8-inch baking dish (1½-2 qt) with non-stick cooking spray.
Spread the cubed bread in the bottom of the dish.
Heat oil and butter in a large skillet over medium-low heat. Add diced onion, salt, black pepper and sugar. Sauté until onions are lightly caramelized, approximately 10 minutes. Be careful not to burn the onion.
In a medium bowl, whisk together the eggs, half and half, dry mustard, nutmeg, thyme, salt and pepper.
Spread the ham over the bread cubes, then spread the onion mixture on top of the ham. Layer on the Gruyere or Swiss cheese then pour the egg mixture over the cheese.
Press down gently on the top to ensure all bread cubes get soaked with the egg mixture. Cover and refrigerate overnight.
Before baking, warm the casserole on the counter for 15 minutes and preheat the oven to 350 degrees F.
Bake, uncovered, 40-50 minutes or until center is set and edges are bubbly and top begins to brown. A knife inserted in the center should come out clean.
If casserole is browning too soon, loosely cover it with foil near the end of the cooking time.
The casserole is delicious served any meal.
Enjoy!
7.6.8
2384
https://www.thecookierookie.com/ham-cheese-breakfast-casserole/