Ham Fried Rice is a delicious, sweet and savory dish to serve for dinner or weekly lunch prep. This recipe is also my favorite way to use up leftover ham and rice along with simple ingredients for a tasty meal!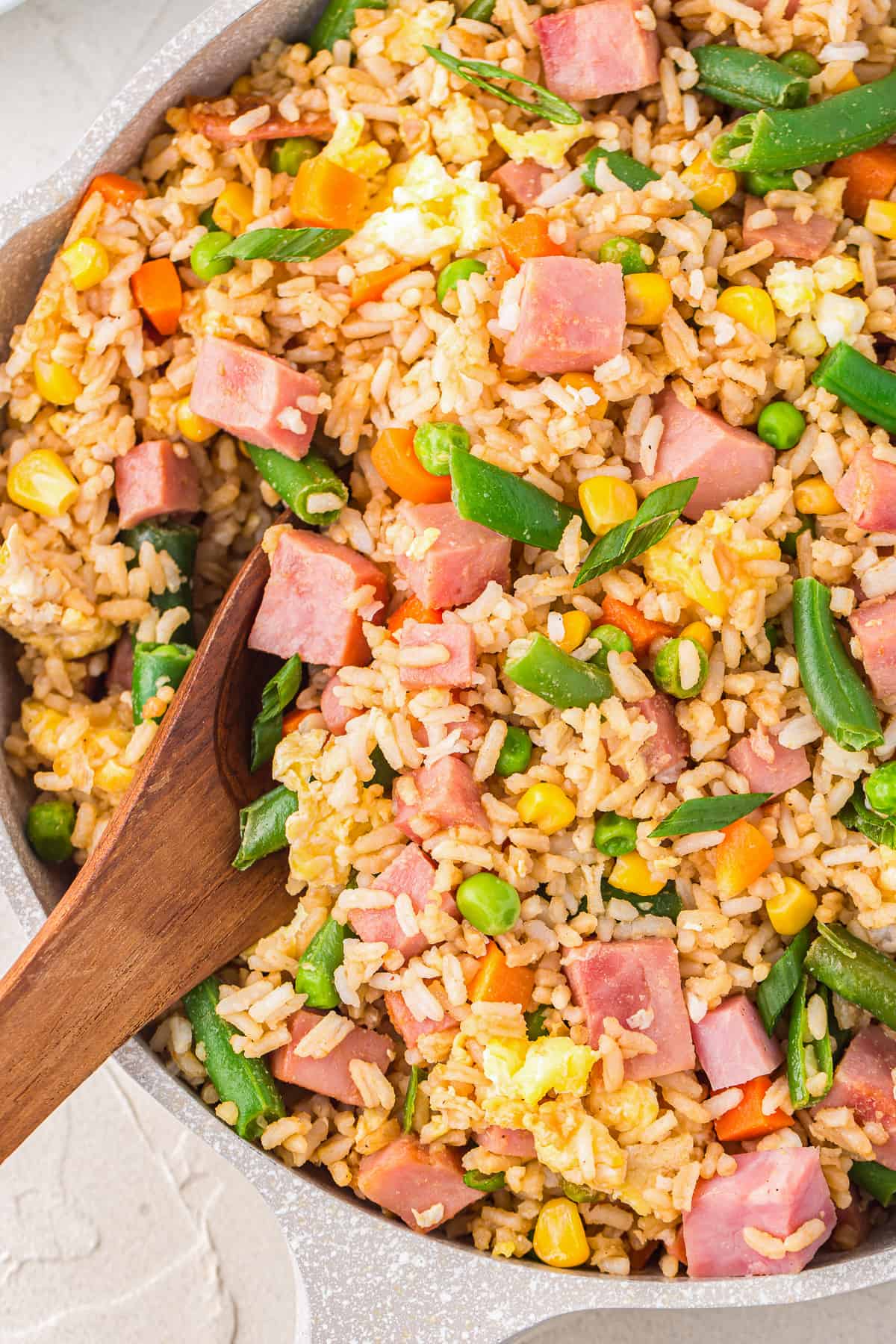 Fried Rice Recipe with Ham
This ham fried rice recipe is just like traditional fried rice, but it includes salty ham as a delicious twist on a classic recipe! This easy recipe can be made and served as a main dish or a side dish for homemade Chinese takeout night.
Why You'll Love this Ham Fried Rice Recipe:
Savory: This Ham Fried Rice will satisfy your whole family with its savory flavor, even the picky eaters!
Great way to use leftovers: Include leftover ham in your fried rice for a scrumptious alternative to last night's dinner.
Perfect for meal prep: In addition to using up leftovers, this recipe is also great for portioning out into containers in the fridge for weekly meal prep.
Whether you're trying to get rid of a few extra items from the fridge or just looking for a new recipe for family dinner, this easy Ham Fried Rice is the easy dinner you'll love!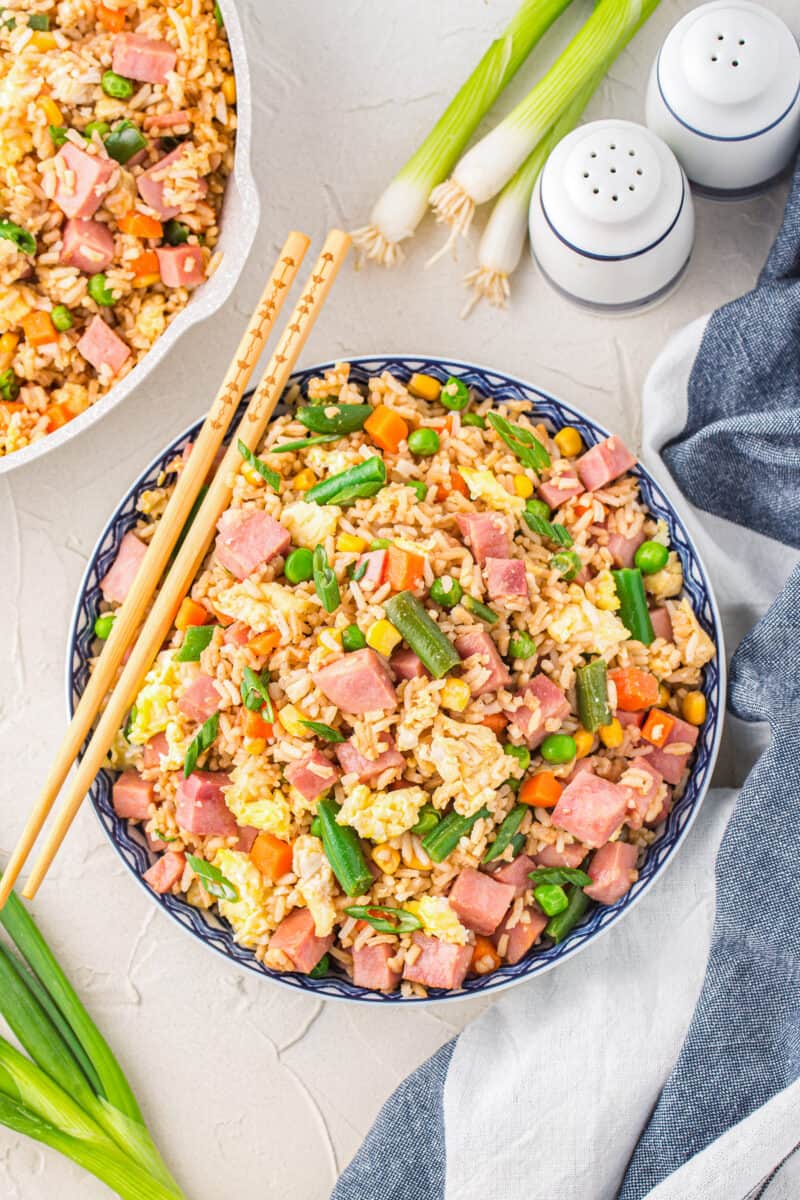 How to Make Ham Fried Rice
You can jump to the recipe card for full ingredients & instructions!
Place a large skillet over medium-high heat and add sesame oil.
Add the ham, vegetables, and seasoning mix and saute.
Add the rice and saute until it begins to brown.
Stir in the scrambled eggs and soy sauce into the rice mixture and cook.
Serve hot with green onions and sweet chili sauce if preferred.
Recipe Notes
Sesame Oil: This adds a delicious flavor but you can substitute another high smoke point oil such as avocado oil, vegetable oil, or canola oil.
Ham: You can use any ham that you have on hand. This is a great recipe to use extra ham from the holidays or you can even use packaged cubed ham.
Frozen Mixed Vegetables: I used the Great Value brand of mixed vegetables which includes carrots, peas, corn, and green beans but you can really use any vegetable mixture you like.
Fried Rice Seasoning Mix: I used the Sun-Bird brand of fried rice seasoning mix which can be found at Walmart. Any brand can be used as a substitute or you can make your own seasoning if you prefer.
Rice: This is a great recipe for leftover rice because it works best with rice that has been cooked and cooled completely. If you do make the rice fresh for this recipe be sure to give it time to cool first.
Large Eggs: Be sure your eggs are scrambled before you add them to the pan, otherwise everything will be coated with egg. Alternatively, you can push everything to the side, scramble the eggs in half the pan and then mix everything together like they do at Mongolian grills.
Soy Sauce: For a gluten-free alternative, use coconut aminos or tamari.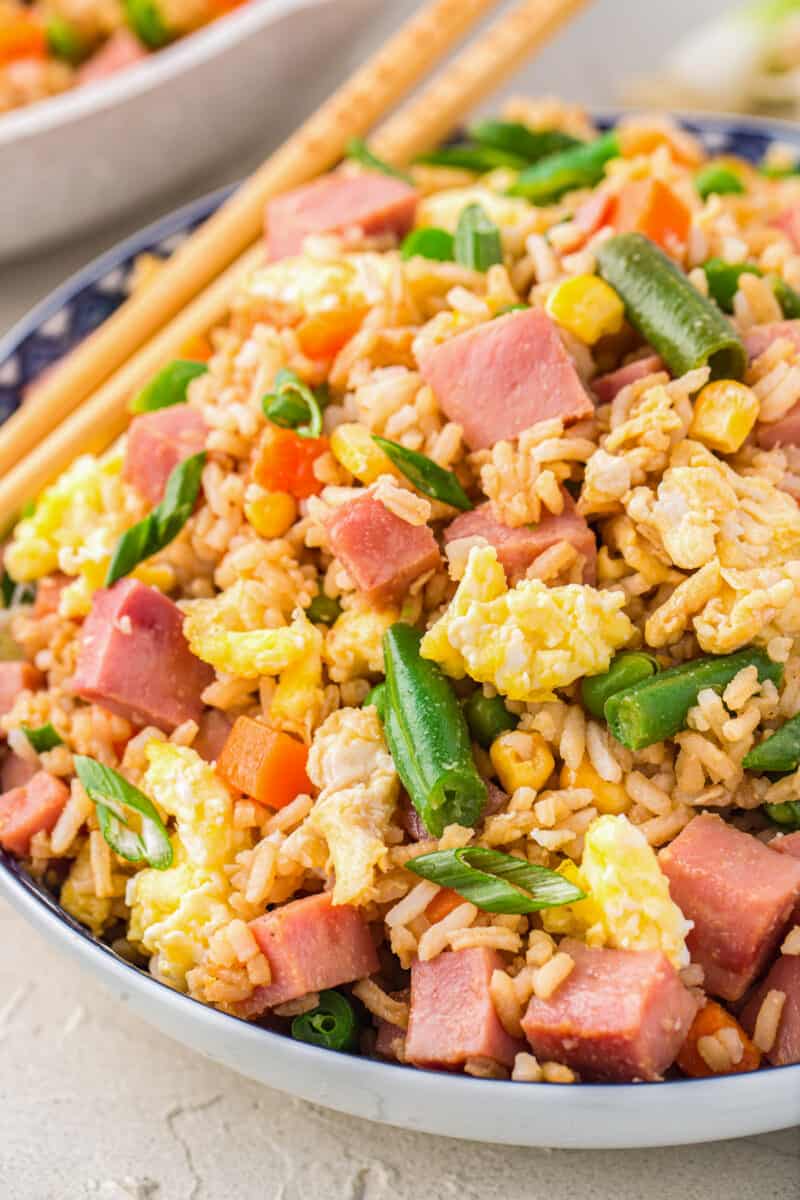 What is fried rice seasoning?
Fried rice seasoning is a seasoning packet that contains premixed and measured spices, including salt, garlic powder, black pepper, ginger, and bay leaf.
Is ham fried rice gluten-free?
Unfortunately, this recipe is not naturally gluten-free. To make it gluten-free, use a certified gluten-free fried rice seasoning packet and tamari or coconut aminos instead of soy sauce.
What kind of rice should I use for ham fried rice?
For classic fried rice, white rice is best. For a healthier swap, use an equal amount of brown rice or riced cauliflower.
How much dry rice do I need to make 4 cups of cooked rice?
1⅓ cups of dry rice yields 4 cups of cooked rice.
Can I make ham fried rice with different vegetables?
Absolutely! Choose a mix of your family's favorite fresh or frozen veggies, such as corn, green beans, broccoli, or edamame, totaling 12 ounces. Note that some vegetables take longer to cook than others, so adjust the cook time accordingly.
This whole dish is super easy and a huge time-saver for busy weeknight dinners! This recipe can also be adjusted to create a big feast for a large group of people and it makes a fast bulk meal to bring to potlucks.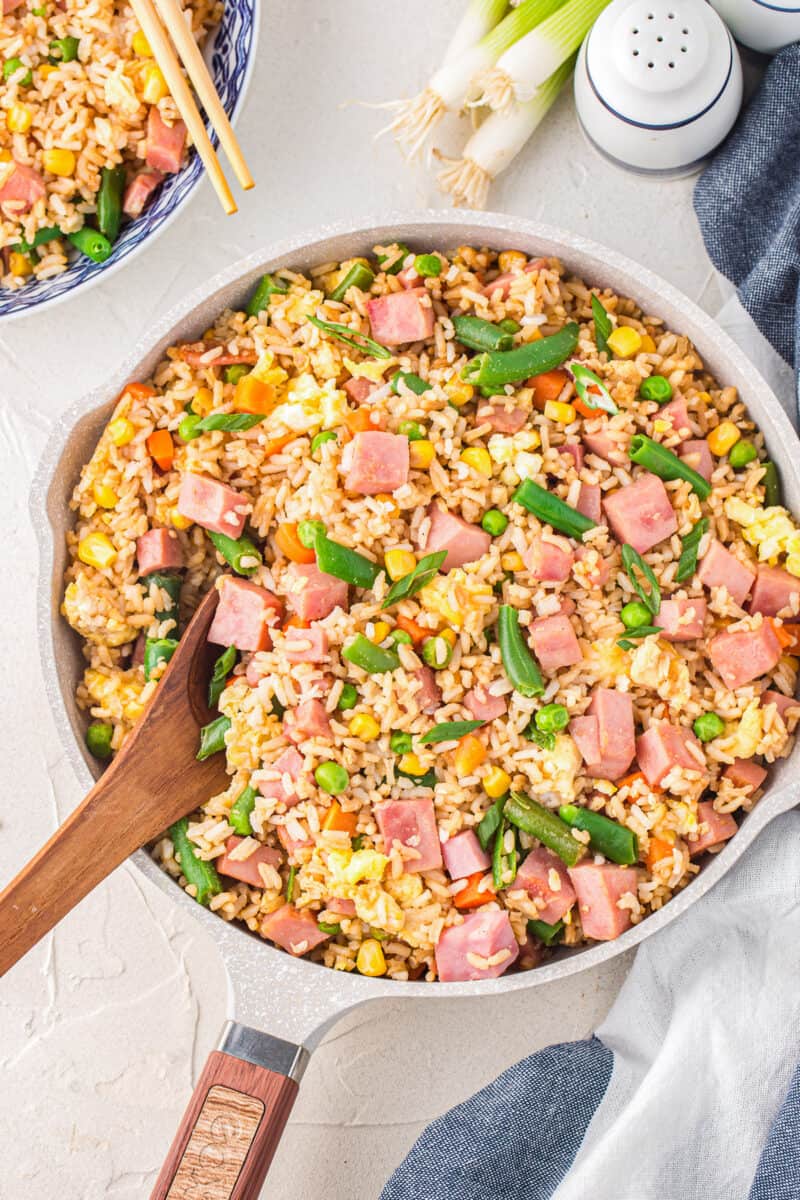 Make Ahead Instructions
It's important to cook the rice and scramble the eggs ahead of time! You can do both up to 2 days before you make this ham fried rice. Store both in airtight containers in the refrigerator until ready to use.
Storage Instructions
Store leftover ham fried rice in an airtight container in the refrigerator for up to 3 days. Reheat in 30-second bursts in the microwave until hot.
Freezing Instructions
Let the ham fried rice cool completely, transfer to an airtight container, and freeze for up to 2 months. Thaw in the refrigerator overnight before reheating.
Substitutions
In place of the sesame oil, you can use canola, vegetable, or avocado oil.
You can use any leftover ham you have on hand, or try shrimp, chicken, beef, or pork.
Feel free to use your favorite frozen veggies; just make sure to use 12 ounces total.
In place of the white rice, you can use an equal amount of cooked brown rice.
For gluten-free fried rice, you can use coconut aminos or tamari in place of the soy sauce.
#1 Ham Fried Rice Tip
Make sure your rice has been fully chilled before making this recipe. Hot rice will turn out mushy.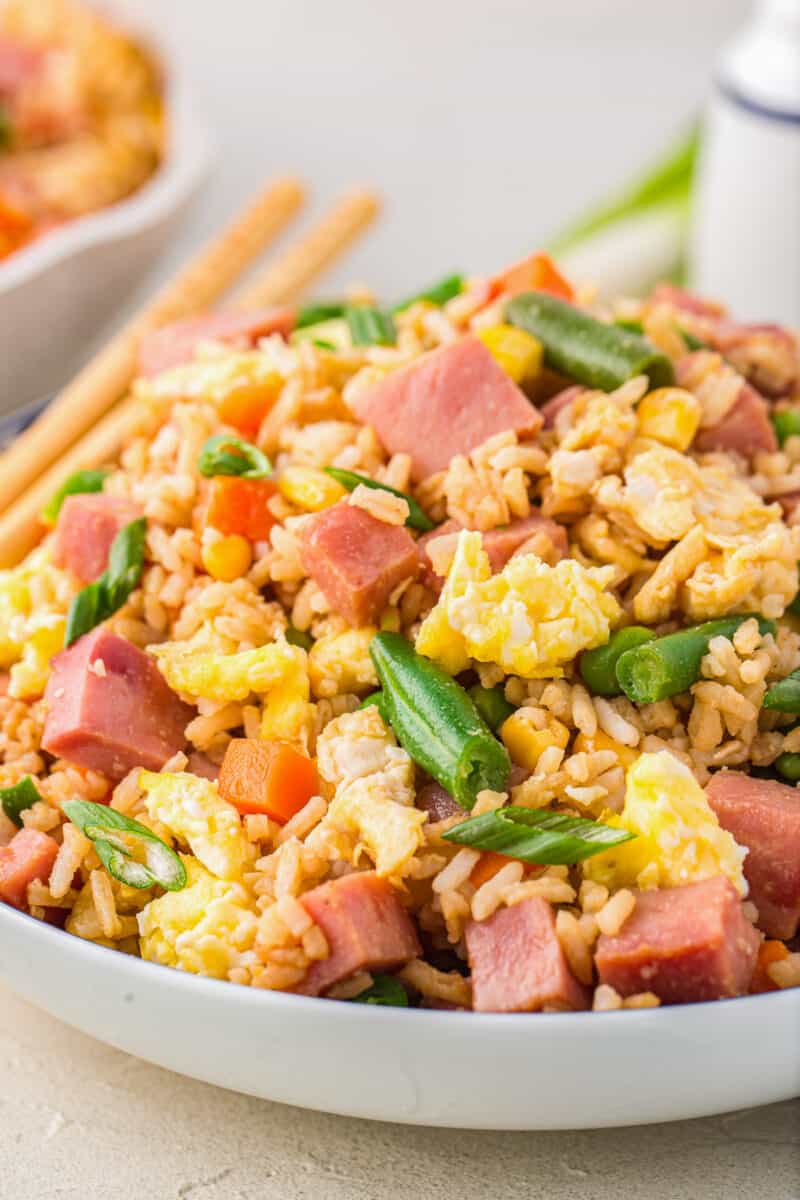 Make this effortless Ham Fried Rice with leftover ham and frozen vegetables from a bag for the easiest dinner that's ready in just 15 minutes! This recipe makes the best fried rice and allows for simple customization by garnishing with a little bit of chopped cashews, chopped green onions, sweet chili sauce, bean sprouts, sesame seeds, and more.
If you make this recipe be sure to upload a photo in the comment section below or leave a rating. Enjoy! You can also jump to recipe.