This tasty Light Almondmilk Chicken Curry is a perfect healthy weeknight meal that the whole family will love! This easy to make recipe is packed full of flavor and mild in spice. Made with almondmilk for a creamy chicken curry that is dairy and gluten-free.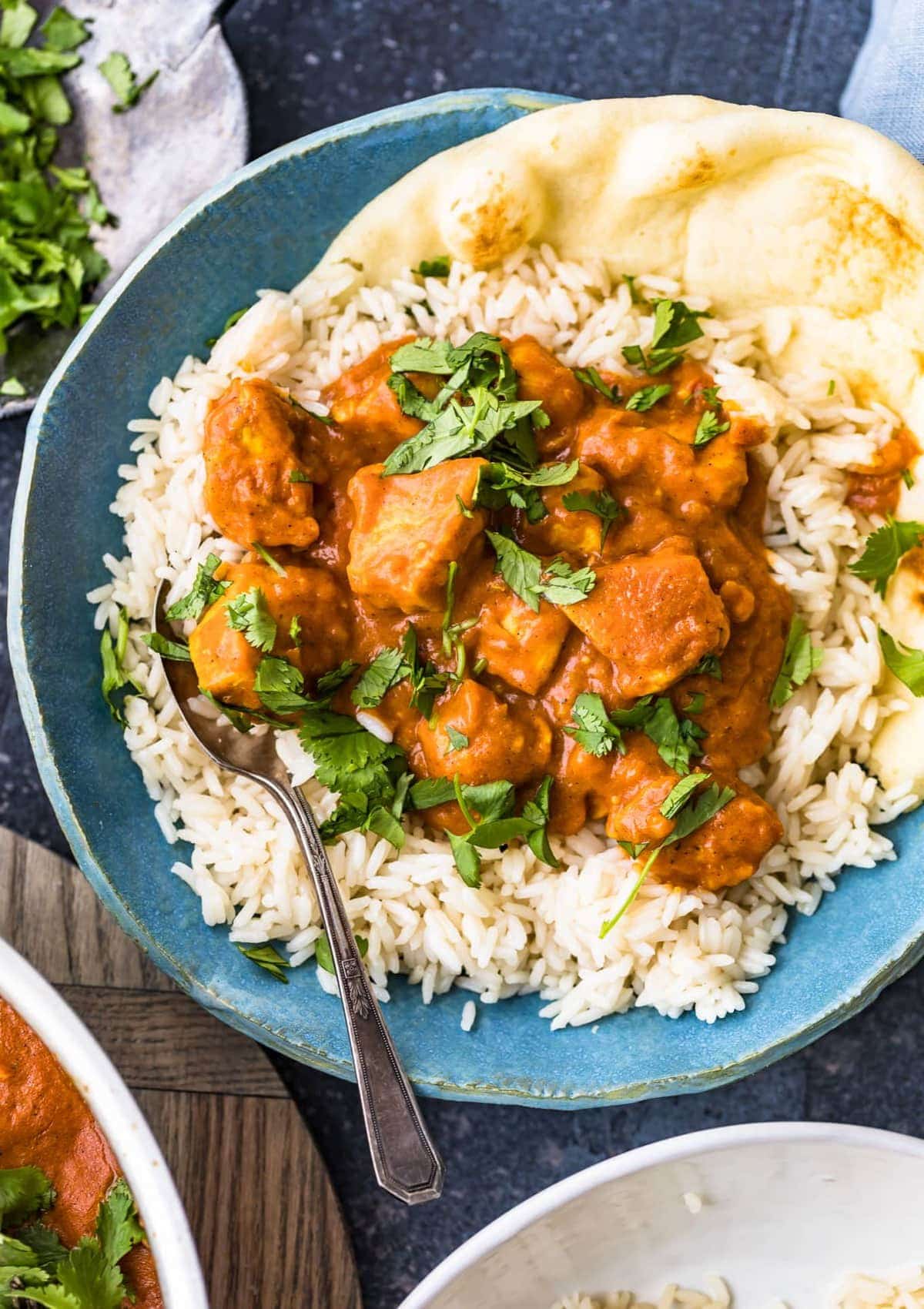 We are huge fans of curry in our house, it doesn't take long to make a batch and they are so full of flavor – it feels like a real treat! It's so easy to make your own curry paste as a base for the dish so that you get a really fresh and vibrant flavored meal. This recipe is mild in spice, so perfect for kids and adults alike. In our humble opinion, it's the best chicken curry recipe!
How to make Healthy Almond Milk Chicken Curry Recipe
To make the curry paste
Place the curry paste ingredients in a food processor and pulse until smooth and combined. Set aside.
To make the Almond Milk Curry
Heat 1/2 tablespoon olive oil in a large saucepan over high heat. Add the chicken and season with salt and pepper to taste. Cook for 3-5 minutes, stirring as you cook. Once golden, remove and set aside.

Add remaining 1/2 tablespoon olive oil to the saucepan and add curry paste. Stir to combine. Cook for 2 minutes or until fragrant.

Return the chicken to the saucepan and stir to coat.

Reduce heat to medium/low and cook for 30 minutes or until thickened and chicken is fully cooked.

Serve with white rice and top with cilantro. Enjoy!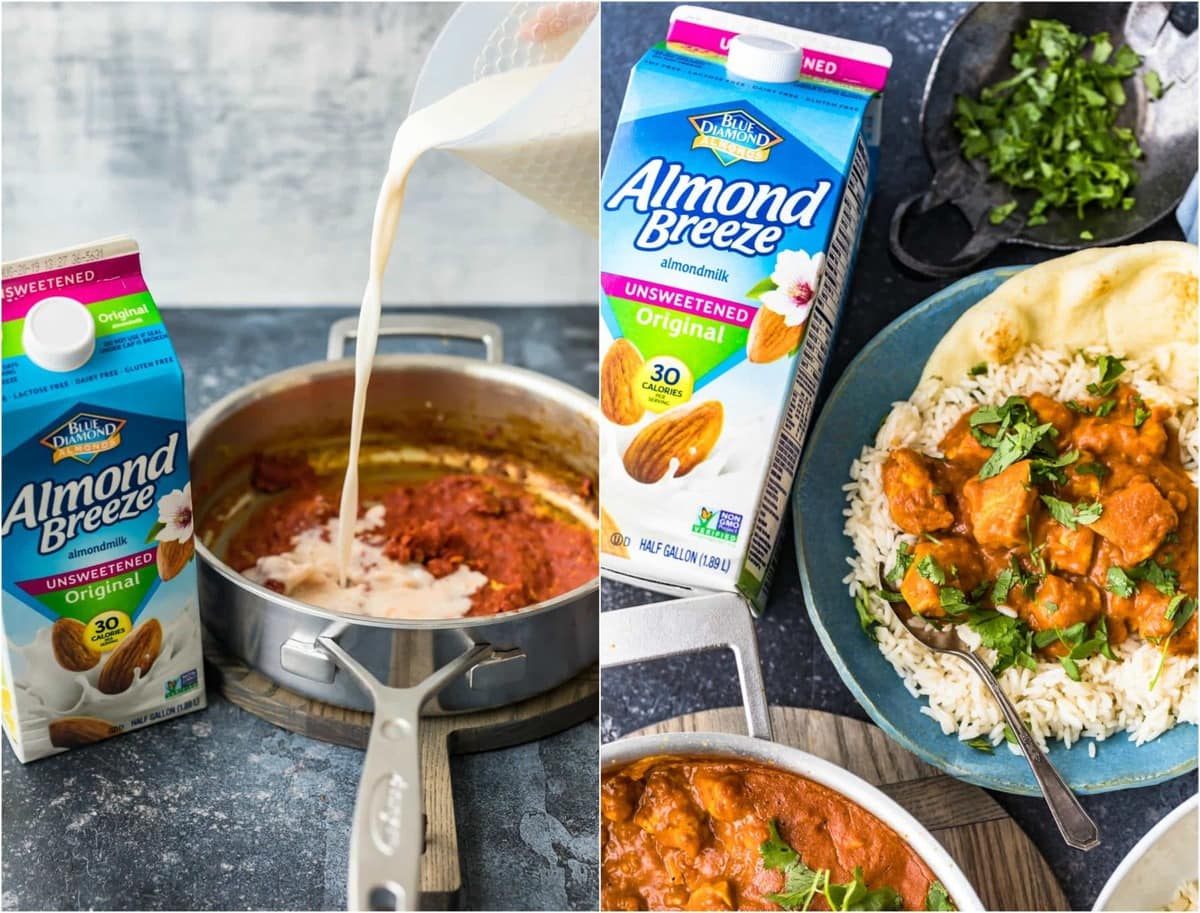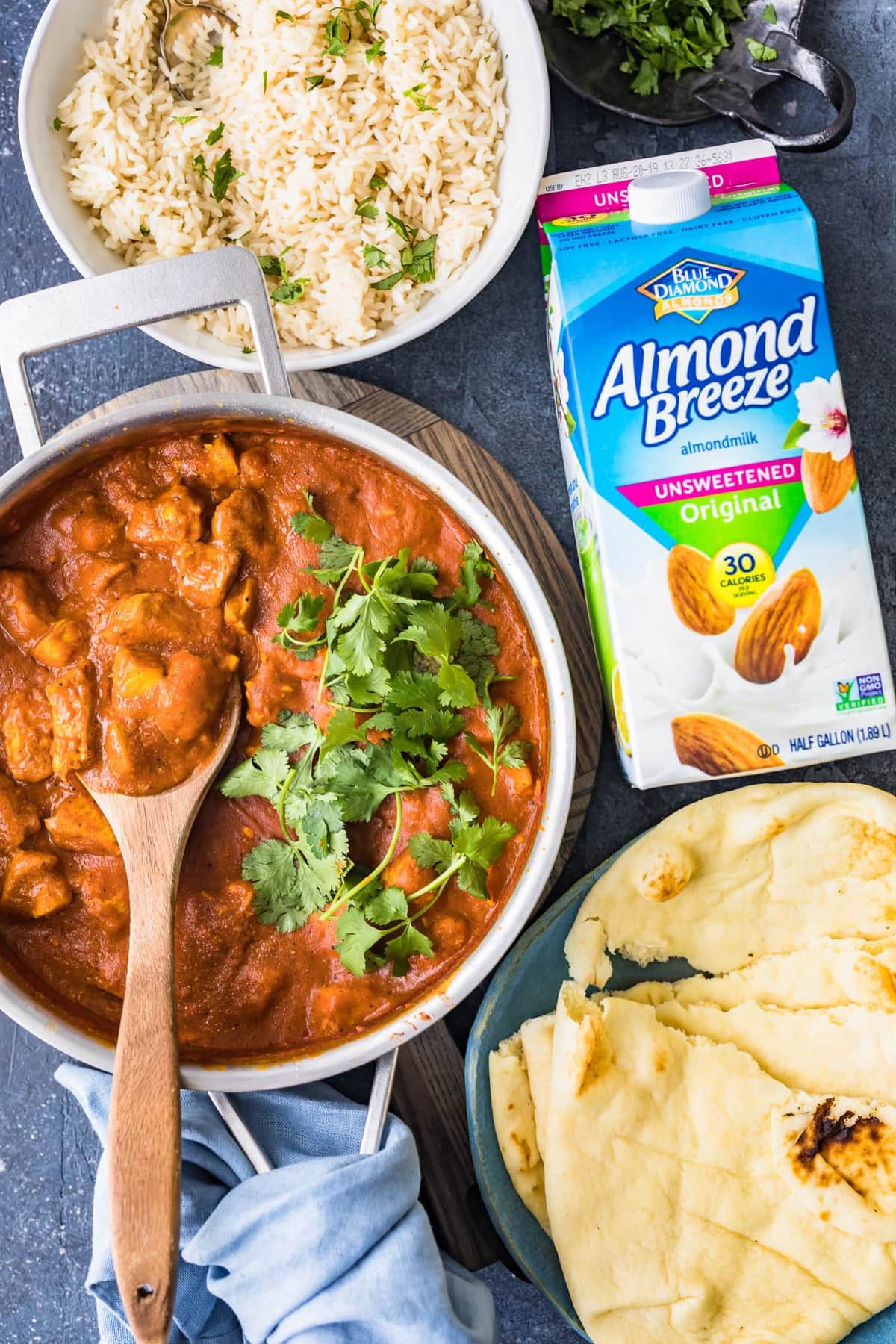 Why we choose Almond Breeze Almondmilk
I have loved Almond Breeze for a long time. Henry CANNOT get enough of the taste of milk, but sometimes dairy hurts his belly. Almond Breeze is our non-dairy alternative of choice that allows for moms and families to live and lead a healthful, active and better-for-you lifestyle. I know as a mom I'm personally so grateful that I can trust their product as being THE BEST.
Almond Breeze uses only the highest quality Blue Diamond almonds to make their almondmilk products. Their almonds are grown right in California, you can read more about their co-op of growers, meet some actual families that grow your almonds, and hear why they're the absolute experts in almonds HERE.
I'm obsessed with cooking with Almond Breeze Almondmilk. You might remember me using their Almondmilk Blended with Real Bananas for our favorite Easy Banana Pancakes a few months back. I love that almondmilk is nutritious AND delicious. Almond Breeze Unsweetened Original is my go-to when cooking anything savory that I still want to pack a creamy punch. Other health benefits include:
Only 30 calories and has no added sugar.
Excellent source of calcium
Gluten-free, lactose-free, and has no saturated fat and no cholesterol.
A refreshing and delicious alternative to dairy that tastes great on its own, with a creamy smooth texture and hint-of-almond taste.
It's a dream in this Dairy Free Chicken Curry. It's still super creamy, has just a slight nutty taste, and is better for you to boot! WIN! You can swap it 1:1 for dairy in your favorite creamy recipes!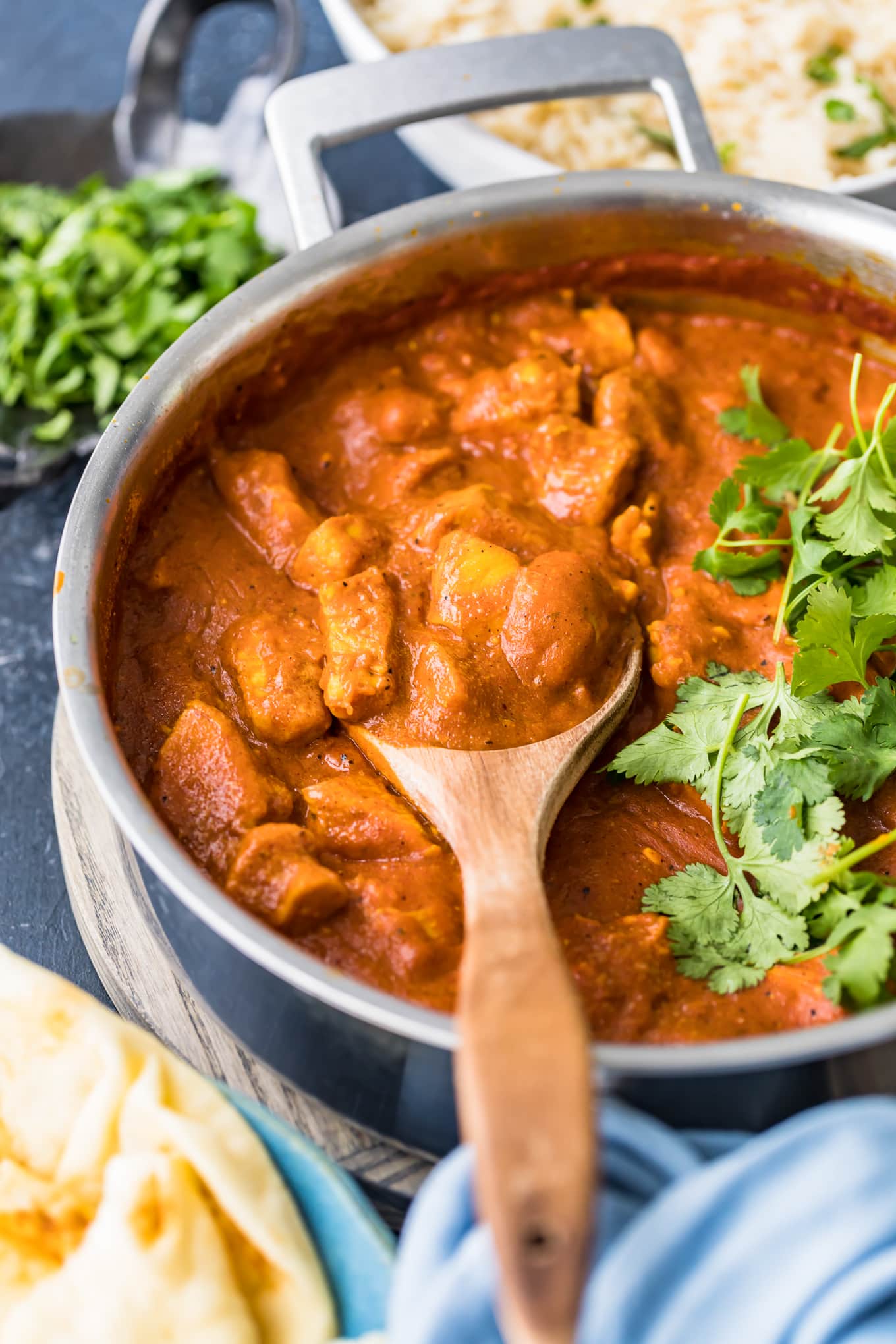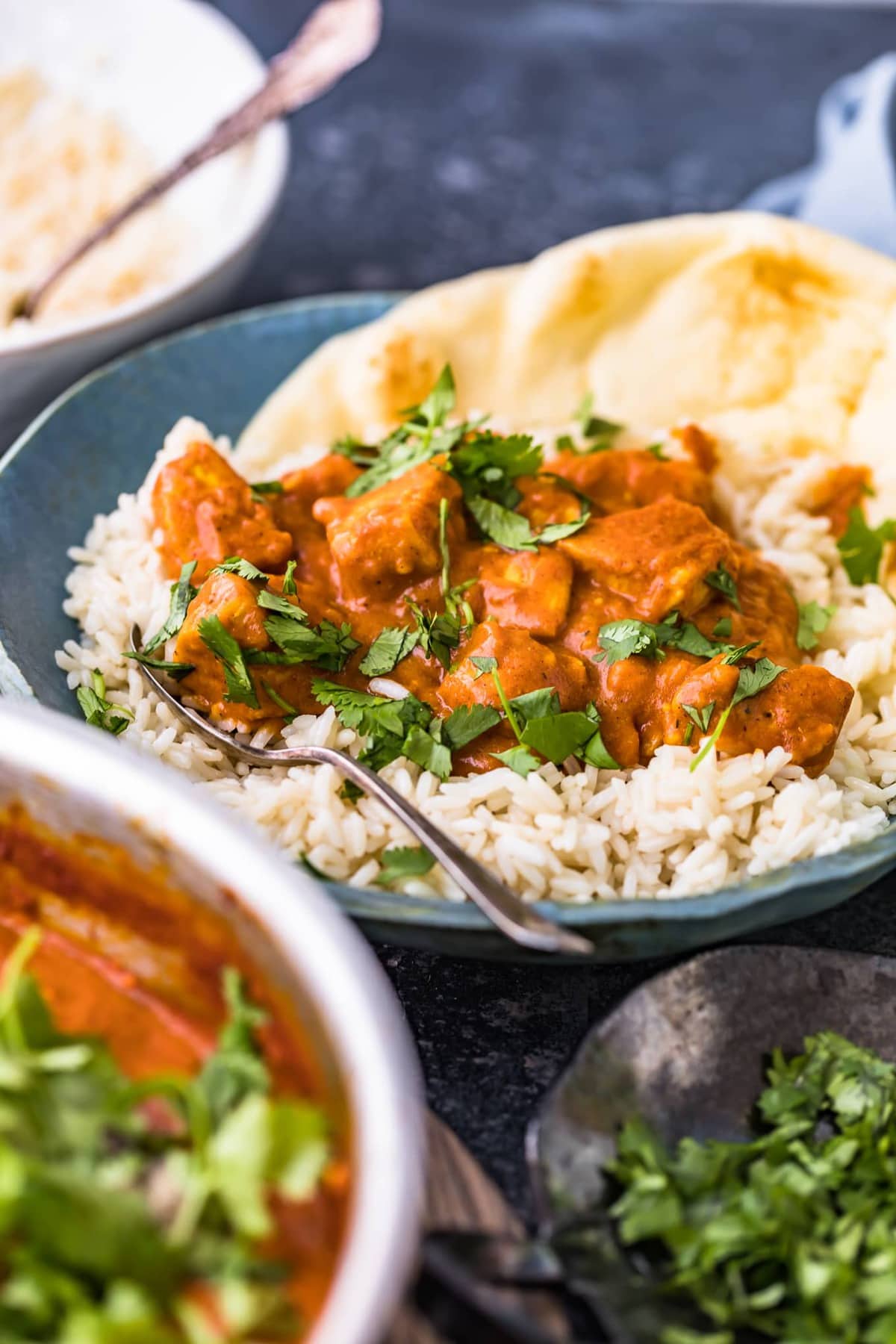 Creamy Almond Chicken Curry
I love how creamy this yummy meal is, dry curries have their place, but for me a creamy curry just hits the spot! This recipe produces a really rich and thick curry sauce (I hate it when you get a runny curry that needs thickening!). I love serving this with white rice such as basmati or jasmine, and if you are feeling particularly hungry you can add naan or a roti.
Healthy Chicken Curry
A lot of Indian curry dishes use cream to make the sauce, and while great as a treat, it's not a good idea to eat a cream laden dish regularly! By replacing the cream with the almond milk, this almond chicken curry is immediately lower in fat and calories, and more nutritious. Use skinless chicken breast, which is leaner than thigh meat. Feel free to add some other veggies into this dish too for more nutrients.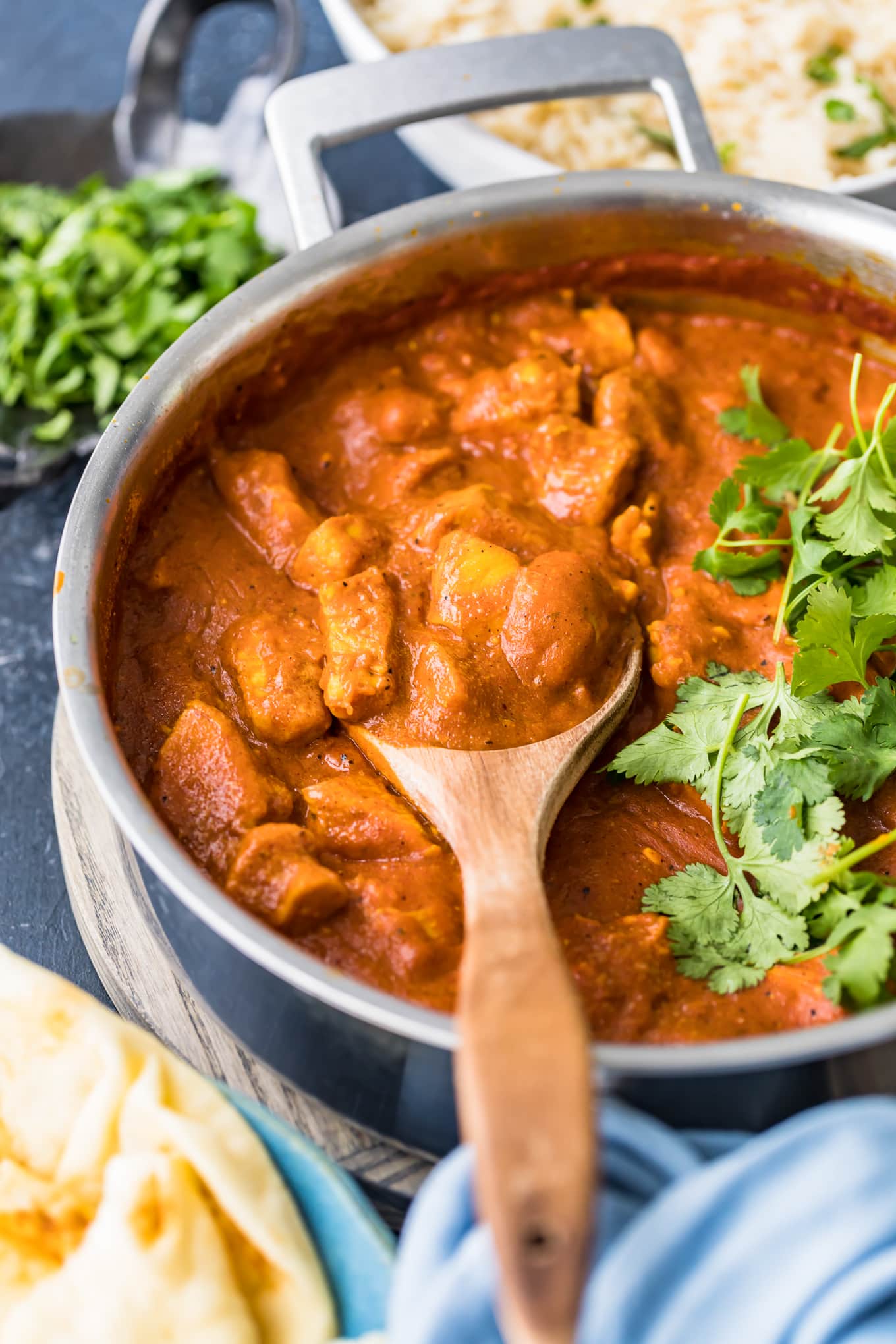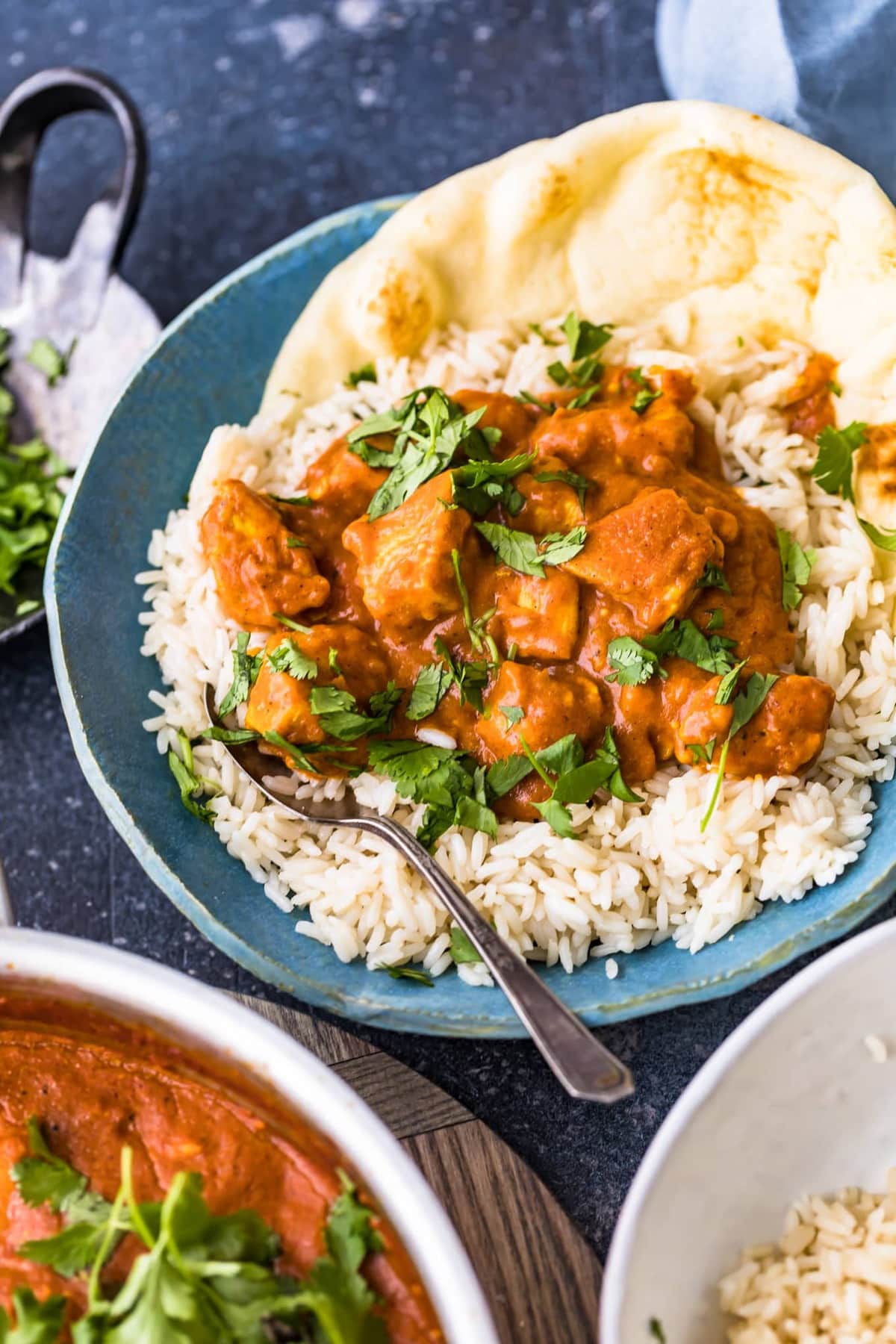 Variations for this Healthy Almond Milk Chicken Curry
You can totally make this dairy free curry recipe your own! See some of our favorite variations below!
Spicy Almond Milk Chicken Curry
As I said, this is a mild spiced curry, it will be sure to please even the most heat sensitive, but if you would like to amp up the spice, simply add some extra chili powder. You could also add a fresh chili to the chili paste if you so wish.
Vegan Almond Milk Curry
Because this basis of this curry is dairy free, it's fairly straight forward to turn this into a delicious meat free meal. You could simply add more vegetables to the curry, or replace the protein with tofu, tempeh or seitan.
Top tips for making Healthy Almond Milk Chicken Curry
Make sure that your spices are not stale so that you get maximum flavor.
Use Blue Diamond Almond Breeze® Unsweetened Original Almondmilk
Leftovers can be stored in an airtight container in the fridge for 2-3 days. Gently reheat to serve.
Make a big batch and freeze some for easy to grab meals – defrost thoroughly before reheating.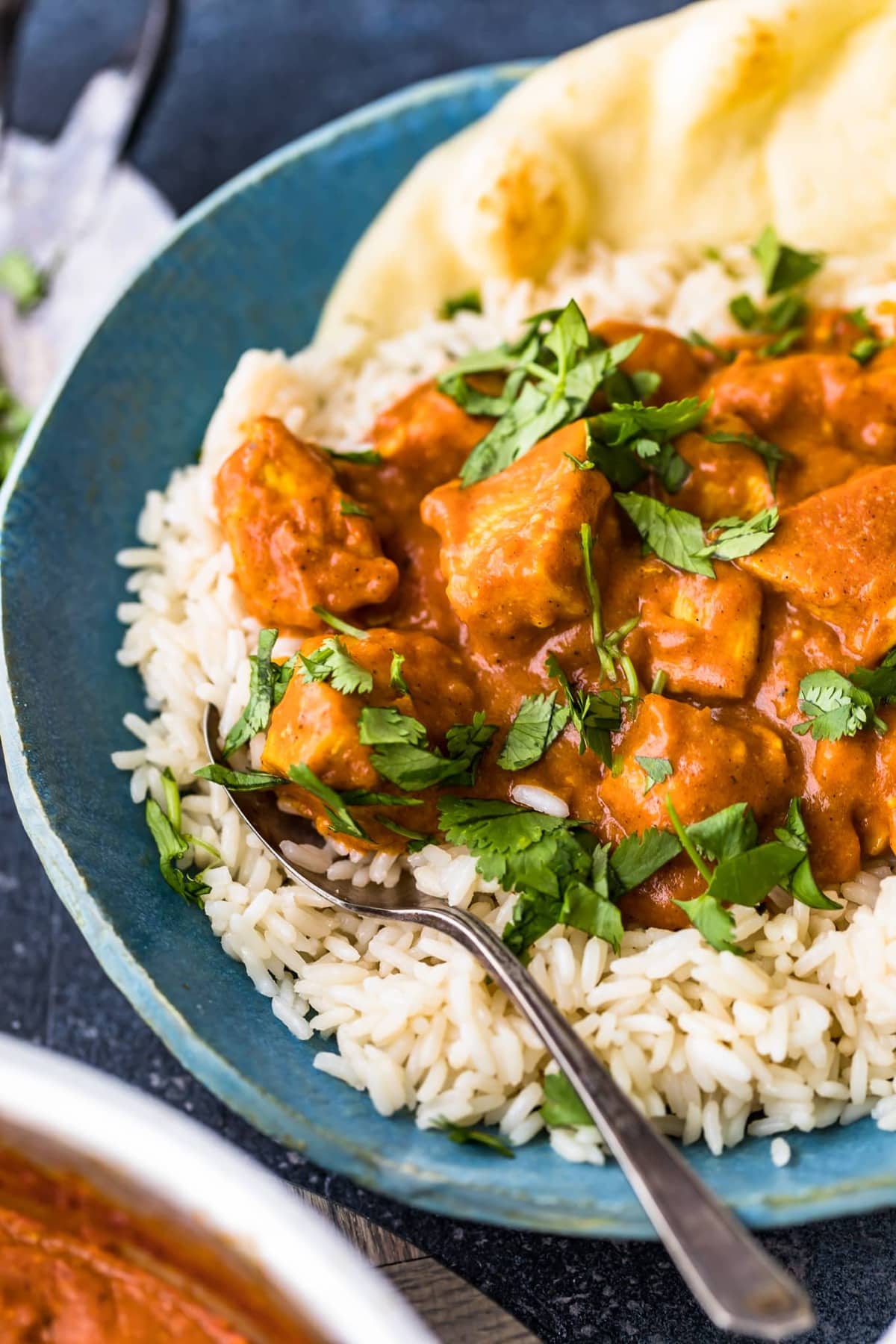 Serve with a side of naan or try these amazing naan rolls!
Be sure to check out these other easy and healthy weeknight chicken dinner recipes!