Homemade Naan Bread is so soft, chewy, and perfect for topping with garlic ghee! It's so easy and rewarding to make this flatbread at home instead of buying a lackluster store-bought package of it. In just a little over an hour, you can have your very own Naan Bread ready to serve!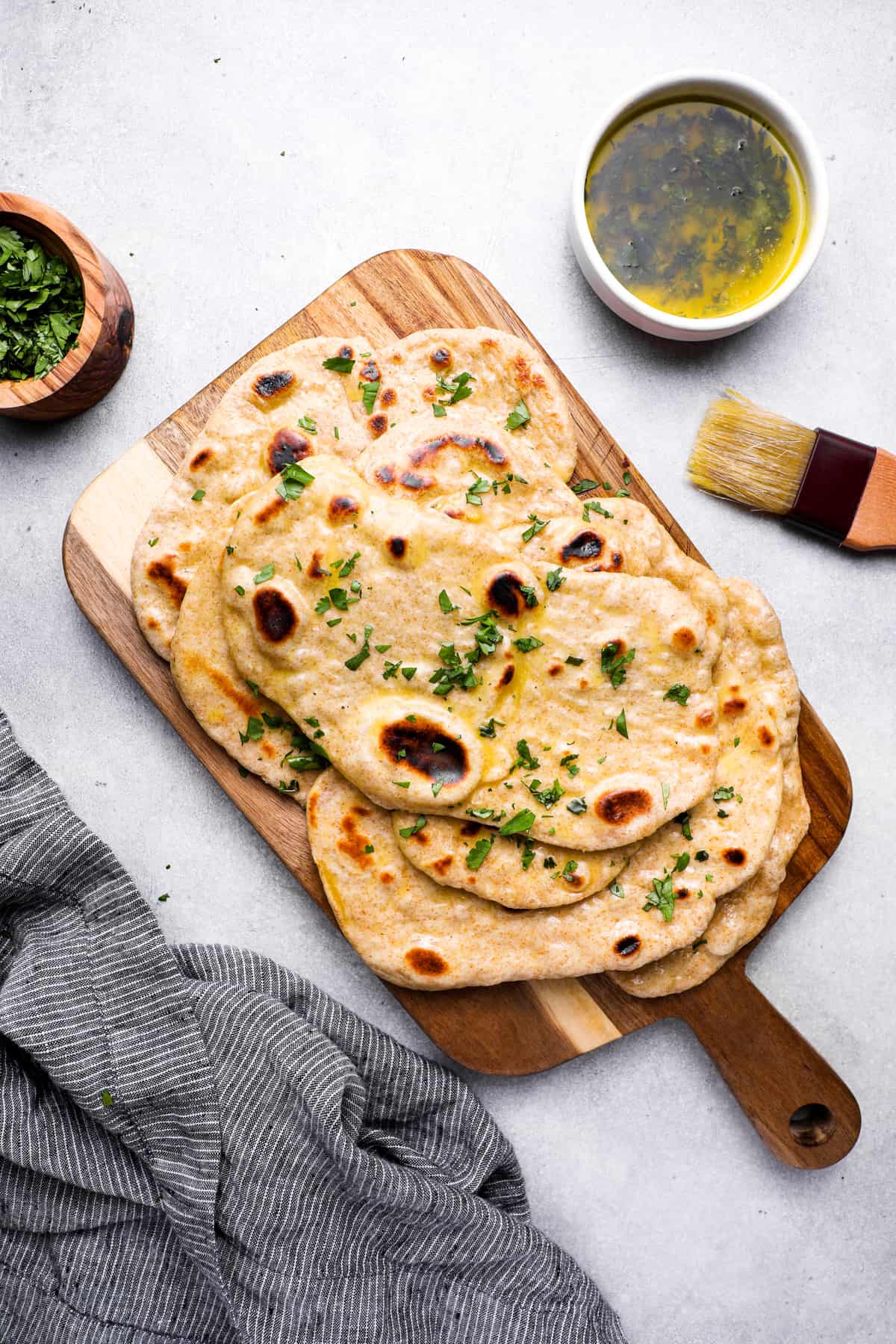 Homemade Naan
If you've never made Naan Bread in your own kitchen, you're really missing out! This pillowy soft flatbread has been a staple in cuisines around the world for thousands of years. That's not an exaggeration – it dates back about 2,500 years! This tried and true homemade Naan recipe keeps things classic with no unnecessary steps or extra ingredients required.
You know the saying "if it's not broke, don't break it?" That definitely applies here! This classic recipe always yields the best, softest, chewiest naan that tastes like it's fresh out of a bakery. The only little something extra we like to add (and once you try it, you'll understand why) is the garlic ghee on top. It's such a simple topping that really compliments the bread in the best way!
Why You'll Love this Naan Recipe:
SO SOFT: More often than not, store-bought version is a bit tough and gets stale fast. This homemade Naan is always so incredibly soft and has the best chew to it!
VERSATILE: There are SO many ways to serve this flatbread. You can pair it with hummus, curry, soup, or just enjoy a few bites all by itself as a snack.
COOKING BASIC: It's pretty rewarding to master the basics in the kitchen, and this is a recipe you'll be making again and again!
Next time you're hosting a gathering with friends and cocktails, consider serving some homemade Naan with hummus as an appetizer. You'll get SO many compliments!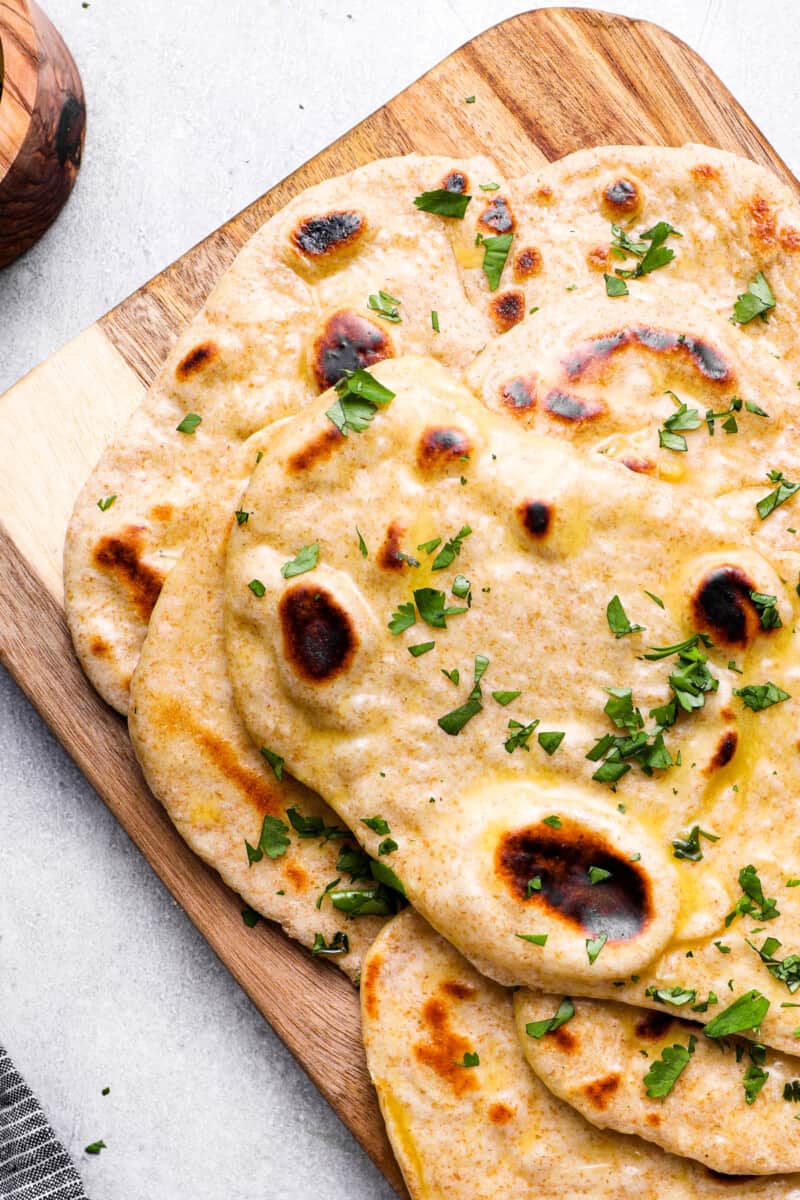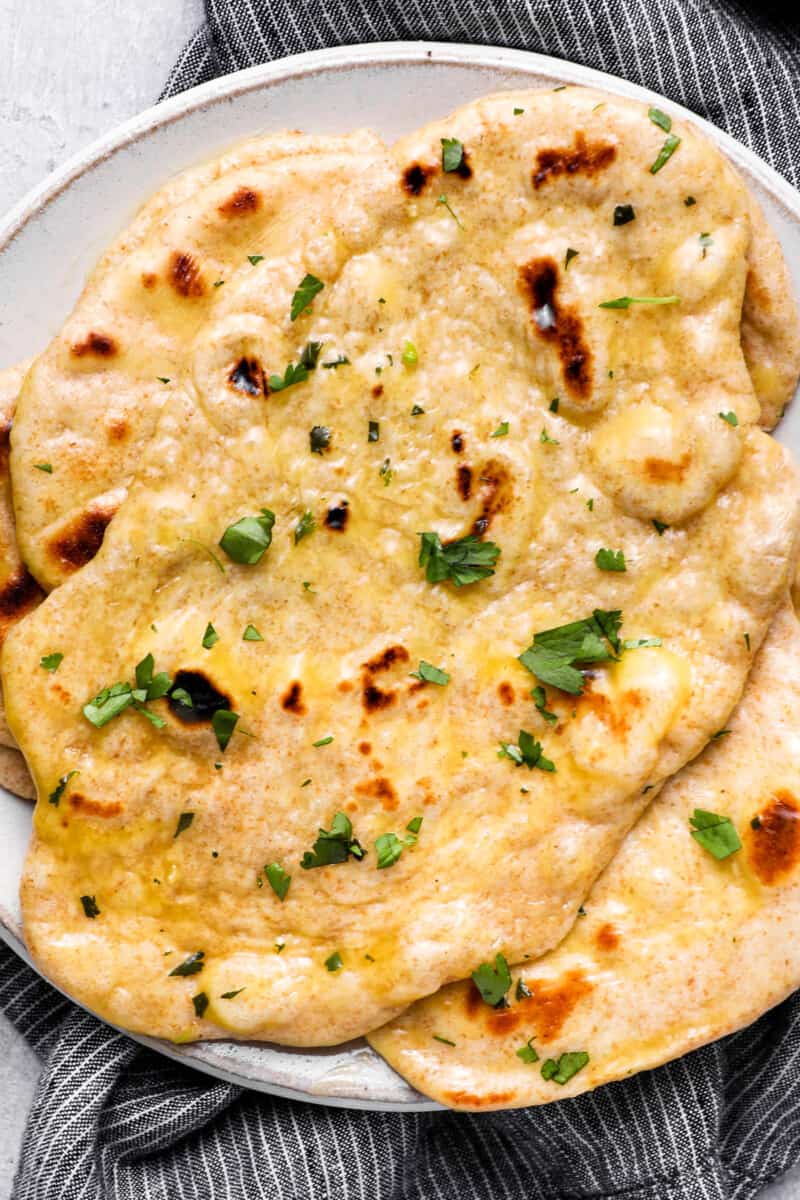 How to Make Naan Bread
You can jump to the recipe card for full ingredients & instructions!
Whisk together the flour, whole wheat flour, salt, yeast, and sugar.
Stir together the sugar, warm water, yogurt, and oil.
Combine the wet and dry ingredients to form a dough.
Knead the dough.
Place the dough in an oiled bowl, cover, and let it rise until doubled in size.
Make the garlic ghee by combining the ghee and garlic in a pot over medium heat. Once it's melted and fragrant, remove from heat and stir in the cilantro.
Punch the risen dough down, place it on a floured surface, and form it into a loose ball. Cut into 8 pieces.
Roll each piece into an oval. Cover with plastic wrap.
Cook each Naan in a cast iron skillet over medium-high heat.
Top with garlic ghee, and enjoy!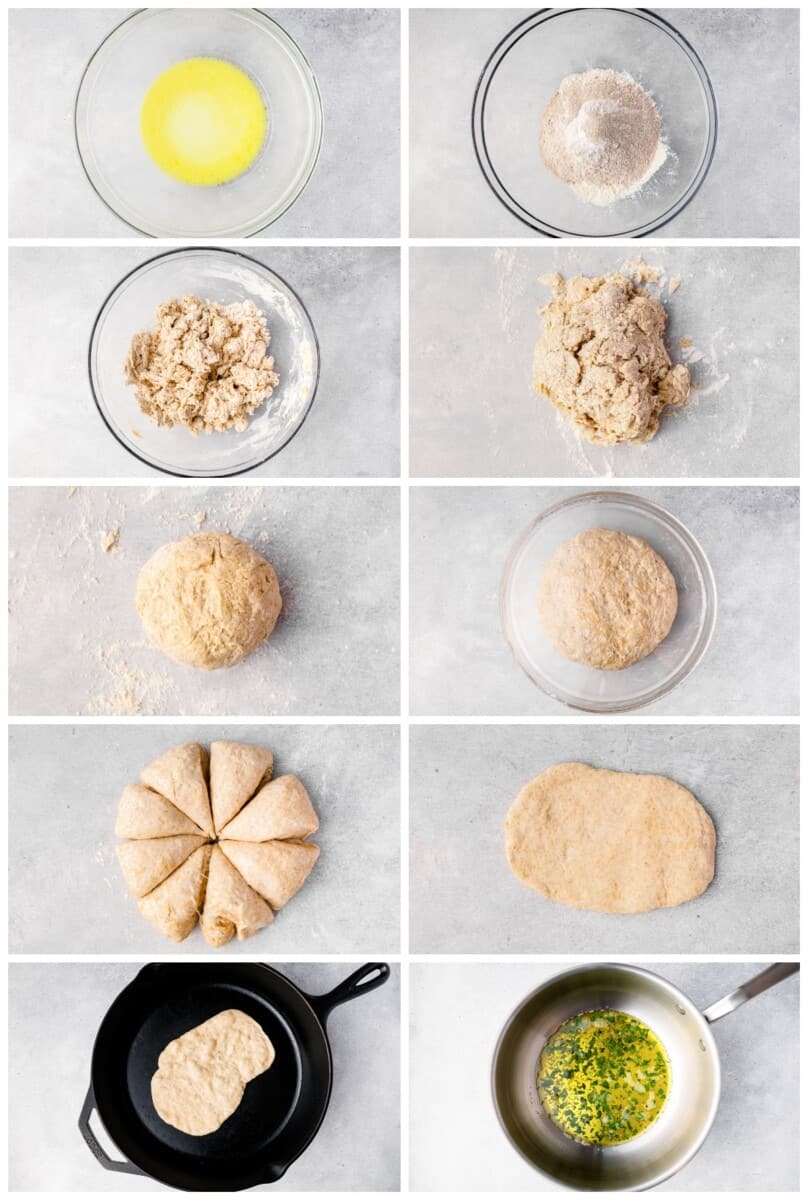 What is naan bread?
Naan is a leavened flatbread found in many cultures all over the world, including much of Asia and the Caribbean. It is traditionally cooked in a tandoor oven, but it can easily be made in a cast-iron skillet on the stovetop. It is delicious on its own, stuffed with a filling, or used to scoop up food and sauces.
Is there a difference between naan bread and pita bread?
Although both are flatbreads, naan is enriched with yogurt, leading to a softer texture. Naan is also cooked at a lower temperature in a tandoor oven or on a stovetop, producing small bubbles. Pita bread, on the other hand, is a leaner, thinner dough made from more basic ingredients that is cooked in a much hotter oven to produce its characteristic large pocket.
What is ghee?
Ghee is a type of butter that has been clarified to remove the milk solids. It is a common cooking oil in Indian cuisine. Removing the milk solids allows it to be used at much higher temperatures.
Where can I find ghee?
Ghee is often sold at grocery stores now in the cooking oil aisle. If you're unable to find it at your local store, you can usually find it at an Indian grocery store or online. In this recipe, you can easily substitute regular butter, though, because the ghee is not being used at a high temperature.
Can I make naan bread with just all-purpose flour?
Yes, you can! Simply use all-purpose flour in place of the whole wheat flour.
Serving Suggestions
Naan is the perfect thing to serve with all kinds of cuisines, and especially soups, curries, and anything dippable. It will lap up all the extra goodness!
The garlic ghee is so delicious, you may want to consider making a little extra in case anyone wants to dip!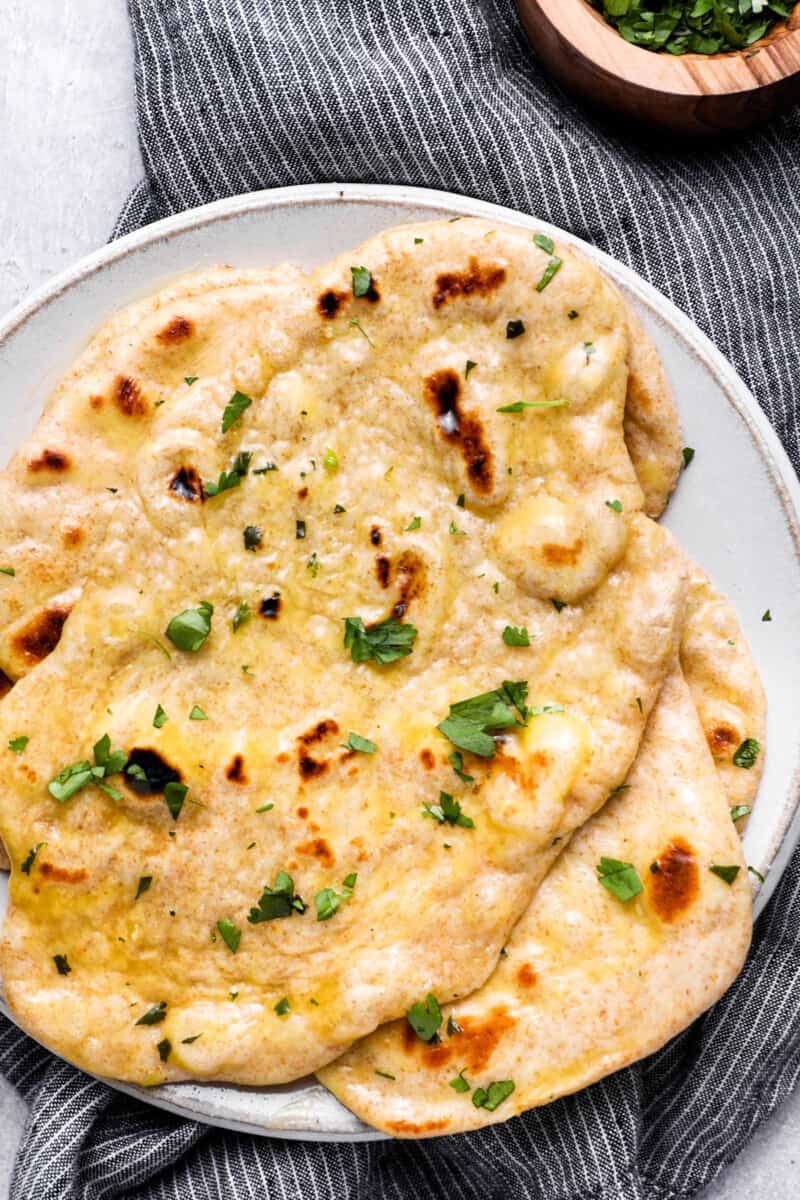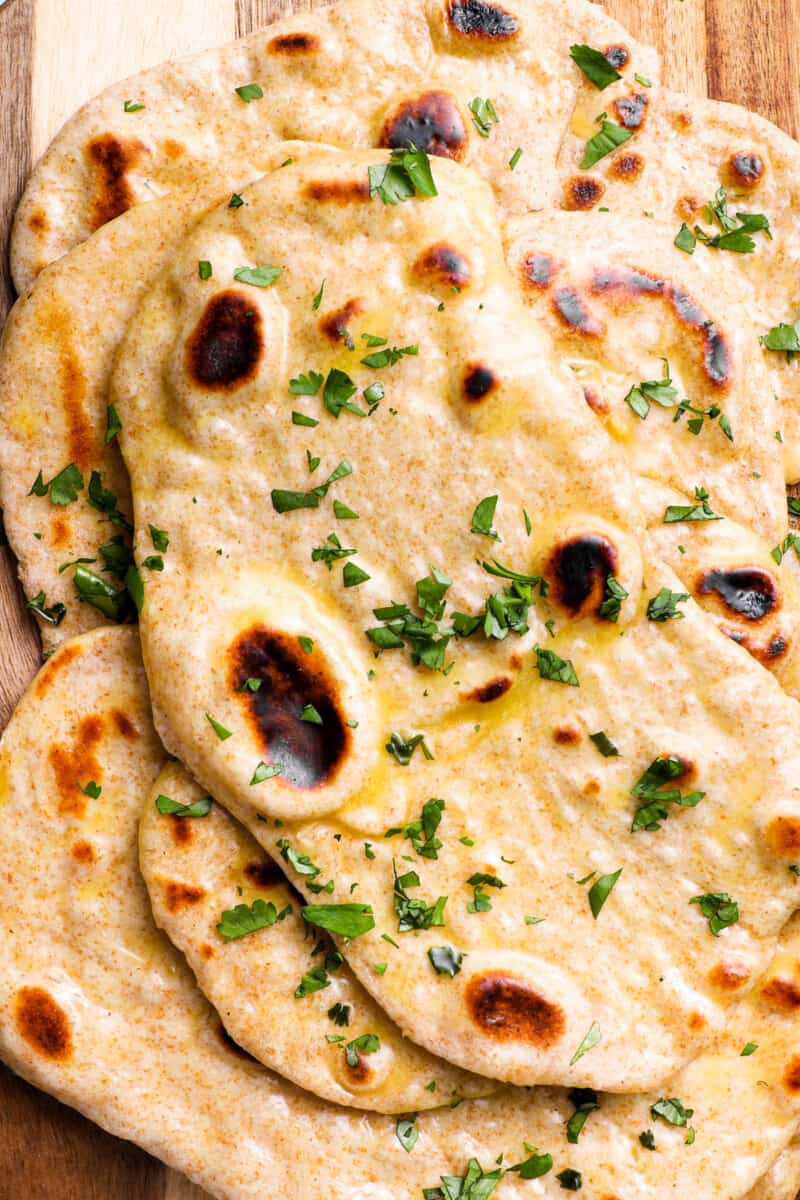 Make Ahead Instructions
This naan bread can be prepared up to 1 day in advance of when you plan to make it. Simply follow the recipe through step 5, placing the dough into the refrigerator instead of letting it rise on the countertop. The dough can remain in the refrigerator for up to 24 hours before being shaped and cooked. Bring the dough to room temperature for 30 minutes before shaping and cooking.
Storage Instructions
Store leftover naan bread in an airtight container or Ziplock bag at room temperature for up to 5 days or in the refrigerator for up to 1 week. Enjoy room temperature or gently reheated in the microwave or toaster oven.
Freezing Instructions
Freeze naan bread wrapped in 2 layers of plastic wrap and 1 layer of aluminum foil for up to 3 months. Let thaw in the refrigerator or on the countertop before reheating and enjoying.
Variations
I've included a delicious garlic butter to serve with these naan, but they would also be great sprinkled with:
Za'atar seasoning
Flaky sea salt
Garam masala
Chat masala
Shredded cheese (before baking)
Tips for the Best Naan Bread
Use warm (but not hot!) water. Yeast needs a warm environment to properly rise. If it is too hot, the yeast will die, and if it is too cold, the yeast will not activate.
Check the expiration date on your yeast before using it. If it is expired, toss it and grab a fresh package.
The hydration of the dough will depend somewhat on the humidity in your kitchen. If the dough looks too dry, add more water; if it looks too wet, add more flour.
The rise time for the naan will depend on the temperature of your kitchen. In a warmer environment, it will rise more quickly; in a cooler environment, it will rise more slowly.
If your kitchen is particularly cold, place the bread in a turned-off oven with just the oven light on while it rises.
Naan are a free-form flatbread, so don't worry about making perfect circles or ovals. Just try to make them all the same thickness.
If you like chewy naan, keep it to ¼-inch thick. For a thinner naan with more bubbles, roll it out to ⅛-inch thick.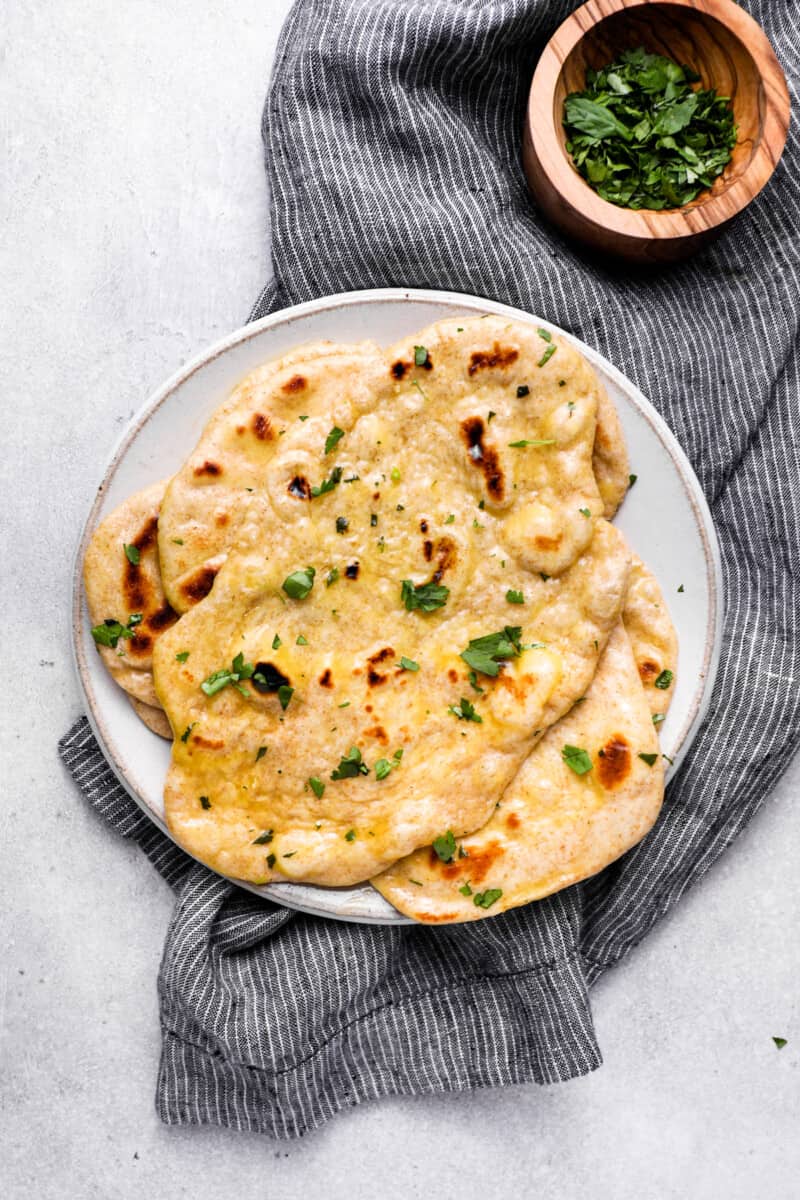 Once you master this simple Naan Bread recipe, you'll never want to buy the store-bought stuff again. It's so easy to make in a skillet and always satisfies! You'll love every warm, chewy, soft, pillowy bite of this classic flatbread. Oh, and don't forget the garlic ghee… It's like the cherry on top of a perfect sundae!
If you make this recipe be sure to upload a photo in the comment section below or leave a rating. Enjoy! You can also jump to recipe.