Spicy Brown Sugar Bacon will add a delicious sweet and spicy twist to your breakfast! This oven baked bacon recipe is so easy and so tasty. The cayenne pepper and brown sugar creates the perfect flavor, but you can leave that out if you want and just start baking bacon in the oven for the best bacon ever!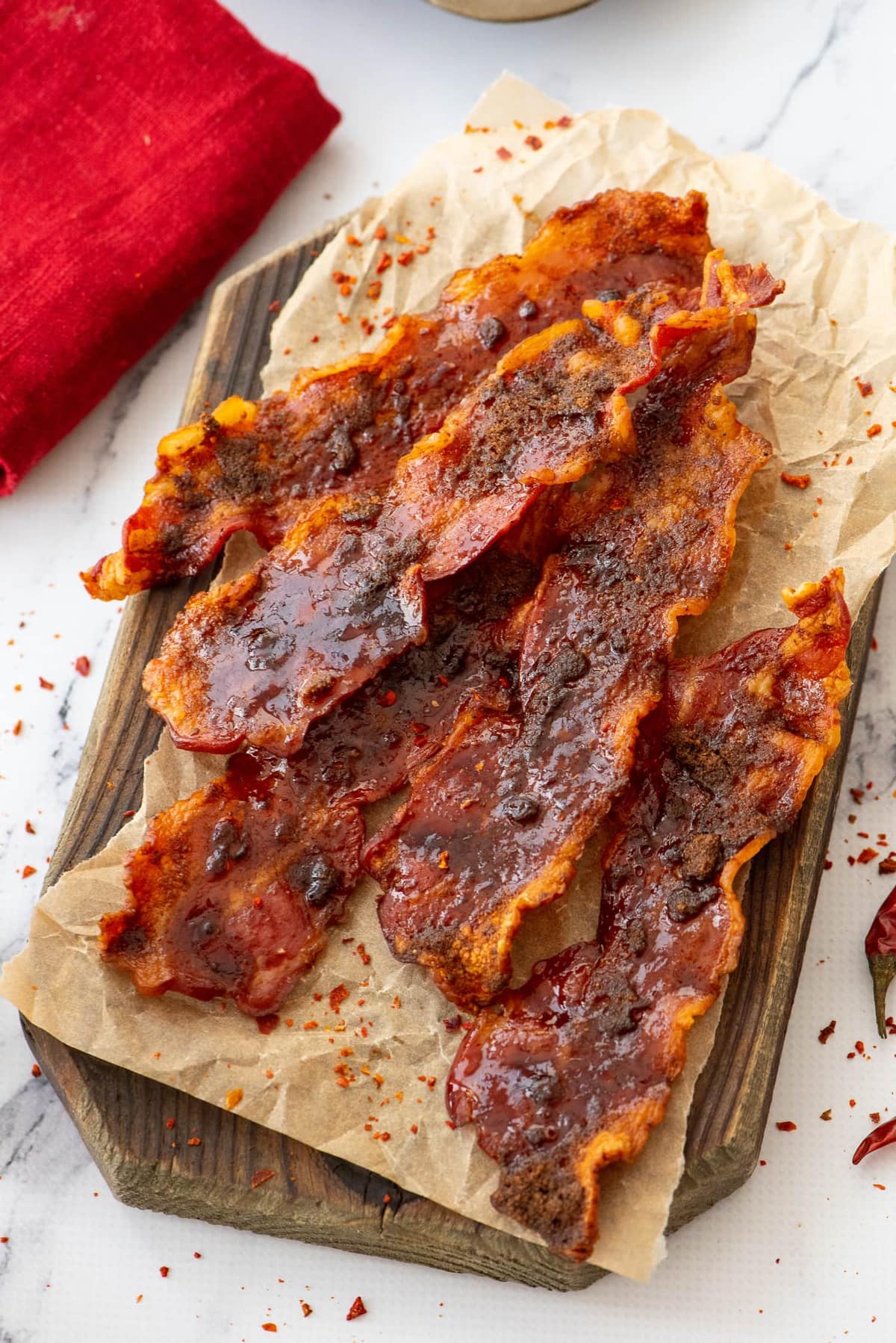 Brown Sugar Bacon (Sweet & Spicy)
Cayenne and Brown Sugar Bacon is a sweet and spicy treat that will add so much flavor to your breakfast! This baked bacon recipe will blow you away!
Everyone loves bacon. It's the perfect crispy dish to add to any breakfast! Bacon and pancakes, bacon and eggs, bacon and bacon…you get the picture, we just want bacon for breakfast.
I've discovered how much better it is baking bacon in the oven instead of frying it on the stove. Oven baked bacon is the best way to give it the amazing crispy texture, and it really bakes in the flavor for something that is out of this world!
I really enjoyed the sweet and spicy bacon for something a little different, but you can just as easily make this recipe without the extra flavor if you prefer. Either way, you'll have the best bacon for breakfast!
Make this sweet and spicy brown sugar bacon in the oven for a crispy and delicious treat!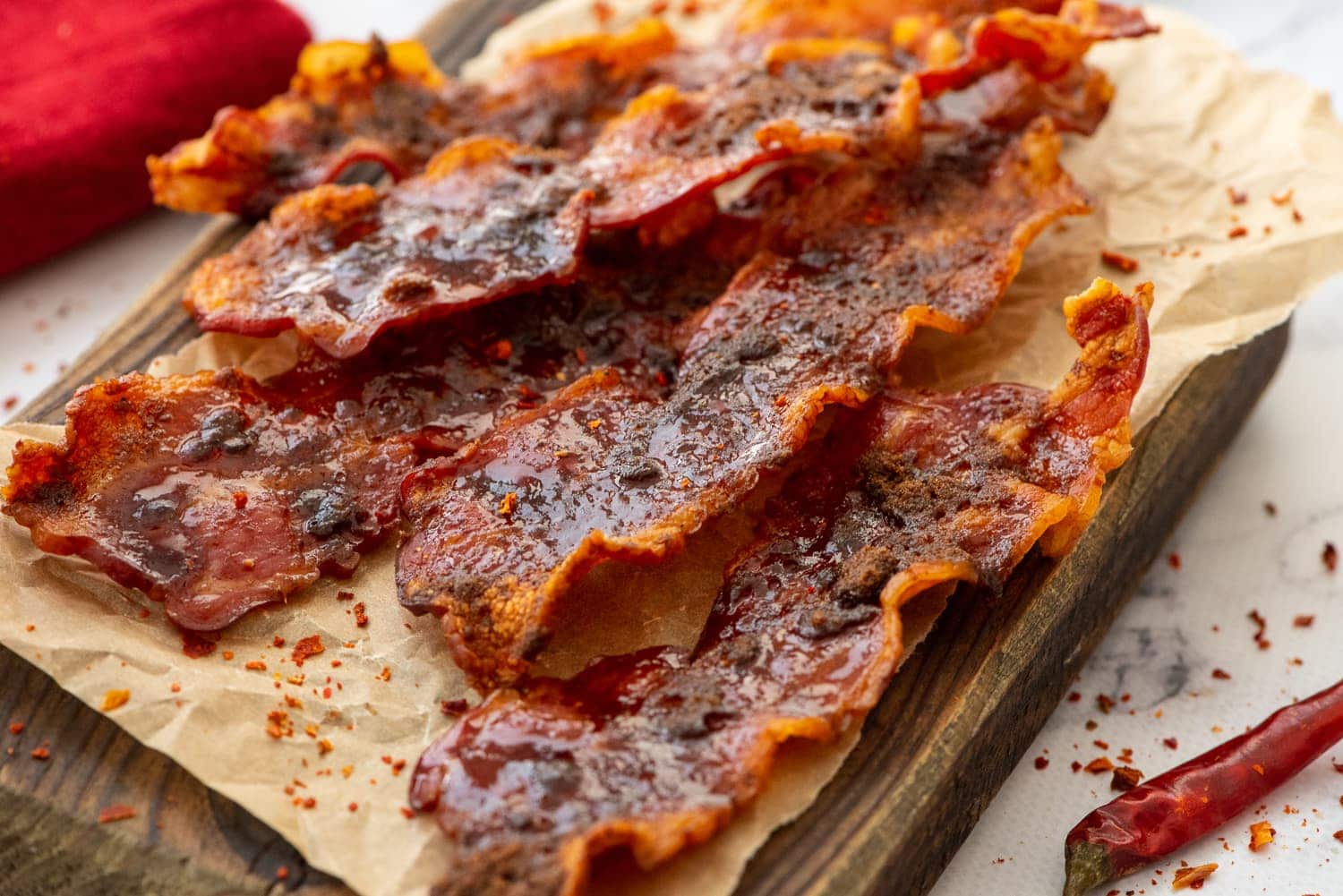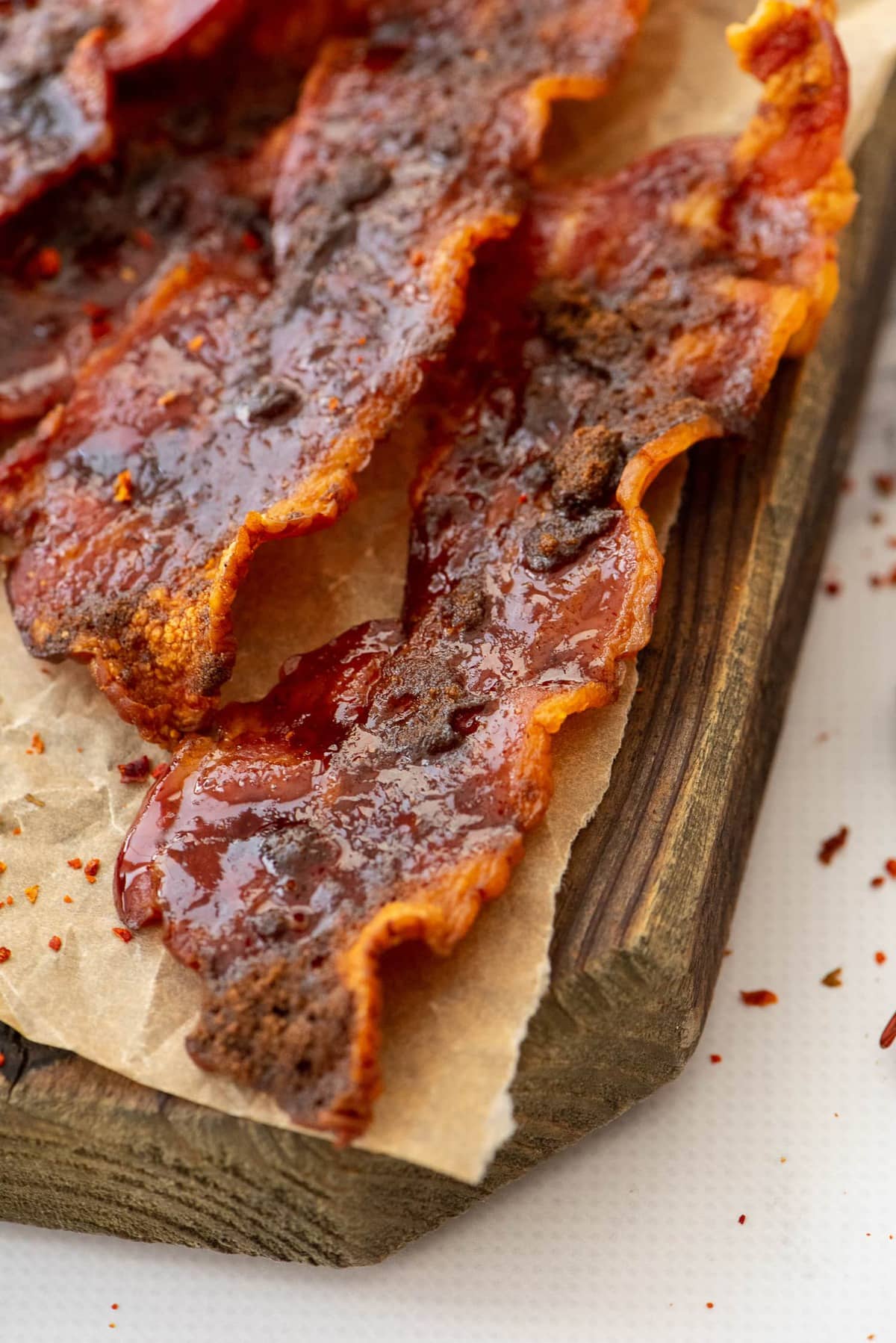 Oven Baked Bacon
I'm telling you, baking bacon is the way to go. Cooking it in a pan on the stove just never quite gives it that crunch I really want. Extra crispy bacon for the win!
This spicy brown sugar bacon recipe bakes to perfection in the oven and comes out exactly how I like it. I'm going to show you how to bake bacon in the oven so you can experience it too. You won't want to make it any other way after this.
Sweet and Spicy or Classic Bacon
This cayenne and brown sugar bacon is so delicious. I love the sweet and spicy bacon combination for a little extra kick with breakfast. But if you prefer to keep it classic, you can follow this recipe for the perfect oven baked bacon and skip the cayenne pepper and brown sugar. I definitely recommend trying the flavored version at least once, though!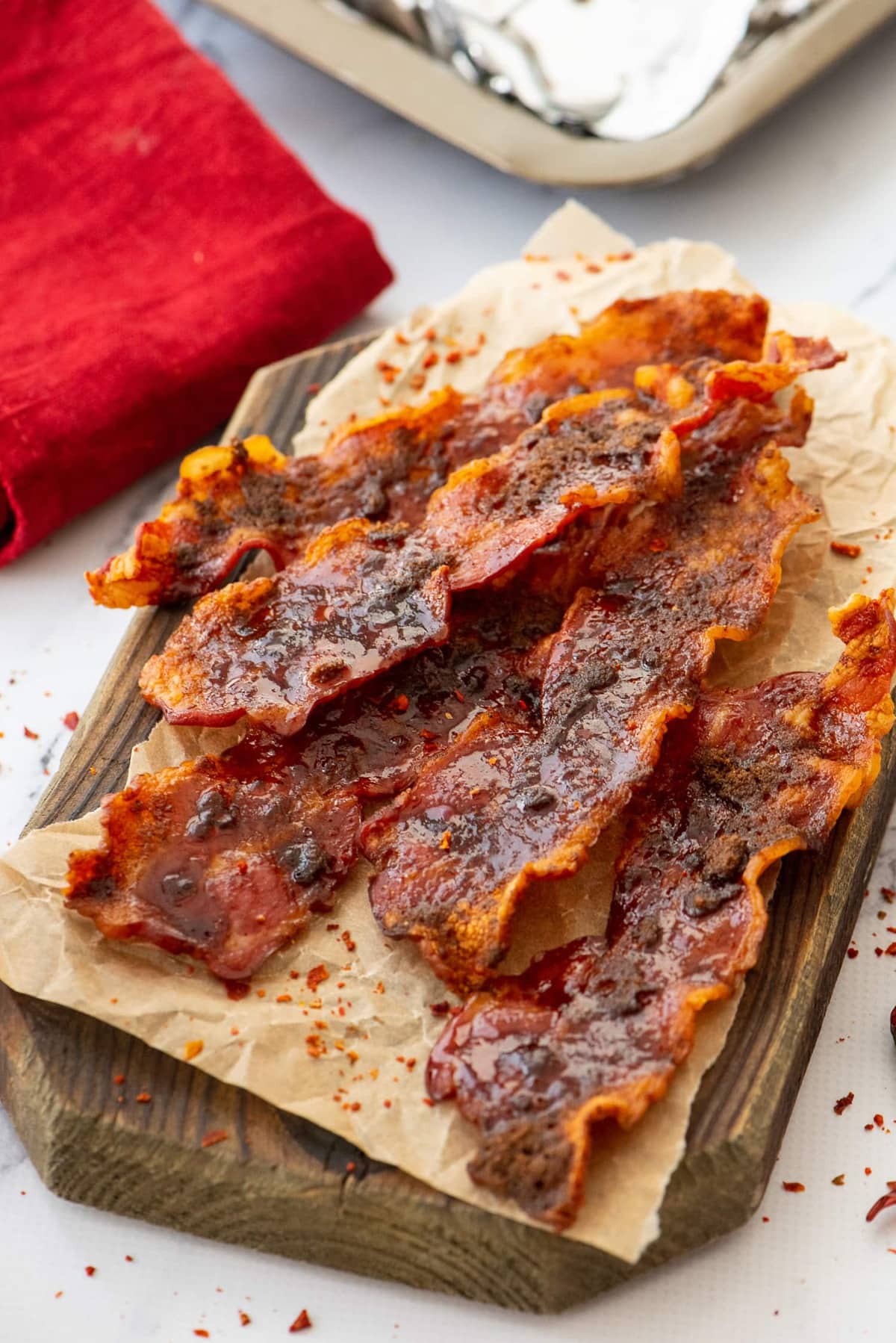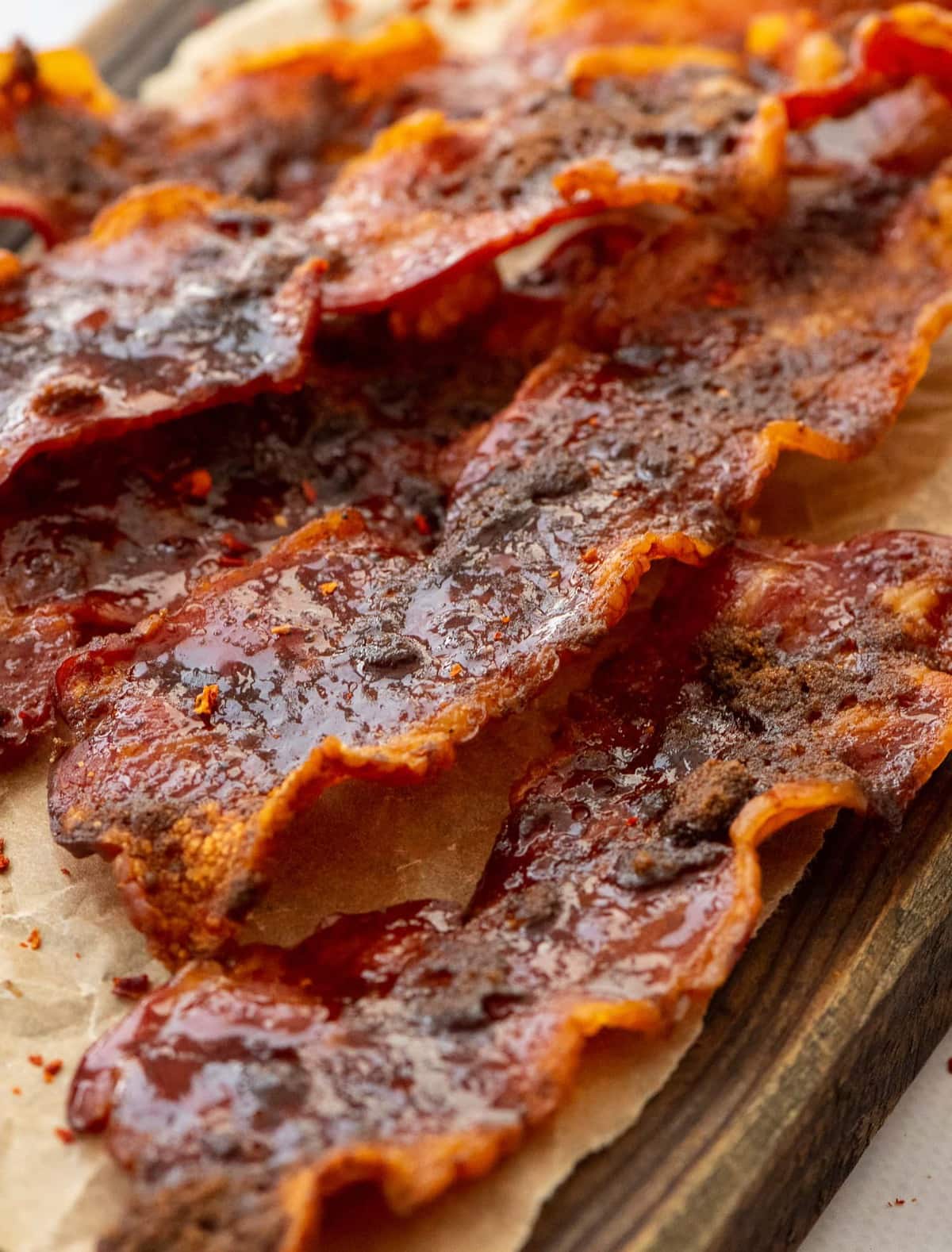 How to Bake Bacon in the Oven
Before we start, let's make it super easy to clean up afterwards (because that's the worst part of cooking). Cover your baking sheet with aluminum foil, so you can just crumble that up and throw it away after baking, and spray your cooling rack with baking spray so the grease just slides off. Now we're ready to cook!
Also note that we are NOT preheating the oven for this. We'll put the bacon in right as we turn on the heat.
How to make spicy brown sugar bacon:
Combine brown sugar, cayenne pepper, and black pepper in a bowl to make the flavor mixture.
Place the cooling rack in your baking sheet, and then drape the strips of bacon across it.
Put the full baking sheet of bacon in the oven, and set it to 375°F.
Baked for 20 minutes, then take it out of the oven, flip each strip, sprinkle it with the spicy brown sugar mixture, then put it back in the oven and bake another 15-20 minutes.
Crispy, sweet, spicy, and delicious!
What temperature to bake bacon?
For our spicy brown sugar bacon recipe, bake the bacon at 375°F (no preheating the oven!).
How long to bake bacon in the oven?
For the most perfect oven baked bacon, bake for 20 minutes on each side (about 40 minutes total). It comes out so crispy!!!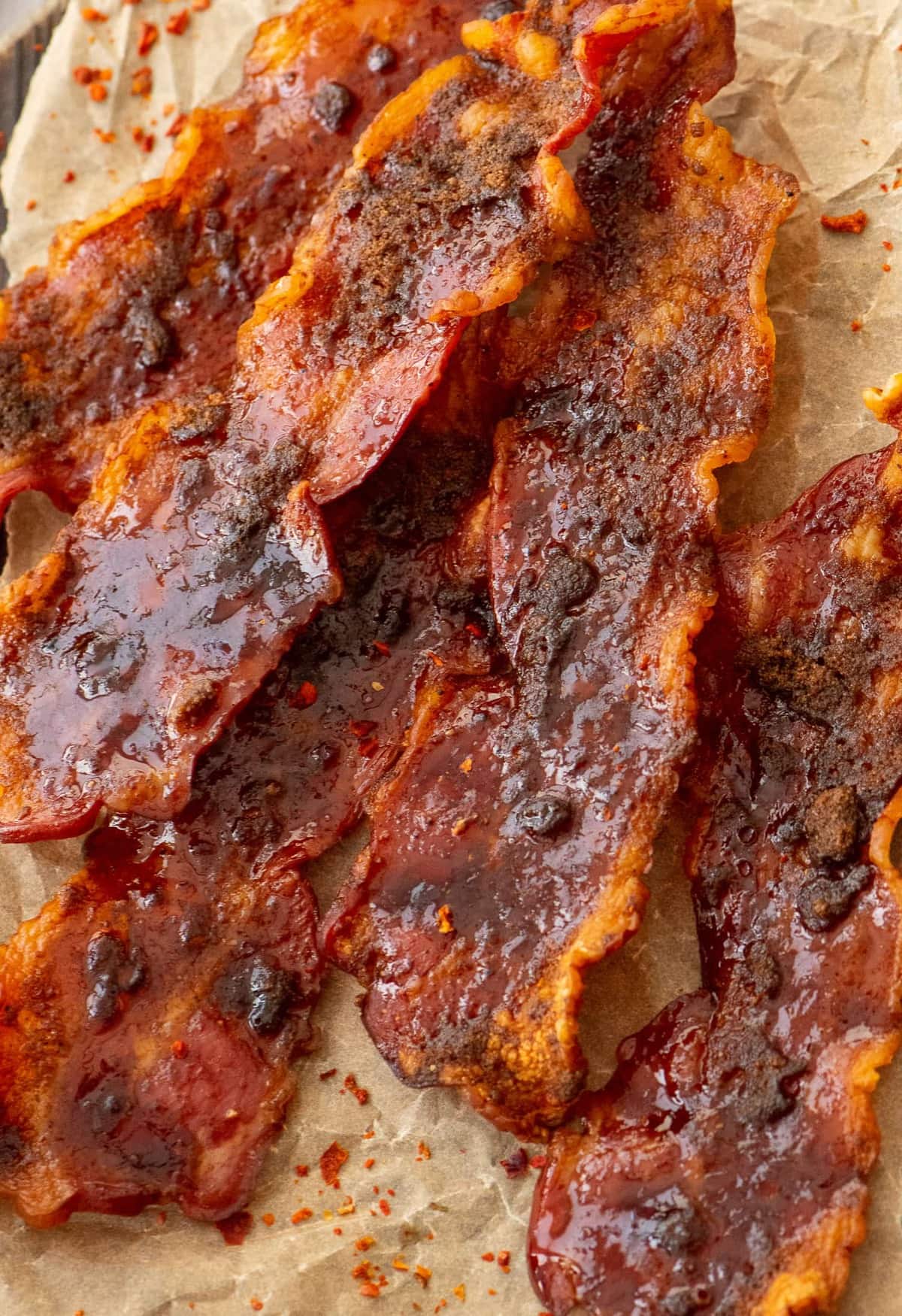 And that's all there is to this easy oven baked bacon recipe. Whether you go for the spicy brown sugar bacon, or skip the extra flavor for a more classic breakfast, I just know you're going to love this!
Watch the video and check the recipe card for details on how to bake bacon in the oven. Enjoy!
Be sure to try these other tasty bacon filled recipes: