Bacon croutons are the perfect way to add some extra flavor to any soup or salad. This homemade croutons recipe is so easy to make! Baked croutons with the added taste of bacon. What could be better?!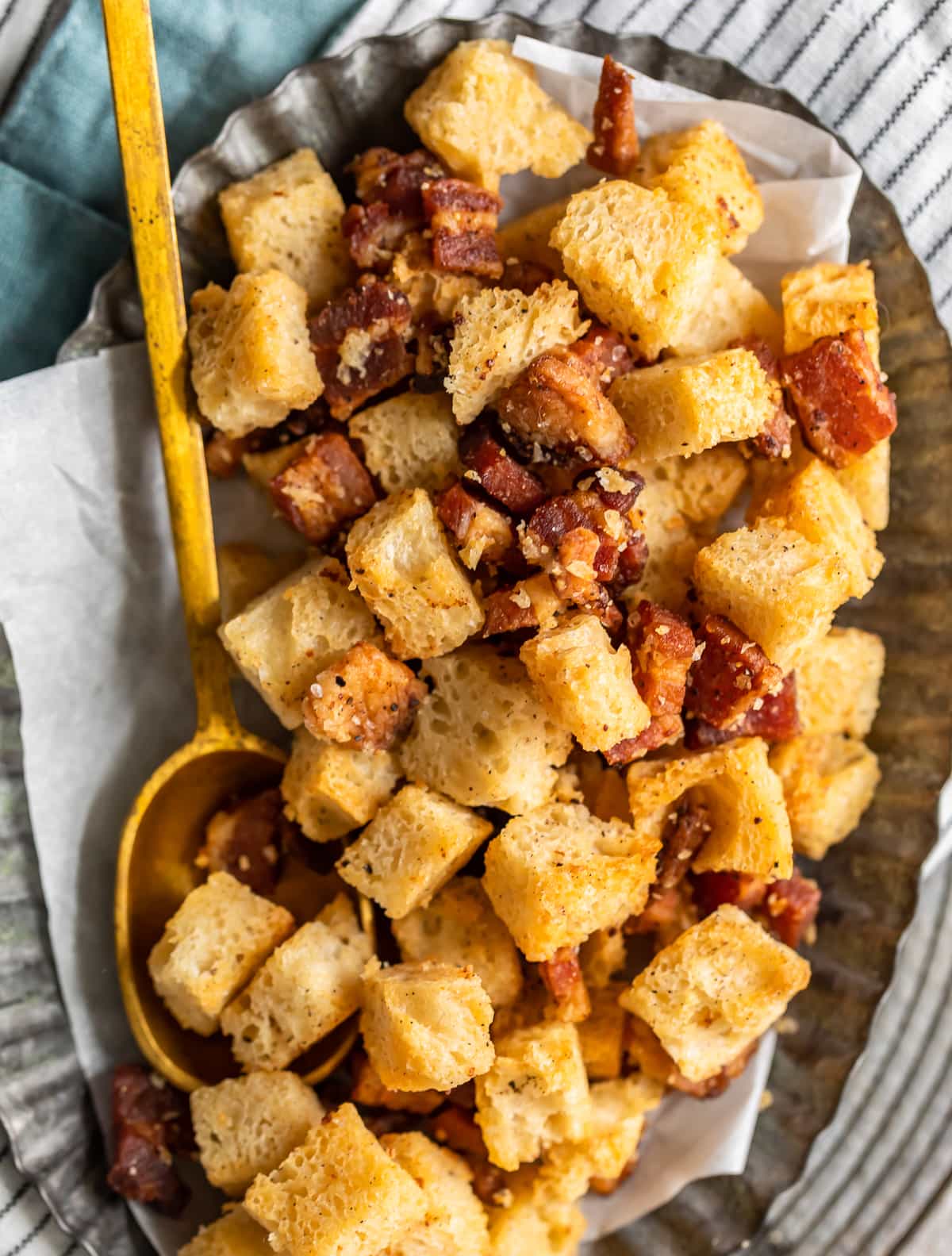 Bacon Croutons
Why make plain old croutons when you could make BACON croutons? These homemade baked croutons are mixed with savory bacon for the perfect flavor!
I'm going to go out on a limb and say everything tastes better with bacon. I know a lot of you will agree with me on that one, so let's all just unite and agree that a few bits of bacon here and there is never a bad thing.
I've made lots of homemade croutons before, but I decided that what they needed was (yes, you guessed it) bacon. Crunchy croutons mixed with freshly cooked bacon bits create the most amazing flavor! You can add them to anything if you ask me, but they are ideal for soups and salads.
I made these to top off my Bacon Cheeseburger Soup, but I'll definitely be throwing them on top of salads too. They are just SO yummy!
Add these Bacon Croutons to any soup or salad for an added savory flavor!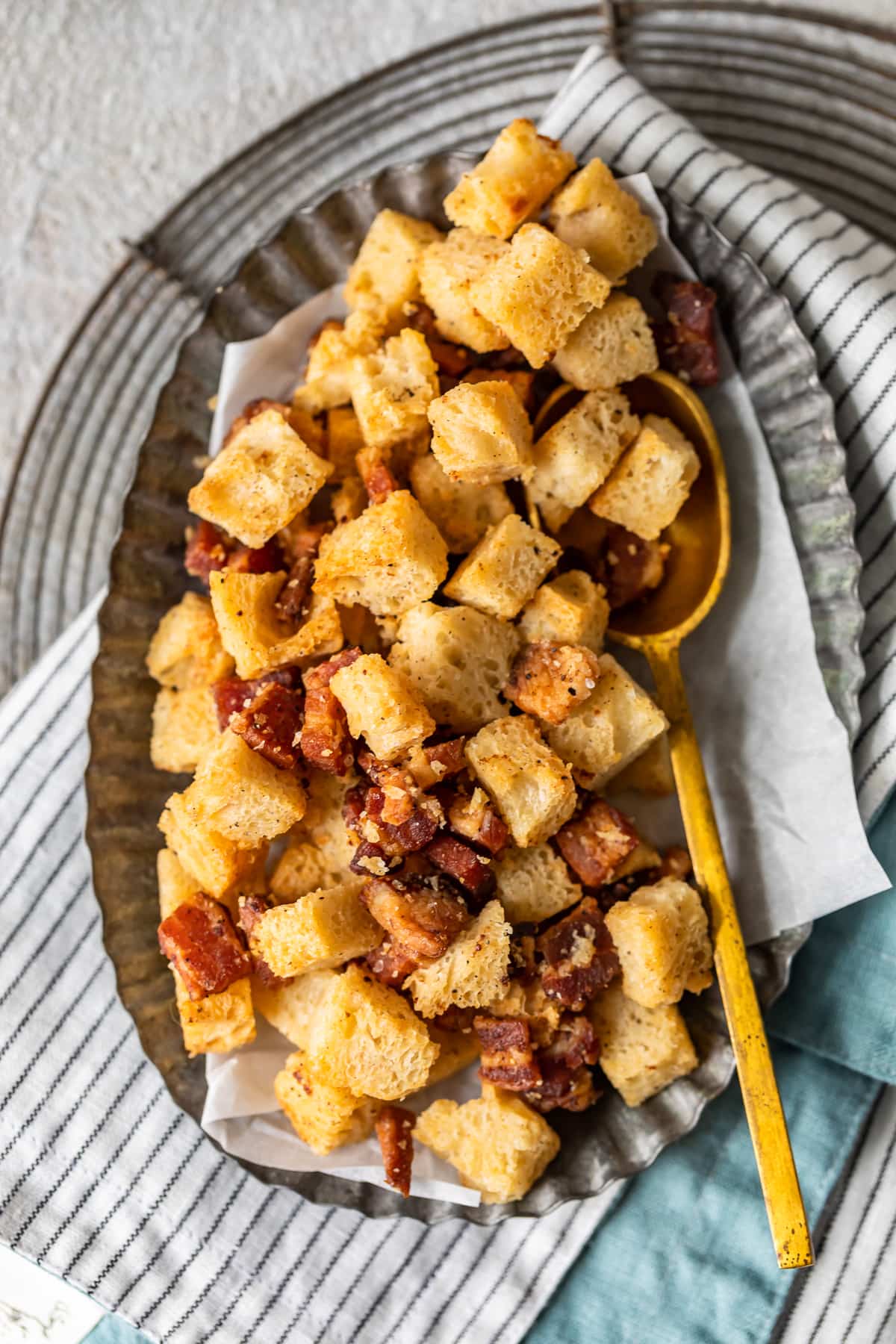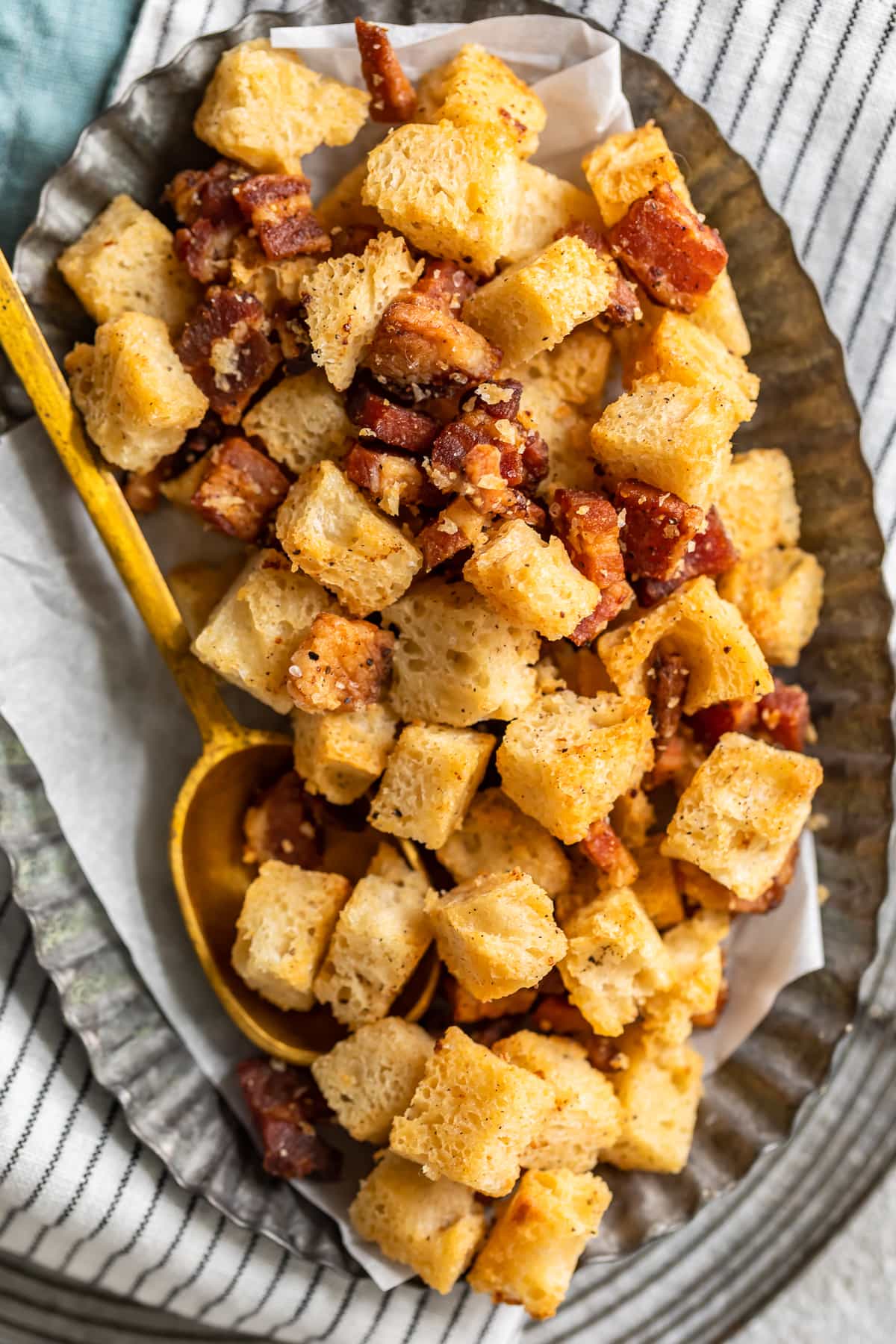 Homemade Croutons Recipe
I'm a big fan of homemade crouton recipes. It's easy enough to buy a bag of them at the store, but they truly taste SO much better when made fresh at home. Whether you bake them or fry them, making croutons is easy and delicious. These bacon croutons are definitely a new favorite to add to my other recipes.
You can also try out my Homemade Baked Croutons and my Fried Garlic Croutons for more flavor variety!
What can croutons be used for?
What can croutons be used for? These little crunchy cubes of baked or fried bread can be used for a lot of things, but of course the main use is to top salads and soups. It's a great way to add a but of flavor and texture. Truth be told, I've been known to eat croutons by the handful as a snack, and that will ABSOLUTELY happen with these bacon croutons!
I specifically made these for my Cheeseburger Soup Recipe (coming on Friday!) because I thought it was the perfect way to top it off. So you just have to try that out too!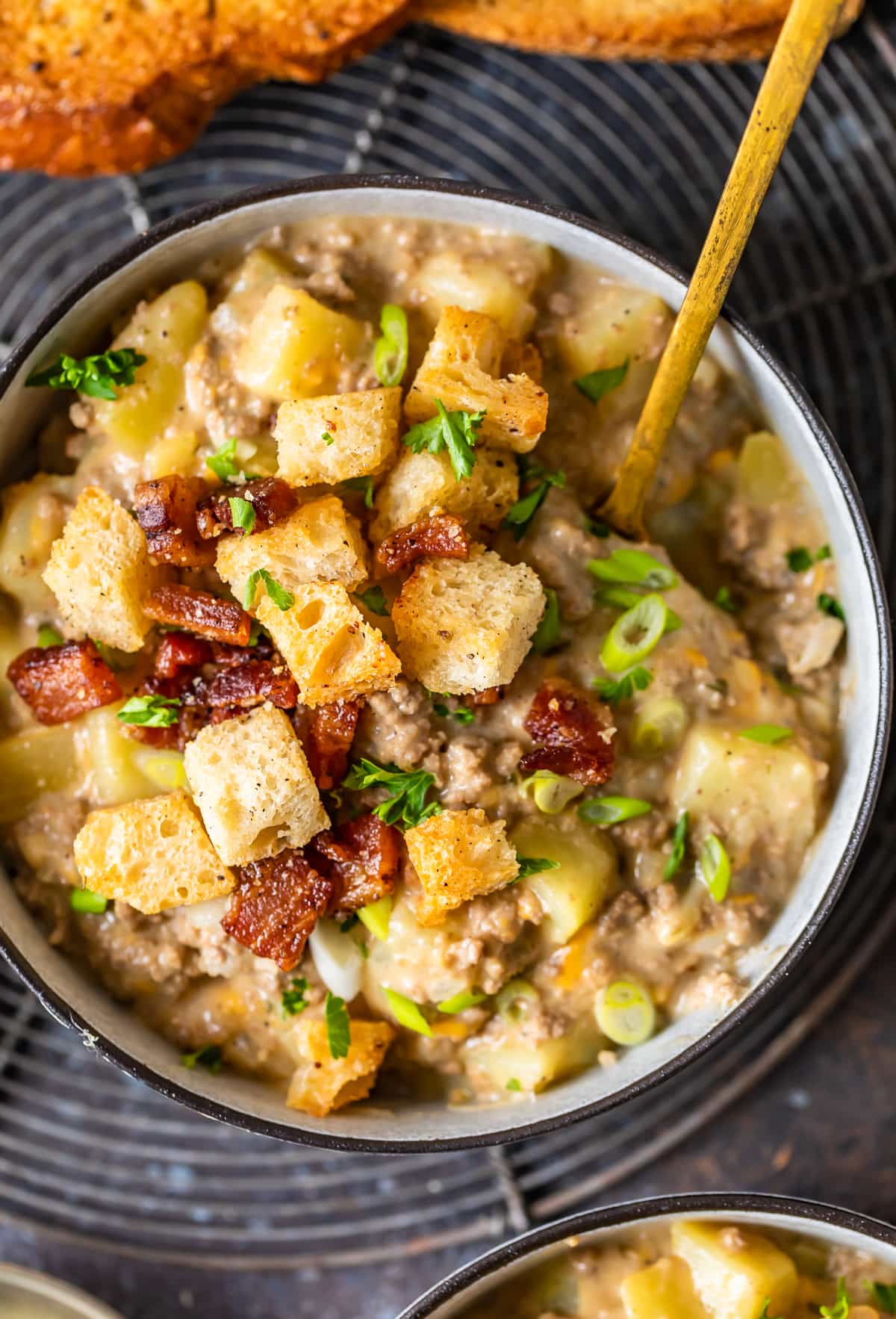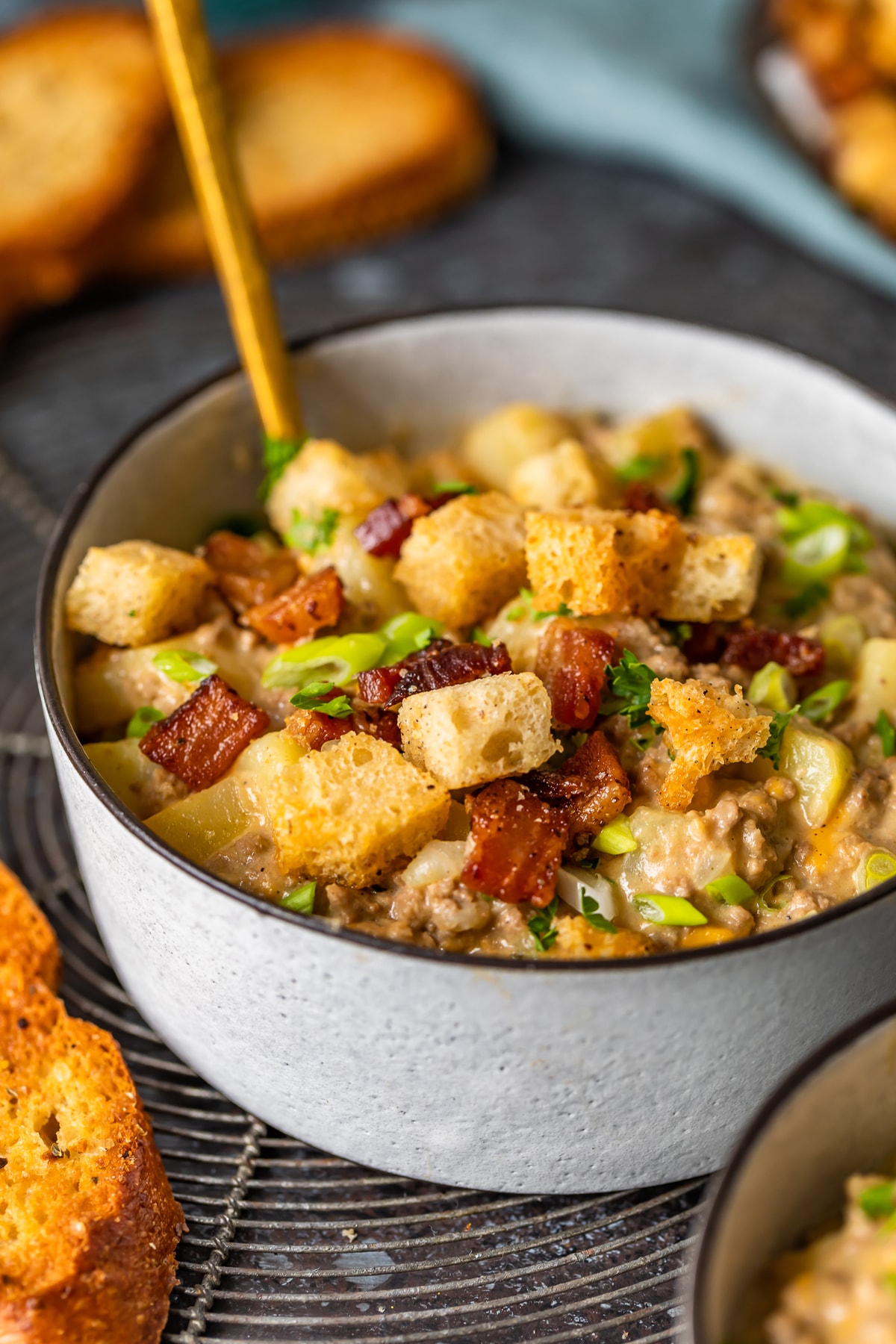 How to Make Bacon Croutons
These crunchy homemade bacon croutons are really simple, and won't take you long at all. They're easy enough to make while you wait for your soup to simmer!
Preheat the oven to 400°F and cover your sheet pan with aluminum foil.
Cut each bacon strip in half down the middle, then cut them into 1/2 inch bits.
Now cut your bread into 1/2 inch cubes. The bread and bacon bits should be about the same size.
Place the bacon bits on the sheet pan and cook in the oven for about 2 minutes.
Then add the bread cubes on to the sheet pan with the bacon, and put it back in the oven for about 15-20 minutes. About halfway through cooking, stir and mix up the croutons.
When done baking, remove the bacon croutons from the oven and season to taste.
You can either use them immediately, or store them for later use. Before storing, let them cool completely.
How long will these bacon croutons keep?
With the bacon mixed in, these homemade croutons will keep for about 3 days. Store them in an airtight container in the refrigerator and grab them whenever you need them. Croutons typically keep a little longer, but the bacon needs to be refrigerated.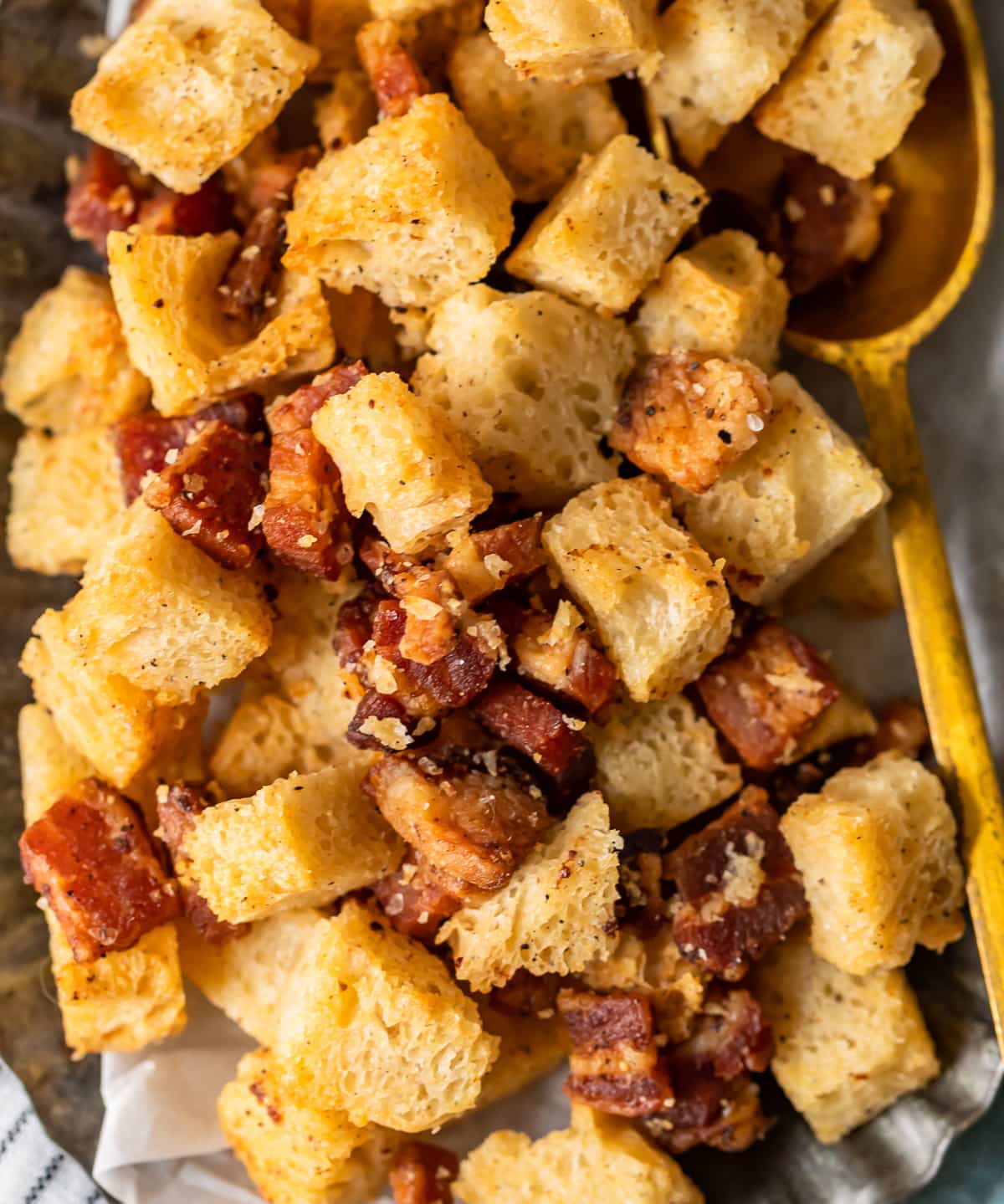 These bacon croutons are going to be your new favorite soup or salad topping! A bit of crunch, a bit of savoriness, and a whole lot of flavor.
See the recipe card below for details on how to make croutons with bacon. Enjoy!
Try these croutons on top of some of these other dishes: