BBQ Baked Beans with Bacon are my favorite summer side dish. This delicious homemade baked bean casserole is simple, and it goes with all the best BBQ foods. Learn how to make baked beans in the oven for an incredibly flavorful dish!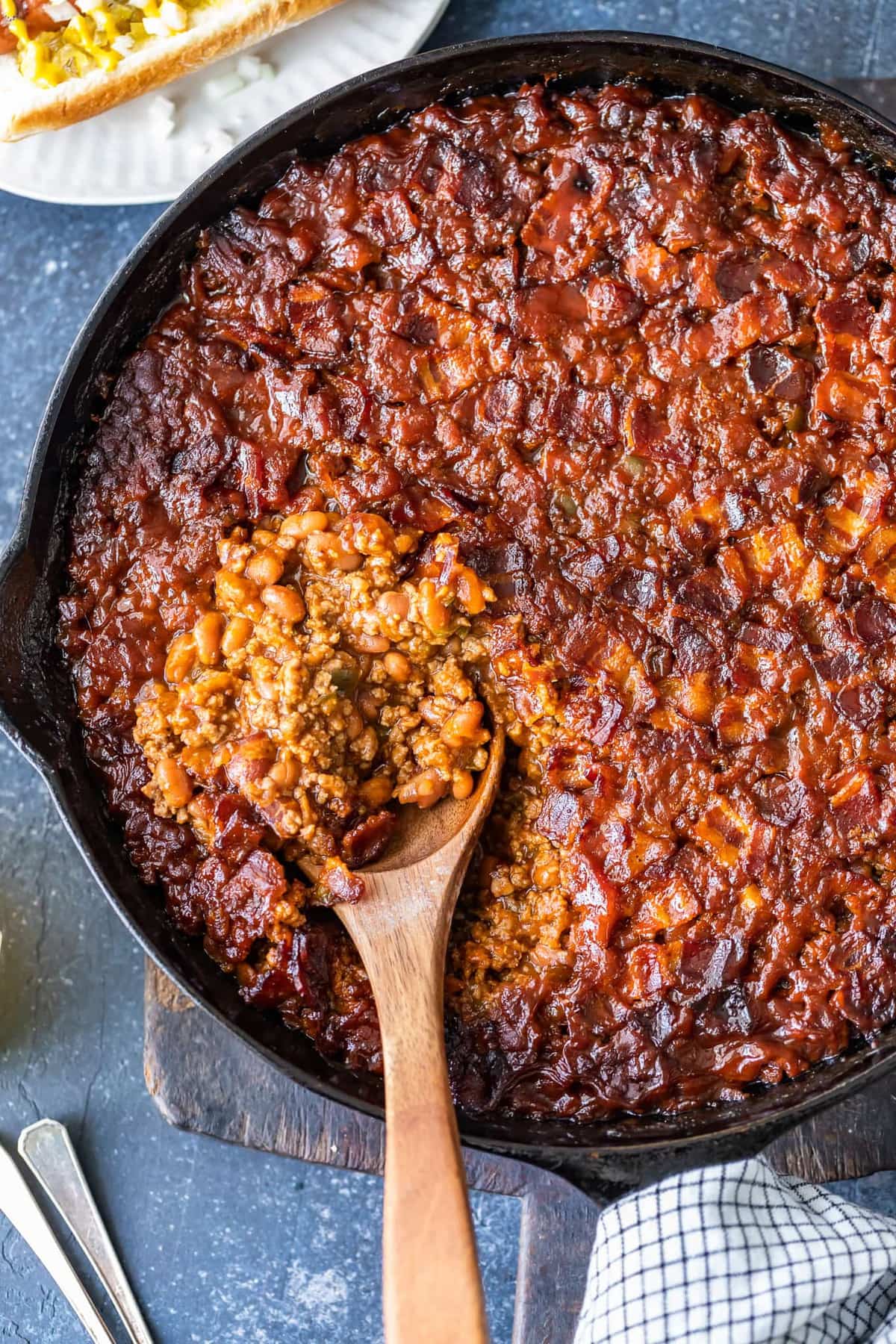 BBQ Baked Beans with Bacon
Baked beans are a staple for any summer BBQ, and this BBQ baked beans casserole is my favorite. So much more flavor in these homemade baked beans than what you get from a can!
This skillet baked bean casserole is about to take your pot luck game up a notch. Don't show up to the party with a can of beans you reheated on the stove; bring these BBQ baked beans with bacon and beef instead!
Add barbecue sauce, bacon, ground beef, and a few other ingredients to your beans, and you'll have the BEST baked beans recipe ready to go. Everyone will be impressed by this upgraded classic. It's the perfect side dish for hamburgers, hot dogs, and anything else you might throw on the grill.
Learn how to make baked beans in the oven for the most delicious BBQ side dish. You'll be making these every weekend this summer!
Get ready for summer with the ultimate summer side dish: BBQ Baked Beans!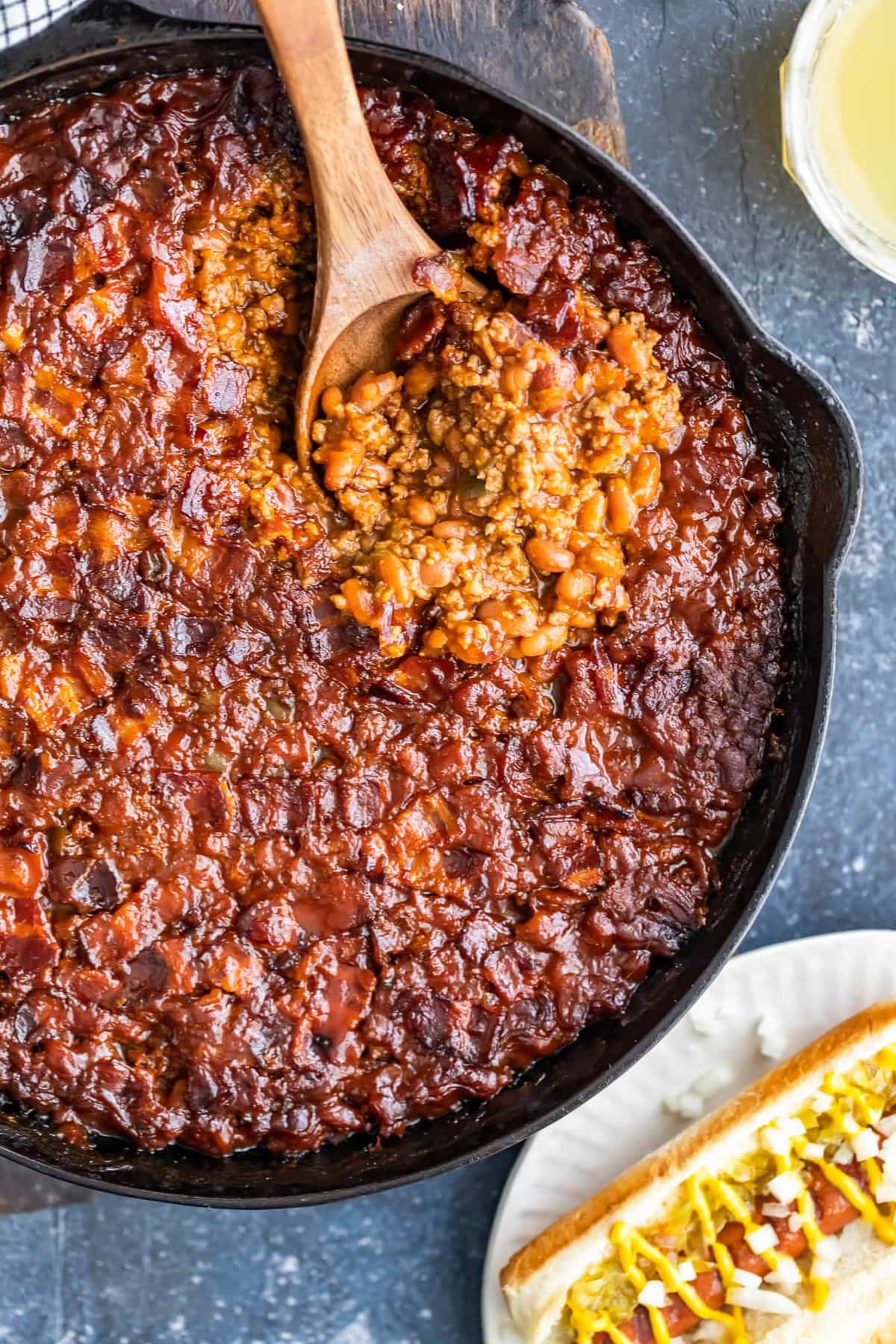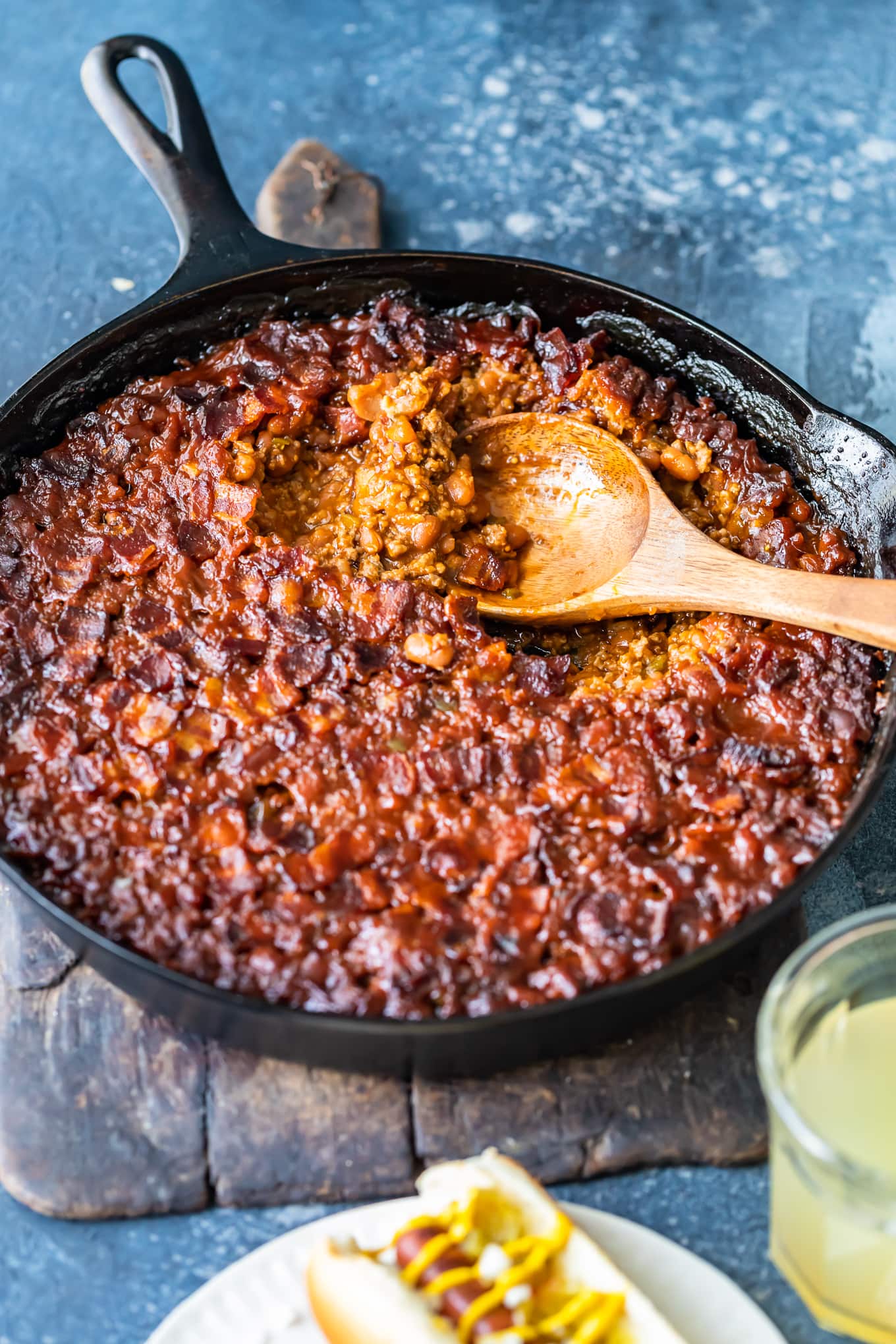 Homemade Baked Beans Recipe
Most of us probably just buy a can of beans and heat them up when we grill burgers during the summer. But let's change things up this year and make homemade baked beans instead!
Sure, it takes a little more work, but just barely. This BBQ baked beans recipe is so simple, and it is well worth the extra steps. Once you taste these, you'll understand! It will be hard to go back to the store-bought stuff when you could have this recipe instead!
What kind of beans are baked beans?
Baked beans are typically made with Navy Beans, so that's what you can expect from any canned version you buy at the store.
Skillet Baked Bean Casserole
You all already know that I LOVE casseroles, and this Skillet Baked Bean Casserole is no different. Beans baked in the oven with bacon, beef, and BBQ sauce…I mean, how good does that sound? It's so much better than plain old beans! And since we're actually baking them, they get this really nice texture and flavor that is just incredible!
BBQ Baked Beans Ingredients:
Bacon
Ground Chuck
Pork and Beans
Barbecue Sauce
Worcestershire Sauce
Yellow Onion
Bell Pepper
Ketchup
Country Mustard
Cider Vinegar
Dark Brown Sugar
Salt & Pepper
I love the savory, smokey, sweet mixture in this recipe. It's just perfect for BBQ!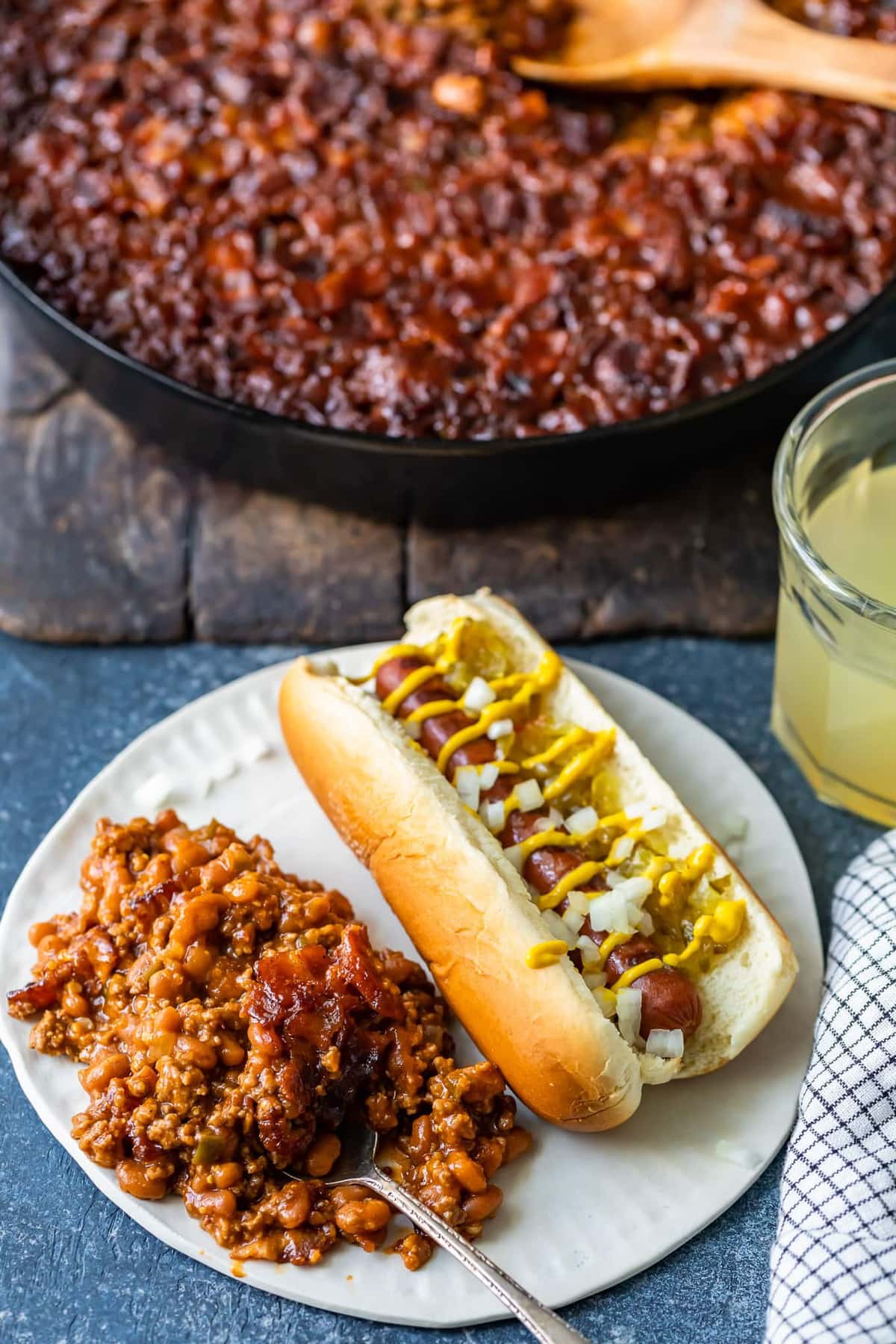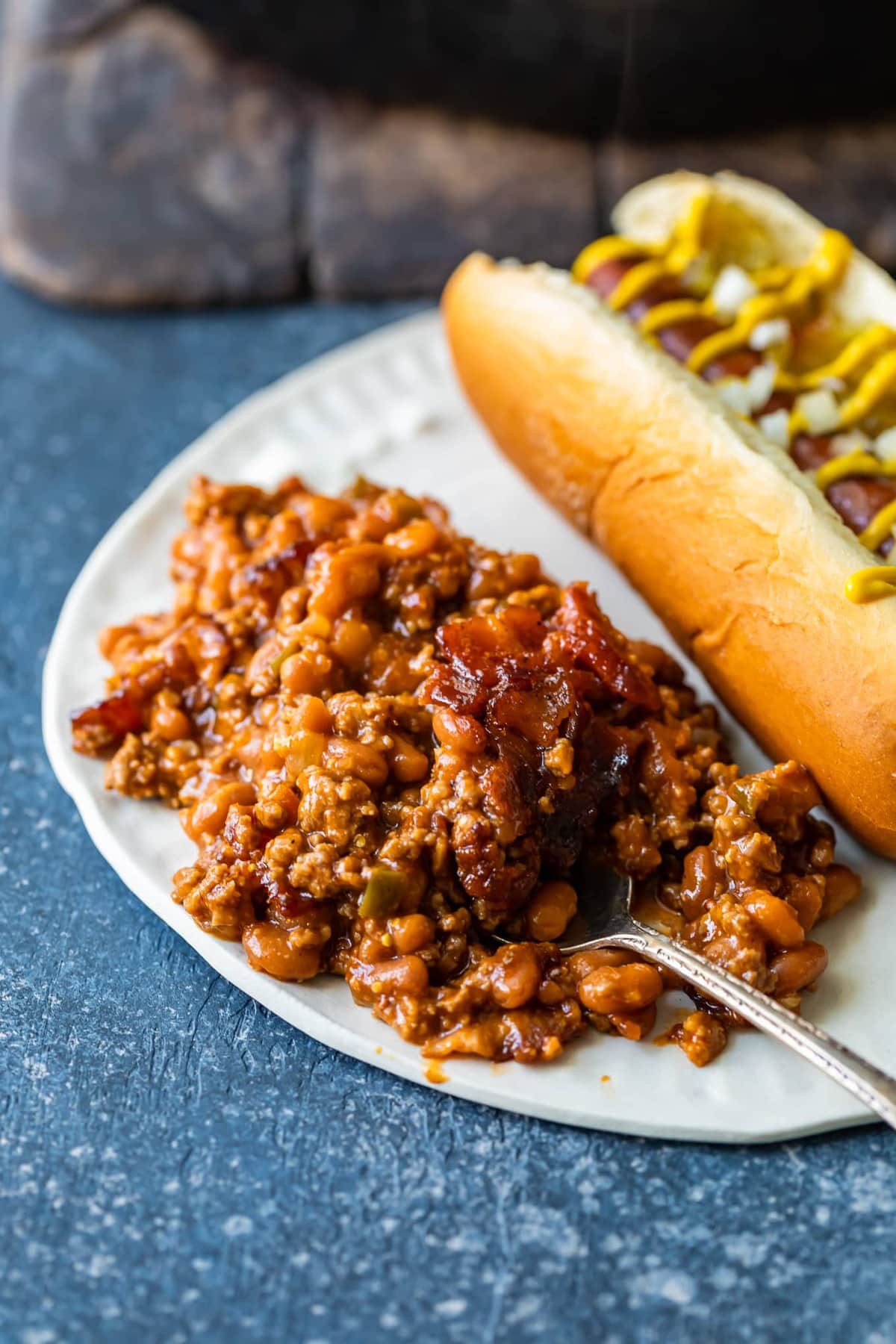 How to Make Baked Beans in the Oven
I'm all about making recipes a little bit easier by taking a few shortcuts. This easy baked beans recipe is not made from scratch, but I still consider it homemade.
If you started with dry beans, you'd have to do all the soaking and simmering, and we just don't have time for that. By starting with canned beans that are ready to go, we're saving tons of time. Then we can add all the other ingredients to make this our own, make it flavorful, and make it really unique.
Here's a quick overview of the recipe:
Cook the bacon, then cook the beef, and set both aside.
Next, cook the bell peppers and onion, then add in beans, BBQ sauce, ketchup, mustard, Worcestershire, cider vinegar, and brown sugar, and stir everything together.
Pour the entire mixture into a prepared baking dish, stir in the beef, and sprinkle the bacon on top.
Cover the dish and bake for 30 minutes at 350°F. Then uncover and bake another 25-30 minutes.
Check the recipe card below for detailed instructions.
Can you freeze baked beans?
Yes, you can freeze this BBQ baked beans casserole. Place it in freezer-safe containers or bags, and freeze. It's easy to save and reheat another time!
Looking for more casseroles? Check these out!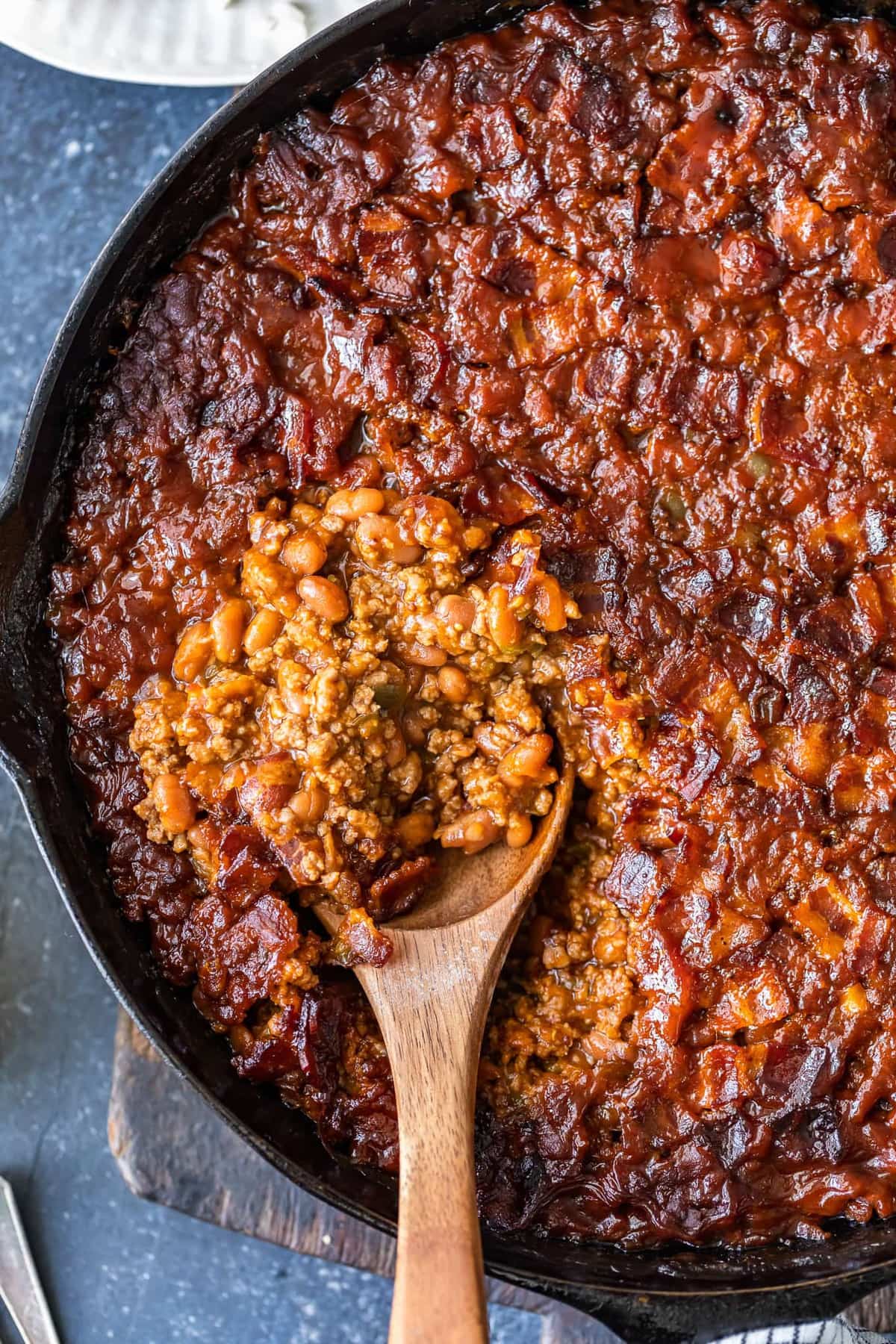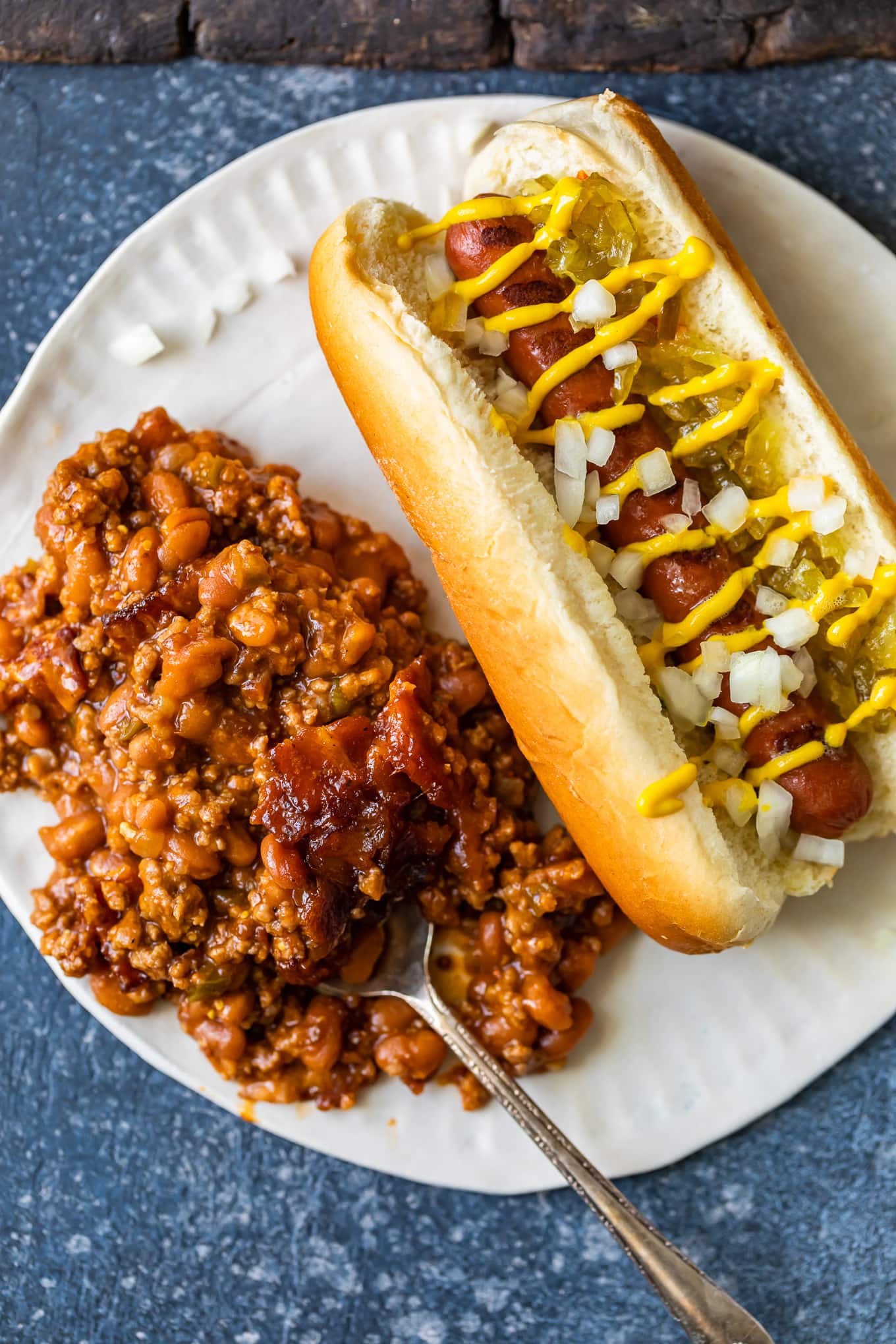 What to Serve with Baked Beans
BBQ Baked Beans are one of my favorite summer side dishes. They go with all the best BBQ foods, like burgers, hot dogs, and bratwursts. They're a staple for summer parties, so don't forget to make these next time you get the grill out.
Here are a few dishes that NEED a side of baked beans with bacon.
Best BBQ Recipes for Summer
These are the best recipes to make for summer BBQs!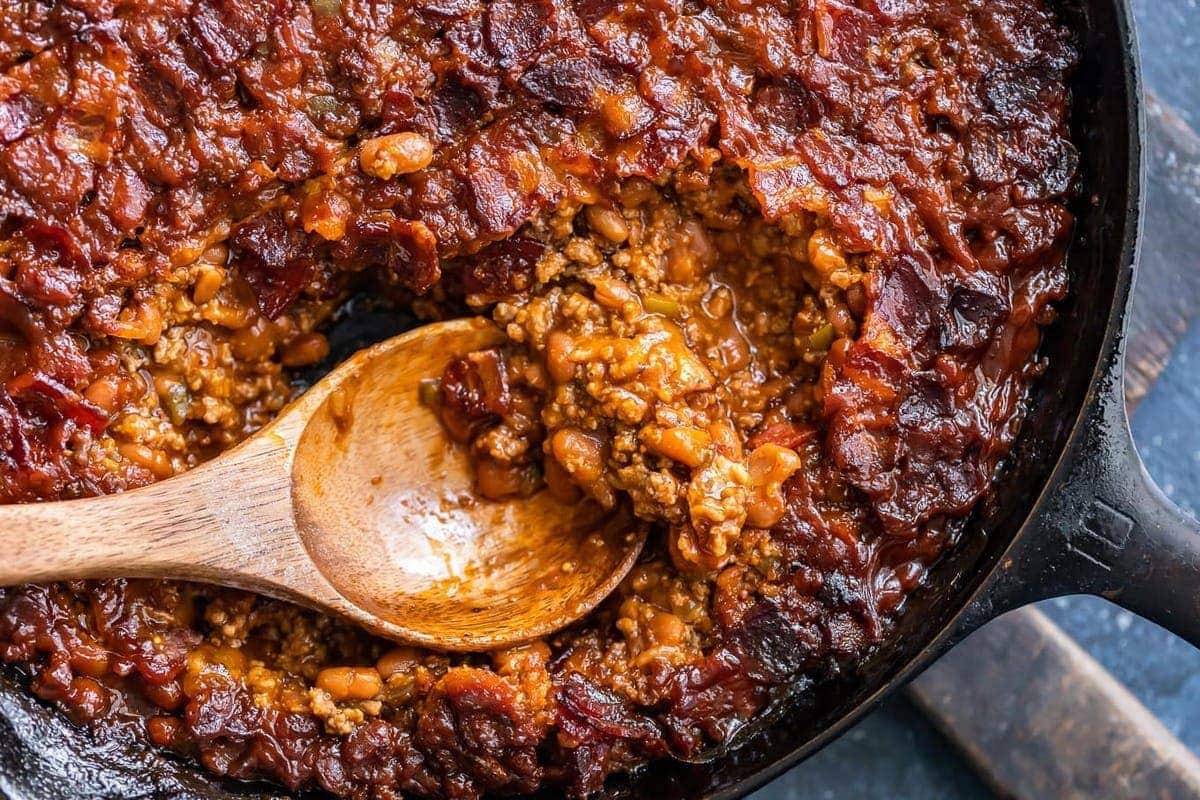 This BBQ baked bean casserole is sure to impress everyone. I can't wait for you to try this amazing summer BBQ side dish!
See the recipe card for details on how to make baked beans in the oven. Enjoy!
Add these other summer side dishes to your next BBQ: