Bacon Wrapped Tater Tots are a must make appetizer for any celebration. You should make a triple batch of these SWEET & SPICY BACON WRAPPED TATER TOTS because they're always gone in seconds! Spices and a little sweetness make this easy bacon wrapped appetizer a favorite for the holidays and tailgating. Tater Tots have never been better. SO ADDICTING!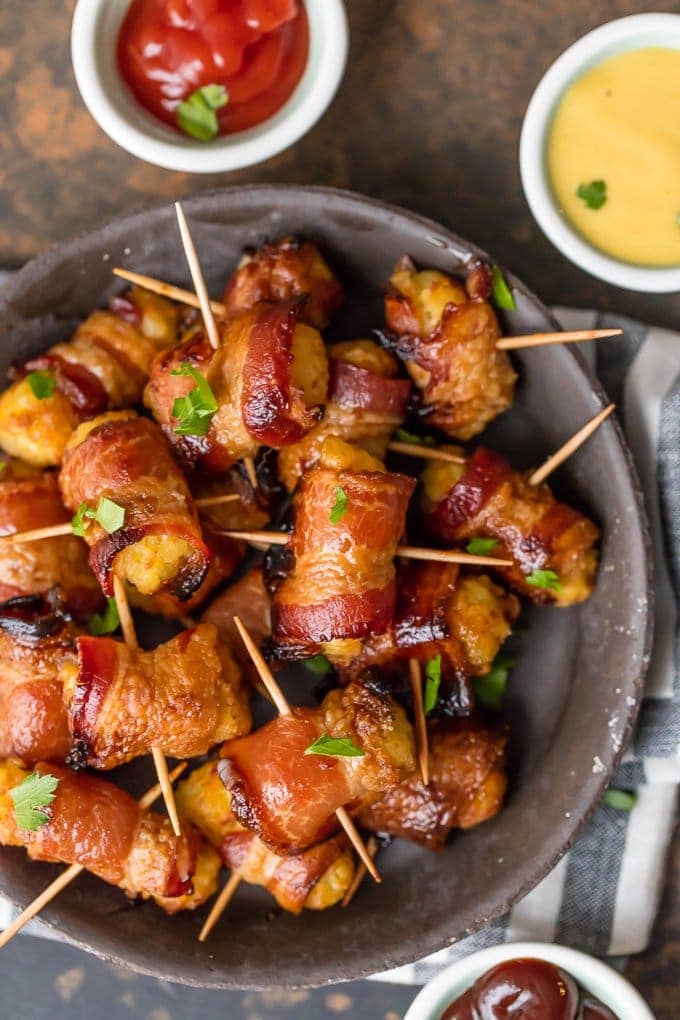 Bacon Wrapped Tater Tots
Bacon Wrapped Tater Tots will be your new favorite appetizer! Learn how to make tater tots wrapped in bacon for game day, New Year's Eve, and beyond.
A few years ago I posted our favorite bacon wrapped appetizers, Bacon Wrapped Water Chestnuts. They're always a favorite and gone before we know it. I love the crunch, the flavor, and the ease.
These Sweet and Spicy Bacon Wrapped Tater Tots are similar, but I feel like they're a big upgrade. Not only are these bacon tater tots just as easy to make, but they have a soft yet crispy potato center, just the right amount of sweet and spicy, and of course lots of bacon. They're pop-able, bite sized, and so fun.
I love these bacon tater tots for game day, New Year's Eve, Christmas, or any party. Is it okay if I eat 10-20 of these myself? Like I said, you better make a triple batch!
These Sweet and Spicy Bacon Wrapped Tater Tots are one of the tastiest appetizers yet! If you like Tater Tots, these will take it to a whole new level.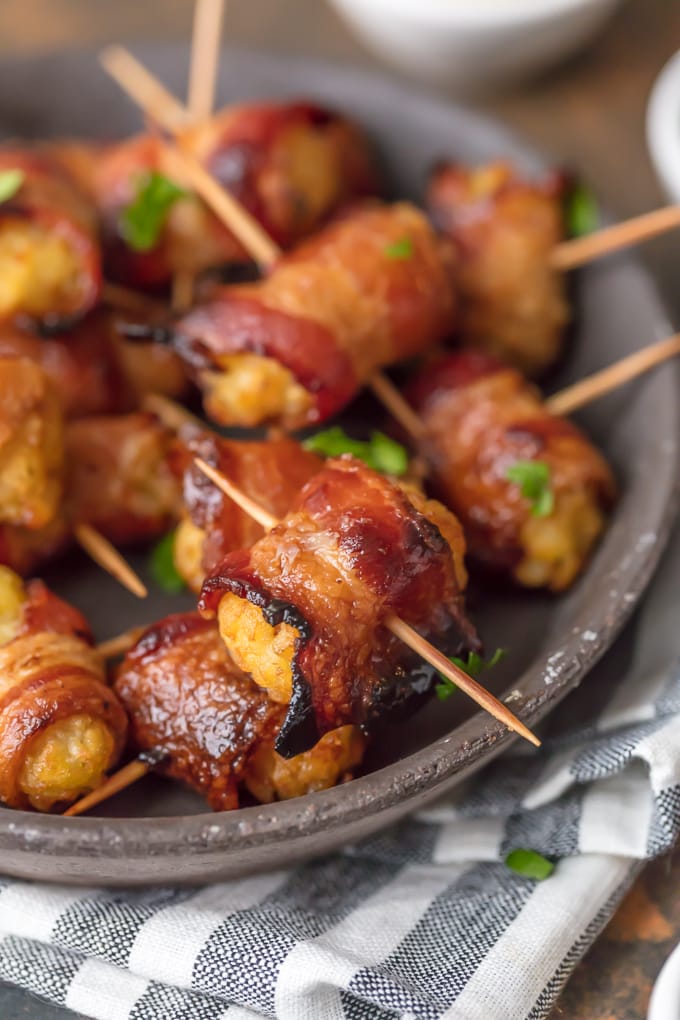 Easy Bacon Wrapped Appetizers
Bacon Wrapped Tater Tots are the Best Easy Appetizer for Game Day
This Bacon Wrapped Tater Tots Recipe is one of those easy appetizers that you can prep really quick, bake, and eat within minutes. It's great to take to a party on a baking sheet and cook there, so its nice and hot for your friends and family. You can dip these bacon tater tots in any of your favorite sauces, or eat them on their own. We love them for family parties throughout the year, but especially for Christmas, New Year's Eve, and of course, these tater tots are one of the best Super Bowl Appetizers.
I'm stocking up on all the great appetizers for the big game for the ultimate party. We have you covered with Guacamole Egg Rolls, Baked Provolone, Pepper Jelly Hogs in a Blanket, Bacon Ranch Fries, and more. You're in the right place if you're looking for any and every starter!
And don't forget the rest of the bacon wrapped appetizers!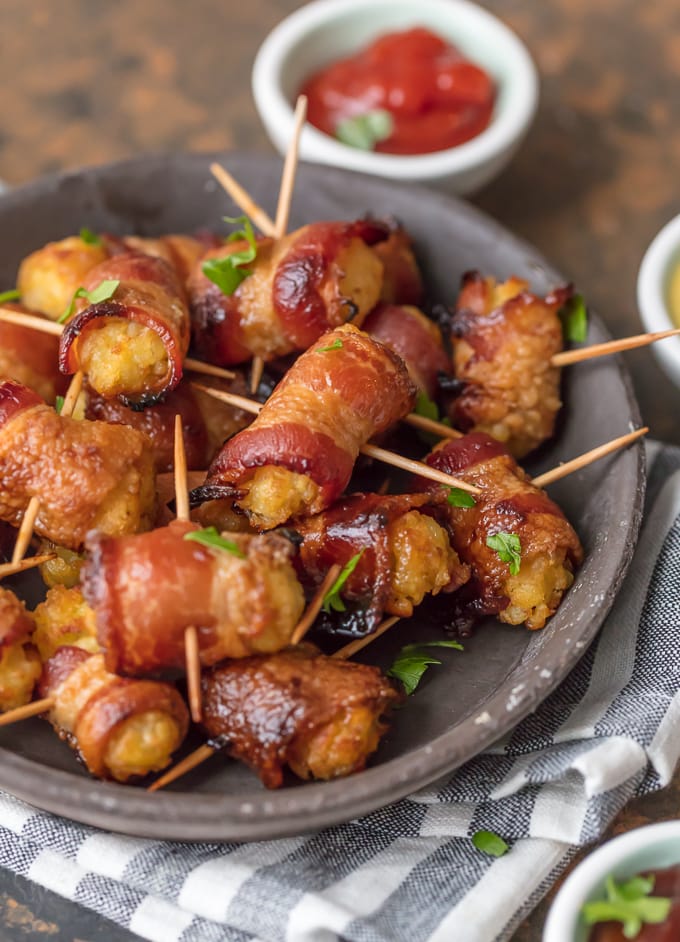 How to Make Tater Tots
Everyone should know how to make tater tots. They're a tasty alternative to typical french fries, they're absolutely delicious, and they go with just about everything. Tater tots work as a side dish, a quick snack, or (in this case) a fun bacon wrapped appetizer.
If you just want plain old regular tater tots (I mean, those are pretty tasty served with a few fun dipping sauces), just buy a bag of them and throw them in the oven. No need to make it too complicated, right? But this tater tot recipe is a little more fun that that.
How to Make Bacon Wrapped Tater Tots
Now, if you want to learn how to make these Sweet & Spicy Bacon Wrapped Tater Tots, I can help you there. All you need for this tater tots recipe is a bag of tater tots, bacon, dark brown sugar, and cayenne pepper. Let the tater tots thaw to room temperature before starting, and line your baking sheet with parchment paper.
Combine brown sugar and cayenne powder in a small bowl, then rub the mixture into the bacon slices.
Cut each slice of bacon into four pieces, and then wrap them around the tater tots.
Place the tater tots on the baking sheet, and cook for 20-25 minutes at 400°F (flip the tater tots about half way through cooking time).
If you want to make these tater tots wrapped in bacon ahead of time, let them cool after baking and store them in an airtight container in the refrigerator. To reheat, bake them at 350°F for 10 minutes.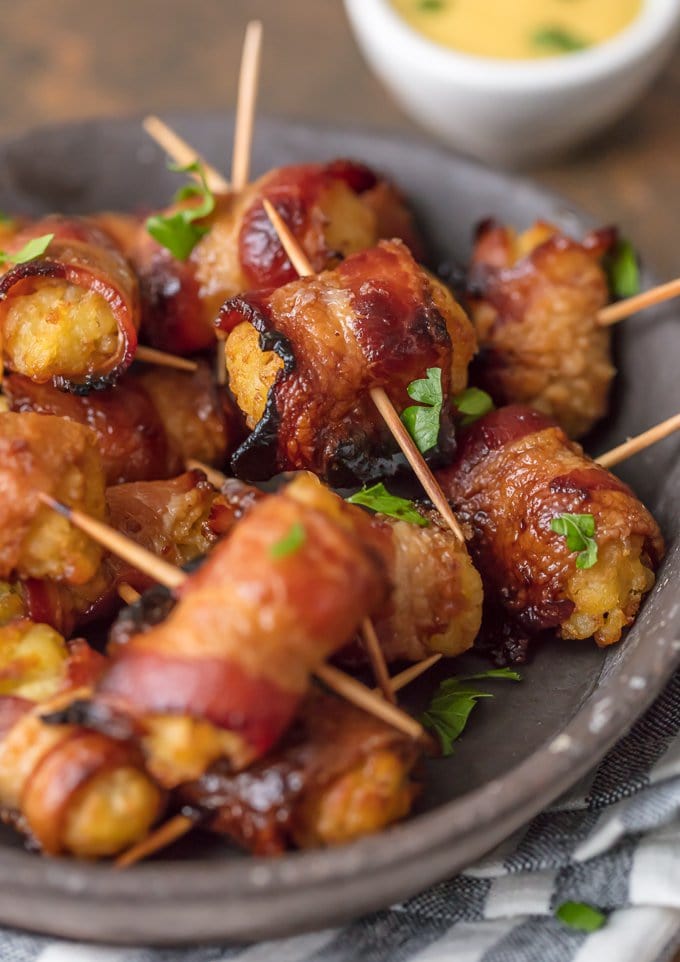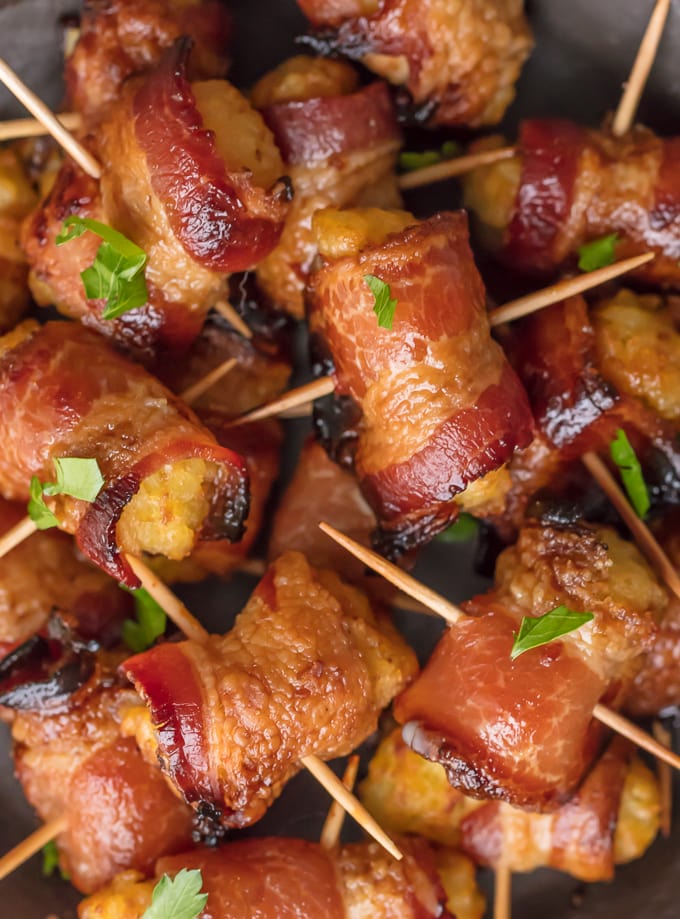 Now get to cooking these bacon wrapped tater tots! The holiday season is here and we need all the best appetizers for the big days. This easy tater tot recipe is definitely a keeper!
See the recipe card below for full details on How to Make Bacon Wrapped Tater Tots. Enjoy!
If you liked these bacon tater tots, try these other savory bacon recipes: