Summer is here and what better way to celebrate than with this delicious frozen margaritas recipe?! You don't need a fancy machine for this classic cocktail, just a handful of ingredients, a high-powered blender, and welcome to Margaritaville!
What's in a Frozen Margarita?
You really can't go wrong with a classic margarita, and when they are frozen, they are so much better! This is a real summertime indulgence, and quite honestly the best marg recipe out there! Just a handful of simple ingredients and five minutes and you will have a zingy and flavorful cocktail.
Cointreau: This orange liqueur is a staple in margaritas. I prefer Cointreau over triple sec, but either will work.
Lime Juice: Freshly-squeezed lime juice is the key to a delicious margarita. Don't use bottled lime juice; it just won't taste the same!
Tequila: Choose a good-quality Reposado tequila for the smoothest, best-tasting margaritas.
Agave Syrup: Agave nectar is a great all-natural sweetener. Use more or less depending on your tastes.
Ice: Blend these margs with a good bit of ice for a slushy, thirst-quenching drink!
Pro Tip: When it comes to garnish, I like to keep it classic and simple. A salt rim and a slice of lime is really all you need.
Variations on the Best Frozen Margarita Recipe
Mezcal Frozen Margaritas: Swap the Reposado tequila for your favorite brand of Mezcal for smoky margaritas.
Spicy Frozen Margaritas: Muddle a few jalapeño slices in the bottom of each glass before pouring in the margarita, or add some chili powder to the salt rim.
Skinny Frozen Margaritas: Follow my skinny margarita recipe and blend with ice!
Fruity Frozen Margaritas: You can add ½ cup of just about any frozen fruit to this recipe to make fruity frozen margs. Do not use fresh fruit, as it will make them watery!
Virgin Frozen Margaritas: Swap the tequila for sparkling water and the Cointreau for orange juice. Blend these mocktails without the sparkling water, then top them off with sparkling water just before serving.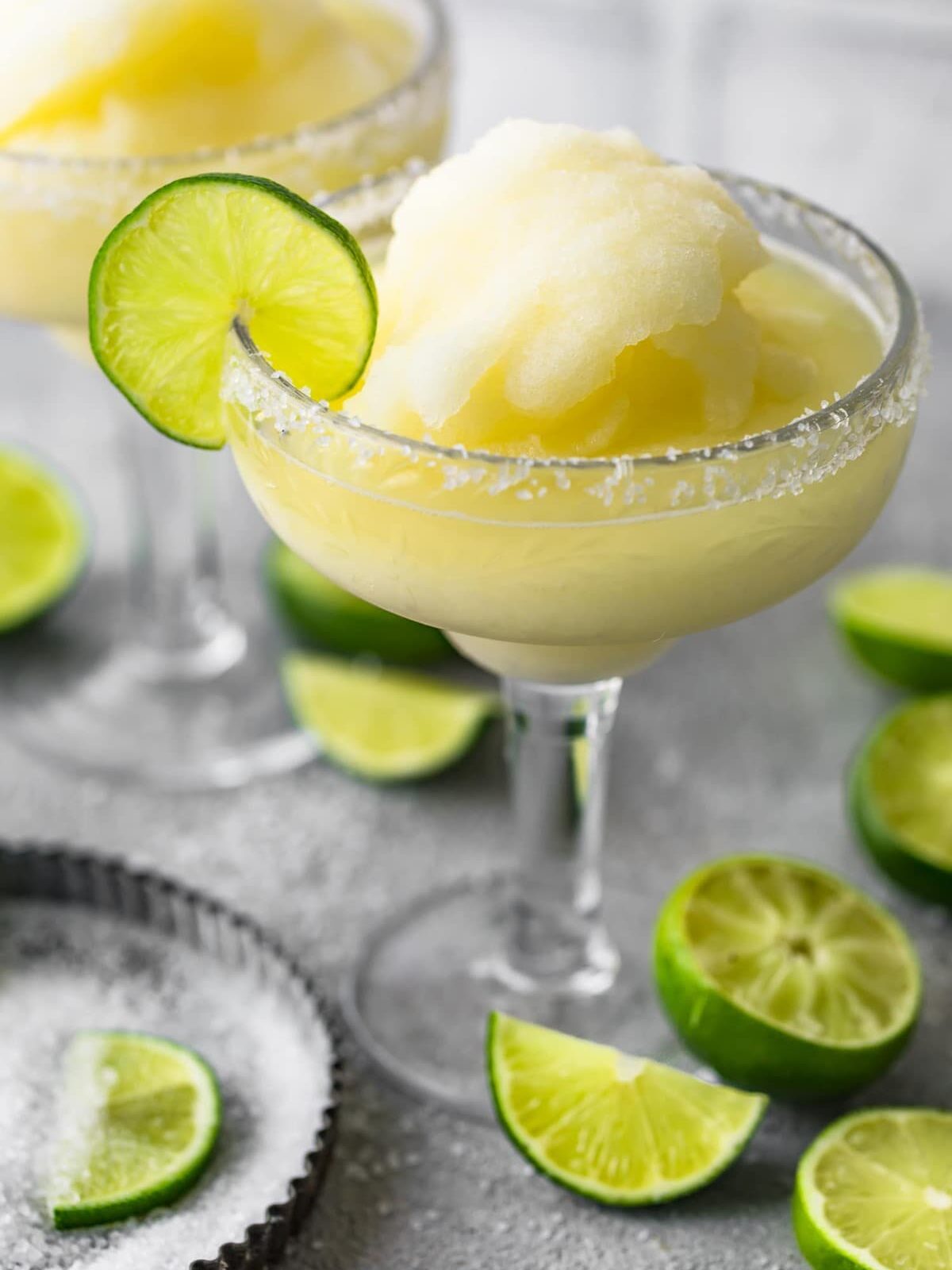 What's the best alcohol for frozen margaritas?
When making margaritas, I always opt for classic tequila. Look for one that isn't the most expensive and isn't the cheapest. You want a quality tequila that is smooth and well made, but there's no reason to break the bank when you're not sipping it straight. I recommend using a Reposado Tequila which is typically smoother than a Blanco or Anejo Tequila.
How do you make frozen margaritas thicker?
To make these margaritas thicker, simply add more ice and continue to blend until they reach your desired consistency!
Can one frozen margarita get you drunk?
It sure can! Margaritas contain a good amount of alcohol, and frozen margaritas are no different. Please drink responsibly.
How many calories in a frozen margarita?
A single frozen margarita contains about 322 calories.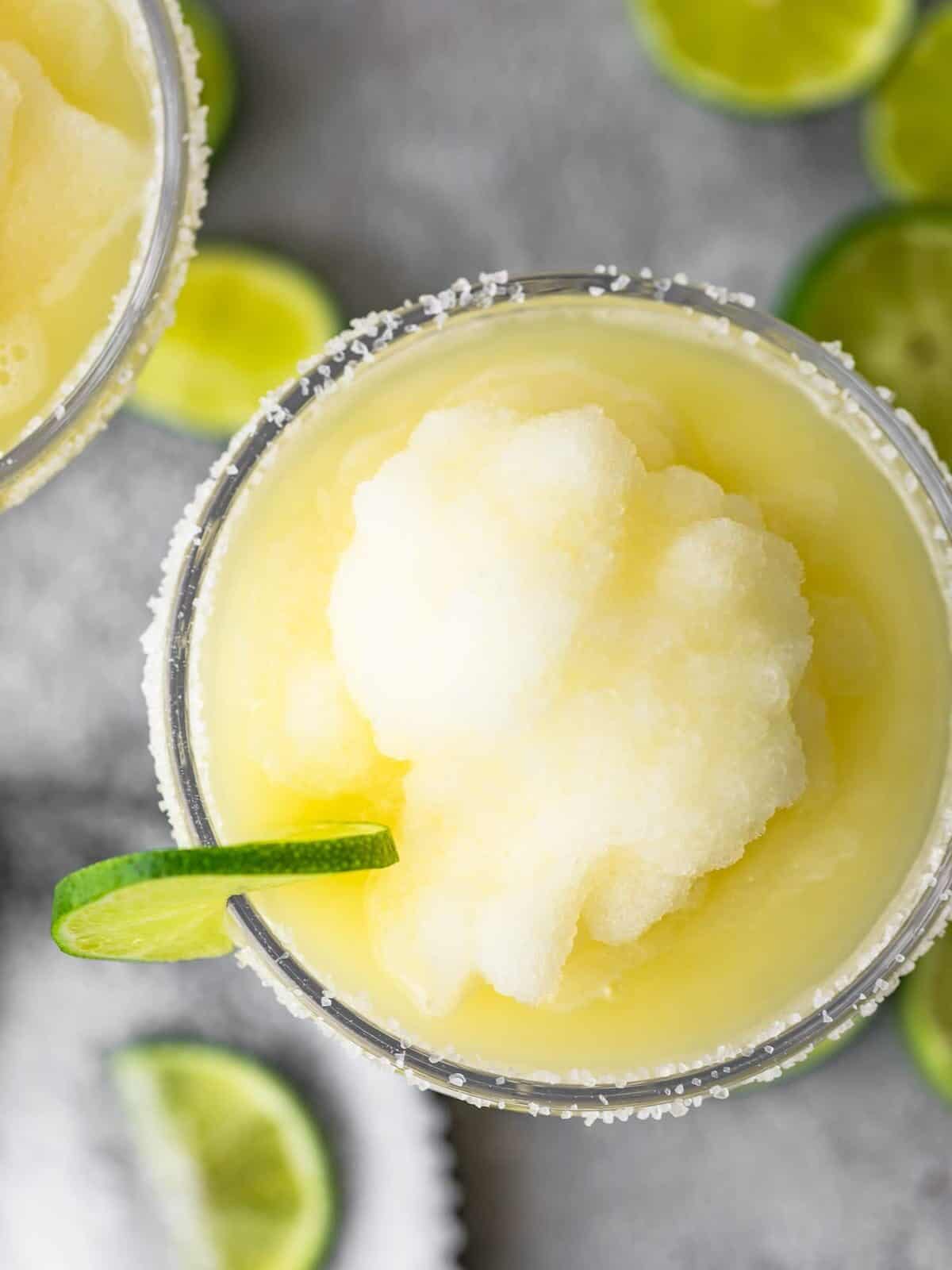 How to Store
You can mix together the Cointreau, lime juice, tequila, and agave and store them in the refrigerator for up to 1 day. Simply pour this mixture into the blender with ice and blend to serve.
How to Freeze
You can also batch and freeze margaritas. Simply pour individual margaritas into glass jars, seal, and freeze for up to 2 weeks. Serve directly from the freezer!
Serving Suggestions
I'm a huge fan of Mexican food, and I just love pairing delicious food with delicious margaritas! Try these margs with Baked Chicken Tacos, White Queso, Mexican Grilled Corn, Queso Smothered Chicken Fajitas, Enchilada Stuffed Peppers, Avocado Egg Rolls, Foil Packet Nachos, Salsa Verde Chicken Enchiladas, Beef Enchiladas, or Skillet Chicken con Queso.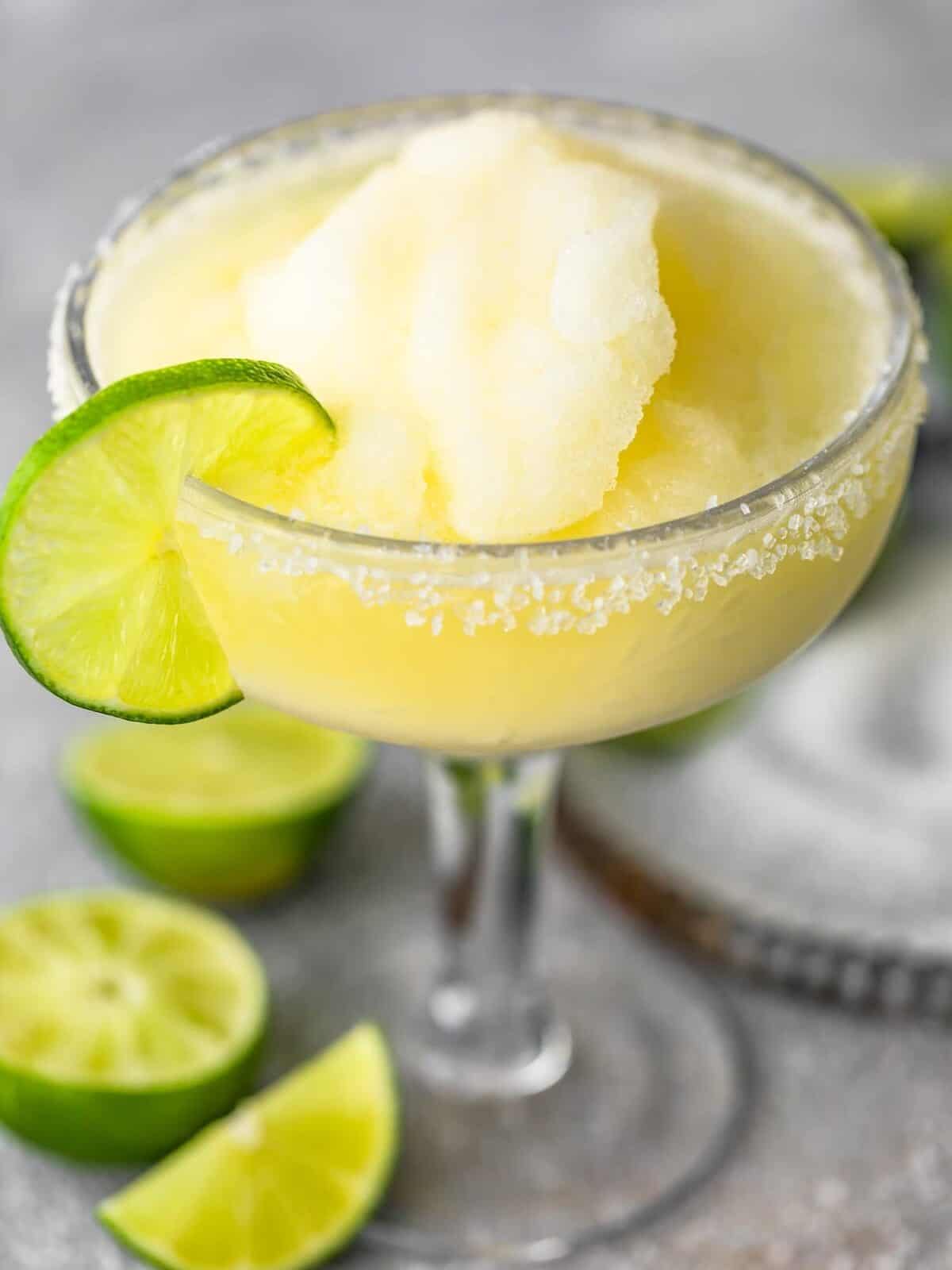 More Frozen Margarita Recipes We Love