Homemade Dog Treats are the best way to show your pet that you love them like family! These homemade peanut butter dog treats are an easy dog biscuit recipe that your fur baby would request every week if they could. If you've wondered how to make dog treats at home so they can have a healthy snack, it's much easier than you think. Your dog deserves these homemade cookies and will be so excited!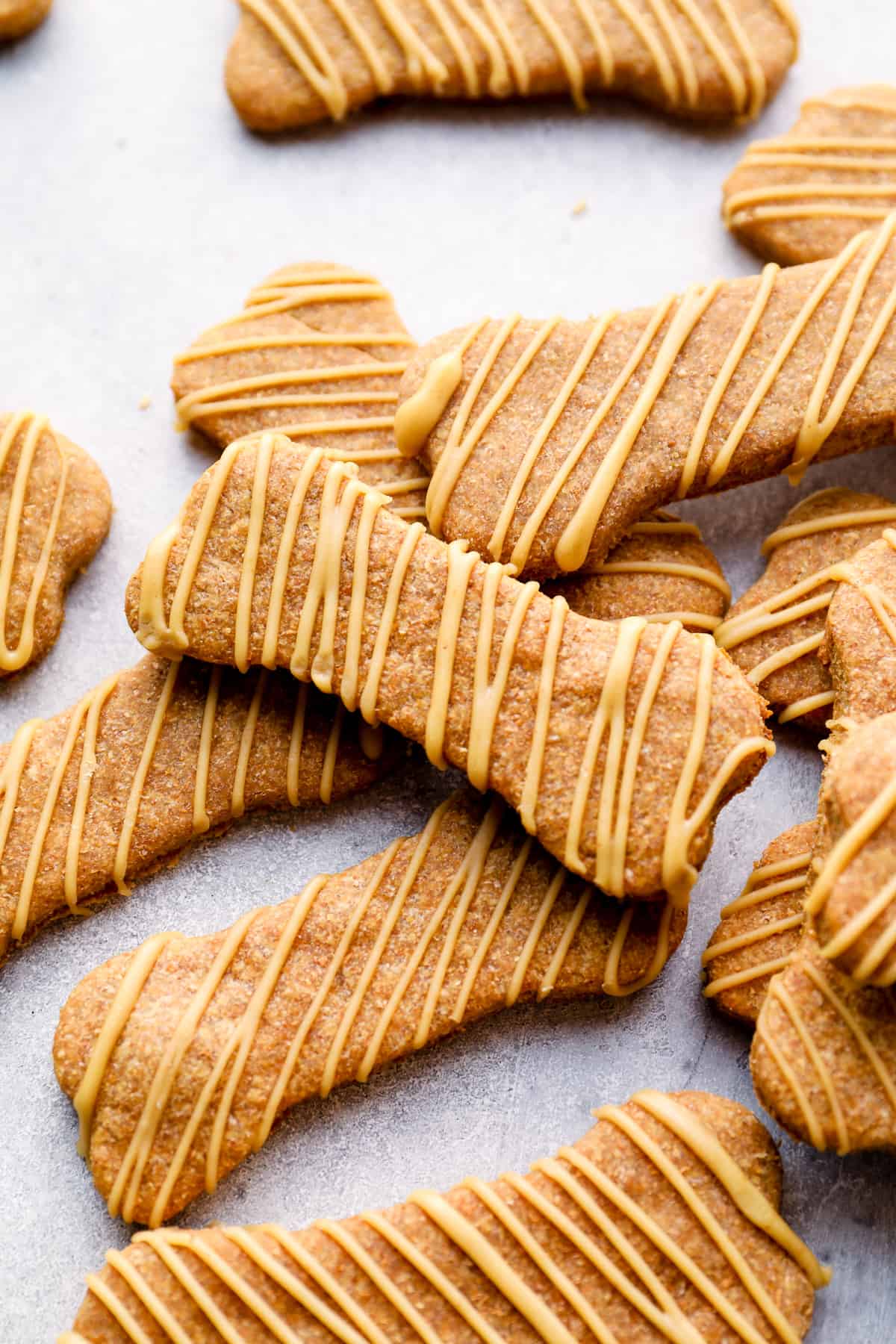 What's in this Dog Treats recipe?
Make these freshly-baked homemade dog treats to show your pet how special they are! They're easy to make with just 5 main ingredients, and you can whip up a whole batch to store. Trust me, they're going to absolutely love these peanut butter dog treats, and they're healthy too.
Flour: I prefer to use whole wheat flour for dog biscuits for the extra nutritional value. Other types of flour are fine to use, as long as you know your pup isn't allergic.
Peanut Butter: This thickens the mixture into a dough, and adds tasty peanut butter flavor! Use a natural peanut butter and check the ingredients list–do not use anything with Xylitol (an artificial sweetener), which is not safe for dogs.
Egg: Binds the ingredients together to form a pet-friendly cookie dough.
Water: Adds a bit of moisture to help make the dough pliable.
Honey: This sweetens the flavor just a little bit.
Frosting: If you want to add a frosting for a bit of decoration, you'll need more peanut butter and honey, plus hot water and cornstarch.
Note: Dogs can have allergies just like people, so while these ingredients are all safe for dogs in general, make sure you know what your friend can and cannot eat. I recommend giving them a small bite to test these treats out before you start using them regularly.
Can I make these peanut butter dog biscuits a different flavor?
While peanut butter dog treats seem to be a universally-loved flavor, you can absolutely change up these biscuits for your pup.
Use other nut butters if you know your dog likes them and can digest them. You can also use an equal amount of plain pumpkin puree or plain mashed sweet potato instead to make cookies for your dog.
But if you use different ingredients, keep an eye on the consistency of the dough–you want it to be quite firm and sticky. Add a smaller amount of these ingredients incrementally until it becomes firm enough to roll out and cut.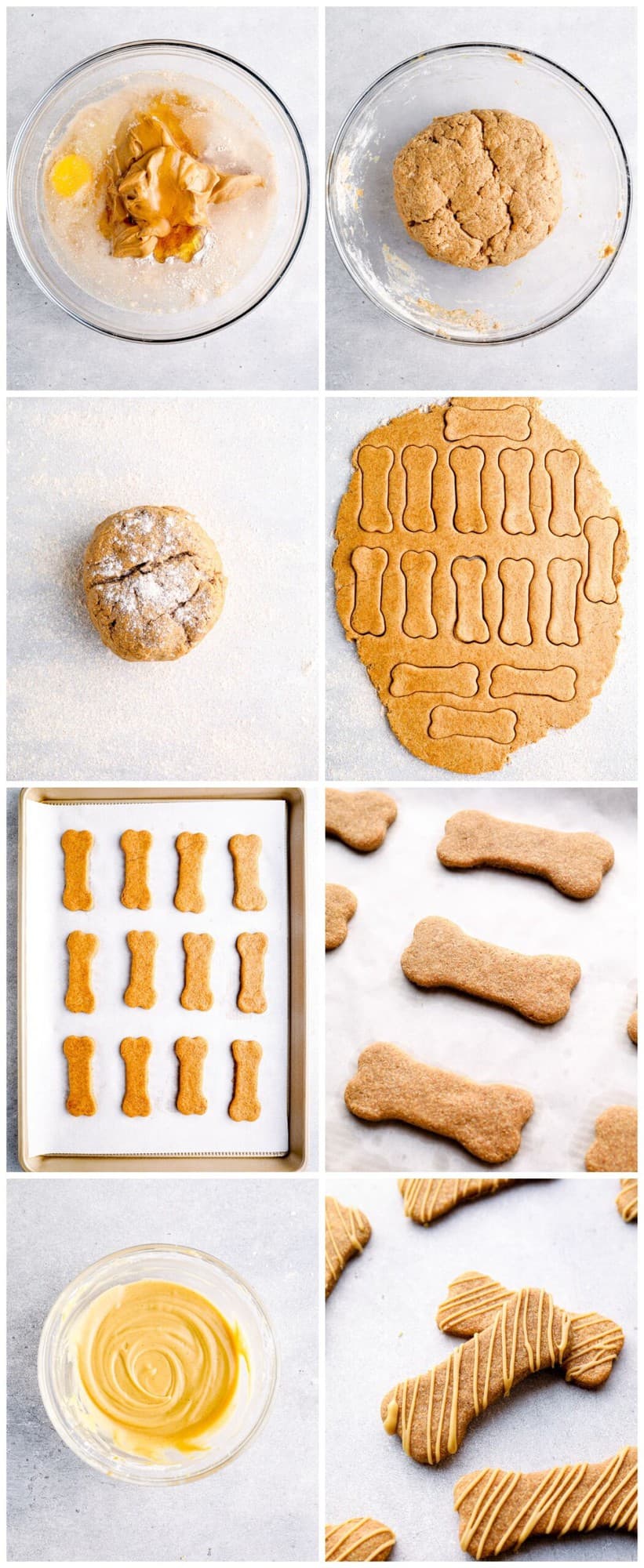 Is peanut butter safe for dogs to eat?
Yes, peanut butter is generally considered safe for dogs to eat. As I mentioned above, I recommend using a natural peanut butter. Unsalted varieties are great, and you can even find peanut butters brands that are made for dogs. Be sure to check the ingredients list, and avoid anything that contains Xylitol, or other artificial sweeteners.
Can you use all-purpose flour in dog treats?
Yes, all-purpose flour works too. I prefer whole wheat flour, but all-purpose is safe, as long as your dog isn't allergic.
Can I make these homemade dog treats wheat-free?
If your pup is allergic to wheat, use a flour alternative, like coconut flour or rice flour. However, it may change the consistency of the dough a bit.
Are these homemade dog cookies healthy?
Yes, all of the ingredients in this dog treats recipe are considered safe, healthy, and nutritional. Peanut butter contains essential vitamins and healthy fats, and the whole wheat flour has extra nutritional value as well. Honey contains a lot of sugar (of course), but we only use a small amount.
What kind of cookie cutter should I use?
You can use any type or shape of cookie cutter you like, including the classic dog bone shape, Christmas and holidays shapes, hearts, and more. If you don't have a cookie cutter, use the rim of a glass to cut out circles. Find a Customized Cookie Cutter for your dog's breed on Etsy for more fun options.
Are these peanut butter dog treats safe for people to eat?
Yes! We're using ingredients that are safe for both dogs and people. While I wouldn't recommend snacking on these, if a little one gets their hands on them, they'll be okay!
Can I make these dog cookies crunchier?
This recipe makes treats that are nice and chewy. If your dog would prefer a crunchier biscuit, roll out the dough really thin. You could also keep them in the oven at a lower temperature (200°F) for a while to help them dry out and crisp up.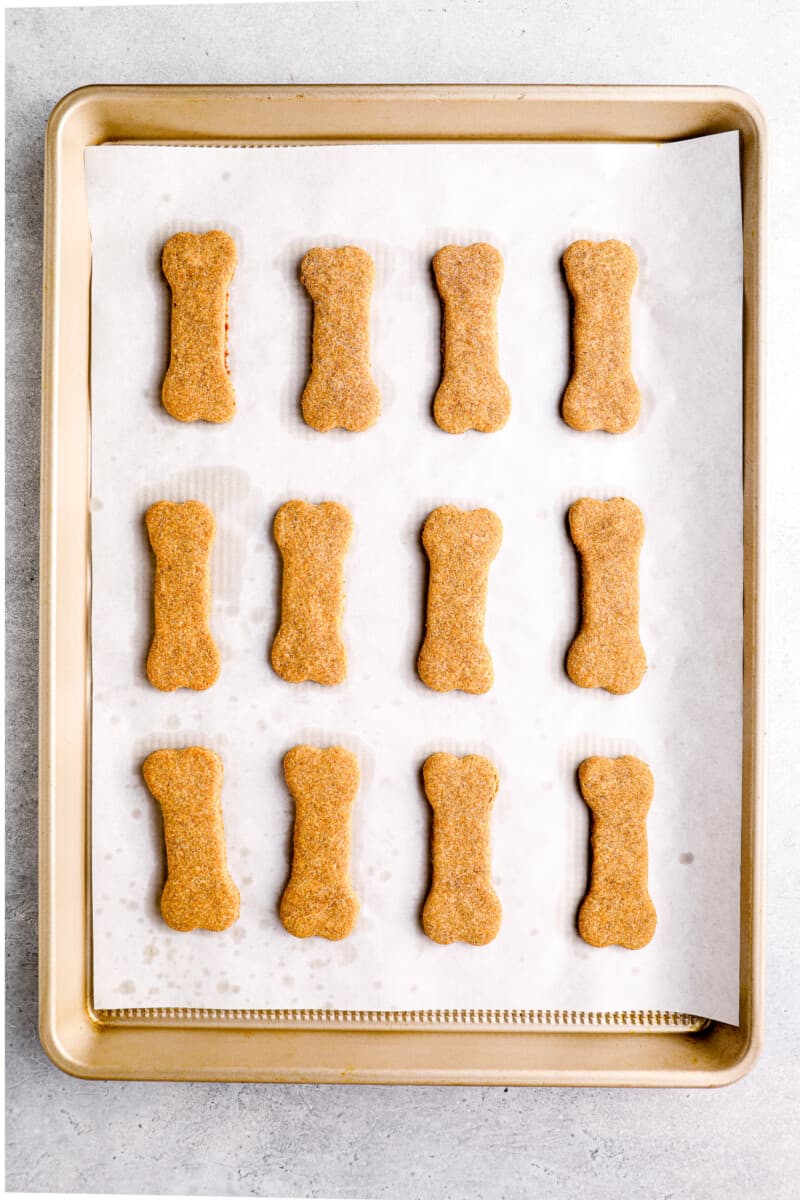 How to Store Homemade Treats
Once fully cooled, store homemade peanut butter dog biscuits in an airtight container in the refrigerator, for up to 2 months. This recipe makes 24 cookies, so you'll have plenty to share whenever your dog needs a healthy treat.
How to Freeze
This easy recipe for dog treats can be stored in the freezer for up to 8 months. I recommend placing a pan of them in the freezer for about an hour, then transferring them to a freezer-safe bag or container. This will prevent them from sticking together, so you can grab as many as you need, and keep the rest in storage. Move them to the fridge to thaw.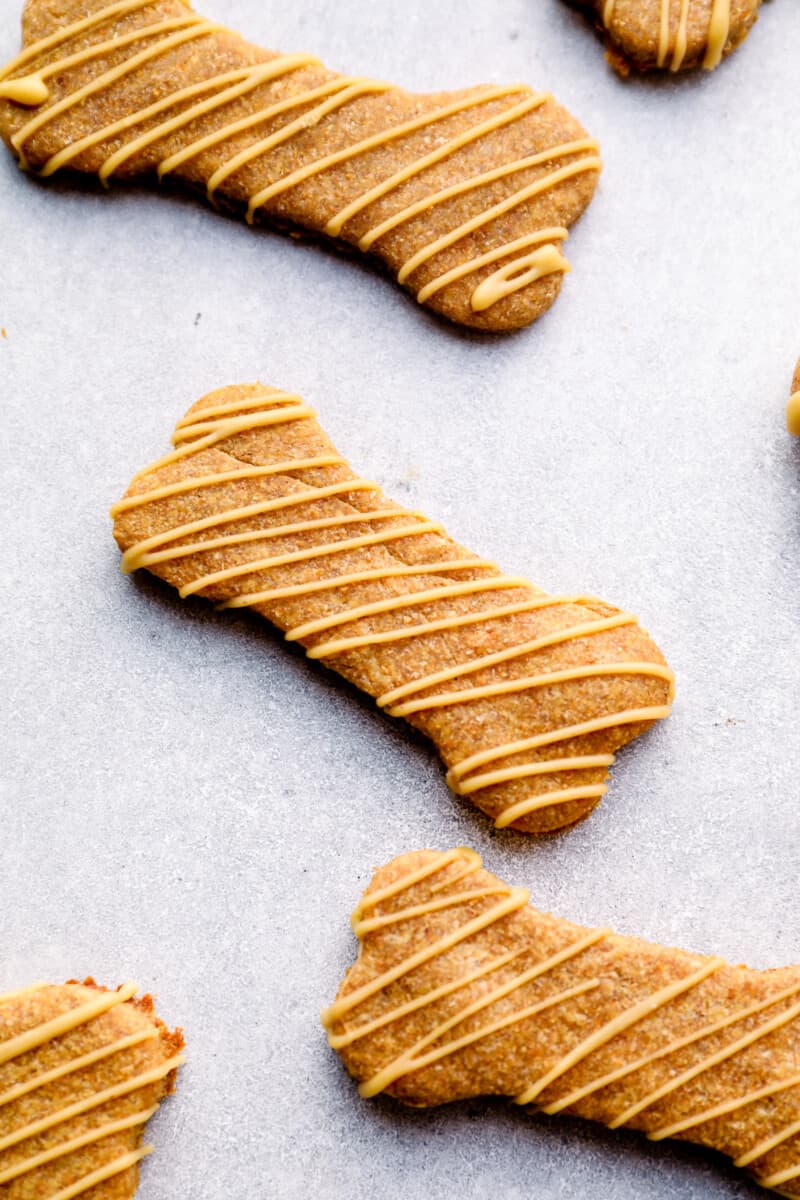 5-Star Review
"My husband and I wanted to bond over something, so we decided to make these for our two dogs. They go crazy over these. Cannot control themselves. I took a nibble too, and they're not bad for humans either. They stayed nice and chewy sitting in a tupperware on the counter. Our smallest dog (8lbs) doesn't like crunchy things, so the fact these are chewy was perfect. We even gifted some to the German Shepherd next door. We will be making these again!" – Sarah
If you make this recipe be sure to upload a photo with your pup in the comment section below and leave a rating. Enjoy! You can also jump to recipe.
More Pet Treat Recipes We Love: