This Grilled Chicken Breast is the perfect weeknight dinner! We're making the best chicken marinade, made with red wine vinegar, garlic, and fresh herbs. It's simple to make, and leads to the juiciest, most flavorful grilled chicken.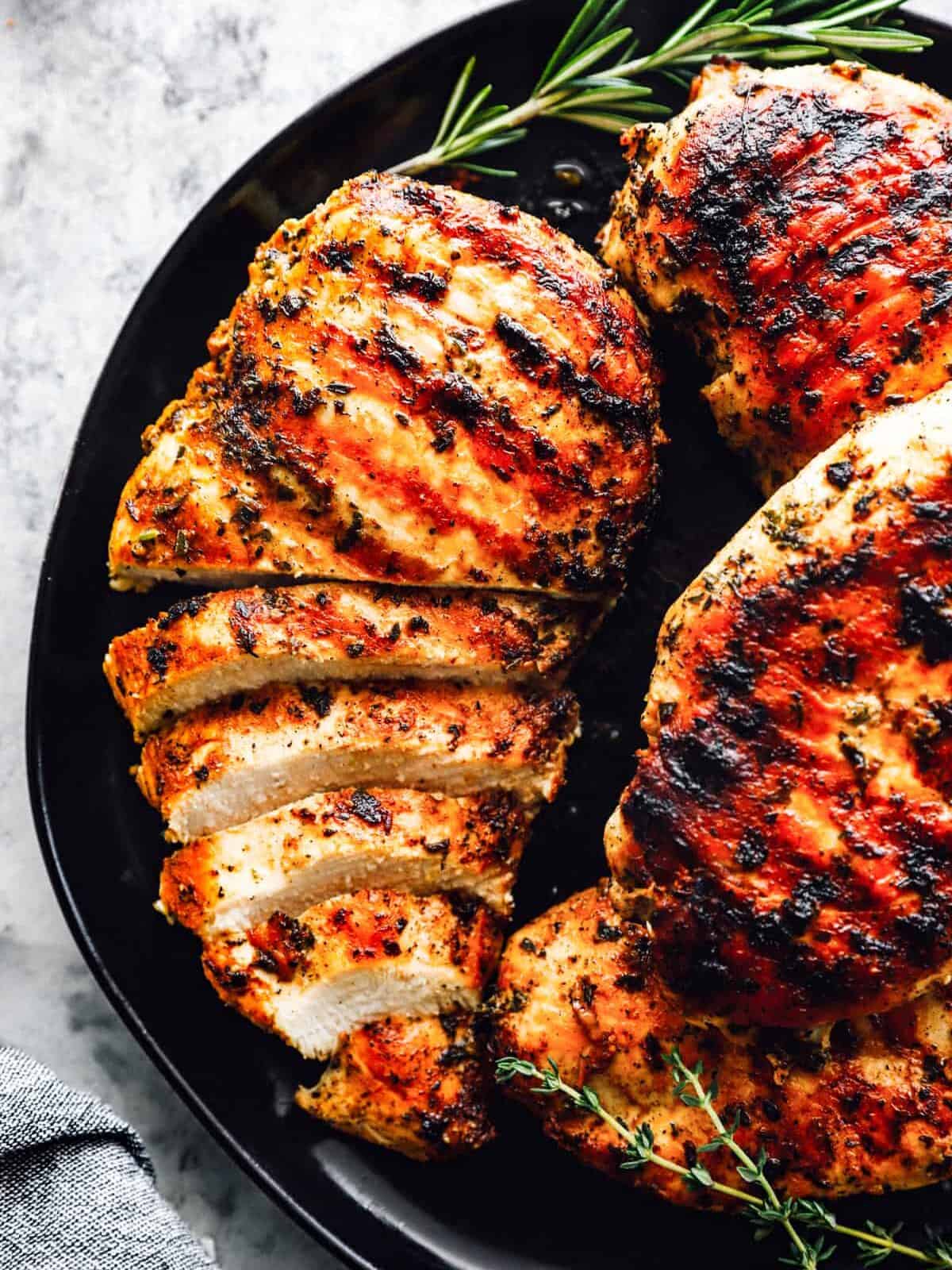 What's in this Marinated Grilled Chicken recipe?
You only need a few ingredients to whip up the best marinade for grilling chicken. And there are only a couple of quick steps in this recipe, so it will be the juiciest, easiest dinner you make all week!
If the chicken breasts are too thick or uneven, you can either cut them in half, or even them out with a meat pounder.
What else can I add to this chicken breast marinade for grilling?
You can definitely make some variations to this grilled chicken breast marinade. Whether you need to use substitutions, skip the ingredients you're missing, or add something different to adjust the flavor, marinades are the simplest thing to adjust.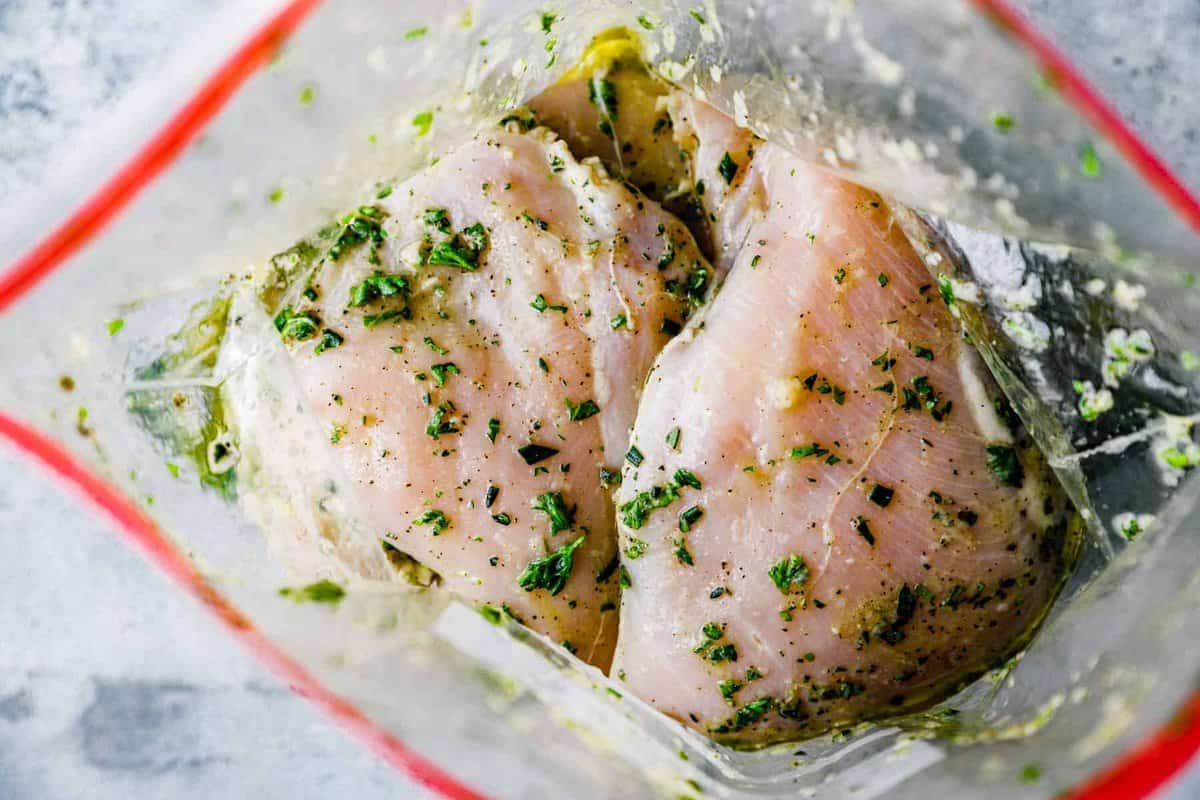 What temperature should my grill be to cook grilled chicken breasts?
Your grill should be set at 450-500°F.
How do I grill chicken breasts without drying them out?
The key to juicy grilled chicken is high heat. This cooks the chicken quickly without drying out the inside. Plus the marinating time helps a lot.
Should I pound chicken breasts before grilling them?
That's up to personal preference. I recommend it because pounded chicken breasts will cook more evenly.
How do I prevent chicken breasts from sticking to the grill?
To prevent chicken breasts from sticking to the grill, spray your grill grates with nonstick spray.
Can I make grilled chicken breasts on the stovetop?
Yes, if you have a grill pan, you can make grilled chicken on the stovetop. Heat your grill pan over medium-high heat, then sear the chicken for 5-8 minutes per side, or until 165°F internally.
How long should I marinate chicken before grilling?
I recommend marinating chicken breasts for 2-8 hours. You can marinate for as little as 30 minutes if you're short on time, but 2 hours will infuse more flavor. Any longer than 8 hours, and the chicken may get soggy or mushy.
Can I use this marinade for a different cut of chicken?
Yes, you can use this marinade for breasts, grilled thighs, drumsticks, or wings. The best substitute for this grilled chicken breast recipe is boneless, skinless thighs. Keep in mind that they may take a few extra minutes to cook.
Is it possible to over-marinate chicken?
Because this grilled chicken marinade contains vinegar (an acidic ingredient), it will break down the chicken over time. That's exactly what we want when marinating, but if you marinate too long, it will become mushy. Stick to about 8 hours, and definitely don't marinate for more than 24 hours.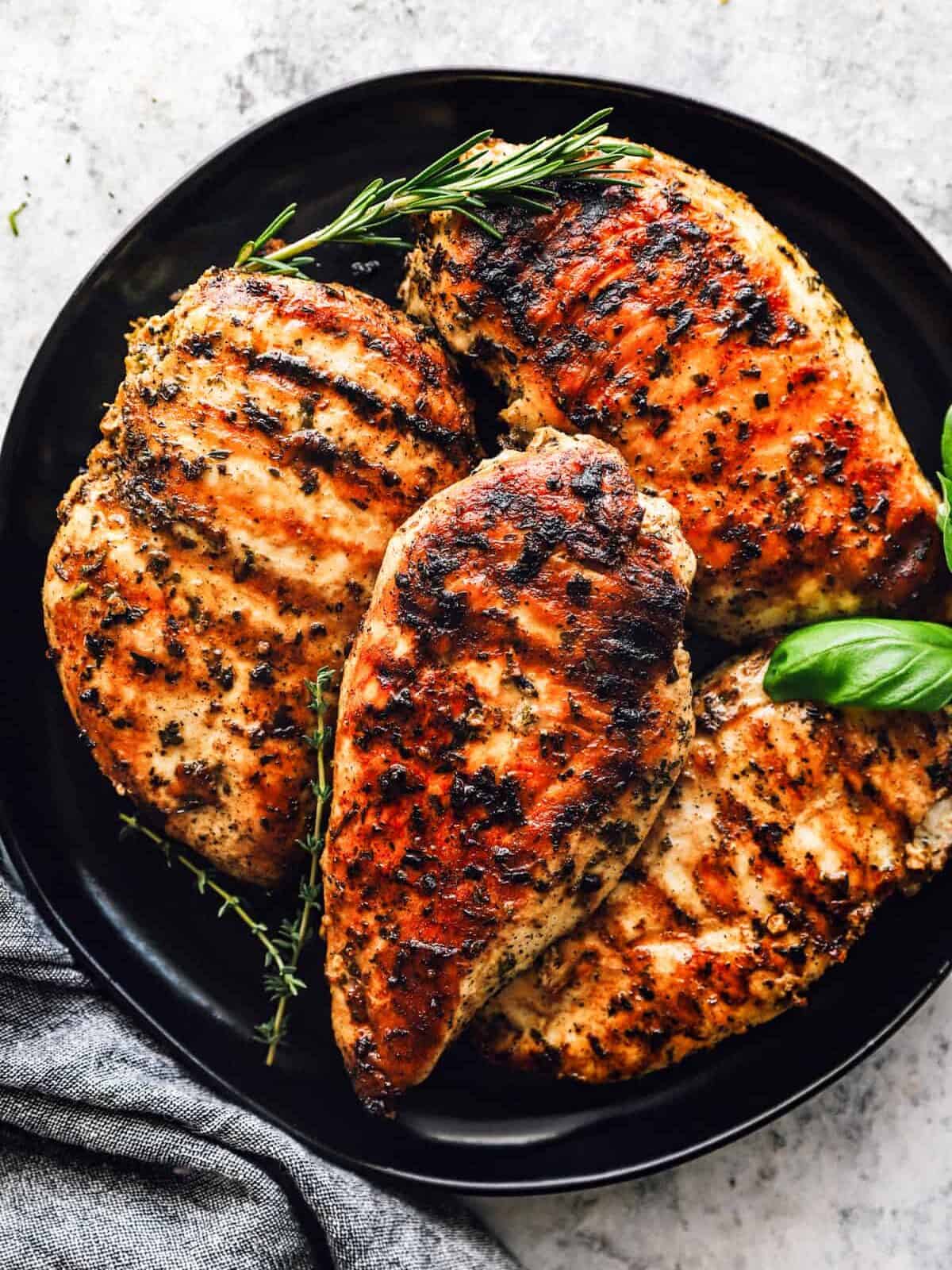 How to Marinate Chicken Ahead of Time
If you're making this grilled marinated chicken for a weeknight dinner, I recommend marinading the chicken breast in the morning (it only takes a few minutes), and letting it sit in the fridge while you're at work, so that it's ready to grill as soon as you get home.
You can also freeze uncooked chicken breasts directly in the marinade (perfect for meal prepping), in a freezer-safe bag for up to 3 months. Defrost before grilling (it will marinate as it thaws).
How to Store, Freeze, and Reheat Marinated Grilled Chicken
Store leftover grilled chicken breasts in an airtight container in the refrigerator for up to 3 days. Reheat on the grill, or in a 300°F oven, for 8-10 minutes, until 165°F internally.
Freeze leftovers in an airtight container or resealable bag for up to 3 months. Let thaw overnight in the refrigerator before reheating.
What to Serve with Grilled Marinated Chicken Breast
This simple, juicy chicken breast goes with any and all side dishes. It's healthy and flavorful, so you really can't go wrong with this for dinner. Serve it with roasted Brussels sprouts, grilled asparagus, parmesan roasted potatoes, or sautéed vegetables.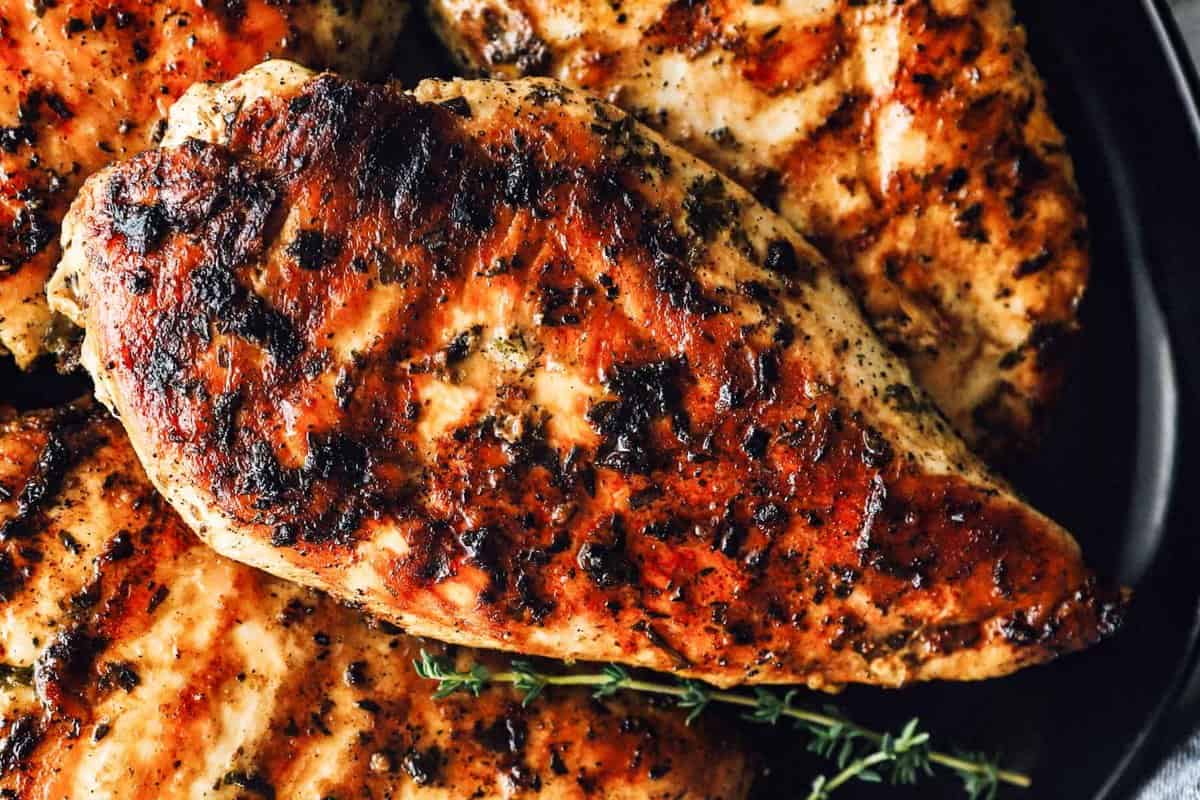 More Grilled Chicken Recipes:
More Chicken Recipes We Love
Chicken recipes happen to be our specialty. We pride ourselves on being experts at the easiest, juiciest, and best chicken recipes on the internet. Which one will you try first?