This Baked Blooming Onion is a healthier version of a favorite restaurant appetizer. A Superbowl spread wouldn't be complete with this Bloomin' Onion recipe! Make this Blooming Onion Recipe healthier by baking it instead of frying it. It's just as delicious!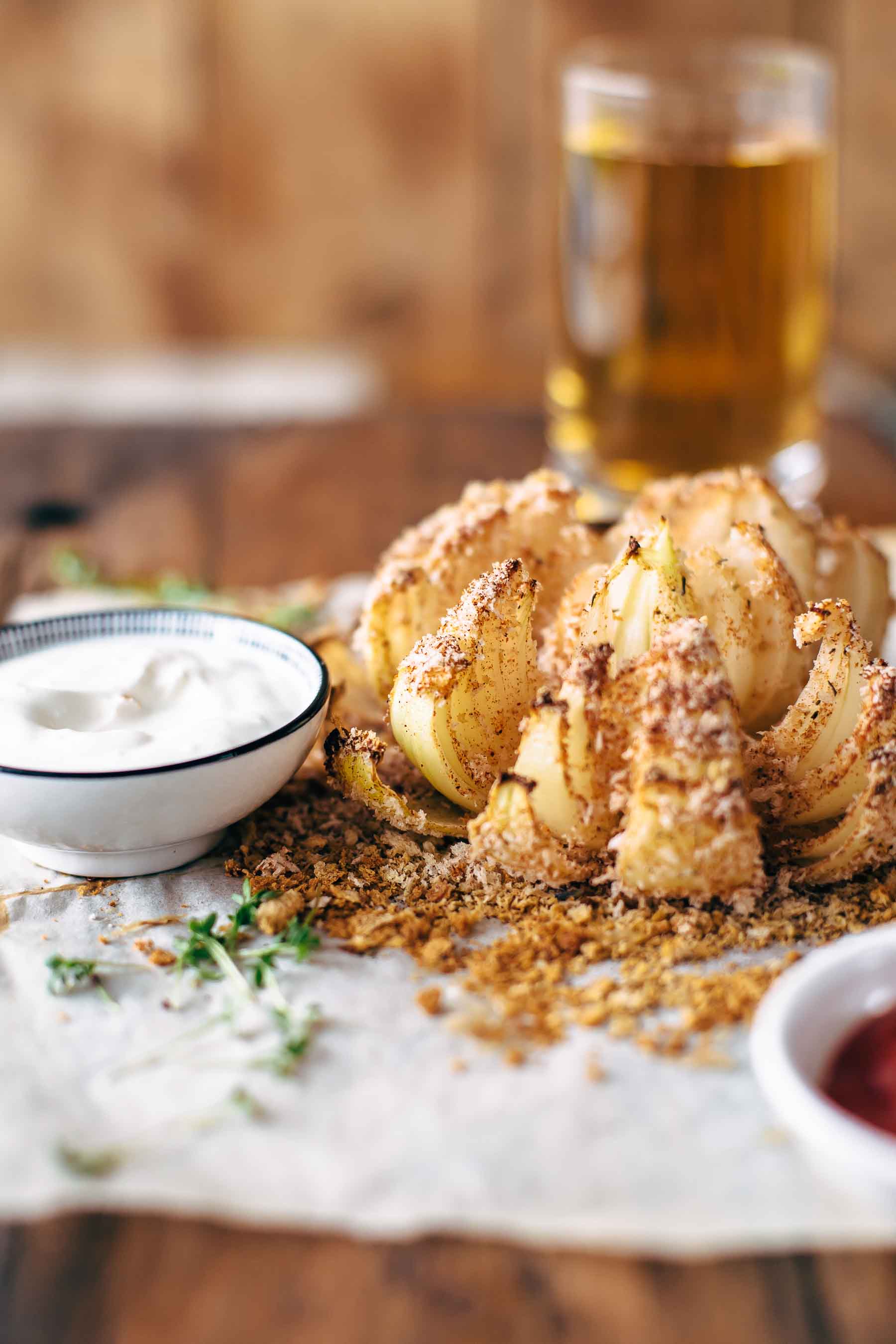 Baked Blooming Onion Recipe
This baked blooming onion recipe is my take on a popular restaurant appetizer that everybody loves. Baked instead of fried makes it a whole lot healthier!
This Baked Blooming Onion is my idea of a classic dish. Growing up in Missouri, the fine dining options were…slim. Don't get me wrong, there is some delicious food here (hello BBQ!!!), but the options are definitely limited.
As a kid, I seriously LOVED Outback Steakhouse (I know, I know). It felt like such a treat every time we went there, and my favorite thing to get was the Bloomin' Onion!
Kids don't have to worry about consuming thousands of calories for an appetizer, but my 32 year old body DOES have to worry about it. I still want my blooming onion, but I really don't want that to be the only thing I can afford to eat for days!
That's why this Baked Blooming Onion recipe is perfect! It's easily just as tasty, but just a fraction of the calories and fat.
Now that I know how to make a blooming onion at home (just a little bit healthier), I can make this tasty appetizer any time I want!
This Baked Blooming Onion Recipe is a healthier version of a restaurant favorite!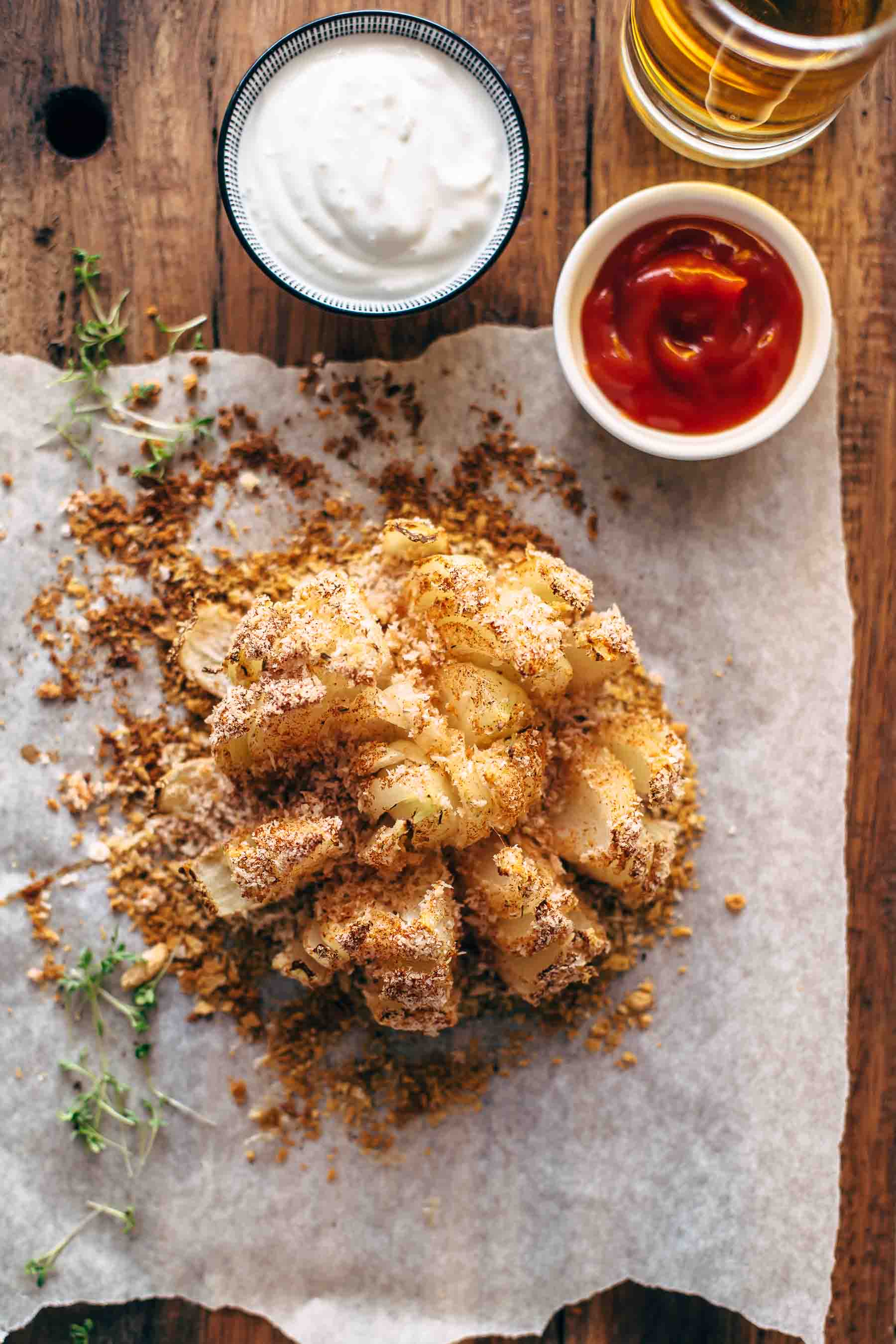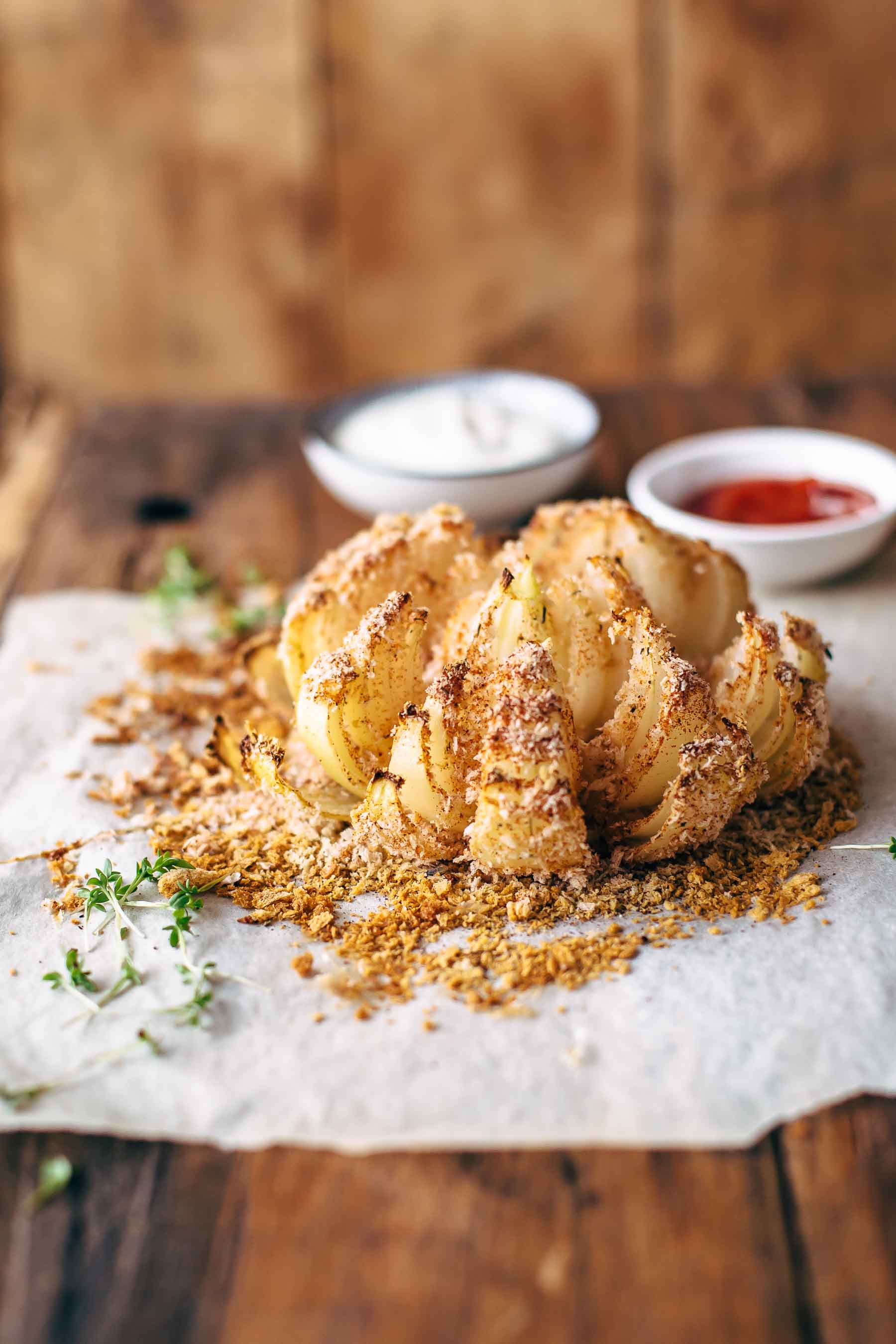 How to Make a Blooming Onion
It was a real game-changer when I realized I could make this Blooming Onion Recipe at home. I no longer needed to use any special occasion as an excuse to go out to eat and spend a bunch of money on this epic appetizer.
Now I can make it myself any time I please! And the fact that this Baked Blooming Onion is much healthier the way I make it is even better.
I always wondered how to make a blooming onion when I saw it at the restaurant. It's almost like a work of art. I was surprised by how easy it actually is to make though. Just follow a few steps and you've got this delicious baked appetizer to share.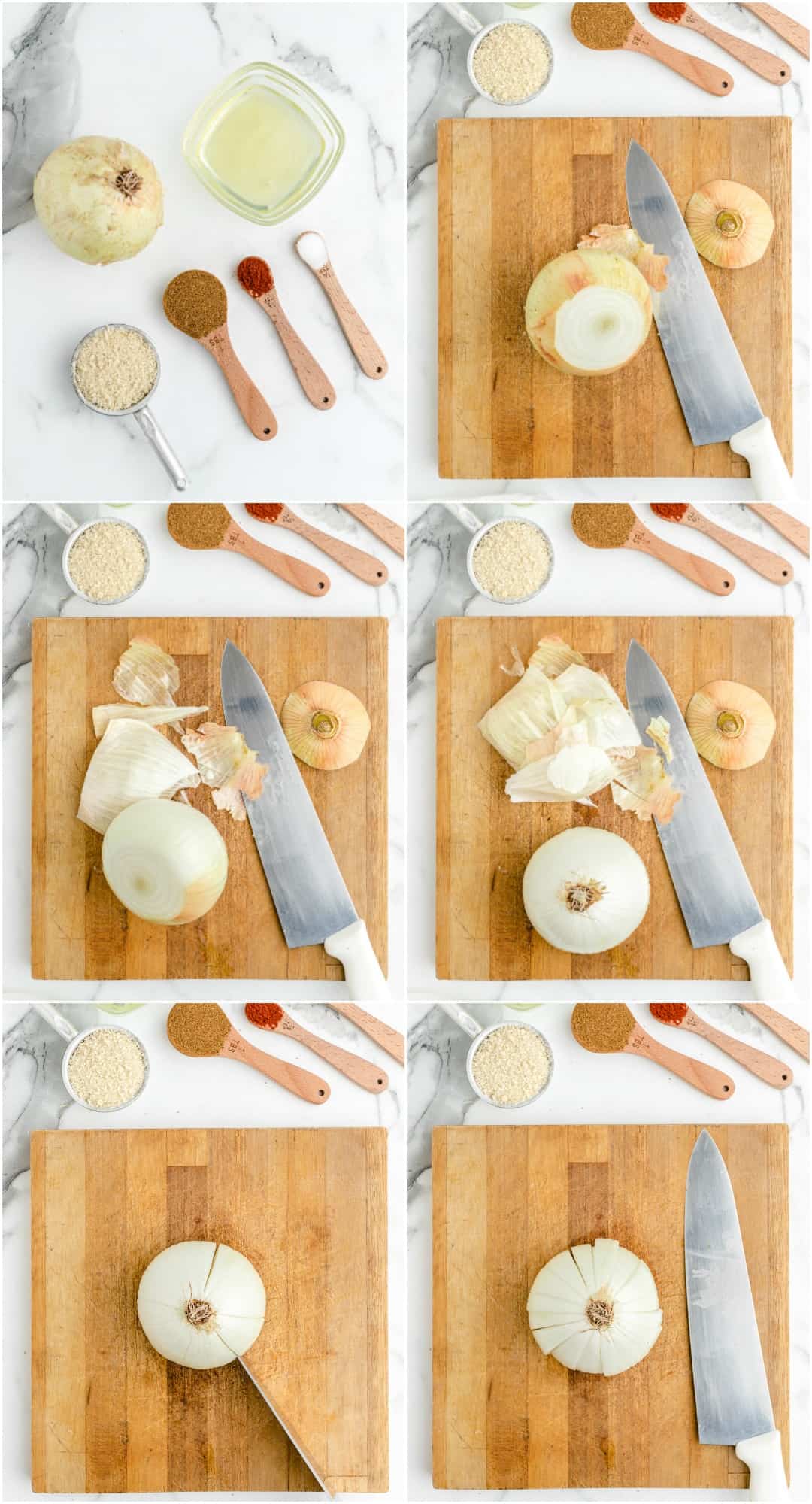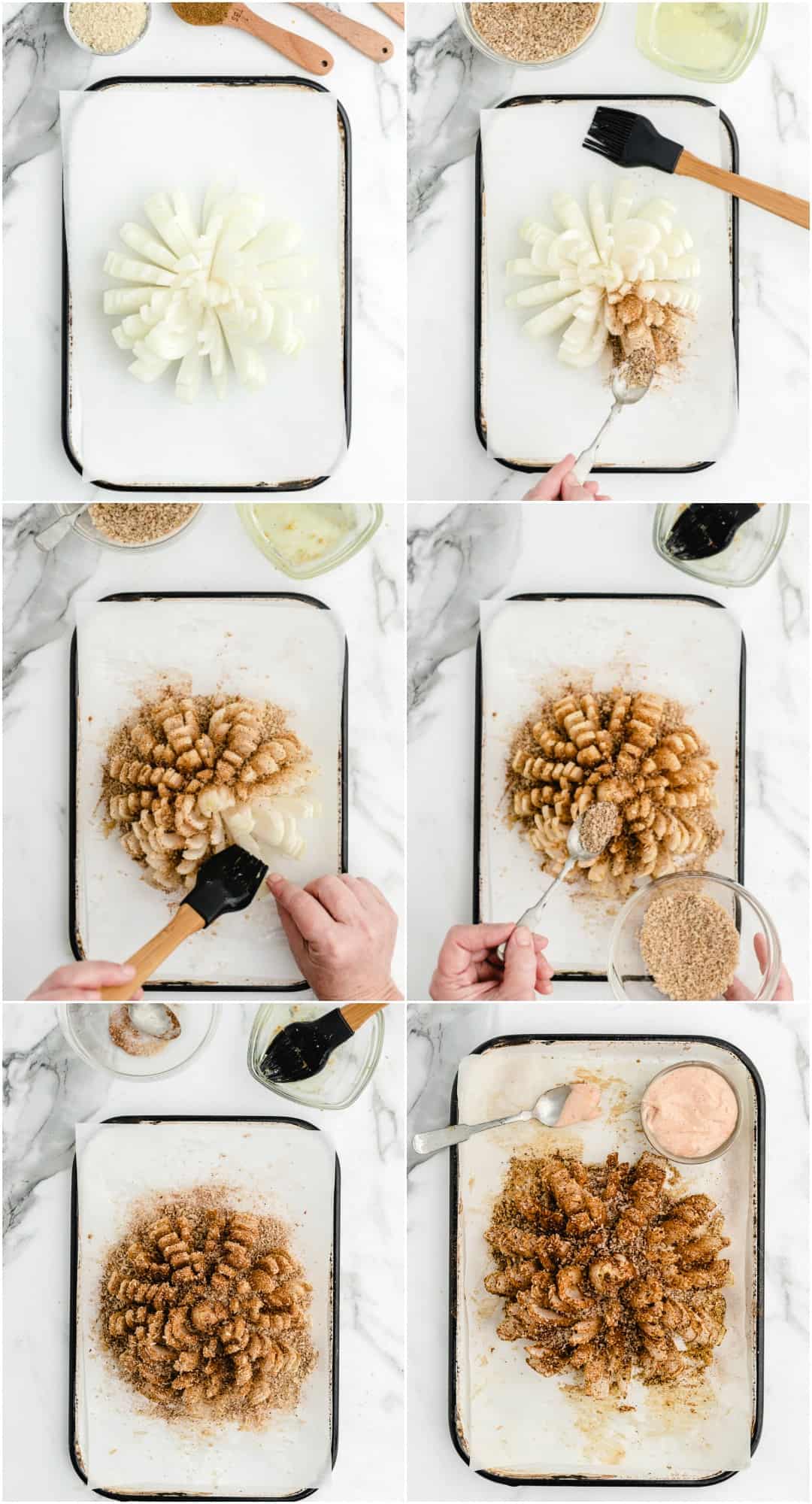 Step by Step Instructions:
Cut the onion to create that awesome bloomin' onion shape
Combine Panko breadcrumbs, paprika, & Cajun seasoning in a bowl
Whisk the egg whites together in a separate bowl
Coat each onion petal with egg white and then sprinkle with panko mixture
Work from bottom top top, then add a final layer over the whole thing
Cover with aluminium foil and bake for 5 minutes
Bake another 10-15 minutes uncovered
Now the Baked Blooming Onion is crisp and ready to serve!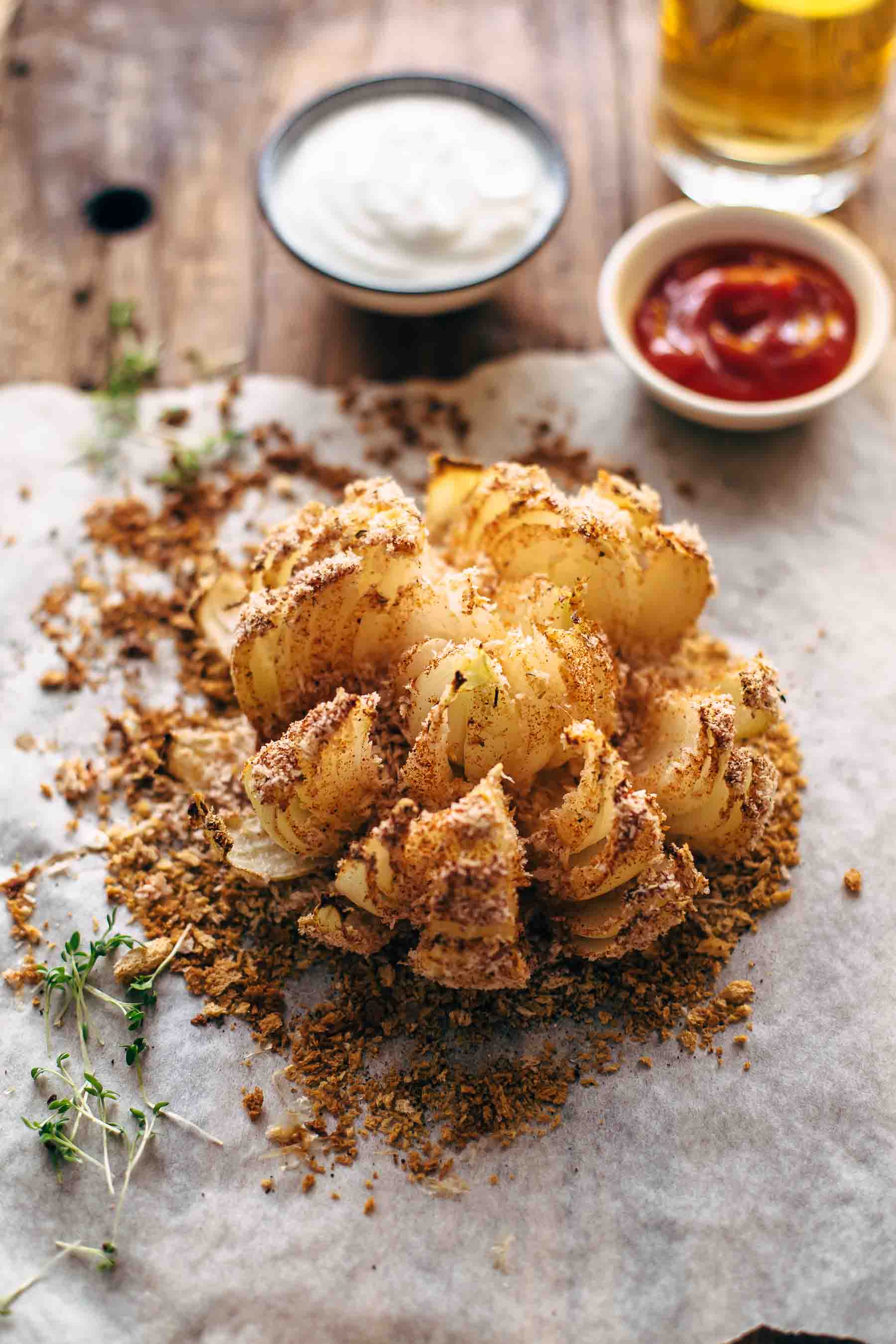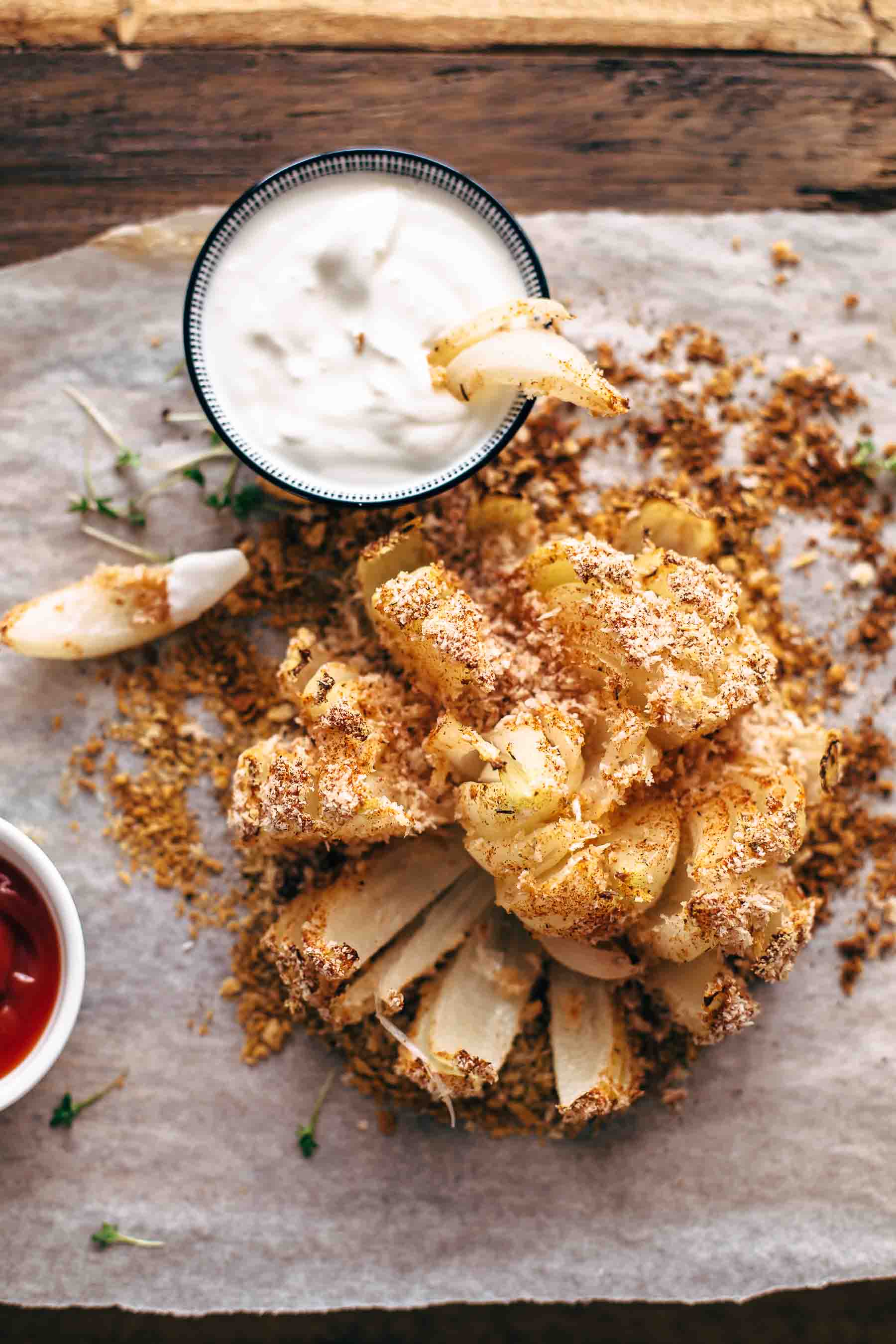 Easy Super Bowl Appetizer
You can make your man (or woman!) super happy by making this Bloomin' Onion Recipe for the Superbowl. This crispy, flavorful appetizer is so great for sharing and it will be gone in no time! It makes the perfect addition to any game day menu. And even though it tastes fried, it's not!
I know that Pat will be propped in front of the TV for the day, only getting up to get more food. I'll be sure to have healthier options like this for him while he watches the last of the season's football (hallelujah), and I watch the commercials. It should be a good time.
Copycat Bloomin' Onion Sauce
I adapted this recipe from one of my VERY favorite blogs, Gimme Some Oven. I've talked about Ali before…she is just so good. I got to meet her at a conference earlier this year and she is just as sweet as she is talented. Her photography is some of my favorite on the web, I hope you check her out!
Her recipe includes an easy and delicious dipping sauce to pair with this delish Baked Blooming Onion…get some!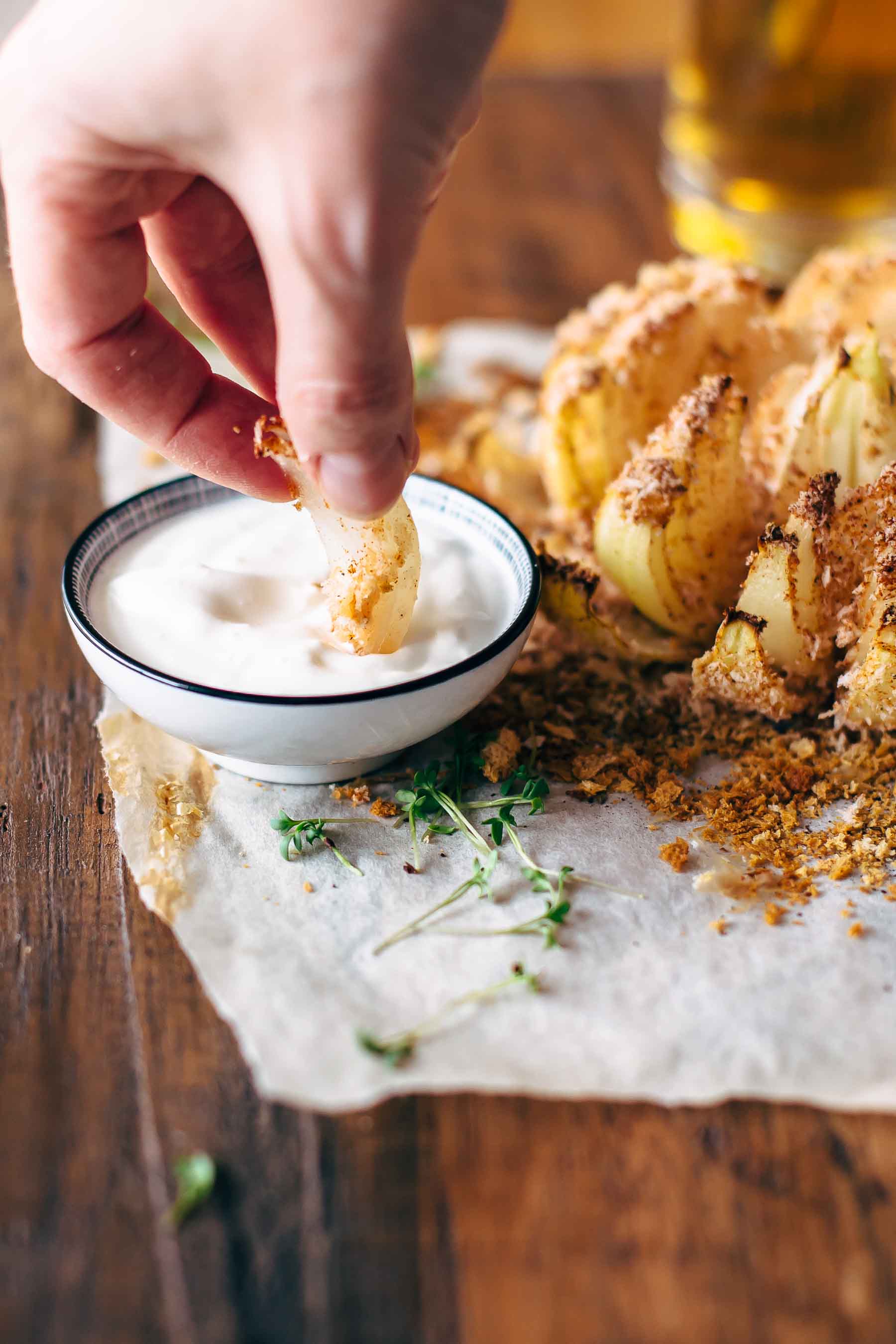 This Baked Blooming Onion Recipe is just too good. I'm craving it right now! And since it's baked instead of fried, I feel a little bit better about serving it up whenever I feel like it. Make this Bloomin' Onion Recipe and see for yourself!
See the recipe card below for details on how to make this Baked Blooming Onion Recipe. Enjoy!
Be sure to try these other delicious appetizers too: