This Baked Blooming Onion is a healthier recipe for a favorite restaurant appetizer. A Superbowl spread wouldn't be complete with this Bloomin' Onion recipe! Make it healthier by baking instead of frying; just as delish!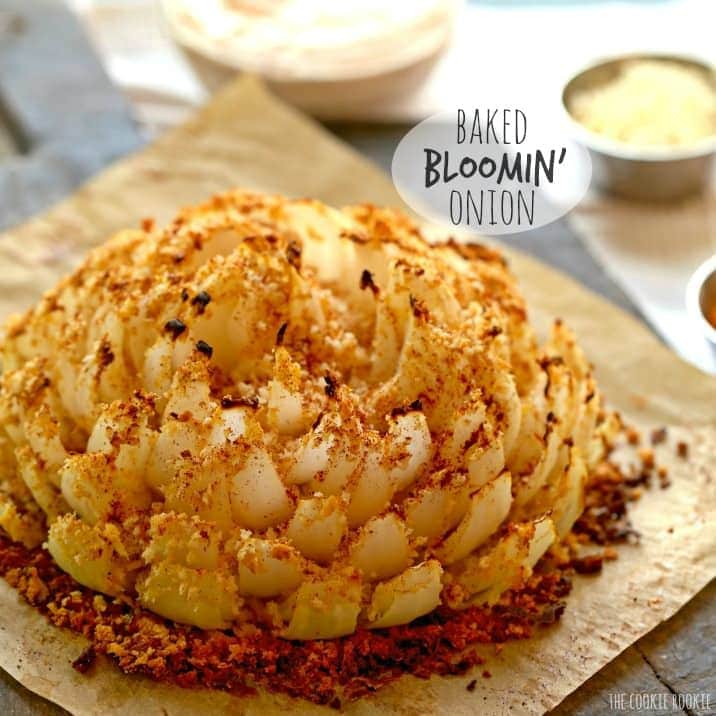 Growing up in Missouri, the fine dining options are…slim.  Don't get me wrong, there is some delicious food here (BBQ!!!!!!!!!!!!!!!), but the options are limited.  As a kid, I seriously LOVED Outback Steakhouse (I know, I know).  It was a treat to go there and my favorite thing to get was the Bloomin' Onion! Kids don't worry about consuming thousands of calories for an appetizer, but my 32 year old body DOES have to worry about it.  I still want my blooming onion, but I really don't want that to be the only thing I can afford to eat for days! That's why this Baked Blooming Onion recipe is perfection.  Easily just as tasty, but a fraction of the calories and fat.  
Baked Blooming Onion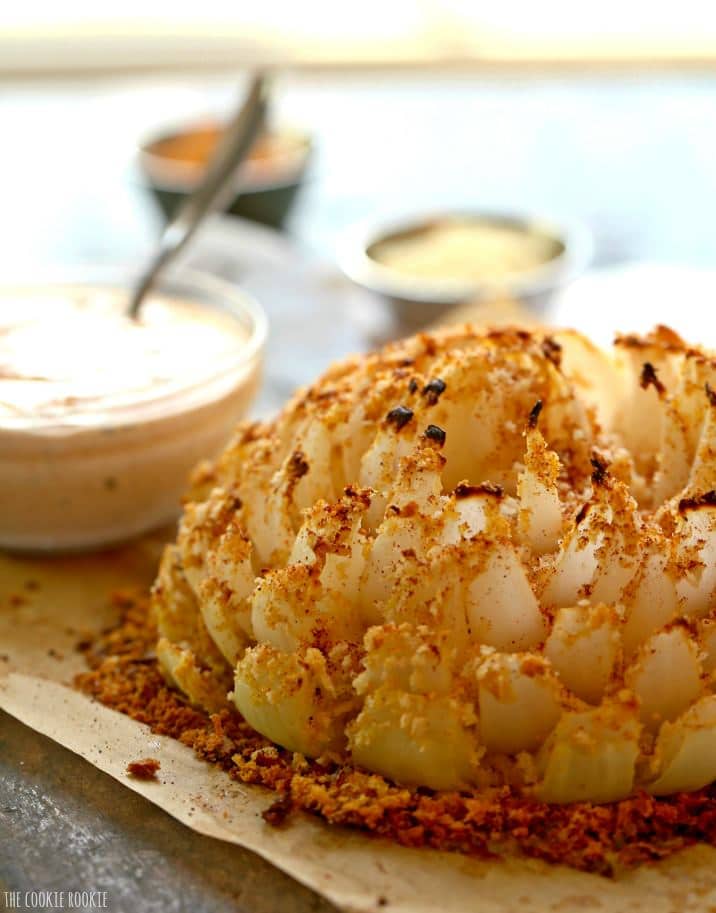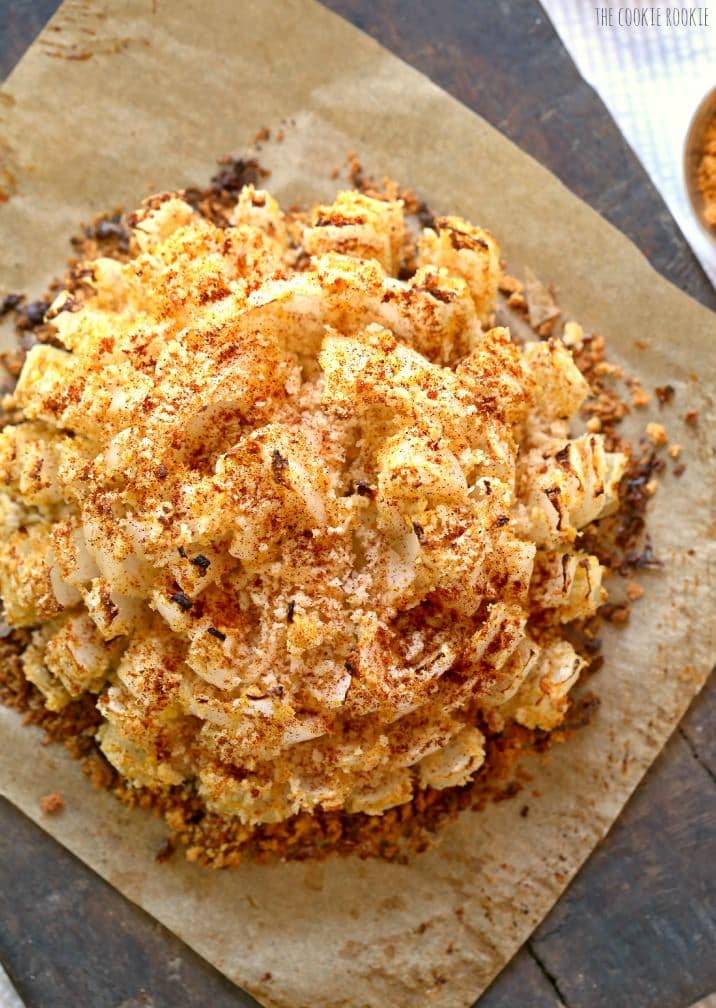 I adapted this recipe from one of my VERY favorite blogs, Gimme Some Oven.  I've talked about Ali before…she is just so good.  I got to meet he at a conference earlier this year and she is just as sweet as she is talented.  Her photography is some of my favorite on the web, I hope you check her out!
Her recipe includes an easy and delicious dipping sauce to pair with this delish Baked Blooming Onion…get some!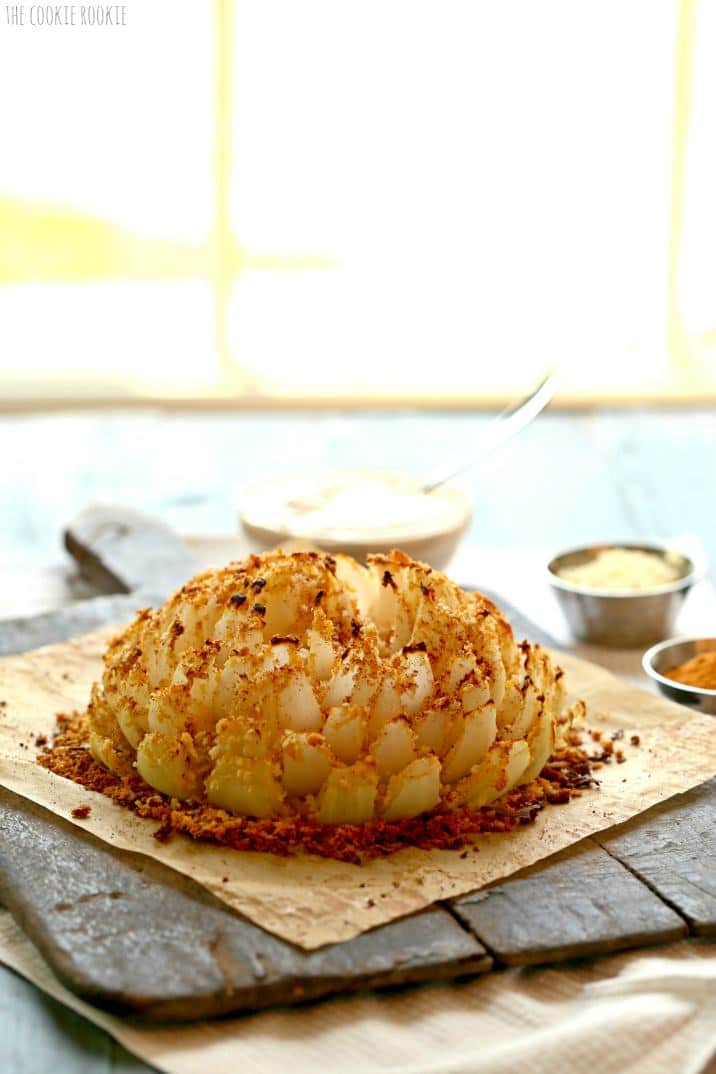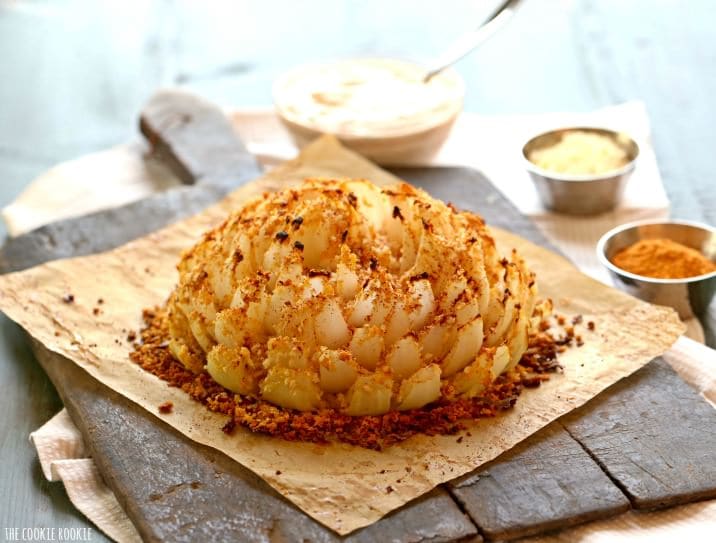 You can make your man (or woman!) super happy by making this for the Superbowl.  I know that Pat will be propped in front of the tv for the day, only getting up to get more food.  I'll be sure to have healthier options like this for him while he watches the last of the season's football (hallelujah), and I watch commercials.  Should be a good time.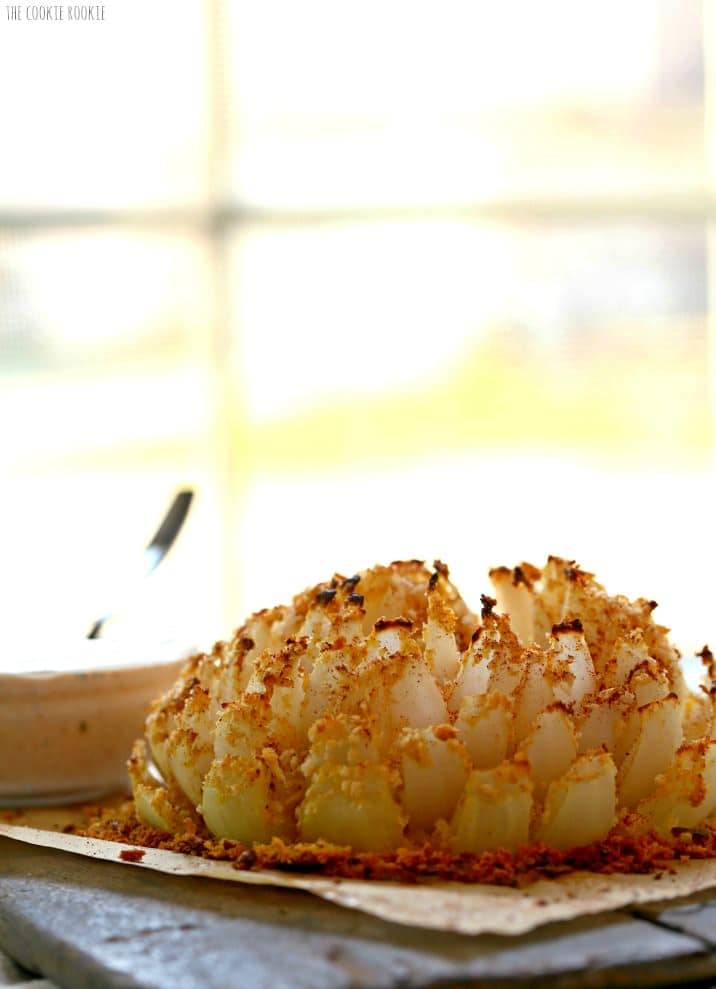 Enjoy!
Baked Blooming Onion Recipe
Baked Blooming Onion
30 minPrep Time
15 minCook Time
45 minTotal Time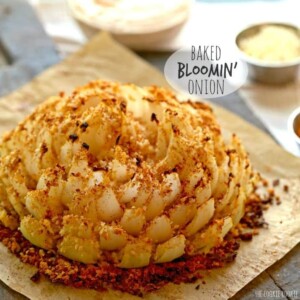 Ingredients
1 large yellow onion
2/3 cup Panko breadcrumbs
1 tablespoon Cajun seasoning
1/2 teaspoon paprika
1/4 teaspoon sea salt
2 egg whites
Instructions
Preheat oven to 400 degrees. Use a large knife to cut off the top about 1/4-inch of the onion until a few of the inside layers are exposed. Be careful to cut the top side, not the root side. Peel the outermost layer of the onion down to the root, leaving the root as is.
Lay the onion cut side down on the cutting board. Then use a knife to section the onion into 16ths, beginning with your knife 1/8-inch away from the root and cutting straight down. You can cut more sections if you have an especially large onion. Once all cuts are complete, turn the onion over and set on a piece of parchment paper on a baking sheet. The onion will fall open, but youâ??ll also want to use your fingers to separate the onion petals and open it completely.
In a small, combine panko, paprika, Cajun seasoning, and salt. Whisk the egg whites together in a separate bowl.
To coat the onion, I started in sections. I would coat each onion petal with egg whites and then sprinkle liberally with the panko mixture. I worked from the bottom to the top in each section, and then turned the onion to work on the next section. I brushed the entire onion with one more layer of egg white and sprinkled the mixture over the entire onion once done with the sections.
Bake covered with aluminum foil for 5 minutes, then uncovered for an additional 10-15 minutes, or until the onion is tender and the edges are browned.
This recipe was adapted from one of my favorite blogs, Gimme Some Oven. She also includes an awesome sauce that tastes great with this onion!
7.6.7
1779
https://www.thecookierookie.com/baked-blooming-onion/