This Avocado Egg Rolls Recipe is SO delicious and addicting. This fun deep fried egg roll recipe is stuffed with the best guacamole ever, and paired with a green sauce you have to taste to believe. Every party needs these GUACAMOLE EGG ROLLS! If you've ever wondered how to make egg rolls, it's easier than you think! Anyone can make this Easy Egg Roll Recipe and everyone will love them.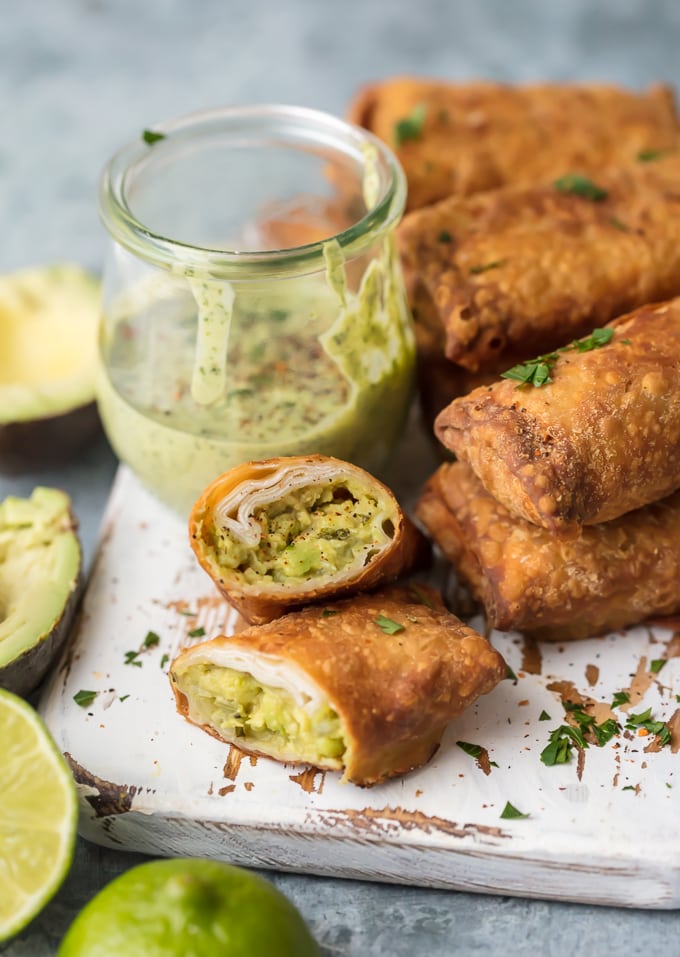 Easy Avocado Egg Rolls
This Avocado Egg Rolls Recipe is filled with everyone's favorite ingredient: GUACAMOLE!
I'm on the hunt for the ultimate party appetizers, and I think I may have found it with this egg roll recipe! This is my favorite stretch of holidays…and the ultimate day for eating is close behind: the Super Bowl! We have to stock up on all the fun and tasty starters that are perfect for a crowd. I'm beyond obsessed with the newest addition: Avocado Egg Rolls!
This easy egg roll recipe is super simple. The only ingredients in these egg rolls is the best guacamole ever, wrapped in an egg roll wrapper and deep fried. Ummm…yes? Talk about easy!
To make things even tastier, we paired these Avocado Egg Rolls with the ULTIMATE green sauce. We love this green sauce on anything and everything…from chicken to filet mignon…but it's especially great for dipping these guacamole egg rolls. I'm in love!
Learn How to Make Egg Rolls with this Easy Avocado Egg Roll Recipe! Egg Rolls stuffed with Guacamole? You have to try them!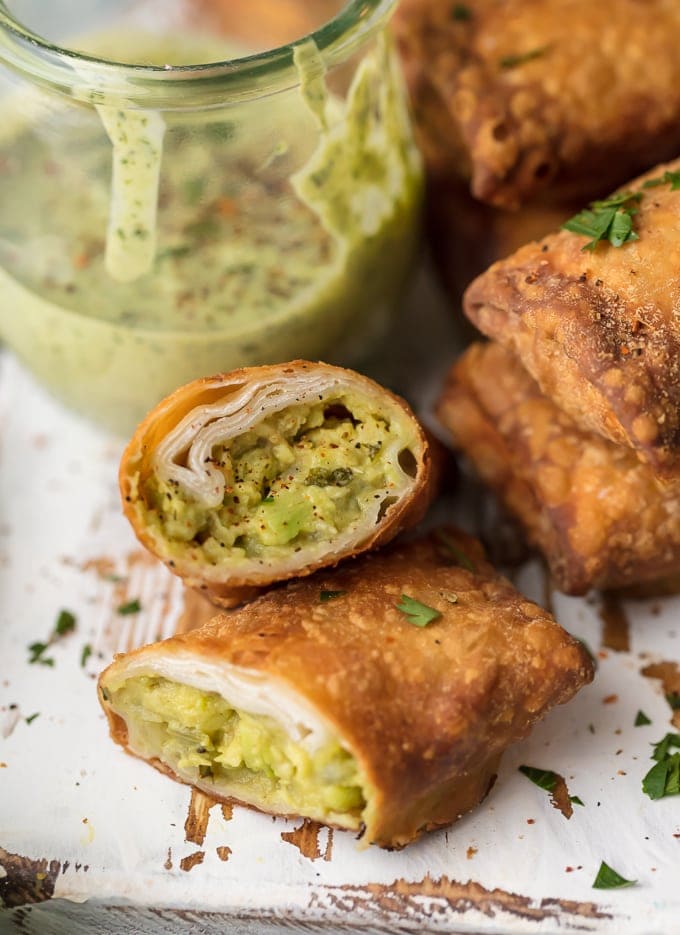 Guacamole Stuffed Egg Rolls
Nobody makes guacamole better than my Mom, so I persuaded her to give me her favorite guacamole recipe to stuff inside this guacamole egg roll recipe. You won't be disappointed! You can use your family recipe, or use ours…either way, the result will still be a creamy, delicious avocado center inside a crispy fried shell. To die for!
These Avocado Egg Rolls won't last long at any holiday or Super Bowl party, I can guarantee that! And don't forget to make our Peruvian Green Sauce to go with them. It brings this egg roll recipe to a whole new level.
How to Make Egg Rolls
Like I said earlier, this easy egg roll recipe couldn't be simpler. You'll be making these delicious avocado egg rolls in no time!
All you need for this recipe are a few basic egg roll ingredients:
Fresh avocado
A few add-ins for the guacamole mix
And some egg roll wrappers
First we'll combine the avocado with the onion, garlic, jalapeno, and cilantro to create the most delicious guacamole mix. Then just add the guacamole into the egg roll wrappers, roll them up, and then fry them. The best (and easiest) avocado egg rolls recipe yet!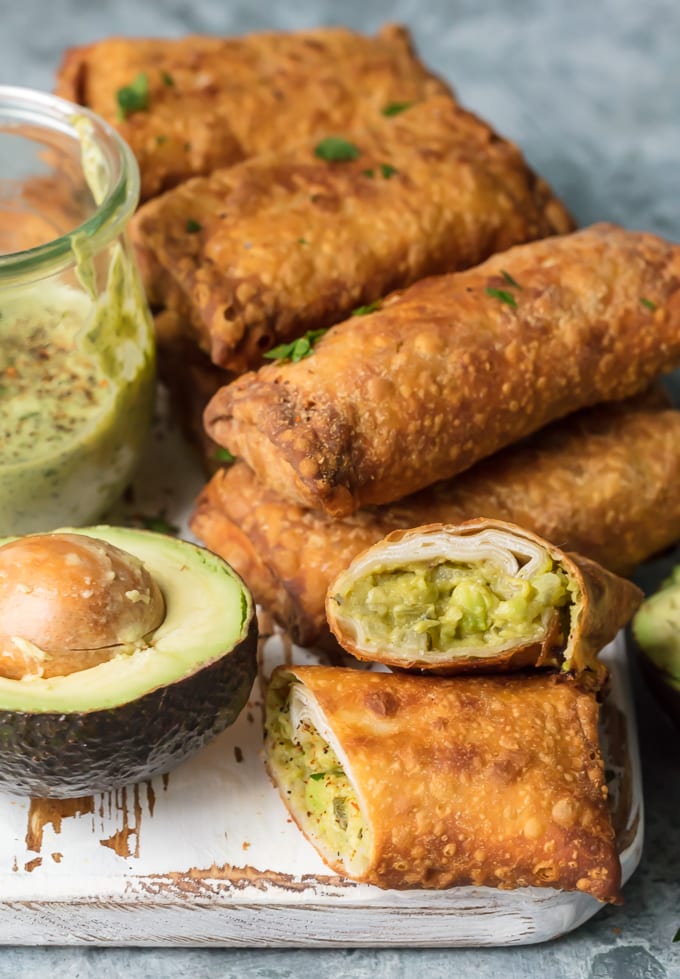 Are Egg Rolls Healthy?
If you're making this avocado egg rolls recipe, then I'm assuming you're all avocado fans…don't let me down! Avocado has to be one of the best things on the planet. And it's a super healthy food!
Therefore, I'm going to assume these guacamole egg rolls are healthy since they're stuffed with fresh avocado. Don't call me out on my irrational thinking…I like to live in my little food bubble. Never mind the fried shell. Avocados are healthy so….yeah let's just go with that.
Besides, the holidays and game day are no time to count calories! We can do that some other time.
You can make this egg roll recipe slightly healthier by baking them instead of frying them in oil. But what's the fun in that?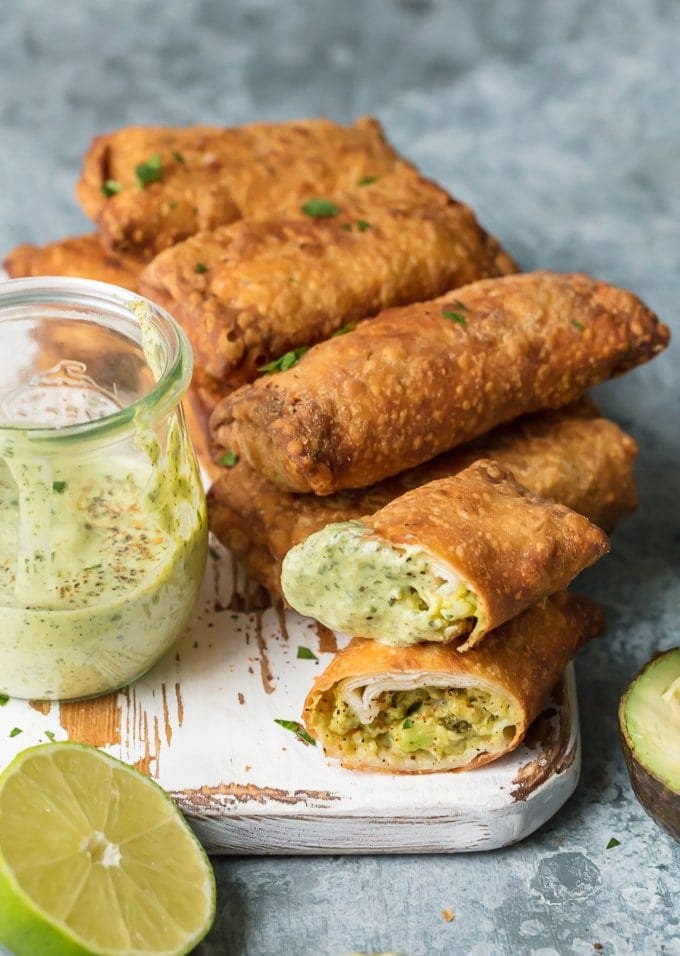 You have to try this easy egg roll recipe ASAP! And get ready for even more holiday appetizers coming your way in the coming days. Can't stop won't stop! Be sure to try these Air Fryer Egg Rolls too.
See the recipe card below for full details on How to Make Avocado Egg Rolls! Enjoy.
If you love avocado as much as I do, don't forget to try these recipes: