Sweet potato chips are a great healthy side dish that can go with just about anything! They are so easy and so much better than store-bought (deep fried) chips. This Baked Sweet Potato Chips Recipe is a go to for a fun and delicious but HEALTHY side dish. These Homemade Sweet Potato Chips are coated with a delicious spice blend and then baked and not fried. If you've wondered how to make Sweet Potato Chips crispy and addicting, today is your day!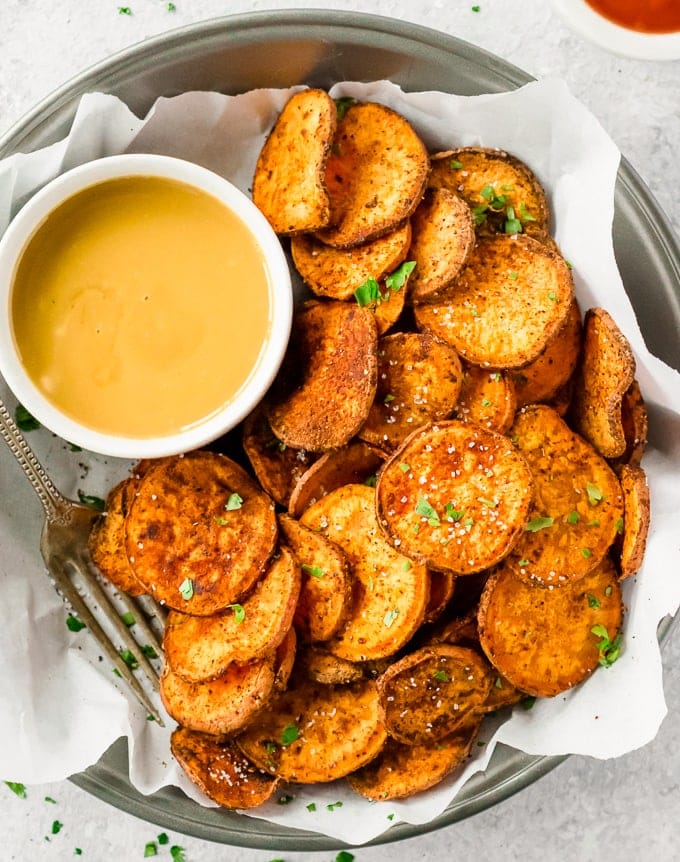 Sweet Potato Chips Recipe
Baked Sweet Potato Chips are SO full of flavor and are also healthy and easy to make! Learn how to make sweet potato chips as a healthy side for your sandwiches and burgers.
Sweet Potato Chips are a healthy favorite at our house. Pat is always asking me to PUT DOWN THE Tacos, Cheese Dip, and Brownies and make healthier options. His favorite recipe I make is my Grilled Salmon with Avocado Salsa, but this Baked Sweet Potato Chips Recipe is a close second.
Baked Chips are the perfect side dish for everything from Skillet Steak to Chicken Burgers and Philly Cheesesteak Sloppy Joes. I LOVE the spices that coat these crispy homemade sweet potato chips, and I love anything I can dip in ALL the sauces. I'm craving them just talking about them.
Want to learn how to make sweet potato chips? This Baked Sweet Potato Chips Recipe is so delicious, easy, and healthy!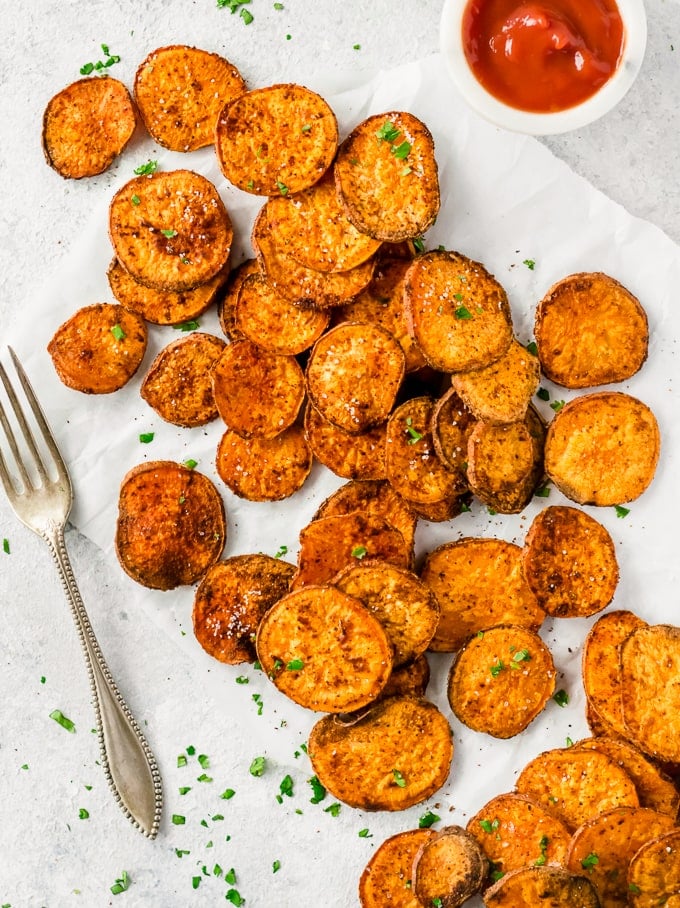 Healthy Baked Sweet Potato Chips
Sweet Potato Chips are so full of flavor, you'll never miss the fat!
Now that Henry is here, we are trying to be careful with what we eat. It's just too easy to grab fast food on the way home or eat whatever is easiest instead of cooking things from scratch. Luckily for everyone these Baked Sweet Potato Chips are SO simple and quick; made in under 30 minutes! I have a feeling these healthy chips will be a huge hit in your house like it is in ours!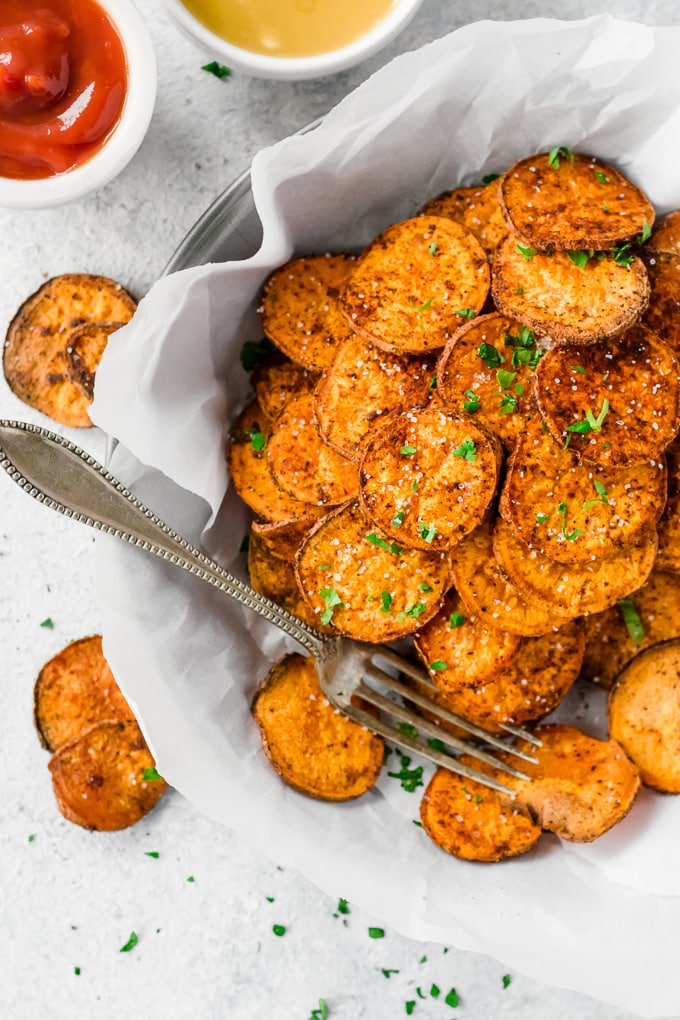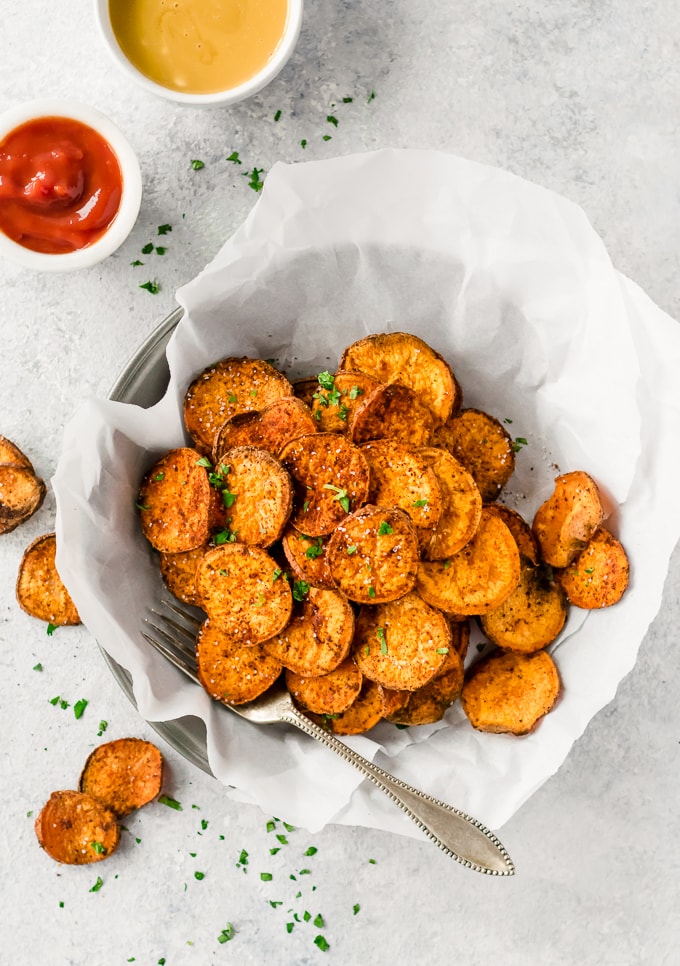 How to Make Sweet Potato Chips
Making Sweet Potato Chips is easy. Just follow a few simple steps:
Cut sweet potato into thin slices
Combine olive oil, sea salt, and chili powder in a bowl
Toss the sweet potato slices in the mixture
Arrange on baking sheet in a single layer
Bake chips in the oven for 10 minutes, flip, & roast another 10 minutes
Broil for a couple of minutes to make them nice and crispy
Serve your baked sweet potato chips while they're hot and fresh, and add some ranch or other dipping sauces for extra flavor!
You can make these homemade Sweet Potato chips as thick or as thin as you'd like. The thinner you cut them, the crispier they'll be!
A few tips for making these baked chips:
I think I will make them a bit thinner next time I make these (I will be making these again…and again…and again). They worked out just fine at about 1/4 inch thick…but I think I would like them better if they were slightly thinner & crispier.
I found that after baking the potato chips in the oven for 10 minutes on each side, it worked best to then broil them on high for a couple minutes (watch them carefully or they will get really burnt). This just amps up the crispiness a bit and makes them even tastier!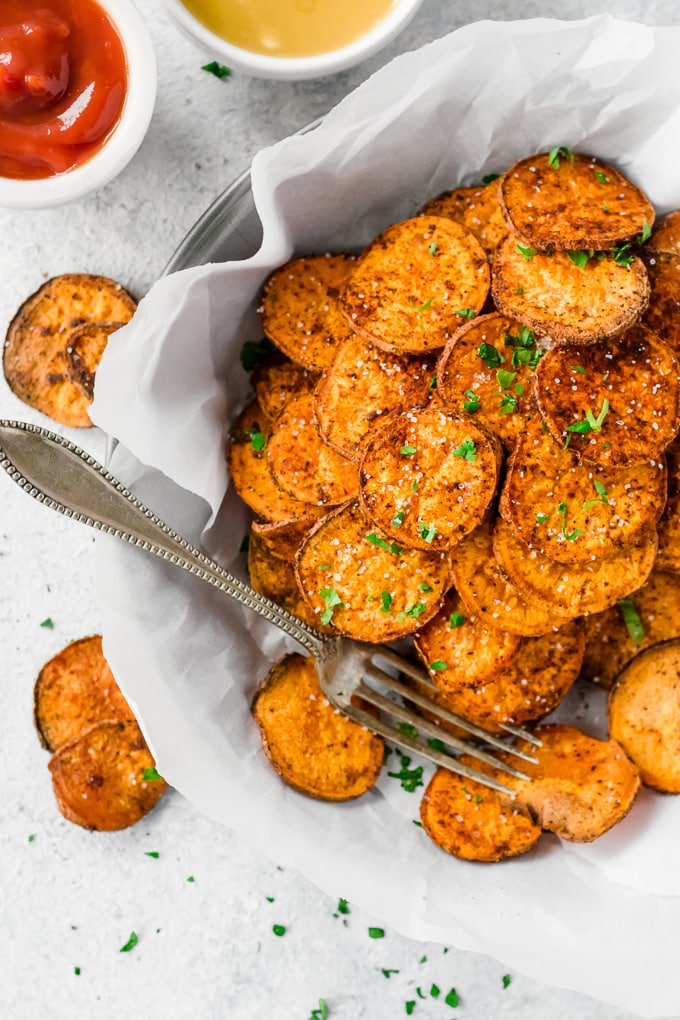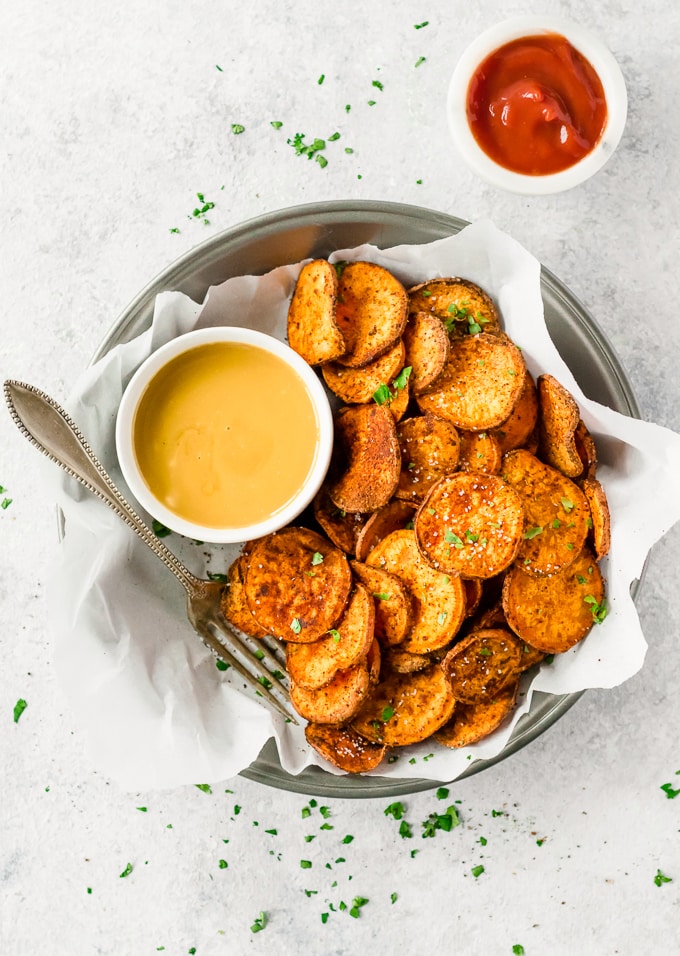 If you love potato chips, expand your horizons with these Homemade Sweet Potato Chips. These baked chips are healthy and delicious! I have a feeling you'll love them as much as we do! You can feel great about feeding them to your family, and they're oh so easy to make! Win win if you ask me!
Why are my Sweet Potato Chips not crispy?
If your Baked Sweet Potato Chips don't come out crispy, they might be too thick or might be undercooked. You might like them a little thicker…like a sweet potato steak fry…it's all up to you! But if it's crispy you crave, make sure you're cutting the chips SUPER thin and letting them cook long enough. You can even slide them under the broiler for a bit to crisp them up even more.
If you don't have one, you should invest (they're pretty inexpensive…between $19-99) in a mandoline slicer. You can slice all kinds of veggies super thin without fear of slicing off a finger or thump. Worth it if you ask me! Here are some of our favorite Mandoline Slicers. (I have the Air Kitchen Brand and like it quite a bit)
See the recipe card below or watch the video for full details on How to Make Sweet Potato Chips. Enjoy!
Be sure to check out some of our other favorite healthy recipes: