Sweet potato chips are a great healthy side dish that can go with just about anything! They are so easy and so much better than store-bought! Although, when I don't have the time, I do still buy them :) They are so satisfying and can be as thin and crispy as you want!
i'll be the first to admit, I need to work on making healthier recipes.  i'm just learning to cook AT ALL…and it seems like making things fattening, fried, etc. is easier as a novice than making healthy meals.  this is probably not the case, but it does seem that way.  pinterest is loaded with tons of easy recipes…most of them look pretty fattening.  and I am a true lover of cheese…which isn't good for healthy land either.  over the past year, pat and I were dieting for the wedding, and usually I found it to be easier to steal one of his nutrisystem meals than make something healthy of my own.
now that the wedding is over, we are still trying to be careful with what we eat.  we are taking our honeymoon the the spring/summer, so I still want to be swimsuit ready then!! I've been looking for healthy options, and now that I have more time, i'm realizing they're usually not as difficult as I had once thought.
I came across a similar recipe for these delicious baked sweet potato chips on pinterest (big surprise) and made them to go with our heisenburgers for the breaking bad finale party.  they were so good!! and so easy!! pat was very helpful…aw newlywedded life :)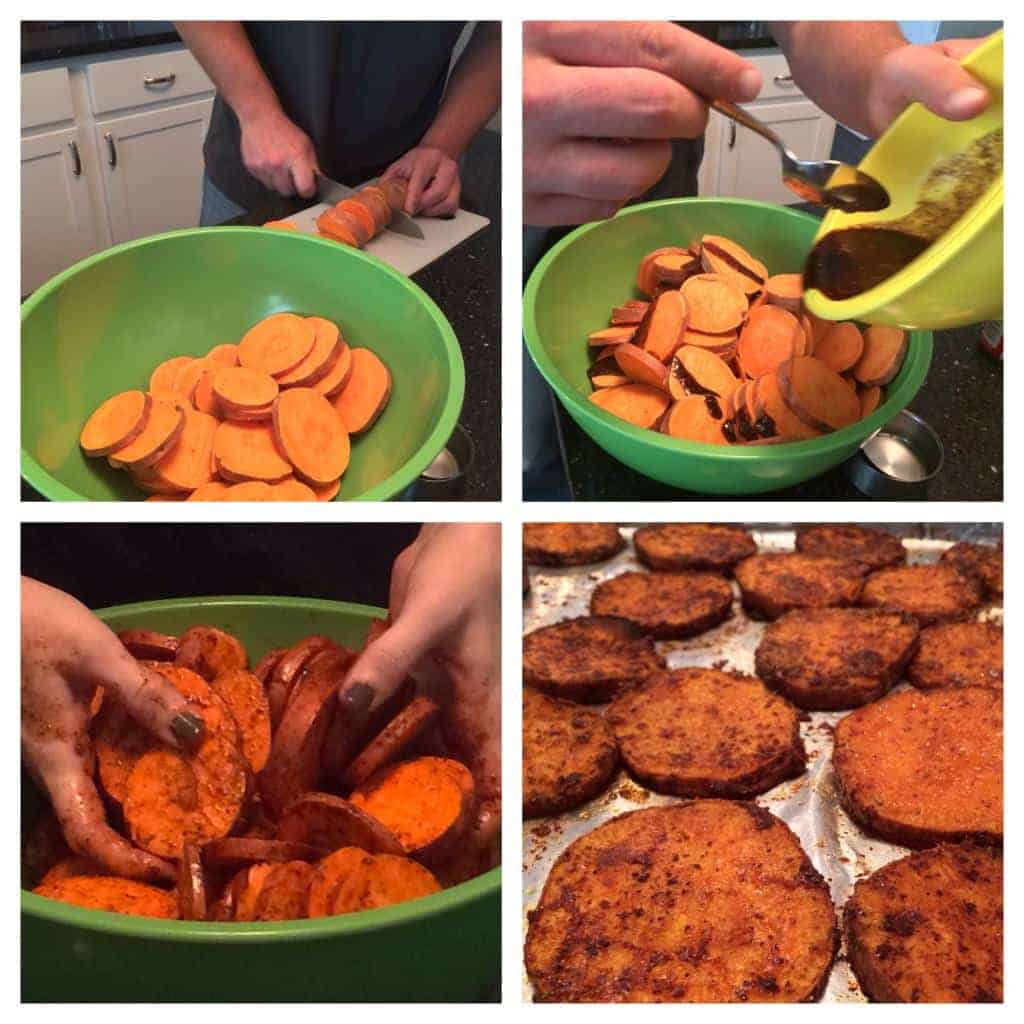 I  think I will make them a bit thinner next time I make these (I will be making these again…and again…and again).  they worked out just fine about about 1/4 inch thick…but I think I would like them better slightly thinner/crispier.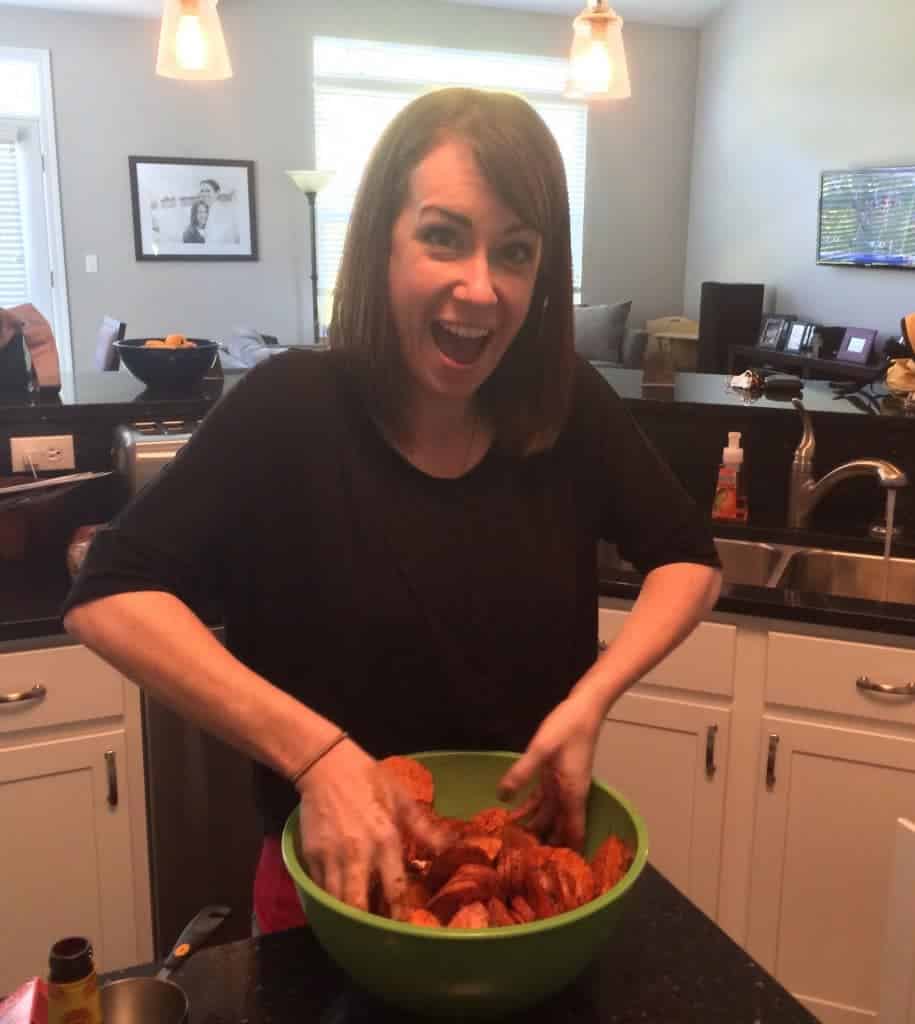 this is my 'cooking is fun!' face.  although very easy, it is also very messy.  be prepared for getting a little down and dirty with these sweet potatoes.  actually, I hate getting messy in the kitchen.  its something i'm getting used to and hopefully will get more used to the more I cook.  it was one of the reasons I stayed out of the kitchen as long as I did.  but its really not that bad, and oh so worth it!
I found that after baking the chips for 10 minutes on each side, it worked best to then broil them on high for a couple minutes (watch them carefully or they will get really burnt)  this just amps up the crispiness a bit and makes them even tastier!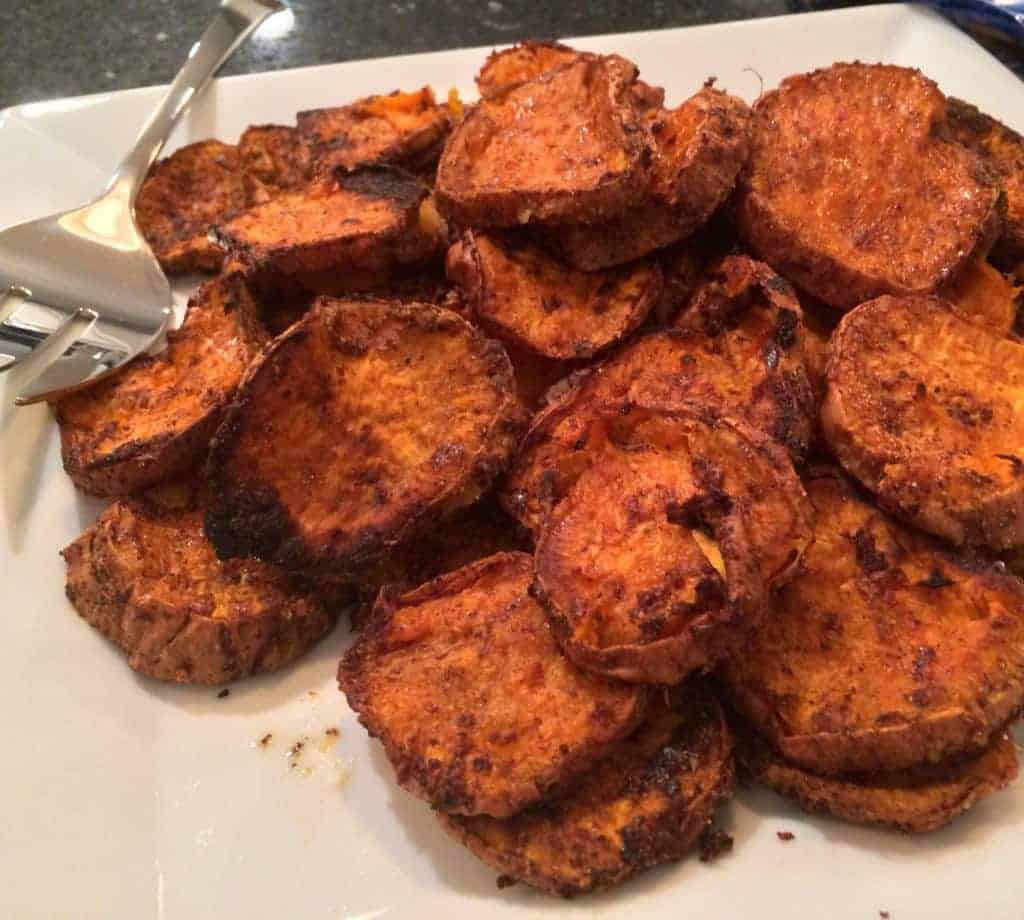 yum!
next time I make these I might switch them up and add parmesan cheese, or make them sweet instead with cinnamon sugar.  lots of options with these bad boys.
these make a perfect side for SO many dishes.  or perfect on their own. some great recipes to pair with this side dish would be our (perfect) steak, grilled cheese, French dip sandwiches, and of course stovetop burgers. (click on the links to try them out) i'm getting hungry typing those out!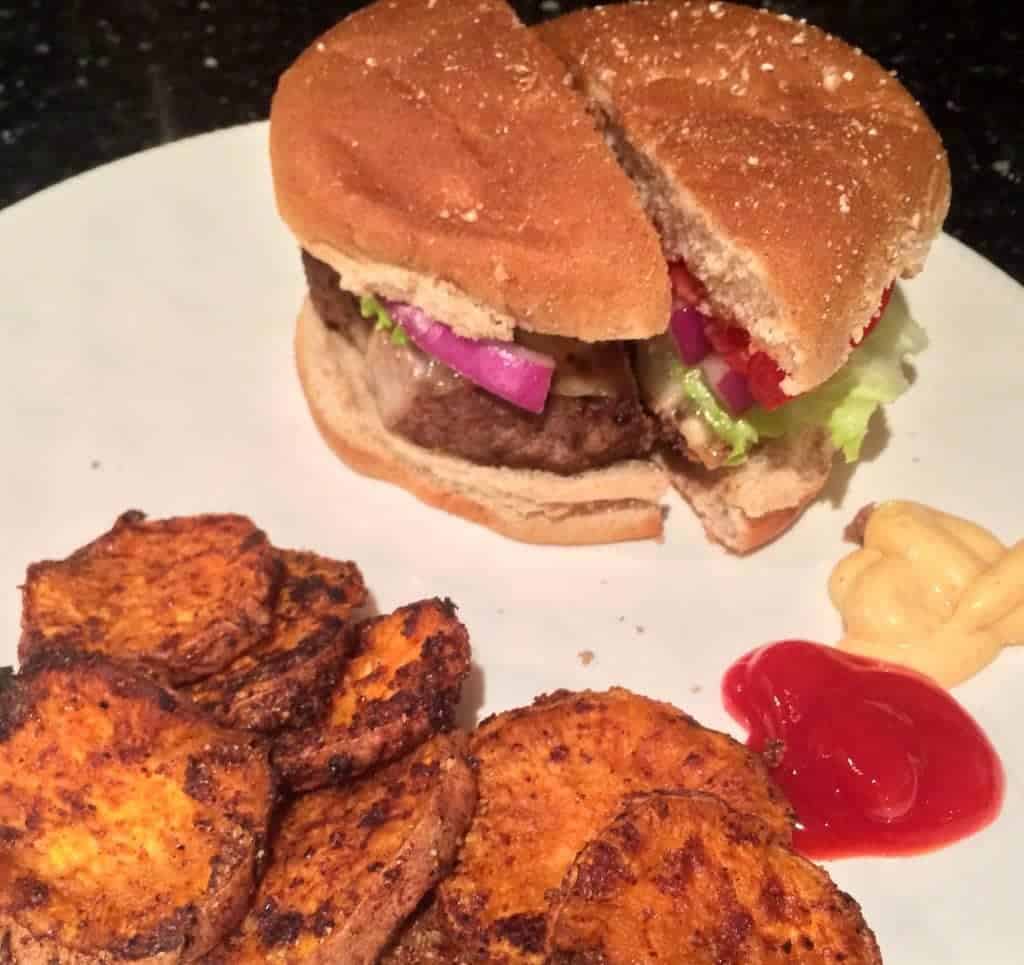 enjoy!!

sweet potato chips
such an easy and versatile side dish. and healthy!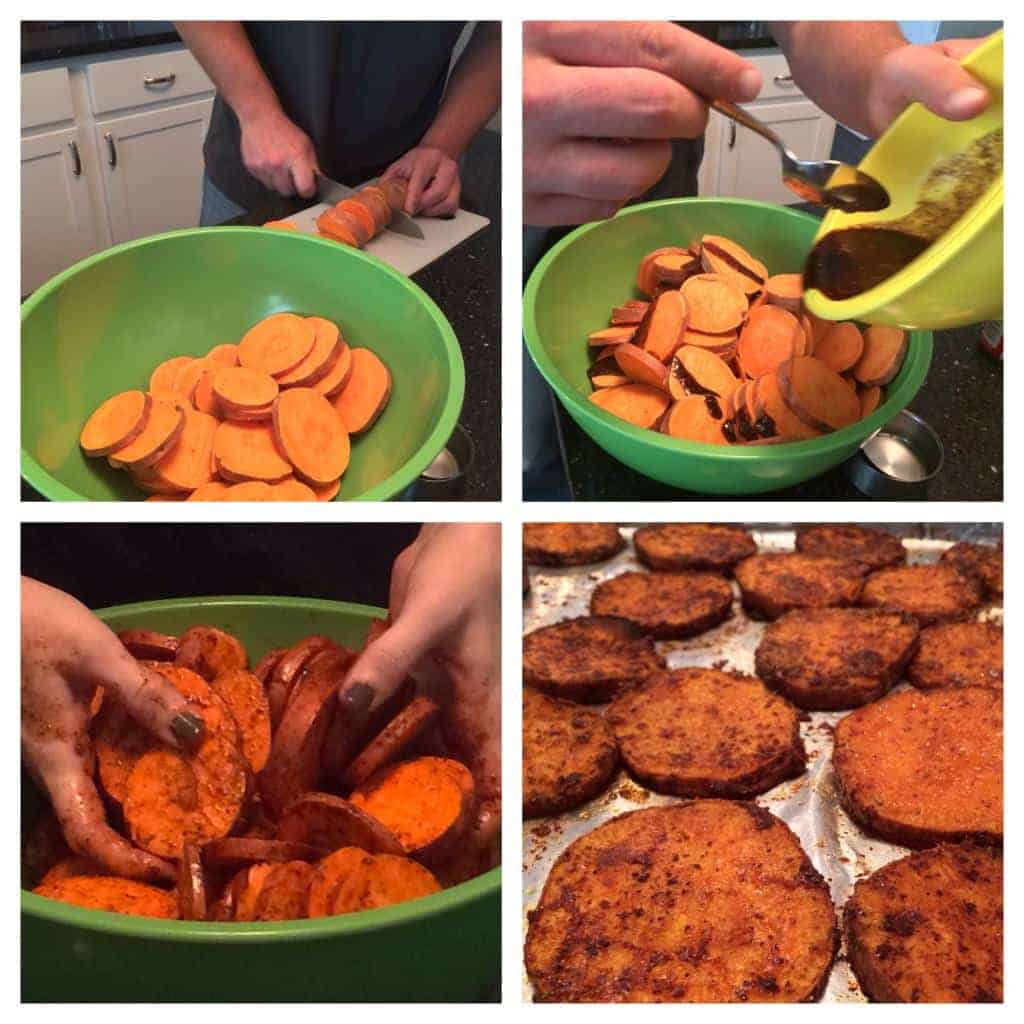 Ingredients
3/4 pound sweet potatoes
1 tablespoon olive oil
1 1/2 teaspoons chili powder
1/2 teaspoon salt
1/8 teaspoon seasoning salt (to taste...it goes a long way)
light ranch dressing or ketchup for dipping
Instructions
Preheat oven to 425°
Cut 3/4 pound sweet potatoes into thin slices. (we did 1/4 inch, but i think even thinner would be better)
Combine 1 tablespoon olive oil, 1 1/2 teaspoons chili powder, 1/2 teaspoon salt, and dash of seasoning salt in a bowl.
Add sweet potatoes; toss gently to coat.
Cover a lightly oiled nonstick baking sheet with a single layer of potatoes
roast, turning once, until golden and tender (about 10 minutes on each side)
after roasting, broil on each side (high for just a couple minutes), watch them closely to make sure they do not burn
serve with ranch or ketchup for dipping. enjoy!
7.6.7
2077
https://www.thecookierookie.com/sweet-potato-chips/