Pigs in a Blanket with Cheese and Parmesan Ranch Butter will be all the rage at your next party. This Pigs in a Blanket Recipe is easy, fun, and oh so delicious. If you've wondered How to Make Pigs in a Blanket, these Lil' Smokies wrapped in sharp cheddar, crescent roll dough, and brushed with parmesan ranch butter are sure to be a hit.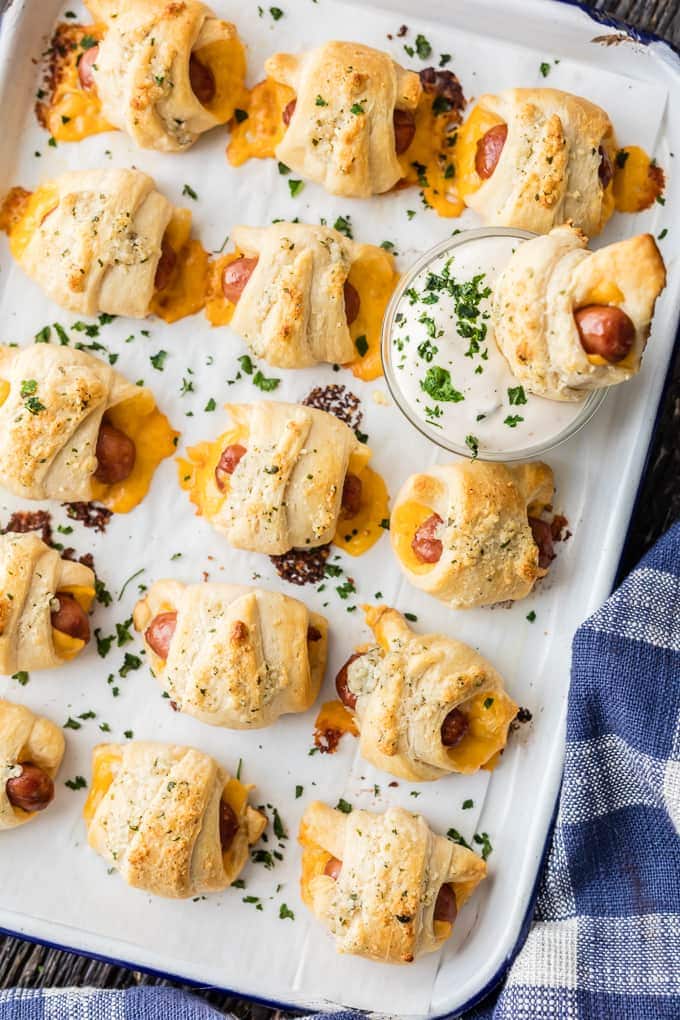 Pigs in a Blanket Recipe
Pigs in a Blanket with Cheese and Ranch Parmesan Butter is a creative twist on a classic party appetizer recipe.
Pigs in a Blanket with Cheese are the perfect grad party appetizer. Can you believe graduation and graduation parties are upon us?! How is this possible?? How is it Summer?! I can't. This year has flown by. It's wild to me that before we know it, school will be starting again. But let's not jump to that yet.
Today we celebrate those who are graduating. From high school, college, heck even my niece who just graduated from daycare and is headed to Kindergarten this Fall (another WOW moment). She wanted to learn how to make Pigs in a Blanket with Cheese so of course I obliged. Little chef in the making, if I do say so myself!
Everyone has a reason to celebrate, and these CHEESY PIGS IN A BLANKET with PARMESAN RANCH BUTTER are the perfect snack to bring to the parties.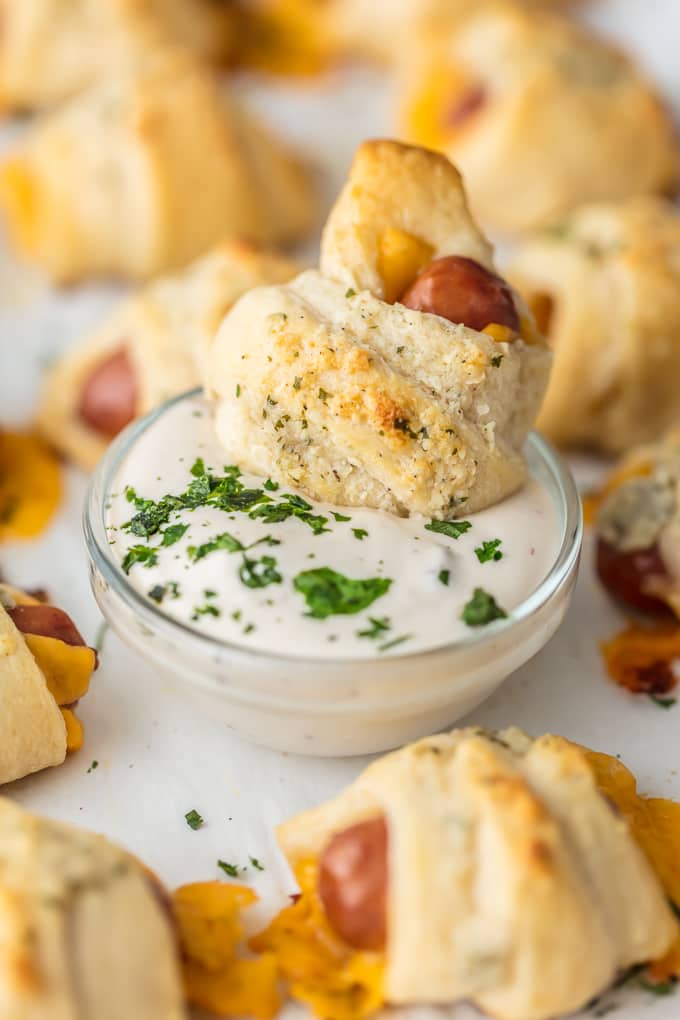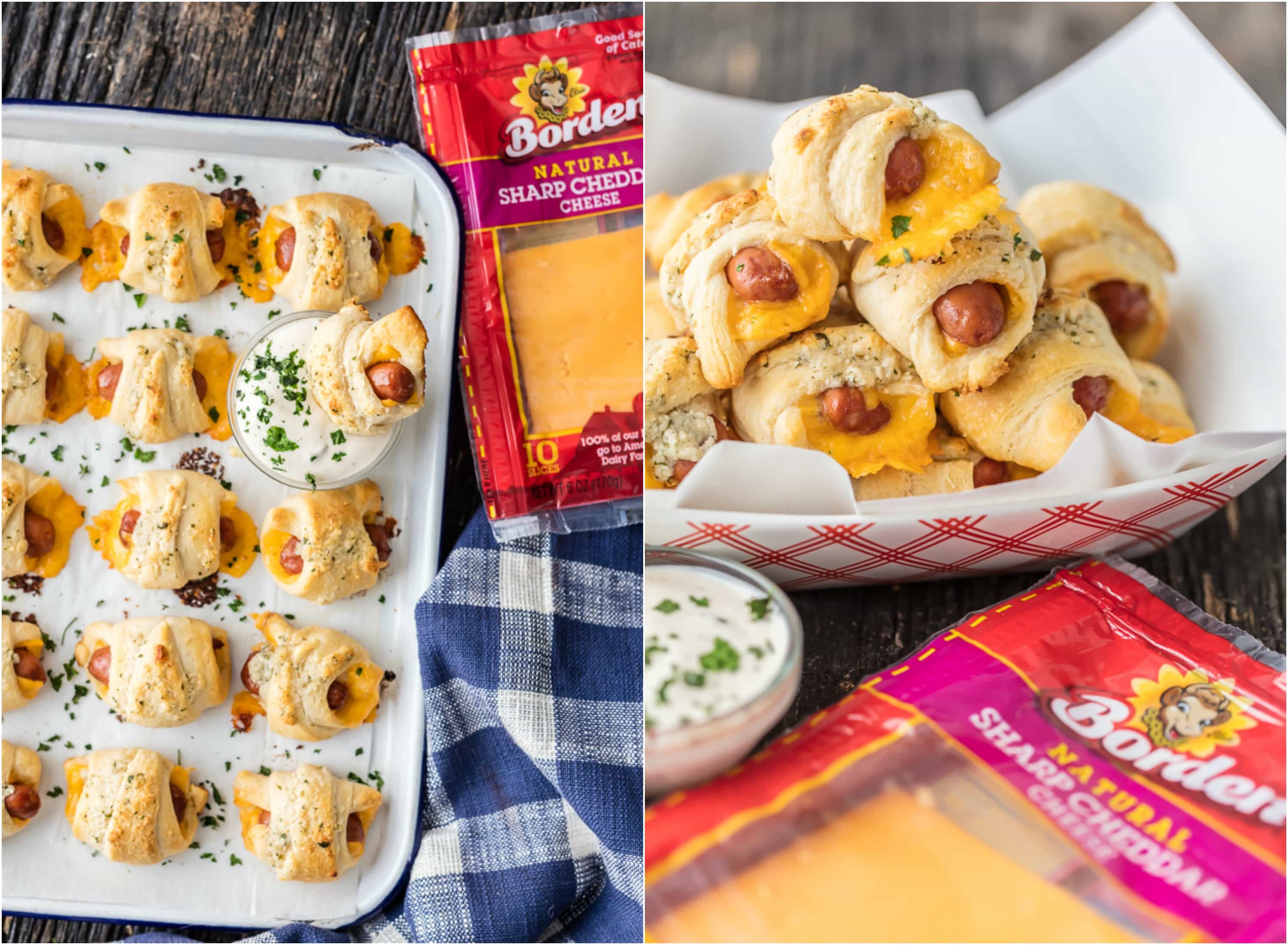 Pigs in a Blanket with CHEESE
Pigs in a Blanket are great, but this Pigs in a Blanket Recipe with CHEESE and Ranch Parmesan Butter is AMAZING!
This Summer I'm having so much fun creating some cheesy recipes with my favorite creamy brand, Borden® Cheese! You might remember my Crab Artichoke Bread Bowls or Cheesy Baked Breakfast Sliders, two other favorites perfect for a crowd. I can't get enough of their Natural Sharp Cheddar Slices and they were just perfect in these Cheesy Pigs in a Blanket. Just the right amount of creamy zip to bring to the party. YUM! I love a bit of cheese anywhere I can find it, and this fun appetizer recipe is no different.
We LOVE appetizers around here and this is one of our favorites. Other faves include: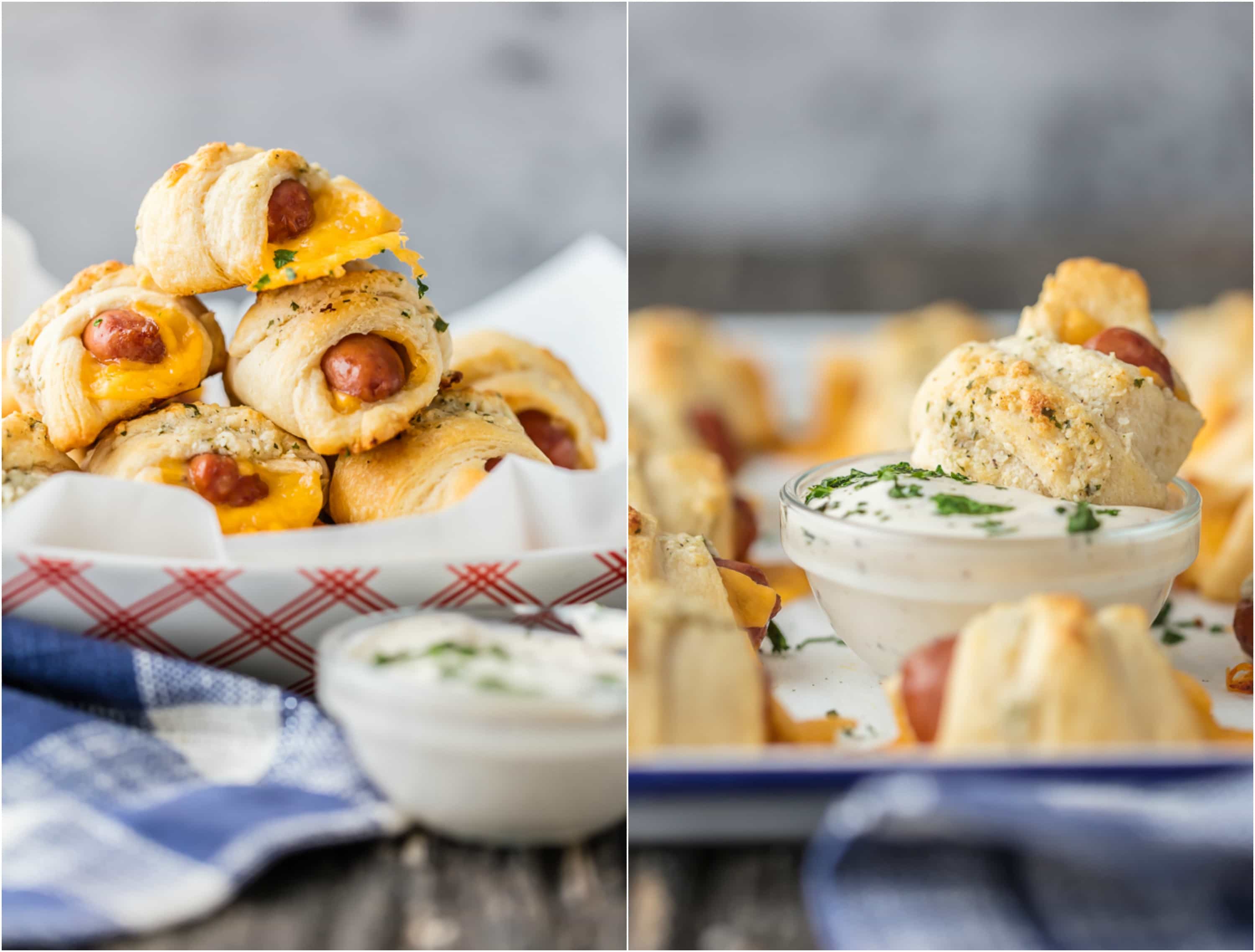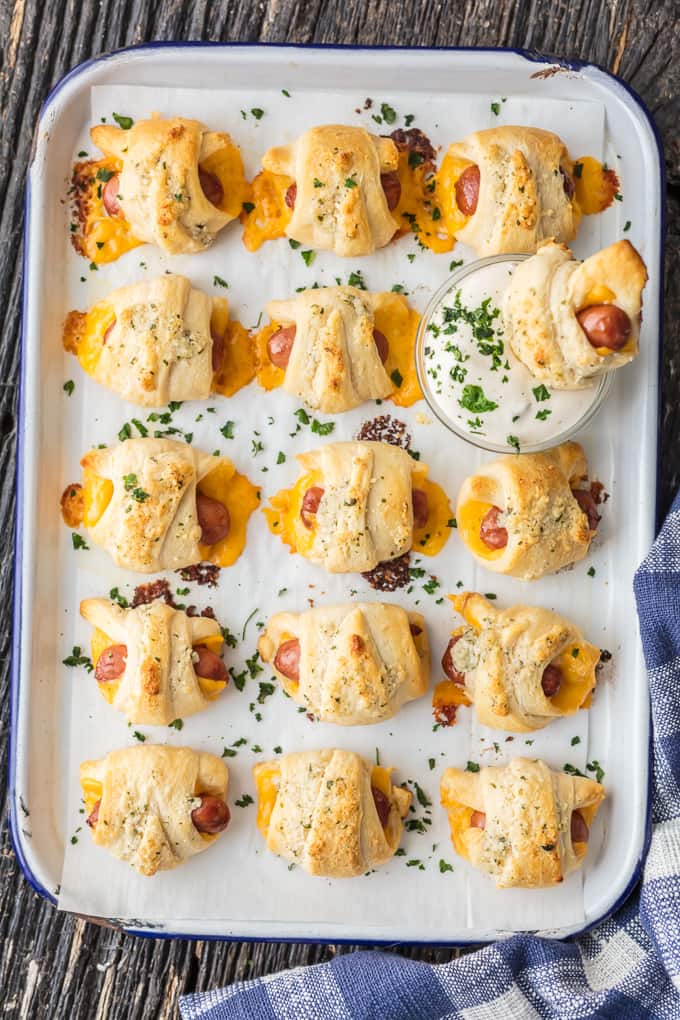 Why do you call them Pigs in a Blanket?
A Pigs in a Blanket Recipe is traditionally little smokies, hot dogs, Vienna sausages, or breakfast sausages wrapped in some sort of pastry, such as crescent dough, biscuit dough, or pancake mix. These have been a party and potluck favorite for generations, I've just updated it a bit by adding cheese and smothering them in ranch parmesan butter. Amazing, right?
I used to be so nervous about big get togethers such as graduation parties when potluck food was involved. WHAT WOULD I BRING! This food journey has been so fun but most of all it has shown me there are so many simple and delicious recipes out there that anyone can make (and EVERYONE will love).
These Cheesy Lil' Smokies are a perfect example. These are too easy not to try! (And that parmesan ranch butter…OMG)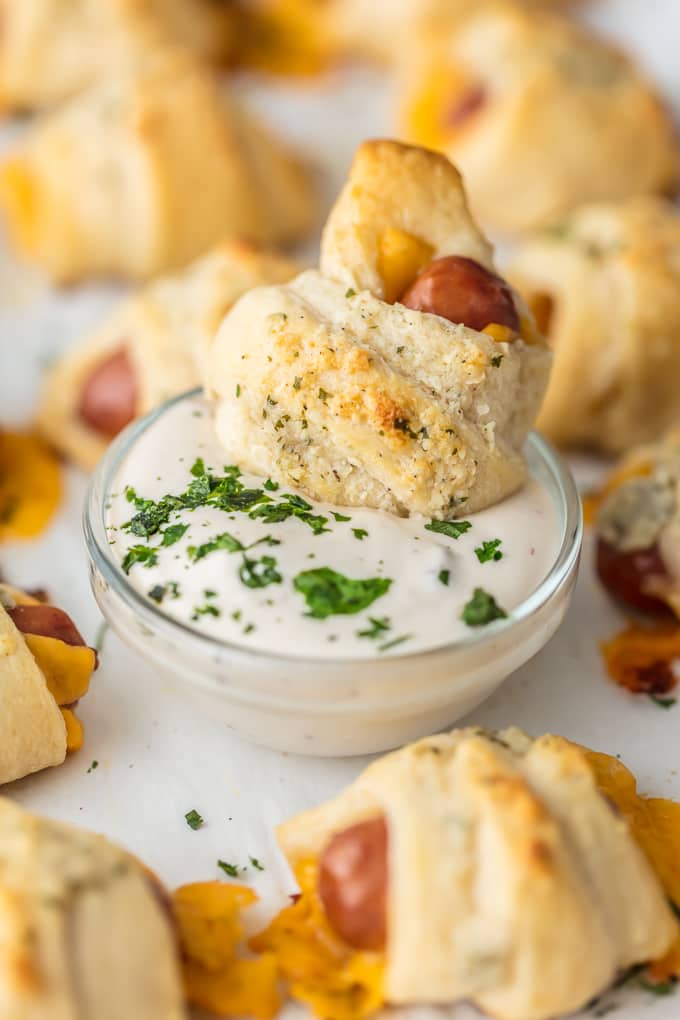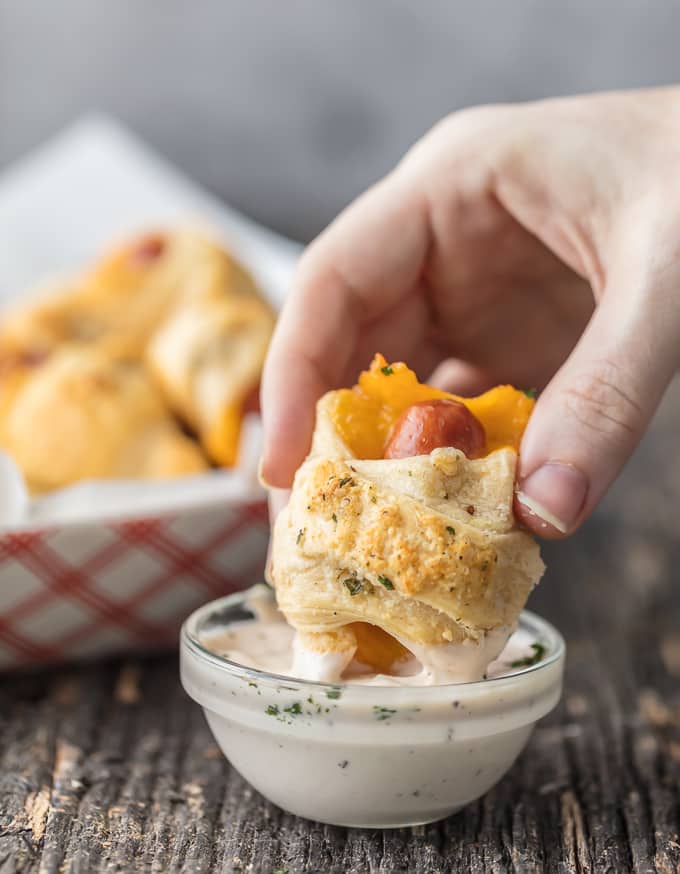 Pigs in a Blanket with Cheese are the ultimate party appetizer. Be sure to check out all of our game day recipes, appetizers, and dip recipes. We have a lot to choose from! We have something for everyone. Wash down all those starters with the perfect drink and you're really in business. I just love how these little bites of lil smoky, cheese, and puff pastry are little bites of heaven. You'll have to make it to believe it! Don't forget to make that legendary Parmesan Ranch Butter.
Watch the video or see the recipe card below for full details on How to Make Pigs in a Blanket. Enjoy!
If you loved this recipe, you'll love these other appetizers too: