Pigs in a Blanket will be all the rage at your next party. This crescent roll recipe is easy, fun, and oh-so-delicious. These Lil' Smokies wrapped in sharp cheddar, crescent roll dough, and brushed with Parmesan ranch butter are sure to be a hit.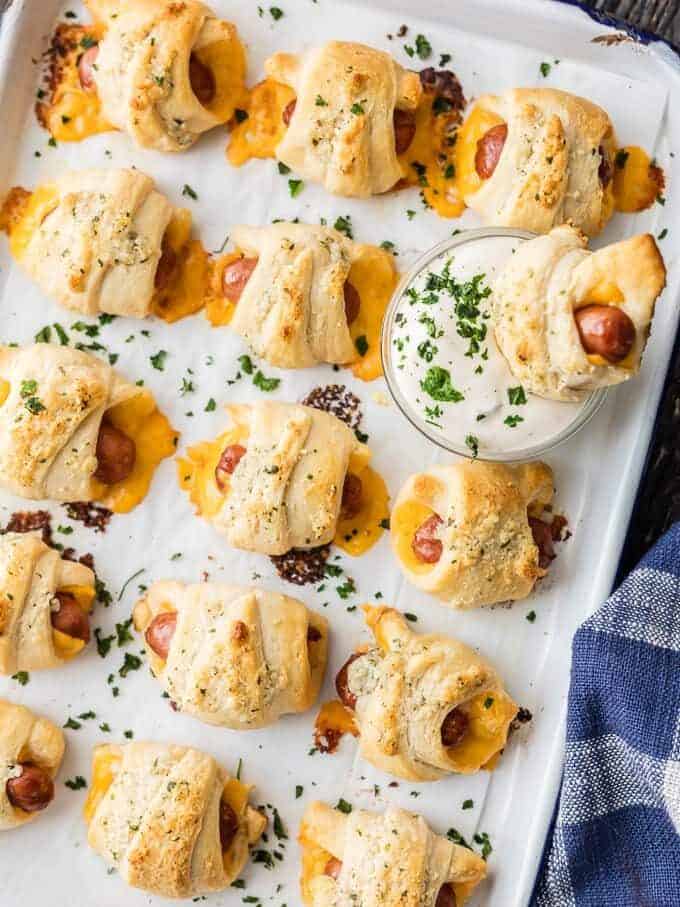 What's in Pigs in a Blanket with Cheese?
Pigs in a blanket are such a fun finger food. We're using Lil Smokies with cheese and ranch Parmesan butter to put a creative twist on a classic party appetizer.
Crescent Rolls: Refrigerated crescent roll dough is the perfect easy hack for fluffy, flaky pigs in a blanket. You can also make your own crescent rolls if you prefer.
Cheddar Cheese: I like to use sharp cheddar cheese because it offsets the richness of the buttery crescent dough.
Lil Smokies: Perfectly sized for these two-bite appetizers. You can also make your own in a crockpot.
Salted Butter: Helps the seasoning and cheese stick to the crescent rolls.
Ranch Seasoning: Adds that classic tangy and herbal flavor that compliments these pigs in a blanket so well.
Parmesan Cheese: Adds a bit of salty umami flavor.
Pro Tip: Serve these pigs in a blanket with creamy ranch dressing!
Pigs in a Blanket Variations
It's easy to change up the flavor of these pigs in a blanket by using a different type of cheese and/or seasoning. Try using Monterey jack, pepper jack, Swiss, or American cheese. Swap the ranch seasoning for everything bagel seasoning, Italian seasoning, or za'atar to change up the flavor!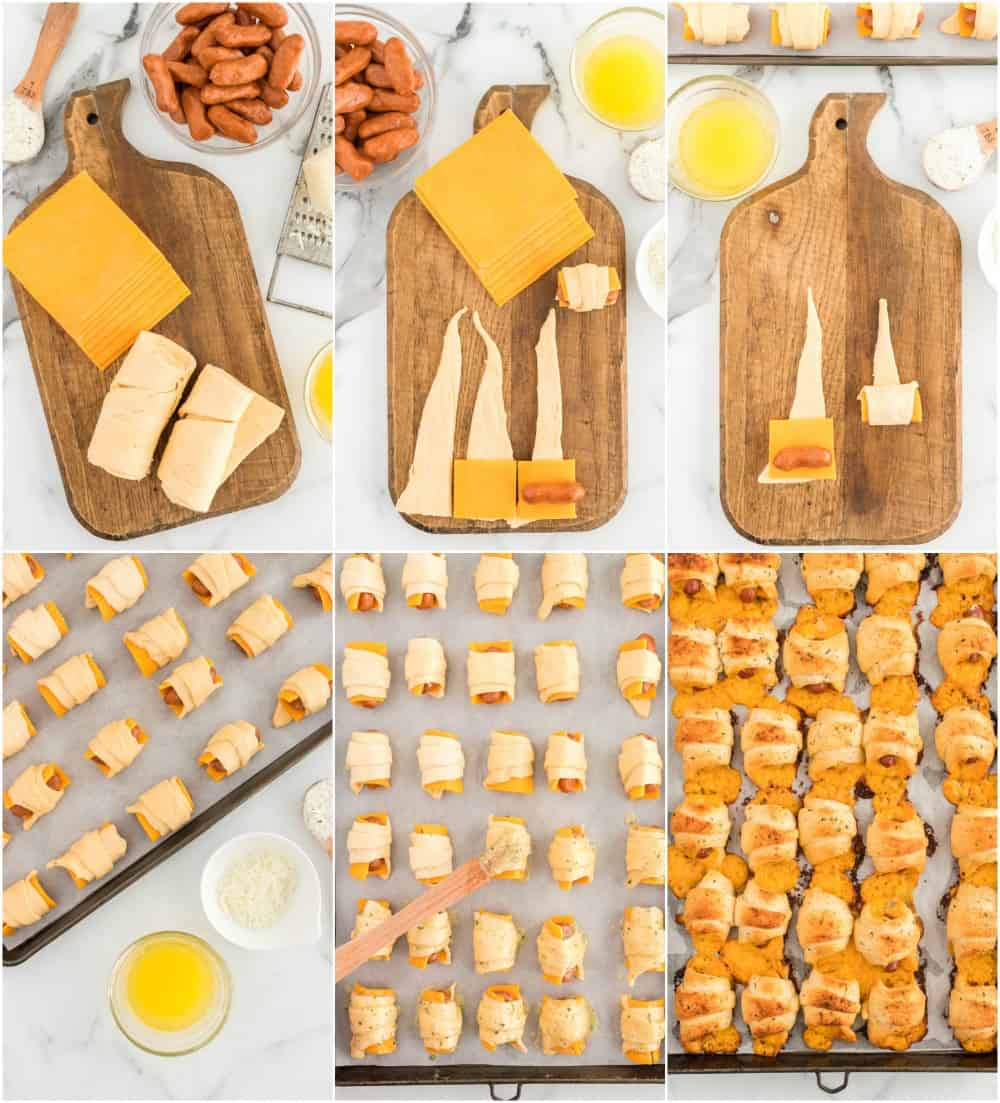 Why are they called pigs in a blanket?
Traditionally, this recipe has little smokies, hot dogs, Vienna sausages, or breakfast sausages wrapped in some sort of pastry, such as crescent dough, biscuit dough, or pancake mix. So they are pigs (pork) wrapped in a blanket of dough, hence the cute name!
Can you use different sausages?
You sure can! While I love lil smokies for their smoky barbecue flavor, you can also use Vienna sausages or hot dogs in this recipe. You could also use turkey or chicken-based sausages.
How long do you cook pigs in a blanket?
This appetizer takes just about 15 minutes to bake!
Can you make pigs in a blanket ahead of time?
Yes, pigs in a blanket can be made ahead of time and stored in the refrigerator or freezer until ready to bake.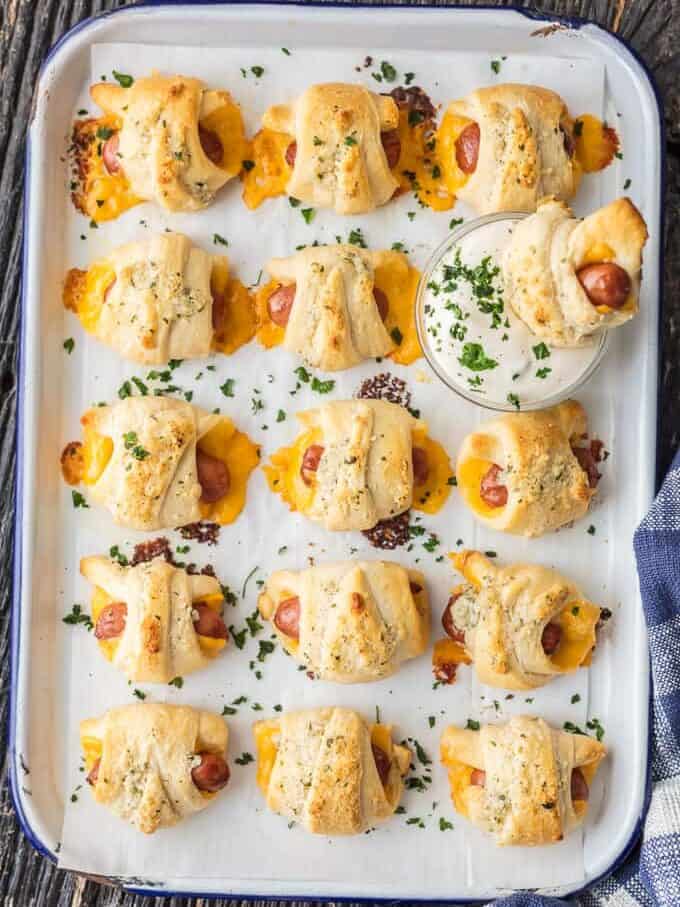 How to Store and Reheat
Store leftover pigs in a blanket in an airtight container in the refrigerator for up to 4 days. Reheat in a 375°F oven for 5-7 minutes, or until warmed through.
How to Freeze
Freeze pigs in a blanket in a single layer on a lined baking sheet until solid, about 1-2 hours. Transfer to an airtight container or Ziplock bag to store for up to 3 months. Reheat directly from frozen, adding a few minutes to the final bake time.
Serving Suggestions
These pigs in a blanket are perfect dipped in ranch dressing or barbecue sauce! Serve them alongside matchsticked carrots and celery to add a bit of roughage. They pair so well with other dippable appetizers, like pepperoni pizza rolls, baked turkey meatballs, or jalapeno poppers.
More Pastry-Wrapped Sausage Recipes We Love