Bacon Cheese Fries with Ranch are my go-to party food. This Cheese Fries Recipe is sure to make game day easy and delicious! This easy and fun appetizer takes crispy fries and tops them with ranch seasoning, bacon, cheddar, mozzarella, and feta. 3 Cheese Fries with Bacon and Ranch for the WIN!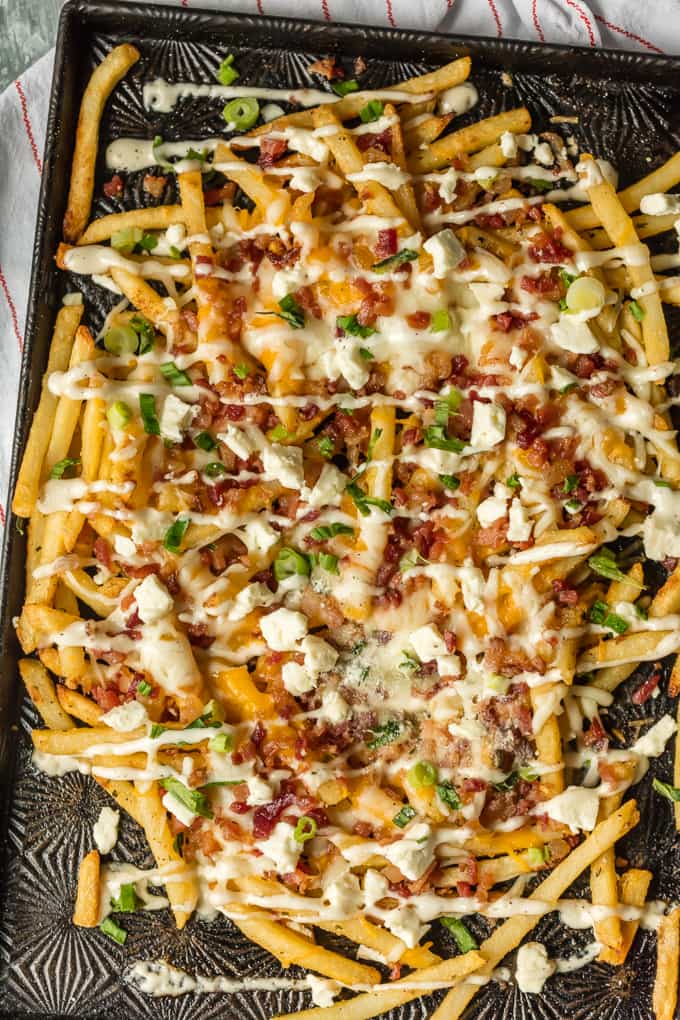 Bacon Cheese Fries Recipe
Life is better with this Bacon Cheese Fries Recipe. Pour on the ranch, things are about to get good!
Bacon Cheese Fries with Ranch. It just doesn't get better. Give me all the cheese fries. All of them. There's just simply nothing better than good old fashioned fries smothered in tons of cheese, crispy bacon, fresh green onion, and ranch! Forget the sour cream and layer on the ranch, both in powder form and dressing form. Do I have your attention yet?
I want to share this 3 Cheese Fries Recipe with Bacon and Ranch with you, even though I also want them all to myself.
I'll share, but only a little bit. Game day simply won't be the same after you've tasted this amazing Cheese Fries Recipe. Football lovers (and food lovers that need great apps to get through the game smiling) unite! Tailgating just got unbelievably delicious, easy, and fun!
I can't get enough of this Bacon Cheese Fries Recipe! There's nothing tastier than Bacon Ranch Fries for game day.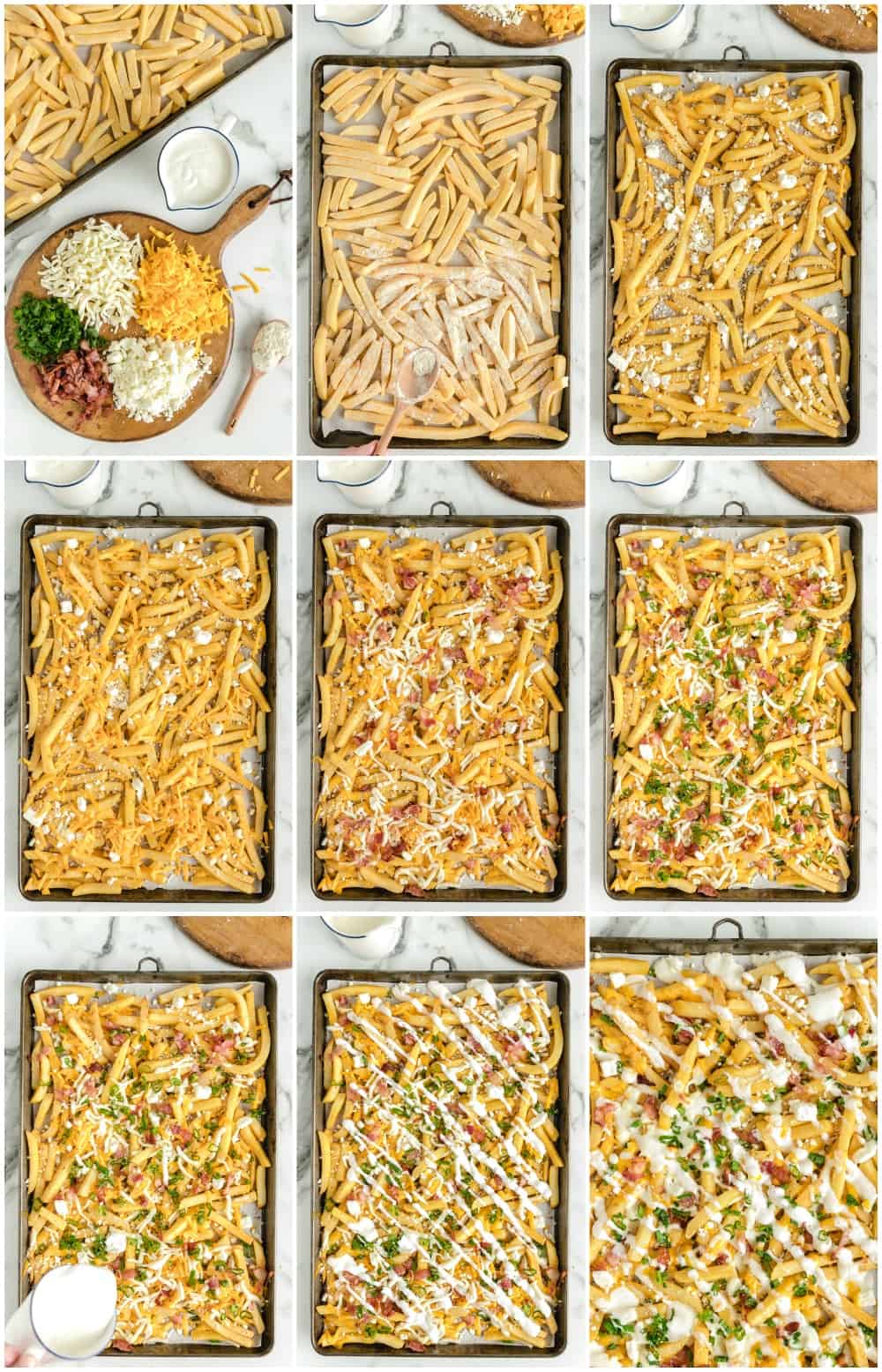 Bacon Ranch Cheese Fries for Game Day
It's not game day without Cheese Fries! This Bacon Cheese Fries Recipe is out of this world (and so easy).
These days I don't have hours and hours to prep for tailgating. The food we eat needs to be A) amazing and B) quick and easy. Henry, our 8 month old, is officially on the move and it's all I can do to keep the baby gates closed and him out of Scout's food and water bowls.
That being said, we still want to have all the best snacks for Sunday football. Since Pat is obsessed with fantasy sports, we have to watch allll the games. And I get through it by eating alllll the cheese fries. It's a win win.
The Best Ranch for Cheese Fries
Walmart and Hidden Valley are making my life easier with these new Hidden Valley® Original Ranch Seasoning and Salad Dressing Mix Shakers. Such an awesome and fast way to add flavor to all your favorite snacks and meals.
You can find this cute and fun shaker in the dressing aisle of your local Walmart and it's a pantry staple at our house. I love that using the shaker on these Bacon Ranch Fries gets all the fries extra spiced up and ready for snacking. Simply perfection!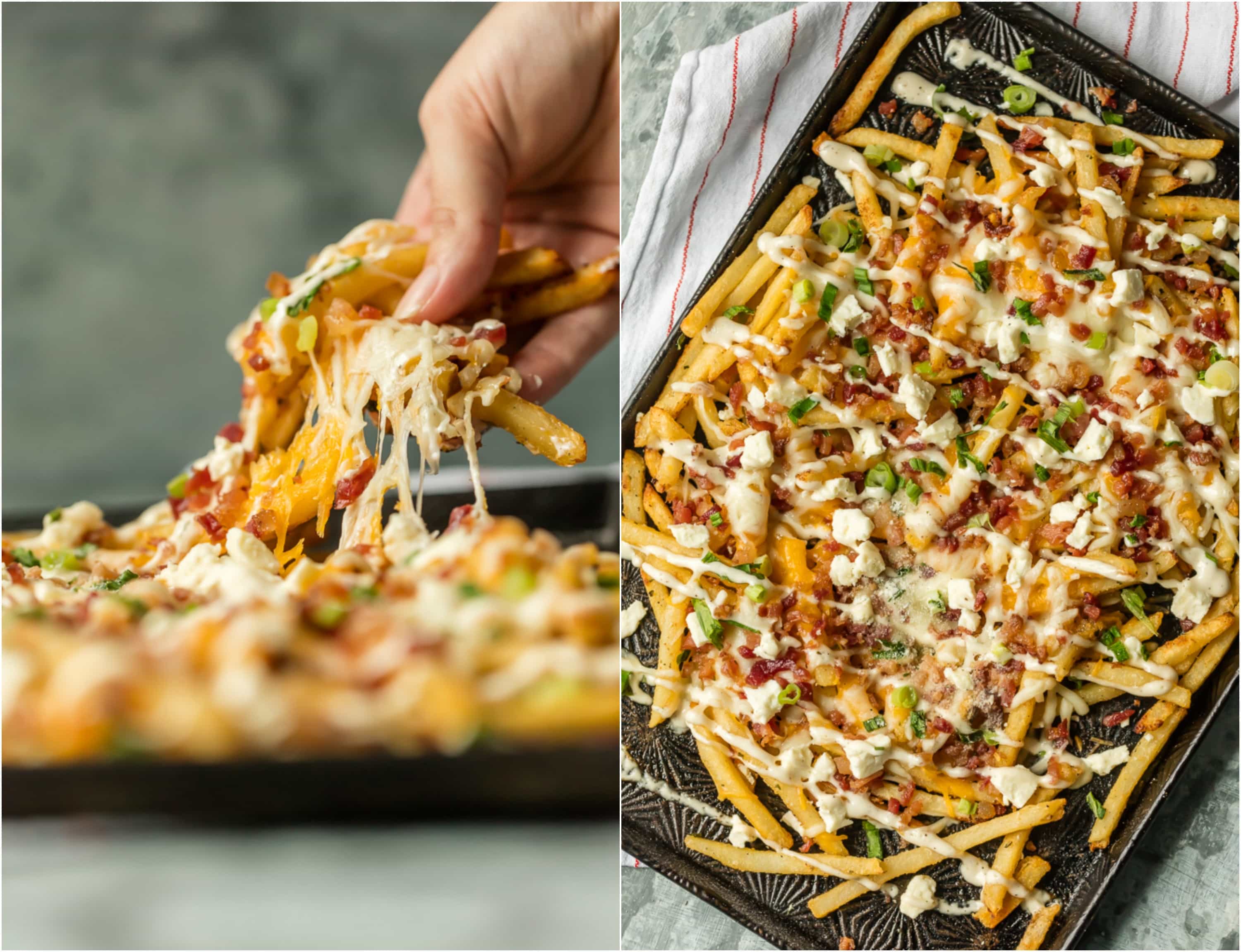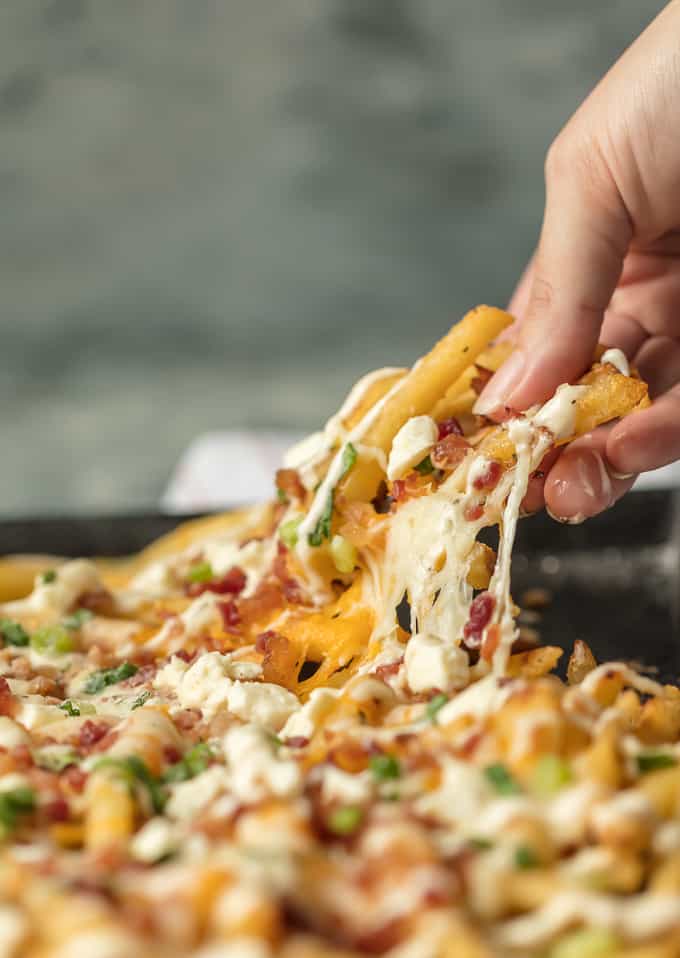 How to Make Loaded Cheese Fries
Ranch, cheese, bacon, and fries…that's pretty much all you need for these Bacon Cheese Fries with Ranch. The ultimate combination. We have kicked things up a notch by using three different cheeses (cheddar, feta, and mozzarella), using ranch seasoning right on the fries, and garnishing with ranch dressing, green onions, and cilantro.
And trust me, I wanted this recipe to be easy too. So we're just using frozen fries and slathering them with all the tastiest things. That way you can just throw them in the oven to cook, then add on the cheese, ranch dressing, & other toppings for a few minutes at the end. Next thing you know, the best cheese fries recipe is all ready for the party.
Feed me these 3 Cheese Bacon Ranch Cheese Fries for every meal and I'm a happy camper. I won't even mind that football is on. (Shocker…I tailgate for the Tacos and Tequila!)
More Game Day Snack Recipes
This Cheese Fries Recipe covered in bacon and ranch is soooo good, you might not want to eat anything else. BUT, every game day and tailgating party needs lots of snacks and appetizers (keep the fries all to yourself) to feed everyone.
We've got plenty of tasty appetizers to serve along with the Bacon Ranch Fries. Try out some of these other recipes:
And of course, you can't forget to add the perfect margarita to the line-up. Gotta wash those cheese fries down with something, after all.
If you're on the prowl for EVEN more game day recipes, you KNOW we have you covered. Tailgating just so happens to be my culinary specialty. We have everything; Baked Tacos, Chex Party Mix, Pigs in a Blanket, and even French Dip Sandwiches! If you're looking for cocktails, we recommend Sparkling Strawberry Margarita Punch, Party Punch, or Summer Shandy.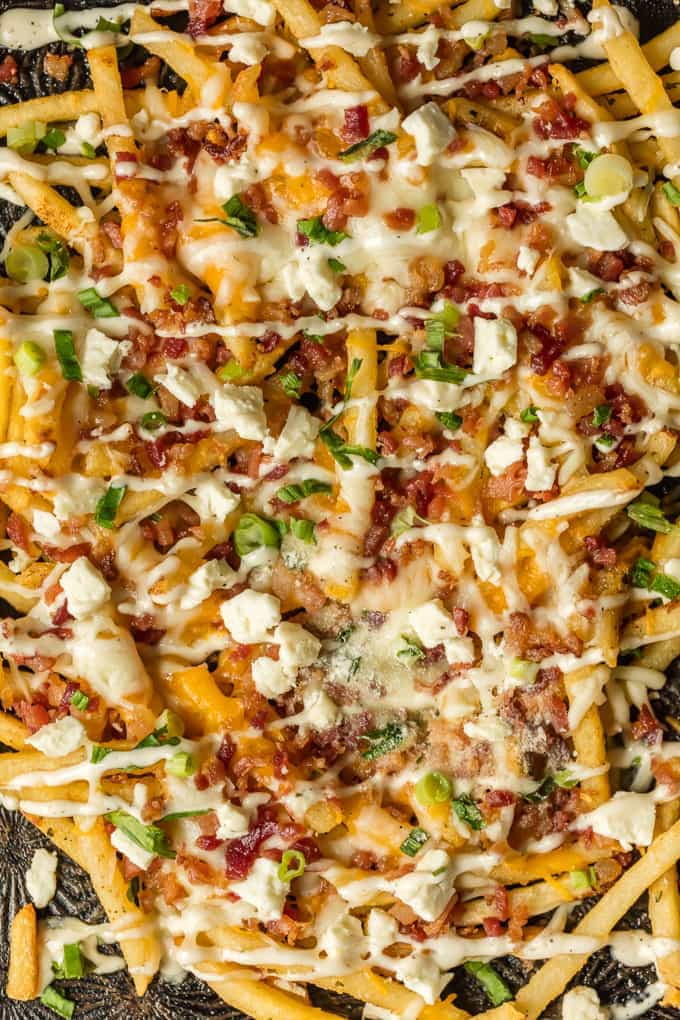 You won't be able to stop eating these Bacon Cheese Fries with Ranch, and neither will anyone else. The flavors of bacon, cheese, and ranch all mix together so perfectly, making the tastiest, most mouth-watering appetizer ever! Make extra because these are going to go fast.
If you really love fries, try these Shoestring Fries or carne asada fries too. They're a much simpler fry, perfect as a side dish for sandwiches and burgers.
See the recipe card below for full details on How to Make Cheese Fries with Bacon and Ranch. Enjoy!