I'm a big fan of Mexican food and all dips, so of course I'm obsessed with guacamole too. I cut this Simple Guacamole Recipe down to the basics and it is so fresh. Everything blends together to create the perfect, creamy flavor. This Homemade Guacamole Recipe is my favorite dip for Mexican dinners. I could eat it all day!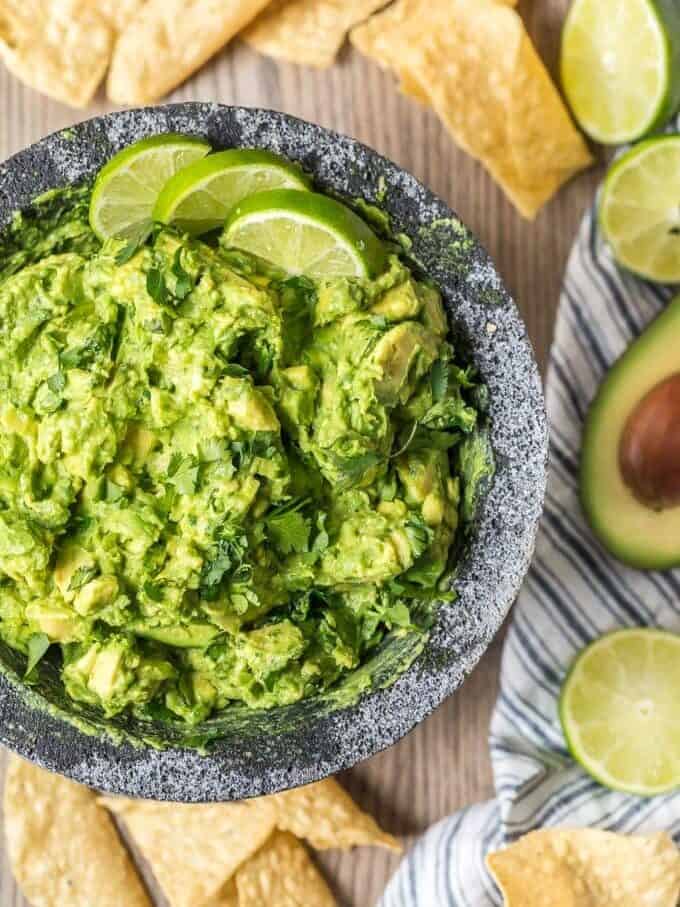 What's in this Simple Guacamole Recipe?
I consider this the best guacamole ever because it's just so simple. There's nothing better than the fresh, creamy taste of avocado, mashed up perfectly so that it's still a little chunky. The jalapeno, onion, and cilantro paste blends in so seamlessly with the creamy avocado to create the best guacamole recipe ever.
Avocado: The perfect creamy, dreamy, and delicious base for any guacamole recipe. Look for avocados that are just beginning to turn soft but aren't mushy.
Onion: Because we're leaving the onions raw here, sweeter white onions are the best choice!
Jalapeño: Adds just a hint of spiciness. Feel free to adjust the amount according to your personal tastes.
Lime Juice: Fresh lime juice is the key to a great guacamole! I do not recommend using bottled.
Cilantro: I know this can be a polarizing ingredient, but it adds so much freshness! If you have the cilantro tastes like soap gene, feel free to use parsley instead.
Salt: Enhances all of the other flavors.
Pro Tip: If your onions still seem too strong, try soaking them in ice water for about 10 minutes before adding them to the paste.
Variations on Guacamole
This is the platonic ideal guacamole recipe. It's a perfect blank canvas for all kinds of modifications. For a spicier guac, try swapping the jalapeño for a serrano or poblano pepper. Stretch this dip out by adding some corn or black beans.
For a bit of crunch, top your guacamole with toasted pepitas (pumpkin seeds). For even more creaminess, top it with fresh cotija or feta cheese.
You could even mix this guacamole with some of my other favorite dips, like avocado corn salsa, esquites, salsa verde, or cowboy caviar!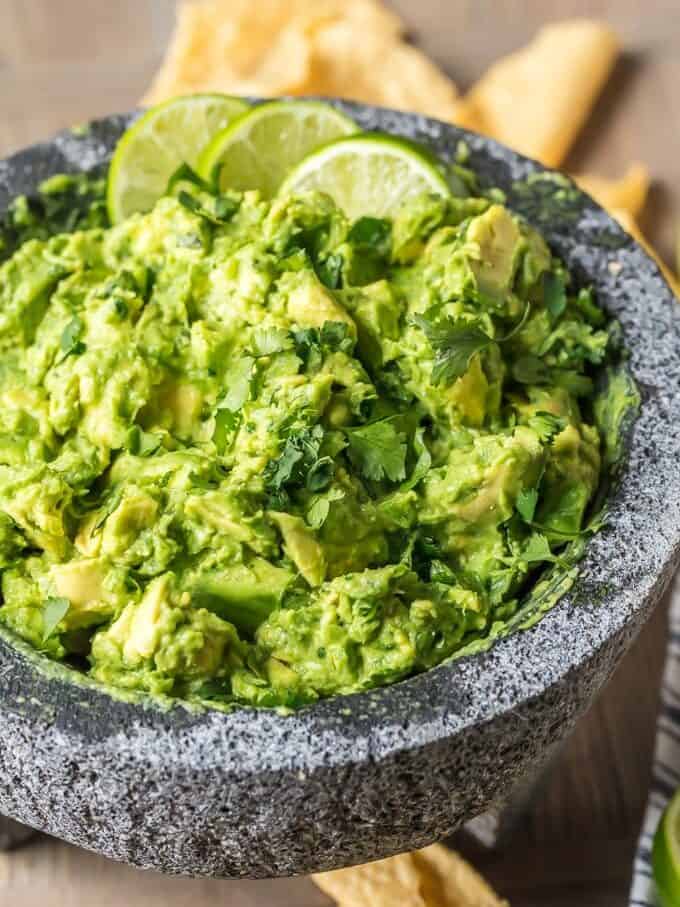 Is guacamole good for you?
Guacamole contains healthy nutrients like monounsaturated fats, fiber, folate, and potassium. However, it is a calorically dense food, so enjoy it in moderation!
How long does guacamole last?
Homemade guacamole should last in the refrigerator up to a couple of days. If your guacamole does turn brown, it's still okay to eat it. Just scrape away the layer of brown and eat the green guacamole. It's best not to consume the oxidized (brown) portion. And if it's been more than 3 days, you should throw it out and make a new batch.
How do you keep guacamole from turning brown?
Since this is the best guacamole recipe, you definitely want to keep it from turning brown before it's gone. What's the easiest way to stop guacamole from turning brown? Eat it all at once! But if you can't do that, use these tricks:
1) Store your guacamole in an airtight container
2) Seal the top of the container with plastic wrap before putting the lid on top
3) Add extra lime juice on top of the guac before sealing
4) Try putting the avocado pit straight into the container of guacamole before storing
5) Add a thin layer of water or olive oil on top of the guac & seal shut
Can you freeze guacamole?
I do not recommend freezing guacamole, as the texture changes dramatically once thawed.
Is guacamole keto?
Yes! Basic guacamole is keto-friendly. It's usually all the extra additions that make guac less keto friendly, so keep it simple!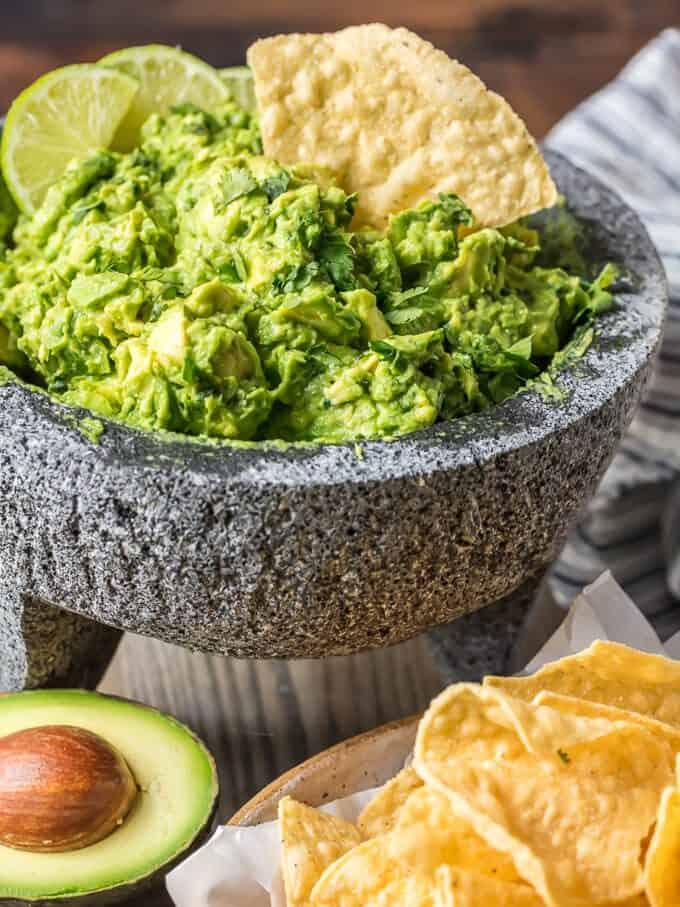 How to Store
Store leftover guacamole in an airtight container with a layer of plastic wrap between the container and the lid. Spritz the surface of the guacamole with lime juice before sealing.
You can also add the avocado pit to the container or top the avocado with a thin layer of water or olive oil to help prevent browning. Guacamole will keep for up to 3 days if stored properly in the refrigerator. Enjoy chilled or at room temperature. I do not recommend freezing guacamole.
Serving Suggestions
This simple recipe is the perfect topping to add to your tacos, burritos, and nachos. And of course, it's the most delicious dip for your tortilla chips! Enjoy it on top of Baked Chicken Tacos, Queso Smothered Chicken Fajitas, Cheesy Enchilada Stuffed Peppers, Chicken Quesadillas,or Salsa Verde Chicken Enchiladas. Use it in 7 layer dip or guacamole bean dip for that extra homemade touch.
This homemade guac would go perfectly with any of those dishes… and it would also taste great on mini taquitos, on this Mexican Chicken Salad Sandwich, or with these Foil Packet Nachos. I think you get my point!
For a ton of serving suggestions, see our Cinco de Mayo recipes!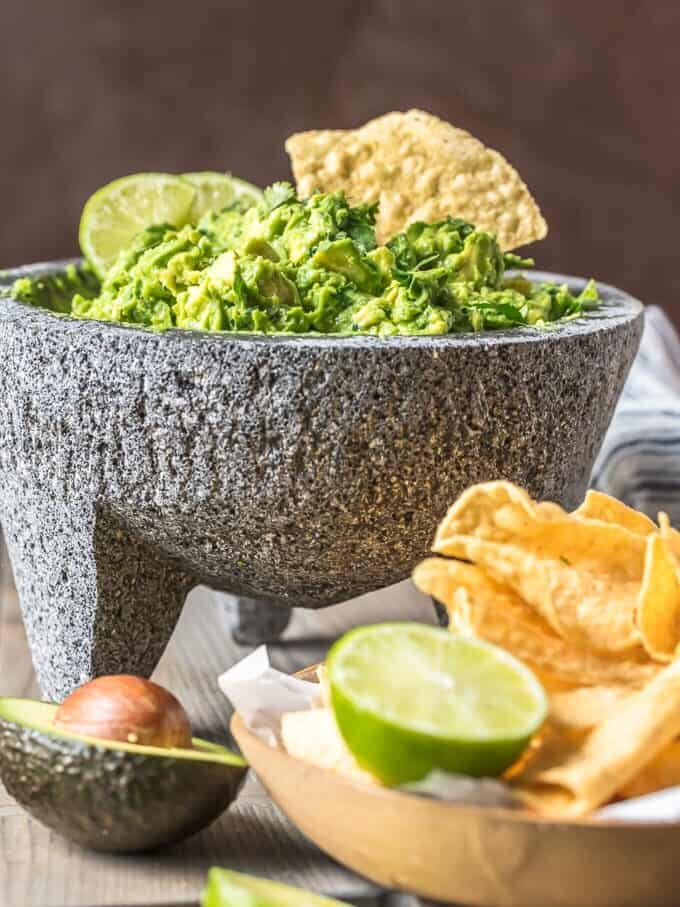 More Guacamole Recipes We Love