Brown Sugar Pound Cake with Brown Sugar Icing (let's be honest, it's mostly caramel) is utterly delicious and just perfect for Fall. A simple classic that everyone loves. This makes a wonderful and delicious homemade gift for Christmas. The pecans add a little extra crunch to this sweet and amazing Easy Pound Cake Recipe.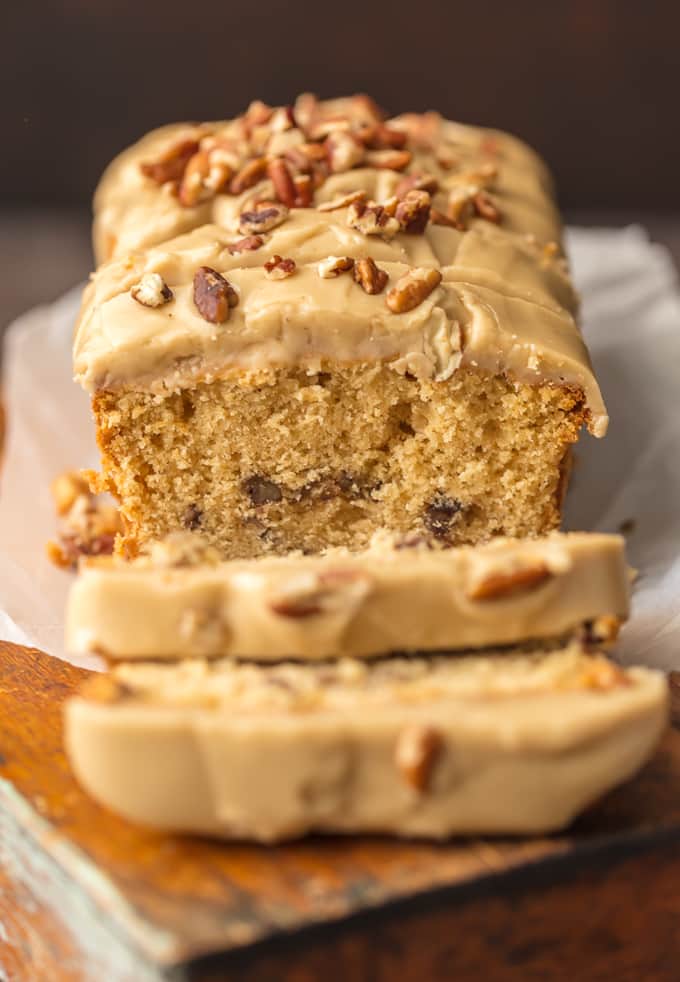 Brown Sugar Pound Cake Recipe
Brown Sugar Pound Cake topped with Caramel Brown Sugar Icing and Toasted Pecans…Yum! I just love this easy pound cake recipe!
I'm a bread-making MACHINE! First the Caramel Cheesecake Stuffed Apple Bread and now this Brown Sugar Pound Cake Recipe…we are on a roll! With these two recipes combined, you can conquer Fall and especially the holidays!
As far as sweet, cakey breads go, this Easy Pound Cake Recipe is EVERYTHING. A simple classic, you cannot go wrong when making this for anyone and everyone. Plus the caramel brown sugar icing is SOOO GOOD and just pushes this recipe over the top.
Work party? Bring this. Homemade gift needed? Make this. New baby in the world? Make this for her mama. Utterly delicious, pretty, and so perfect for Fall. Everyone is going to LOVE this easy brown sugar pound cake recipe.
Brown Sugar Pound Cake with Brown Sugar Icing. You're going to love this easy pound cake recipe for fall!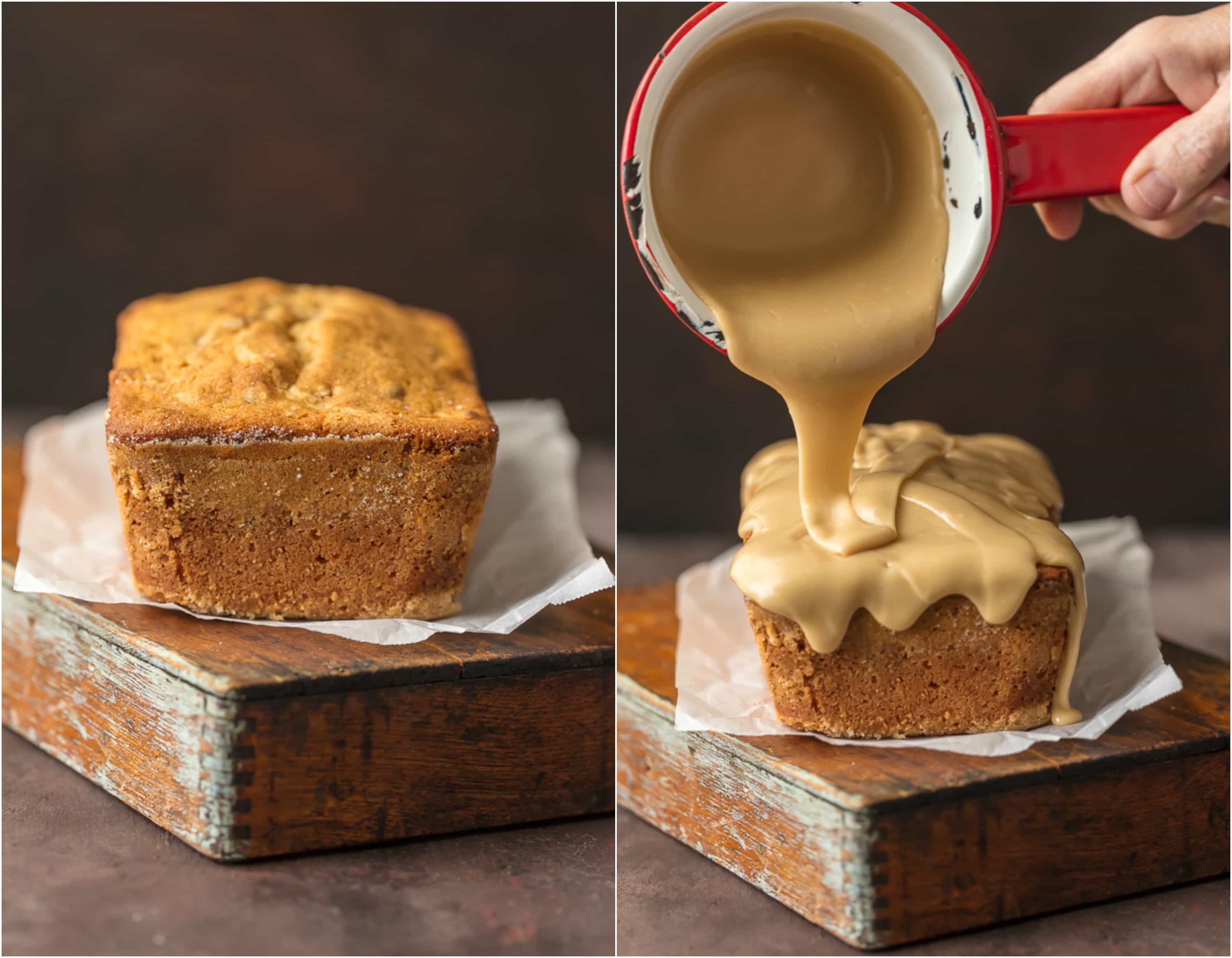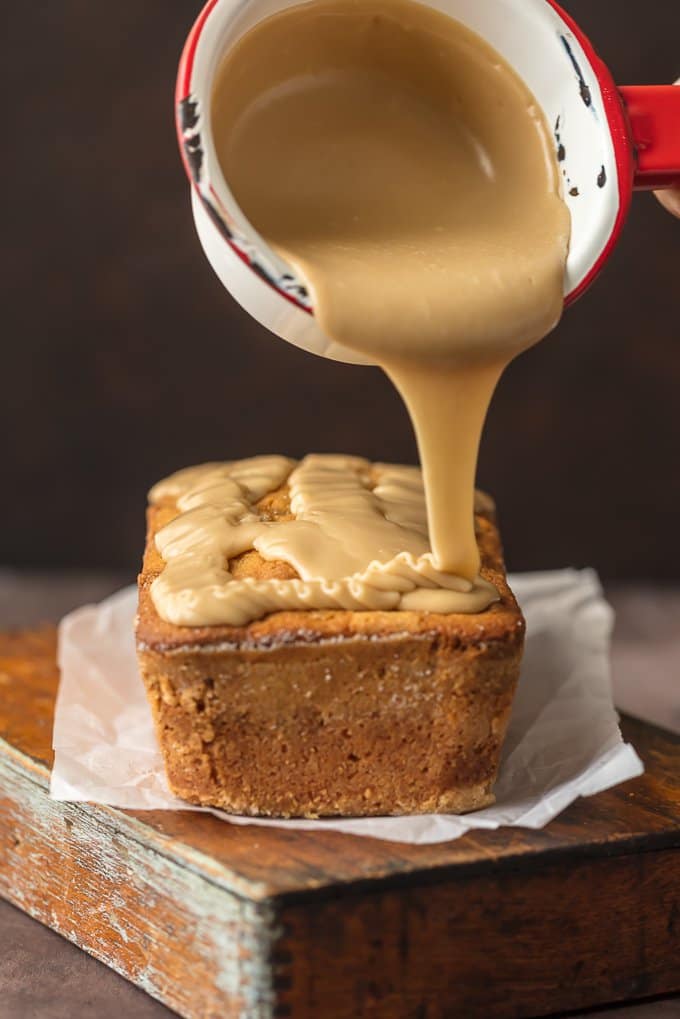 Brown Sugar Icing
Now that we have talked about the easy pound cake recipe itself, let's PLEASE discuss this brown sugar icing. A mix between an icing that you spread on and a glaze that you pour, this icing is way too delicious. If I could dip the entire cake in the icing, I would.
Brown Sugar Icing Ingredients:
Brown Sugar
Powdered Sugar
Butter
Milk
Vanilla
So basically everything good in life.
"Brown Sugar Icing" is actually code for CARAMEL, and that's pretty much what it tastes like. Caramel Icing. Addicting is an understatement. The sweet brown sugar pound cake combined with the crunch of the pecans and the sweet thick layer of brown sugar icing…it's all too much and all just right.
Easy Pound Cake Recipe
This Brown Sugar Pound Cake is genuinely hard to put down or avoid when it's on your counter. Good luck to you all. I ate way too much of this in one sitting and I actually don't regret it. This is why it's great you can wear layers in the Fall and Winter. Thank goodness for sweaters when this easy pound cake recipe is around. Breakfast, snack, dessert, eat it all the live long day.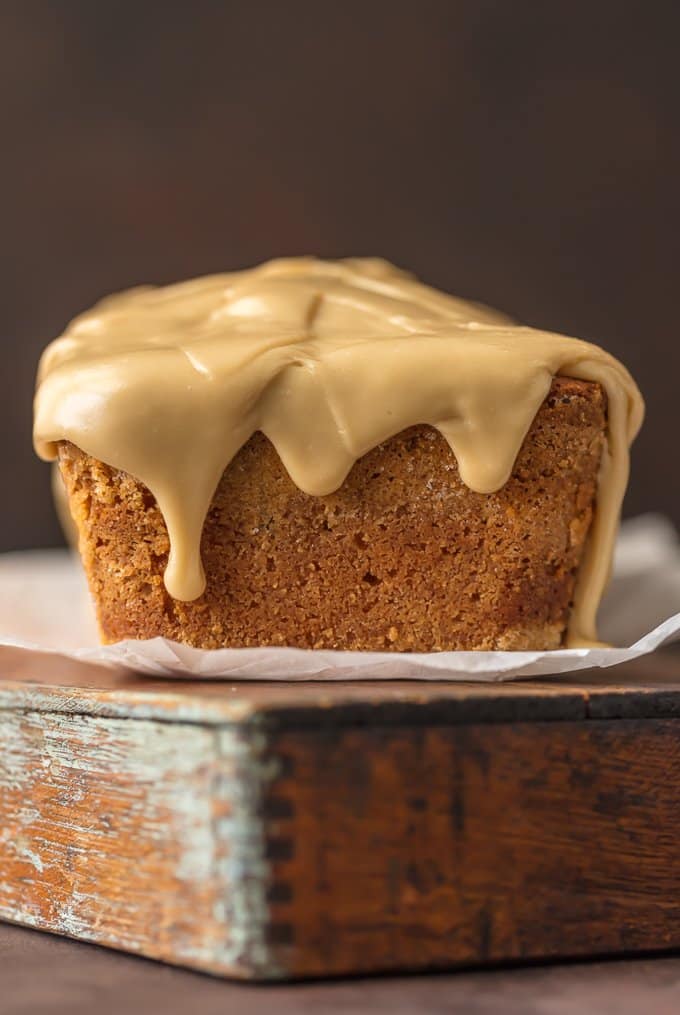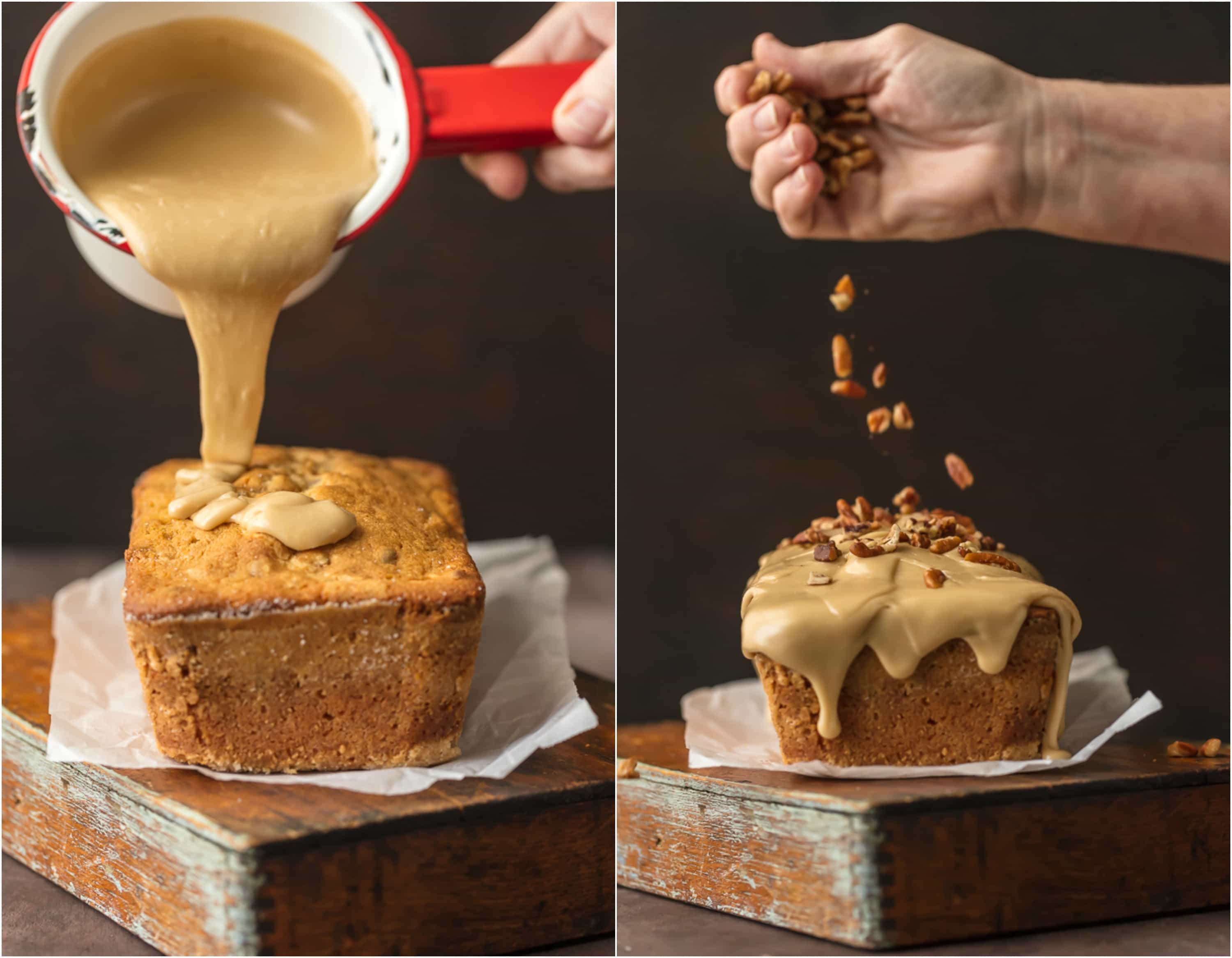 Why do they call it a Pound Cake?
True authentic Pound Cake dates back to the 1700s. The recipe called for a pound of each ingredient; butter, flour, sugar, and eggs. WOW! No wonder they call it pound cake!
What causes a Pound Cake Recipe to be too dense or sink in the middle?
If you over-mix the ingredients (thus developing the flour's gluten too much), it will rise too high in the oven and then sink once you remove it. That will also result in a cake that is too dense/firm. Beating the eggs and dry ingredients on medium speed should help!
What does Brown Sugar Pound Cake taste like?
Is Heaven too simple of an answer?! This easy pound cake recipe is so decadent, and each bite is sweet perfection. It's great on its own, with brown sugar icing as shown, or left alone and topped with fresh cream and sliced strawberries. It's similar to shortcake but even better.
Is Pound Cake the same as Foam Cake?
No, pound cake has so many more calories! Pound Cake is an all-butter cake while Foam Cake is made from three basic ingredients: Eggs, Sugar, and Flour. Both are great but I think you can tell which one is my favorite.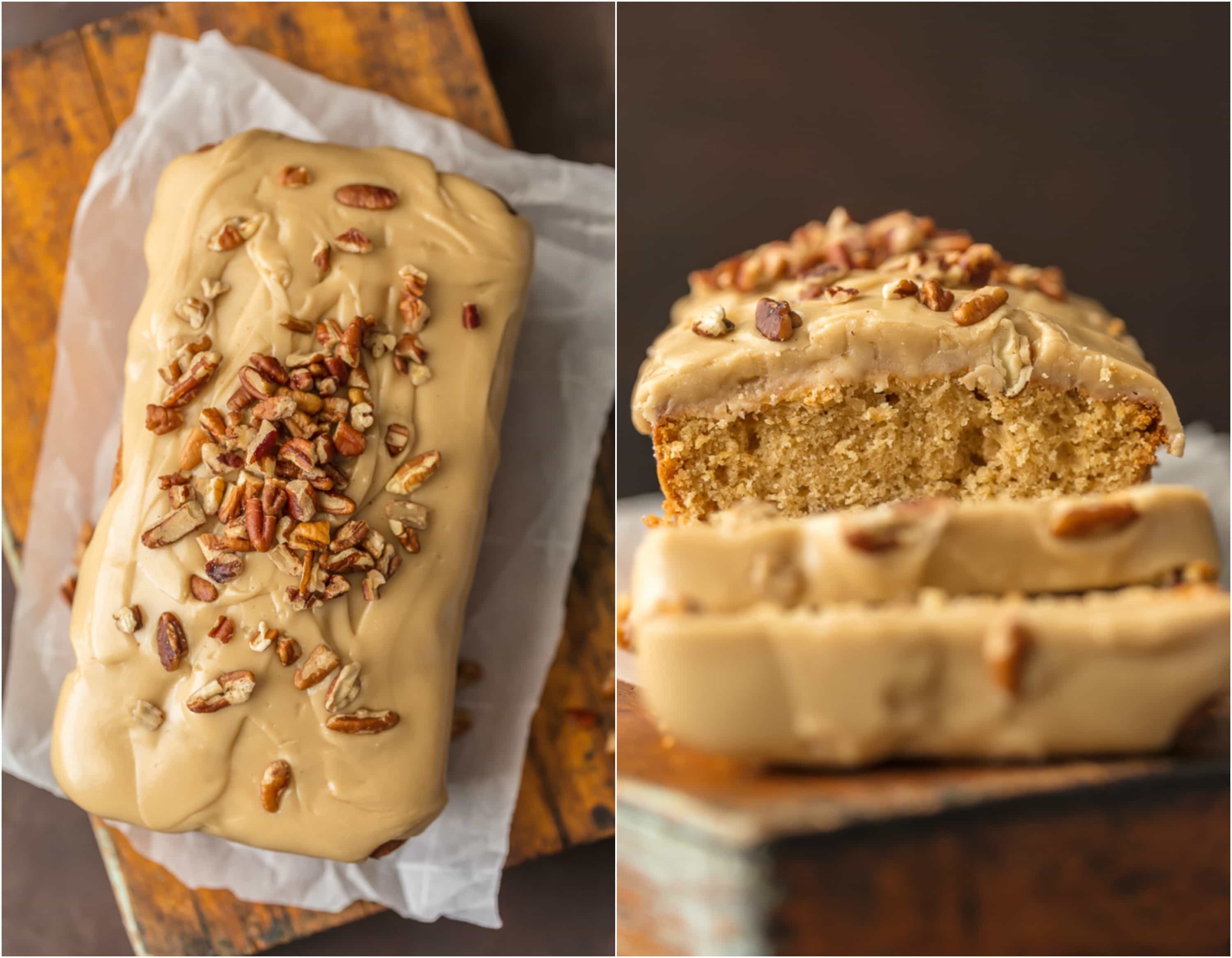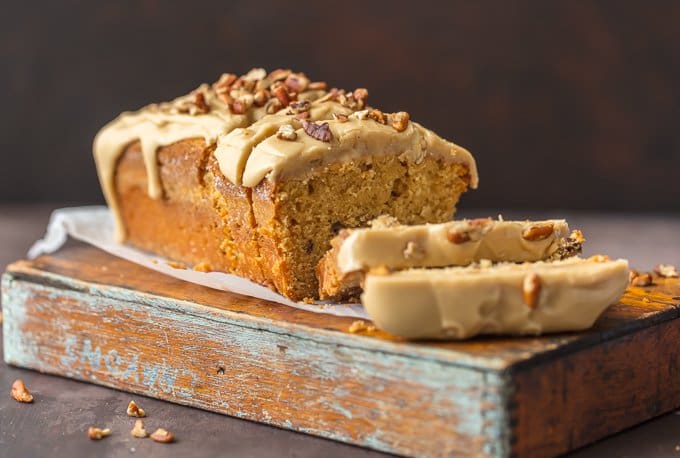 This Easy Pound Cake Recipe became a favorite last Christmas, but we have been enjoying it year-round ever since. I hope you give it a try!
More easy dessert recipes: