Holiday Sangria is the perfect Christmas cocktail! It's made with red wine, vodka, sparkling apple cider, and several juices. Better yet, this Holiday Sangria is gluten free. You'll be the star of any holiday party with this recipe. Cheers!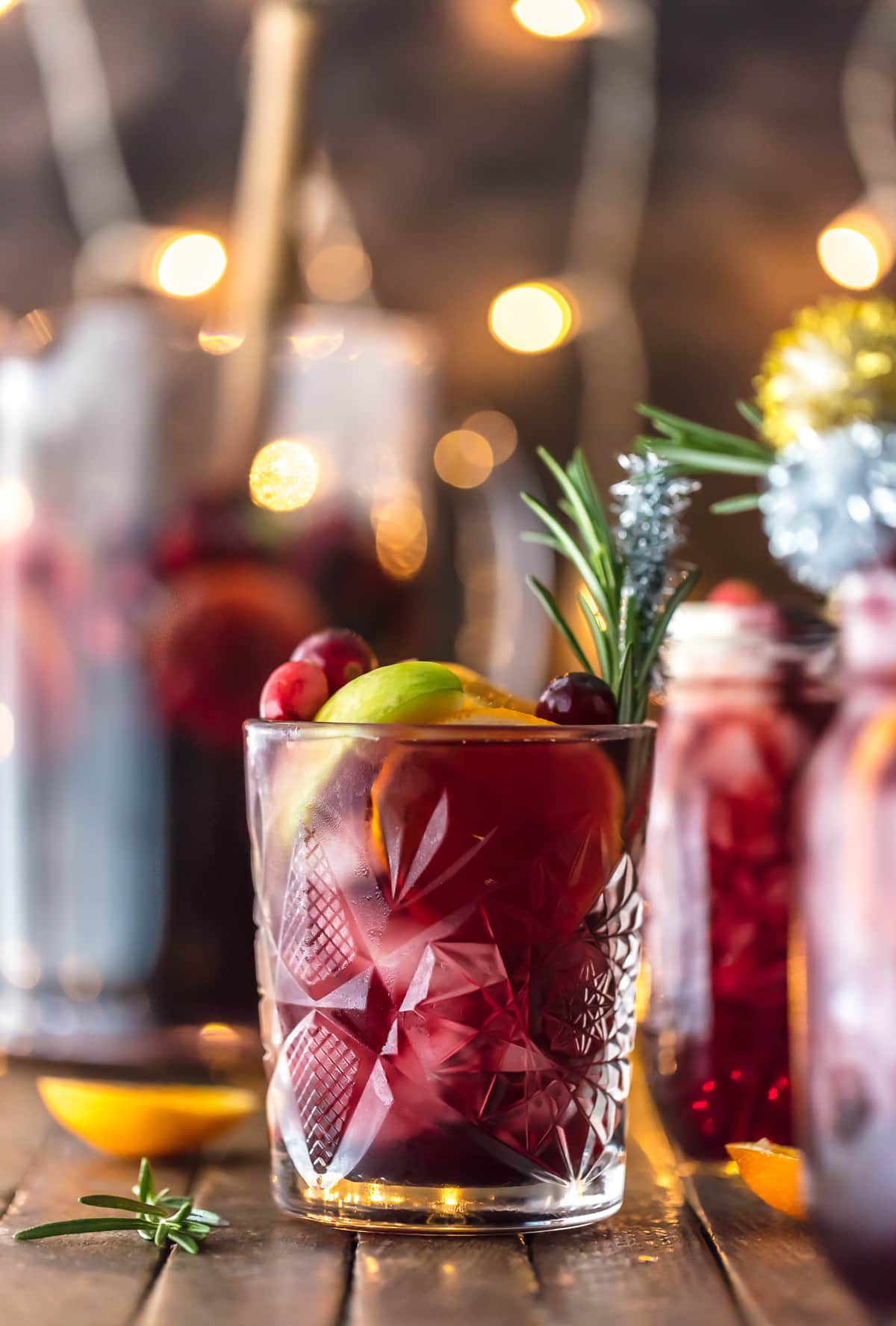 Holiday Sangria Recipe
Holiday Sangria is the ultimate easy and delicious cocktail to serve this season. This Holiday Sangria recipe is also gluten free!
It's beginning to look a lot like Christmas! That means all the holiday food, fun, and drinks! I love a fun cocktail, and this easy holiday sangria is my new favorite! You guys know I love making new sangria recipes, and I never get tired of creating new versions of this favorite drink.
This Holiday Sangria recipe is simple, full of flavor, and it has just the right amount of bubbles. It tastes just like Christmas, with notes of cinnamon and rosemary. It's made with red wine, sparkling apple cider, gluten free vodka, spiced apple cider, and cranberry juice to create the most perfect blend of flavors. It has just the right amount of spice from the apple cider to give it a warm, festive feeling.
Why You'll Love this Red Sangria Recipe:
Easy: This sangria couldn't be easier to throw together. Just stir ingredients together and serve.
Festive: The mix of flavors is perfectly festive, with cranberry juice and apple cider for both sweetness and spice.
Party Drink: This recipe makes a nice big batch, and it can easily be increased as needed. So make this your Christmas party cocktail of choice!
Serve this Holiday Sangria on Christmas, New Year's, or any time during the holiday season. It's the perfect cocktail that everyone is sure to love!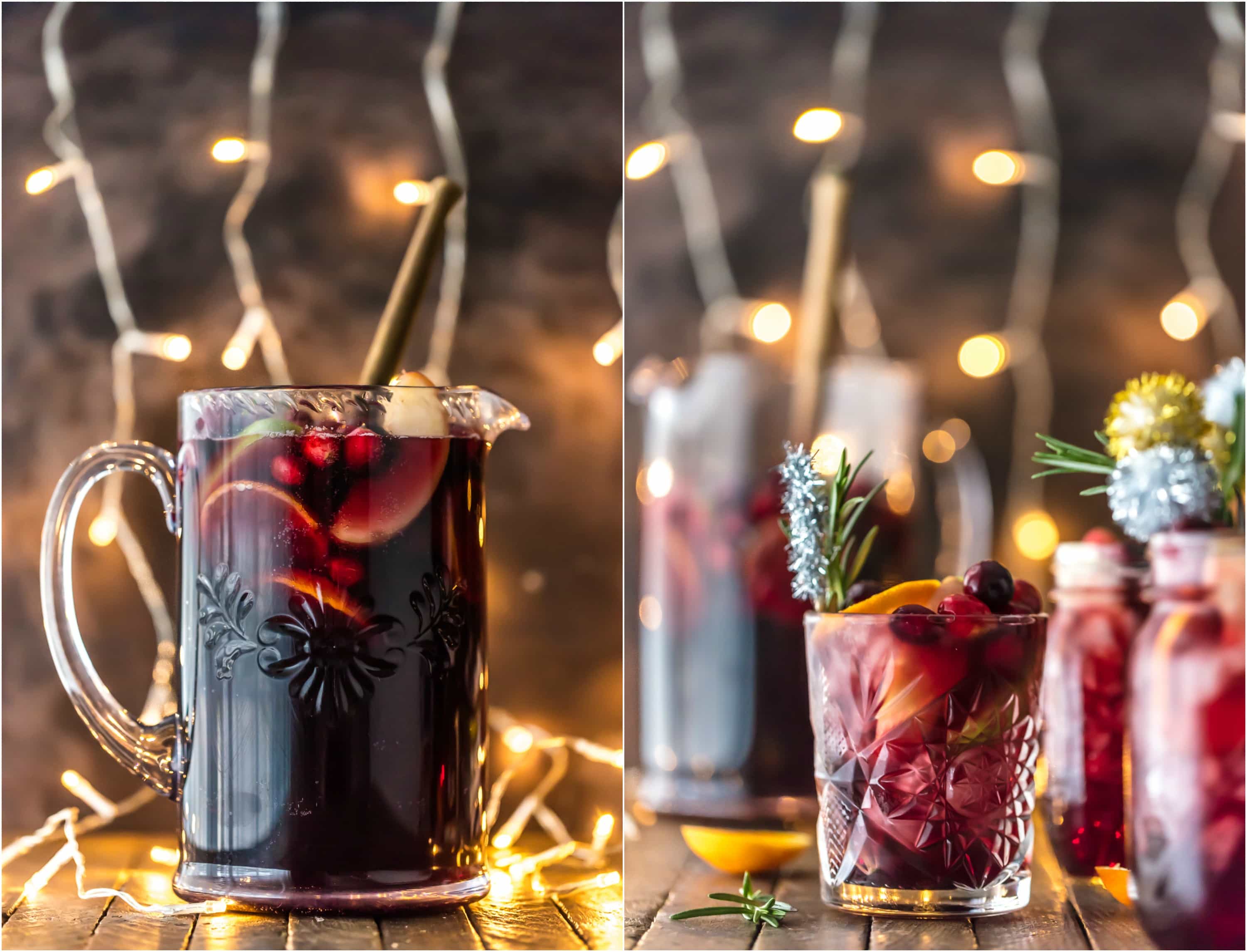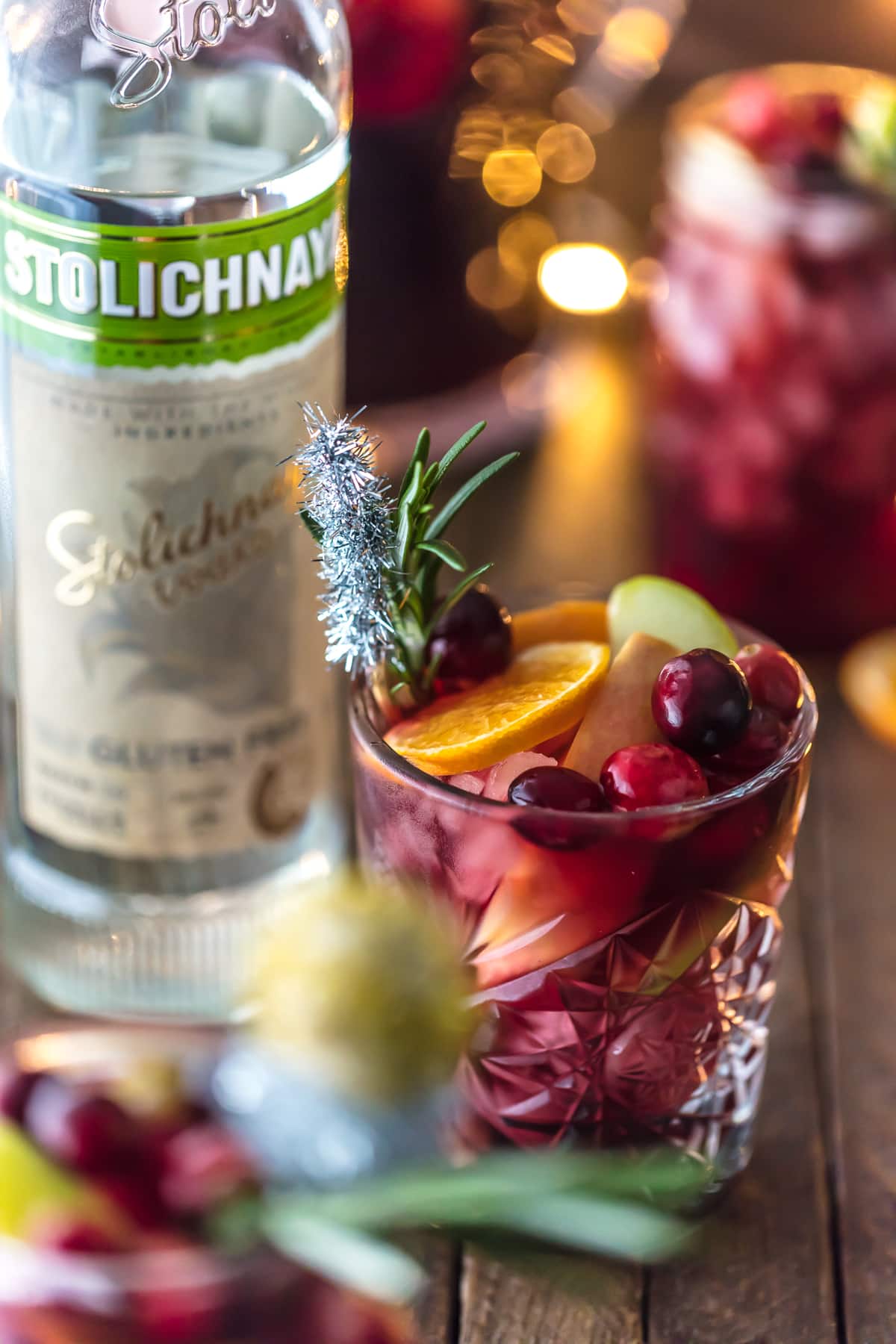 Gluten Free Sangria
What makes this easy holiday sangria even more perfect for holiday parties is that it just so happens to be gluten free! Stoli has recently launched their new Stoli Gluten Free Vodka and it's just in time for the holidays! So this year, everyone can enjoy your cute and delicious themed cocktails, even those with gluten allergies. It truly is a holiday miracle. (You can use any vodka you love best in this recipe.)
Stoli Gluten Free Vodka was the perfect mixer for this because it's such a clean and crisp vodka, and because it's gluten free! I'm just so excited about that. You better just make a double batch, because this stuff is going to go fast!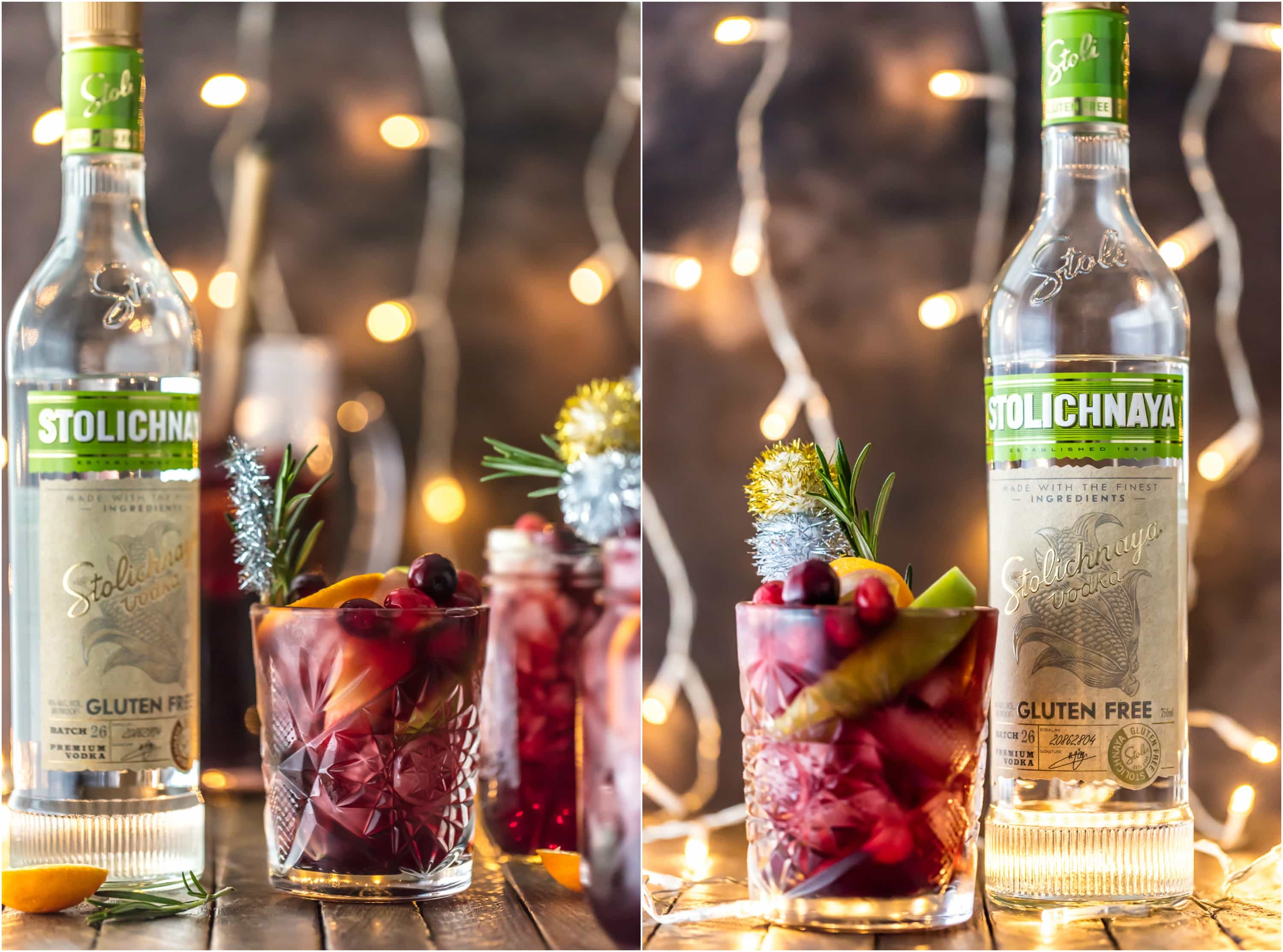 How to Make Holiday Sangria
You can jump to the recipe card for full ingredients & instructions!
This holiday sangria recipe couldn't be any easier! All you have to do is mix your ingredients in a pitcher, add in the fruit to garnish, pour over ice and serve. When a cocktail can look this pretty and taste this good with so little work, you know I'm happy.
Ingredients
What's in this Holiday Sangria recipe?
Red Wine
Sparkling Apple Cider
Spiced Apple Cider
Vodka (gluten free)
Cranberry Juice
Oranges, apples, berries, etc. (to add into the pitcher)
These flavors mix so beautifully to make the best sangria for the holiday season and beyond!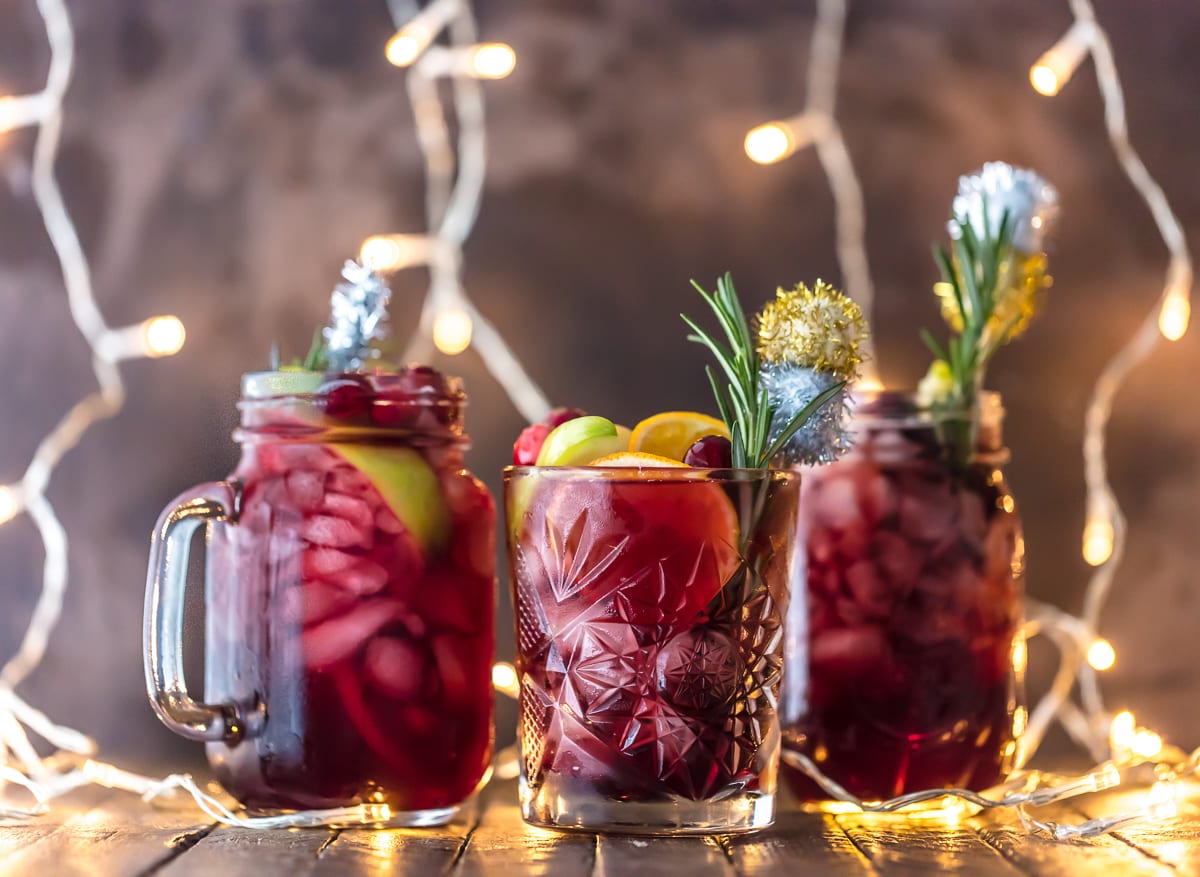 Is sangria gluten free?
Generally, yes sangria is gluten free, and this recipe definitely is!
Can I use something besides vodka?
Vodka generally works best, but you could use rum, brandy, or another liquor if you prefer.
What kind of wine is best for sangria?
I recommend using a dry red wine since the other ingredients will really sweeten things up. I used Cabernet for this recipe, but Pinot Noir or Malbec would work too.
Can I make holiday sangria ahead of time?
Yes, you can mix everything together and keep it in the fridge until ready to serve. Just give it a nice stir before serving.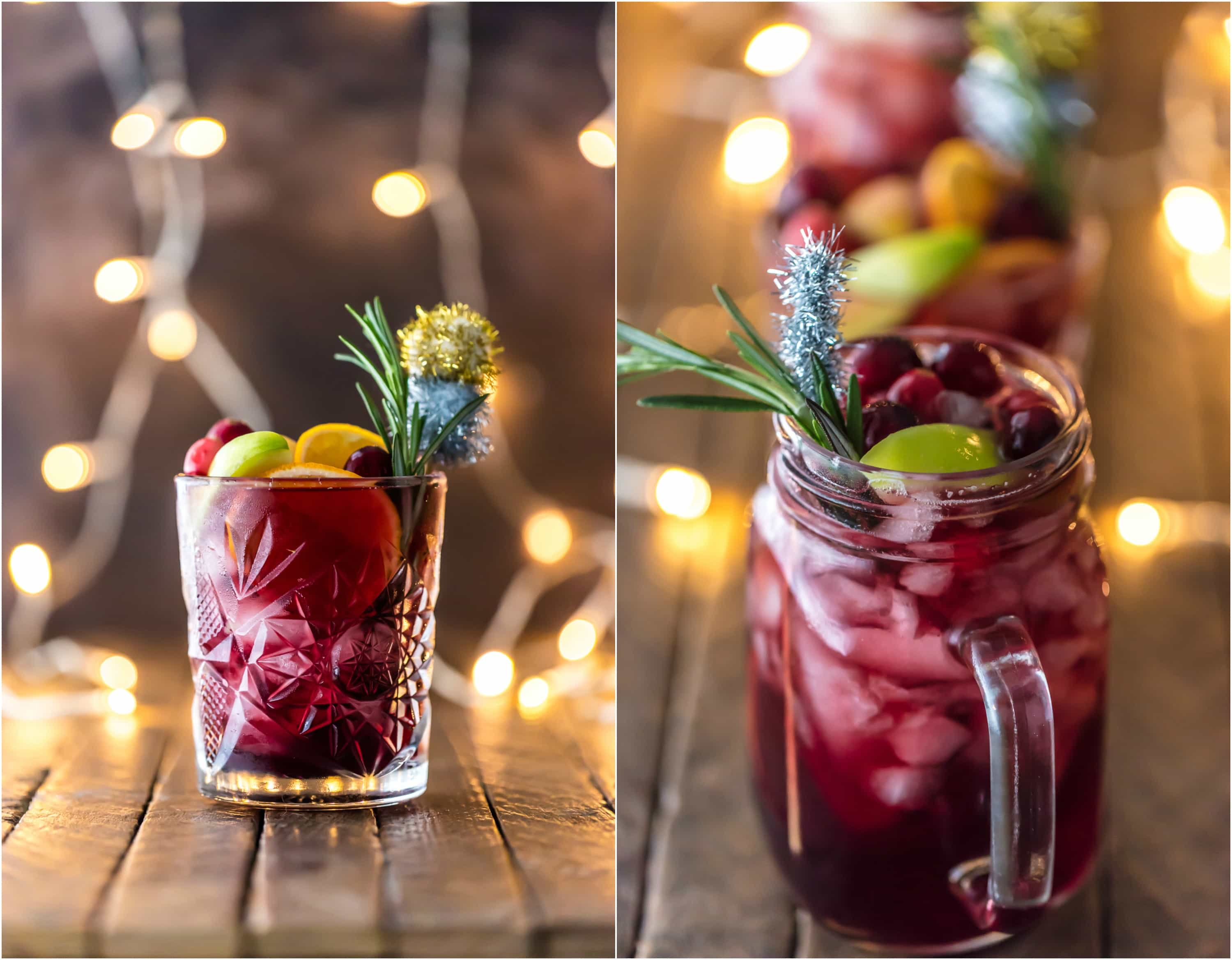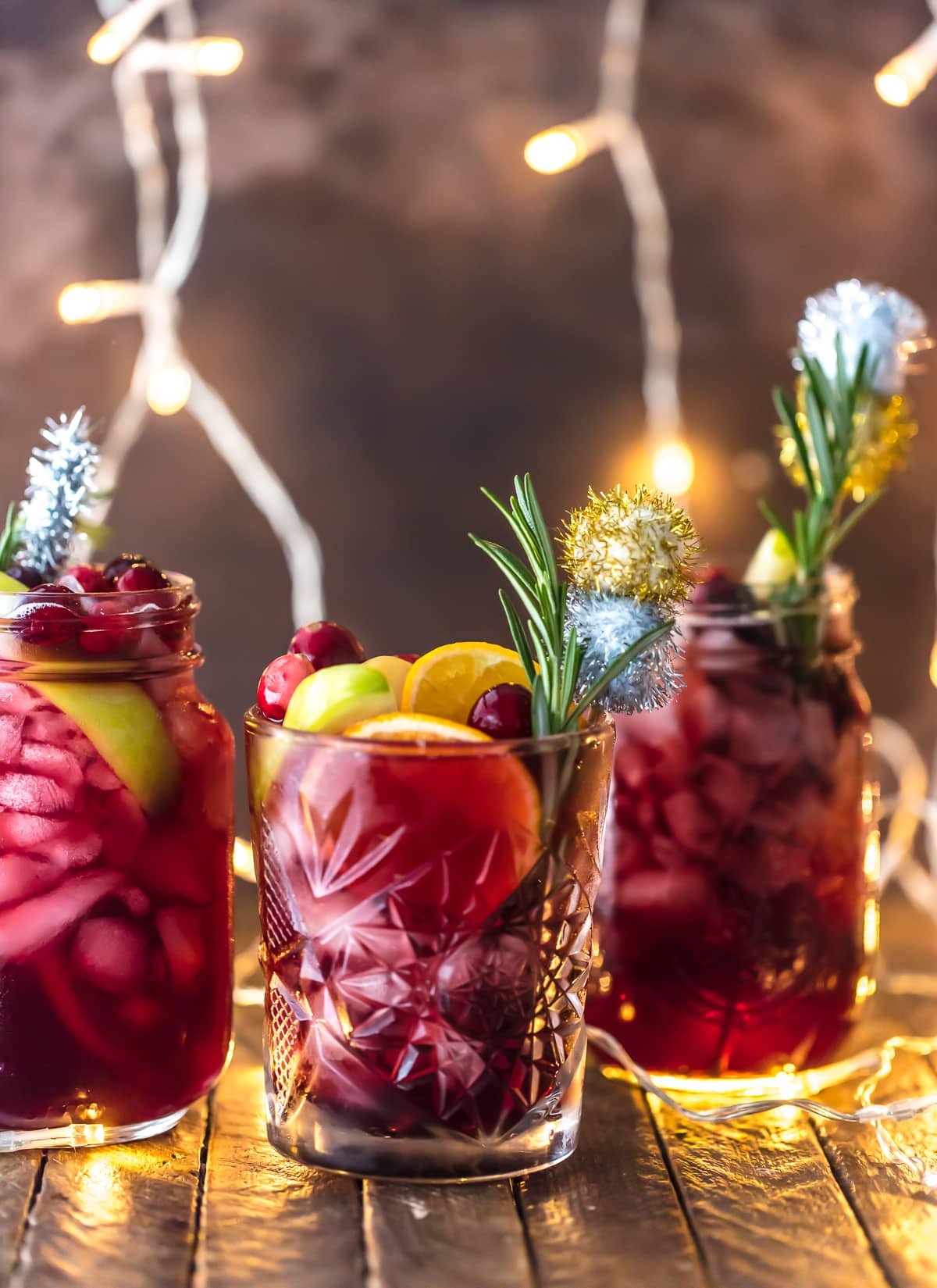 I love sangria, so of course I had to create a version that invokes the spirit of Christmas! Every holiday needs a good cocktail to serve to guests, and this holiday sangria is that perfect drink. I like to try out new holiday cocktails every year to keep things interesting, and this is the new star of the season.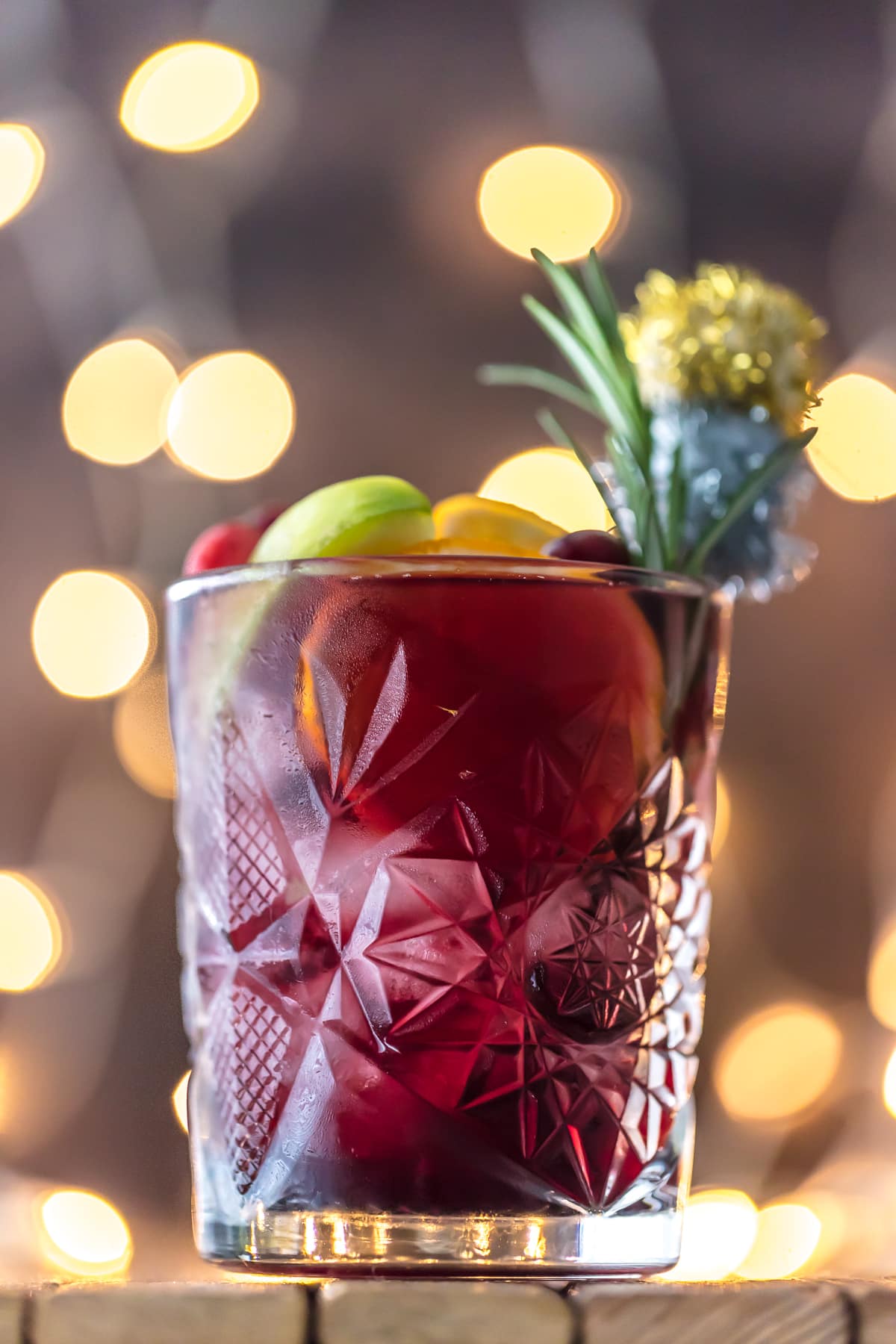 I think a fun batch cocktail like this holiday sangria is just what your holiday table needs. A little color, a little flavor, and a little fun. I hope your family loves this gluten free sangria as much as I know mine will this holiday season.
If you make this recipe be sure to upload a photo in the comment section below or leave a rating. Enjoy! You can also jump to recipe.