I have big and exciting news!! I actually baked a cheesecake. a delicious, decadent, amazing cheesecake. I even made homemade caramel, graham cracker crust, and toasted macadamia nuts. I feel empowered and ready to take on 2014!! after I eat more cheesecake… :)
a couple years ago, my parents lived in London when my dad taught there for a semester. they had the time of their lives and mom came back with tons of new recipes and favorite foods. their absolute favorite restaurant while living there was called Ottolenghi. they would walk by and see all of the beautiful desserts in the window. it was okay to stop and eat some, because they were walking everywhere and burning tons of calories!! she came back with a gorgeous cookbook called "Ottolenghi the Cookbook", and this is her favorite recipe from the book.
there are a lot of steps to this AMAZING delicacy, but they're all worth it. and each step is easy on its own. YOU CAN DO IT. have faith. if I can do it, you can do it.
true confession time: we attempted to make this cheesecake while up in Kirksville for Christmas. we made the caramel and the toasted macadamia's and even baked the cheesecake itself. scout and harper were on hand to make sure everything smelled just right. then…while transferring the cake from the tin to the counter…somehow it slid onto the floor. DISASTER. the cheesecake was crushed, as well as my heart! scout and harper thought santa hadn't forgotten them, afterall! we didn't have time to make another one, so I just brought the caramel and the macadamias back home to St. Louis to start over. no harm, no foul. :)
scout was really hoping for this one to drop on the floor as well. she wasn't so lucky.
she may not have gotten to actually sample this one, but she did agree to supervise the photoshoot. shes my right hand girl, every time.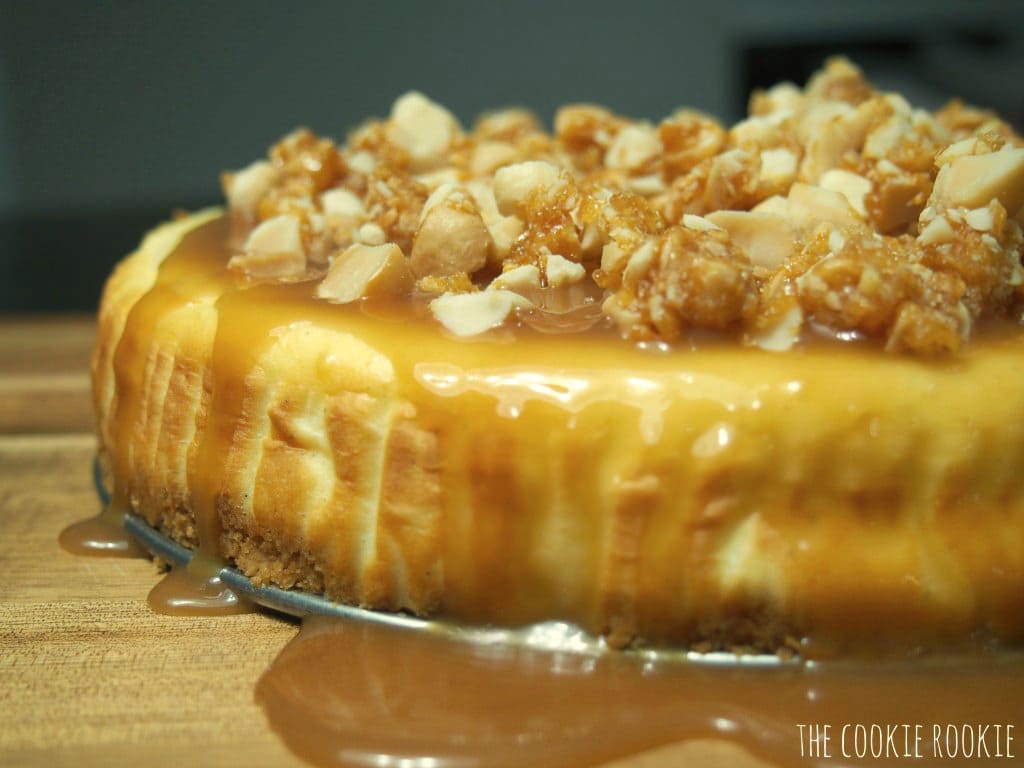 totally delicious, amazing, sinful, HOMEMADE cheesecake. from the ground up. I'm only a tiny bit proud!
I can't really believe how easy this was. as with so many recipes I'm learning along the way, I just don't know why I was so scared to try before. I wasted years of my life being too nervous that I'd fail to even try. failing is part of the process, but most recipes are not as hard as they look.
sigh. I'm in food love.
pat and our parents went in together to get me a new camera for Christmas. Lissy (the amazing photographer from our wedding and my friend from high school) came over this week to give me some pointers. I'm so excited to start taking better pictures and really learn the camera. so much fun!
I hope you feel empowered like me to try new recipes. deliciousness is right in our grasp!! 2014 is going to be a great year for food. no weddings to try to lose weight for…so I'm ready to go! ;)
what recipes have you been scared to make but finally conquered?? I would love to hear about them. thanks for stopping by!
adapted from "Ottolenghi the Cookbook" from the Ottolenghi restaurant in London.