Red Velvet Cheesecake Dessert Lasagna is THE dessert for red velvet lovers! This delicious red velvet dessert is made with layers of cheesecake, chocolate pudding, chocolate chips, and whipped cream. It's creamy and tasty, the perfect Valentine's dessert!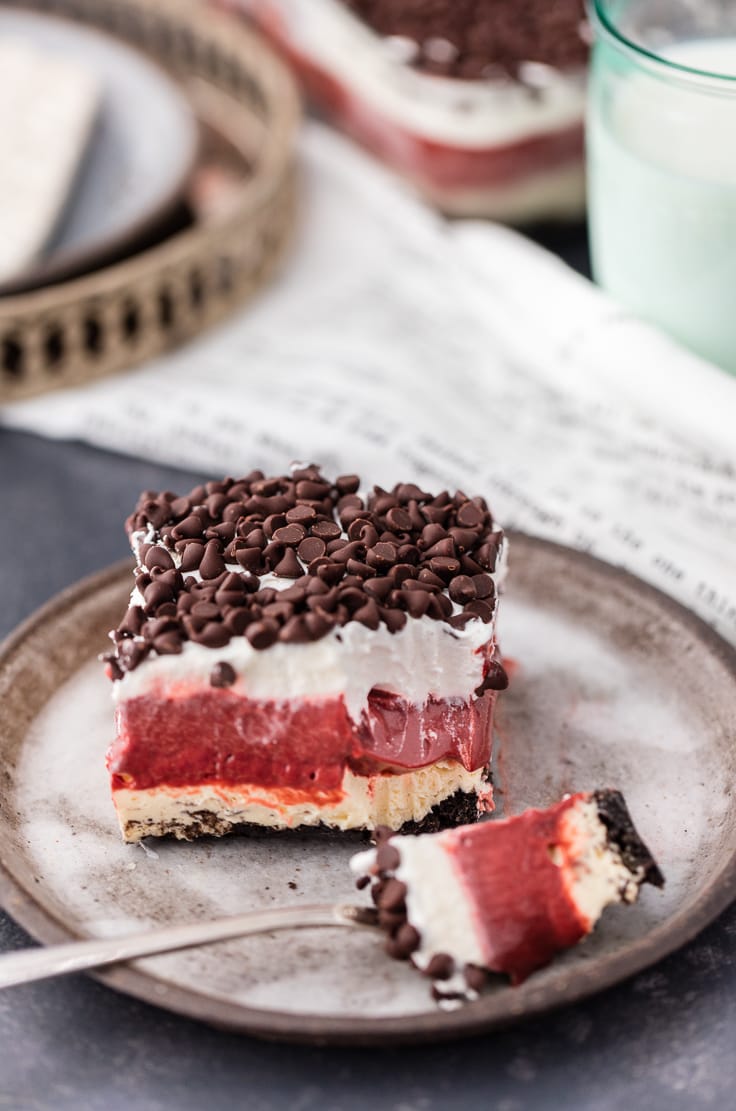 Red Velvet Cheesecake Lasagna
This Red Velvet Cheesecake Dessert Lasagna is just perfect for Valentine's Day. Your significant other will just LOVE this sweet and creamy dessert.
I've made cookies and brownies, tarts and pies, cakes and cupcakes, but I have a special place in my heart for this layered dessert lasagna. It's just like a regular lasagna, except it's sweet and sugary and creamy and…okay, well it's not lasagna but it is beautifully layered with all good things. I'm talking layers of chocolate, cheesecake, chocolate chips, Oreos, and whipped cream. Is this heaven or what?
This Red Velvet Cheesecake Dessert is soooo good and it's so easy to make too. You can just prepare it and set it in the fridge/freezer until you're ready to devour it. So no last-minute baking necessary for this decadent dessert!
Celebrate Valentine's Day with this amazing Red Velvet Cheesecake Dessert Lasagna!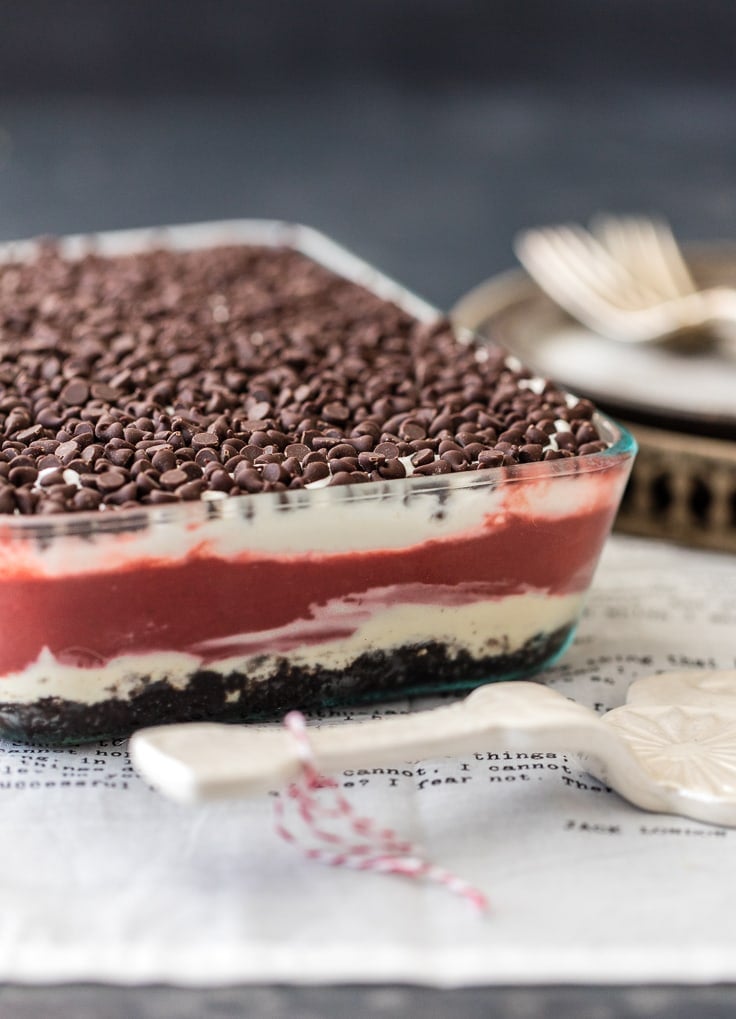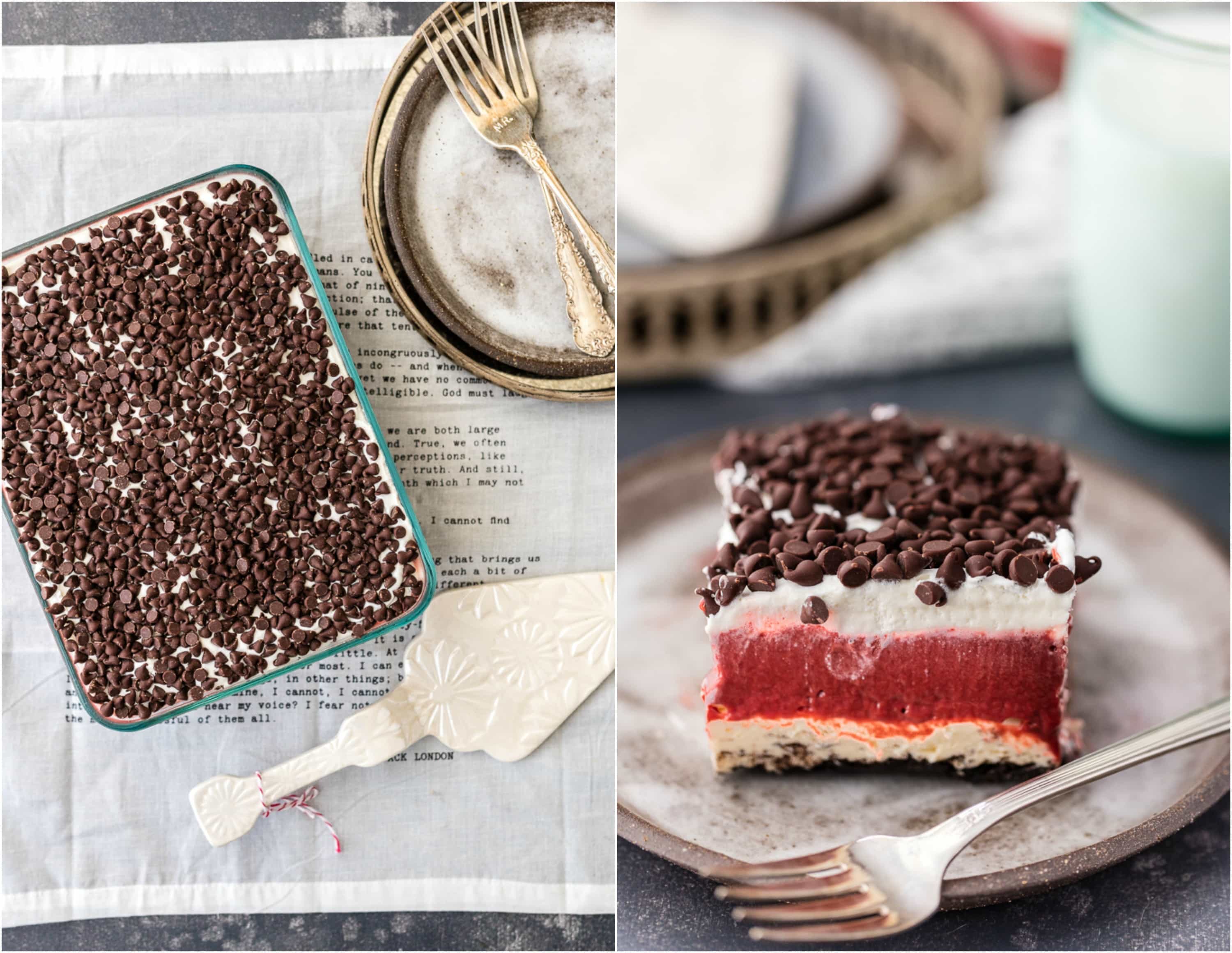 Dessert Lasagna
Dessert Lasagnas are a truly beautiful thing. They are simple desserts made from layers upon layers of the most delicious ingredients. Layers make everything taste better if you ask me!
I adapted this recipe from one my mom used to make called The Next Best Thing to Robert Redford. I have always loved that name! I made a few changes to make it "red velvet" and this Red Velvet Cheesecake Dessert Lasagna was born. I don't know if it's quite as great as Robert Redford, but it's at least the second best thing.
Here's what's in our red velvet dessert lasagna:
Oreos
Cream Cheese
Cool Whip
Chocolate Pudding
Milk
Chocolate Chips
Plus a few other basic things to turn it into the most incredible dessert!
Valentine's Desserts
Valentine's desserts are a staple of the holiday. Anything red or pink and filled with chocolate will do, but that doesn't mean I'm not going to get creative for it. This red velvet cheesecake dessert lasagna is just perfect and fits right into the holiday. Try some of our other easy Valentine's Day desserts too!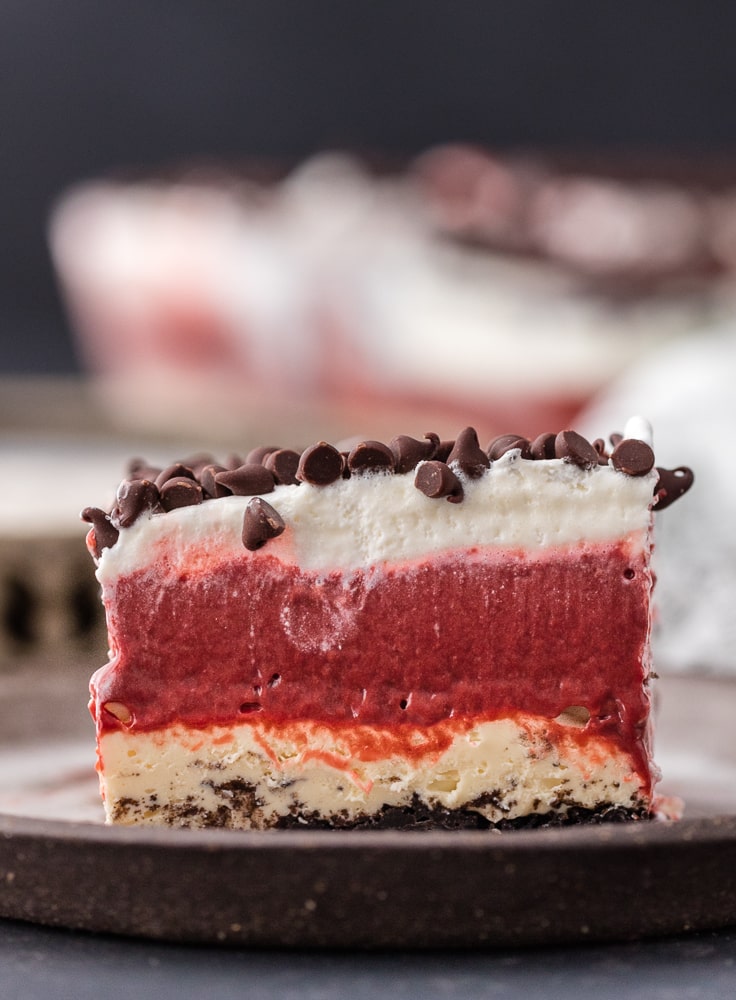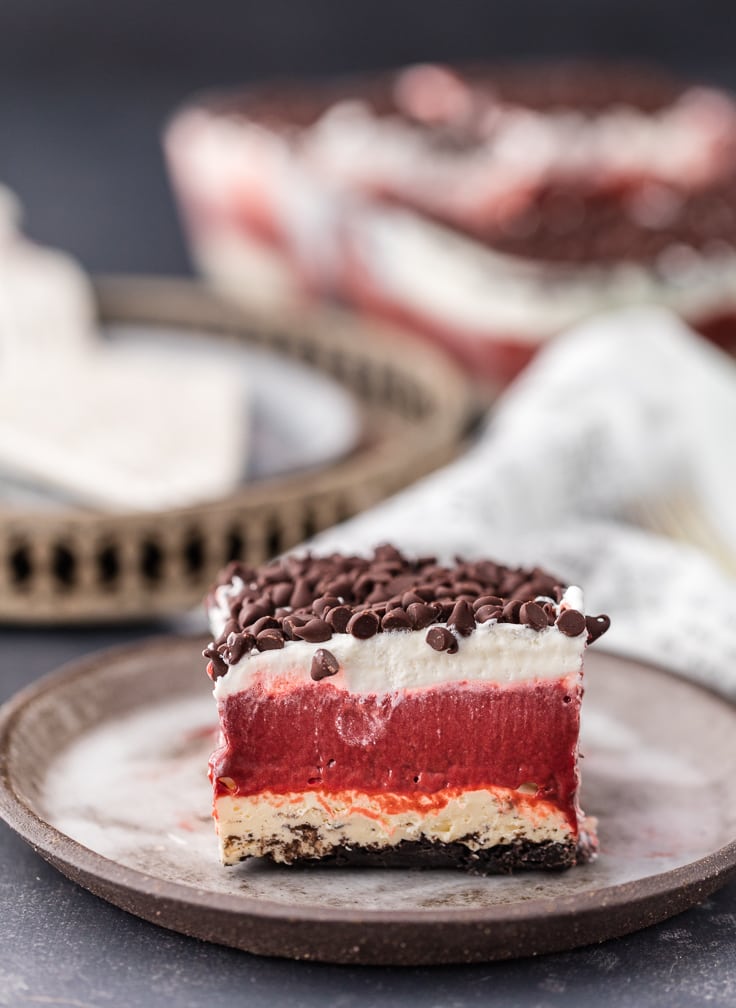 How to Make Red Velvet Cheesecake Dessert Lasagna
Oreos, cheesecake, chocolate, whipped cream, chocolate chips, OH MY! All the best things in life are in this Red Velvet Cheesecake Dessert Lasagna. It's an easy dessert recipe that is perfect for showing your love on Valentine's Day.
Start by combining the Oreos and butter in a blender to make the Oreo crust. Pour it into the bottom of your baking dish and pat it down into an even layer. Bake it for 5-8 minutes at 350°F.
In a mixing bowl, combine the cream cheese, sugar, cool whip, and lemon juice to make the cheesecake layer.
In another bowl, combine the instant pudding mix and milk to make the pudding layer. Then mix in the cream cheese and red food coloring. (You don't have to use the food coloring if you don't want/need the red color. This just adds to the "red velvet" idea.)
Once the cookie crust has baked, pour in the cheesecake layer, and then the red velvet/pudding layer.
Top with a nice thick layer of cool whip, and then sprinkle on as many chocolate chips as you like.
Let it chill in the freezer or refrigerator for at least an hour before serving.
You can just let it sit in the fridge overnight if you are making it ahead of time. This works frozen or chilled, it tastes amazing either way!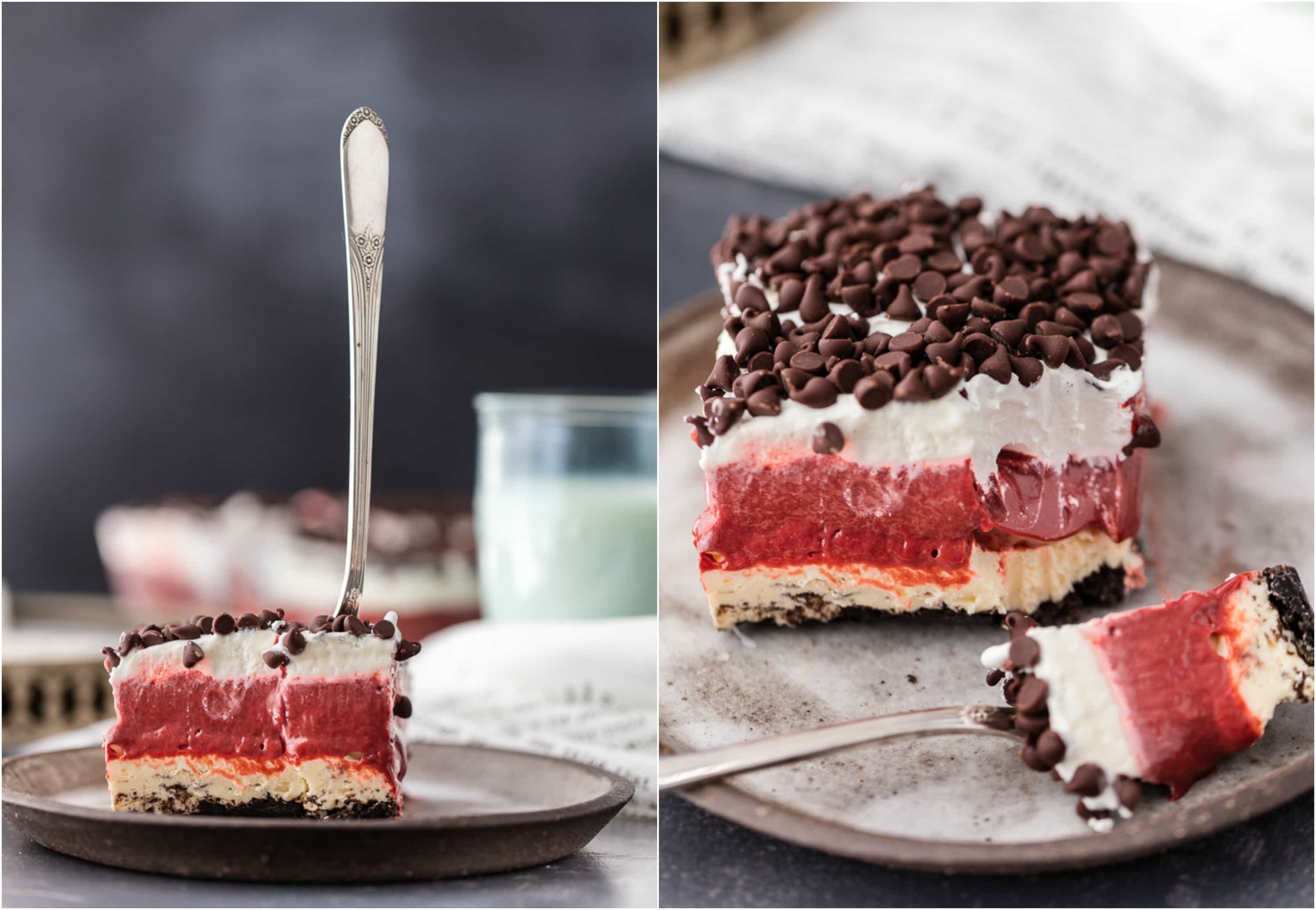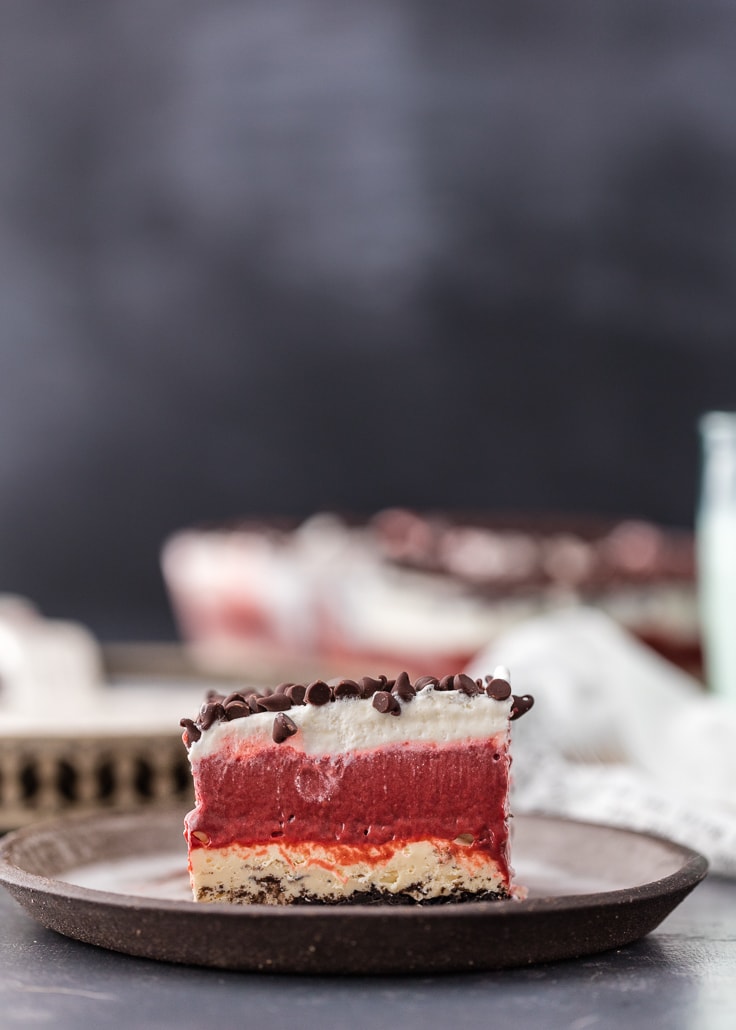 This Red Velvet Cheesecake Dessert Lasagna is the best Valentine's Day dessert recipe. Just perfect for date night at home!
See the recipe card below for details on how to make Red Velvet Cheesecake Dessert Lasagna. Enjoy!
If you like this recipe, try these other amazing desserts: