Chocolate Chip Cheesecake Bars are the perfect dessert for any time! They're delicious, fun, and easy to eat. This cheesecake bar recipe is always a hit because you get cheesecake and cookies all in one bite. Soft, creamy, chewy, and undeniably tasty!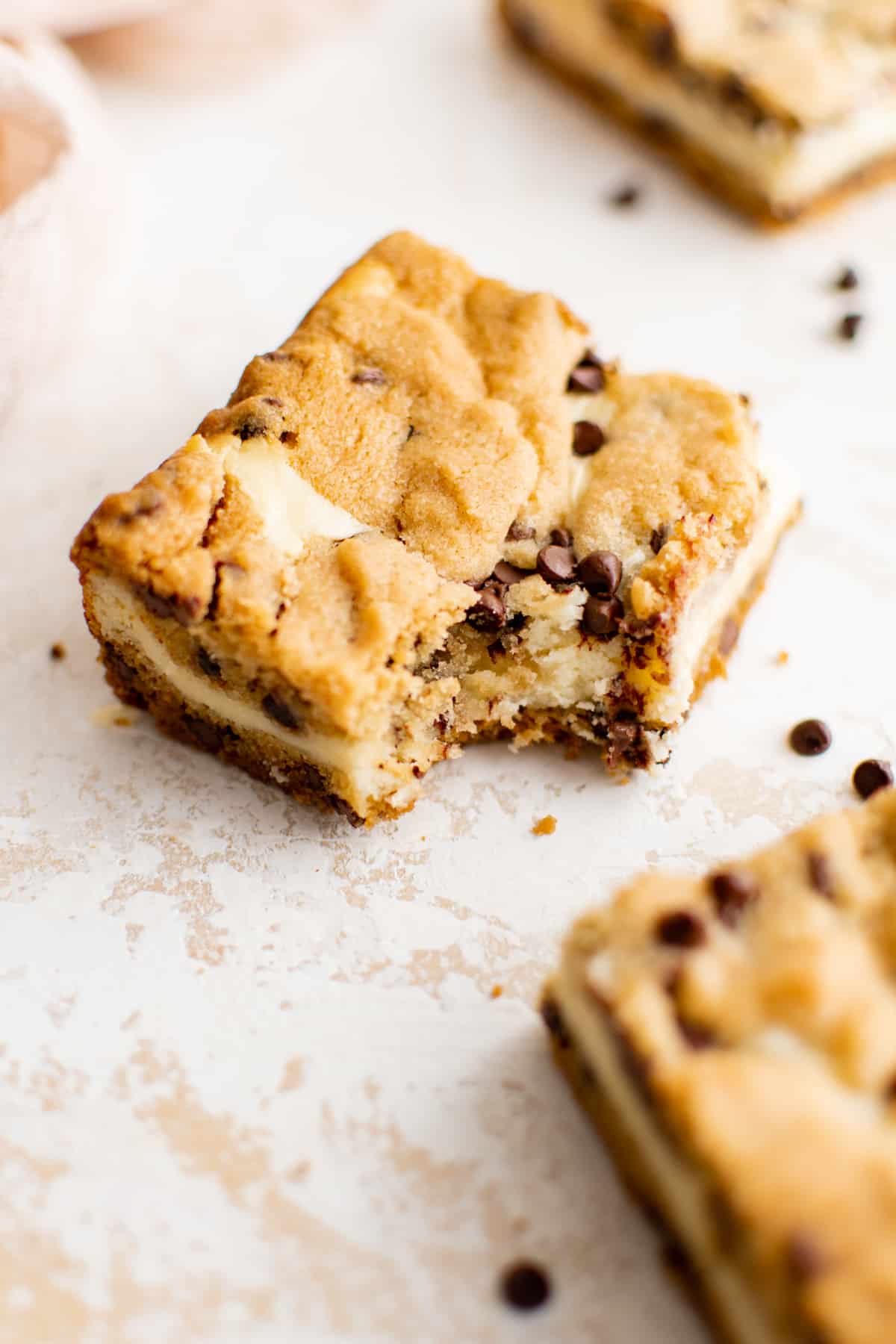 Chocolate Chip Cookie Cheesecake Bars
These chocolate chip cheesecake bars are the best of all worlds when it comes to dessert. You get a little bit of cheesecake, and a little bit of cookie, all in one easy to make recipe!
A layer of cheesecake is sandwiched between layers of fresh chocolate chip cookie, which makes for a dessert that is both creamy and chewy. When you bite into one, you get so much flavor and texture all at the same time!
This cheesecake bar recipe is just so easy to make, you'll want to make them for parties, for the kids, or just for a simple anytime sweet treat!
Why You'll Love this Cheesecake Bars Recipe:
EASY: Make everything from scratch, and it's still stress-free! These bars are so simple to make and bake in no time!
CREAMY: The creamy cheesecake layer in the middle adds the most delicious texture to these dessert bars. It's like eating chocolate chip cookies, but better!
EVERYDAY DESSERT: This is one of those desserts you can make any time, for any occasion. It's so simple, easy to eat, and easy to save for later!
Make this Chocolate Chip Cheesecake Bars recipe for the perfect after dinner dessert, or make a batch for the next party or gathering. They're great for holidays too, so whip them up for Valentine's Day treats, Easter desserts, Christmas, or any other day.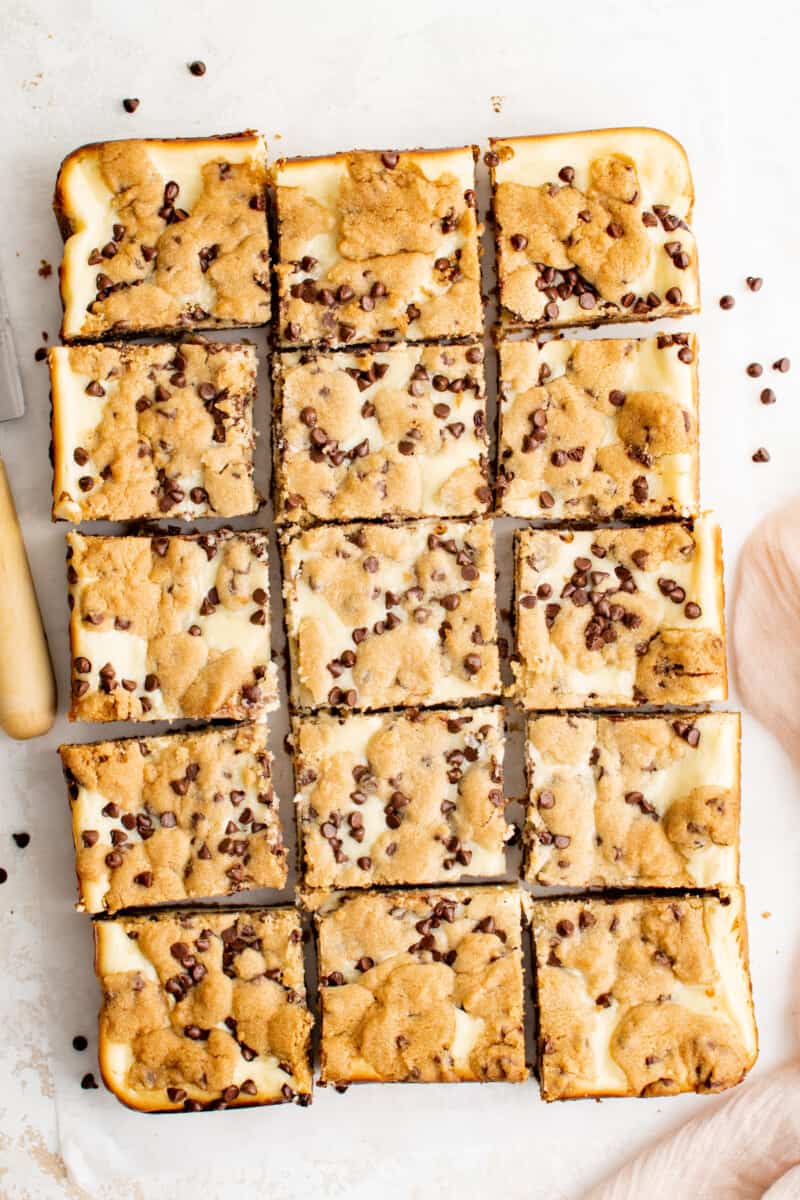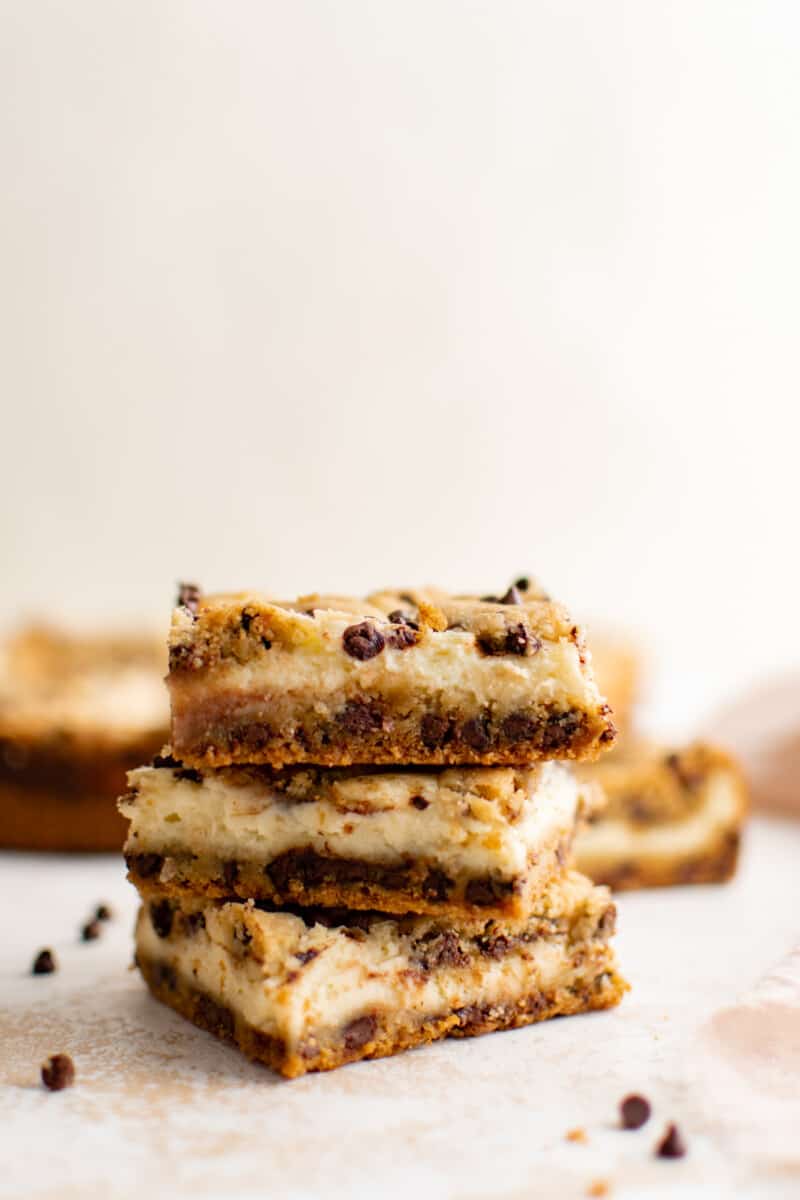 How to Make Chocolate Chip Cheesecake Bars
Be sure to see the recipe card below for full ingredients & instructions!
Cookie Dough: Combine ingredients to make the chocolate chip cookie dough in one bowl, and set aside.
Cheesecake: Combine ingredients to make the cheesecake mixture in another bowl.
Layer: Press half of the cookie dough into the bottom of the baking pan, layer in the cheesecake mixture and smooth out, then crumble the remaining cookie dough on top.
Bake: Bake until golden brown.
Serve: Let them cool before slicing and serving.
Ingredient Notes
Butter: Butter should be room temperature before using. Let it sit out about an hour before you start baking,
Sugar: You'll need granulated sugar, light brown sugar, and powdered sugar for this recipe.
Chocolate Chips: You can use whatever type you like, semi-sweet or milk chocolate. I recommend using mini chips as they're easier to mix in.
Cream Cheese: This is the base of the cheesecake layer. Make sure it's room temp before mixing.
Check the recipe card to see the full ingredients list for these chocolate chip cheesecake bars. You'll be making separate cookie and cheesecake mixtures, then layering them into one pan to bake. Easy!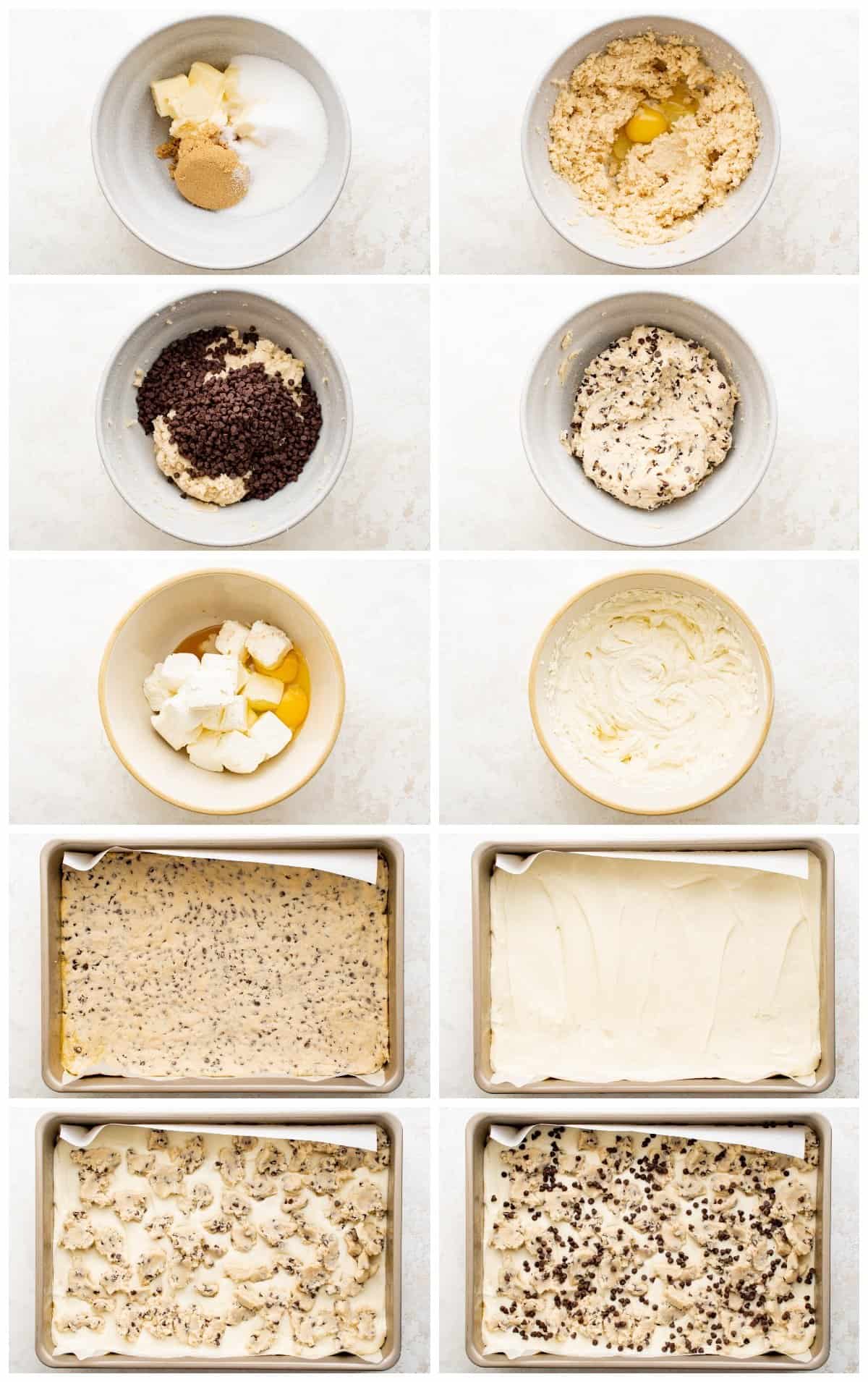 How do I make these bars gluten free?
To make these cheesecake bars gluten free, substitute 1:1 gluten free flour alternative (like Cup4Cup) in place of the all-purpose flour.
Can I use store-bought cookie dough?
You can! Skip steps 2-5 and continue the recipe as written. If using frozen cookie dough, make sure it is thawed before using in the recipe.
Can I add other mix-ins to these bars?
Absolutely! Keep total add-ins to 1 ½ cups. Instead of mini chocolate chips, try any combination of chocolate chips, sprinkles, toffee pieces, or chopped nuts.
Do cheesecake bars need to be refrigerated?
Yes, they should be stored in the refrigerator once they have fully cooled.
Soft, chewy chocolate chip cookies and creamy cheesecake are a match made in heaven! There's nothing better than the combination of these two desserts in one bar. So yummy!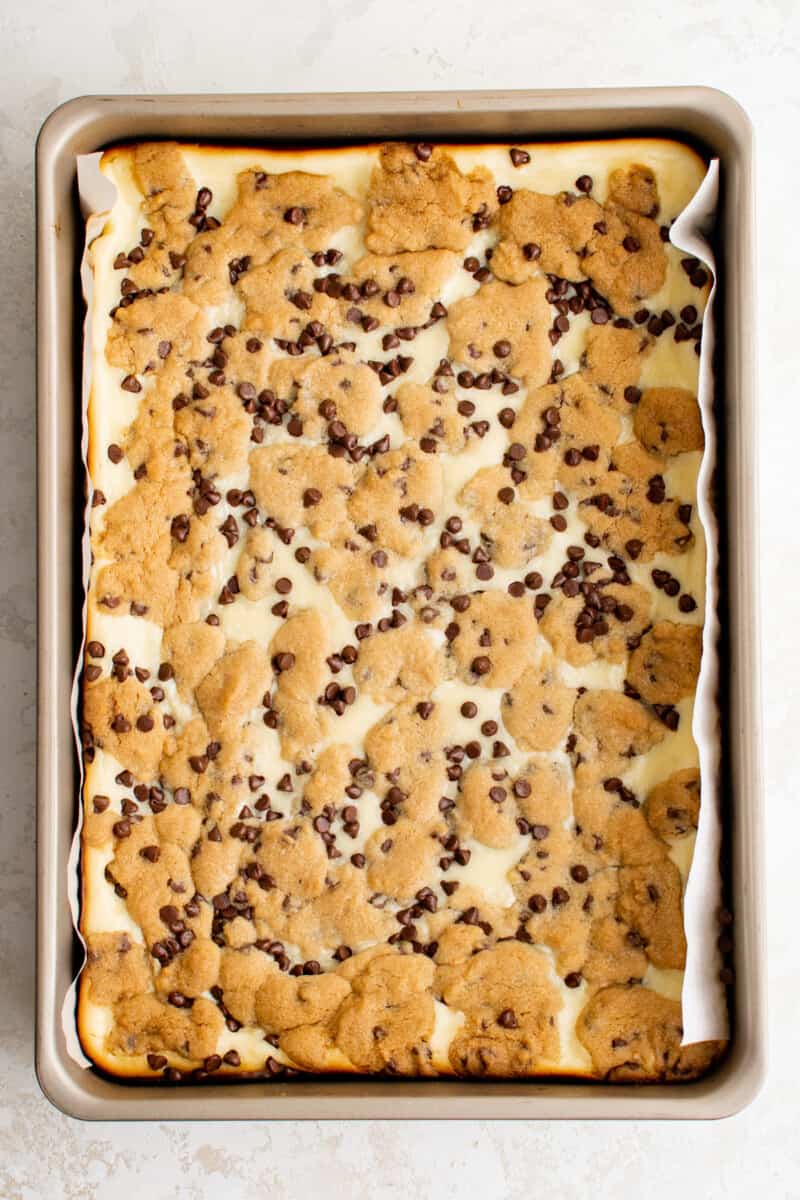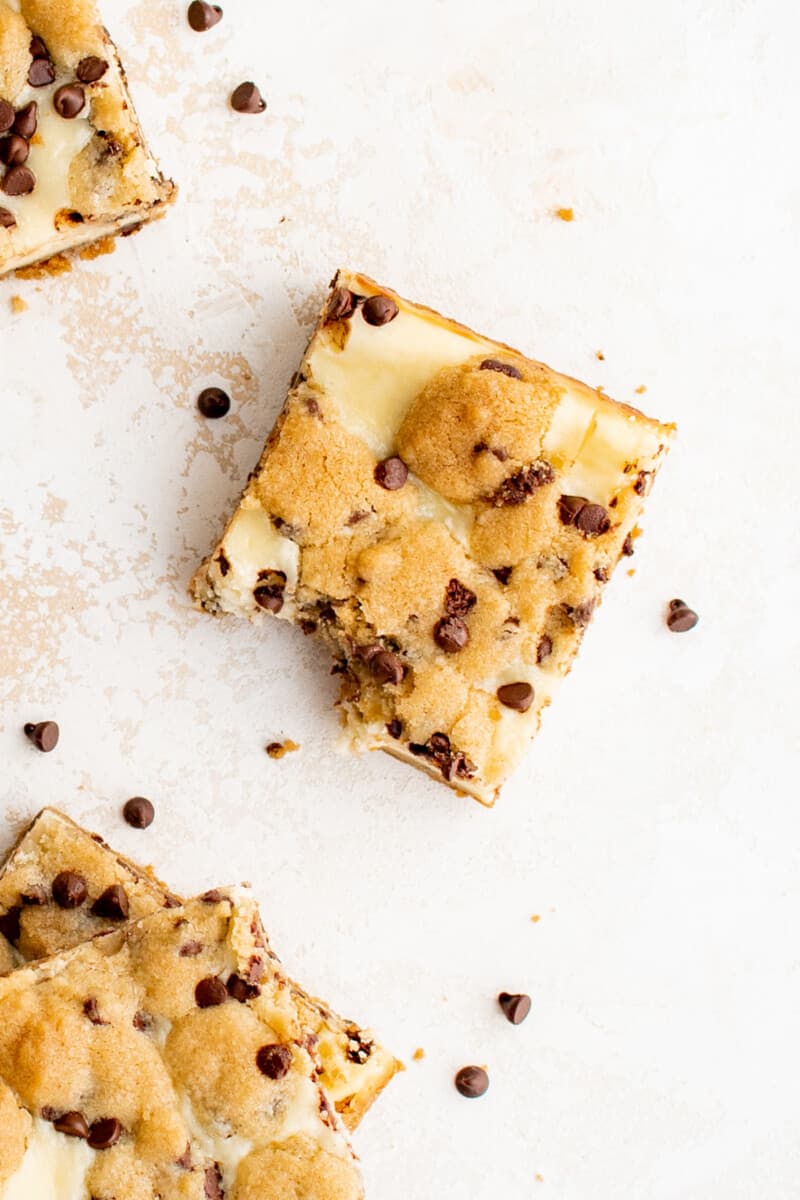 Tips!
Be sure to fully preheat the oven before baking for best results.
Set the butter and cream cheese out on the counter for about an hour before you begin mixing, so they're slightly softened.
Place a sheet of parchment paper in the bottom of the pan before layering in the dough. This will make it easier to remove the bars after baking.
Let the chocolate chip cheesecake bars cool for at least 1 hour after baking before slicing and serving. This will help them set so they're easier to slice and eat.
How can you tell when cheesecake bars are done baking?
These chocolate chip cookie cheesecake bars are done baking when they are lightly golden brown and the center is set. To test if the center is set, using an oven mitt, gently jiggle the tray. If the center moves a lot, the bars need more time. If the center wobbles, but is mostly set, the bars are done. They'll continue to set as they cool.
Can you freeze chocolate chip cheesecake bars?
Yes, this cheesecake bars recipe can be frozen. Wrap individual bars in plastic wrap, then store all in a freezer safe container. When you're ready to eat them, removed the plastic wrap and let them thaw in the refrigerator. They should keep in the freezer for up to a month.
More Cheesecake Bar Recipes We Love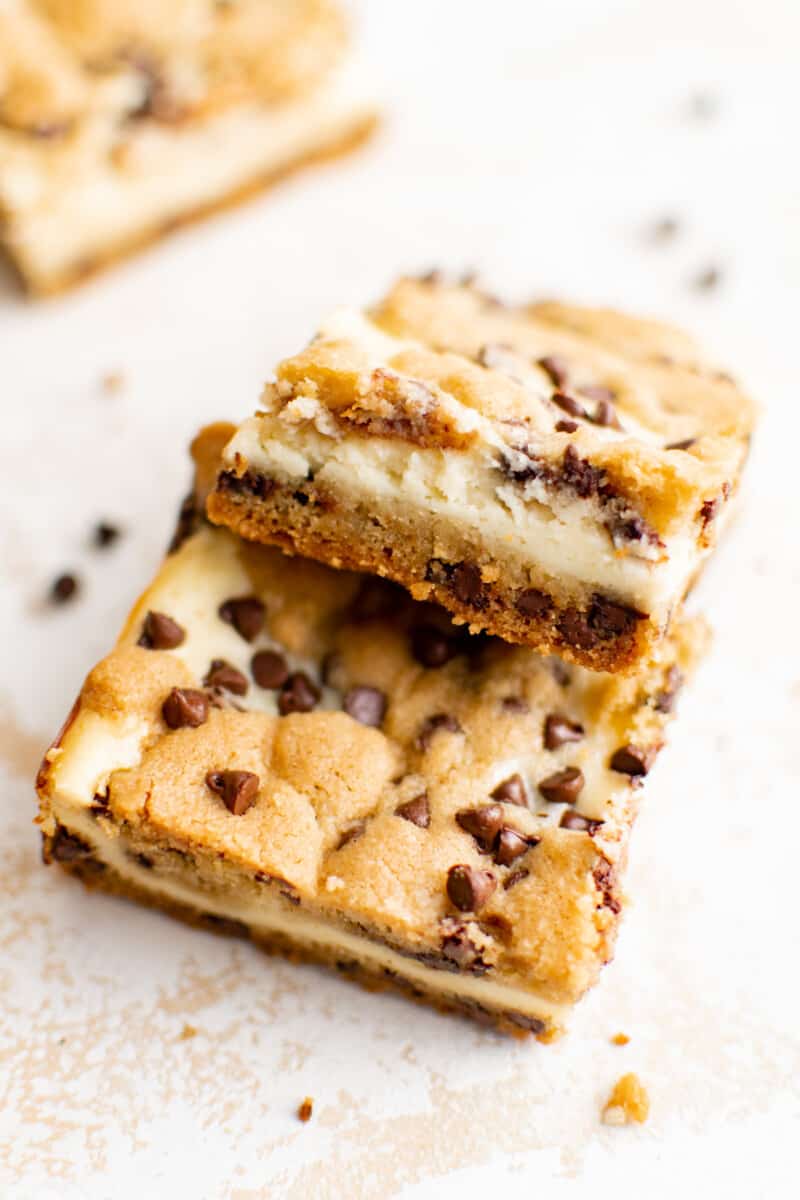 These Chocolate Chip Cheesecake Bars are an absolute favorite for so many reasons. You'll love how creamy, chewy, and easy they are. Make them any time you're craving something sweet!
If you make this recipe be sure to upload a photo in the comment section below or leave a rating. Enjoy!