Chocolate Chip Cheesecake Bars are a chocolaty, creamy dessert dream! Delicious cheesecake filling sandwiched between layers of fresh peanut butter chocolate chip cookies. If that doesn't make you drool, I don't know what will! This easy cheesecake bars recipe is perfect for game day, parties, or a simple after dinner dessert.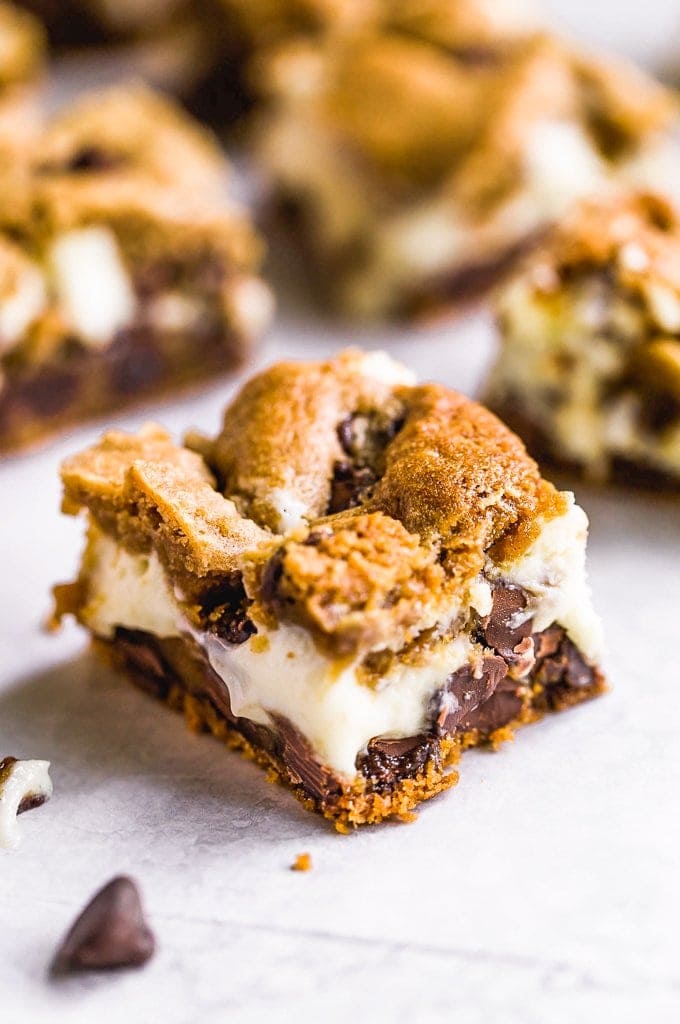 Chocolate Chip Cheesecake Bars
Chocolate Chip Cheesecake Bars are the ultimate dessert! You've got fresh peanut butter chocolate chip cookie dough layered into a baking dish with a cheesecake filling, all baked together into tasty little dessert bars. They're so creamy, so chocolaty, so delicious!
This is the kind of dessert I love to eat while watching football. I am a HUGE Mizzou fan. Growing up, my dad took me and my brother to every football and basketball game we could drive down for. Some of my best memories growing up are at those games! Now I watch at home every chance I get, and I always need a tasty snack to comfort me through the ups and downs of the game.
These cheesecake bars are perfect for game day, for all kinds of parties, and even just for an after dinner treat. Make a batch of these and snack on them throughout the week. They're so easy to make and they really are one of the tastiest desserts. So much love for this recipe!
Make this Chocolate Chip Cheesecake Bars recipe for the perfect after dinner dessert, or serve them at your next party!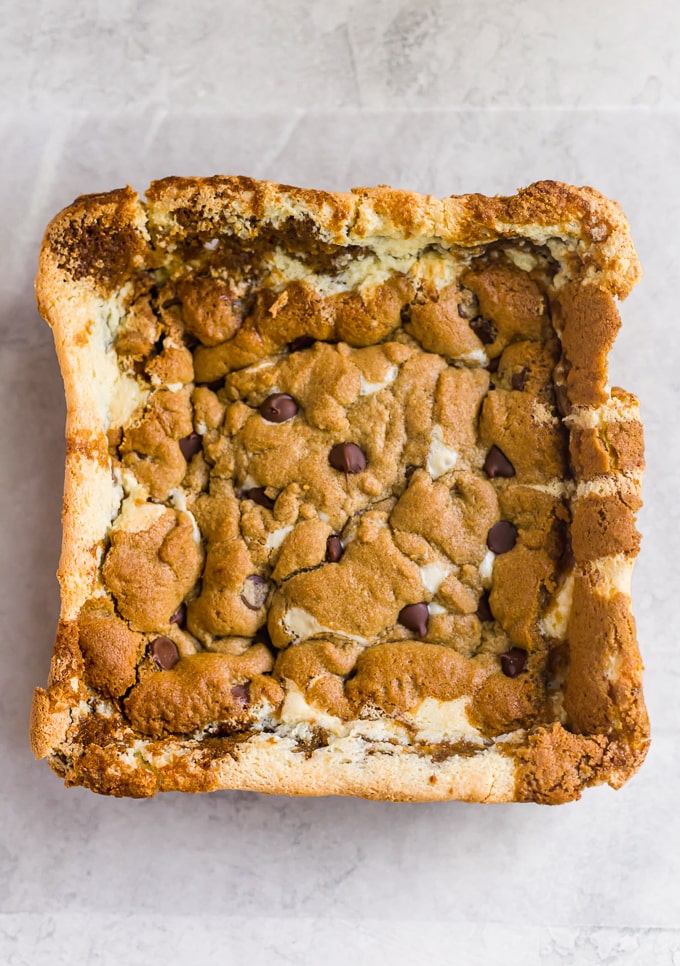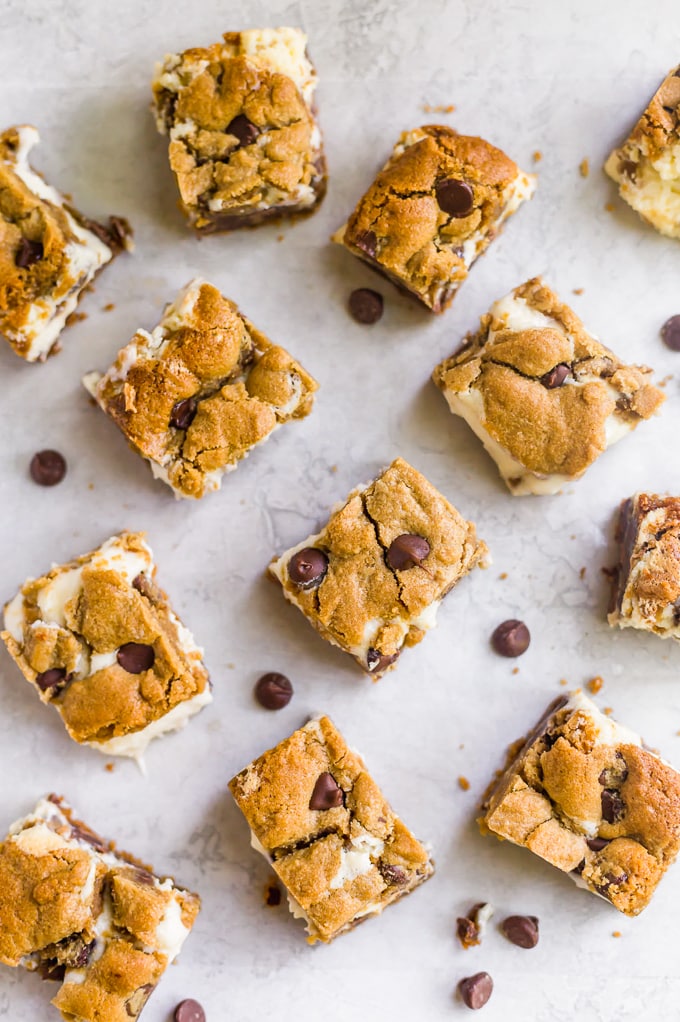 Easy Cheesecake Bars Recipe
Another easy dessert recipe is here to save the day! Whether you're preparing dessert for game day, for a party, or just for after dinner, this chocolate chip cheesecake bars recipe is the way to go. You've got the creamy, cheesecake & marshmallow mixture sandwich between the fresh layers of peanut butter chocolate chip cookie…yum!
I love easy these are to eat while watching the game on TV, and everyone else will devour them too. So make a second batch just to be safe! This is the kind of sweet, chocolaty, creamy comfort food I need when my team isn't doing so well. These cheesecake bars always perk me up, no matter the score!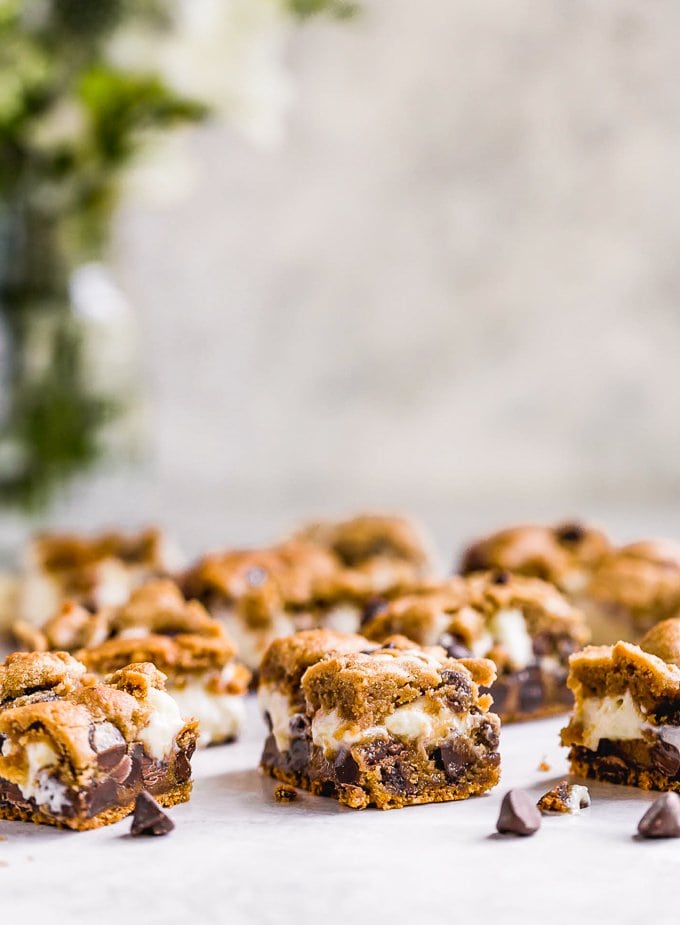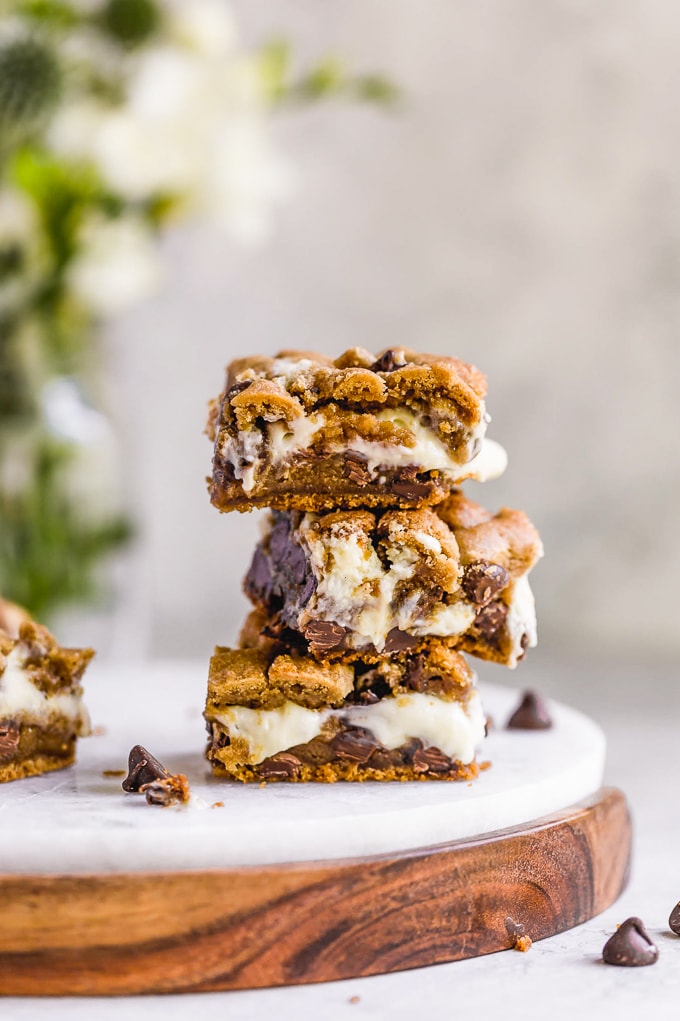 How to Make Cheesecake Bars
This cheesecake bars recipe is easy to make in a flash for those sudden sweet tooth cravings. It's so nice having a batch of these in the kitchen to snack on throughout the week…or just to eat all in one sitting while watching football…Either way, these are seriously delicious!
There are really only 3 main steps to this easy dessert recipe, so I promise it's not complicated. Mix the cookie dough batter, make the cheesecake filling, then layer it all up and bake! What could be simpler?
How to make Chocolate Chip Cheesecake Bars:
Cream together butter, sugars, & peanut butter, then add in the egg
In another bowl, mix together flour, baking soda, & salt
Mix flour mixture into butter mixture and combine well, then stir in chocolate chips
To make the cheesecake filling, mix together cream cheese, egg, sugar, marshmallow cream, & vanilla
Spread half the cookie dough into the bottom of the baking dish, spread cheesecake filling over it, then roll out the other half of the cookie dough & lay it on top
Cover with foil & bake for 20 minutes at 325°F, then remove foil and bake another 25 minutes uncovered
These chocolate chip cheesecake bars come out with a nice crunchy cookie layer and a creamy cheesecake filling. I love the way the cookie sinks into the cheesecake as you bite into it…SO YUMMY!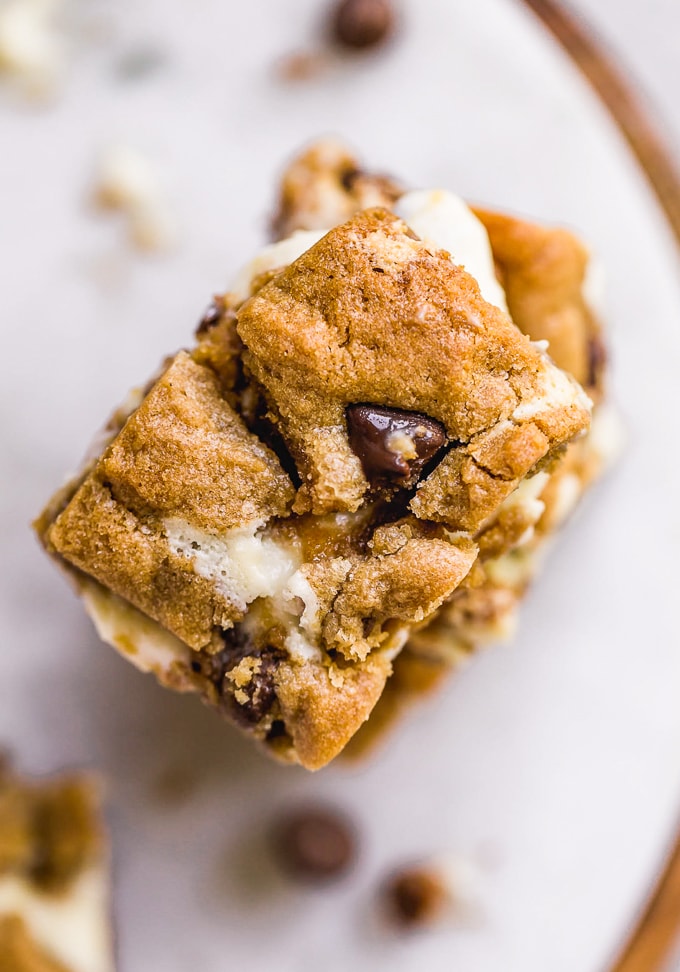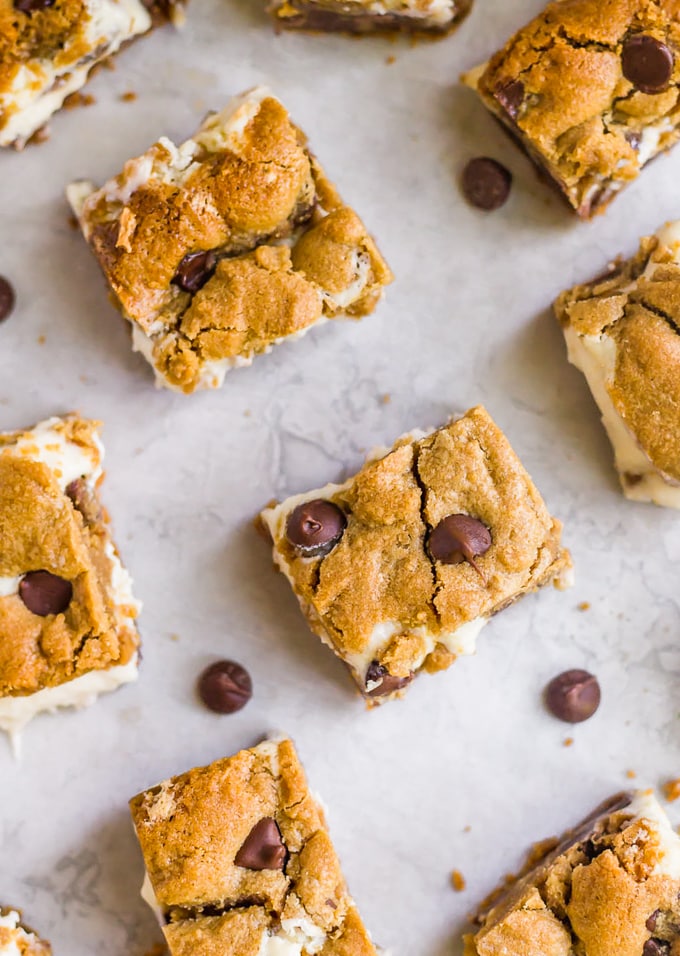 Can you freeze cheesecake bars?
Yes, this cheesecake bars recipe can be frozen. Wrap individual bars in plastic wrap, then store all in a freezer safe container. When you're ready to eat them, removed the plastic wrap and let them thaw in the refrigerator. They should keep in the freezer for up to a month.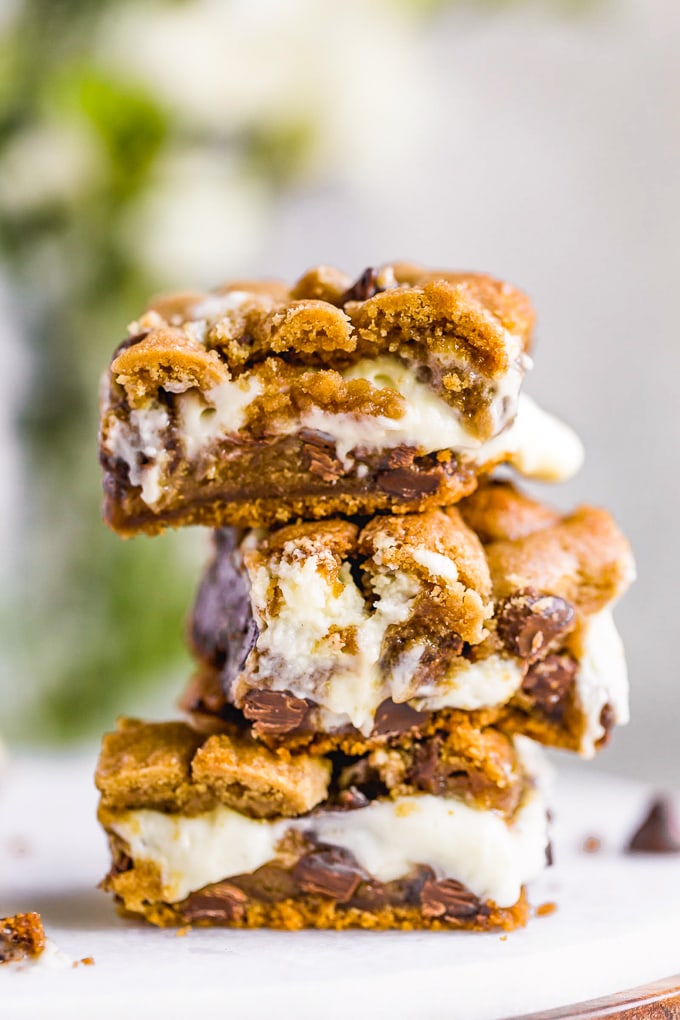 These Chocolate Chip Cheesecake Bars go way beyond my wildest dessert dreams, filled with chocolate, peanut butter, marshmallow, cream cheese…basically every amazing ingredient in one easy dessert recipe. They are so good and I know you'll love them too!
See the recipe card below for details on how to make Chocolate Chip Cheesecake Bars. Enjoy!
If you like this cheesecake bars recipe, you'll love these other dessert recipes too: