Mini Cheesecake Bites are the perfect dessert for parties, or any occasion when you need to serve a lot of people. This Oreo Nutella Cheesecake flavor is so creamy, delicious, and addicting. Good luck eating only one (since they're mini, you can definitely get away with eating two)!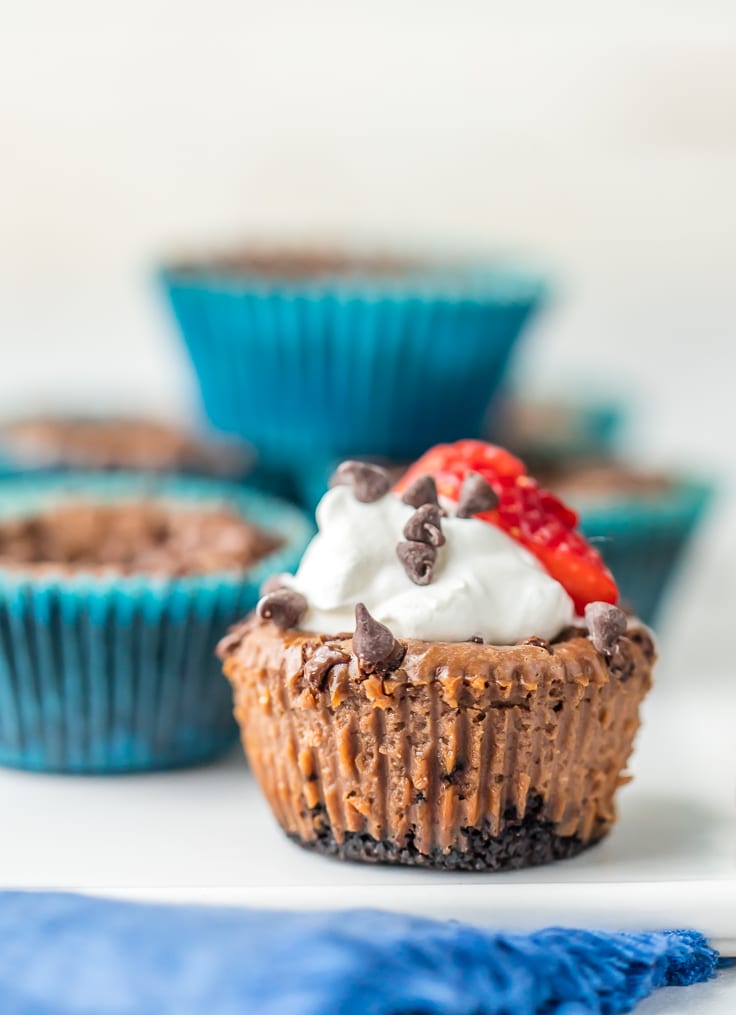 Mini Cheesecake Bites
These mini Nutella cheesecakes are the PERFECT dessert for parties. It makes it easy to portion them off into individual sizes for each guest, and make sure you have plenty!
Cheesecake is one of the best desserts on the planet. Nutella is the perfect flavor combination of chocolate and hazelnut. Blend the two delicious entities together and you have something truly special: NUTELLA CHEESECAKE!
To make it even better we added in an Oreo crust, plus we turned them into mini cheesecake bites, so it's easy to make, portion, and share (although you're going to want to keep them all to yourself).
These incredibly easy, pop-able sweet treats are always in high demand, and for good reason. They're fool-proof, smooth, creamy, and just perfect for celebrating any day of the year!
Nutella plus Oreo plus cheesecake equals the most delicious little bite-sized dessert ever!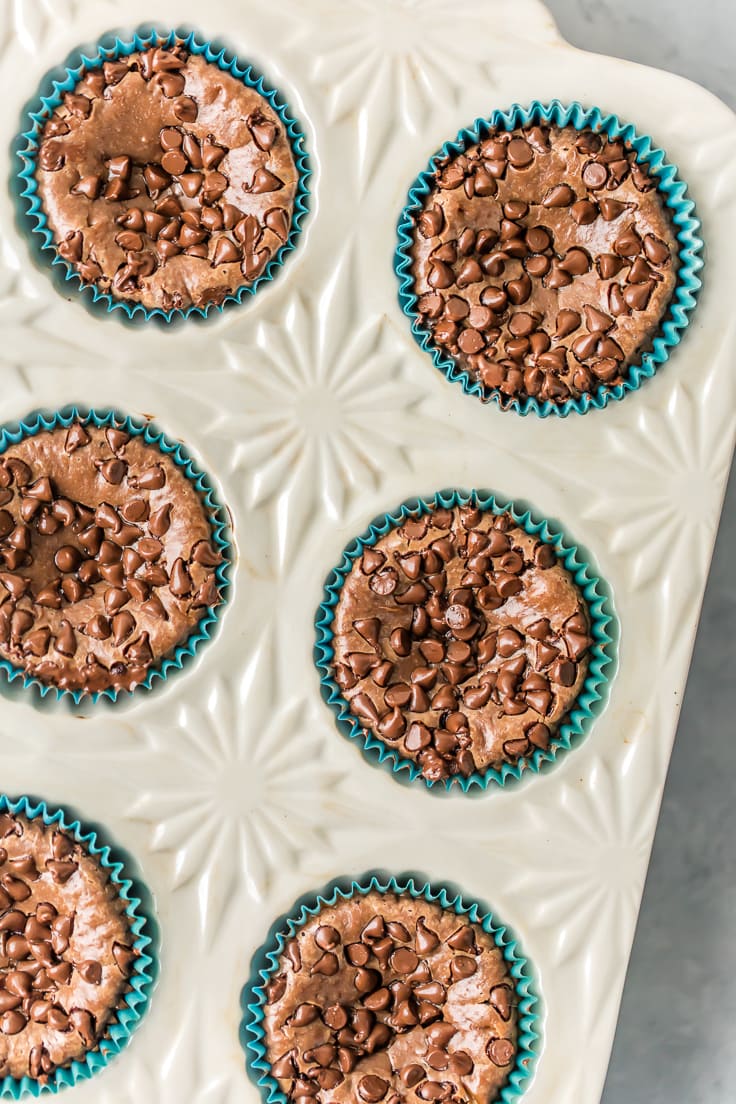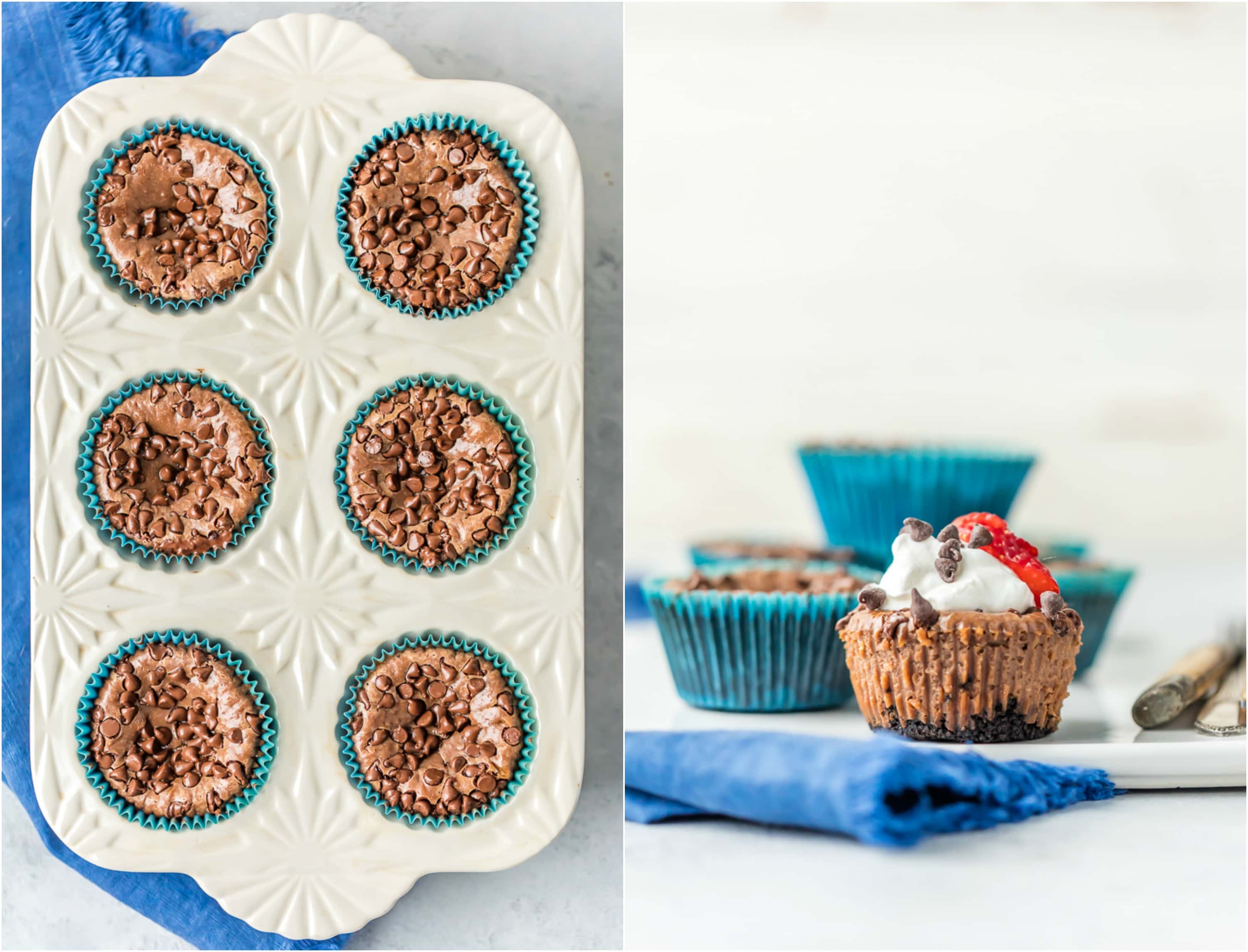 Oreo Nutella Cheesecakes
Nutella cheesecake with an Oreo crust, and topped with chocolate chips? This little dessert is the perfect chocolatey treat!
Cheesecake bites can cure any bad day, make any party that much better, or finish off the perfect quiet night at home. They can be eaten warm or cold, in just two bites! I love the simplicity, the flavors, and of course how cute they are.
I have been working on upping my baking game, easing my way into the dessert world with recipes like my Texas Sheet Cake Skillet and Salted Caramel Soft Batch Cookies. For some reason, baking a cheesecake still seems intimidating, but it really isn't! With the right instructions, anything is possible.
These Mini Nutella Cheesecakes are completely fool-proof; if I can do it you can do it! They come out perfect every time. A truly great recipe to keep in your kitchen for potlucks, class parties, and more!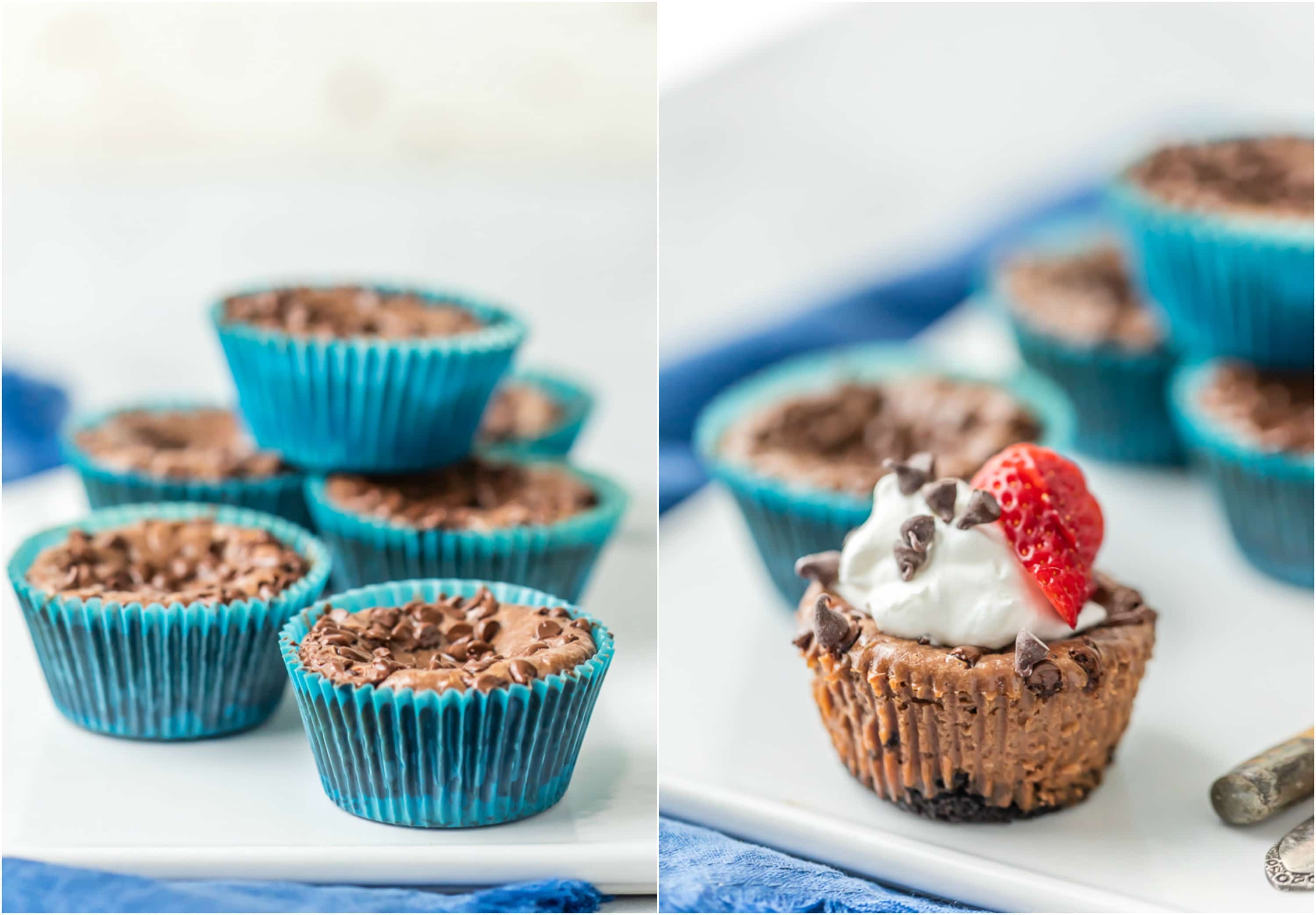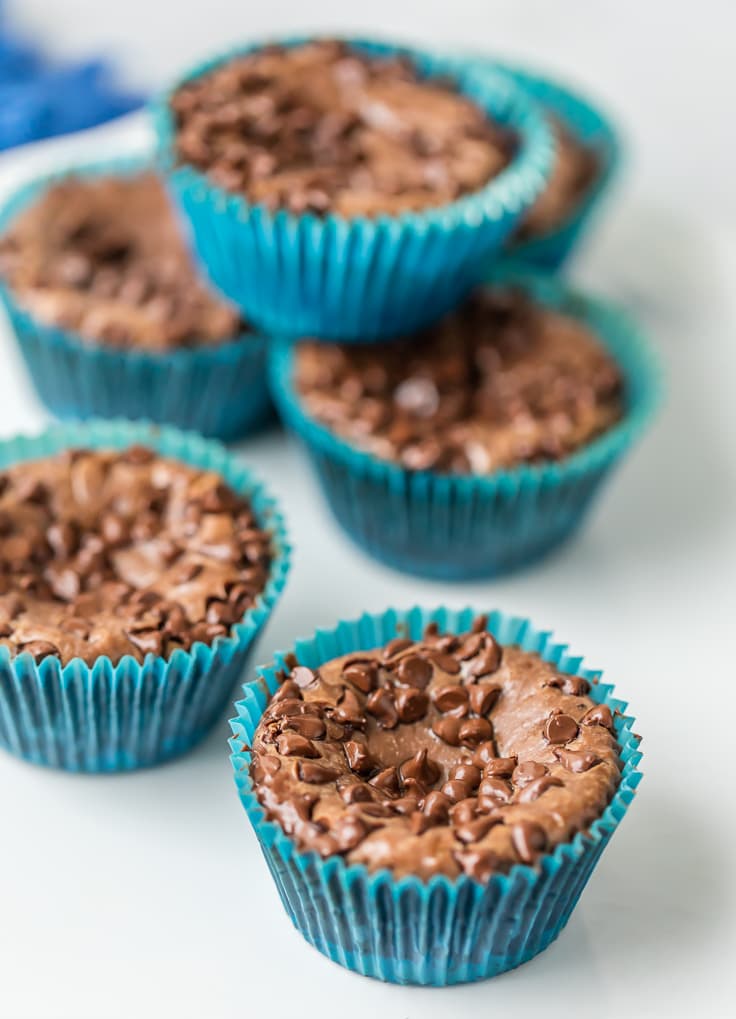 How to Make Nutella Cheesecakes
These mini cheesecakes are so easy to make.
Preheat the oven to 350°F. Place liners into a 12-count muffin tin. Spray the liners with nonstick spray and set aside.

In a food processor or high-powered blender, pulse the Oreos and melted butter until fully combined. Spoon the oreo "crust" into the bottom of each muffin liner and press down with your spoon as much as possible. Bake for 5-6 minutes and then set aside.

In a mixer or using a hand mixer, combine the cream cheese, sour cream, Nutella, eggs, and sugar. Mix until smooth and fully combined. Pour mixture into each muffin liner almost filling to the top. Leave about a 1/4 inch at the top. Sprinkle mini chocolate chips onto the top of each cheesecake.

Bake for 20-22 minutes, or until the tops have slightly cracked and the cheesecakes have puffed and risen. Allow to cool for 5 minutes in the pan and then place in the fridge for at least 20 minutes before serving.
I love to top the mini cheesecakes with fresh whipped cream, mini chocolate chips, and strawberries. These single-serving desserts may be small, but they're a mighty little sweet treat, just waiting to be devoured. They have all of the flavor with none of the stress! My kind of recipe for sure.
How big are these mini cheesecakes?
They're the size of muffins (we're making them in muffin tins with muffin liners), so they're the perfect not-quite-bite-sized portion for individuals. Don't get me wrong, I'll be the first to go in for seconds, but just one is pretty satisfying.
If you want more of a cheesecake bite, you could use mini muffin tins to make them even smaller. That would be a great way to serve different flavors at a party, so everyone can try multiple flavors.
Can I save these cheesecake bites?
Yes! If you don't eat all of them at once (good luck), you can easily keep them in the refrigerator for later. You could also freeze them in a freezer-safe container, then thaw in the fridge or at room temperature when you're ready to serve.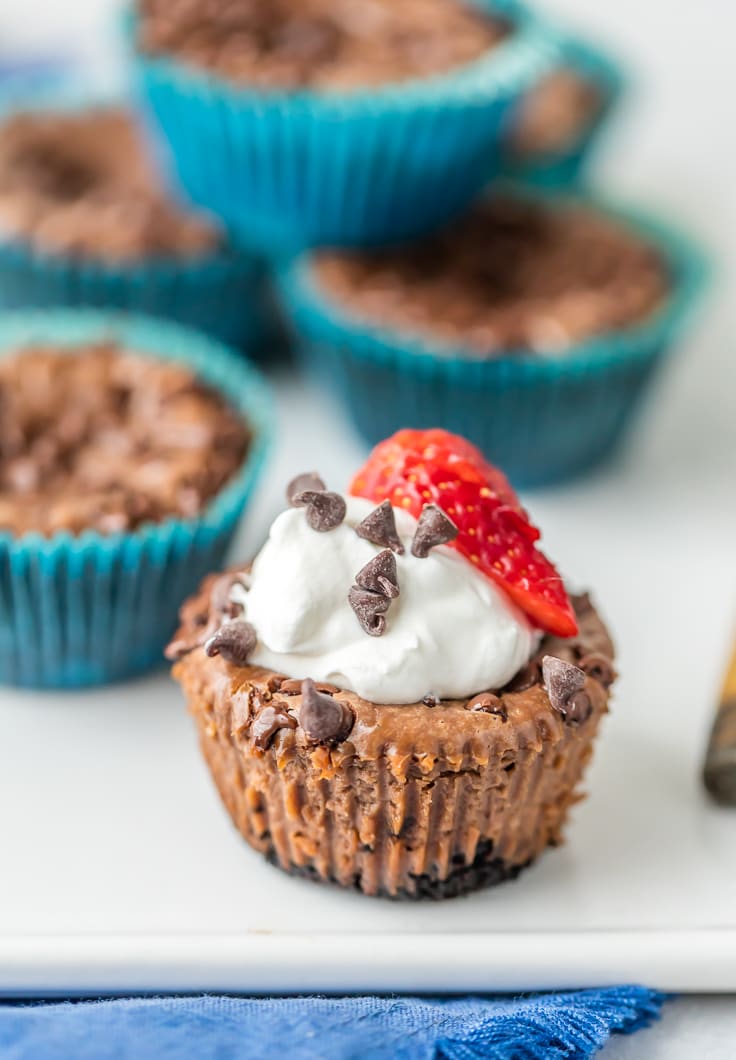 I hope you enjoy these mini cheesecake bites as much as we do! Every day deserves at least a little something sweet.
See the recipe card for details on how to make these Mini Nutella Cheesecake Bites. Enjoy!
Be sure to try our other easy cheesecake inspired recipes:
Mini Apple Pie Cheesecakes
Peanut Butter Cheesecake Bars