Give your oven a break with this No Bake Pumpkin Cheesecake recipe! Get all the fall flavors of pumpkin pie in this super easy-to-make cheesecake, with a graham cracker crust and delicious pumpkin spice whipped topping. It makes the perfect pumpkin dessert for Thanksgiving or any fall occasion!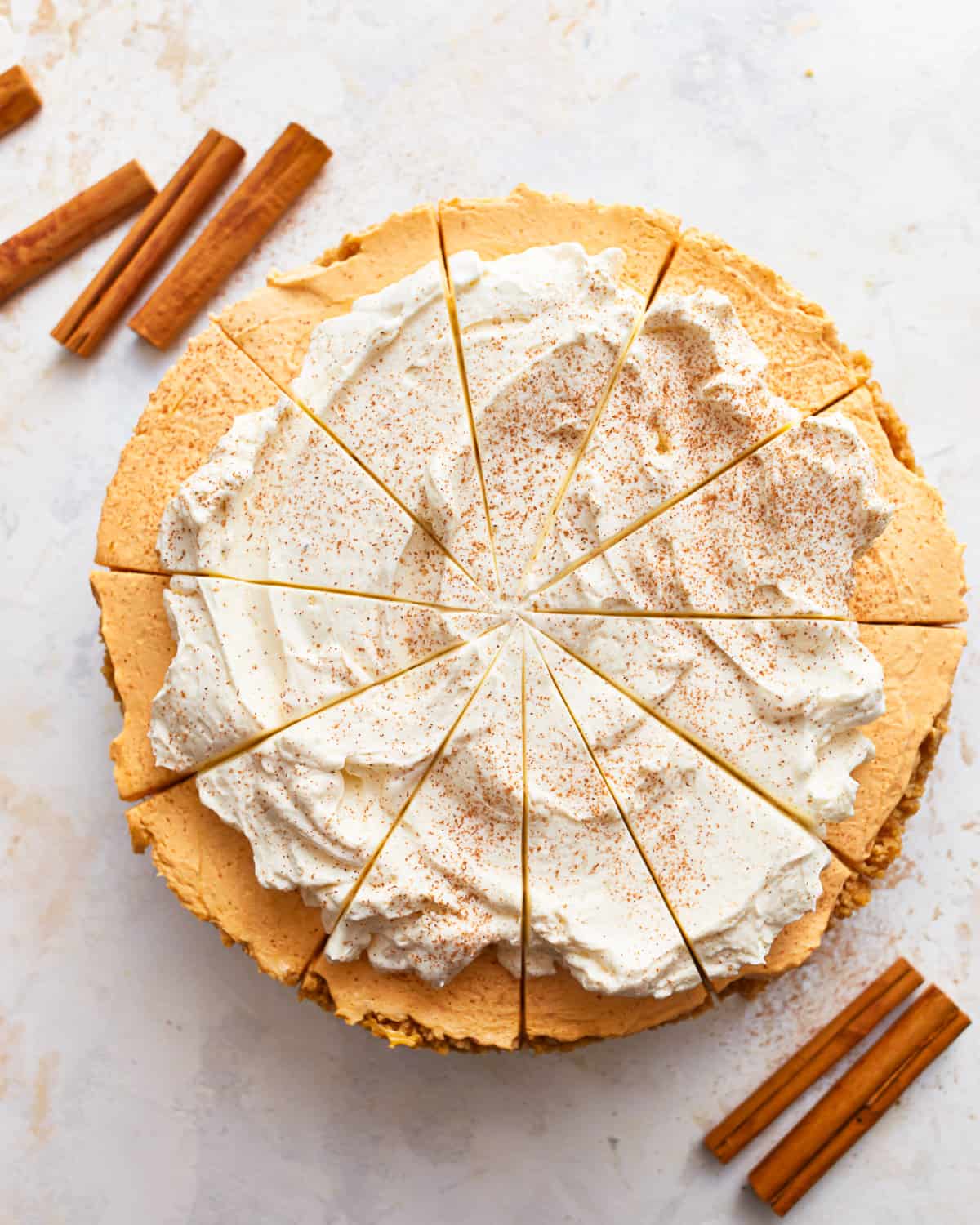 What's in this No Bake Pumpkin Pie Cheesecake recipe?
Combine an easy no bake cheesecake with a delicious pumpkin pie, and you get this amazing fall dessert!
Graham Cracker Pie Crust: I used a pre-made crust for convenience, but you can make your own graham cracker crust from scratch if you like.
Cream Cheese: The base of the cheesecake filling. Use regular blocks of cream cheese, not whipped versions.
Powdered Sugar: Sweetens the batter without adding density.
Pumpkin Puree: Be sure to use plain pumpkin puree, not pumpkin pie filling.
Pumpkin Pie Spice: This mix of warm spices adds traditional pumpkin pie flavor.
Whipping Cream: This adds the fluffy and airy texture you want with no-bake cheesecakes.
Salt: Balances the sweetness of the cheesecake.
Pumpkin Spice Whipped Topping: Adds the perfect finish to this no bake pumpkin cheesecake. But you can use a pre-made or plain whipped topping instead.
Pro Tip: Spray a piece of plastic wrap with non-stick spray and cover the cheesecake pan while it sets in the fridge.
Make a Different Crust for this No Bake Pumpkin Cheesecake
If you want to change up this pumpkin pie cheesecake recipe, try a different type of crust. You can layer the cheesecake batter into a regular pie crust, or try making a cookie crust–Oreos, gingersnaps, Biscoff, or another crunchy cookie works great!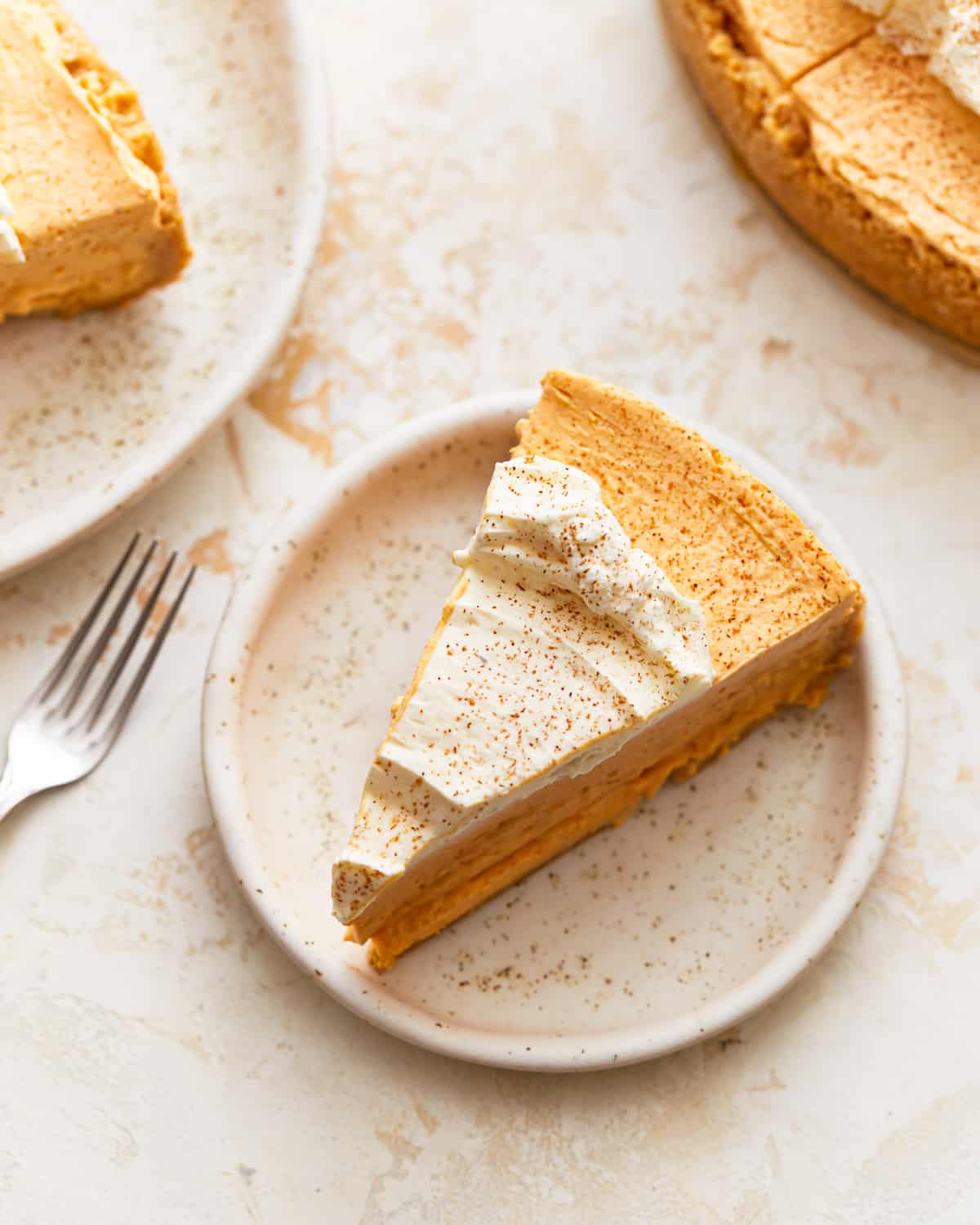 How long does it take this no bake pumpkin cheesecake to set?
This cheesecake will take at least 6-8 hours to set in the refrigerator, though I recommend letting it sit overnight (or 12+ hours) if you can.
Why isn't my no bake cheesecake firming up?
The only way for the cheesecake to firm up is by chilling in the refrigerator. So if it's not firm enough yet, let it set longer. If you're opening up your fridge regularly, this will interfere–that's why I like to let it set up overnight.
Is no bake cheesecake as good as baked cheesecake?
No bake cheesecakes have a much lighter and airier texture than baked cheesecakes, so it really depends on your preference. But I love how easy no bake cheesecakes are to make, which is always a plus!
How to Store
This no bake pumpkin cheesecake recipe will last in the refrigerator for about 4-5 days. If you don't plan on eating it all within that time, consider freezing it. It's best served straight from the fridge.
How to Freeze
To freeze this no bake pumpkin pie cheesecake, place it on a piece of cardboard, a baking tray, or something else sturdy, and place it in the freezer uncovered for a few hours until it becomes firm. Then you can wrap it in plastic wrap and aluminium foil (place that inside of a resealable bag for extra protection), and the place in the freezer.
It will keep for 2 months. Let it thaw in the refrigerator overnight before serving.
Serving Suggestions
Serve slices of this easy pumpkin pie cheesecake with a dollop of whipped cream, an extra dash of pumpkin pie spice, and a drizzle of caramel sauce or chocolate sauce to finish.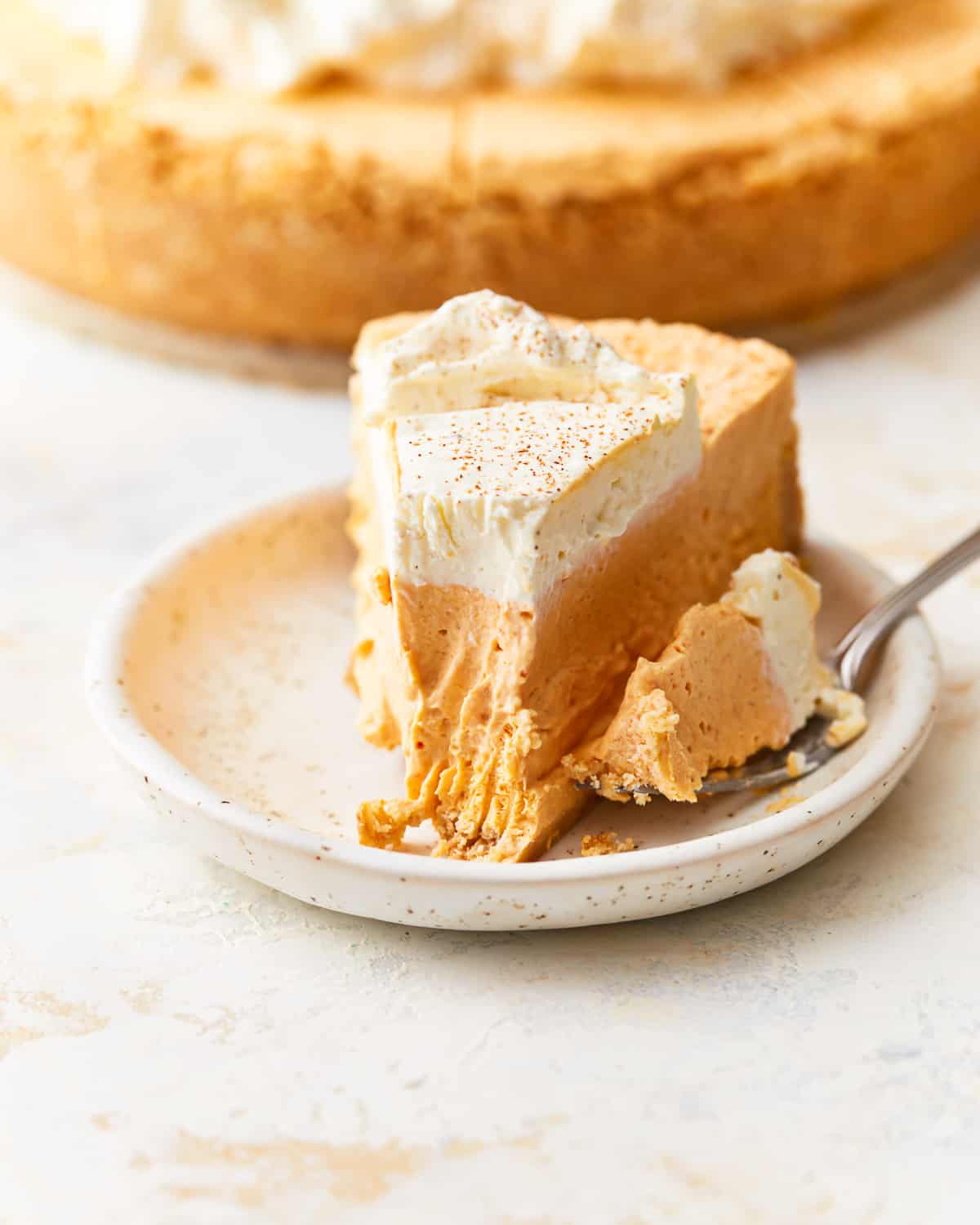 More Pumpkin Desserts We Love