If you want a decadent, sweet treat to enjoy, try this Chocolate Cheesecake recipe. It's the perfect combination of chocolate and creamy cheesecake.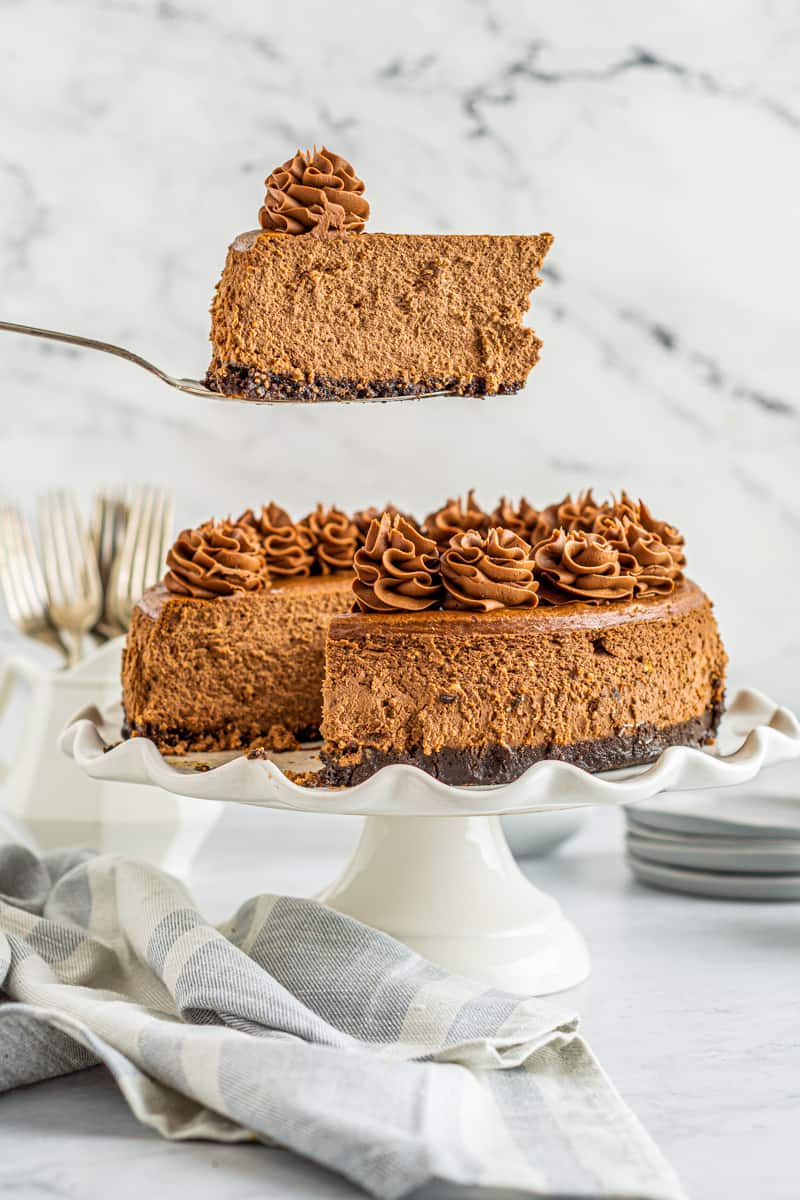 Best Chocolate Cheesecake
Would you like to learn how to make the best Chocolate Cheesecake you've ever tasted? If so, I've got you covered! It's not hard to make this decadent chocolate dessert. Best of all, you can prepare it for various occasions, including holiday gatherings and birthday parties for loved ones.
Why You'll Love this Easy Cheesecake Recipe:
SIMPLE RECIPE: It's easy to prepare the filling using cream cheese, sugar, and a few other ingredients to give this Chocolate Cheesecake its impressive flavor.
AMAZING CRUST: Not only does the filling taste amazing, but so does the crust that you'll prepare using Oreo cookies and unsalted butter.
HOMEMADE IS ALWAYS BETTER: When you've finished preparing this dessert, you can expect it to taste better than any cheesecake you've ever bought from the grocery store.
When you prepare this Chocolate Cheesecake, you'll love the sweet taste and incredible texture. Since it's a dessert that everyone will love, it's perfect for all occasions!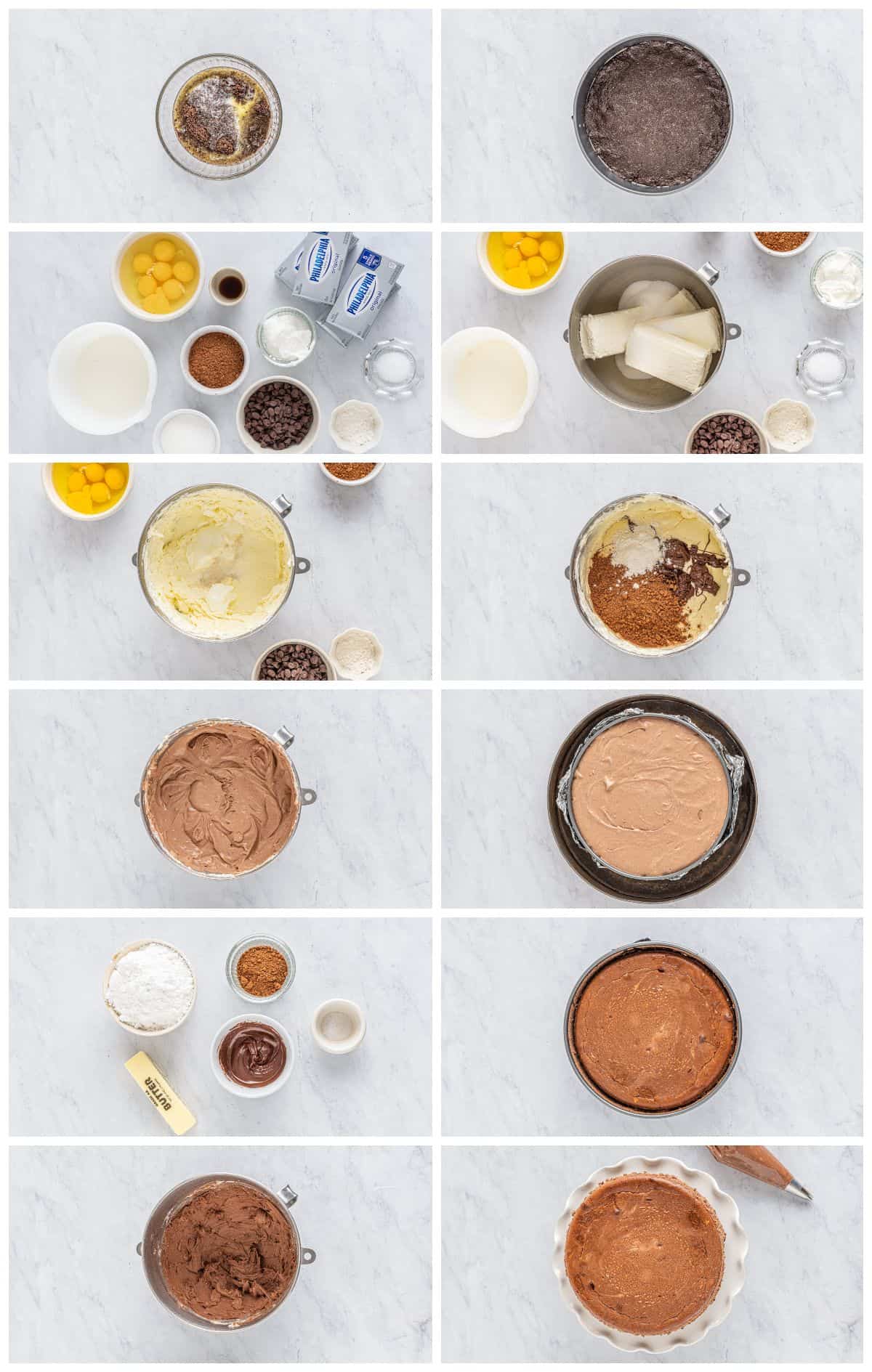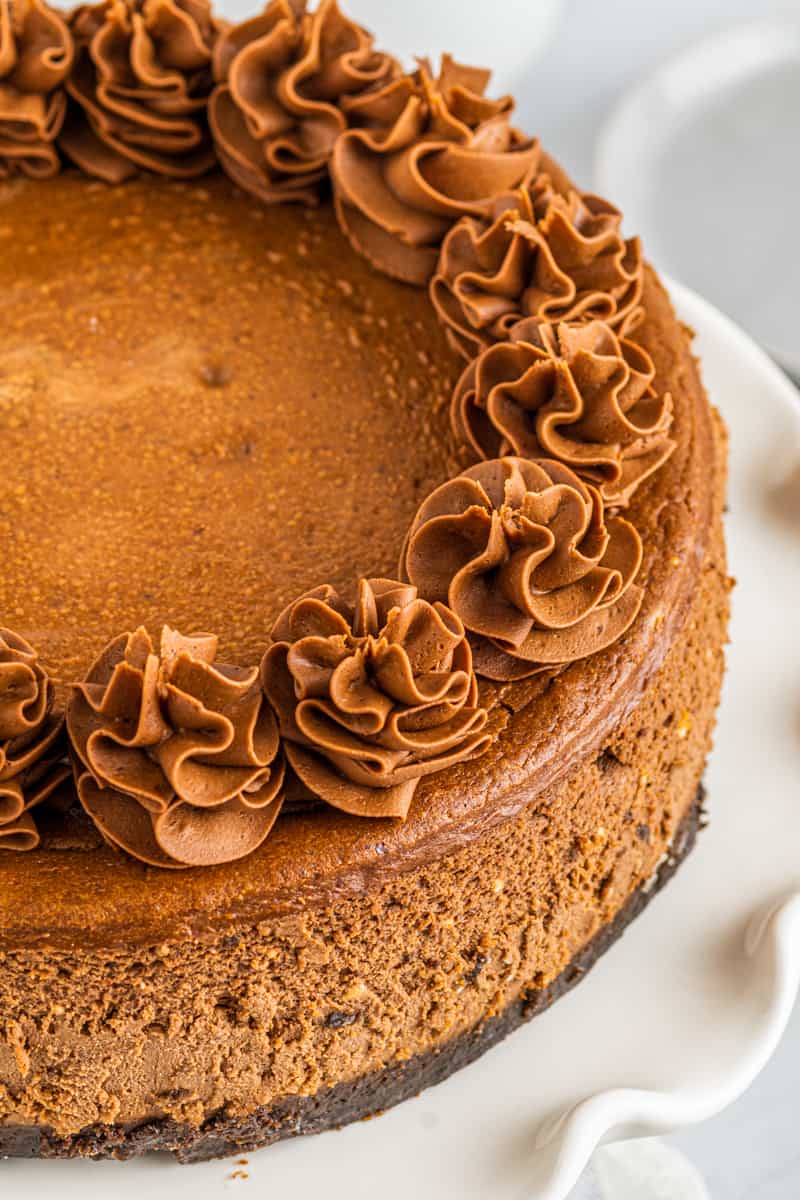 How to Make Chocolate Cheesecake
You can jump to the recipe card for full ingredients & instructions!
Set your oven to 350°F while lining a 9-inch springform pan with your parchment paper. Be sure to spray a bit of cooking spray over it.
Prepare the crust by whisking your crushed Oreo cookies with melted butter until it has the consistency of wet sand. Press the crust into the bottom of the pan and bake for 15 minutes. After you've baked it, set it on a cooling rack to cool down a bit while making the filling for the cheesecake.
Grab your stand mixer and use the paddle attachment to beat the sugar and cream cheese together for a minute. Toss in the heavy cream, vanilla, salt, and sour cream, beating for an additional 30 seconds. Next, toss in the melted chocolate chips, flour, and cocoa mix and combine. Pour your batter into a springform pan over the baked crust and smooth it out.
Wrap the bottom and side of the pan with foil to keep water from getting into it. Place your pan in a large baking pan filled with about an inch of water before setting the pans in the oven and baking for 90 minutes.
After baking the cheesecake, turn the heat off of the oven and let the cheesecake sit there with the door closed for an hour to set. Remove your cheesecake from the oven, remove the foil, and then allow the cheesecake to cool before covering with plastic wrap and putting it in the fridge for eight hours.
If you plan to make the frosting, combine all the ingredients for it together in a stand mixer and mix well for around two minutes until you've created a fluffy frosting.
Chocolate Cheesecake Recipe Notes
Crust: Instead of a traditional Oreo cookie crust, try a brownie crust or even a flourless chocolate cake crust.
Sour Cream: In the cheesecake batter, plain yogurt (Greek or regular) can be used in place of sour cream.
Flour: In the cheesecake batter, ¾ tablespoons of cornstarch may be used in place of 1½ tablespoons of flour.
Chocolate Chips: In the whipped chocolate frosting, 4 tablespoons of cocoa powder can be used in place of melted chocolate chips. Add 1-2 tablespoons of milk to reach the desired consistency.
Frosting Consistency: If the frosting is too thick, add 1-2 tablespoons of milk, mixing after each addition. If the frosting is too thin, add 2 tablespoons of powdered sugar and mix well.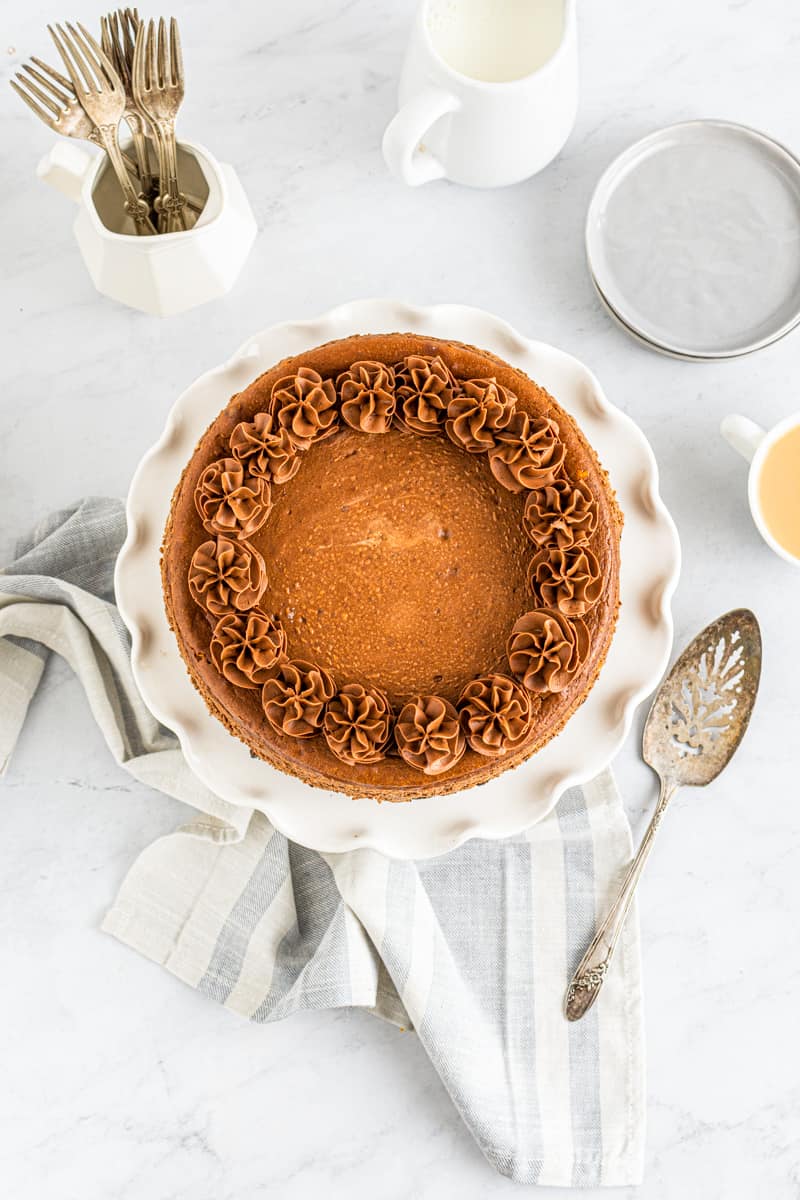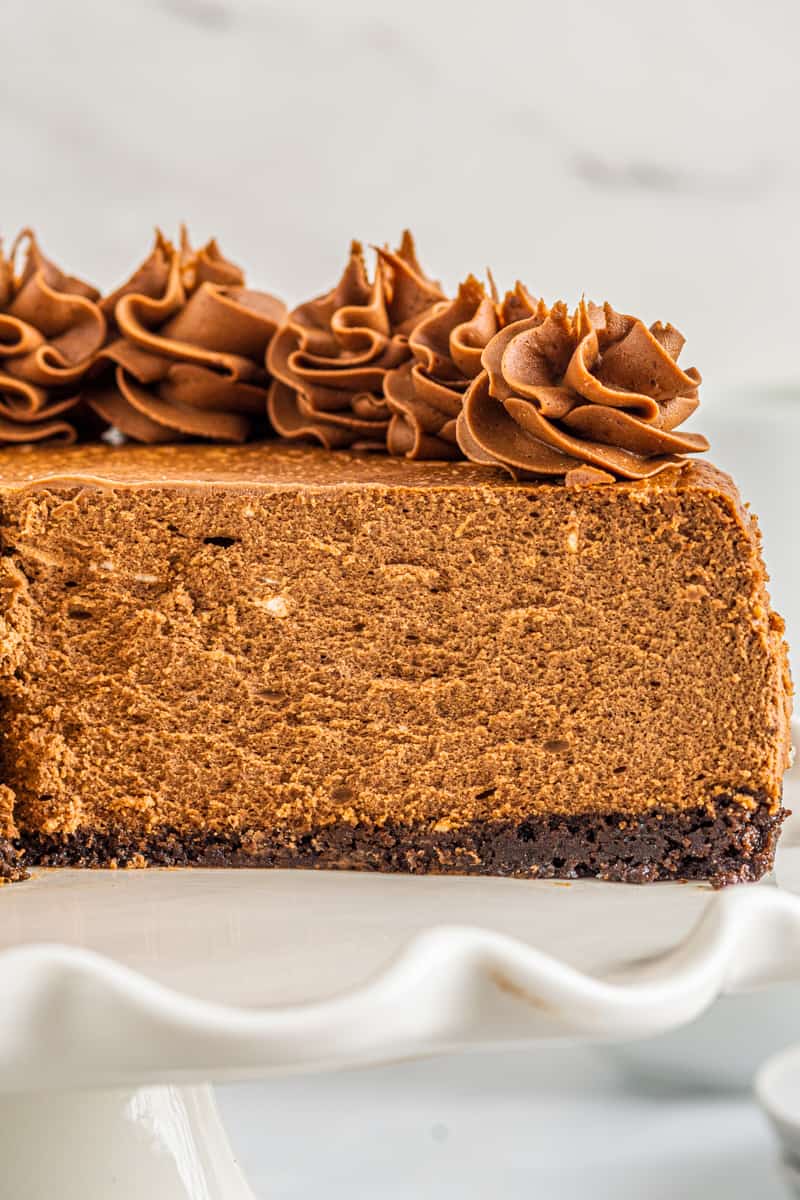 What pan is best for cheesecake?
A springform pan is the best type of pan to use when preparing cheesecake. This allows you to easily remove the cheesecake once it's done cooking and cooling.
How can I prevent cracks in cheesecake?
So that it can set, leave the cheesecake in the oven after turning it off while leaving the door closed for an hour. This will allow the cheesecake to cool down gradually and prevents it from cracking.
How can I tell when cheesecake is done?
The cheesecake will be firm and not jiggle when you move it around. You can also set a timer to avoid overcooking your cheesecake.
What chocolate chips are best to use for baking?
You can use any type of chocolate chip morsels, such as semisweet or milk chocolate, depending on what you like.
The Chocolate Cheesecake recipe will leave you coming back for more slices because it tastes amazing. It will quickly become one of your favorite desserts. Be prepared to hand out the recipe at family functions or other get-togethers.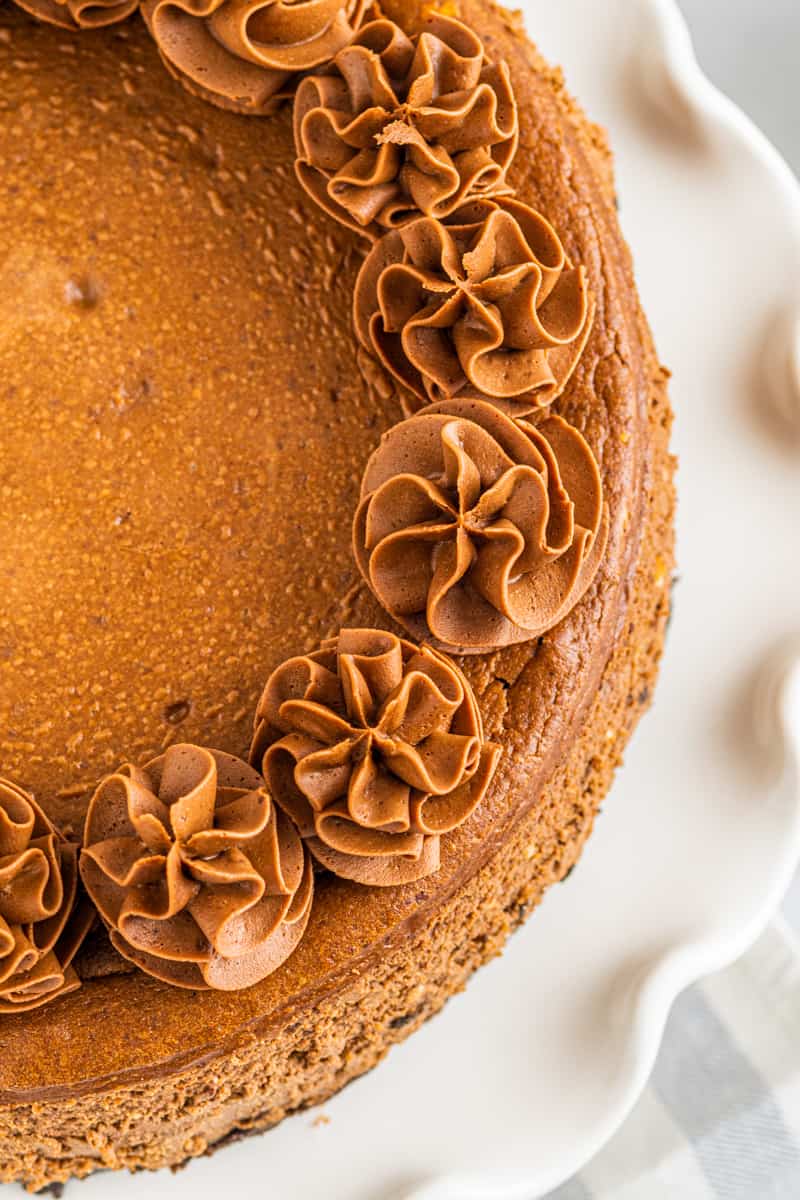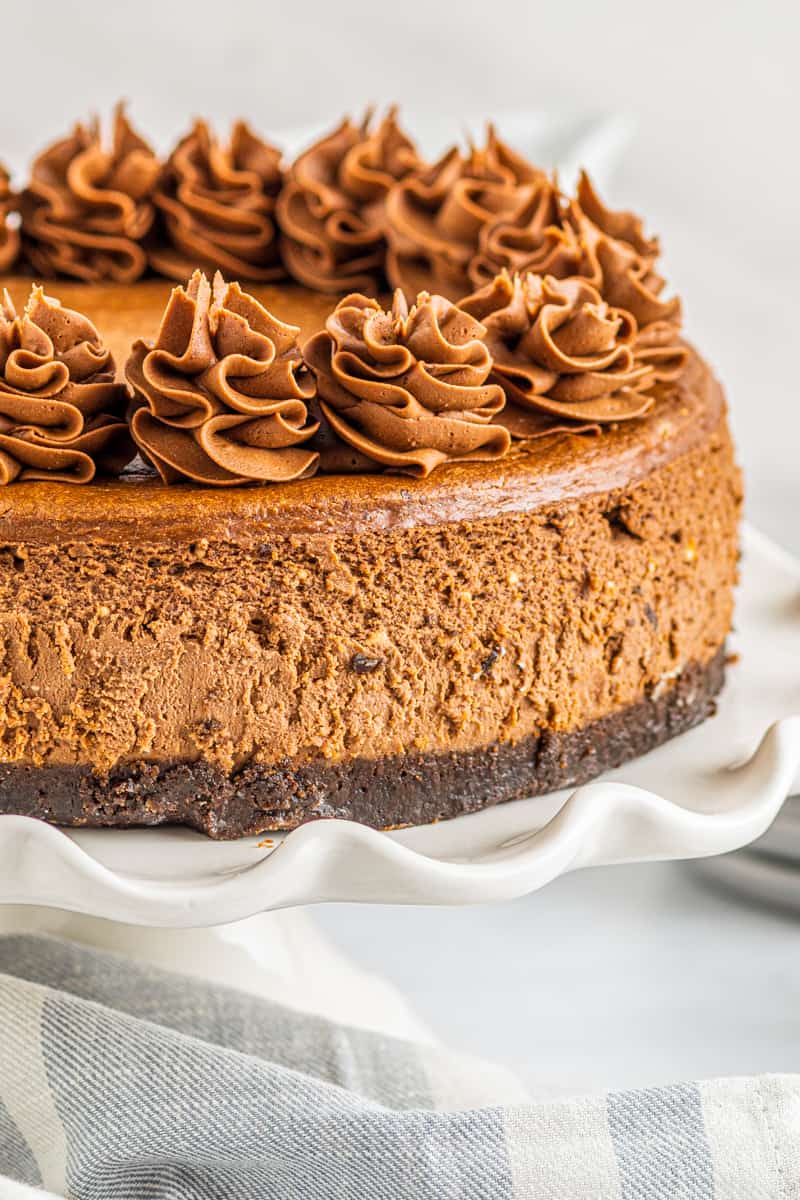 Tips!
When making the cheesecake, be sure to beat the cream cheese well at the beginning to ensure that it is smooth. If, when the cheesecake batter is complete, you still have lumps, simply press them against the side of the bowl using a wooden spoon or rubber spatula.
Do not overmix the cheesecake batter as it will add air and result in uneven baking and can cause it to crack at the end.
Be sure to leave the cheesecake in the oven for the hour after baking to rest. This allows the cheesecake to set, thus preventing or at least lowering the chances that the cheesecake top cracks.
Since you make a chocolate pie crust, this is really a double chocolate cheesecake. It is one that any chocolate lover will want to try.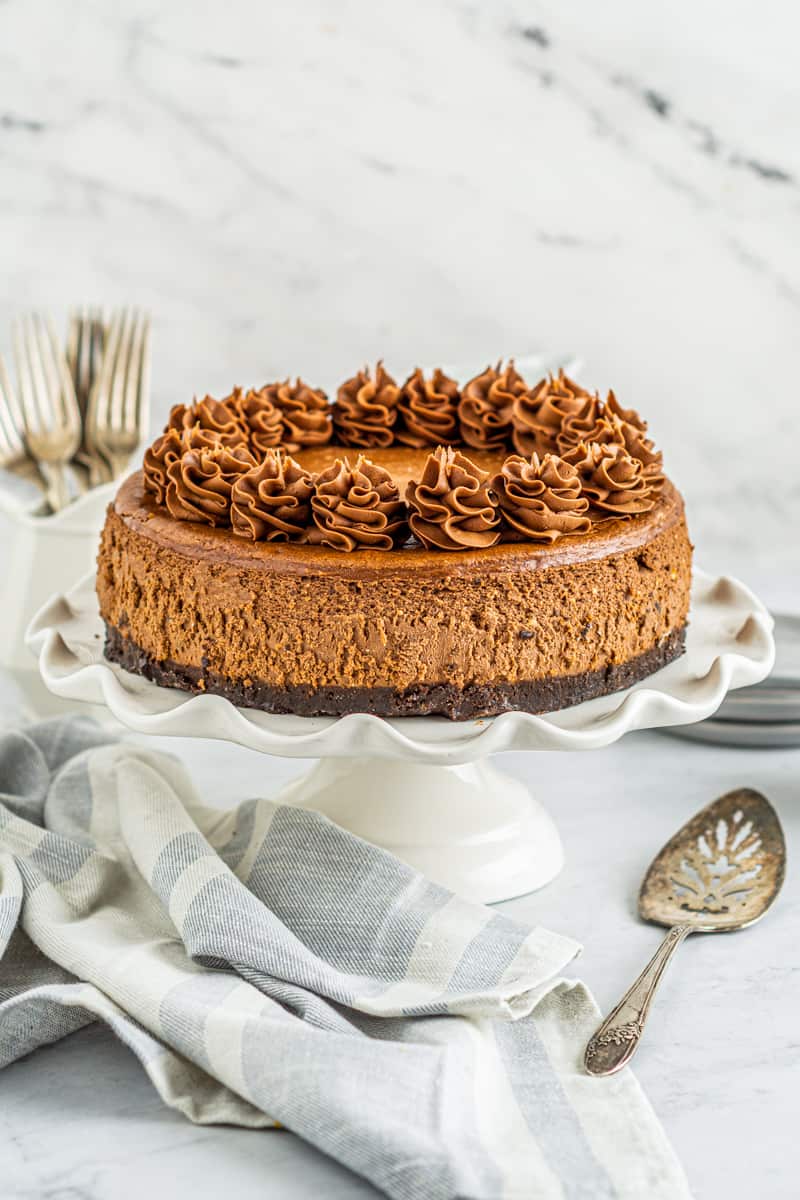 How many Oreo cookies do I need for the cheesecake crust?
You'll need around 24 cookies to create the crust. Be sure to have two packs of Oreo cookies just in case you need more.
What other types of cheesecake crust can I use?
You can prepare a crust using any cookies you'd like, such as chocolate chip cookies, fudge cookies, and more. You can even do a vanilla crust by using golden Oreos.
What toppings go well with chocolate cheesecake?
Many toppings go well with Chocolate Cheesecake, including caramel drizzle, sliced strawberries, cherries, whipped cream, and more.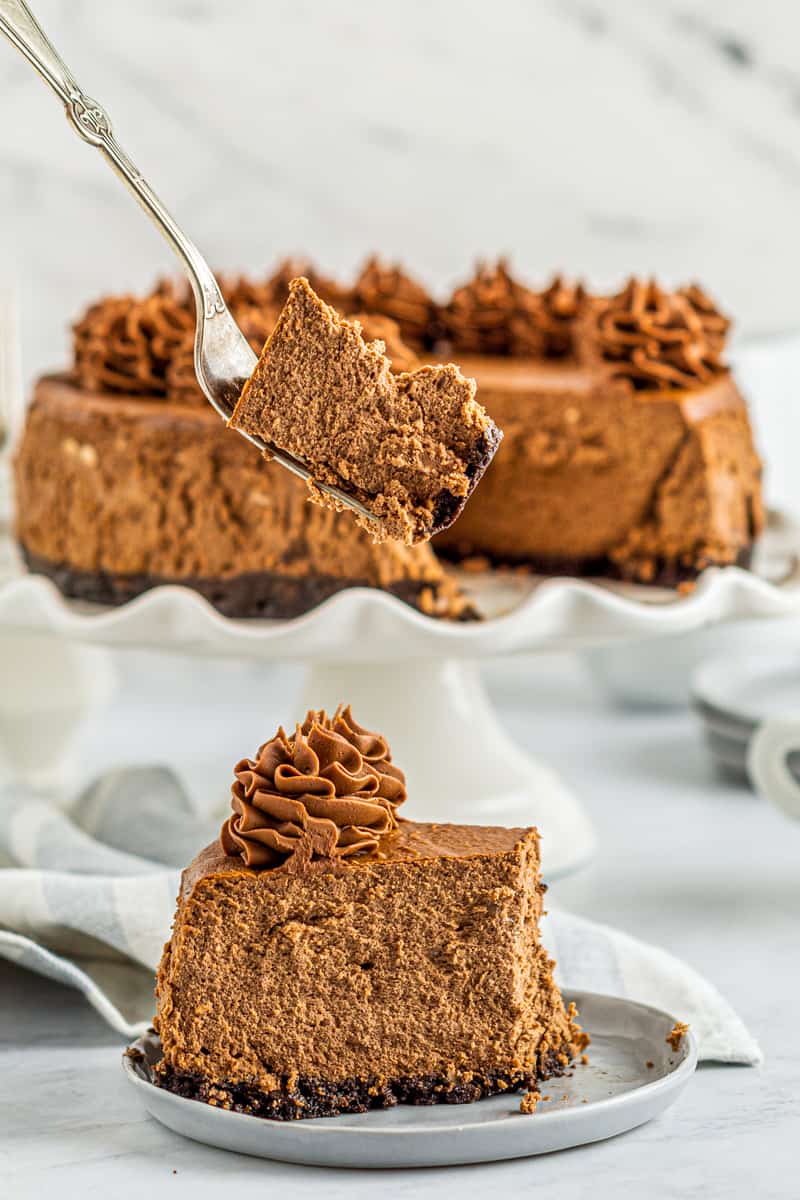 Enjoy this impressive Chocolate Cheesecake recipe. It's full of chocolatey flavor and is perfect for serving to family and friends.
More Cheesecake Recipes to Try
If you make this recipe be sure to upload a photo in the comment section below or leave a rating. Enjoy! You can also jump to recipe.