New York Cheesecake is a timeless dessert staple that just can't be beat! This no-frills recipe yields the best cheesecake every time. It's smooth, rich, and balances the signature sweet and tangy flavors perfectly.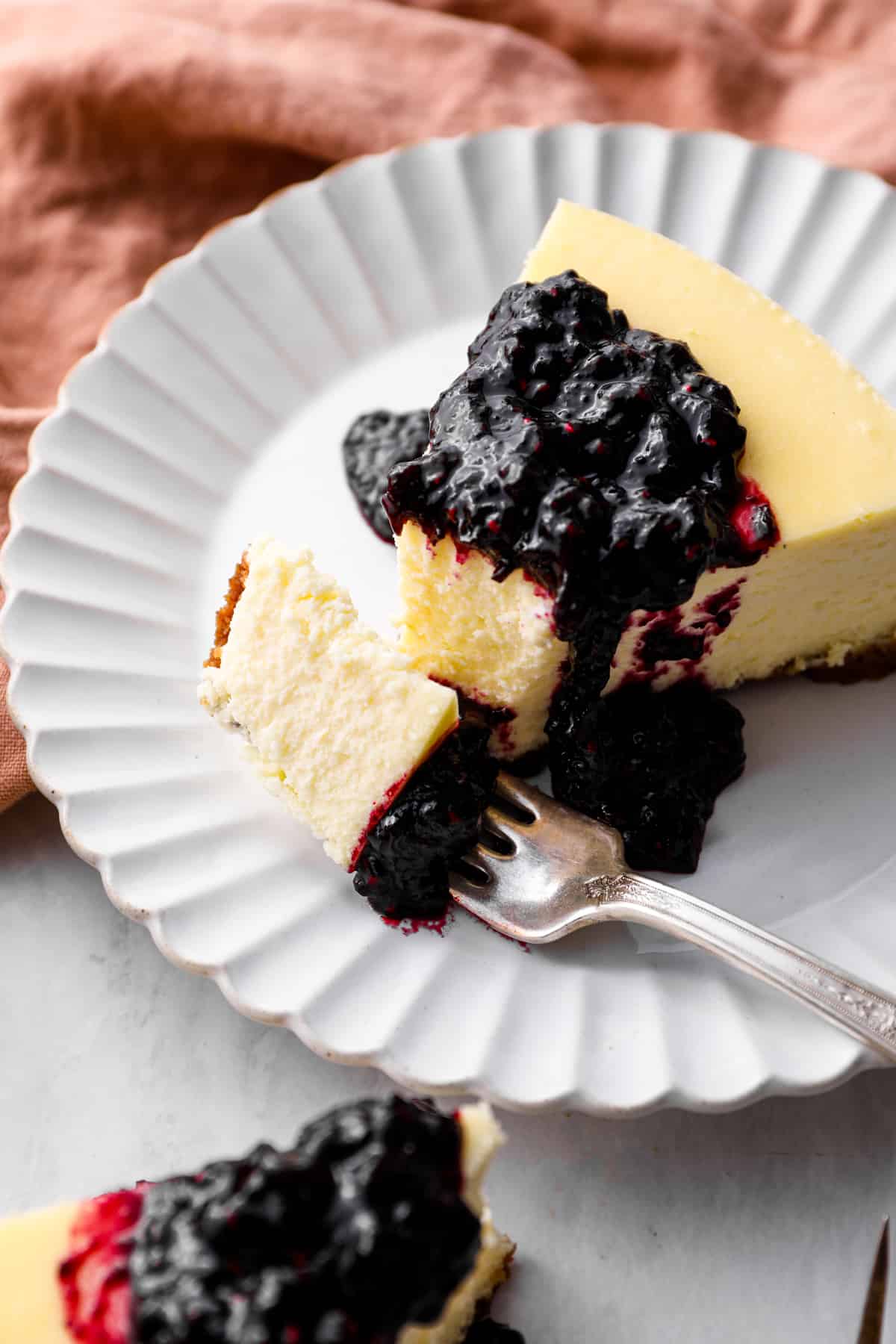 What is New York Style Cheesecake?
New York style cheesecake is a rich, dense, tight-textured cheesecake made with cream cheese, eggs, and sour cream. It is traditionally baked on a graham cracker crust and has a sweet, tangy flavor!
What's the Difference between New York Cheesecake and Regular Cheesecake?
A New York cheesecake is denser and richer than a classic cheesecake because it uses much more cream cheese and more eggs. A regular cheesecake uses more sour cream and/or heavy cream to thin out the batter, making it less dense.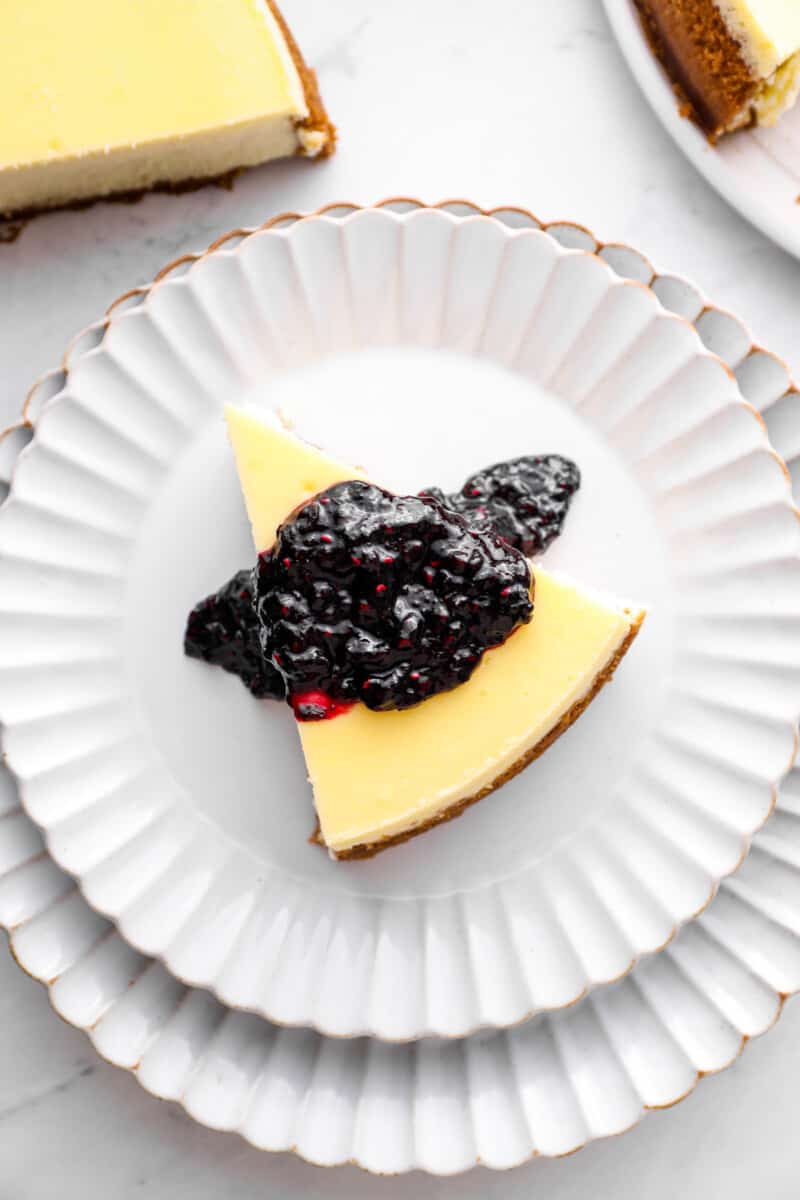 Ingredients for New York Cheesecake
Graham Crackers: Form the base of a classic New York cheesecake crust. If using whole graham crackers, use a food processor or blender to crush them into crumbs. You can swap these for Teddy Grahams, vanilla wafers, or Biscoff cookies if you prefer.
Butter: Holds the graham crackers together.
Sugar: Brown sugar sweetens the crust, while granulated sugar sweetens the cheesecake. You can use all granulated sugar in the crust and the cheesecake if you prefer.
Salt: Enhances the flavors of the crust and cheesecake.
Cream Cheese: Forms the base of the cheesecake, making it dense and creamy. Use full-fat cream cheese for the best results. For a lower-fat cheesecake, you can use light cream cheese or Neufchatel, but the cheesecake will not be as rich and the flavor will change.
Eggs: Helps to bind the cheesecake, creating a smooth and rich texture.
Sour Cream: Softens the texture of the cheesecake and adds moisture and tangy flavor. Plain or Greek yogurt may be used instead of sour cream. This will change the flavor slightly.
Vanilla: Adds subtle vanilla flavor.
Lemon Zest: Adds a bit of acidity and helps to create a thick texture.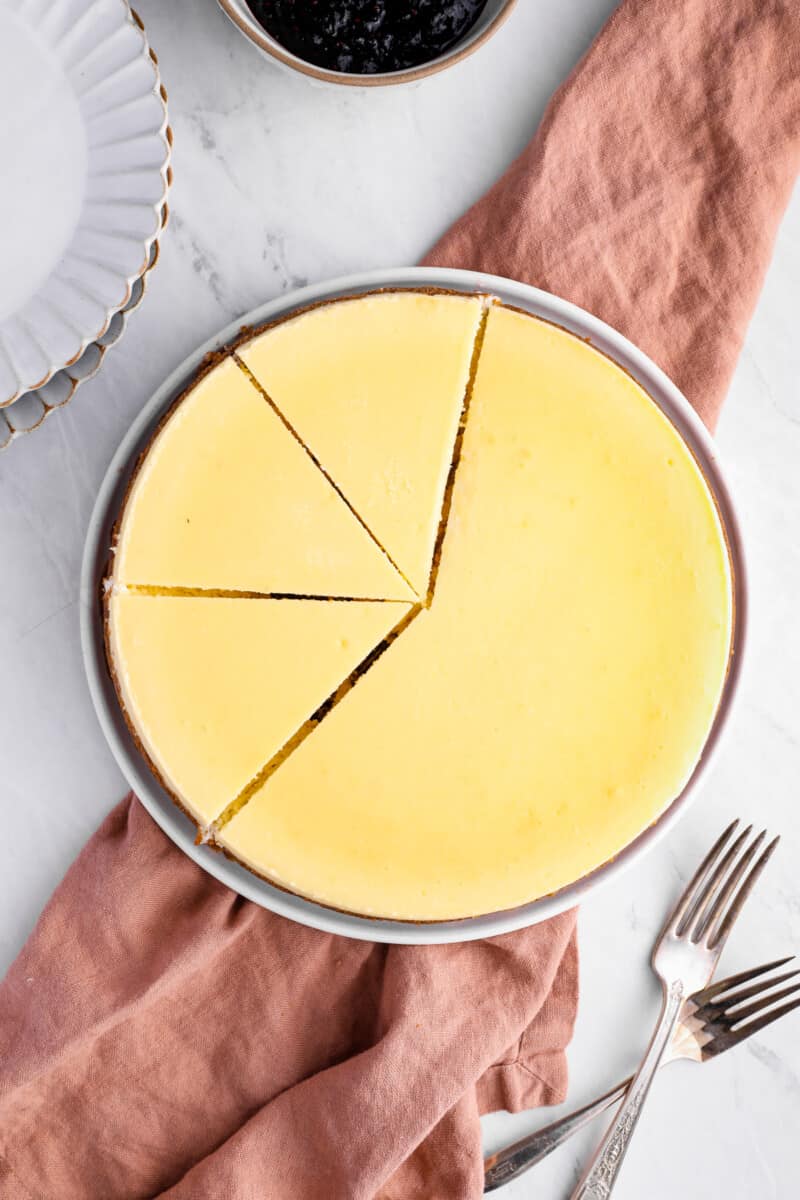 Can I Make It Gluten-Free?
Yes! To make New York cheesecake gluten-free, substitute the graham crackers for gluten-free graham crackers.
Can I Use Fat-Free Cream Cheese?
I do not recommend using fat-free ingredients to make this cheesecake, as it just won't taste as rich and delicious. However, you can use light cream cheese or Neufchatel for a lower-fat alternative. This will change the flavor and texture slightly.
How do I Prevent Cracks?
Cheesecakes can crack for a number of reasons. To prevent cracks, try these tips:
Mix the batter low and slow to prevent air bubbles.
Use a water bath to heat the cheesecake more evenly.
Let the cheesecake cool down in the oven for at least an hour to avoid temperature shock.
Grease the springform pan well to prevent sticking.
What Toppings Should I Use?
A classic New York cheesecake goes great with just about any topping. Try: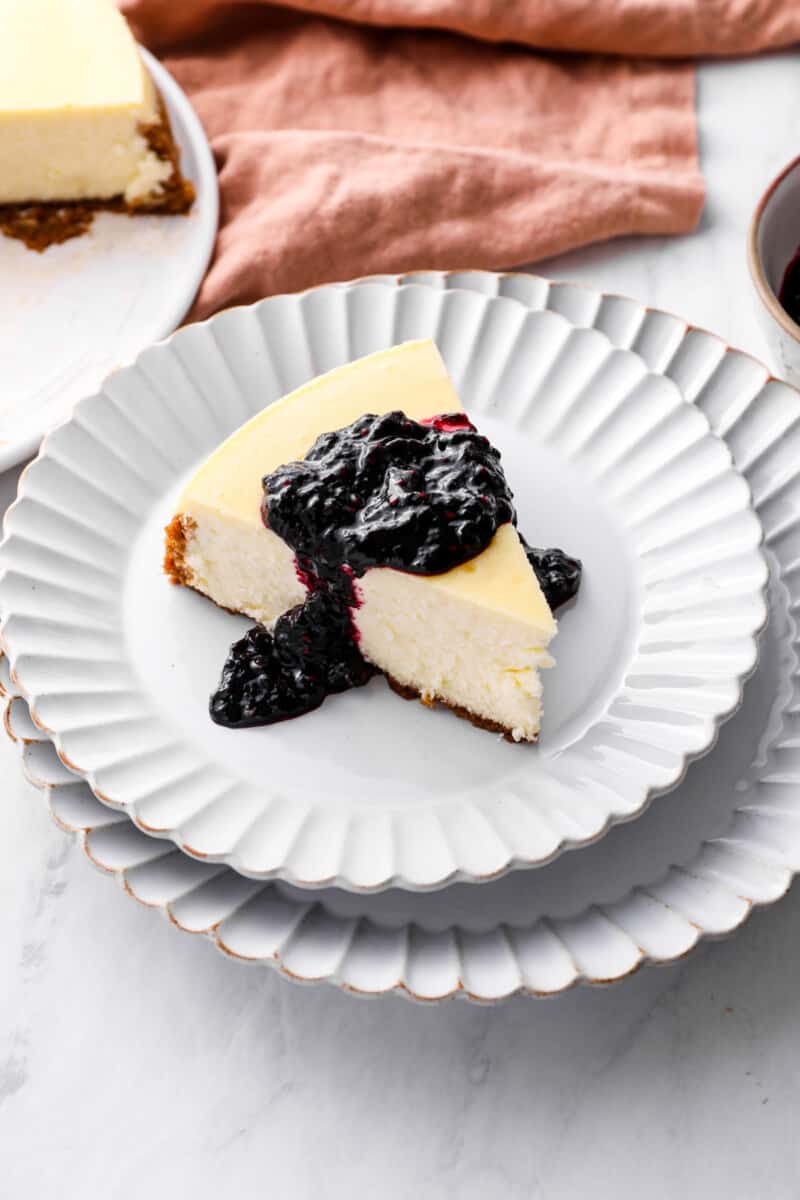 Tips!
Use room temperature ingredients for the best results.
The easiest way to press the crust into the pan is to use the bottom of a dry measuring cup.
Beat the cream cheese well at the beginning to ensure that it is smooth. Press any lumps against the side of the bowl to remove them.
Line the outside of the springform pan well to prevent leaking.
Take care not to overbake the cheesecake. The center should still be slightly wobbly!
To cut your cheesecake cleanly, run a knife under hot water and wipe the blade with a warm, damp cloth in between cuts.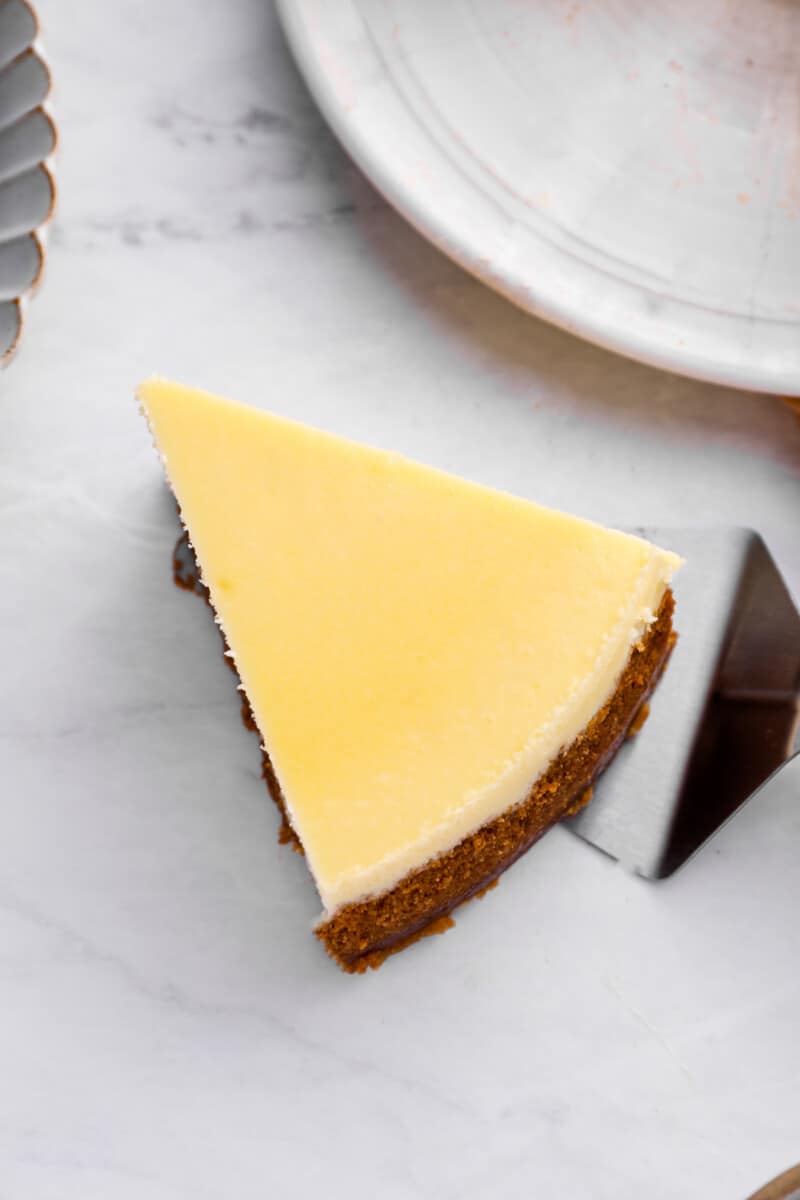 How to Store New York Cheesecake
Make Ahead: This New York cheesecake can be made up to 2 days in advance and stored in an airtight container in the refrigerator until ready to serve.
Storage: Store leftover New York cheesecake in an airtight container in the refrigerator for up to 5 days. Serve cold.
Freezing: Freeze New York cheesecake whole or in individual slices tightly wrapped in 2 layers or plastic wrap and 1 layer of aluminum foil for up to 1 month. Let thaw overnight in the refrigerator before enjoying.
More Delicious Cheesecake Recipes We Love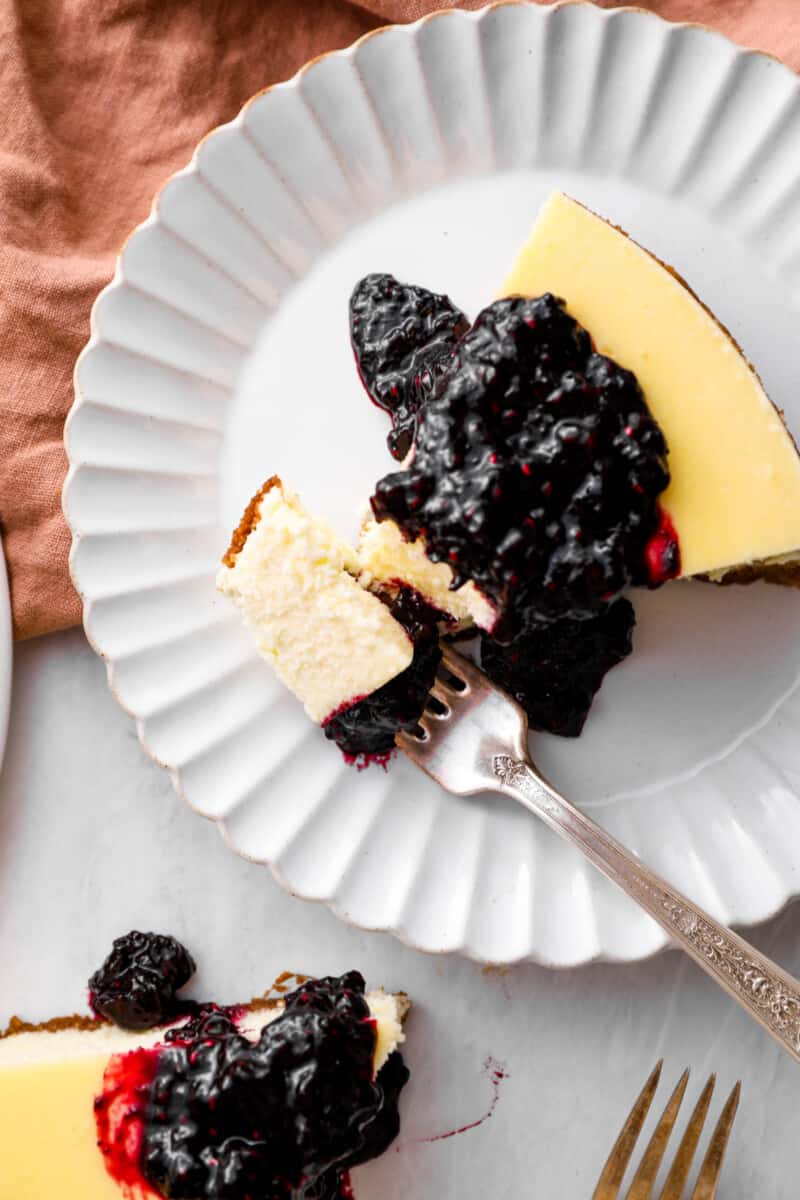 Make a delicious New York Cheesecake for Thanksgiving, Christmas, a birthday, or any other time the craving kicks in! When I'm craving cheesecake, this is the number one classic recipe I utilize.
More Dessert Recipes to Try:
If you make this recipe be sure to upload a photo in the comment section below or leave a rating. Enjoy! You can also jump to recipe.