When you want to enjoy delicious, flavorful food without spending too much time in the kitchen, this Crock Pot Tuscan Chicken is one of the best recipes to try. It's simple enough, made with fresh ingredients, and loaded with flavor that you won't get enough of when you serve it. It's the perfect meal to enjoy with the family!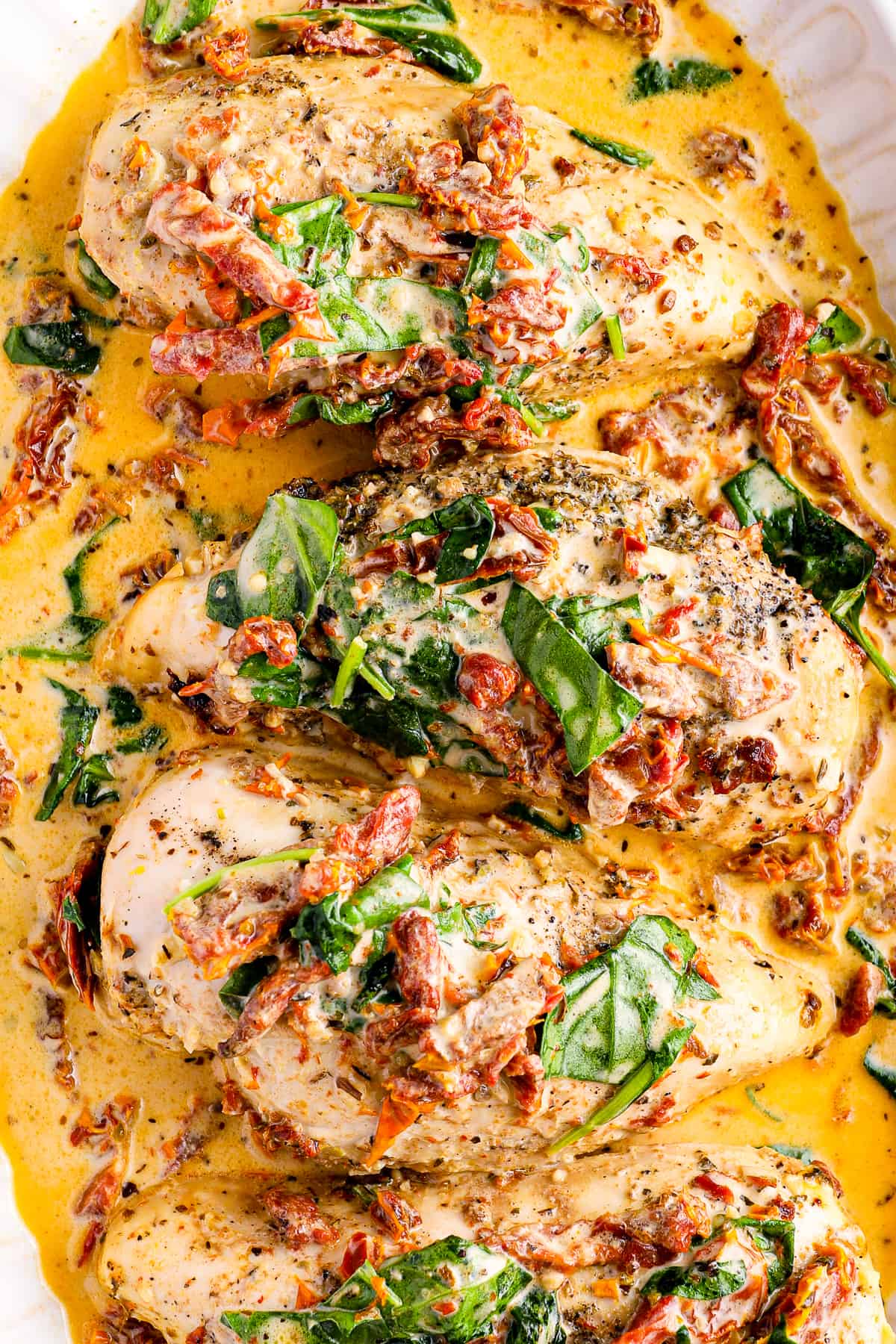 Slow-Cooked Tuscan Chicken
If you're looking for something unique, flavorful, and easy enough to prepare, look no further than this slow-cooked version of the Creamy Tuscan Chicken. The flavorful meat is moist and melts in your mouth with the added flavor of garlic, Parmesan, and sun-dried tomatoes added to the mixture.
Why You'll Love this Tuscan Chicken Recipe:
Simple Ingredients: You can make this incredible dish using simple ingredients, such as chicken breasts, garlic cloves, Italian seasoning, and heavy cream, to name a few!
So Tasty: The ingredients added to this Crock Pot Tuscan Chicken leave it with such a great taste that will surely keep you coming back for more.
Good for You: Not only does this recipe taste great, but it's also pretty good for you because it contains fresh ingredients, such as spinach, chicken breasts, and sun-dried tomatoes.
So easy: Crockpot Chicken is always a breeze. Adding this delicious sauce just takes things up a notch.
Prepare a homemade meal with ease using this recipe for Crock Pot Tuscan Chicken. It's simple, stress-free, and absolutely delicious.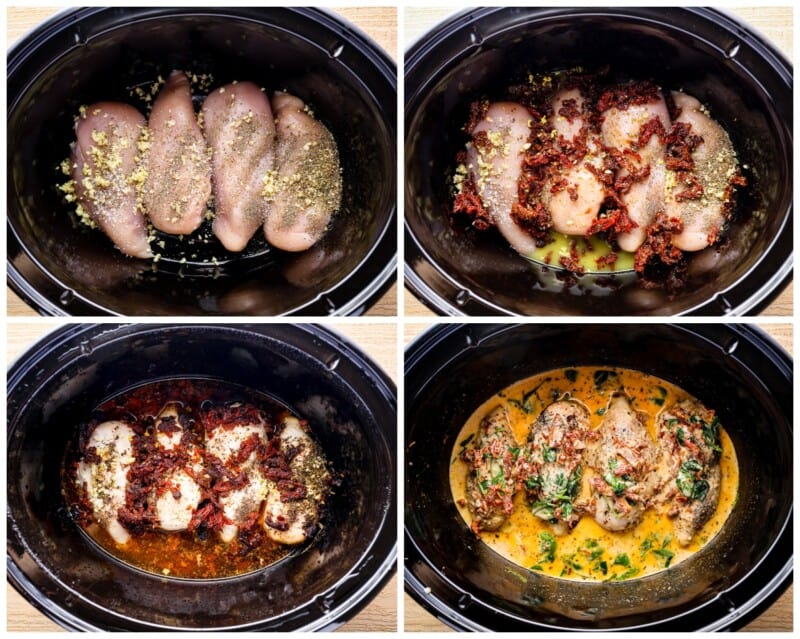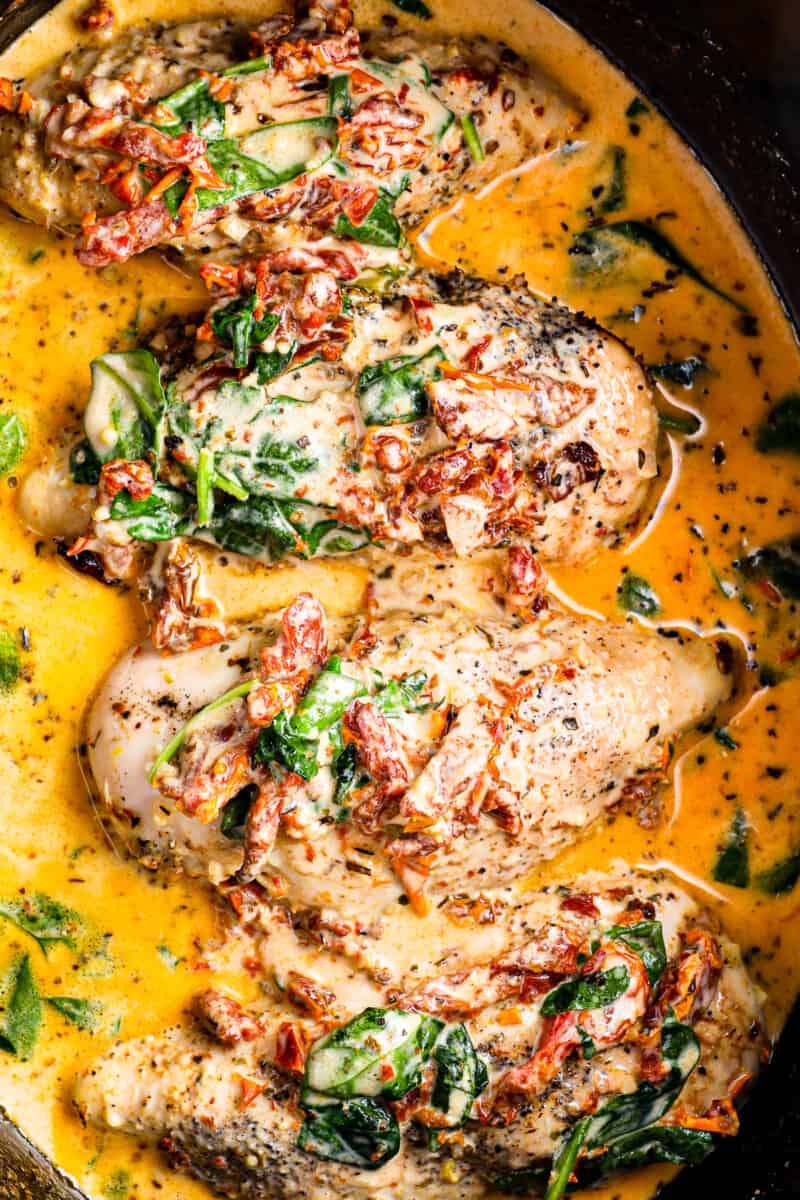 How to Make Crockpot Tuscan Chicken
You can jump to the recipe card for full ingredients & instructions!
Spray your crockpot with a nonstick spray of your choice.
Toss your chicken into the slow cooker and season it with garlic, Italian seasoning, pepper, and salt.
Add your sun-dried tomatoes and chicken stock into the slow cooker.
Cook the meal on high for four hours, making sure your chicken is no longer raw.
Remove your chicken from the crockpot and place it off to the side.
Add heavy cream and Parmesan cheese to the crockpot and then stir in the spinach, cooking until wilted.
Return your chicken back to the slow cooker before serving with parsley and basil.
Recipe Notes
If you don't have heavy cream, you can use half-and-half as a substitute in this recipe.
You can add some frozen corn to your slow cooker if you'd like to add a slightly sweet touch to your Crock Pot Tuscan Chicken.
Be sure to serve with fresh parsley or basil for garnish and to add a special touch to this meal.
You can eat this chicken as is or serve it with a side of your favorite pasta.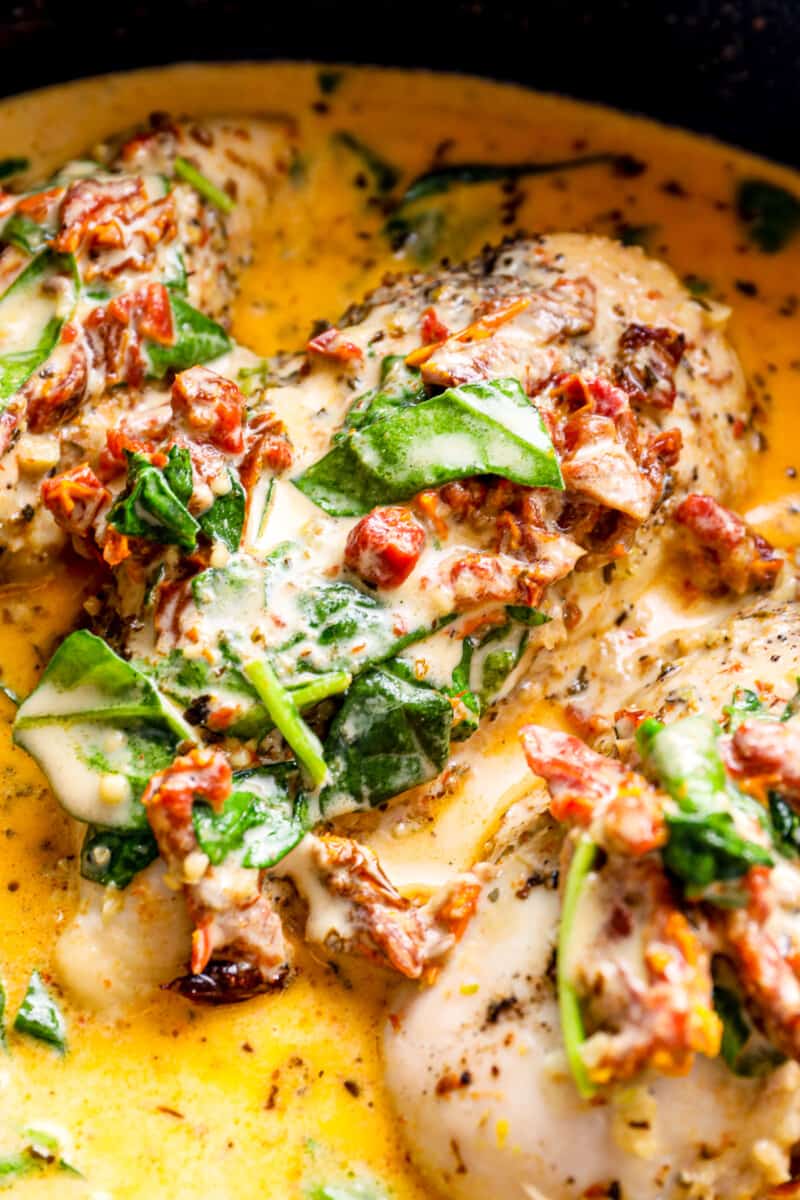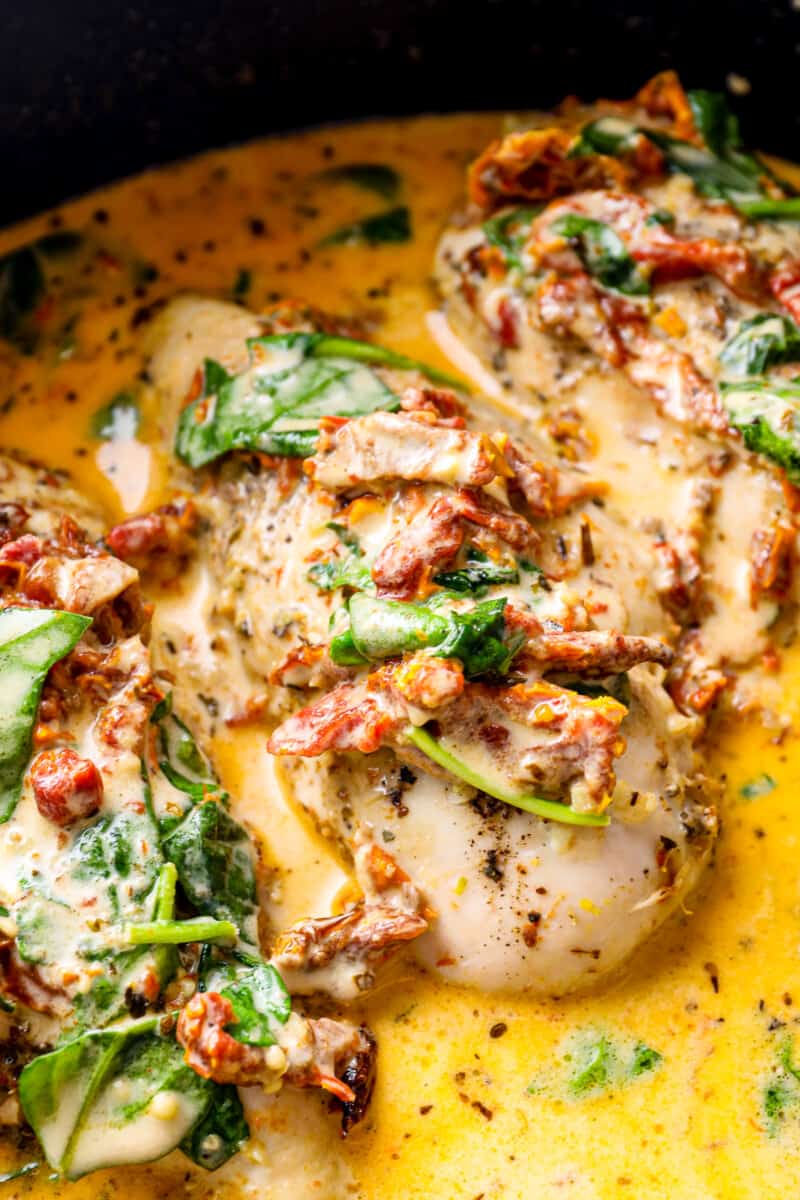 Can I use chicken thighs?
Yes! They may need to cook longer so be sure to check for doneness. You can use a meat thermometer to check the internal temperature of the chicken thighs beforehand.
Can I use frozen chicken?
If you're planning to use frozen chicken, you will need to let it spend more time in the slow cooker. Instead of four hours, it may take eight hours.
Can I make this in an Instant Pot?
Yes, you can make this dish in the Instant Pot if you already have one at home and ready to use.
How long does Tuscan chicken last?
Once you've prepared the Crock Pot Tuscan Chicken, you can store the leftovers in a food storage container and keep them in the fridge, where they'll stay fresh for up to three days.
Serving Suggestions
You can serve this delicious Crock Pot Tuscan Chicken with a side of your favorite pasta, such as fettuccine or spaghetti.
If you're not a big fan of pasta, you can serve the chicken over a bed of white rice.
Don't forget the veggies. This meal tastes great with a side of broccoli and carrots.
You can also serve this dish with a side of homemade mashed potatoes, adding some of the cream on top.
The Crock Pot Tuscan Chicken recipe is easy and delicious. It's the kind of meal you'll look forward to making for years to come.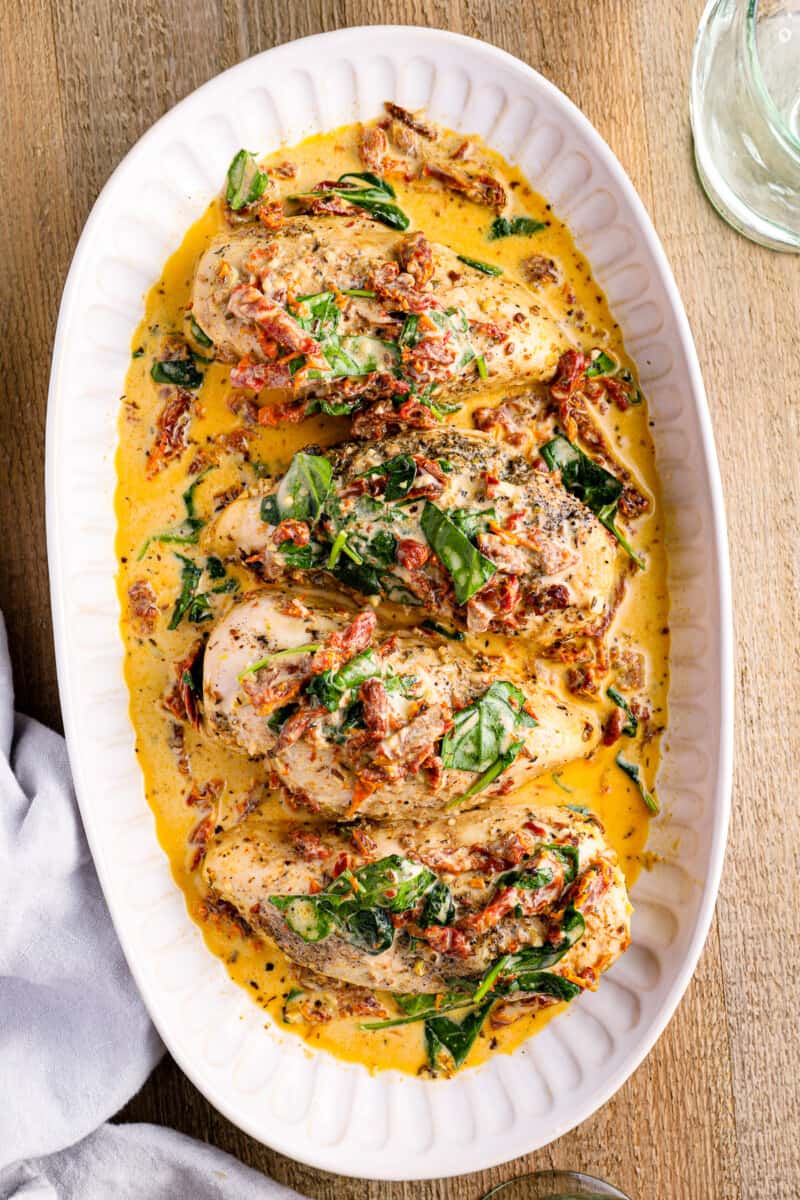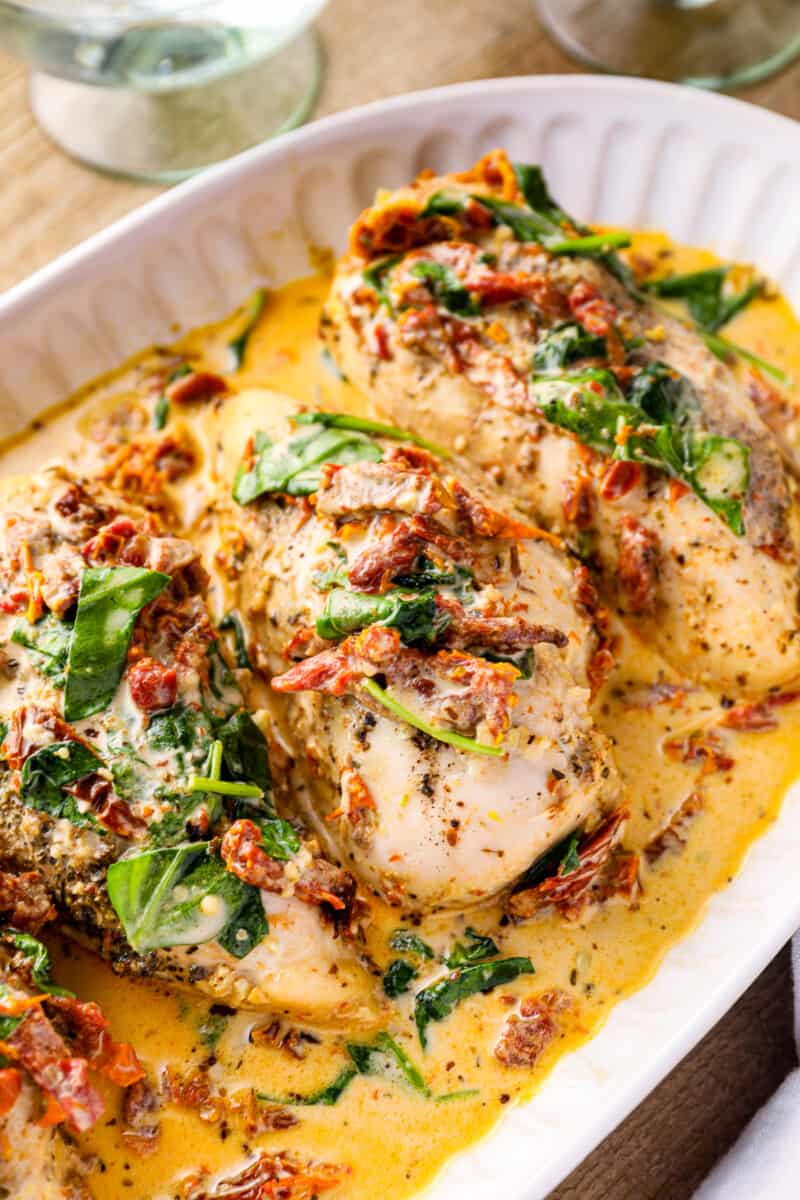 Tips!
Leave the lid on the slow cooker for the full four hours to give your chicken time to cook through.
If you don't have fresh spinach, you can use frozen spinach, but you'll need to thaw it out and remove excess moisture using a towel.
Don't forget to drain the sun-dried tomatoes and chop them into pieces before tossing them into the slow cooker.
It's easy to prepare this delicious recipe. Even when you're limited on time, you can make this meal to enjoy with the family.
Can I make it on the stove?
Yes, you can make this recipe on the stove. You'd need a large stockpot to prepare this Crock Pot Tuscan Chicken.
Can I use frozen spinach?
Yes! It's fine to use frozen spinach. However, it does require a few extra steps, such as thawing it out and then using a towel to remove the extra moisture from it.
More Italian Dinner Recipes We Love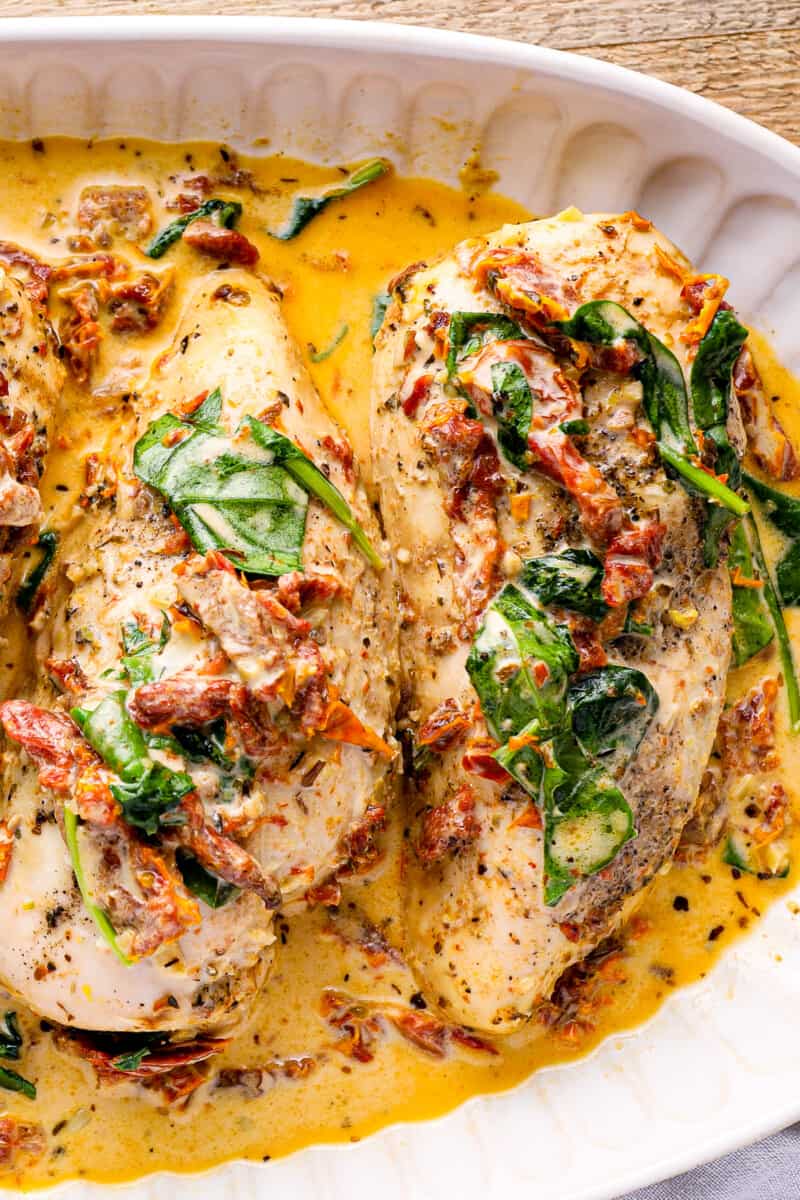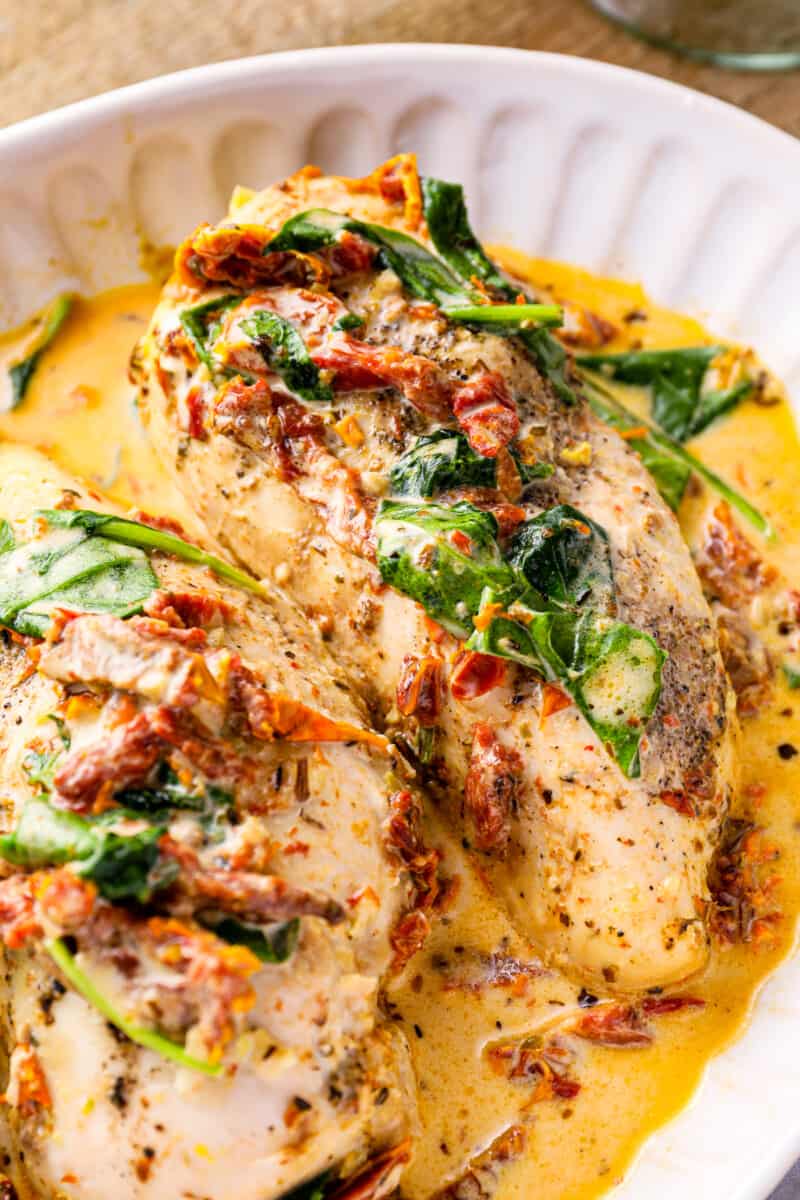 Enjoy this delicious Italian-inspired recipe. The Crock Pot Tuscan Chicken is creamy, wholesome, and sure to leave you feeling full and satisfied.
More Crockpot Chicken Recipes to Try:
If you make this recipe be sure to upload a photo in the comment section below or leave a rating. Enjoy! You can also jump to recipe.