Chicken Broth is so easy to make, you won't need to buy it from the store anymore. This delicious recipe is made with lots of vegetables, spices, and chicken to create the perfect flavor. Learn how to make chicken broth and use it in all of your soups this winter season!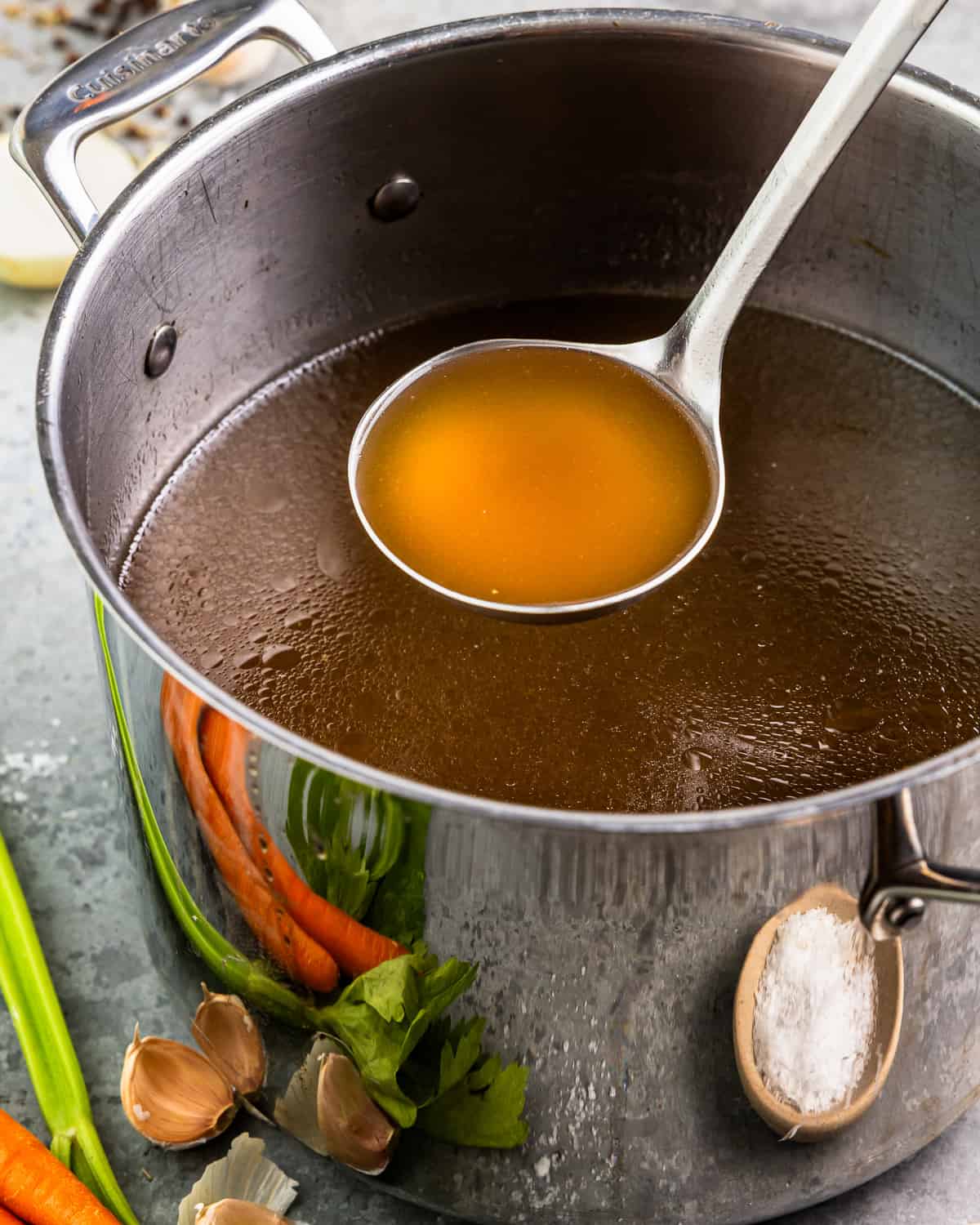 What's in this Chicken Broth Recipe?
Making this chicken broth recipe is just a matter of letting a bunch of vegetables, spices, and chicken simmer together in a pot. The liquid draws flavor from all of the vegetables, spices, and chicken to create a perfectly balanced broth.
Chicken: Whole chickens provide the main flavor and nutrients of this broth, such as protein, collagen, calcium, iron, and potassium.
Water: Cold water is used as the base of this broth and helps to extract the flavors and nutrients from the other ingredients.
Onions: Add flavor and aroma. They also contain natural sugars that help balance out the saltiness of the broth.
Garlic: Adds a herbaceous flavor and contains high amounts of manganese, vitamin B6, vitamin C, and selenium that help boost immunity.
Carrots: Adds sweetness and depth of flavor to the broth. They are rich in vitamin A and potassium!
Celery: Adds a subtle flavor and aroma to the broth. It is rich in potassium and calcium and is believed to reduce inflammation.
Herbs de Provence: A blend of herbs that typically includes rosemary, thyme, oregano, and savory. These herbs add a complex and aromatic flavor to the broth.
Bay Leaves: Add a distinct and slightly sweet flavor to the broth. They are also a rich source of vitamin A, vitamin C, iron, potassium, calcium, and magnesium and help aid in digestion.
Cloves: Add a warm and spicy flavor to the broth. They're high in antioxidants!
Black Peppercorns: Add a mild and spicy flavor to the broth. They're also high in antioxidants.
Kosher Salt: Seasons the broth, enhancing its flavor.
Soy Sauce: Boosts the savory, umami flavor of the broth.
This homemade chicken broth recipe is the perfect balance of flavor! It makes 19 cups of broth, so you will have plenty to save and use for all of your soup recipes.
Variations on Homemade Chicken Broth
There are so many easy ways to jazz up this chicken broth. I already made mine a bit more fun by adding herbs de Provence and soy sauce.
Add chili peppers or red pepper flakes to give the broth a spicy kick, lemon juice and zest to give it a bright and refreshing flavor, ginger to give it a slightly spicy and sweet flavor (and aid in digestion), turmeric for a vibrant yellow color (and anti-inflammatory properties!), or miso for an umami boost (and probiotics)!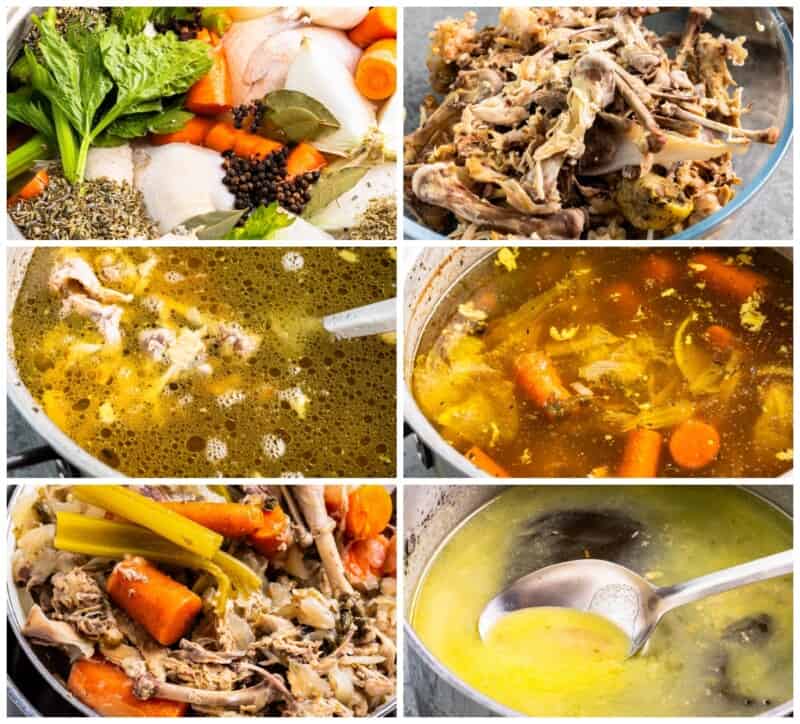 Is chicken stock the same as chicken broth?
Broth and Stock are made in a similar way, but still, chicken stock and chicken broth are not exactly the same. Both are liquids made by boiling chicken bones and/or meat along with vegetables. The difference is that chicken stock tends to be less seasoned, and is perfect as a base to make sauces, gravies, etc. Chicken broth, on the other hand, is well-seasoned and full of flavor, so it's ready to consume as is.
Can you use chicken broth instead of chicken stock?
Chicken stock and stock broth are very similar, and they can generally be used interchangeably. In a pinch, if you don't have one, use the other.
Is chicken broth good for you?
Chicken broth is a nutritious food that is high in protein, vitamins, and minerals. It is also believed to have health benefits such as reducing inflammation and improving digestion.
Can you make chicken broth without bones?
Yes, you can make chicken broth without bones by using chicken meat or a combination of chicken meat and bones.
Is chicken broth gluten-free?
This recipe is not gluten-free due to the use of soy sauce. To make it gluten-free, omit the soy sauce or replace it with tamari or coconut aminos.
Can you use broth instead of water when cooking rice or pasta?
Yes, using chicken broth instead of water when cooking rice or pasta can add extra flavor and depth to the dish.
How long does chicken broth last in the fridge?
Homemade chicken broth can last for up to 3 days in the refrigerator.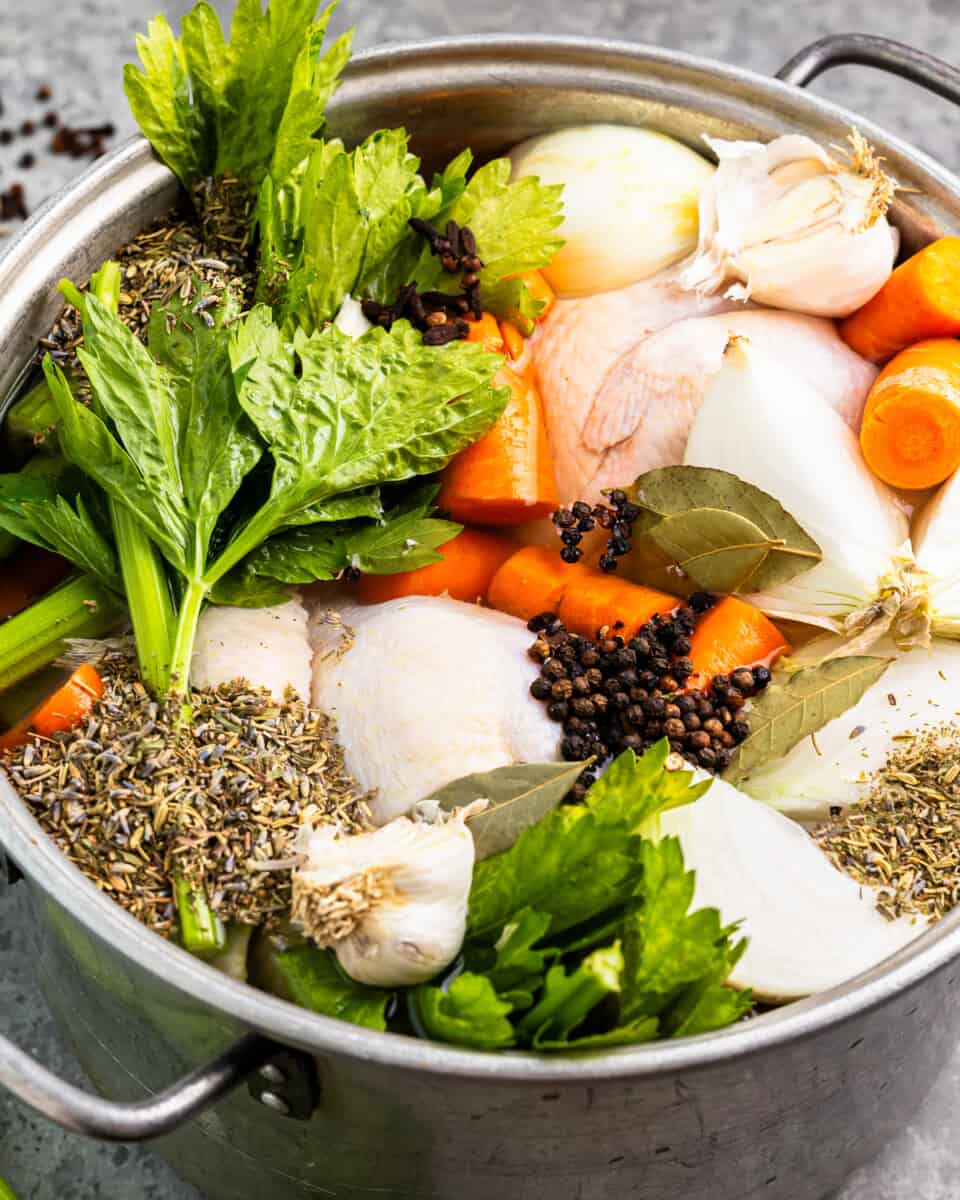 How to Store and Reheat
Store leftover chicken broth in an airtight container in the refrigerator for up to 3 days. Reheat in a saucepan set over medium-low heat until warmed through.
How to Freeze
Yes, this is easy to store in the freezer. Just pour it into freezer-safe containers and it will keep for up to 3 months. You can portion off the broth before freezing to make it easier to grab and thaw when you're ready to cook. You can toss it right into a hot pan if it is in small portions, or thaw it overnight in the refrigerator for larger portions.
Serving Suggestions
This is the perfect base for so many soups, and you know it'll be on every ingredient list. Learn to make it so you have some on hand for your next batch of chicken noodle soup, crockpot Tuscan chicken soup, Italian wedding soup, egg drop soup, Buffalo chicken soup, or Zuppa Toscana.
It also comes in handy when making all kinds of Thanksgiving recipes, like stuffing and casseroles, so you'll definitely need this stuff around. I use it in this Chicken and Rice Casserole and this Chicken Pot Pie Casserole.
Besides cooking other recipes, hot chicken broth is the perfect thing to sip on when you're sick, and you need something warm and soothing for your stomach.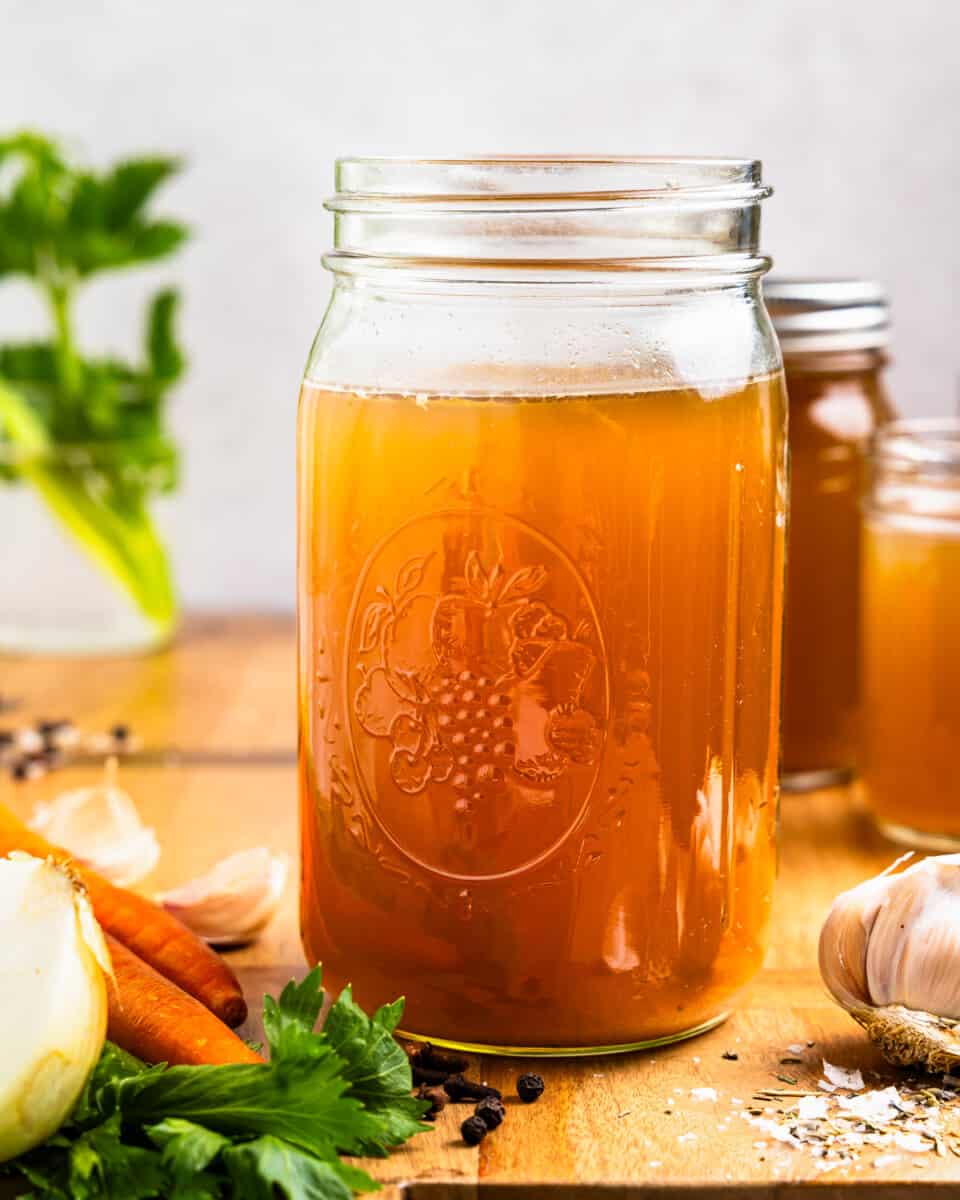 5-Star Review
"This turns out perfect every time. Great recipe :)" – Aimee Shugarman
More Whole Chicken Recipes We Love