Homemade Chicken Broth is so easy to make, you won't need to buy it from the store anymore. This delicious chicken broth recipe is made with lots of vegetables, spices, and chicken to create the perfect flavor. Learn how to make chicken broth and use it in all of your soups this winter season!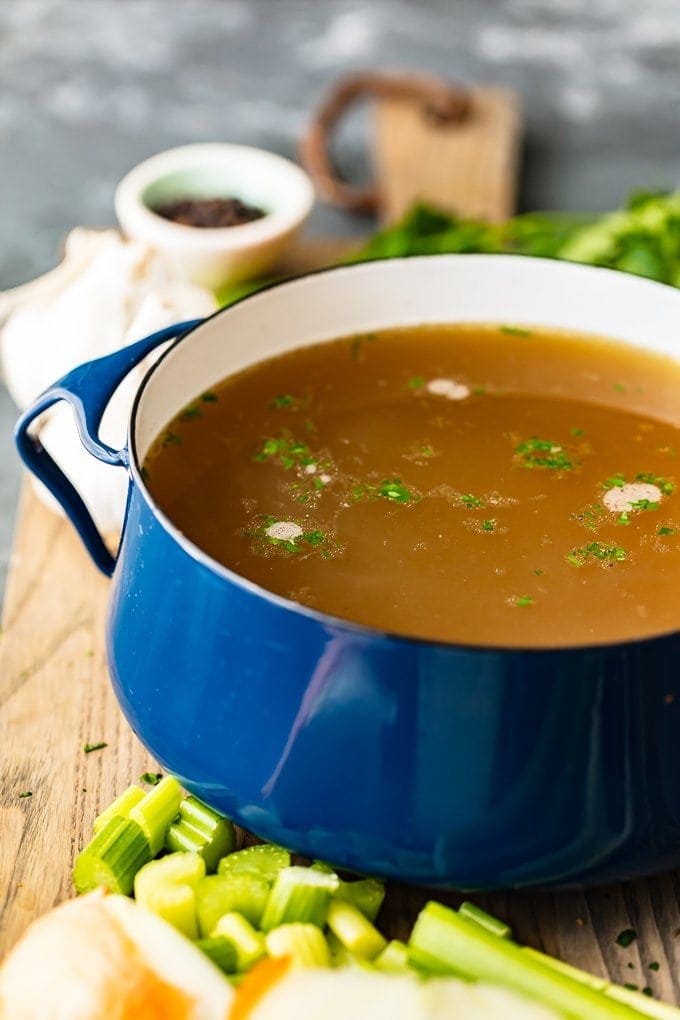 Homemade Chicken Broth
Homemade Chicken Broth is such a simple thing to make for yourself, and you'll use it so many recipes. Learn how to make chicken broth and start making those delicious soups!
Fall and winter are the seasons of soup! When the weather is cold, I know all I want to eat is a big bowl of hot soup. It's so warming and comforting to sip on something so hearty and flavorful. I love soup, and I have about a million favorite soup recipes that I like to make throughout the season. And the main thing you need for every good soup? Chicken broth!
Homemade Chicken Broth is the perfect base for so many soups, and you know it'll be on every ingredient list. So learn how to make chicken broth at home so you can have the best tasting broth to start every soup. It also comes in handy when making all kinds of Thanksgiving recipes, like stuffing and casseroles, so you'll definitely need this stuff around. And when you end up with a cold, sip on some homemade chicken broth until you start feeling better. Make a big batch, freeze it, and use it throughout the fall and winter seasons!
This Homemade Chicken Broth recipe is so simple and so tasty. Learn how to make chicken broth at home so you can use it for every sou