Homemade Chicken Broth is so easy to make, you won't need to buy it from the store anymore. This delicious recipe is made with lots of vegetables, spices, and chicken to create the perfect flavor. Learn how to make chicken broth and use it in all of your soups this winter season!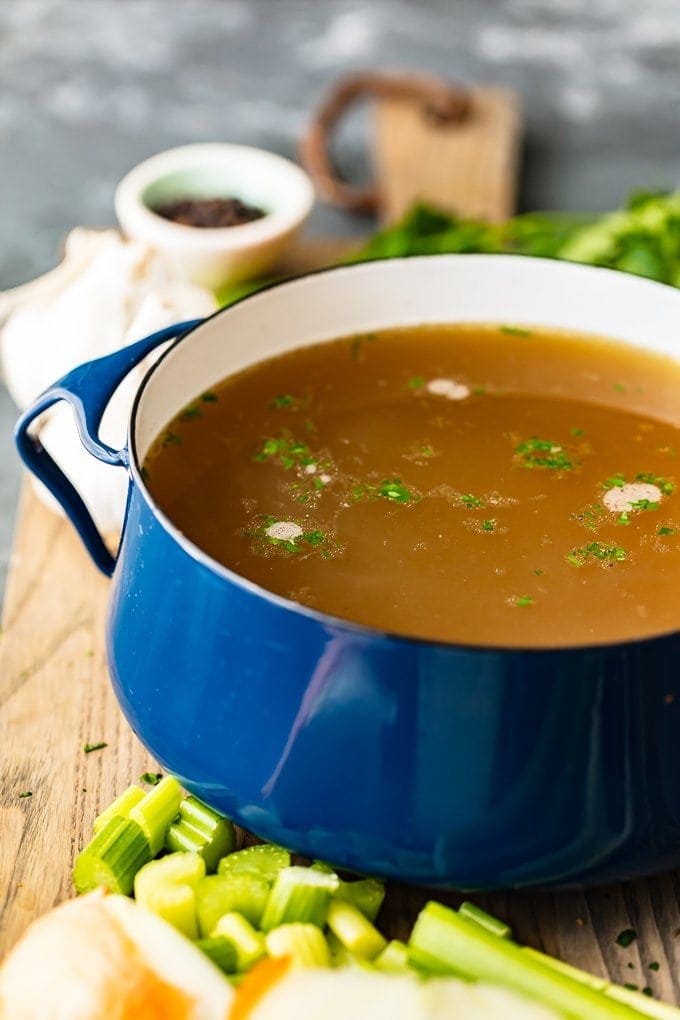 Chicken Broth
Making your own broth is such a simple thing to make for yourself, and you'll use it so many recipes. Learn how to make chicken broth and start making those delicious soups!
Fall and winter are the seasons of soup! When the weather is cold, I know all I want to eat is a big bowl of hot soup. It's so warming and comforting to sip on something so hearty and flavorful.
I love soup, and I have about a million favorite soup recipes that I like to make throughout the season. And the main thing you need for every good soup? Chicken broth/stock!
This is the perfect base for so many soups, and you know it'll be on every ingredient list. So learn how to make this recipe at home so you can have the best tasting broth to start every soup.
It also comes in handy when making all kinds of Thanksgiving recipes, like stuffing and casseroles, so you'll definitely need this stuff around.
When you end up with a cold, sip on some homemade chicken broth until you start feeling better. Make a big batch, freeze it, and use it throughout the fall and winter seasons!
This recipe is so simple and so tasty. Learn how to make it at home so you can use it for every soup you make!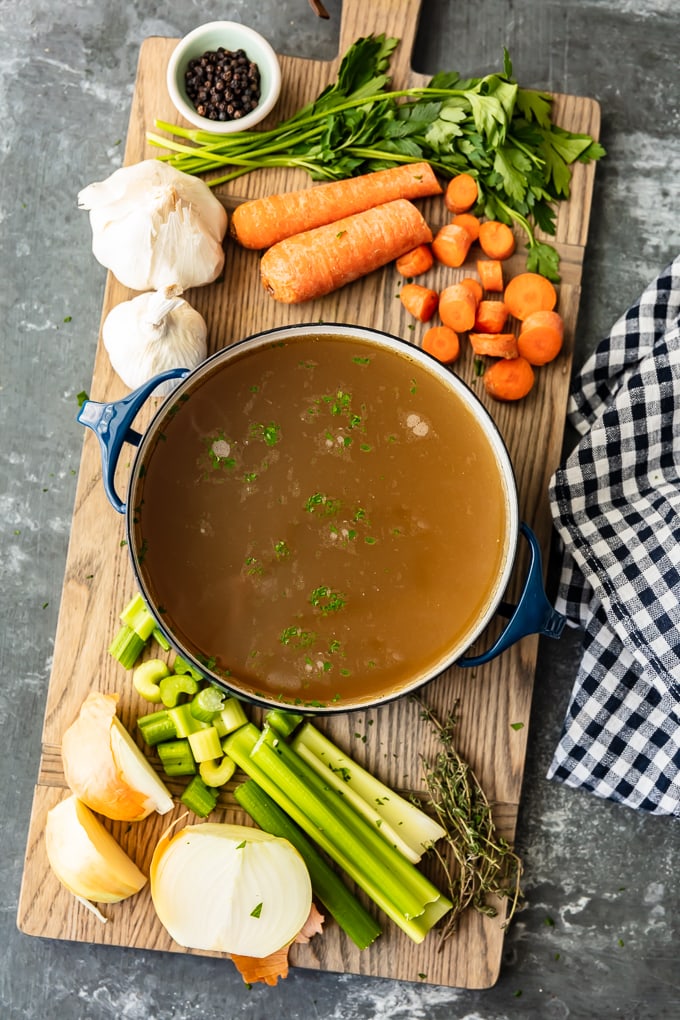 Chicken Stock vs Chicken Broth
Chicken stock and stock broth are very similar, and they can generally be used interchangeably. In a pinch, if you don't have one, use the other.
Broth and Stock are made in a similar way, but still, chicken stock and chicken broth are not exactly the same. Both are liquids made by boiling chicken bones and/or meat along with vegetables.
The difference is that chicken stock tends to be less seasoned, and is perfect as a base to make sauces, gravies, etc. Chicken broth, on the other hand, is well-seasoned and full of flavor, so it's ready to consume as is.
This Chicken Broth recipe is perfect to use in soups and casseroles, or to just sip on its own.
Ingredients for this homemade recipe
The amazing flavor of this homemade chicken broth comes from all of those great ingredients that we have simmering in the pot.
The liquid draws flavor from all of the vegetables, spices, and chicken to create a perfectly balanced broth.
Chicken Broth Ingredients:
Chicken (meat and bones)
Onions
Garlic
Water
Carrots
Celery
Bay Leaves
Cloves
Black Peppercorns
Salt
Soy Sauce
Making this chicken broth recipe is just a matter of letting a bunch of vegetables, spices, and chicken simmer together in a pot. Nothing is easier than that, right?
This homemade chicken broth recipe is the perfect balance of flavor! It makes 19 cups of broth, so you will have plenty to save and use for all for all of your soup recipes.
How to make chicken broth:
You can jump to the recipe card for full ingredients & instructions!
Add all listed ingredients into a large 16-20 quart stock pot, and cover with 6 quarts of water.
Bring to a boil, then reduce heat to low and let it simmer (uncovered) for 2 1/2 hours.
Carefully remove the whole chickens from the broth, removed the meat from the bones, and then return the bones to the stock pot. (Save the chicken meat for recipes!)
Let the broth cook for another 1 1/2 hours.
After it's done cooking, pour the broth through a strainer to separate the liquid from the other ingredients.
Refrigerate the broth overnight and remove surface fat the next day.
You can freeze it and save it for later. It will keep in the refrigerator for 3 days, and in the freezer for 3 months. See the recipe card for more detailed instructions.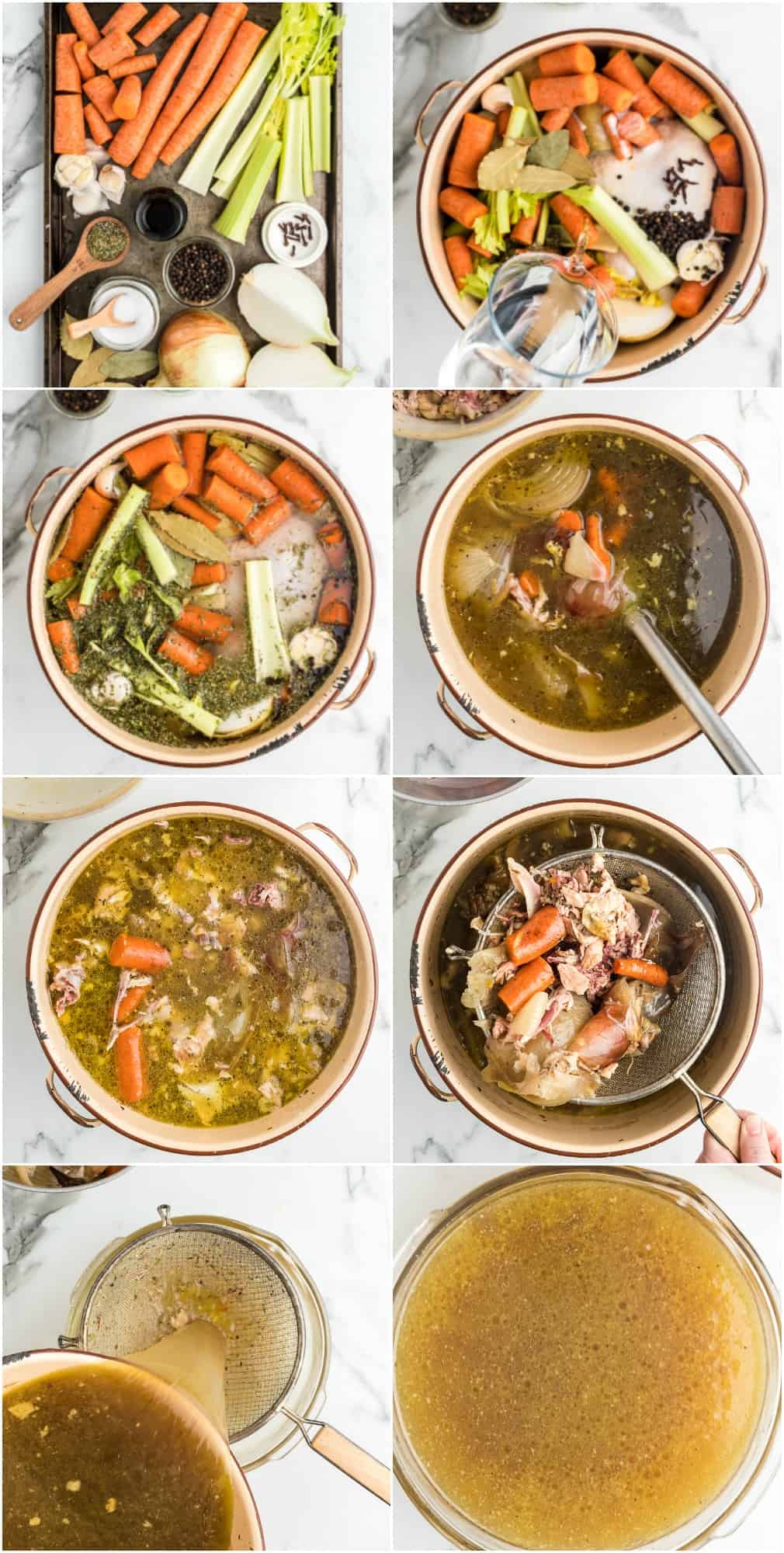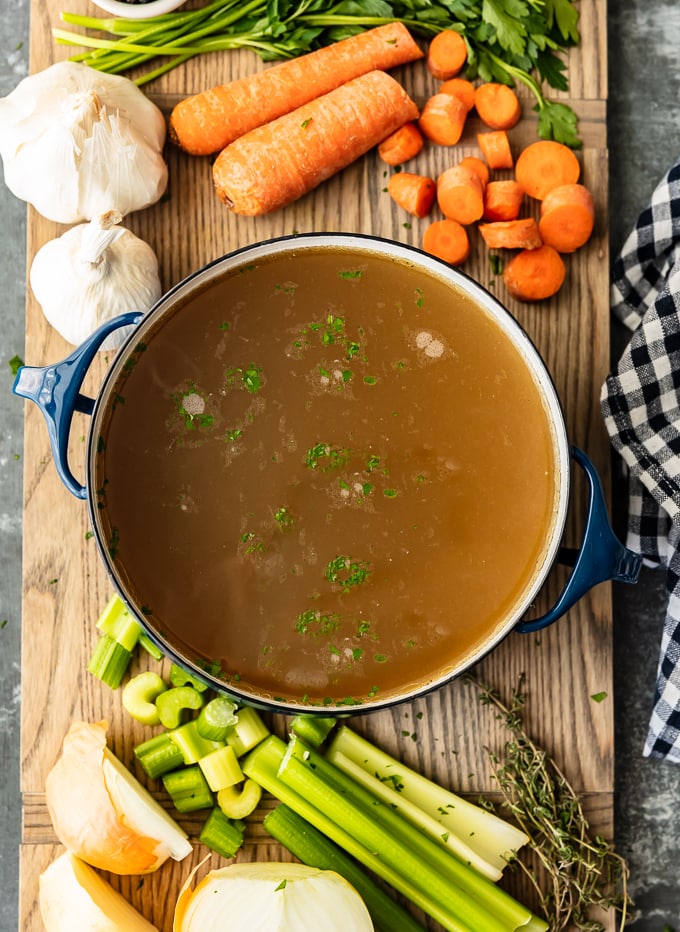 Can you freeze chicken broth?
Yes, this is easy to store in the freezer. Just pour it into freezer-safe containers and it will keep for up to 3 months.
You can portion off the broth before freezing to make it easier to grab and thaw when you're ready to cook.
How to use Chicken Broth in Recipes
Homemade chicken broth is the perfect base for soups, which is what I love to use it for. But a lot of different kinds of recipes call for it, and you can use this broth for them all.
I use it in this Chicken and Rice Casserole and this Chicken Pot Pie Casserole. Besides cooking other recipes, hot chicken broth is the perfect thing to sip on when you're sick, and you need something warm and soothing for your stomach.
More Soup Recipes
If you learn how to make chicken broth, be sure to use it in all these soup recipes below!
See All Soup
If you make this recipe be sure to upload a photo in the comment section below or leave a rating. Enjoy! You can also jump to recipe.