This Tuscan Chicken recipe features crispy, seasoned chicken breasts in a creamy Parmesan sauce with sun-dried tomatoes and spinach. It's a classic Italian dish you'll love eating for dinner, and it's so simple to make. The creamy sauce is just irresistible!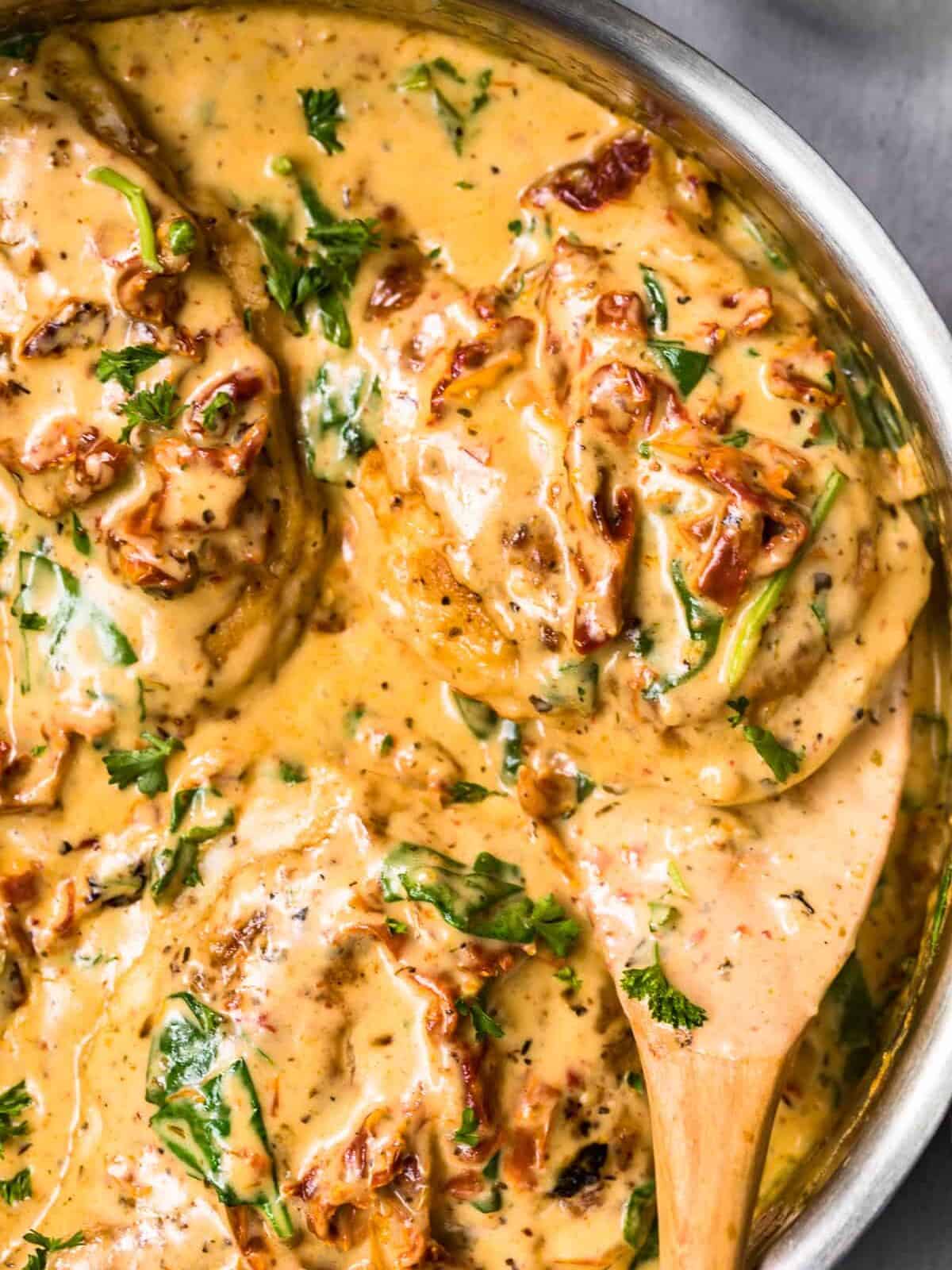 What's in Tuscan Chicken
The combination of simple-seasoned chicken with a creamy sauce can't be beat. You'll likely have a lot of these ingredients on hand, so your shopping list will be short!
Chicken: Use chicken breasts, pounded to thin them out into an even thickness. You can also use chicken thighs, but the cooking time will increase slightly.
Parmesan Cheese: This will be mixed into the flour mixture that coats the chicken, as well as mixed into the sauce.
Butter: Using a good quality butter will add an extra dimension of rich flavor into the sauce and chicken.
Flour: A flour and cheese mixture is used for dredging the chicken–this helps it get nice and crispy in the skillet. You'll also need some flour to thicken the sauce.
Heavy Cream: This is what makes the Parmesan sauce so creamy!
Italian Seasoning: This savory blend of herbs and spices is a must for this recipe. It creates that signature flavor! If you don't have this mix on hand, check your spice cabinet and try making an Italian seasoning blend at home.
Spinach: Baby spinach works best for this recipe. Keep in mind that if you use frozen spinach, it will likely be a bit soggy. Fresh is better!
Sun-Dried Tomatoes: If you don't like tomatoes, try adding in some mushrooms for a similar texture instead.
Tips!
To even out chicken breasts, place them between two pieces of plastic wrap, and use a meat tenderizer/mallet to thin out thicker spots. Creating an even thickness throughout helps them cook faster, more evenly, and get a little crispy.
Add in More Veggies
If you want to add more vegetables to your Tuscan chicken dish, or just substitute something for the spinach and tomatoes, there are plenty of options.
Kale makes a great replacement for the spinach. It's much heartier, and will add more texture compared to the spinach.
Artichoke hearts would make a delicious addition. Drain and chop into bite-sized pieces.
Mushrooms will have a similar texture to the sun-dried tomatoes, so they are a good substitute (though of course they taste different).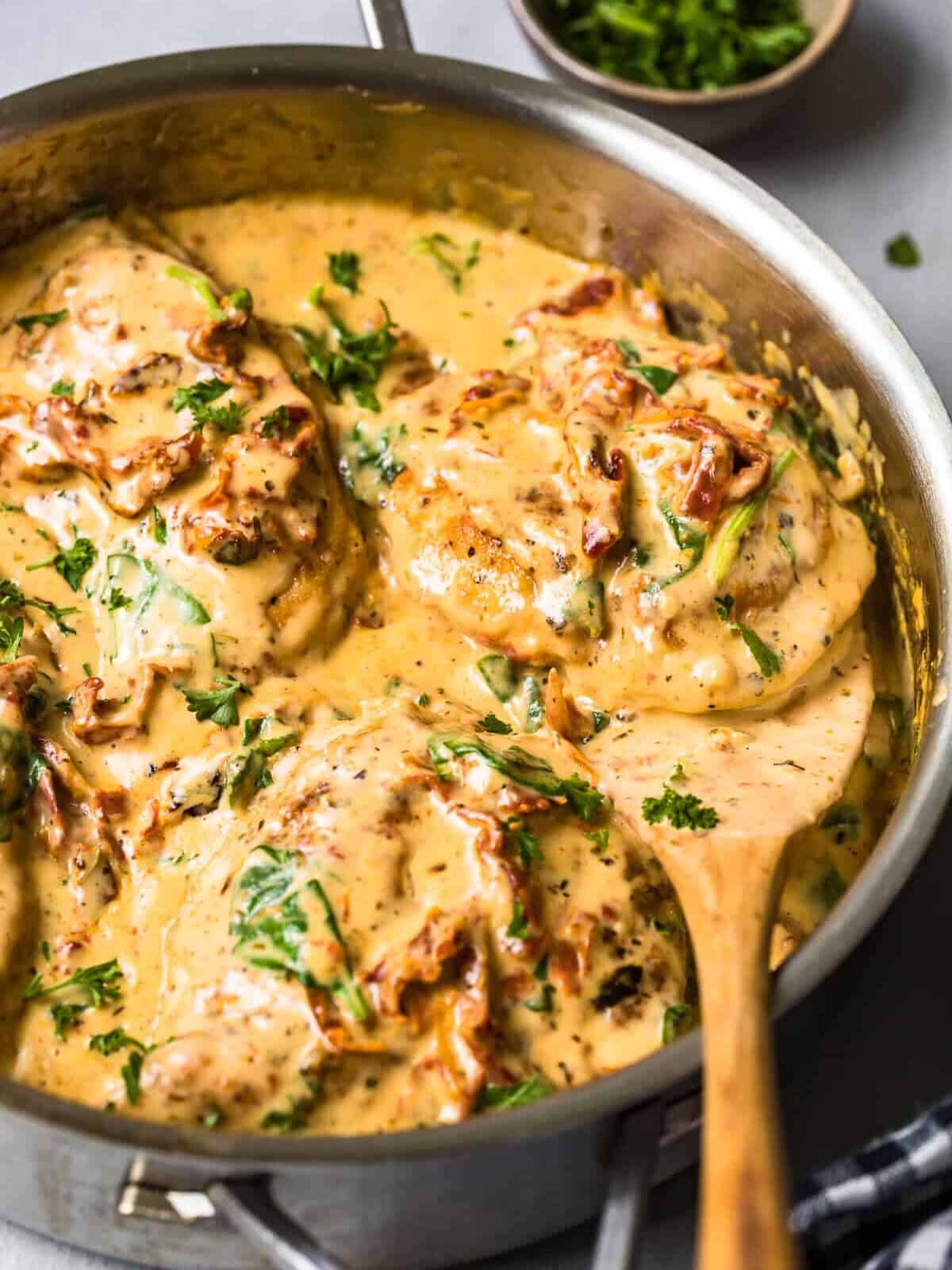 Why is it called Tuscan chicken?
This dish is called Tuscan chicken simply because it originated in the Tuscany region of Italy.
How long does it take to cook chicken in a skillet?
Initially, you'll cook the chicken breasts for about 4-5 minutes on each side (8-10 minutes), and then set it aside. At the end, you'll cook it a few more minutes directly in the sauce. So expect around 12 minutes total for the chicken, but check the internal temp to make sure it's cooked through.
How to Store Leftovers
Store in an airtight container and refrigerate within two hours of cooking. Cooked chicken will be safe in the fridge for up to 3 days.
Reheat on the stovetop for best results. You can mix in some more heavy cream to freshen up the Parmesan sauce.
Can You Freeze Tuscan chicken?
Yes! Let everything cool, then store in a freezer-safe container. Freeze up to 3 months.
To reheat, first let it thaw in the fridge overnight. Then reheat on the stovetop until chicken is fully heated through.
What to Serve with Creamy Tuscan Chicken
The creamy Parmesan sauce makes this perfect for serving along with pasta. Cook up some penne, spaghetti, or your favorite noodle, and top each plate with a chicken breast and plenty of sauce.
You can also serve it with roasted mushrooms or some roasted garlic. Start with a chicken Caesar salad, or a bowl of Zuppa Toscana, and you'll have a beautiful restaurant-style meal.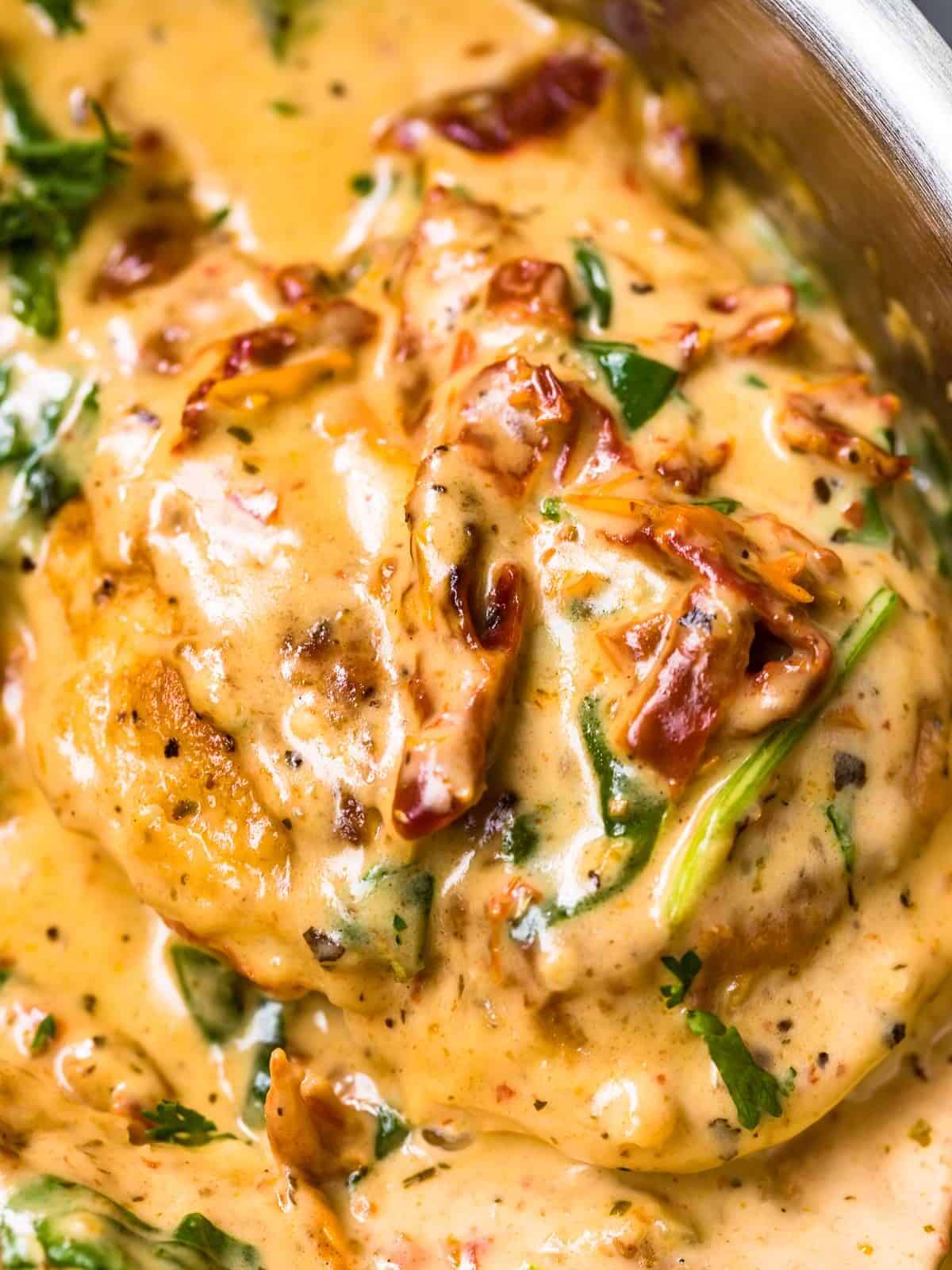 It's really so simple to make this authentic, creamy Tuscan chicken recipe on the stovetop. It'll be part of your new meal rotation without a doubt!
If you make this recipe be sure to upload a photo in the comment section below or leave a rating. Enjoy! You can also jump to recipe.
More Creamy Chicken Recipes We Love