Tuscan Chicken Soup is something that you can enjoy year-round. This crockpot chicken soup recipe is so delicious and so simple. An easy Tuscan Soup to make at home, filled with so many good ingredients.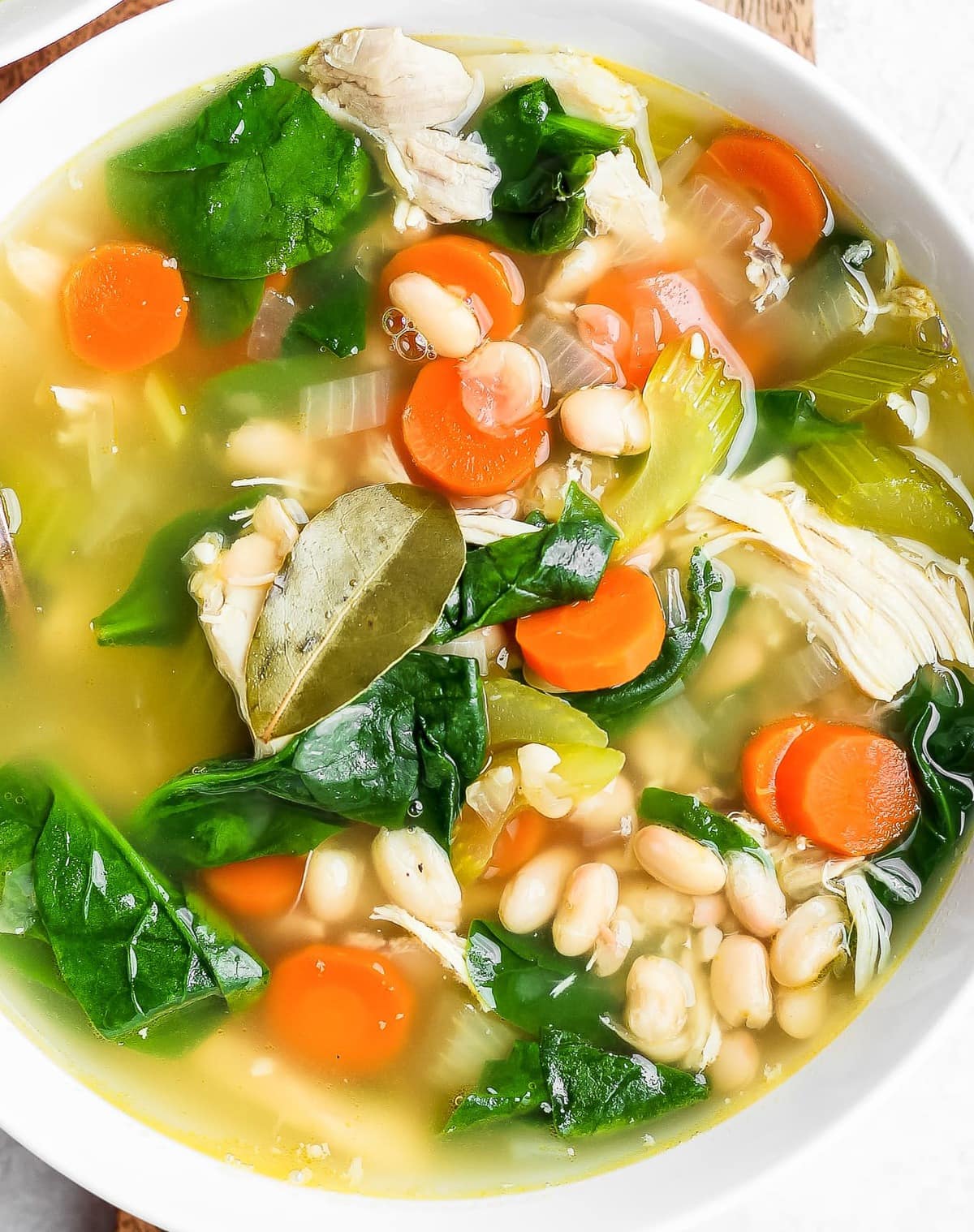 Tuscan Chicken Soup
This Crock Pot Tuscan Chicken Soup recipe is so easy. Just throw in the ingredients, set it, and let it cook!
I know most of us only think to eat soup in the colder months of the year, but I vote we get rid of that unspoken rule. Soup is for any time of year, especially this Tuscan Chicken Soup!
If you've ever had Tuscan Soup, you already know how good this stuff is. Garlic, spinach, carrots, and so many other tasty ingredients, plus CHICKEN. I love a good chicken soup recipe, especially when it's made in a slow cooker. Fill it, set it, forget it! Come back to this Crockpot chicken soup recipe just waiting for you!
It's such an easy recipe, something you can start up earlier in the day, and then have dinner ready without having to do much at all. It also freezes well, so make sure you save any leftovers!
This Chicken Tuscan White Bean Soup is easy, healthy, and so tasty. The perfect soup for any time of year!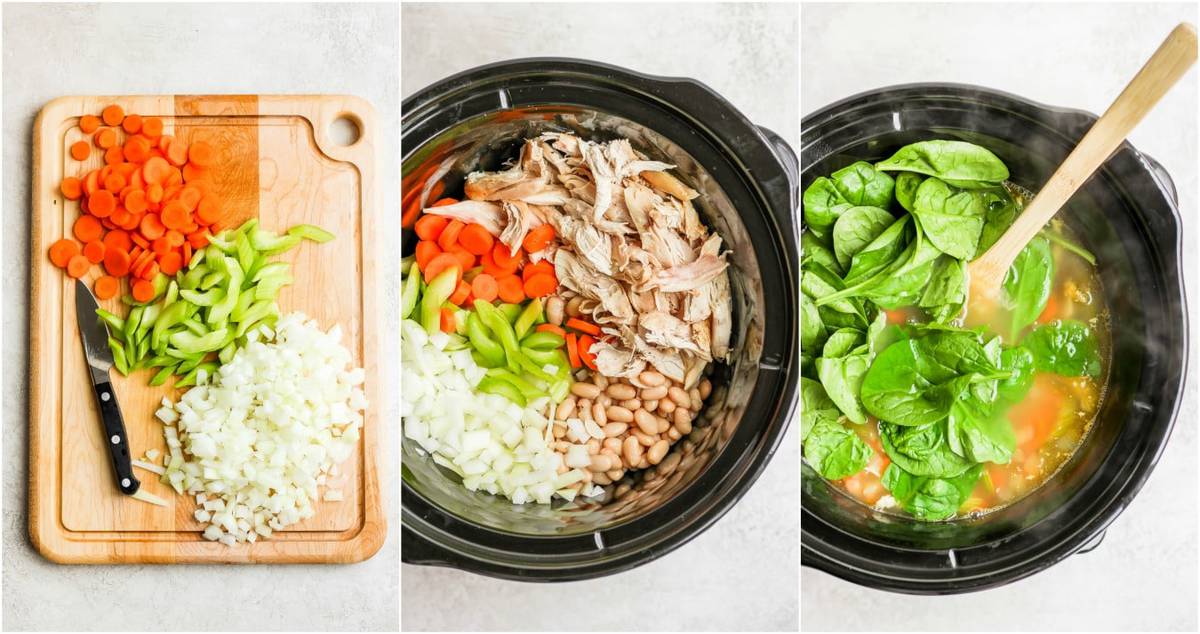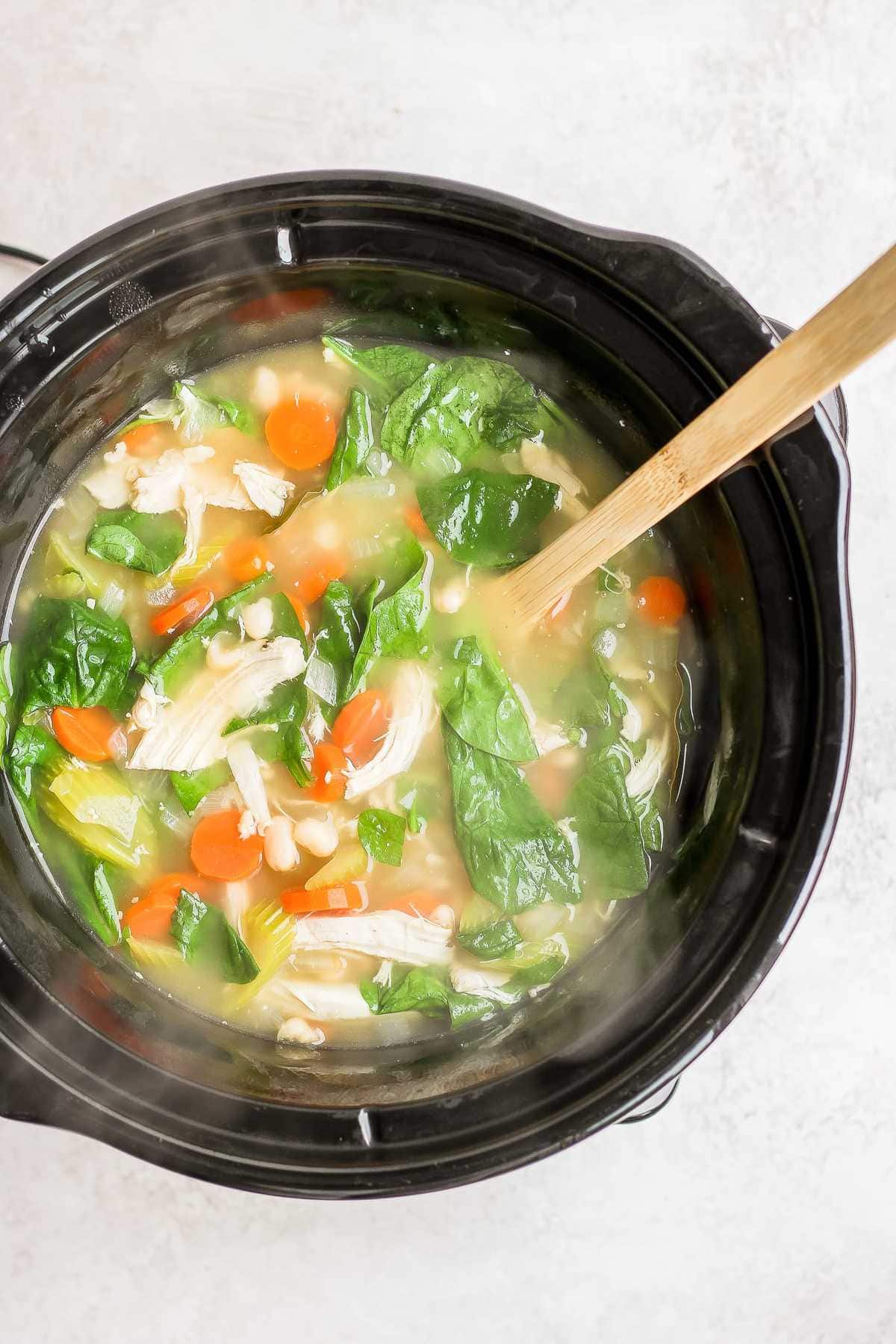 Easy Tuscan Soup with Chicken
Have you guys ever had the Tuscan Soup from Olive Garden? So good, right? Well this is kind of inspired by that…but with chicken, and made in a slow cooker, and definitely healthier…so pretty different, actually. But there's just a lot of extra great things about it, and the initial flavor really reminds me of that soup. I love how this soup is just filled with amazing ingredients, things I feel good about eating!
What's in this Crock Pot Tuscan Chicken Soup?
Shredded Chicken
Spinach
Carrots
Celery
Garlic
Onion
Chicken Broth
White Beans
Bay Leaves
Such a great mix of flavors!
Okay, so if you guys REALLY want that Olive Garden soup, I also have a recipe for Zuppa Toscana that you guys just have to try. It's much closer to their recipe, with potatoes, bacon, and sausage. And it's made in an Instant Pot, so it's super easy!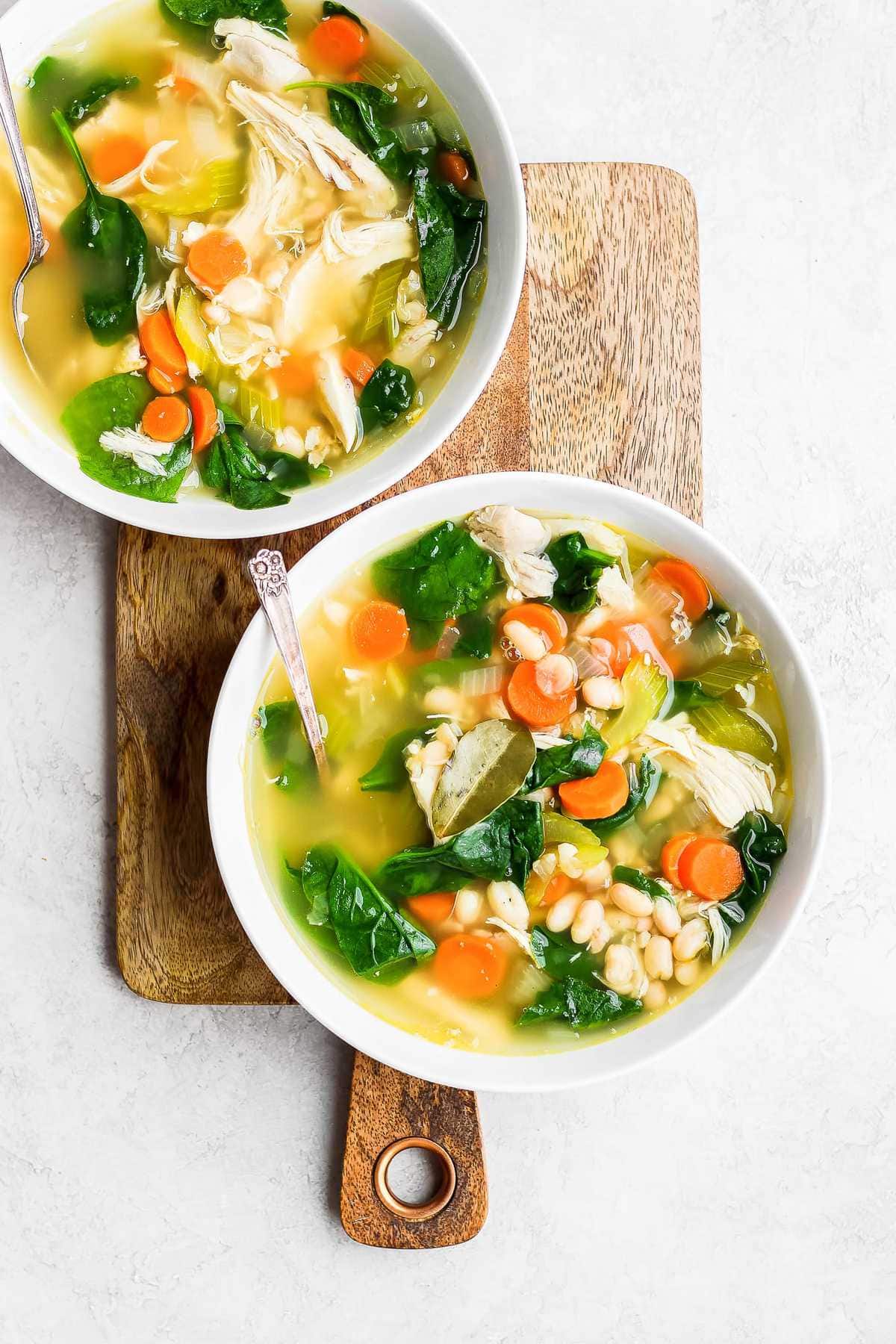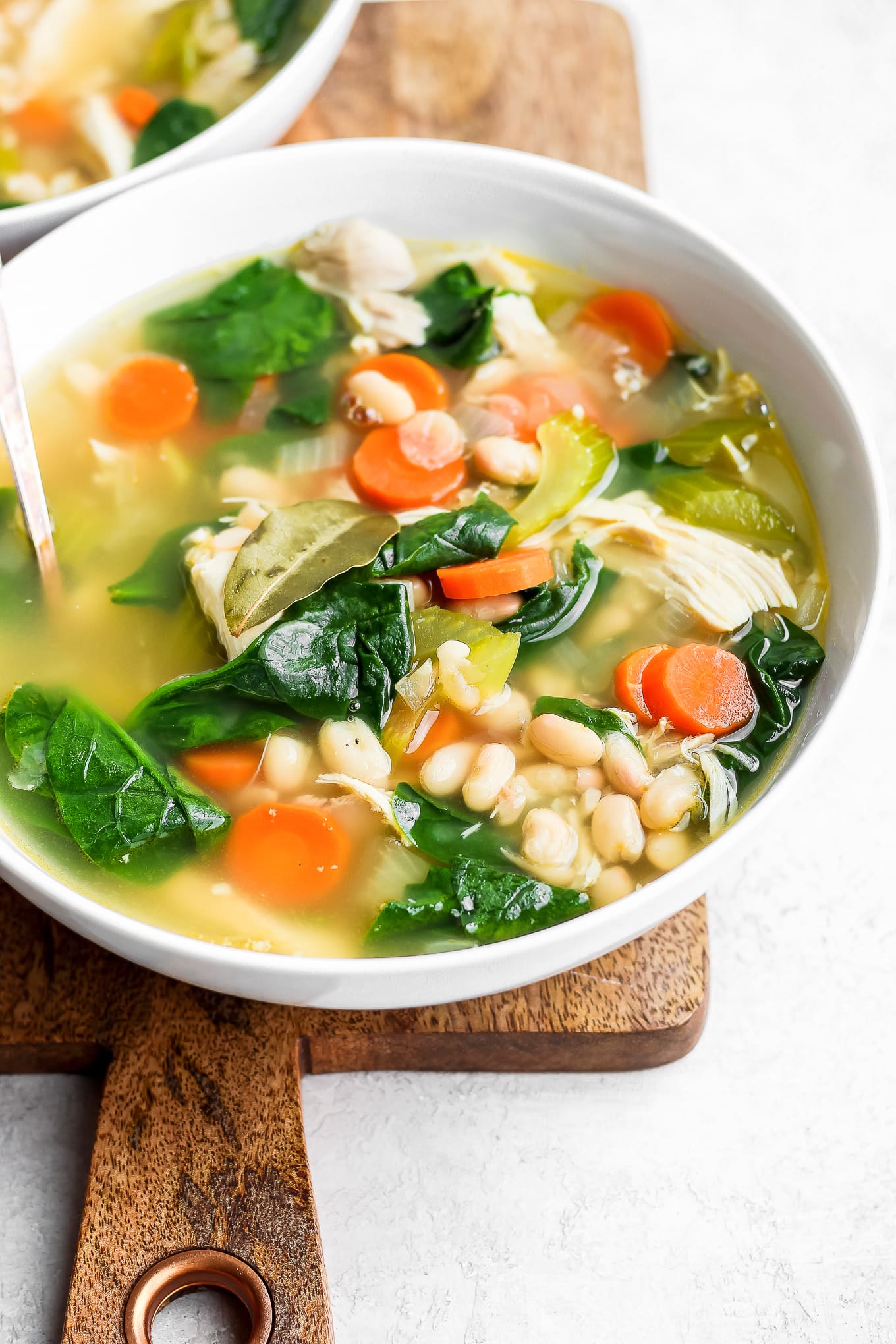 How to Make Tuscan Chicken Soup in a Crockpot
This Crock Pot Tuscan Chicken Soup is BEYOND easy to make. I'm not kidding, it takes almost nothing to put this soup together. Prep your ingredients, throw them in the slow cooker, set it, and that's it. It does all the work for you, which is how I prefer my soups to be made.
Place the chicken, celery, carrots, garlic, onions, white beans, and bay leaves in the crock pot and season with salt and pepper.
Stir in the chicken broth and water, then stir in the spinach.
Cover and cook on low heat for 7-8 hours, or high heat for 3-4 hours.
That's it! You really don't have to do anything at all. Just serve it once it's hot and enjoy!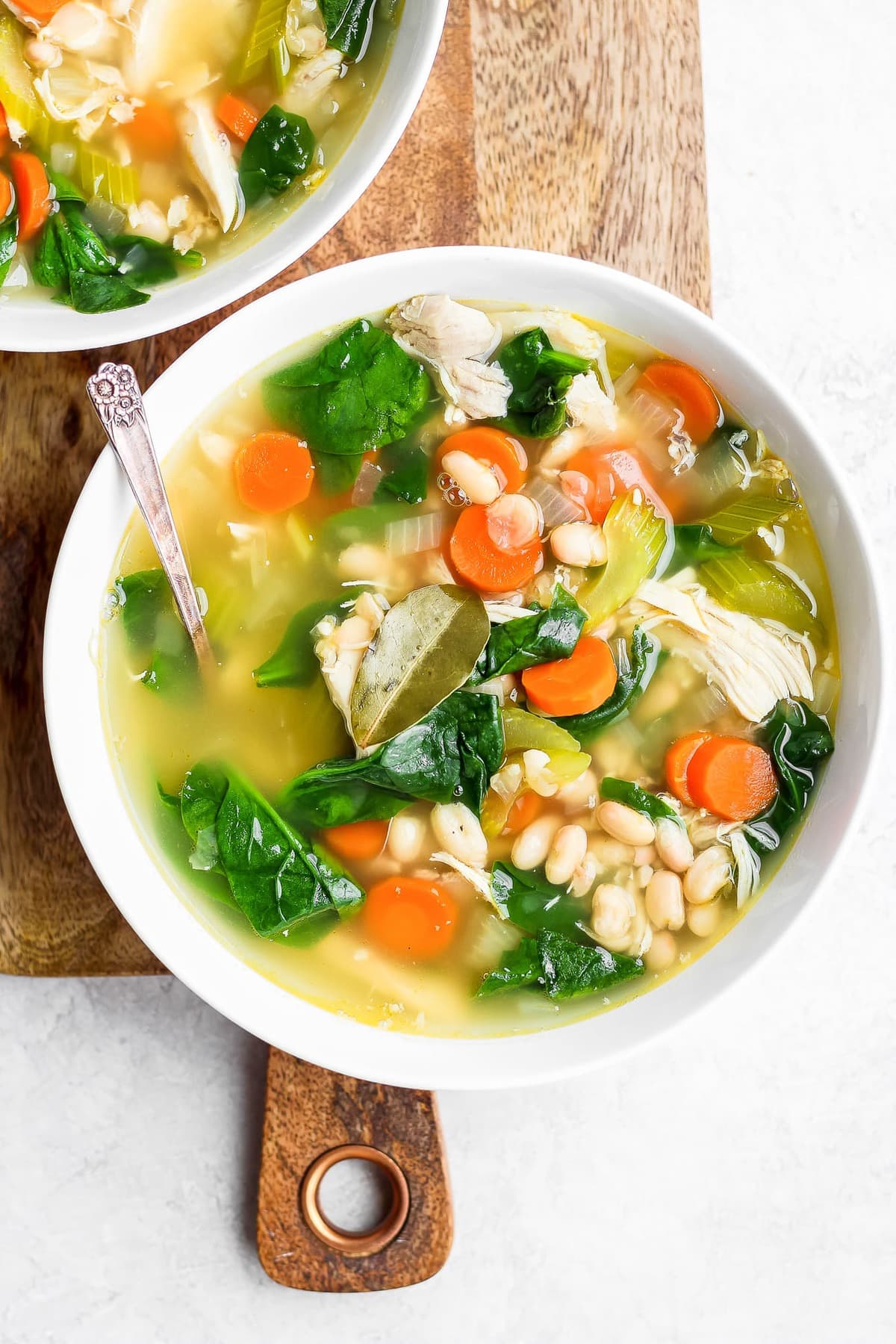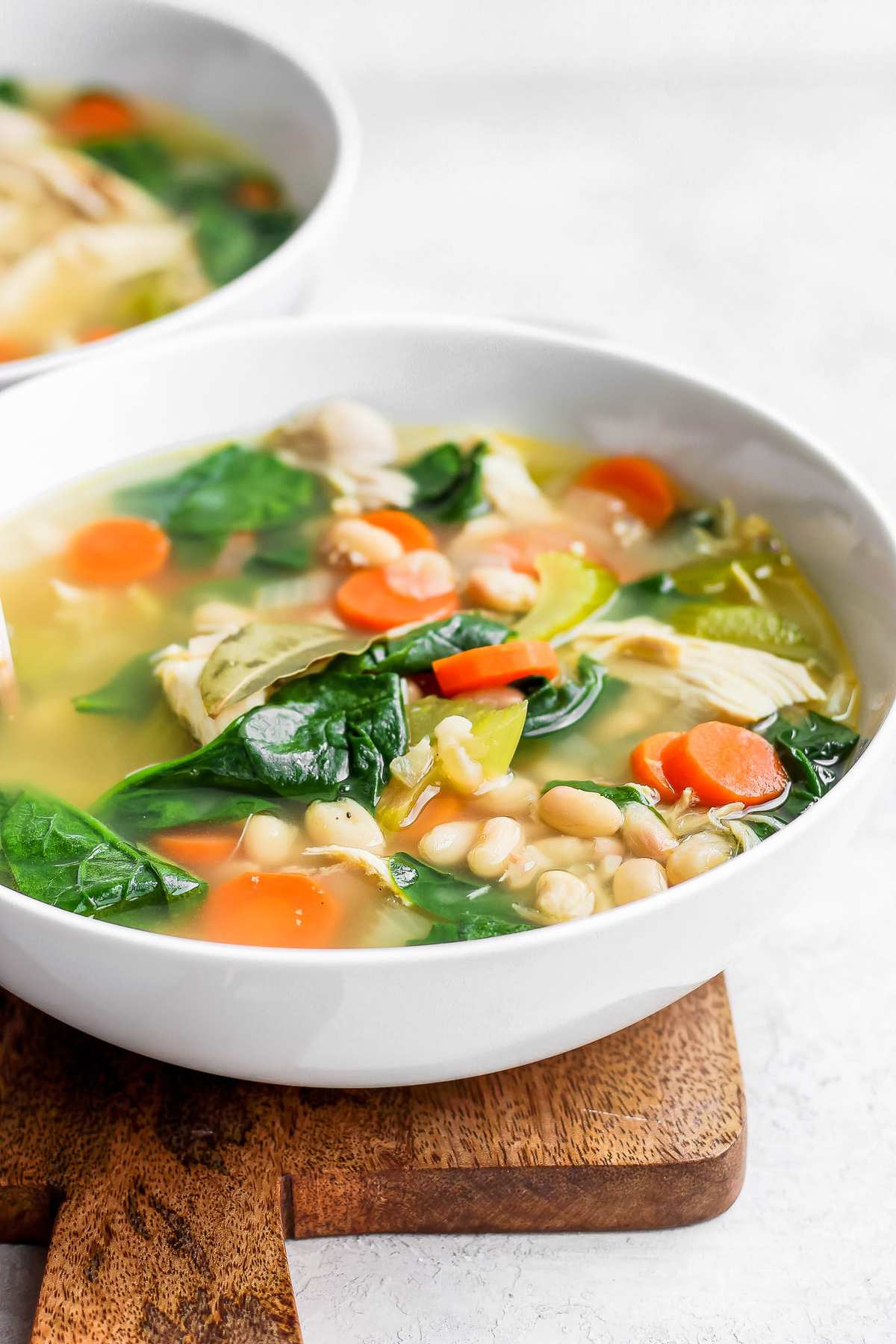 Crockpot Chicken Soup Recipe
This Crock Pot Tuscan Chicken Soup is healthy and delicious, plus it's super easy to make. That's my kind of recipe. The fact that I don't really have to do anything to make it is my FAVORITE part, which is why I'm such a fan of slow cooker soups. I have so many great ones here for you, so try them all!
Slow Cooker Soup Recipes
These easy slow cooker soups are perfect for prepping dinners all year-round.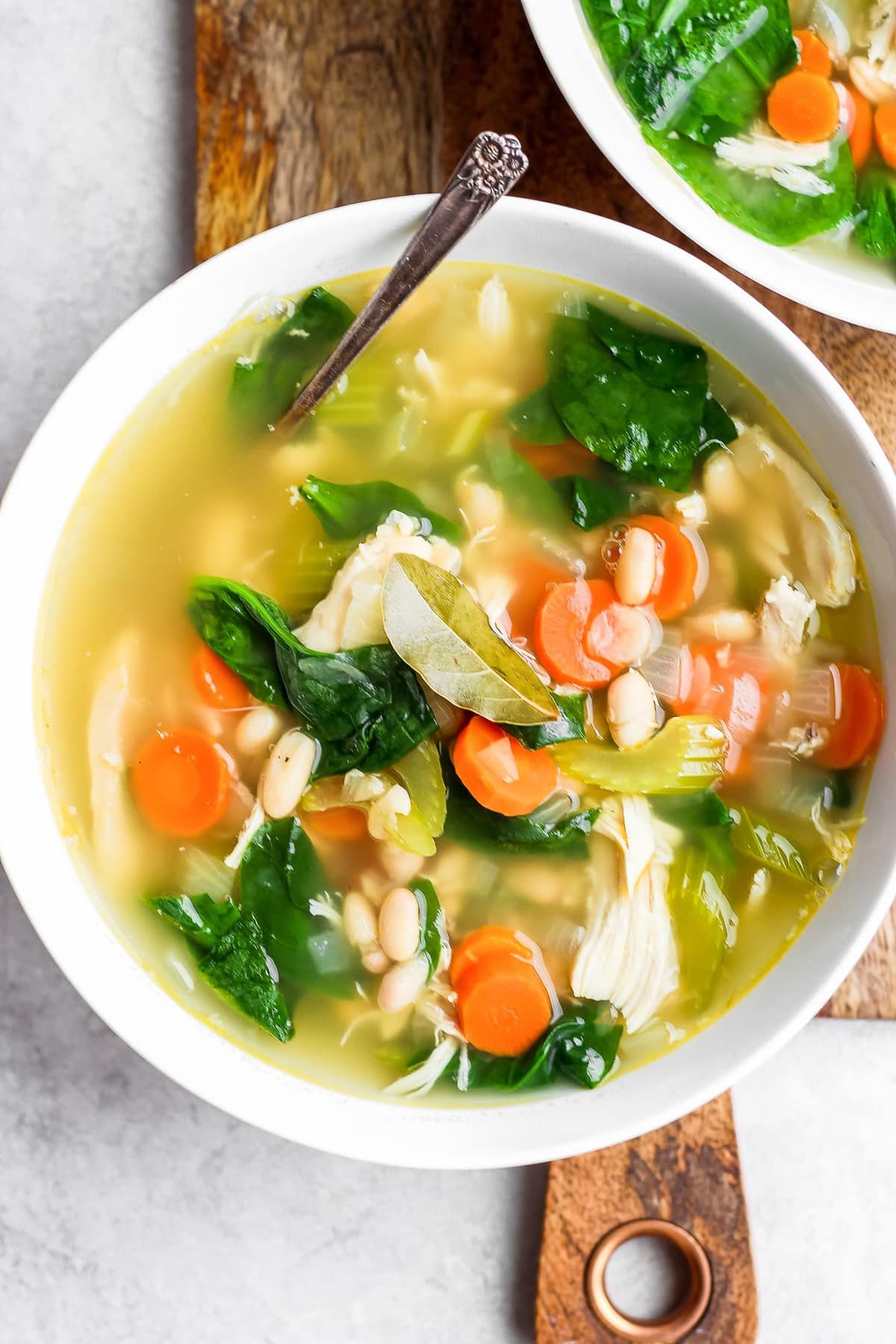 This Chicken Tuscan Soup is definitely a favorite, and I can't wait for you to try it. So delicious, and healthy too! It's the perfect summer soup.
See the recipe card below for details on how to make Crock Pot Tuscan Chicken Soup. Enjoy!
Try these other delicious chicken soup recipes too: