This Easy Mexican Rice recipe turns plain old white rice from your pantry, into a delicious side dish packed with Mexican flavors and cheese!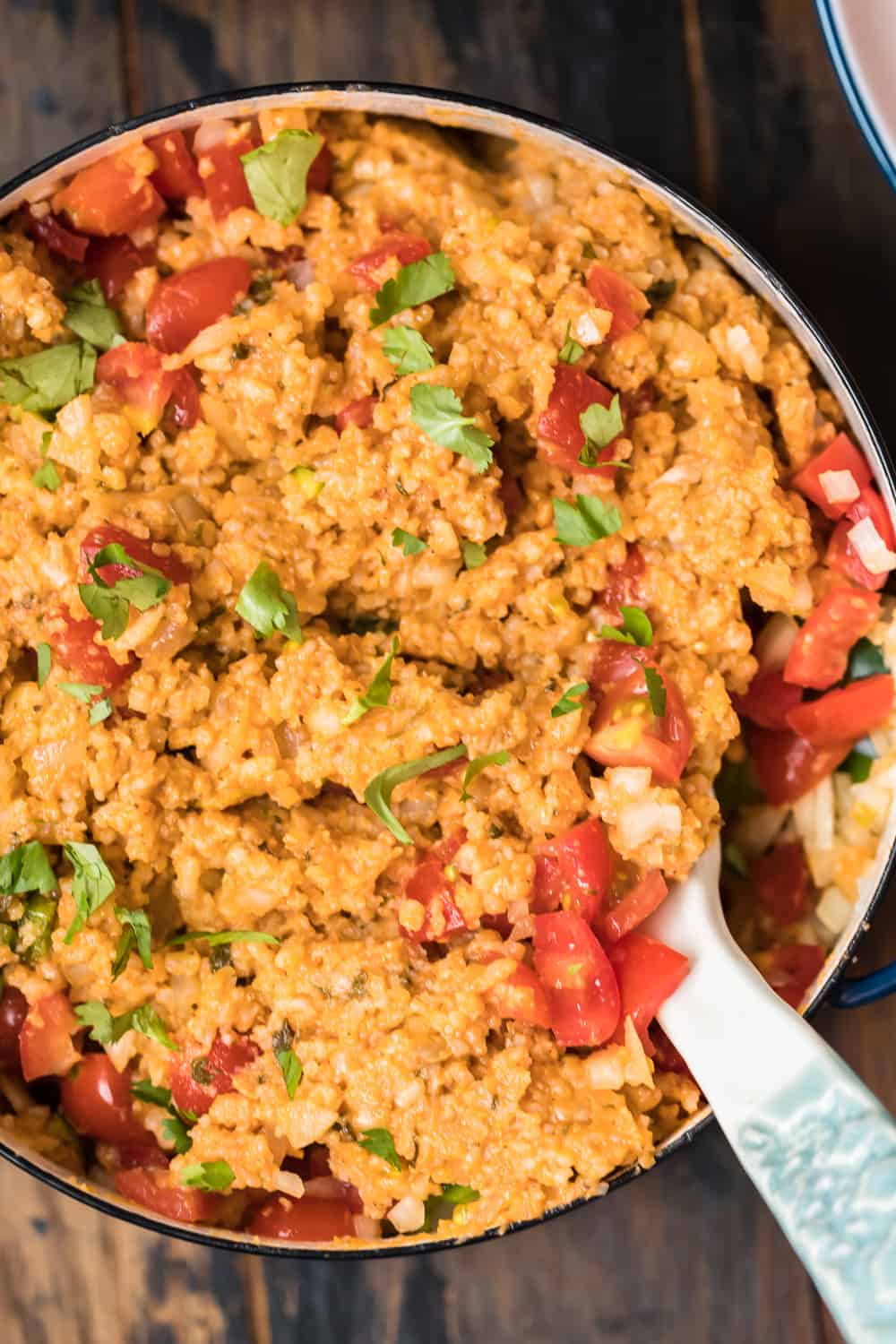 Rice is a staple side, but can be a bit…boring. This Easy Mexican Rice recipe is so quick to make from scratch, it'll liven up your rice game! Homemade Mexican Rice is so much more flavorful boxed versions and you can add or remove seasonings and spices to suit your tastes.
How To Make This Easy Mexican Rice Recipe – Step By Step
Cook rice according to package directions, then Add oil, butter and onions to a large skillet set over medium heat. Cook, stirring often, until onions have softened and are translucent, then add garlic and cook.
Add can of tomatoes with juice, cumin, paprika and chili powder, cook 1 minute, then remove from heat.
When the rice is cooked, add the onion mixture, cheese, chipotle pepper (if using), cilantro and lime juice.
Stir well and serve. Garnish with additional chopped cilantro.Enjoy!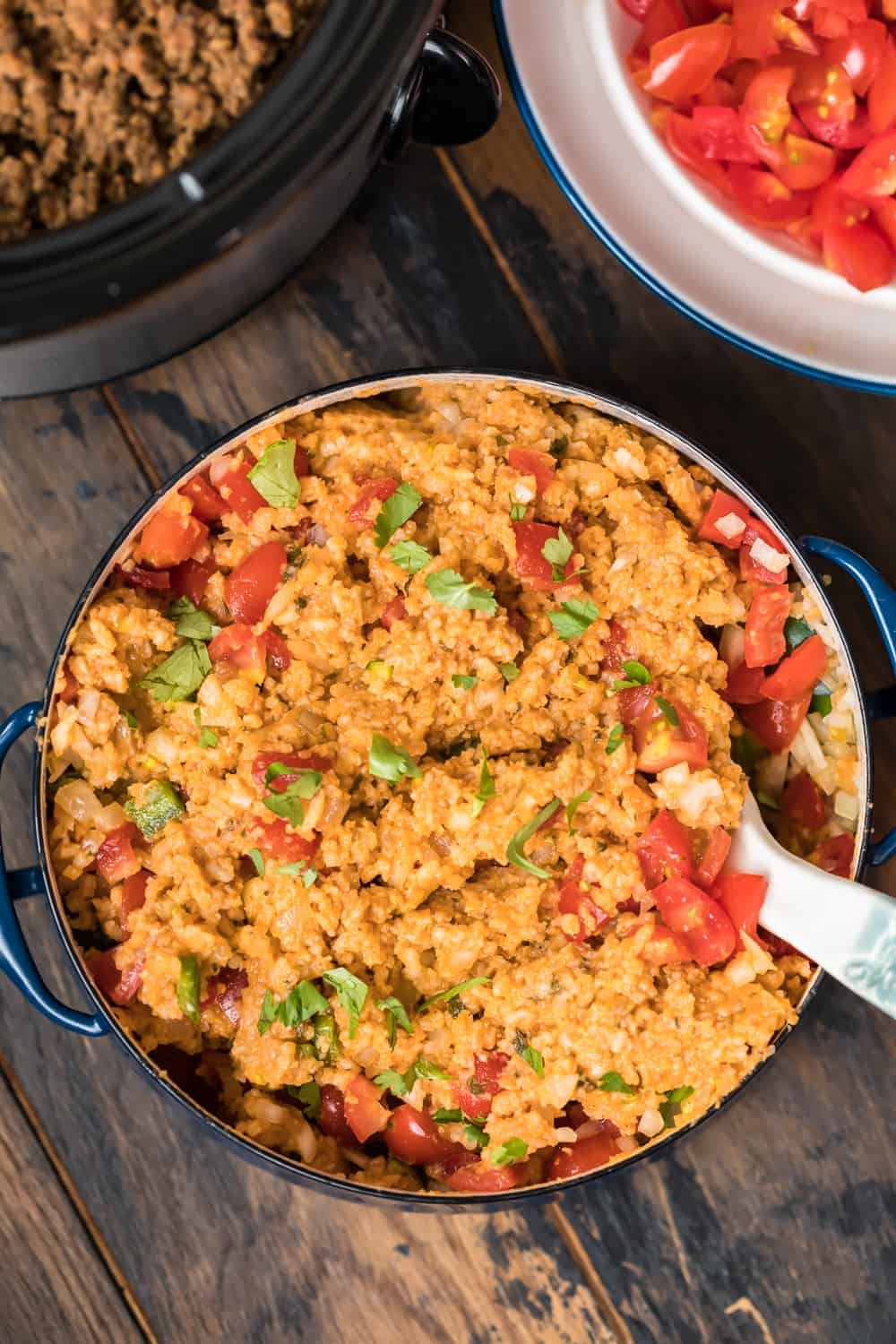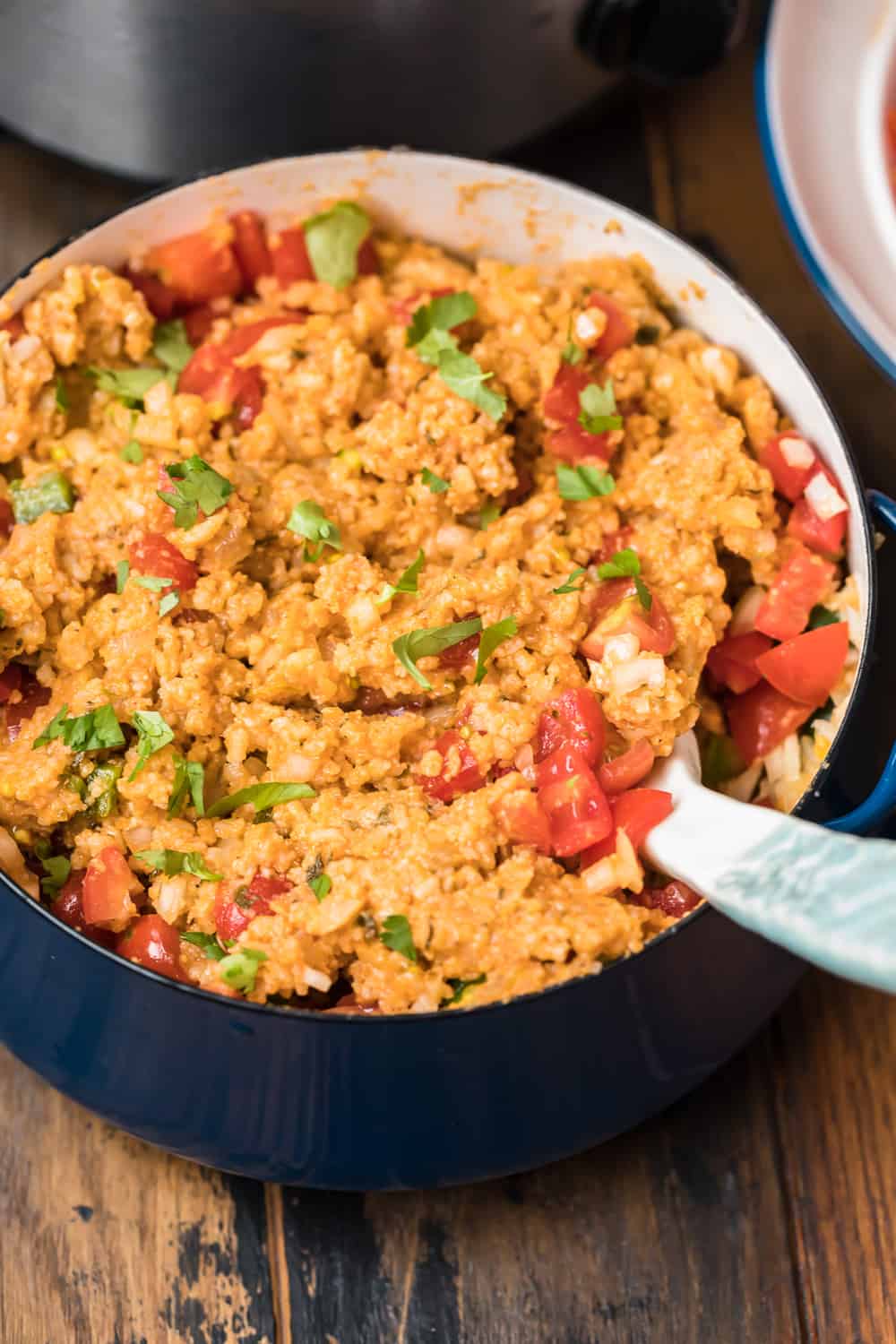 What To Serve With This Easy Mexican Rice Recipe
You can serve as is or alongside some tacos or enchiladas, or pork and fish dishes. It's even great as a main dish, digging your way in with tortilla chips. Either way, you'll loved the change from our usual plain ol rice!
How To Store Leftover Rice
Cooked rice is very moist, which can be a breeding ground for bacteria growth if it is left at room temperature for more than two hours. Play it safe and cool down any leftover rice quickly—either by spreading it out on a baking sheet, or placing it in the refrigerator.
Transfer the cooled, cooked rice into an airtight storage container or a ziplock plastic bag (remove as much air from the bag as possible before sealing) then store in the refrigerator. It will last about 4 days.
Can I Make This Mexican Rice With Brown Rice?
Yes indeed. Brown rice does need more liquid. For every 1 cup of brown rice used you will need 2 and 1/2 cups of liquid. Also, brown rice does take longer to cook.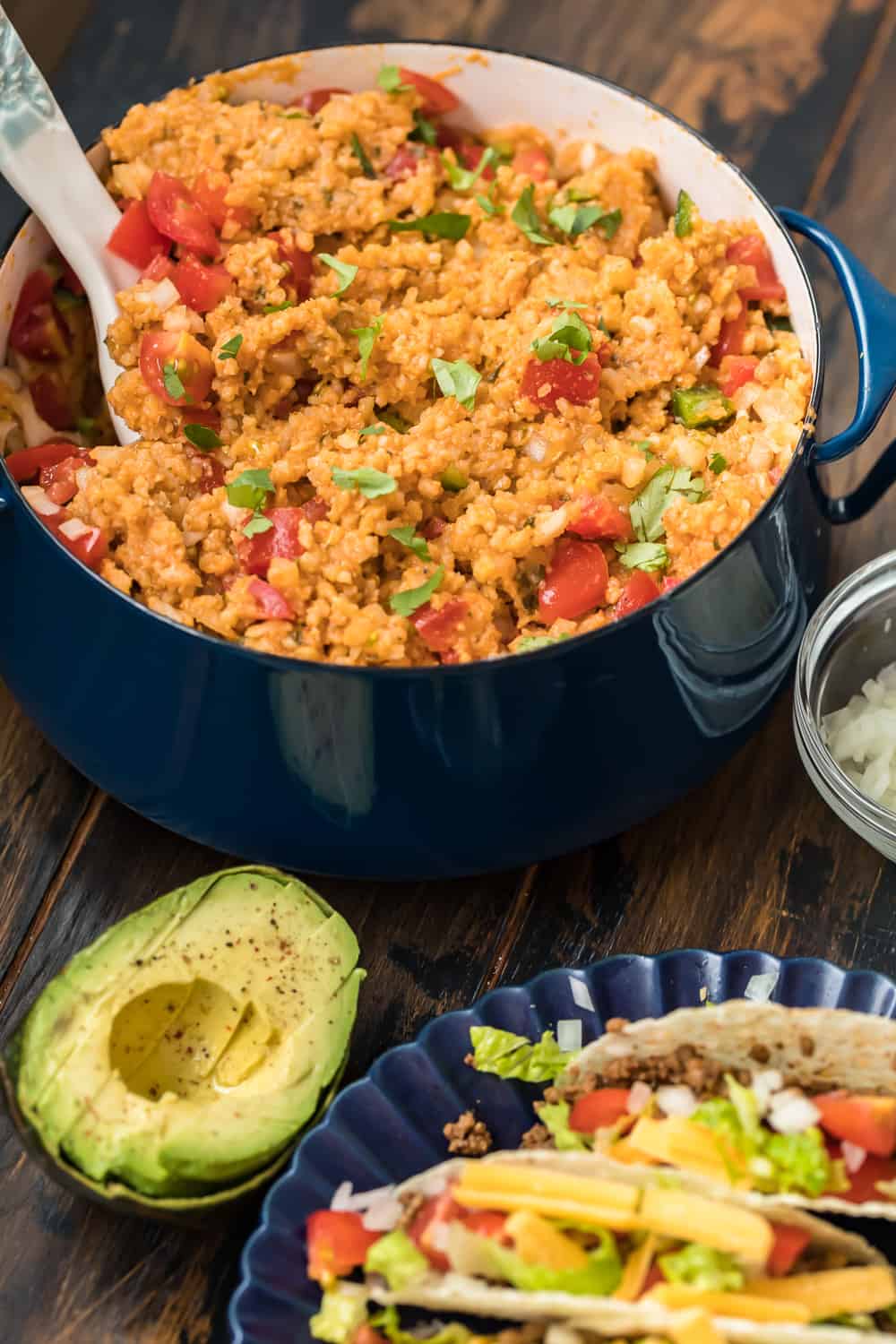 Top Tips For This Easy Mexican Rice Recipe
Rinse your rice. Take an extra second to rinse your rice with water to remove the starch film on the surface that can cause the rice to clump together.
Adding peas and carrots. Peas and diced carrots are traditional to add to Mexican rice. You can leave them out if you want to, but they are a great addition.
If liquid evaporates before rice is done, then add just a little liquid, keeping in mind that the rice will continue to steam for 10 minutes once it's removed from heat, so it doesn't need to be 100% cooked once liquid is gone.
Garnish with chopped cilantro.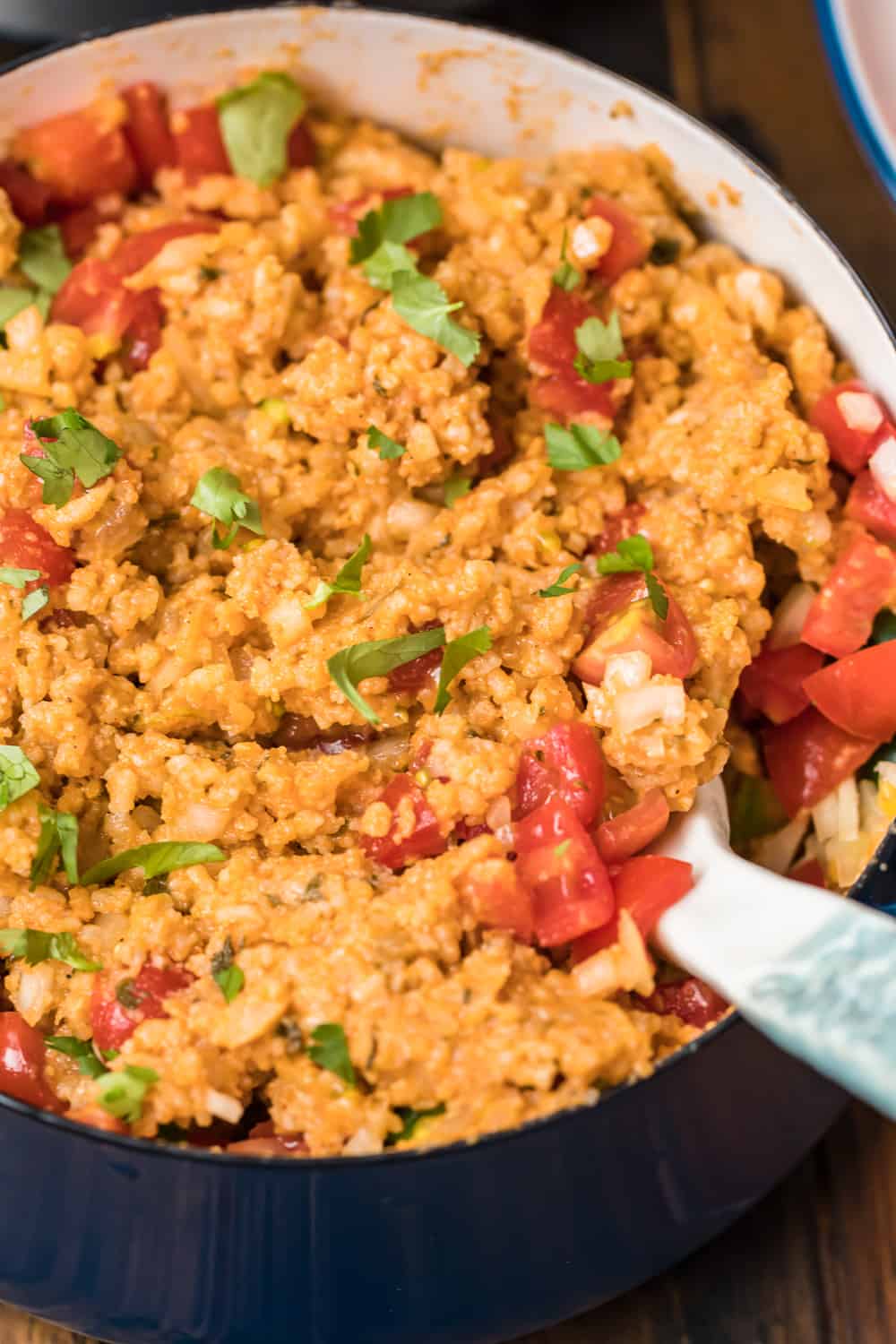 Delicious Mexican Recipes We Love
Have you tried this Easy Mexican Rice recipe? I'd love to hear from you in the comments below!