This Mexican Stuffed Peppers recipe is our go-to easy recipe. These Enchilada Stuffed Peppers with Cheese are loaded with beef, green chiles, onions, enchilada sauce, and so much cheese! You won't believe how easy this recipe is and how much your entire family will love it.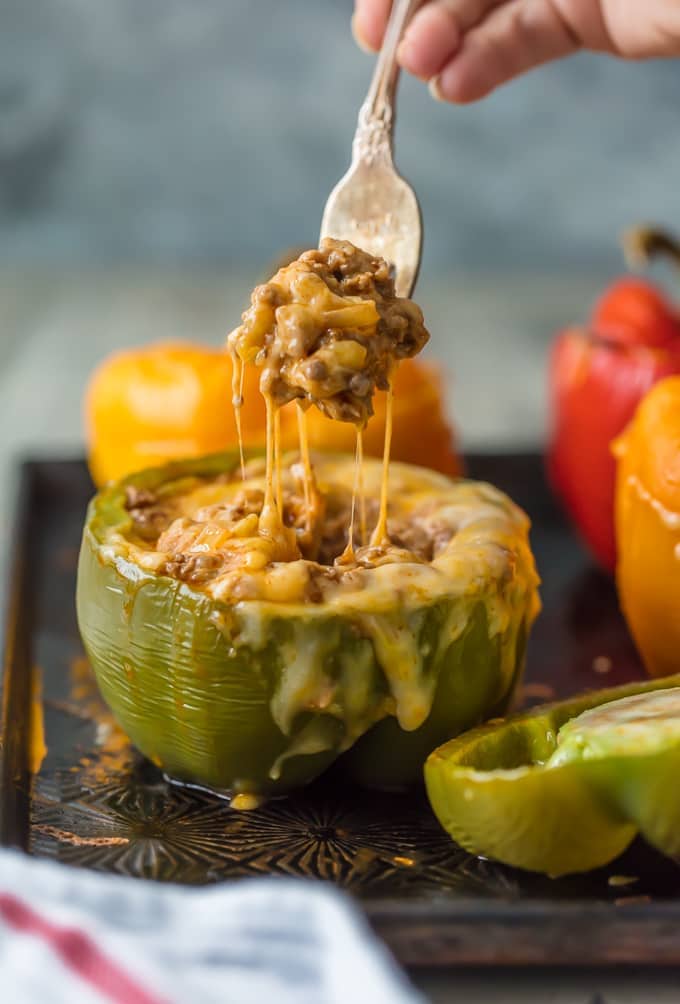 Cheesy Enchilada Stuffed Peppers Recipe
These Mexican Stuffed Peppers oozing with cheese are the ultimate comfort food. Bell Peppers make the perfect little basket for all this cheesy enchilada goodness. Low carb enchiladas? SIGN ME UP!
I'm totally aware that you can make stuffed peppers into a healthy dinner…but that's not what I did. I made this Mexican Stuffed Peppers recipe instead.
I made stuffed bell peppers into an oooey gooey cheesy mess of delicious flavors! These bell peppers are stuffed with everything that makes Mexican night a weekly favorite: spicy beef, green chiles, enchilada sauce, sauteed onions, and SO MUCH CHEESE!
These Enchilada Stuffed Peppers with Cheese reheat like a dream and it's loved by the entire family. And just because they're baked and inside a vegetable…I'm going to pretend they're healthy. Shhhhh! Don't burst my bubble. CHEESY ENCHILADA EASY STUFFED PEPPERS are my new obsession!
I've always known I loved Tex Mex Recipes like our Chicken Tacos and Best Queso Recipe…but there's a new favorite in town, the BEST Stuffed Peppers Recipe!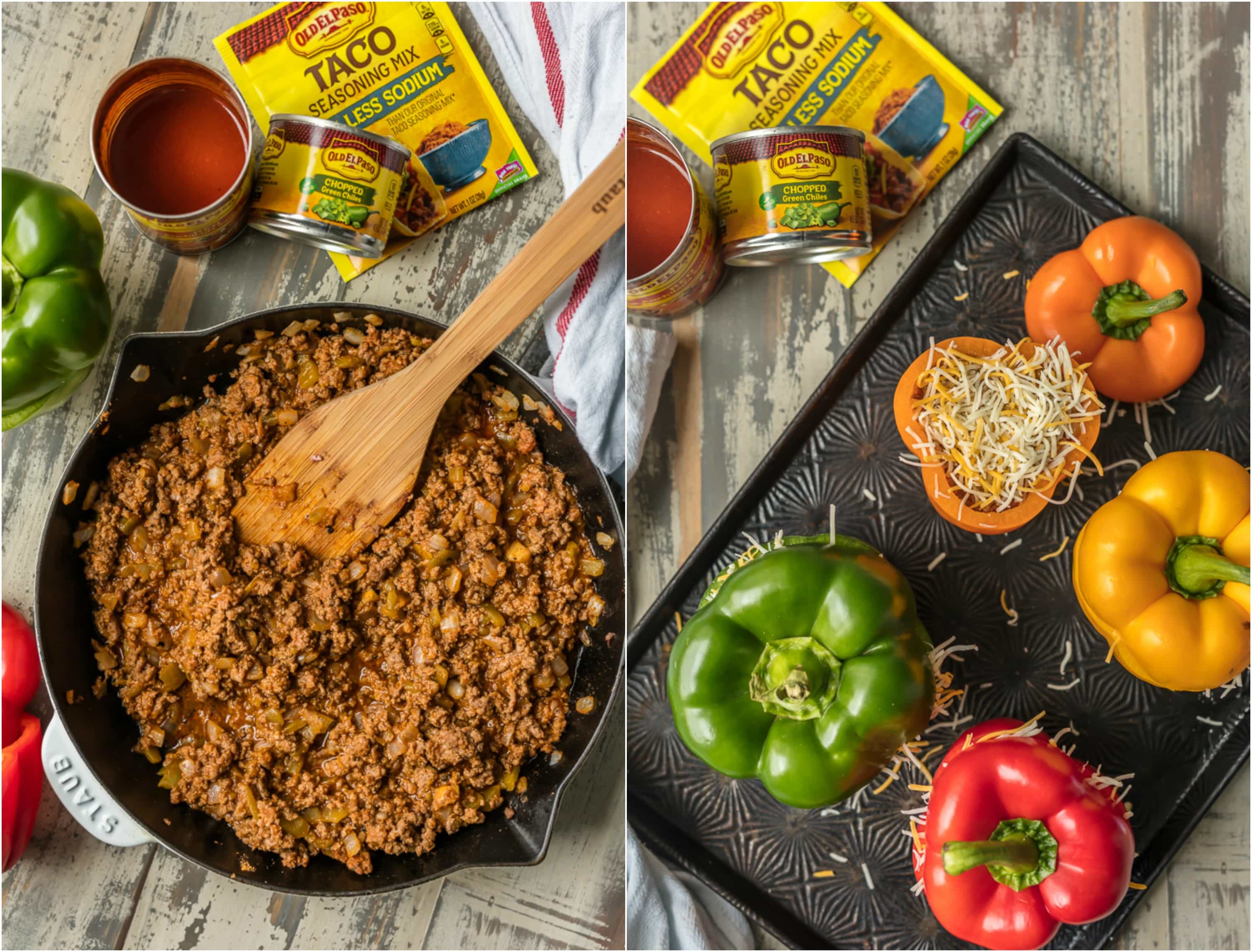 Stuffed Mexican Bell Peppers
This Mexican Stuffed Bell Peppers recipe is yet another recipe that proves cooking can be easy and yummy. The green chiles are my absolute fave and they add just the right amount of kick to this Cheesy Enchilada Stuffed Peppers recipe. I literally cannot wait for you guys to try these!
Be sure to try these Philly Cheesesteak Stuffed Peppers and this Air Fryer Stuffed Peppers recipe.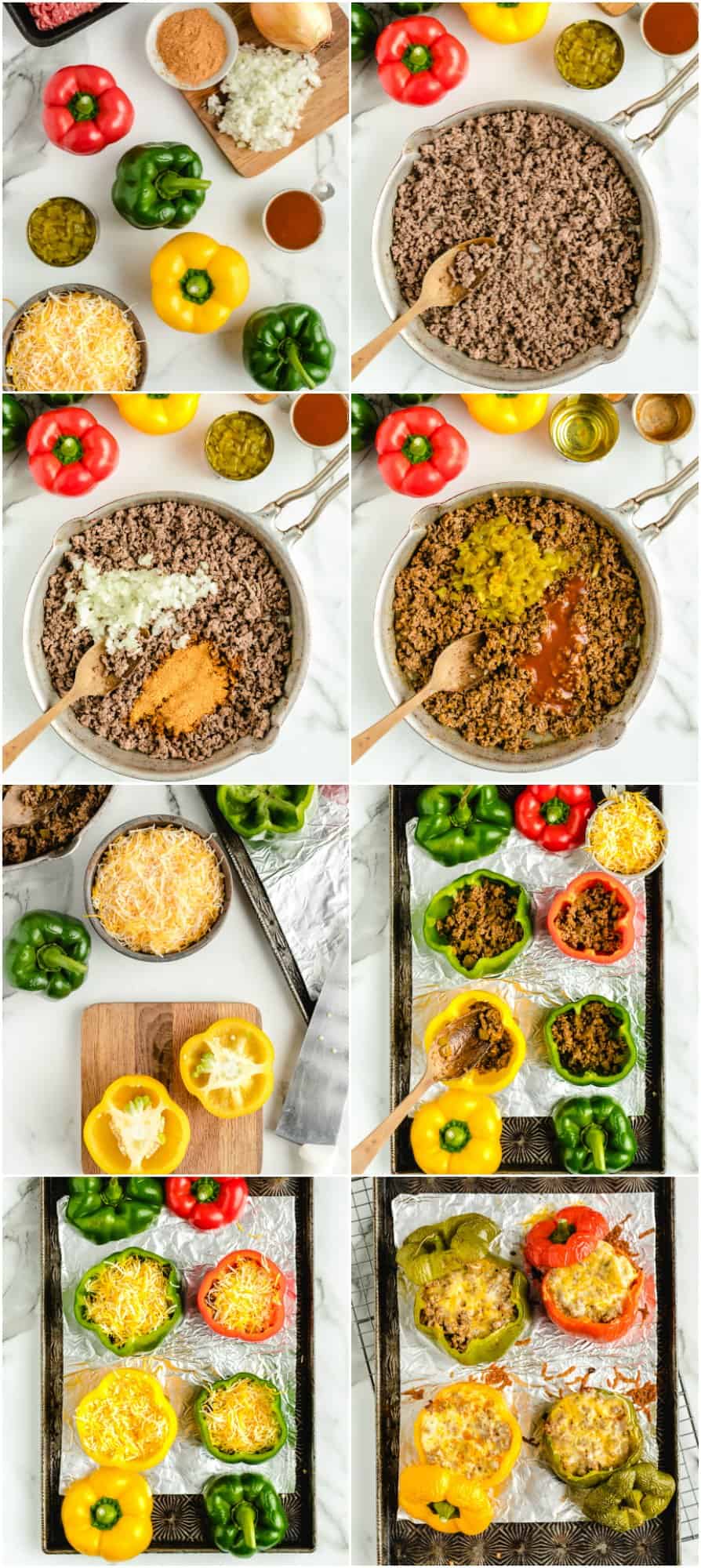 Can enchilada stuffed peppers be frozen?
I get this question all the time! The answer is YES, you can freeze stuffed peppers! Be sure everything is fully cooked and cooled before freezing, and be sure to wrap them well (in plastic wrap) and store in an airtight container.
You can also store them in the fridge instead, if you know you'll be reheating and eating them within 3-5 days. Makes them a great meal to make for your favorite new mama, friend in need, or spouse for work the next day. High fives all around!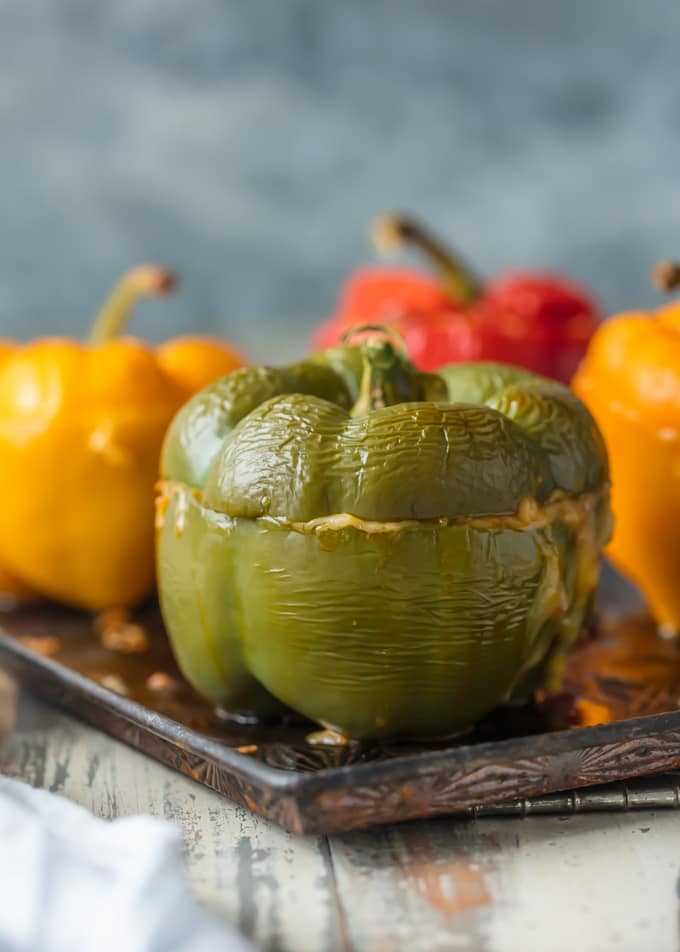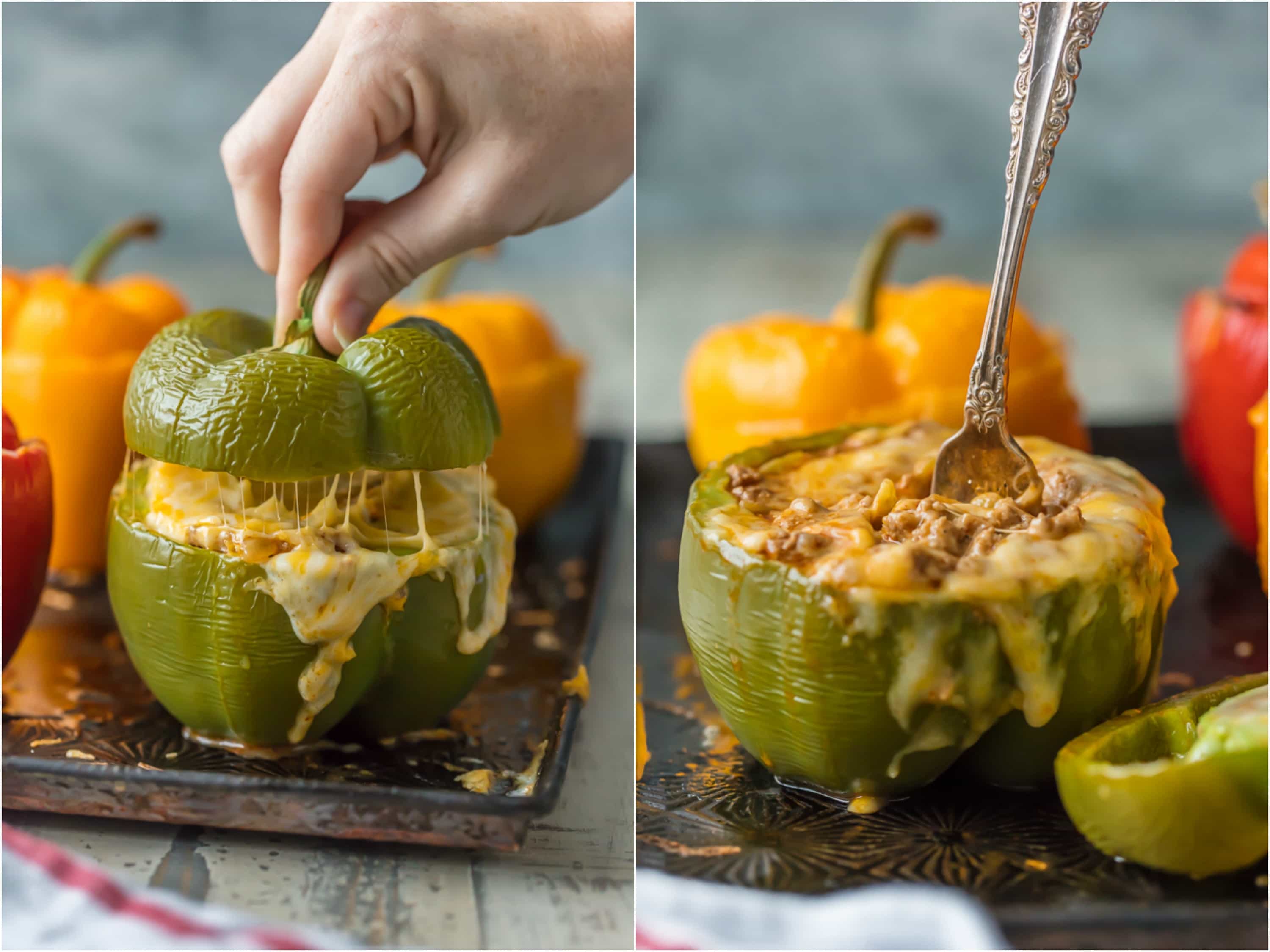 Can I make these Enchilada Stuffed Peppers healthy?
Of course! If you want your Mexican stuffed peppers to be a little healthier, all you have to do is go easy on the cheese and sub ground turkey for the beef. Simple right?
Your family will love them either way, trust me! You can truly make these stuffed peppers as indulgent or as healthy as you want. The choice is yours!
How to Make Mexican Stuffed Peppers
Another thing I love so much about this easy stuffed bell pepper recipe is how you could customize it to your family's liking. Just so easy, so good, and so fun. They're a show stopper whether cooking for your kids or entertaining a crowd. Yum YUM!
Here are a few ways you can customize these Mexican Stuffed Peppers to make them perfect for your family:
Add shredded chicken
Add quinoa or rice
Make in other flavors like Hawaiian Stuffed Peppers
Make them spicy by using spicy enchilada sauce or jalapenos!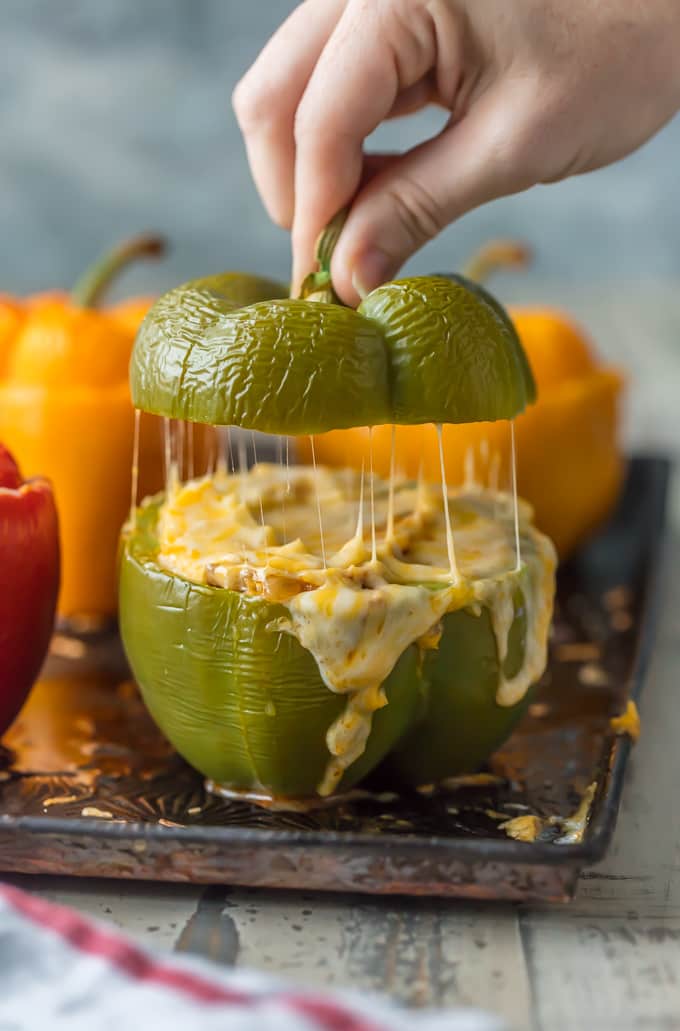 I hope you give these Enchilada Stuffed Peppers with Cheese a try TONIGHT! With only 7 ingredients, what are you waiting for?! Enjoy!
If you're wanting to make this Mexican Stuffed Peppers Recipe for Cinco de Mayo, we have lots of other great recipe ideas for pairing! Serve with our Cheesy Mexican Rice, Homemade Tortilla Chips, Mexican Grilled Corn, and Cowboy Dip Recipe.
Be sure to stir together a Skinny Margarita to complete the meal and celebrate the day. It's our favorite food holiday…no time for moderation!
If you like this stuffed bell pepper recipe, try these other favorite Cheesy Mexican Recipes:
If you make this recipe be sure to upload a photo in the comment section below or leave a rating. Enjoy! You can also jump to recipe.