Fiesta Dip is the perfect game day or party appetizer! This Mexican dip recipe is filled with black beans, corn, feta, avocado, salsa, and so much more. It's crisp, fresh, and full of flavor! This cold and creamy black bean corn dip will be a hit at any gathering.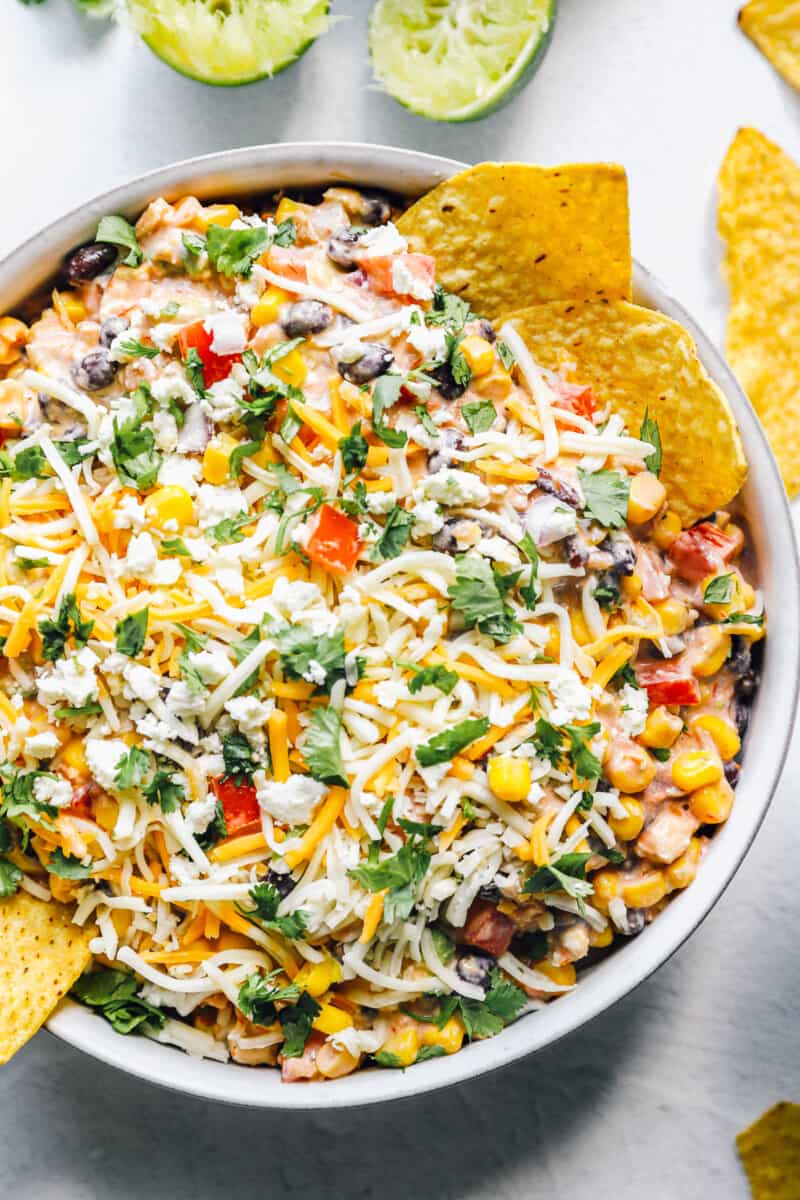 Black Bean and Corn Dip
This easy Mexican dip recipe is filled with all of the best flavors. Amazing ingredients are what make this FRESH fiesta dip so good!
It's the perfect appetizer or party dip. It has all of the best ingredients, like black beans, corn, feta, avocado, tomatoes, salsa, cilantro and more. Serve this dip cold for a refreshing change from the hot and cheesy dips.
This makes a great side dish or topping for your favorite Mexican recipes too. Serve it like a salad on taco night!
Why You'll Love this Fiesta Dip Recipe:
QUICK AND EASY: No cooking, barely any prep, and just a few minutes to mix everything together. It couldn't be easier!
FRESH AND FLAVORFUL: Fresh ingredients make the most flavorful dip imaginable!
PARTY DIP: This fiesta dip was literally made for parties–it's right in the name! Serve it up on game day, Cinco de Mayo, at summer BBQs, or any time you need a quick appetizer for guests.
This actually makes a pretty healthy dip with all those fresh ingredients. Add a little less of the mayo mixture to keep it as light as you like.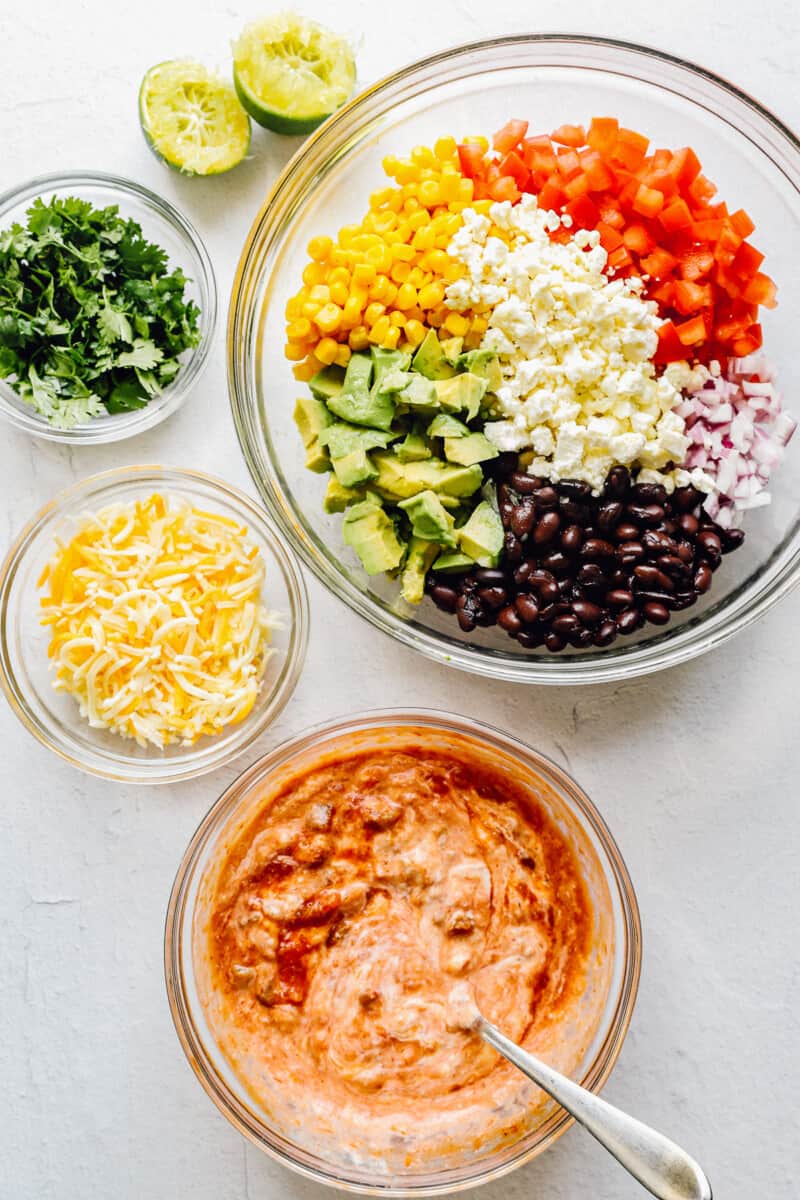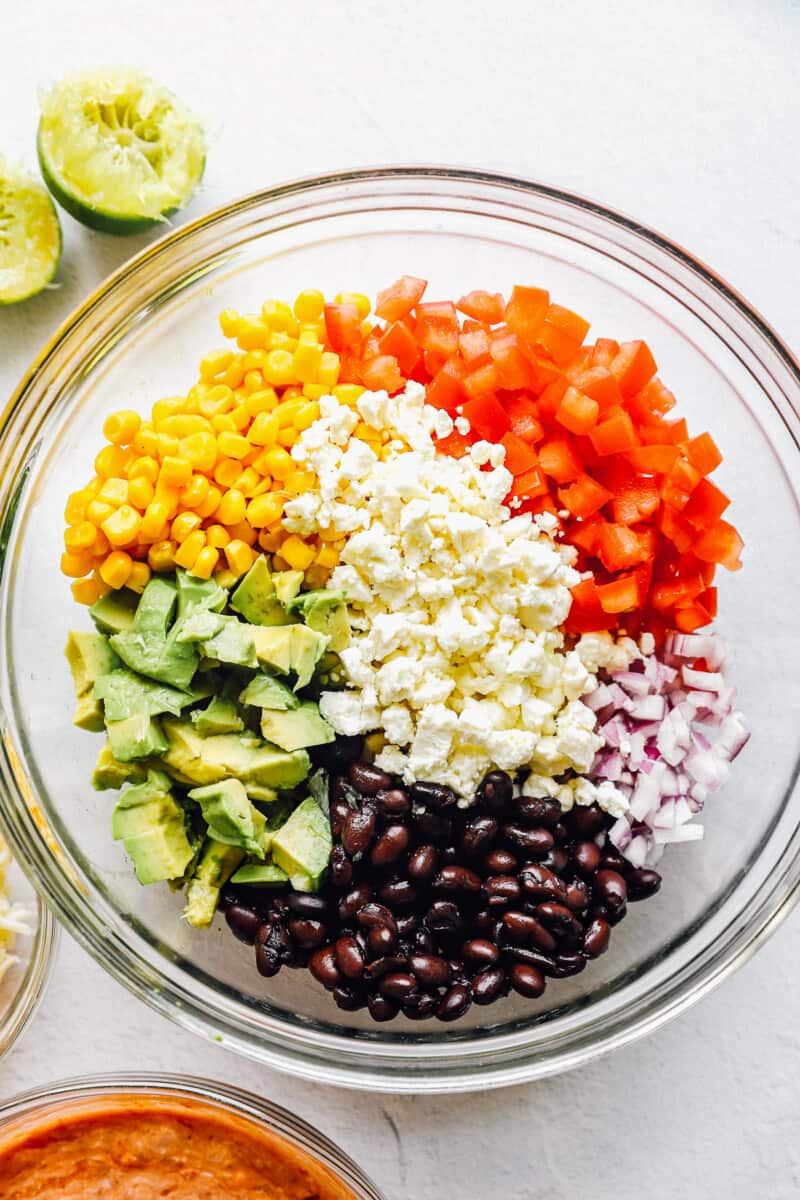 Fresh Fiesta Dip Ingredients
Black Beans
Corn
Feta Crumbles
Avocado
Tomatoes
Salsa
Cilantro
Red Onion
Lime Juice
Mayonnaise
Shredded Cheese
This fresh fiesta dip has all the good stuff! I'm talking black beans, corn, feta, cheese, and everything else I love. It's all mixed into this easy dip recipe that's sure to please. Everything blends together so well, and it's perfected with the creamy mayo salsa. Yum!
How to Make Mexican Fiesta Dip
Be sure to see the recipe card below for full ingredients & instructions!
Drain the black beans and corn, dice the onions, and get the rest of your ingredients prepped according to the recipe card below.
Combine black beans, corn, onion, avocado, tomatoes, feta cheese, and lime juice in a mixing bowl.
In a separate bowl, mix the mayonnaise and olive oil with the salsa until well combined.
Now pour the mayo-salsa mixture over the black bean and corn mixture, and toss in the shredded cheese and cilantro.
Now grab your chips and starting dipping, or pile this Mexican dip onto your tacos. If you want to keep it on the healthier side, add just a tiny bit of the mayo sauce into the mix.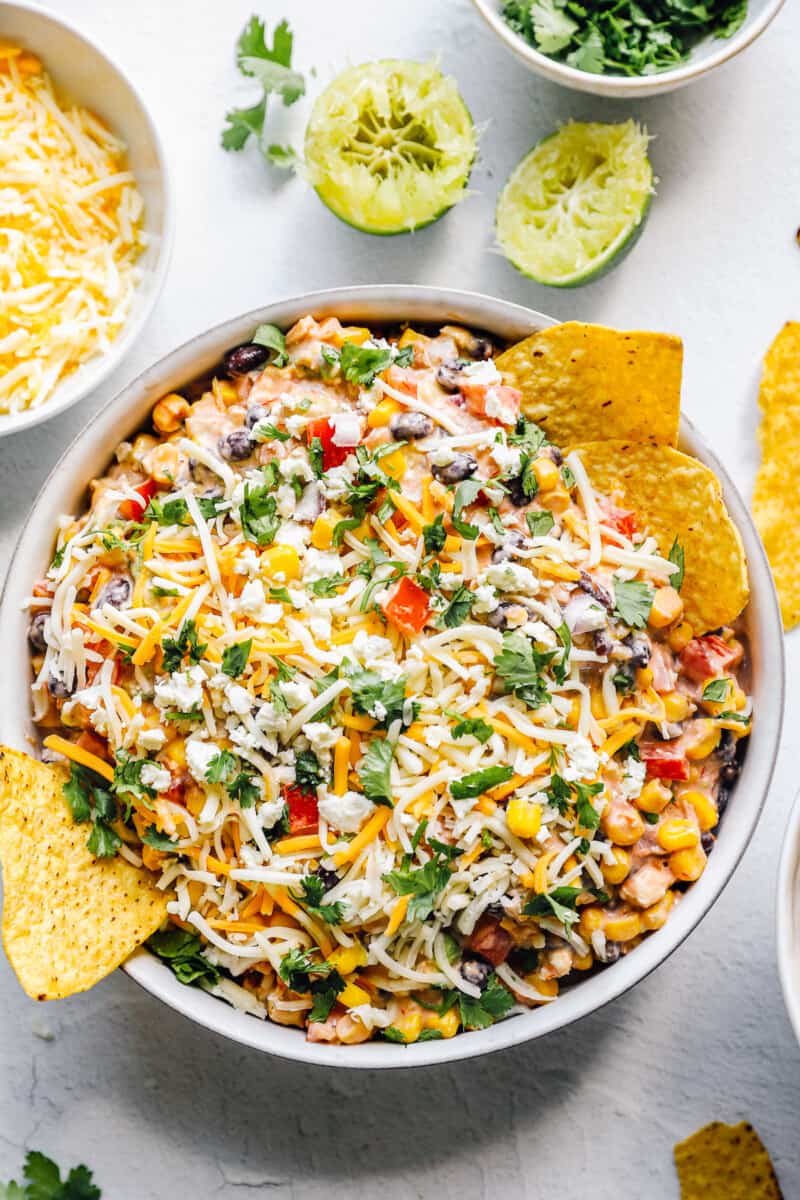 Can I make this dip ahead of time?
Because everything is so fresh, it's best if this is prepared right before serving. Luckily there's no cooking required, so it's super quick to toss together! But if you do prep a few hours ahead of time, keep the mayo-salsa separate from the other ingredients, and mix right before serving.
Is black bean and corn fiesta dip healthy?
The ingredients in this dip recipe are all fresh and healthy! The only thing that will add a few calories is the mayo mixture. Feel free to skip the mayo, or use plain Greek yogurt instead. Either way, this is a pretty healthy dip option overall.
Can I add different ingredients?
Absolutely! This recipe is easy to make your own. Try adding sliced jalapeños or black olives. You could also drizzle taco sauce on top, or mix in some green onions.
This fiesta dip is SO easy to make. There's no cooking involved, just grab your ingredients and mix it all together. You're left with a super tasty Mexican Dip recipe that can be used in so many different ways. Whip it up in just a few minutes and start eating!
Serving Suggestions
There are plenty of ways to serve this black bean and corn recipe. Serve it cold with tortillas chips, veggie sticks, or any of your favorite dippers for a simple dip.
You can also use it as a topping or filling with tacos, or serve it on the side with your favorite Mexican dishes.
This mix of ingredients also makes a great fiesta salad. Simply top it off with the mayo-salsa like a dressing, grab a fork, and dig in! Trust me, it's just as good. You can even mix in some fresh lettuce.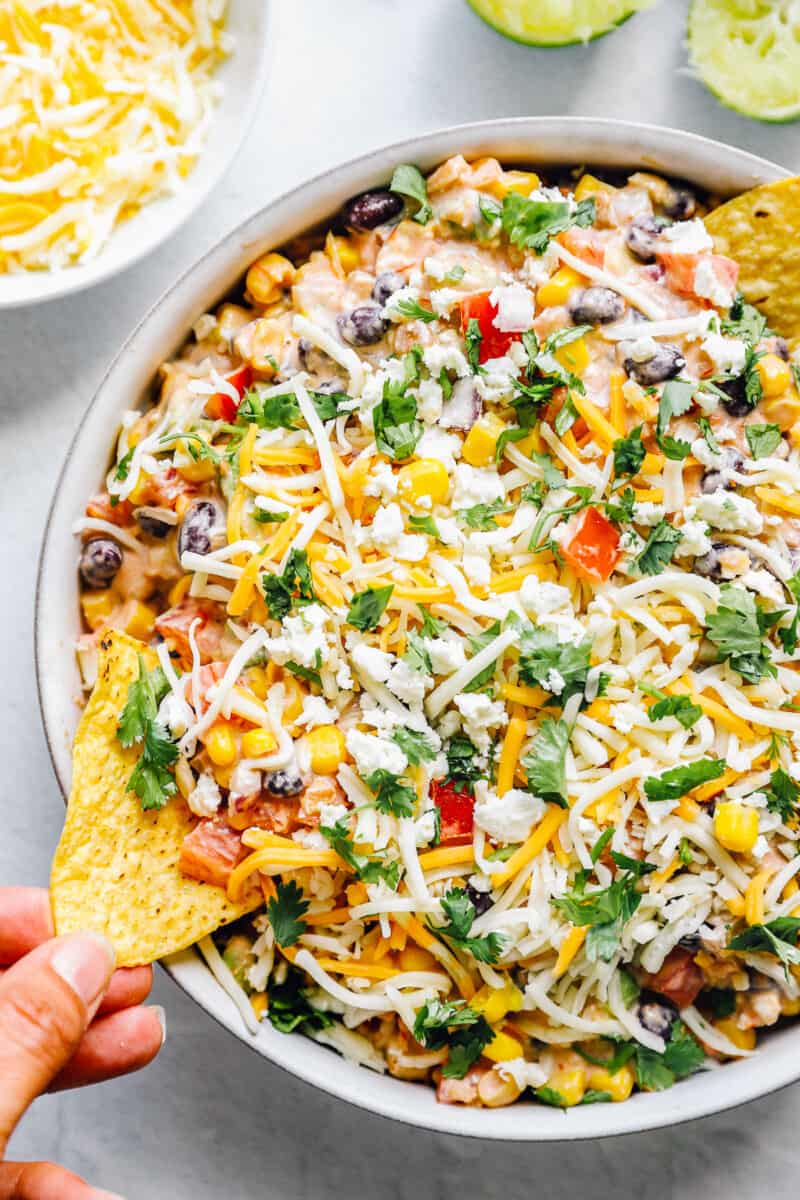 Tips!
Add a small amount of the salsa mixture at a time to attain desired consistency.
Skip or add ingredients as you please. If you don't have something listed on hand, that's okay! There are so many delicious things in this dip, you can still get a great result with something missing.
Keep that mayo salsa recipe handy–it would be so good as a sauce for tacos or burritos too!
How long does fiesta dip stay fresh?
If there are any leftovers, this Mexican dip recipe is absolutely delicious the next day! It will keep in the refrigerator for up to three days. The ingredients will start to mix and meld together, but it will still taste great. Just keep an eye on your avocado for browning.
I recommend storing the main dip mixture and the mayo-salsa mixture separately (if you haven't already mixed everything together). That will keep the other ingredients fresh and crispy.
How can I make this dip creamier?
You have plenty of control over how creamy you make this fiesta dip! Pour in just a little bit of the mayo-salsa at a time and toss everything together. Add more until you get your desired consistency. If you use the full amount in the recipe card, you'll get a really creamy dip. Use less to keep it on the chunkier side.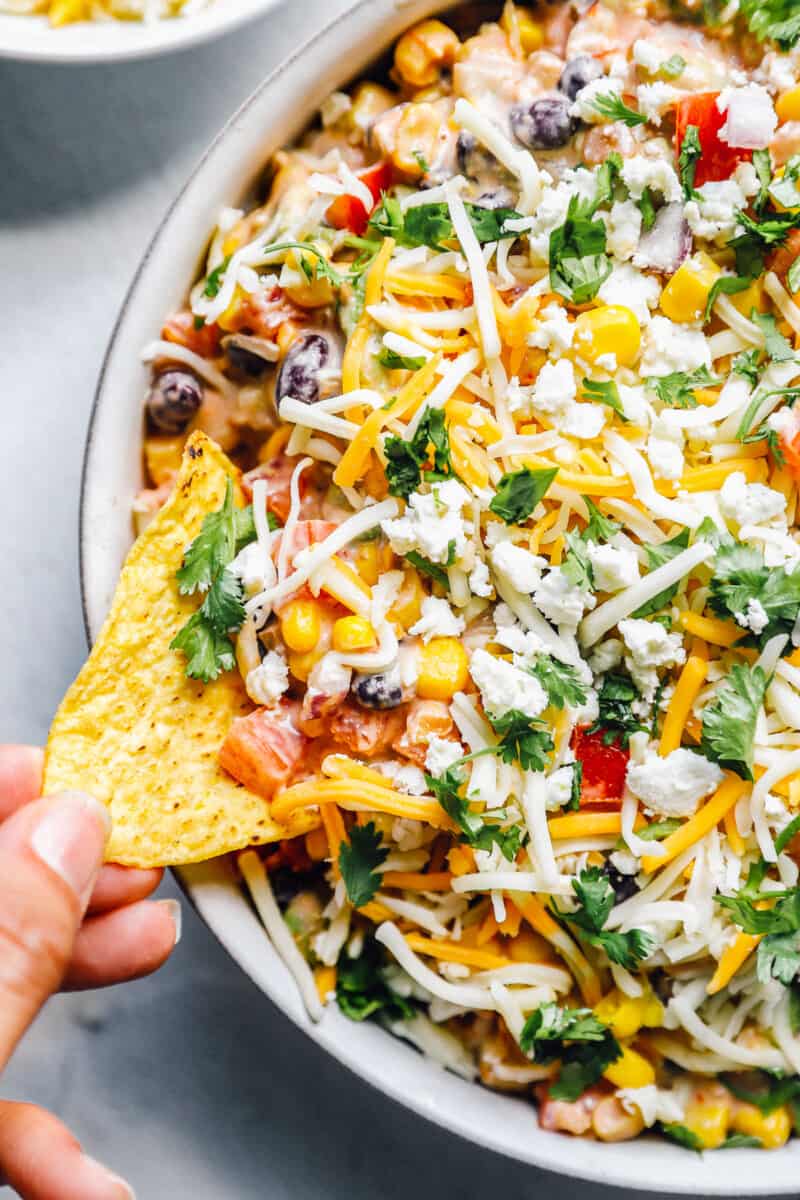 Gather your friends around, open a bag of your favorite chips and dig in to this creamy fiesta dip recipe. It's so versatile and so tasty, plus it's the easiest recipe ever!
If you make this recipe be sure to upload a photo in the comment section below or leave a rating. Enjoy!