Mexican Dip is the perfect game day appetizer! This Mexican Dip recipe is filled with black beans, corn, feta, avocado, salsa, and so much more. It's crispy, fresh, and full of flavor! This Fresh Fiesta Dip will be a hit at any gathering. You could even turn this into a healthy fiesta salad!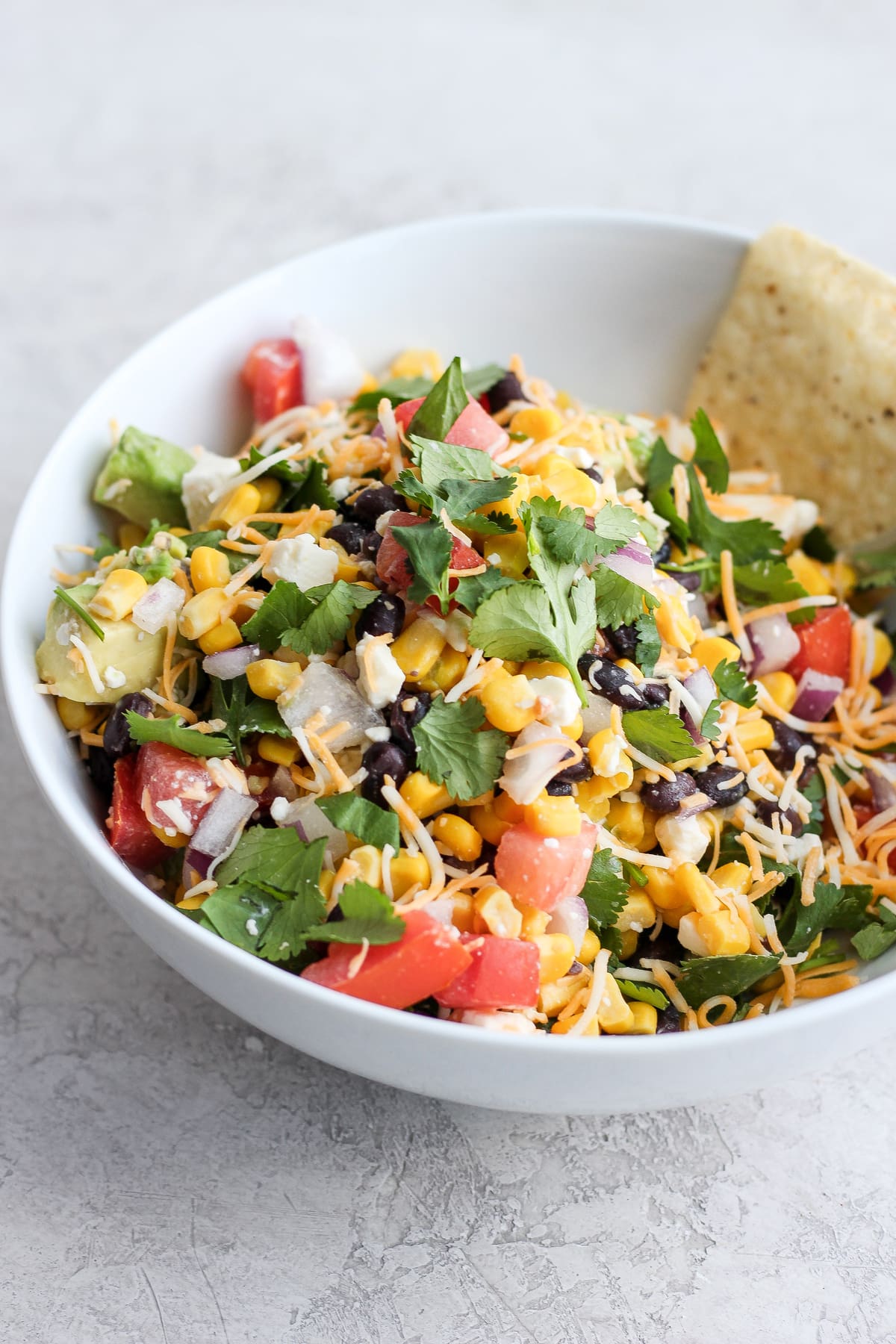 Easy Mexican Dip Recipe
This easy Mexican Dip recipe is filled with all of the best flavors. Amazing ingredients are what make this FRESH Fiesta Dip so good!
This Mexican Dip recipe is the perfect appetizer. It has all of my favorite Mexican inspired ingredients, but this dip feels super fresh compared to all of my hot and cheesy dips (which I also love!).
This Fiesta Dip is filled with black beans, corn, feta, avocado, tomatoes, salsa, cilantro and more. It starts off like a fresh salad, and then you mix it with the creamy mayo salsa mix. You can make it as saucy as you like, but it tastes AMAZING no matter what. It's a nice healthy dip recipe to replace those heavier hot dips that I'm guilty of eating most of the time. I'd even eat it as a fiesta salad because it's THAT good. No chips needed.
This black bean corn dip really has my heart and soul! It's one of my very favorite appetizers to eat and serve, and it's always a hit. Pass the chips because this one is a definite winner!
This Black Bean, Corn, and Feta Mexican Dip recipe is super fresh, super tasty, and super easy to make. Dig in to this fiesta dip and enjoy!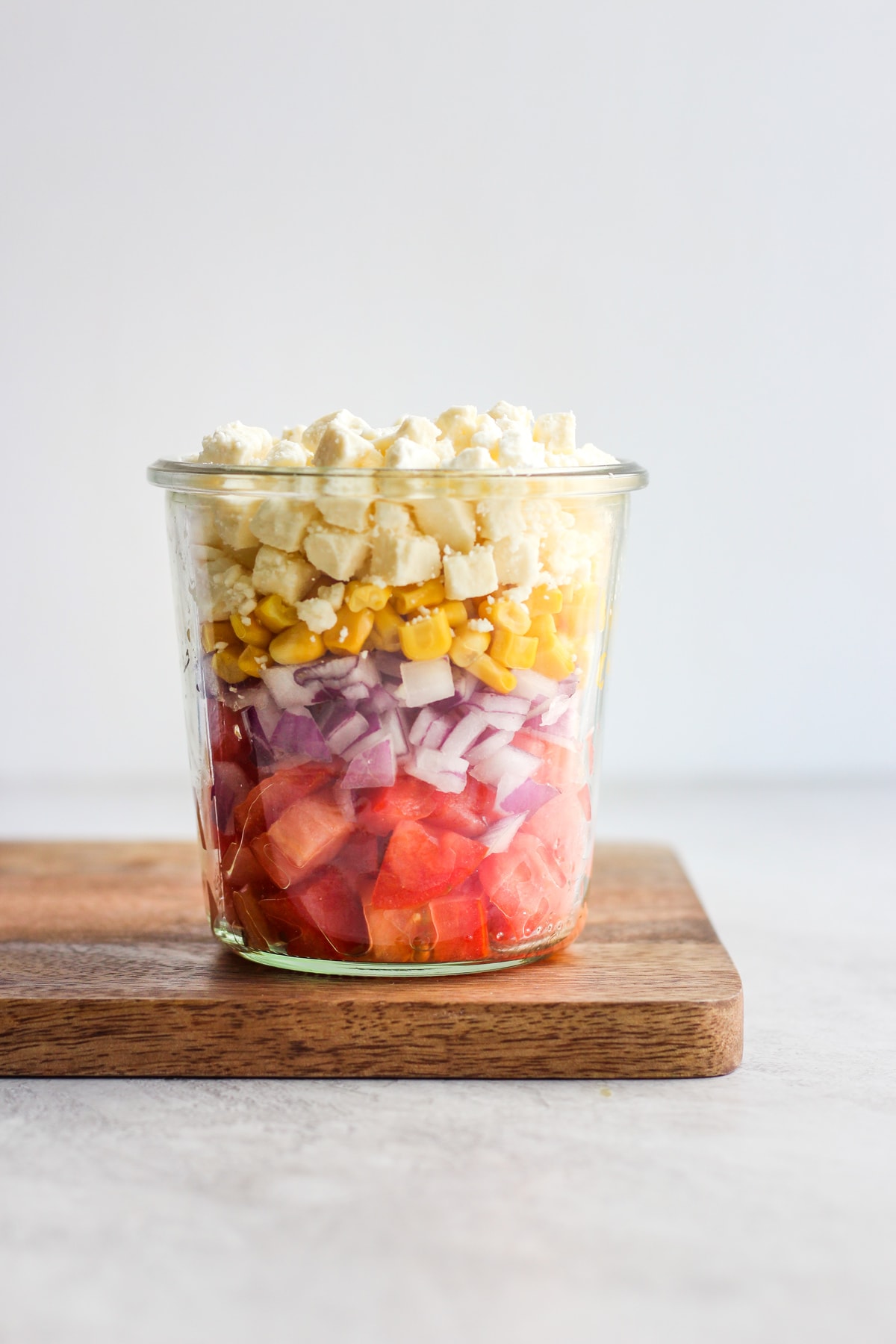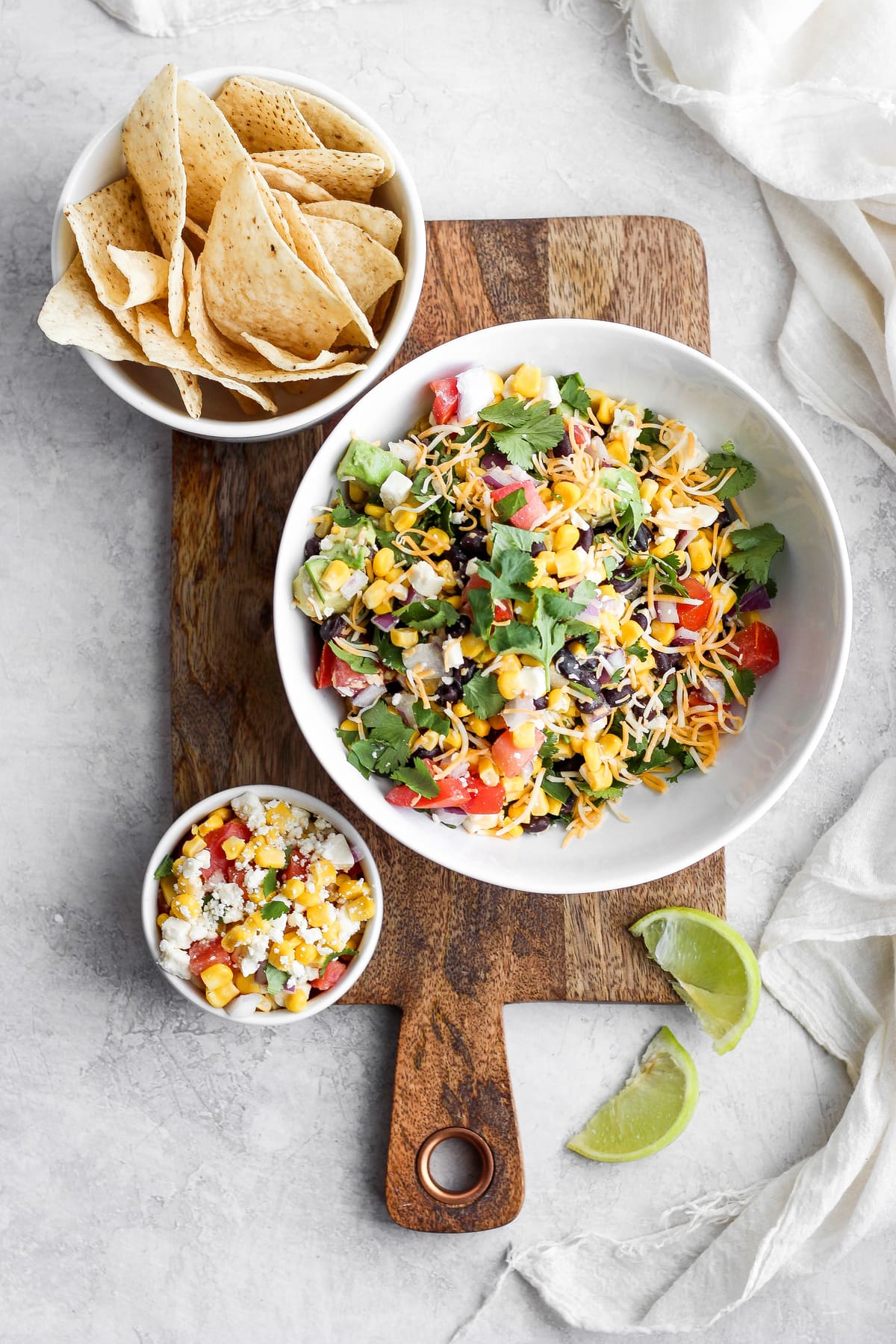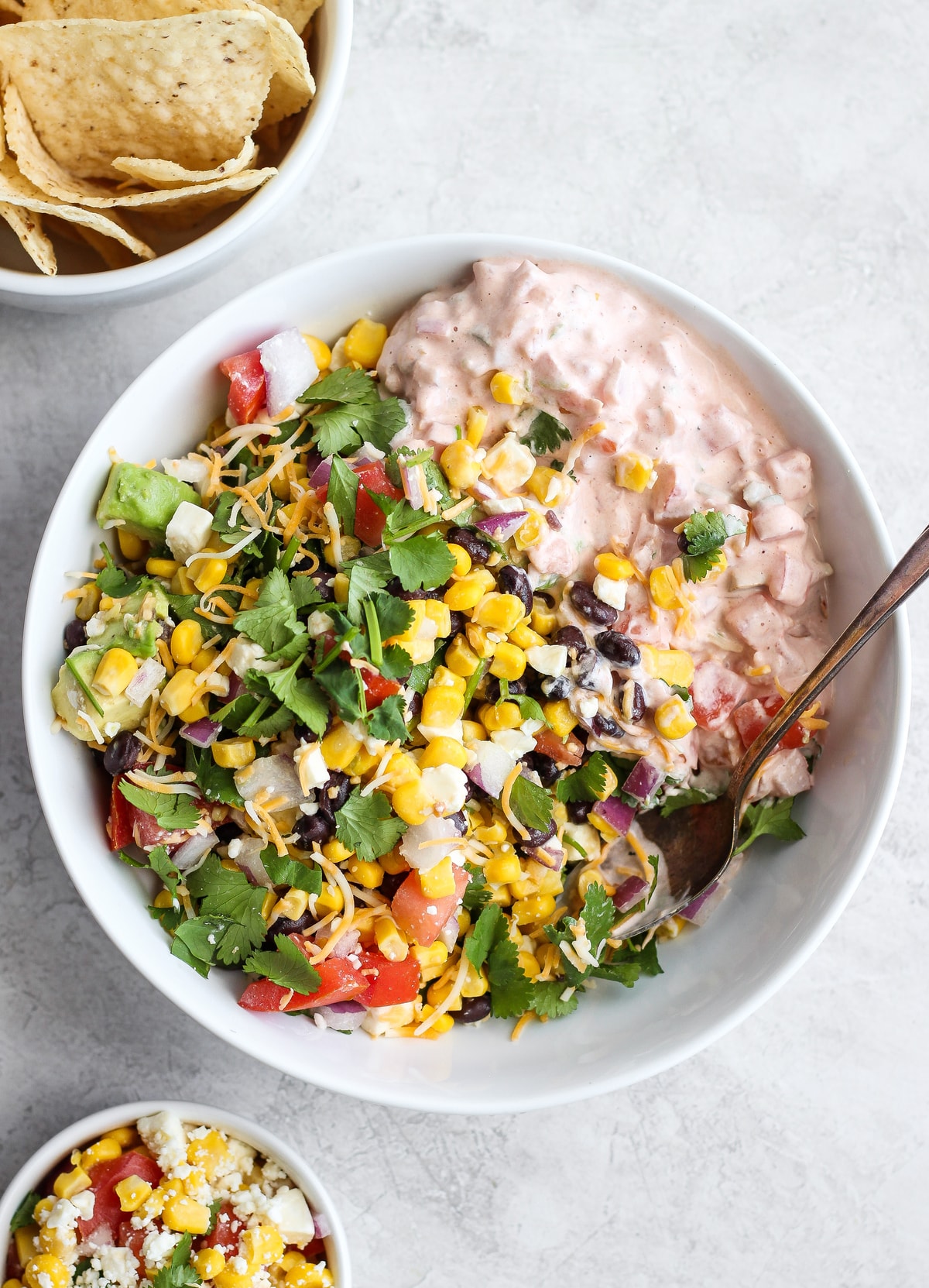 Fresh Fiesta Dip with Black Beans and Corn
This fresh fiesta dip has all the good stuff! I'm talking black beans, corn, feta, cheese, and everything else I love. It's all mixed into this easy Mexican Dip recipe that's sure to please. Everything blends together so well, and it's perfected with the creamy mayo salsa sauce. Yum!
Fiesta Dip Ingredients:
Avocado
Tomatoes
Black Beans
Salsa
Cilantro (my favorite!)
Corn
Feta
Red Onion
Lime Juice
Mayonnaise
Shredded Cheese
You could always add in some other ingredients if you like. Like jalapenos! Those will add a bit of heat, which could really be delicious. This dip is like a fiesta salad, and it's easy to eat all on its own. It would also be good in tacos or as a side to other Mexican dishes. So many ways to use this Mexican dip!
How long does Fiesta Dip stay fresh?
If there are any leftovers, this Mexican dip recipe is absolutely delicious the next day! It will stay nice and fresh in the refrigerator for up to three days. Just keep an eye on your avocado for browning. I recommend storing the corn/bean/tomato mixture and the mayo/salsa mixture separately if you can. That will keep the other ingredients fresh and crispy.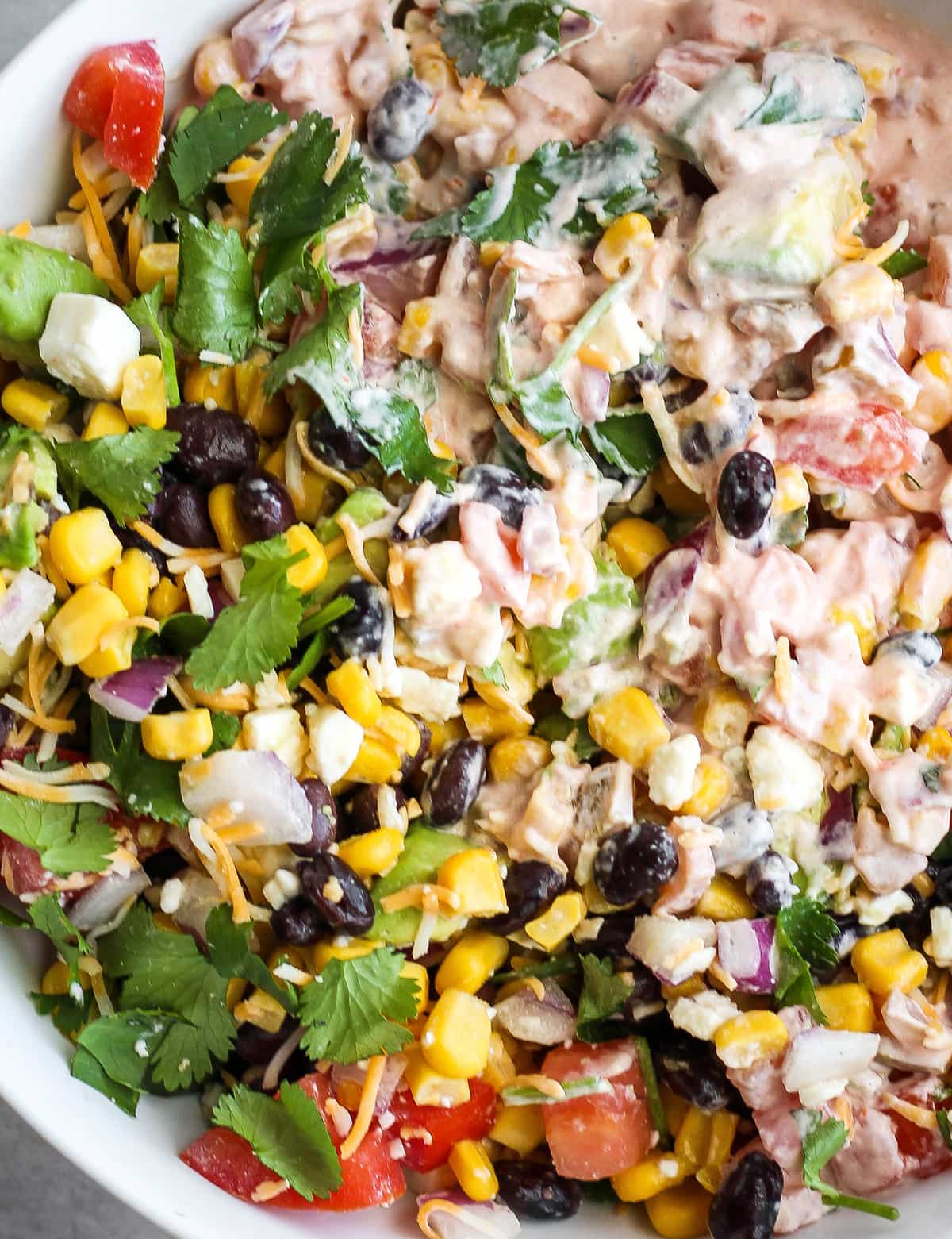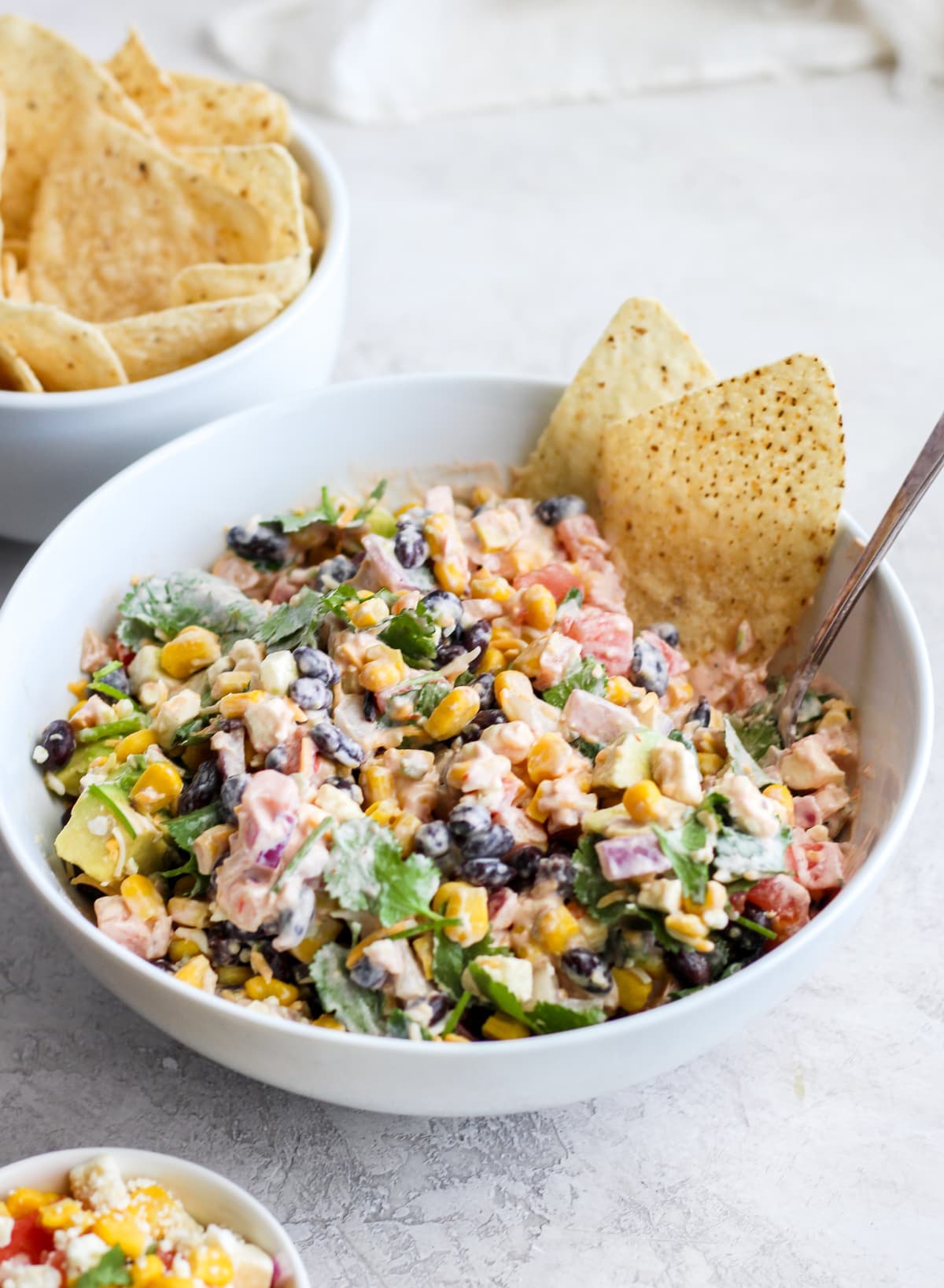 How to Make Black Bean Corn Mexican Dip
This fiesta dip is SO easy to make. There's no cooking involved, just grab your ingredients and mix it all together. You're left with a super tasty Mexican Dip recipe that can be used in so many different ways. Whip it up in just a few minutes and start eating!
How to Make Fiesta Dip:
Drain the black beans and corn, dice the onions, and get the rest of your ingredients prepped according to the recipe card below.
Combine black beans, corn, onion, avocado, tomatoes, feta cheese, and lime juice in a mixing bowl.
In a separate bowl, mix the mayonnaise and olive oil with the salsa until well combined.
Now pour the mayo-salsa mixture over the bean/corn mixture, and toss in the shredded cheese and cilantro.
You have plenty of control over how creamy you make this fiesta dip. Pour in a little bit at a time and toss everything together until you get your desired consistency. Use all of the mayo-salsa to get a really saucy dip, or just use a little bit to keep it fresh.
Now grab your chips and starting dipping, or pile this Mexican dip onto your tacos. If you want to keep it on the healthier side, add just a tiny bit of the mayo sauce into the mix.
Also, here's another thought: that mayo salsa mixture would be sooooo good as a sauce for tacos or burritos. Adding that to my list of things to try. Yum!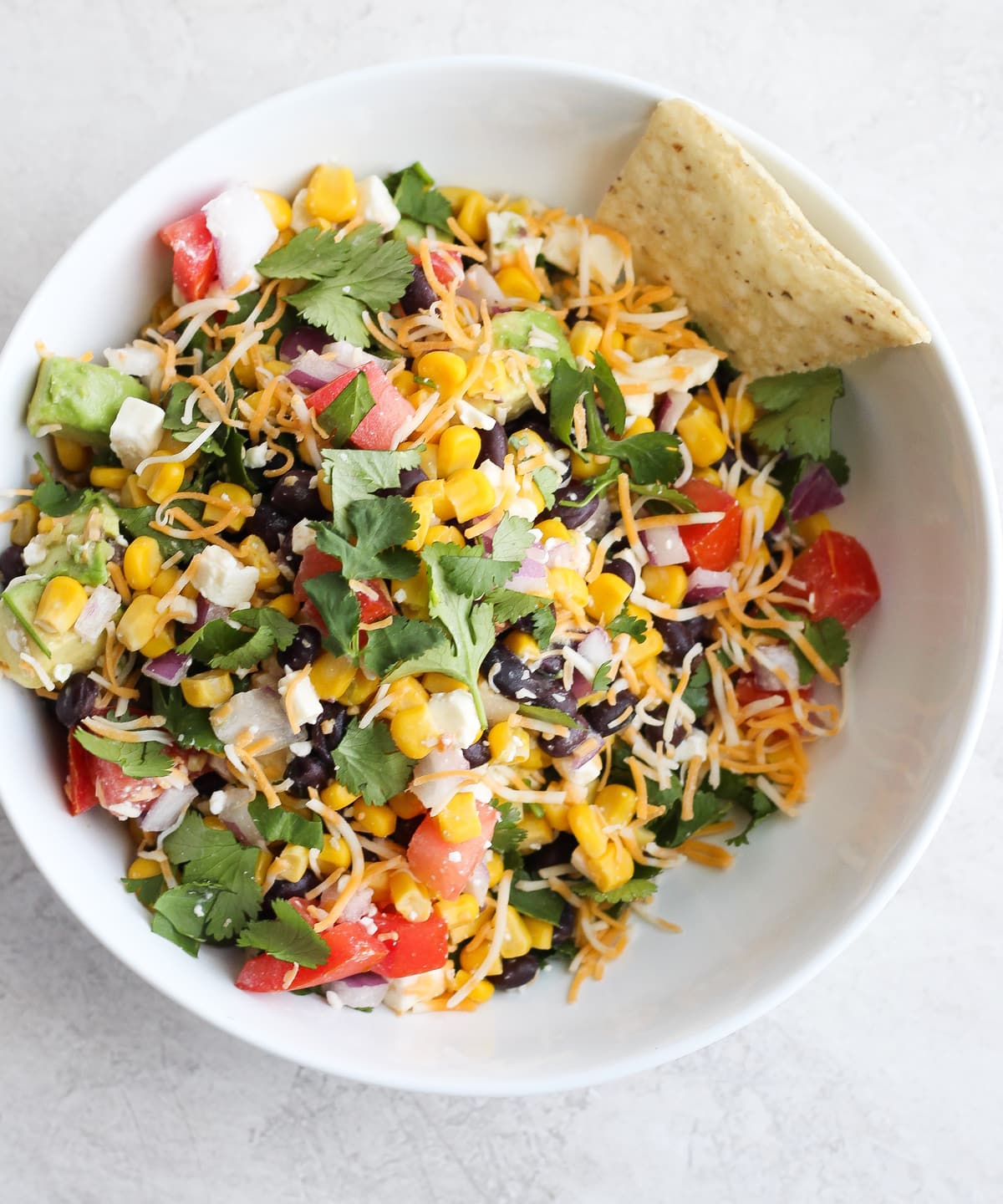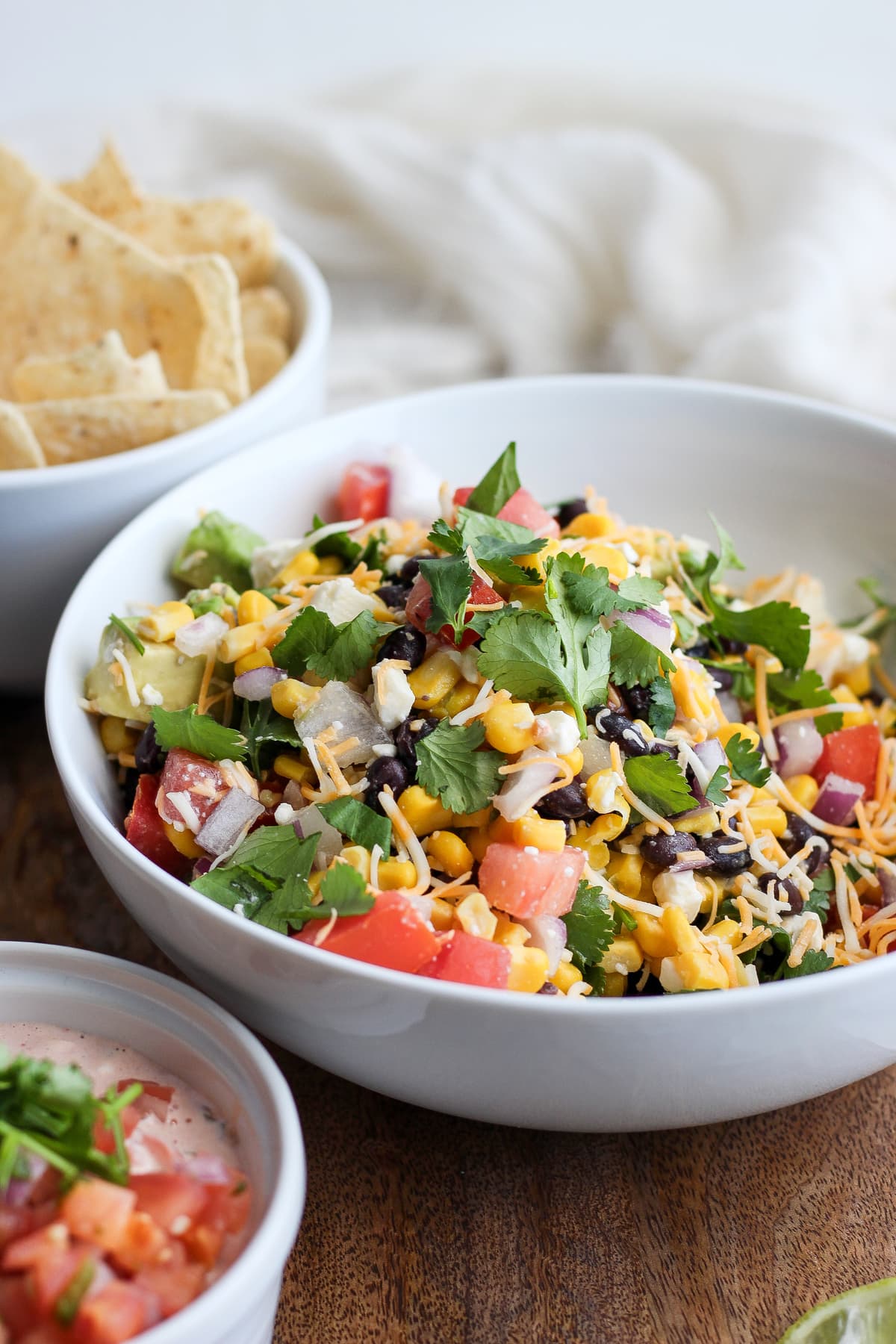 Fresh Fiesta Salad
I know you came here for a Mexican dip but let's talk about yet another way to use this recipe. The black bean, corn, avocado, etc. mixture would make a GREAT Fiesta Salad. I tend to find myself eating it by the spoonful anyways, so why not just call it a salad and feel healthy about it?
Mix it all up with some romaine lettuce (although the lettuce isn't even necessary), and just drizzle that creamy mayo salsa mix on top like a salad dressing. Toss it all together and it really is the most delicious salad. I'd love it as a side to other Mexican dishes, but I'd love it just as much as its own little meal. Add a bit of grilled chicken and you really have something filling and healthy.
Whether you call it a fiesta salad or a fiesta dip, it is actually a great side dish, in addition to being a delicious appetizer!
What To Serve with this Black Bean Corn Mexican Dip Recipe
I love making a big bowl of this veggie-filled black bean corn dip for any game day, but you could easily turn it into a meal by serving it alongside any of these delicious recipes:
Chicken Mexican Pizzas
Creamy Chicken Tortilla Soup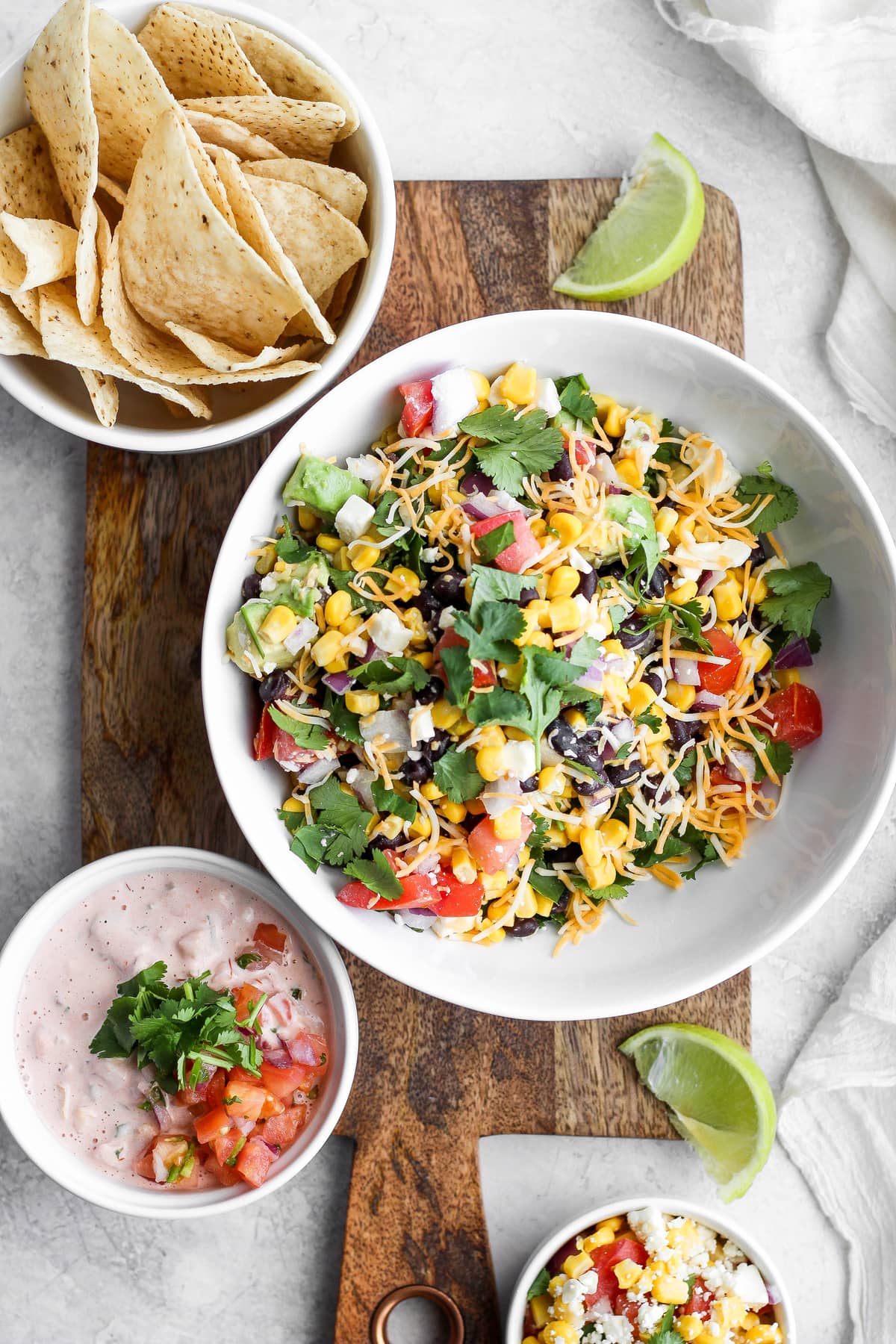 Gather your friends around, open a bag of your favorite chips and dig in to this creamy Mexican Dip recipe! This fiesta dip is one of those recipes that is best shared with people you love. It's so versatile and so tasty!
See the recipe card below for details on how to make Mexican Dip with Black Beans & Corn. Enjoy!
If you like this fiesta dip recipe, try these other tasty dips: