Grilled Chicken Nachos are a delicious and fun way to use your grill, even in the chillier months. Piled high with cheese and favorite toppings, the grilled smokey flavor will really surprise you! Choose from 2 flavors: BBQ Chicken Nachos or Mexican Nachos.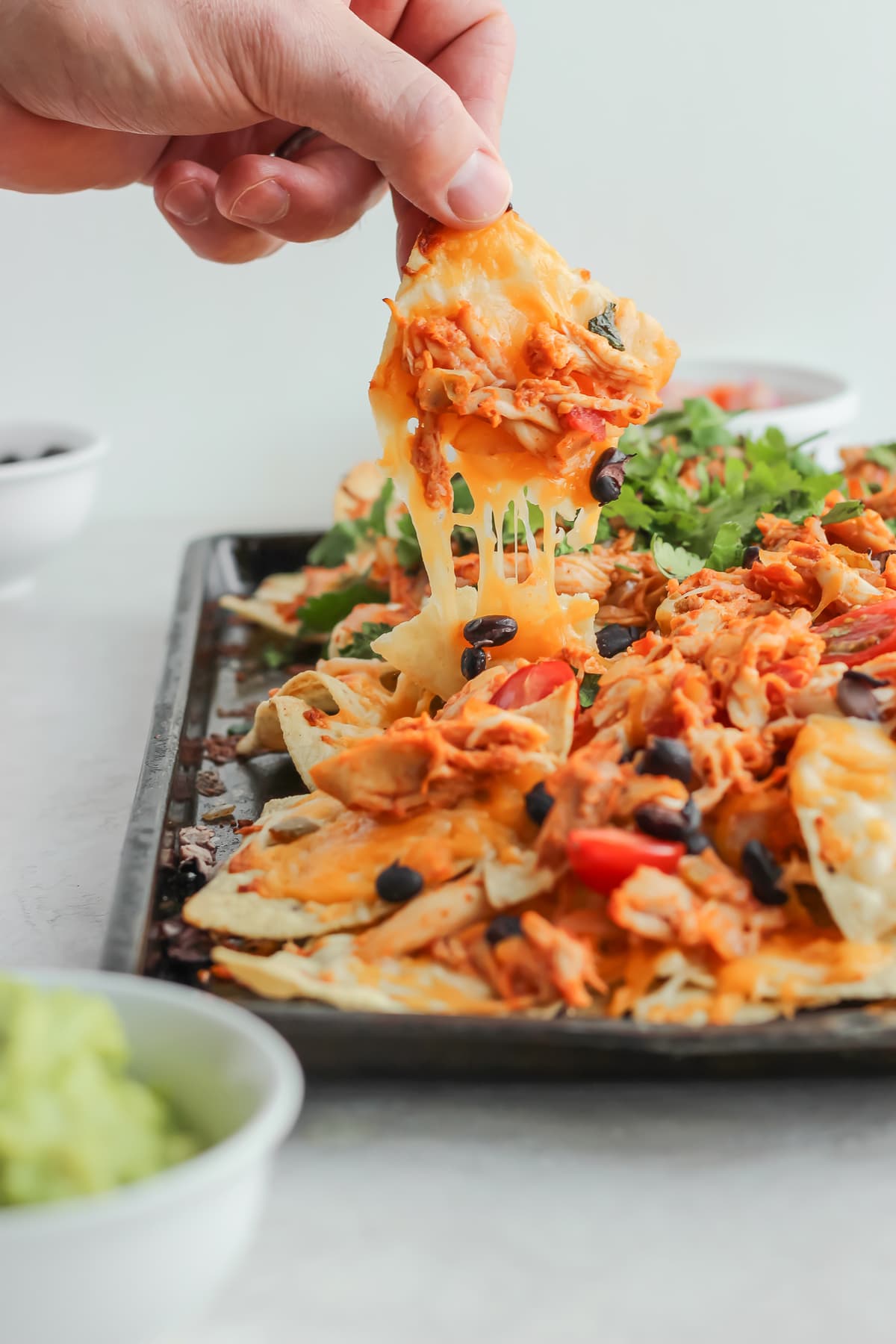 Easy Grilled Chicken Nachos
Grilled Chicken Nachos are fun for the whole family to make together. There's something so cozy about grilling hot food outside in the chilly fall air, the smoky smell permeating the backyard. The grill gives the chips an extra crispy texture and the cheese bubbles and melts beautifully on top. We're making two delicious flavors: BBQ Chicken Nachos and Mexican Nachos!
The key to perfect Grilled Chicken Nachos is doing a double layer of chips, cheese and toppings. They'll turn out crispy and cheesy every time!



Toppings for Grilled Chicken Nachos
Once you have your base of chips, cheese and shredded cooked chicken, the sky's the limit when it comes to toppings. My family loves traditional Mexican toppings, and I'm a fan of barbecue flavors. So here are just a few ideas for toppings; add your favorites!
Caramelized onions
Black beans
Salsa
Taco seasoning
Mexican blend cheese
Cherry tomatoes
Barbecue sauce
Cilantro
Queso cheese
Green Onions
Mozzarella cheese
Feta
Veggies
Cinnamon and Sugar (makes delightful dessert nachos!)
How to Make Grilled Chicken Nachos on an Outdoor Grill
Making Chicken Nachos on the grill is super easy and only takes about ten minutes. They make the most delicious game day appetizers or a quick and fun weekend lunch or dinner. Some quick tips for perfect Grilled Chicken Nachos:
Avoid putting the nachos over a direct flame.
Place hot coals on the far side of the grill. This will help not to burn the chips.
Grill about ten minutes, turning the tray once to get both sides nice and toasty.
When you remove the tray from the grill, use a spatula to cut and serve up as much as you like.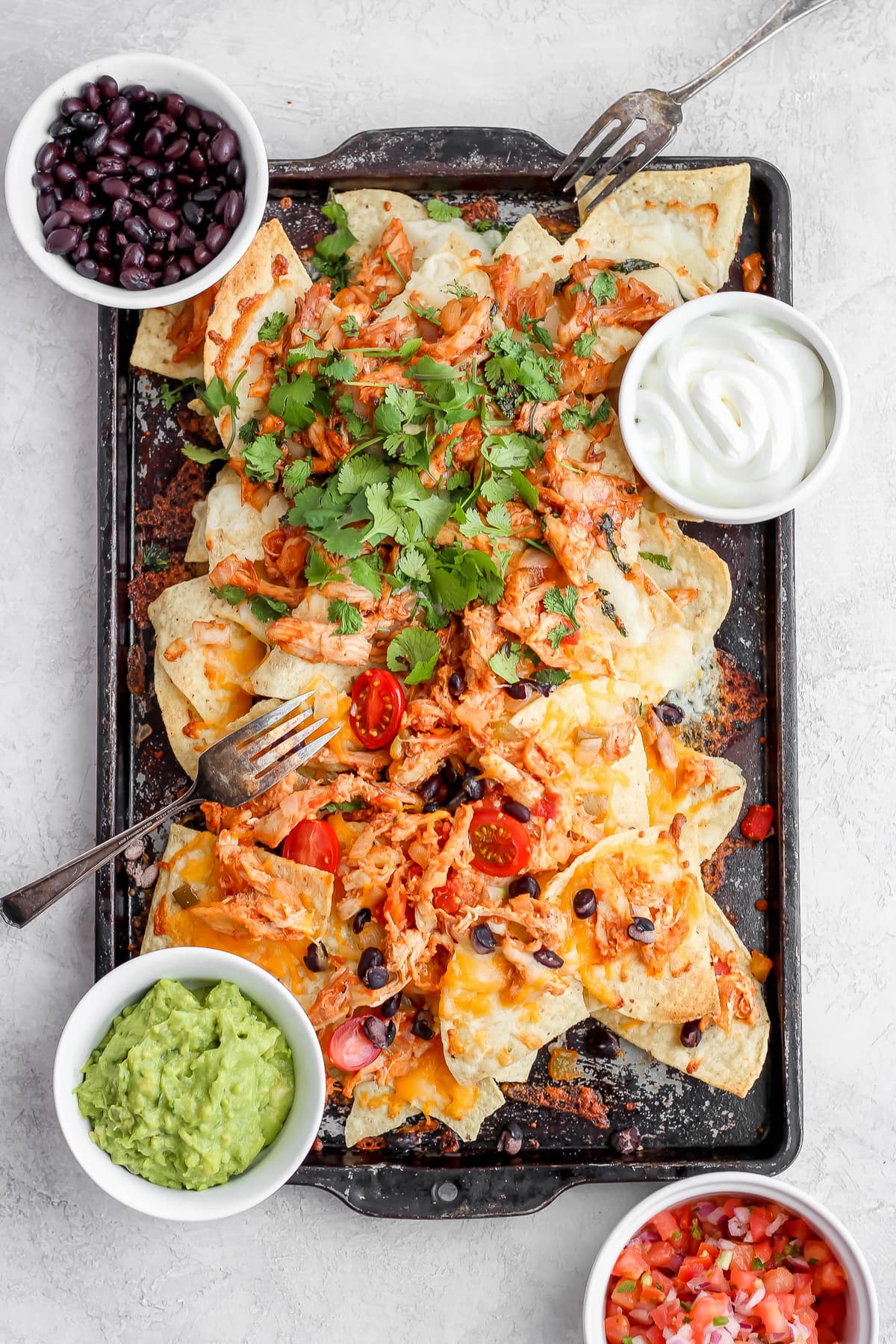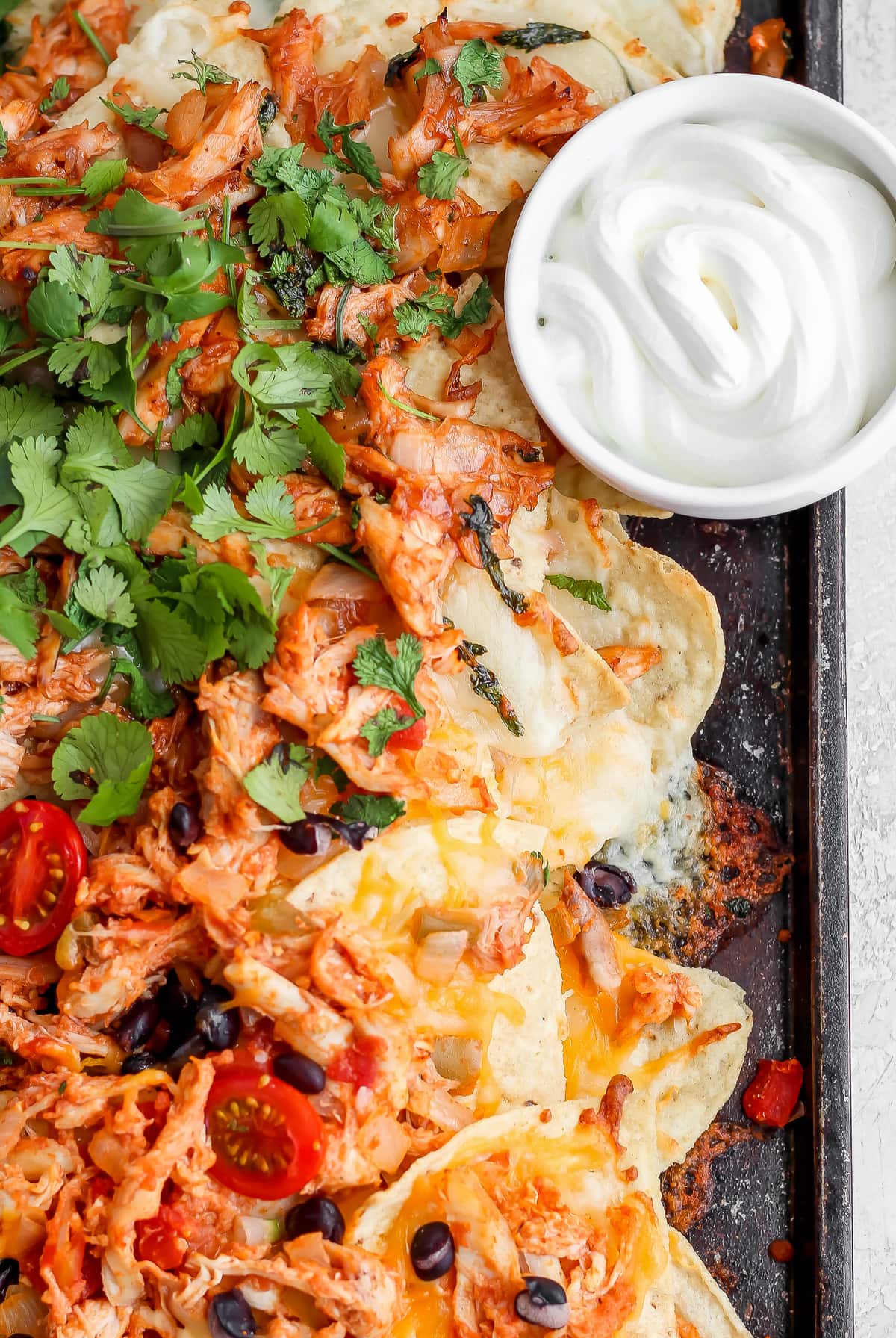 Can I Make Grilled Chicken Nachos Inside?
Yes! If you don't have an outdoor grill or just want to make them inside, you can use the broiler in your oven or on a stove top grill. They'll taste delicious this way too!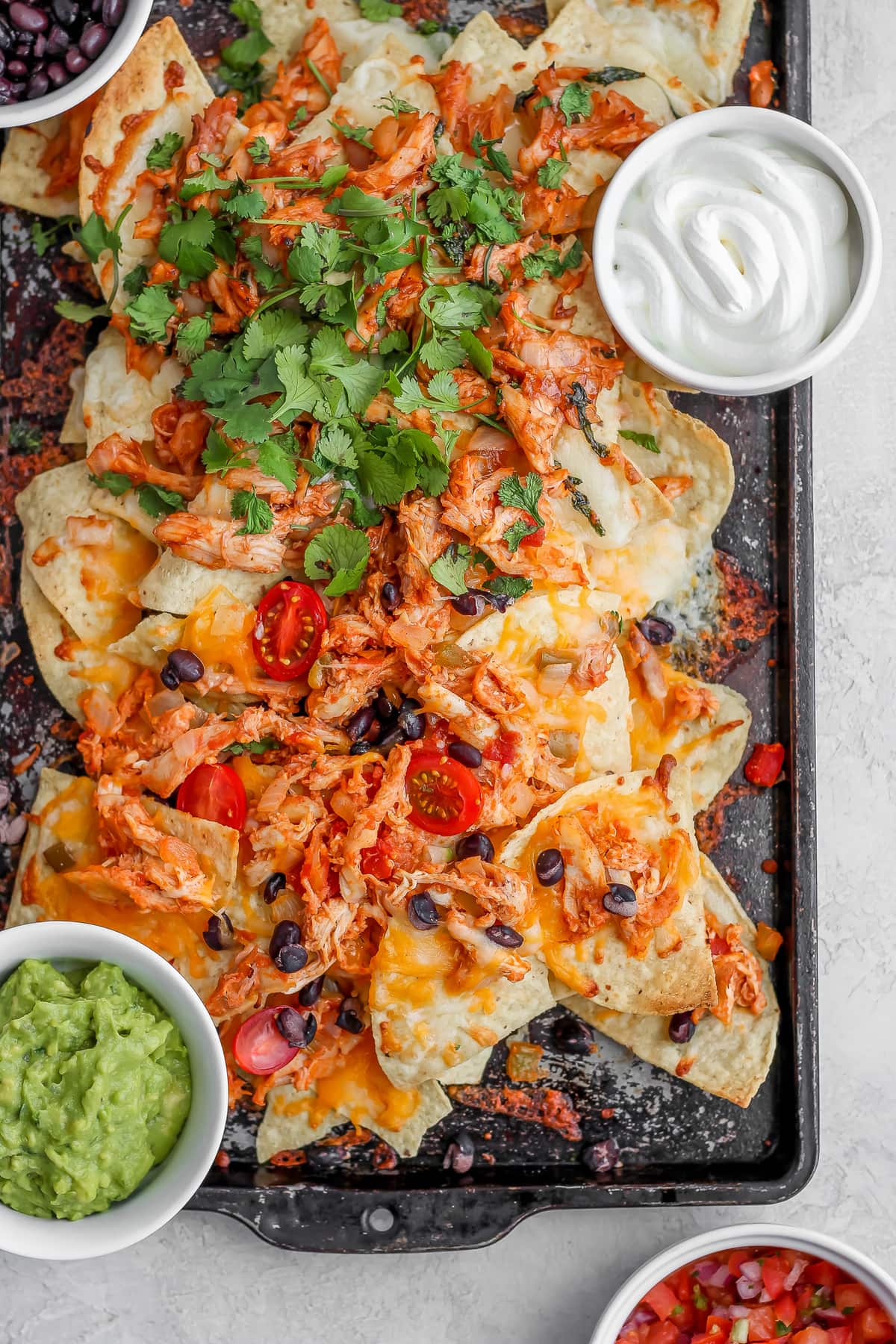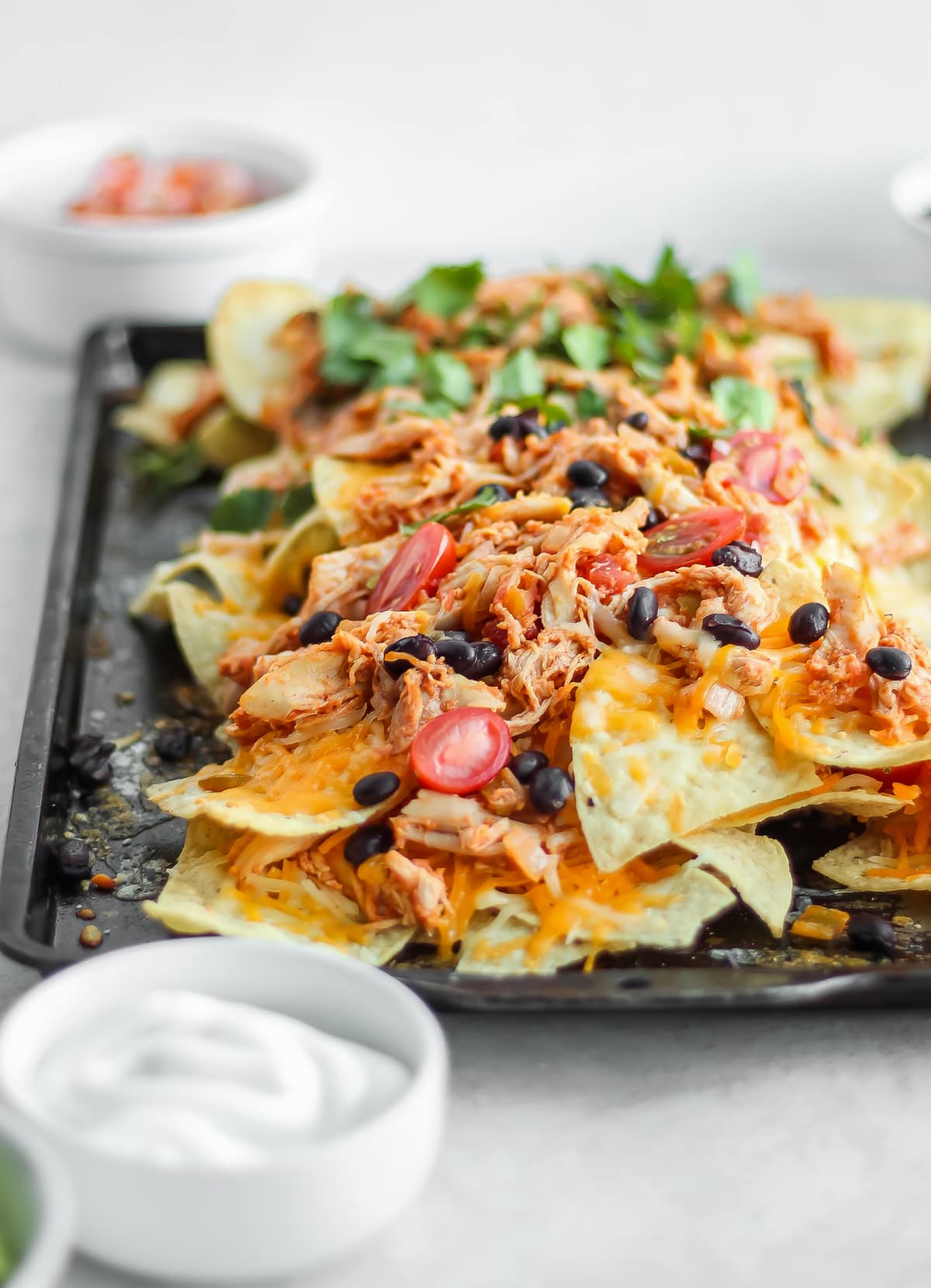 More Nacho Recipes
The brilliant thing about nachos are how versatile they are! You can dress up chips and cheese a million different ways. Here are a few of our favorites: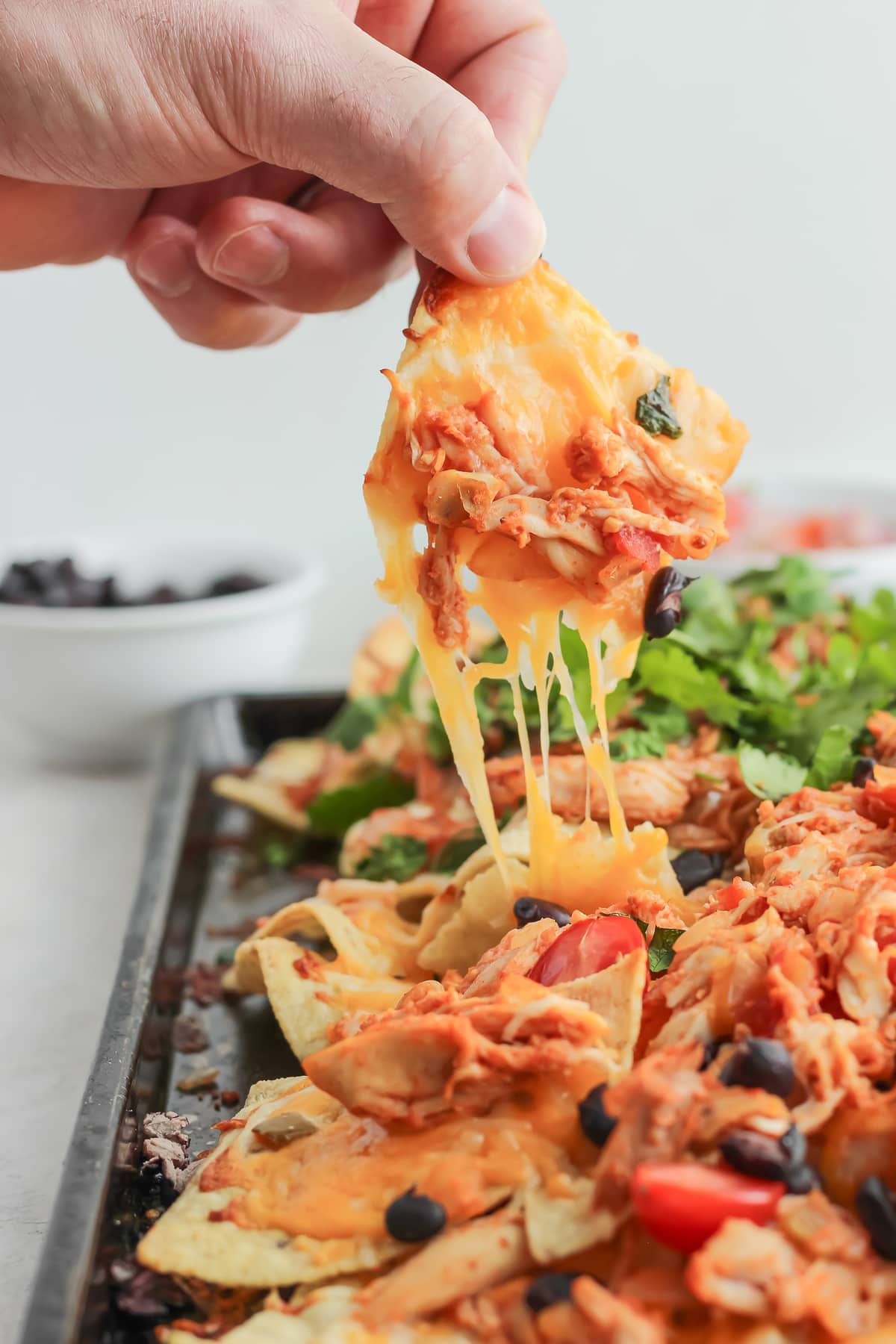 This recipe is so much fun! Gather your loved ones and use your imagination to make the world's best nachos. Happy grilling!