Mexican Pinwheels are a super simple and super tasty appetizer for any occasion. These Southwest Sausage Pinwheels are easy to make and require hardly any work at all. These sausage cream cheese pinwheels have all my favorite Mexican inspired flavor in one bite. Just as easy as any tortilla roll ups appetizer!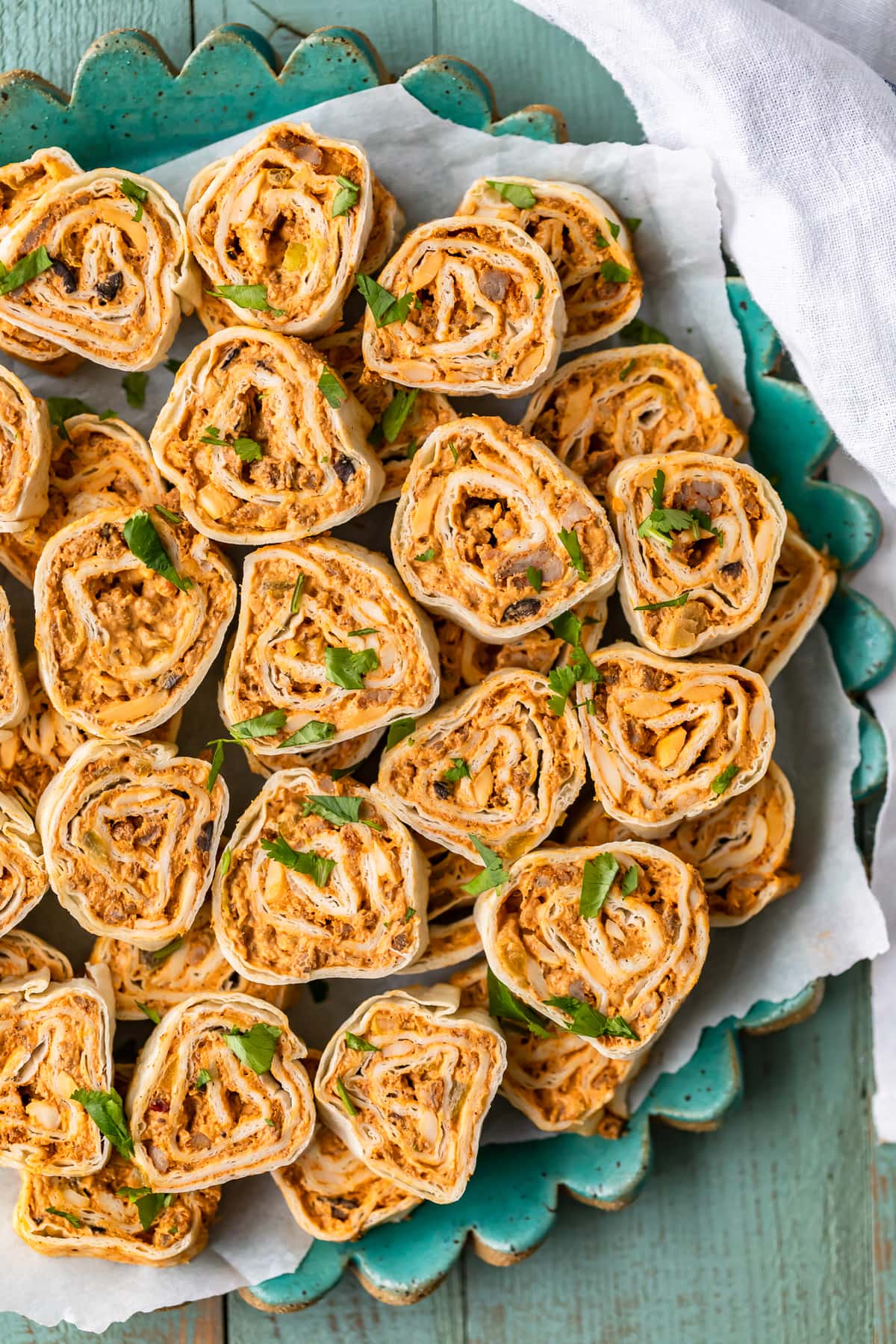 Mexican Pinwheels
These Mexican Pinwheels are a favorite appetizer for parties, holidays, and simple gatherings. Cream Cheese and Sausage Pinwheels with a Southwest twist!
I'm a big fan of tortilla roll ups for easy appetizers. You can make them ahead of time, change up the flavors, and make them in almost no time at all! This Mexican Pinwheels recipe has definitely become a favorite flavor combo recently, since I do love all things Tex-Mex inspired.
These Southwest Sausage Pinwheels are filled with sausage, cream cheese, green chilies, green onions, cheese, sour cream, and so much more. All the best Mexican ingredients in one simple bite! These little sausage cream cheese pinwheels are such a great thing to make when you need to bring a dish to a party, because you don't have to deal with the hassle of cooking and reheating. Just refrigerate them until you're ready to go and serve them up cold (along with plenty of salsa or sour cream for dipping, of course!).
Everyone is sure to love these Mexican Roll Ups, so they will definitely be a hit!
Make these simple sausage and cream cheese filled Mexican Pinwheels your next party appetizer!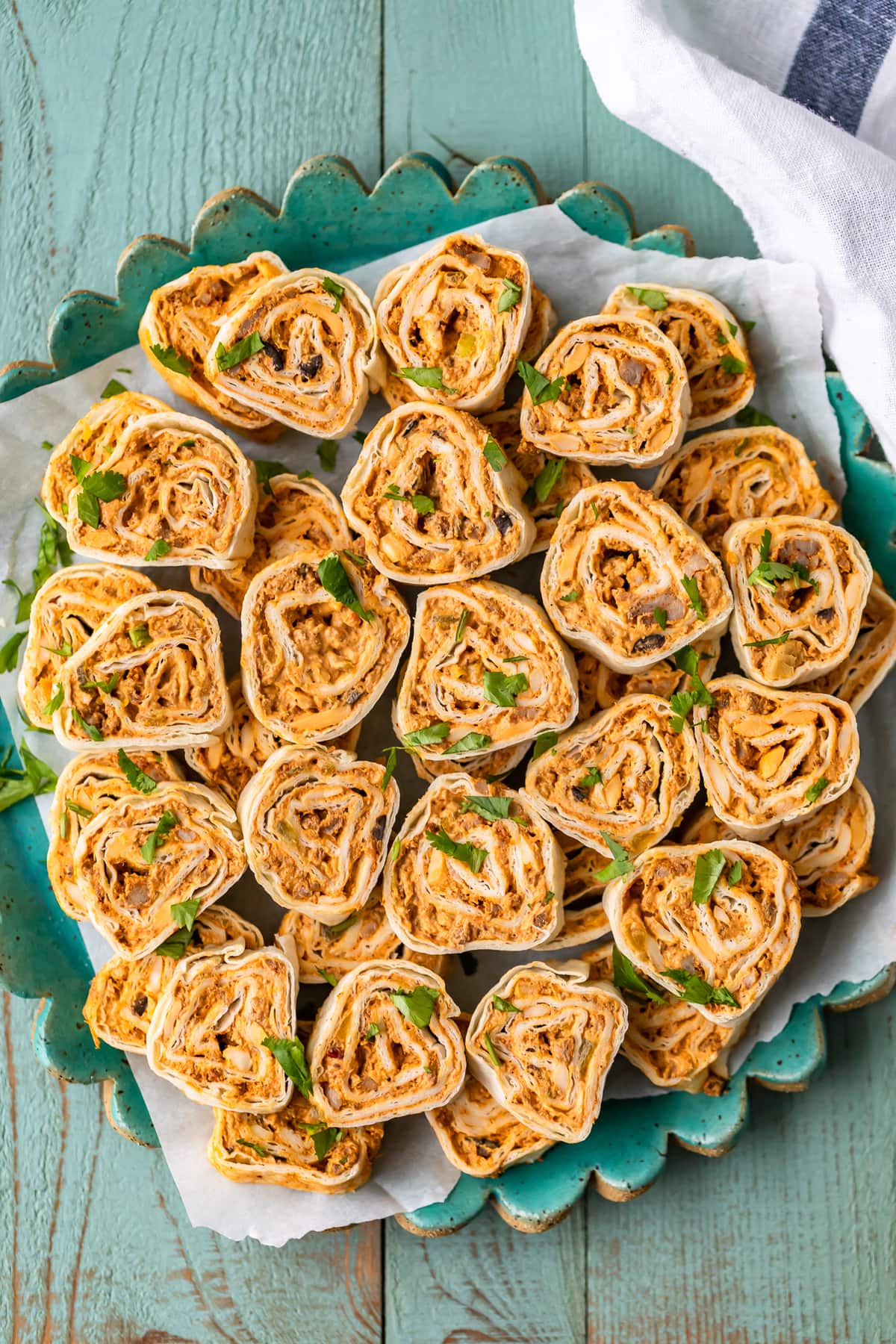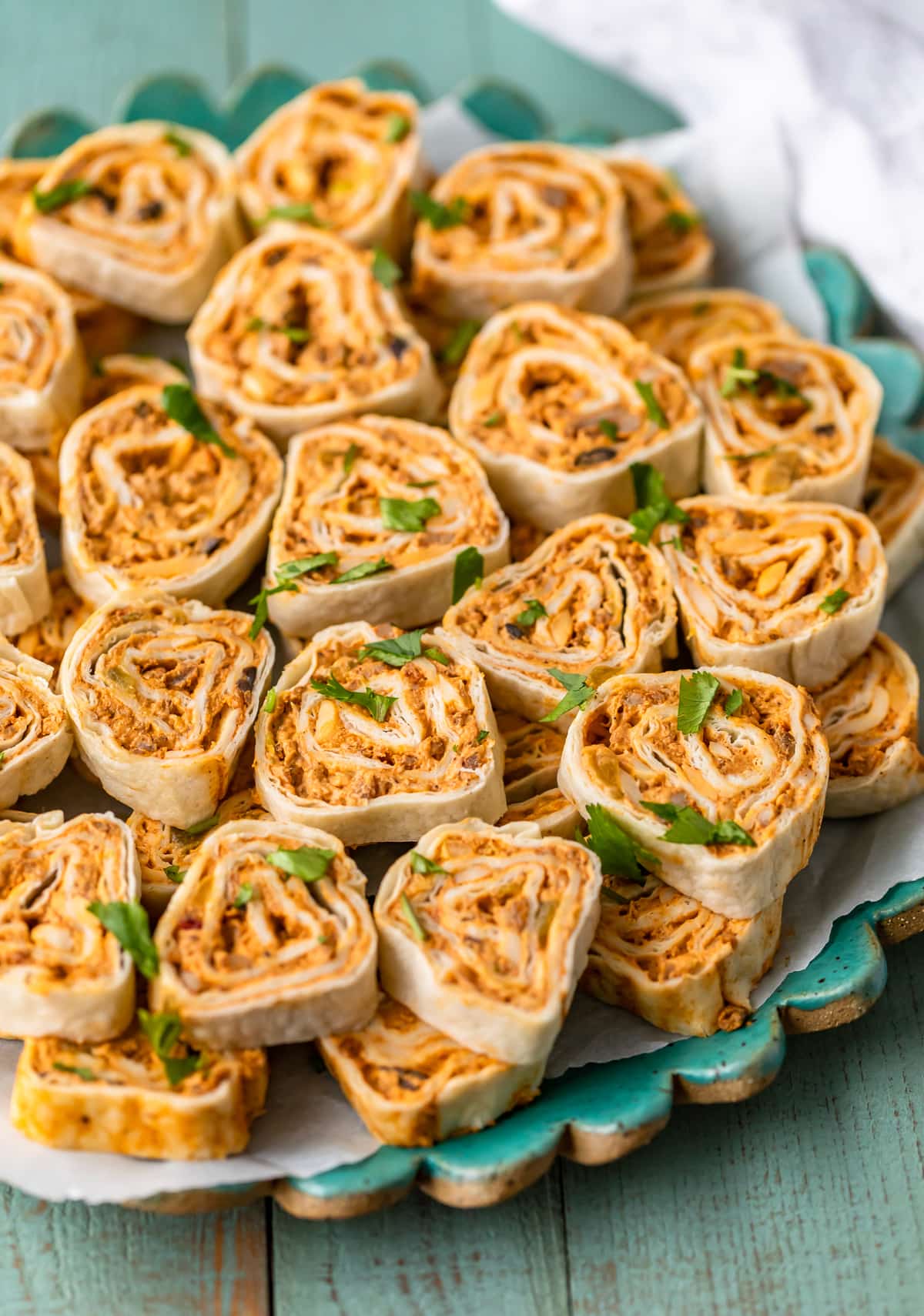 Southwest Sausage Pinwheels
I love pretty much anything with Mexican inspired flavors and ingredients, so these Southwest Sausage Pinwheels are exactly my kind of appetizer. Not to mention the fact that they are super easy and quick to make! You can prepare about four dozen of these bite-sized Mexican Tortilla Roll Ups in 15-20 minutes, then just let them chill out in the refrigerator until you're ready to serve them.
What's in these Mexican Pinwheels?
Flour Tortillas
Cream Cheese
Sausage
Sour Cream
Salsa
Lime Juice
Olives
Green Chilies
Sharp Cheddar Cheese
Green Onions
Doesn't that just sound DELICIOUS? Everything blends together so well, making for the absolute best bite. You definitely need these for your next party appetizer!
Easy Tortilla Roll Ups Appetizer
Tortilla roll ups are such an easy appetizer for any occasion. I love them for parties, simple get togethers, holidays, or any time you need a tasty snack. These Mexican Pinwheels are just another version of a favorite appetizer, with different ingredients to make up the filling.
If you like these, you just have to try out Jalapeno Popper Tortilla Roll Ups, and our easy Ham and Cheese Roll Ups!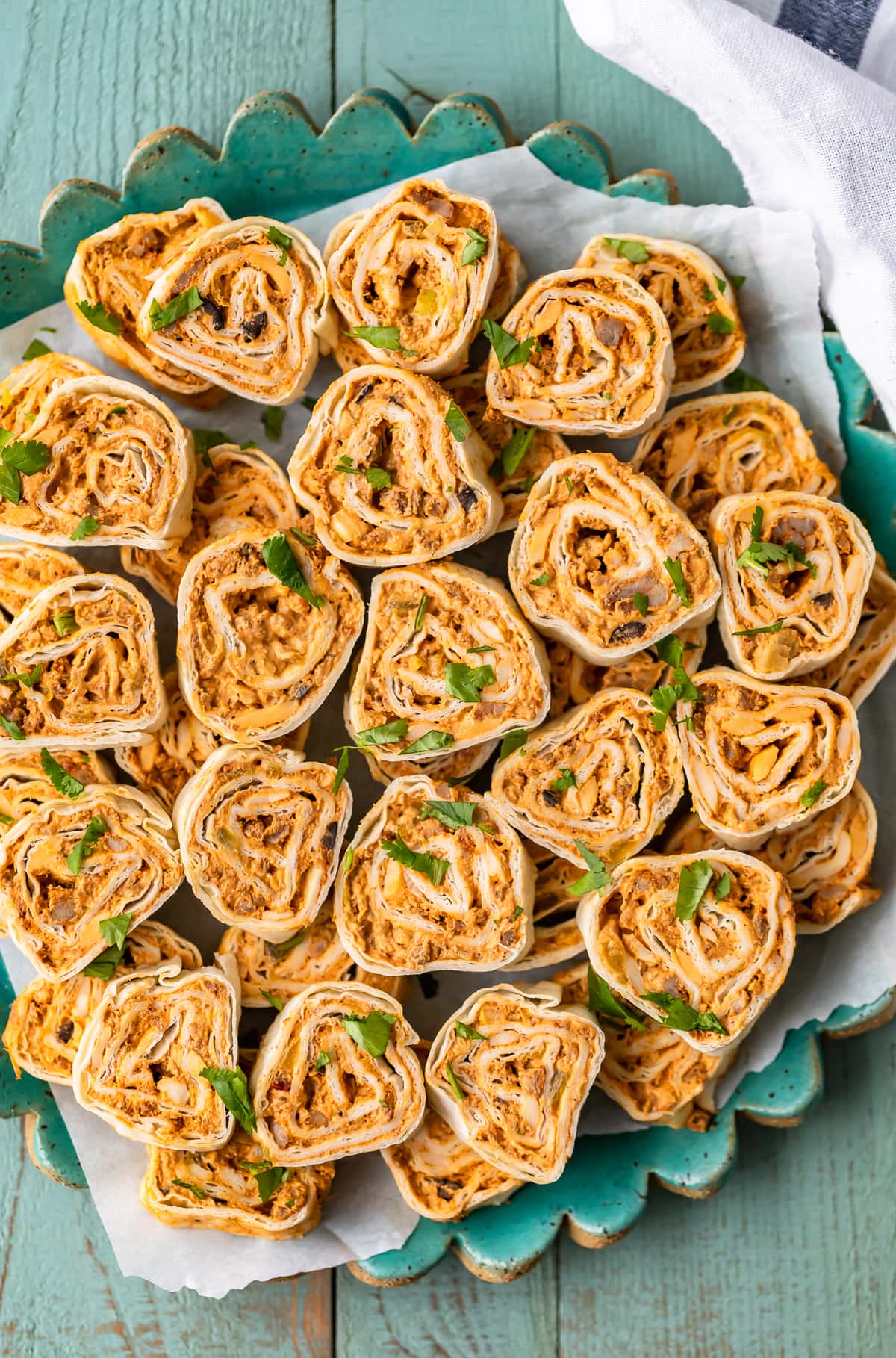 How to Make Mexican Pinwheels
These Southwest Cream Cheese and Sausage Pinwheels are the EASIEST thing to make. I love this kind of appetizer, because it requires almost no effort whatsoever. When you need to bring something to a party but you just don't have the time? Throw these together the night before and you have a tasty dish ready to go!
How to make Mexican Pinwheels:
The sausage should be cooked and crumbled before starting the recipe. You can do this ahead of time and mix it in cold. Or you can cook it and let it cool a bit before preparing the Mexican roll ups.
Beat together cream cheese, sour cream, picante sauce or salsa, lime juice, and taco seasoning in a mixing bowl.
Then add in the olive, green chilies, shredded cheese, green onions, and sausage, and mix it all together.
Use a spatula to spread the sausage cream cheese mixture onto the tortillas. Spread the filling up to about a 1/2 inch from the edge of the tortillas.
Roll up the tortillas tightly, and wrap them in plastic wrap (this will help them keep there shape).
Refrigerate them for at least 4 hours, or up until you're ready to serve them.
Remove the plastic wrap and cut the sausage pinwheels into 1 inch slices.
I love serving these Mexican roll ups with salsa or sour cream for dipping!
Can you make Mexican Pinwheels ahead of time?
Yes! You can definitely make these Mexican Pinwheels (like any tortilla roll ups) ahead of time. Since the recipe just requires putting everything together and then letting them sit in the refrigerator, it's easy to make these hours, a day, or even a couple of days before you need them. Anything longer than that and they might start to get soggy, but I'd definitely recommend preparing them up to 24 hours in advance and then just letting them sit in the fridge until you're ready to serve them.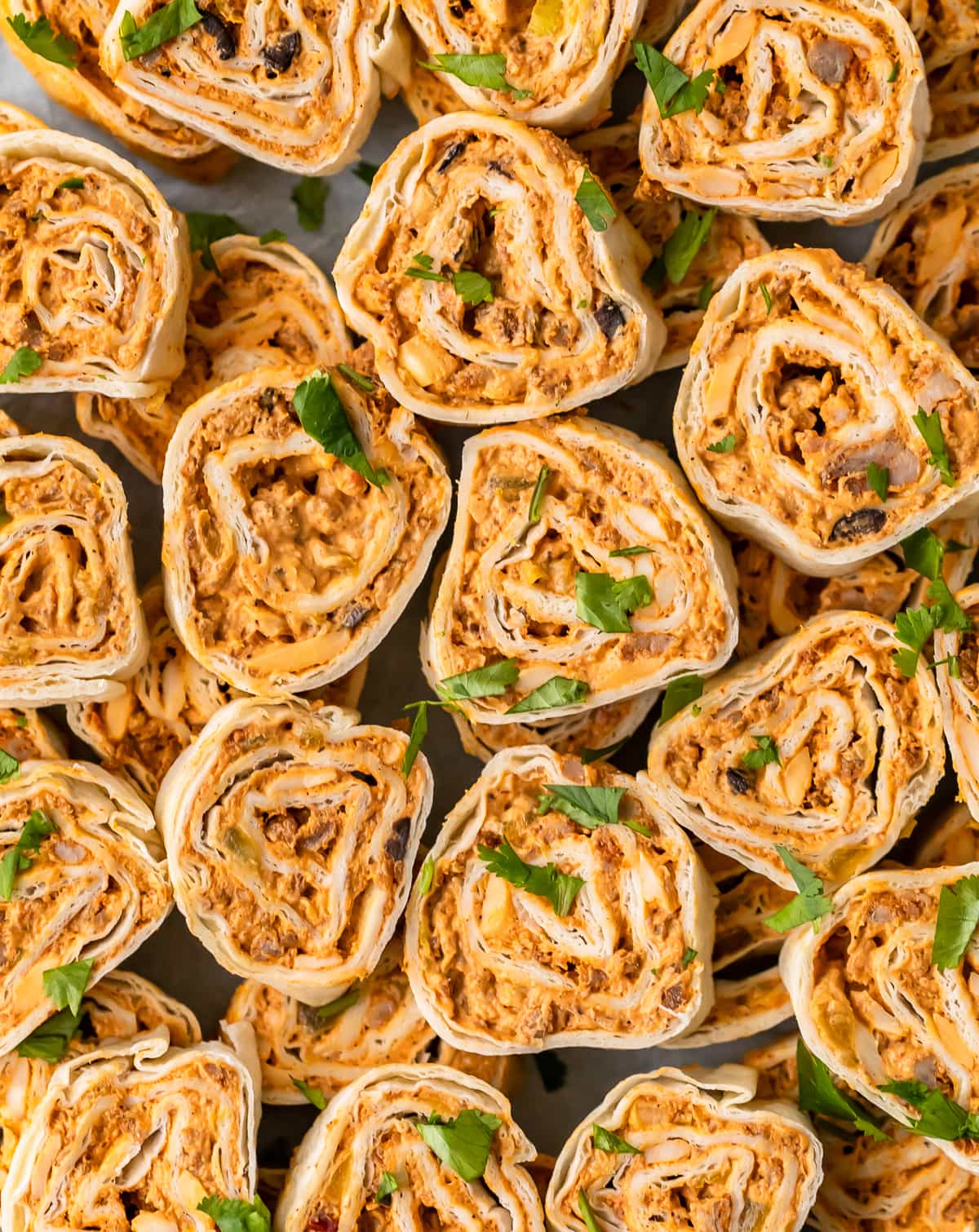 These cream cheese and sausage pinwheels are sure to be a huge hit at any party! I love these for New Year's Eve appetizers, game day, and holidays.
See the recipe card for details on how to make Sausage and Cream Cheese Mexican Pinwheels. Enjoy!
If you like these Mexican Roll Ups, try these other simple party appetizers: