These Easy Chilaquiles are a quick and easy breakfast, lunch or appetizer. Crunchy tortilla chips are simmered in salsa and tossed with Mexican crema and queso fresco. Delicious!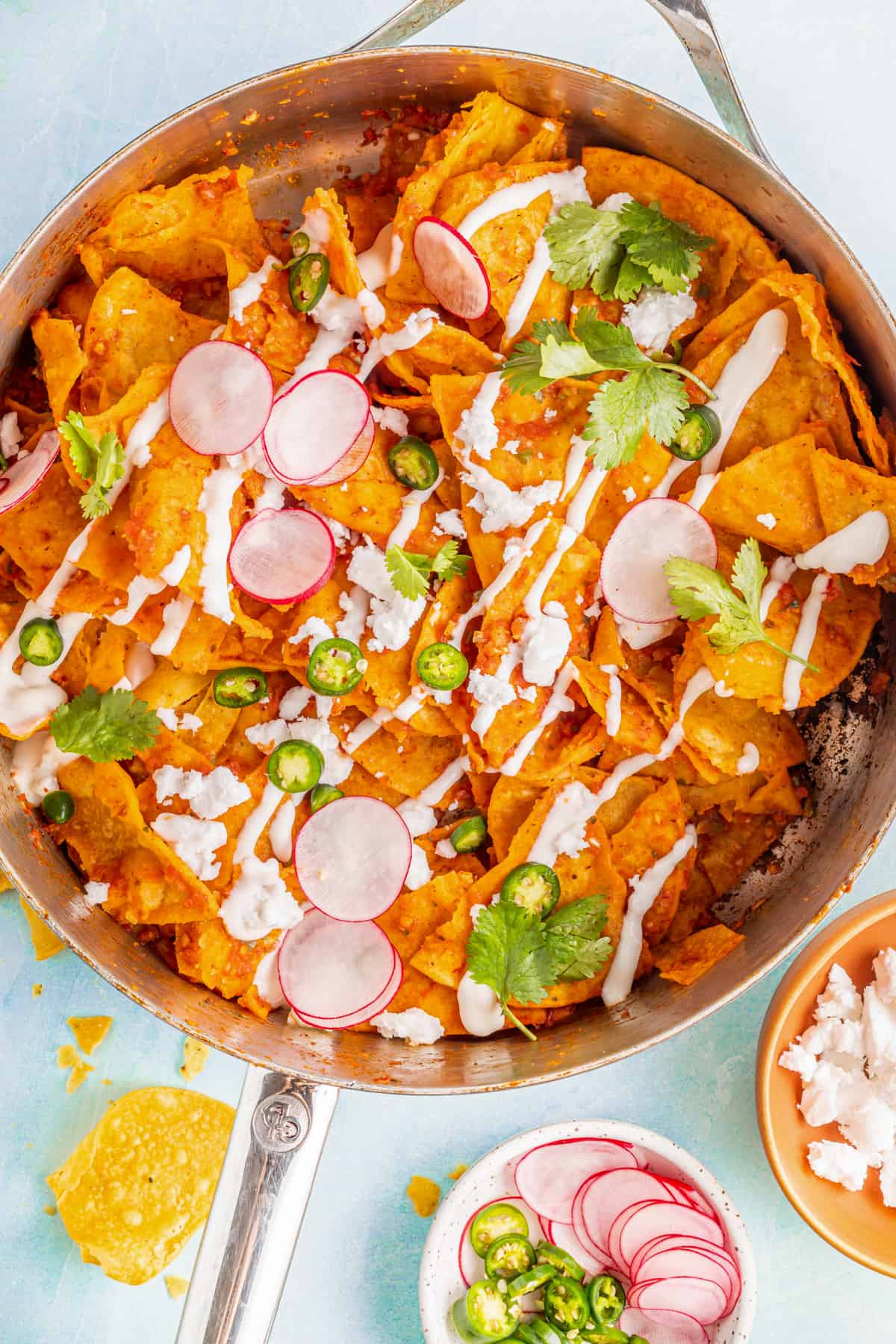 Quick Chilaquiles
Chilaquiles are a delicious dish made with tortillas and salsa. This is the quick and EASY version of chilaquiles that only requires 5 ingredients and about 15 minutes!
We're basically just cooking crispy tortilla chips in salsa to soften the chips and infuse them with flavor. It creates the most addicting texture, and the toppings (Crema, queso fresco, and whatever else you like) make them so tasty.
This recipe is traditionally served for breakfast in Mexico along with eggs, but it makes a great appetizer or dinner too. Grab a fork and dig in!
Why You'll Love this Chilaquiles Recipe:
Quick and easy: When you're in need of a quick and easy weeknight meal, this dish comes together in less than 30 minutes.
Great meatless option: Although you can add meat if you like, this recipe is a great meat-free option for vegetarians.
Completely customizable: The beauty of chilaquiles is that they can be served with scrambled eggs, fried eggs, cheese, shredded chicken, roasted veggies, or anyway you like. Make them your own!
This easy meal is one that you will want to make again and again! It is full of flavor and comes together quickly.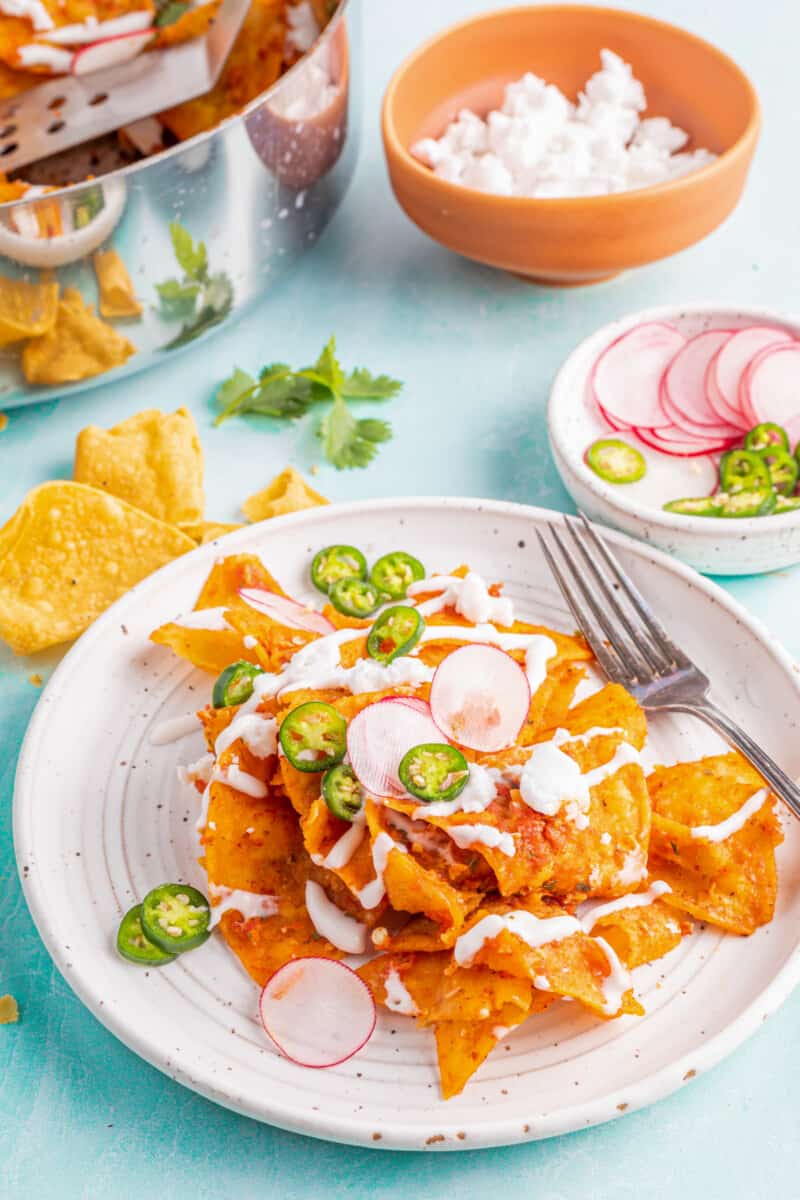 What are chilaquiles?
The word chilaquiles comes from the Nahuatl language. It literally translates to chilis and greens. This traditional dish is served in Mexico, but hit the United States in 1898! Basically, chilaquiles consist of fried corn tortillas, simmered in salsa or a brothy sauce. Chilaquiles are typically served with a fried egg on top as a traditional Mexican breakfast option.
How to Make Chilaquiles (the Easy Way!)
You can jump to the recipe card for full ingredients & instructions!
First, heat your avocado oil in a large skillet over medium heat.
Add your tortilla chips to the pan and pour the salsa on top of the chips.
Simmer the chips and salsa for about 7-10 minutes or until most of the salsa is absorbed into the chips.
Serve with queso fresco, Mexican crema, and your favorite toppings.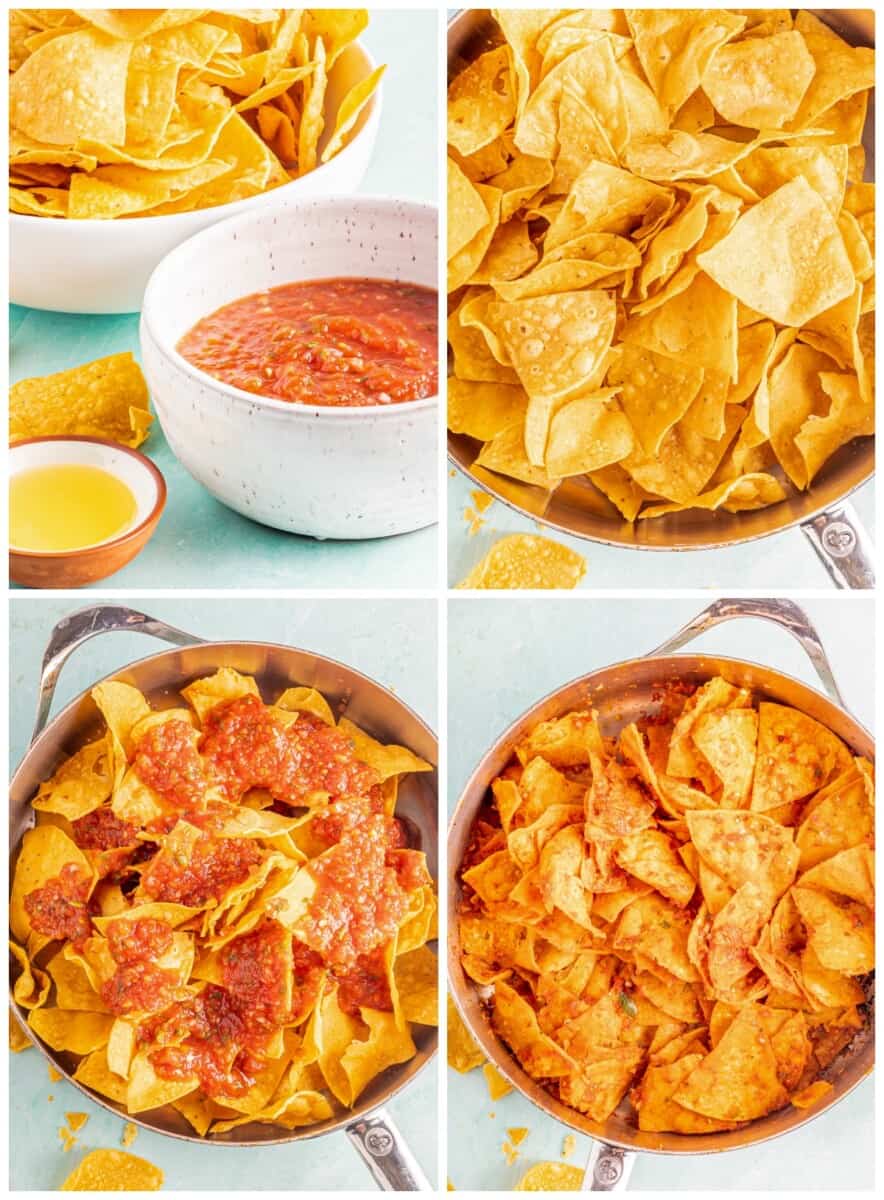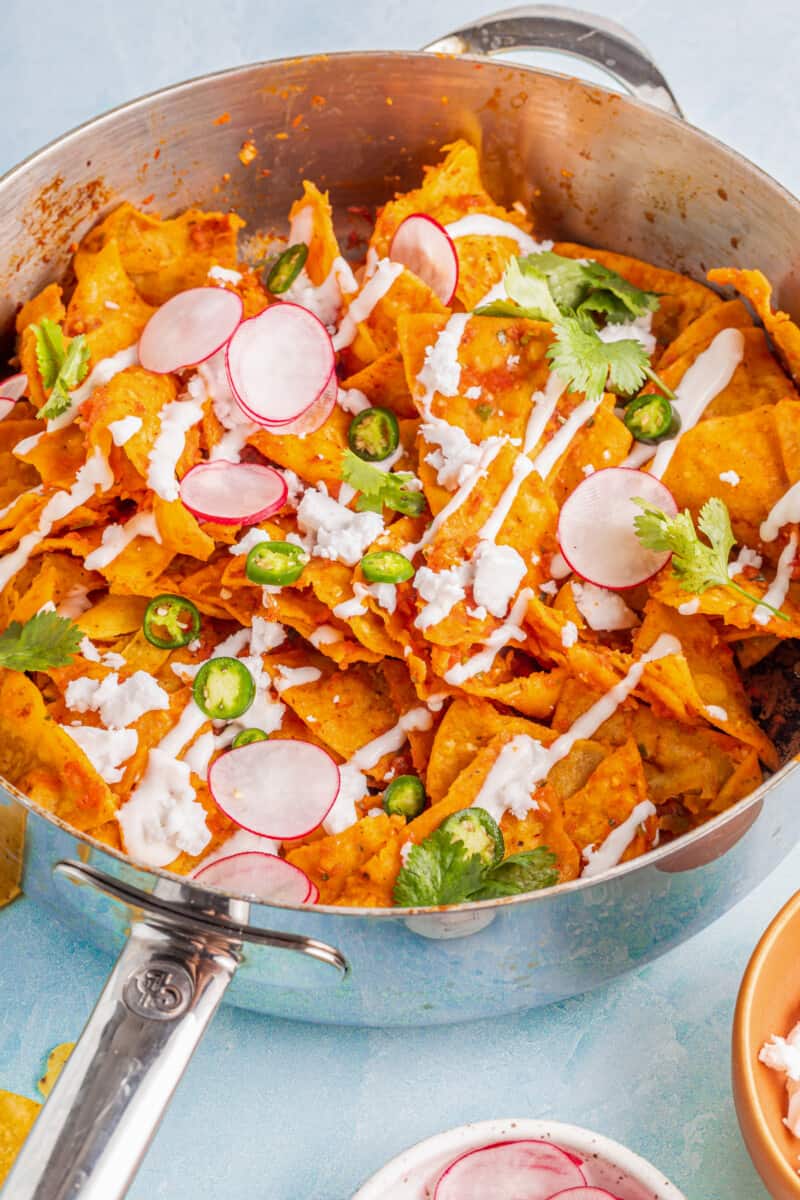 How can I make chilaquiles dairy free?
To make these chilaquiles dairy free, simply swap your favorite vegan cheese for the queso fresco and use non-dairy sour cream instead of Mexican crema.
What kind of salsa should I use for chilaquiles?
Use your favorite kind of store-bought or homemade salsa. I love this easy blender salsa or mix it up with a salsa verde.
What can I use instead of Mexican crema on top of chilaquiles?
Mexican crema is very similar to sour cream, so feel free to substitute it with an equal amount of sour cream.
Is this recipe gluten free?
Yes, just be sure to use certified gluten free tortilla chips.
Are chilaquiles supposed to be crunchy or soggy?
Perfect chilaquiles are totally personal preference! Some people prefer crunchy, and some prefer soggy. Experiment and enjoy however you like them best!
Serving Suggestions
These easy chilaquiles can be served with almost any topping you choose. However, traditionally, they are topped with a fried egg and served for breakfast. Here are a few topping ideas!
Scrambled or fried eggs
Frijoles negros (black beans)
Shredded chicken, pork, or beef
Sliced avocado
These also make a great appetizer for Cinco de Mayo or game day, served up with cocktails!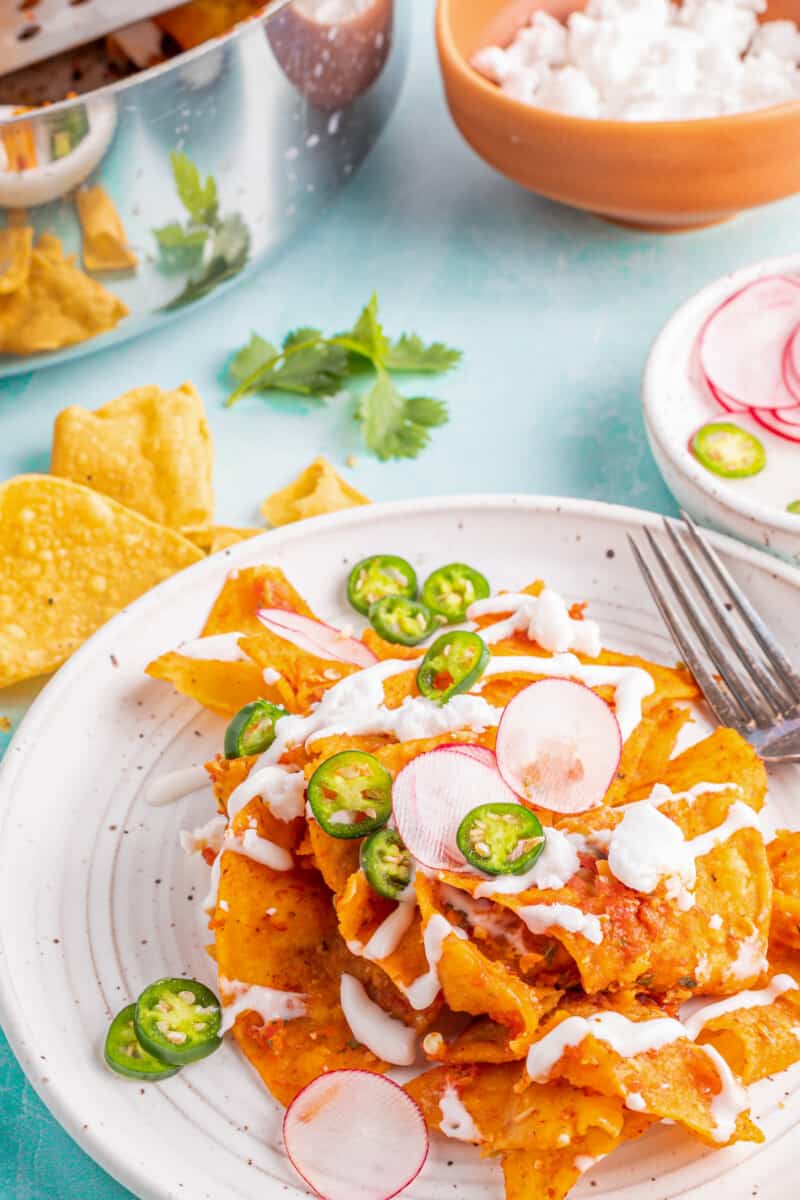 Storage Instructions
Store leftover chilaquiles in an airtight container in the refrigerator for up to 1 day. The longer they sit, the soggier they will get.
Toppings for Chilaquiles
Chilaquiles toppings are endless! Some of my favorite toppings for chilaquiles are:
Sliced avocados, jalapeño peppers, onions, or radishes
A sprinkle of fresh cilantro
Scrambled or fried eggs
Sautéed black beans and onions
Guacamole and more salsa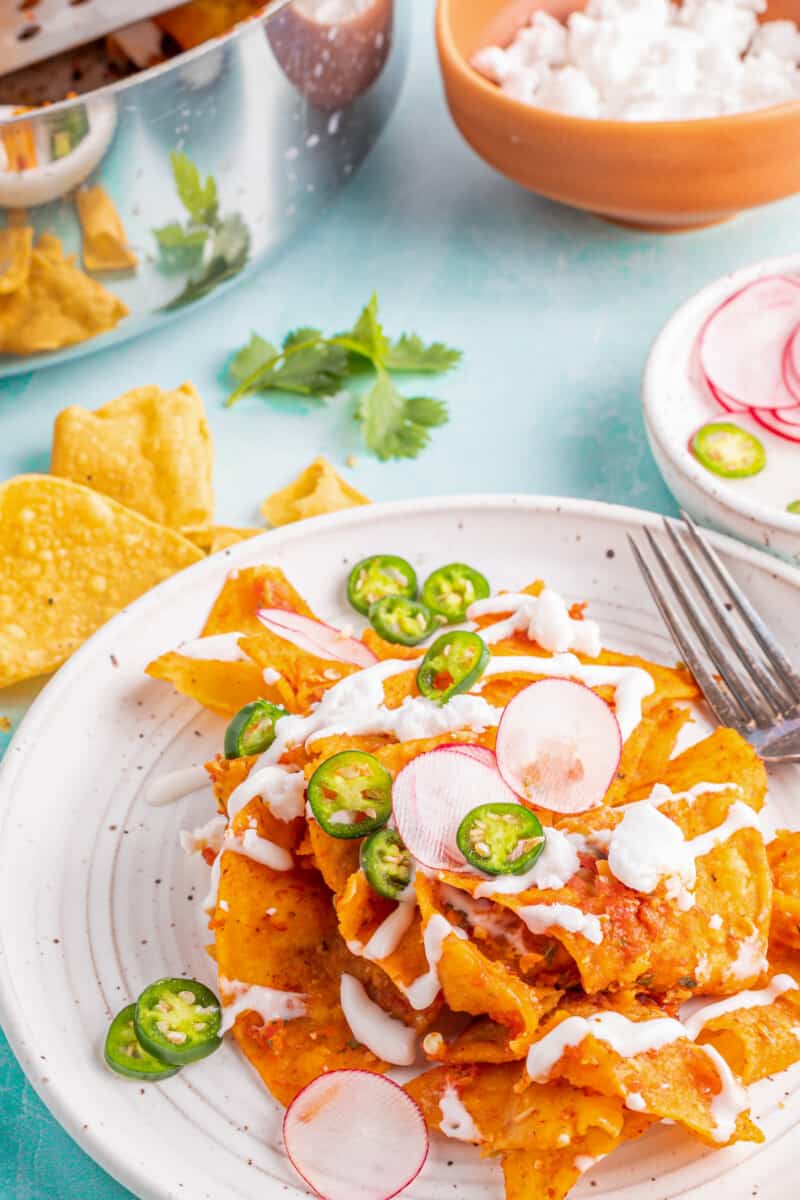 Whether you want a quick and easy Mexican breakfast, lunch, or snack, these easy chilaquiles can be whipped up in no time at all. They're so tasty and a bit addicting, so I know you'll love them!
If you make this recipe be sure to upload a photo in the comment section below or leave a rating. Enjoy! You can also jump to recipe.