Fantasy Fudge is a super easy Christmas fudge recipe that anyone can make. There are many different variations for this marshmallow creme fudge, and it makes a fun gift too. This Fantasy Fudge recipe will be loved by all!
Fantasy Fudge
Fudge is such a classic dessert. It's one of my favorite treats, for obvious reasons: chocolate! It's just so chocolatey, so rich, soooooooo incredibly delicious. If you're not a fan of fudge…well, to each their own, I guess. More fudge for me!
This Fantasy Fudge recipe is my favorite one to make because it's so simple. It's a mix of chocolate and marshmallow cream, so it comes out extra creamy and rich. Yum! We used milk chocolate and added cashews on top, plus we made the fudge in mini muffin tins instead of making those big chunks of fudge. This all made for some super delicious little treats.
This classic marshmallow creme fudge is just so tasty, so fun, and so easy. It's the perfect Christmas fudge recipe, and it makes a really fun gift too.
This easy Fantasy Fudge recipe will blow you away. It's the perfect Christmas fudge recipe!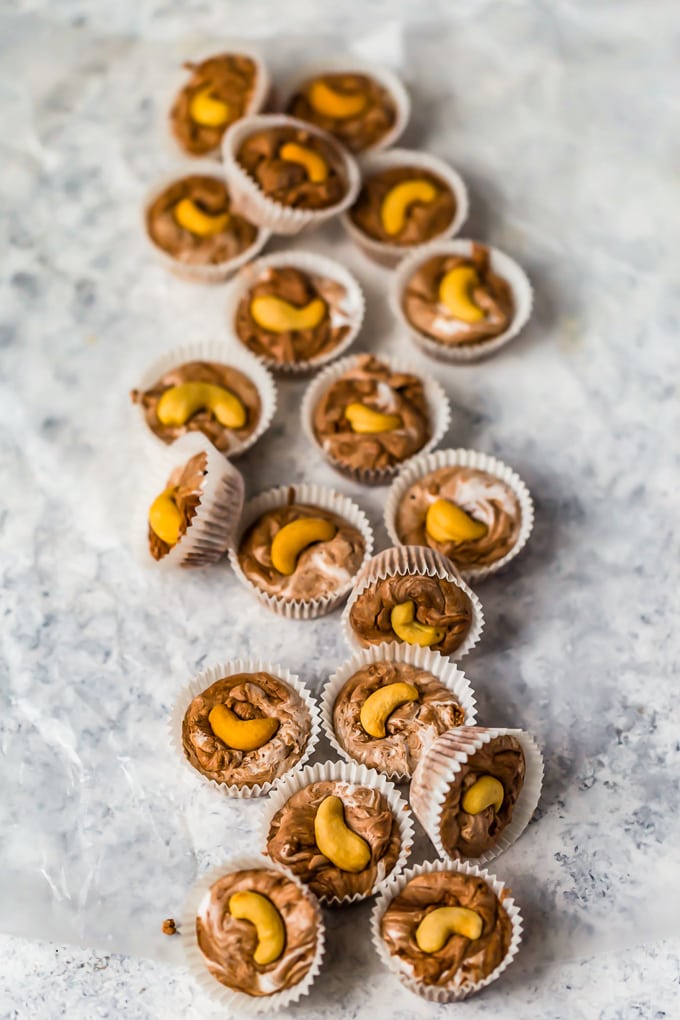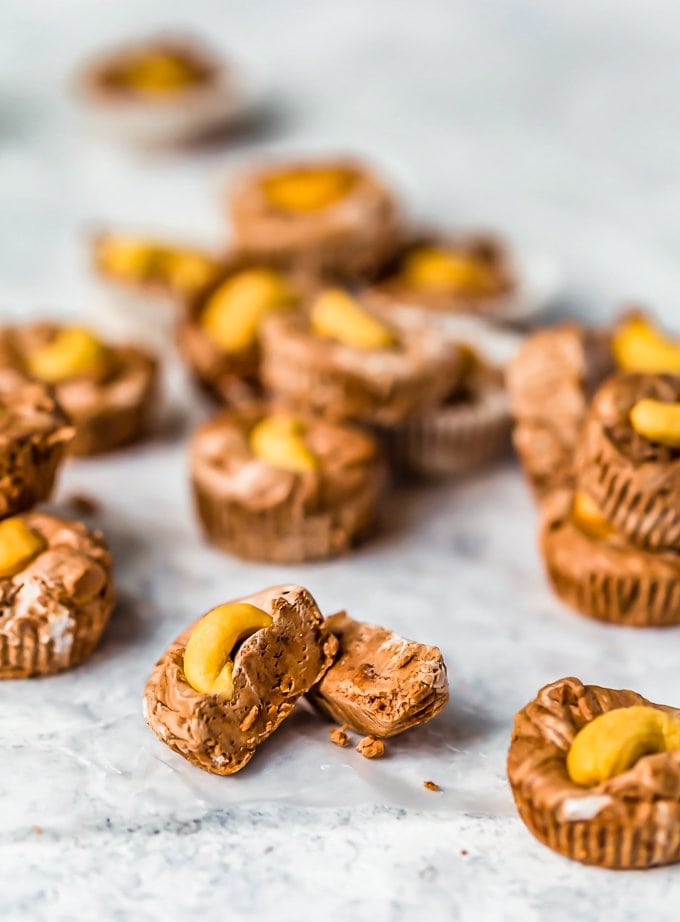 Marshmallow Creme Fudge
Fantasy Fudge is a classic recipe that uses marshmallow cream to add awesome flavor! Because of that, it's also referred to as marshmallow creme fudge. Whatever you call it, it's delicious and so fun to make.
One thing I really like about this fantasy fudge recipe is that it can be used with so many different flavor combinations. Follow the base fudge recipe, but add in whatever ingredients you want to make it your own. Get creative! We chose to use milk chocolate, marshmallow cream, and cashews…our favorite flavor combination. I could eat this every day!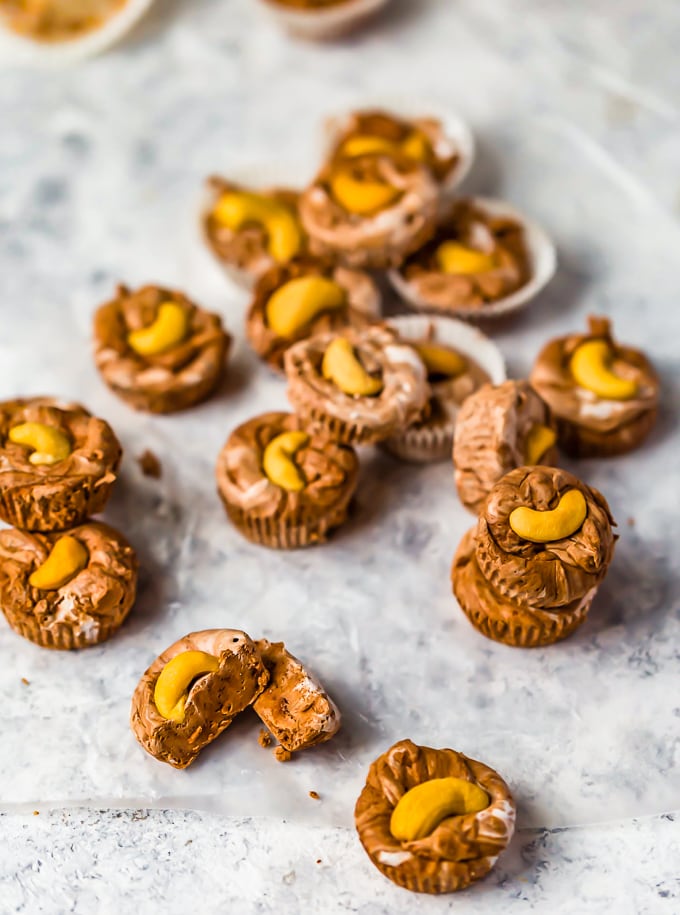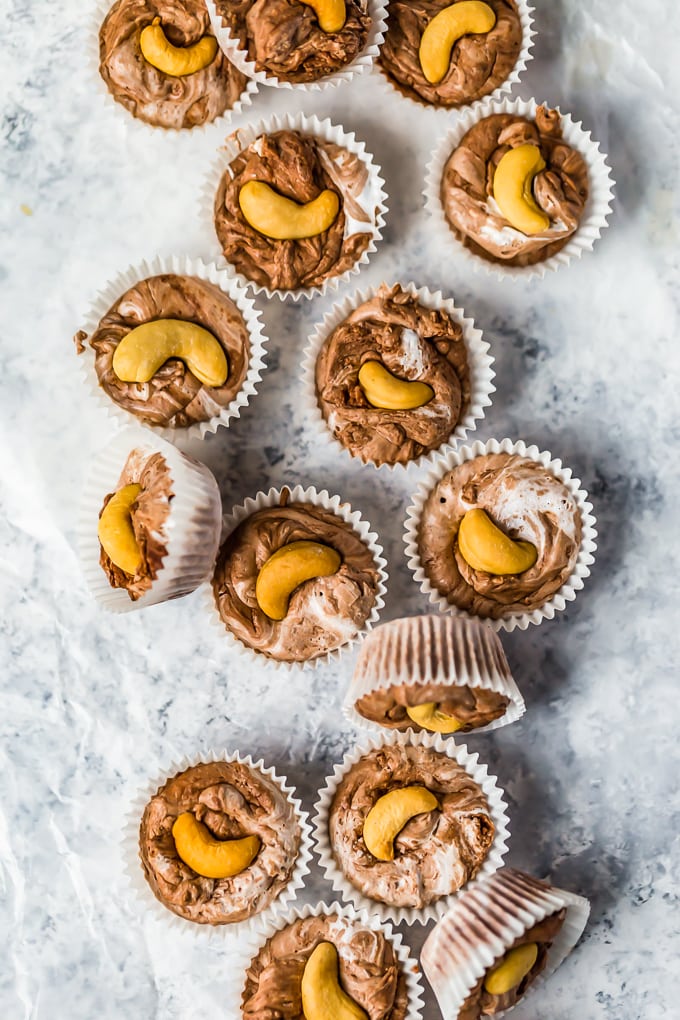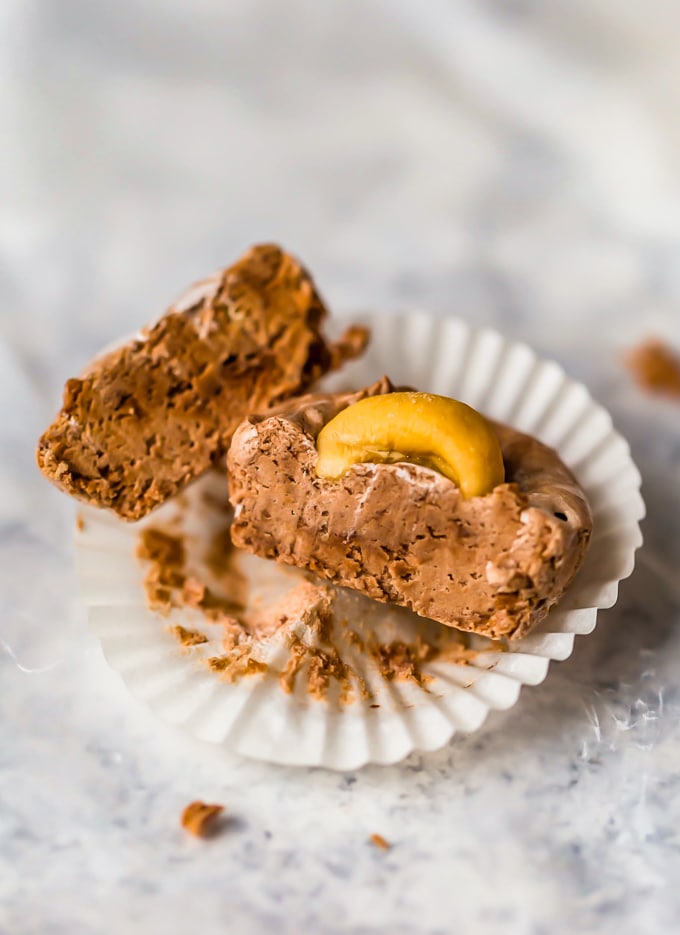 How to Make Fantasy Fudge
I always assumed fudge was really hard to make, something meant only for serious chefs or employees of those fancy fudge stores. Lucky for me, this fantasy fudge recipe isn't hard at all! It's so good and anyone can make it at home.
You can use bread loaf pans to make your fudge, OR you can do what we did and make it in mini muffin tins. It comes out bite-sized and ready to eat! So cute for parties and gifts.
How to make marshmallow creme fudge:
Line a loaf pan with parchment paper (or line your muffin tin with cupcake liners).
Combine milk, sugar, and butter in a saucepan.
Bring to a boil and cook until it reaches a temperature of about 234°F (use a candy thermometer). Stir constantly as it cooks.
When it reaches 234°F, remove the mixture from heat.
Stir in marshmallow cream, vanilla extract, and chocolate chips.
Pour the fudge mixture into your loaf pan or muffin tins. Let it set at room temperature.
We topped each little piece of fudge with a whole cashew before it set to add a fun detail. You could use other types of nuts, fruit, or even more chocolate (or don't top it with anything, it's up to you!).
See how simple that was? You'll be making fudge all the time now that you know how easy it is. It really is one of my favorite things to make and eat during the Christmas season.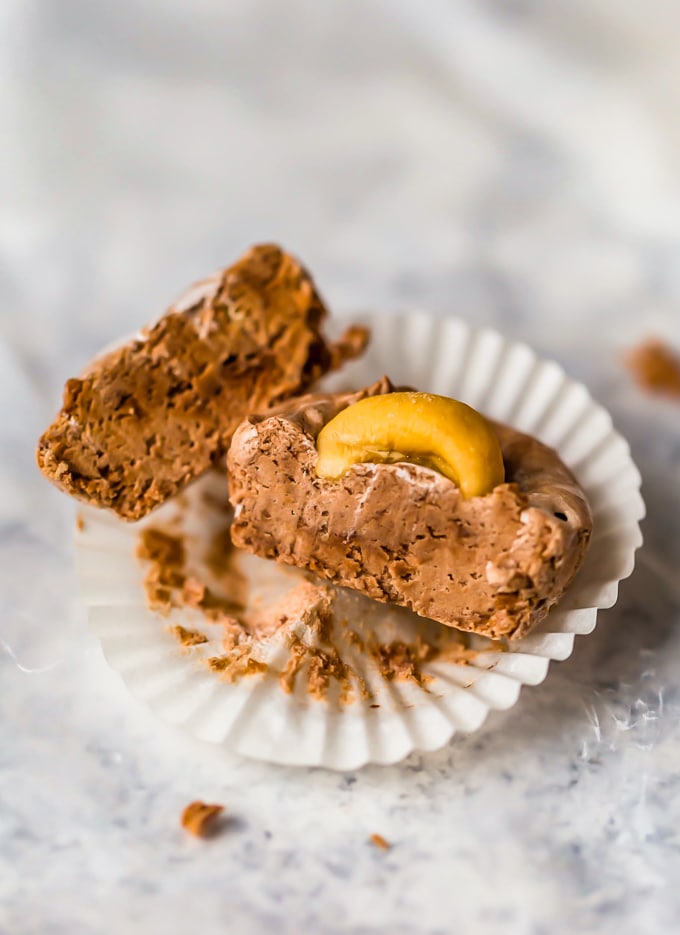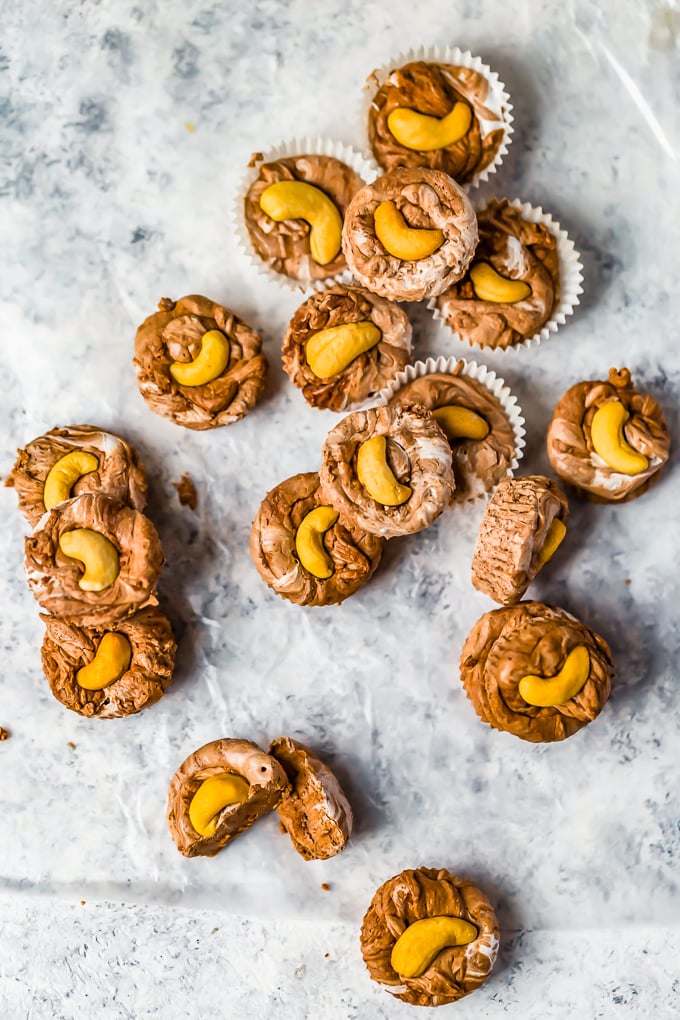 How long will fantasy fudge keep?
Fudge does not need to be refrigerated, although you can keep it cool to extend shelf life. At room temperature, fudge will keep for 1-2 weeks. In the refrigerator, it will keep 3-4 weeks. To really extend it's life, you can also freeze fudge. No matter where you keep it, be sure to store fantasy fudge properly in an airtight container so that it doesn't dry out.
Easy Christmas Fudge
This is the perfect Christmas Fudge recipe because it's absolutely delicious, it's easy to make, and you can change up your ingredients to create your favorite flavors. Marshmallow Creme Fudge also makes a great Christmas gift for friends, family, teachers, co-workers, or anyone on your list. But I won't judge you if you keep it all for yourself instead (it's really addicting!).
If you're looking for some other fudge recipes, try these favorites: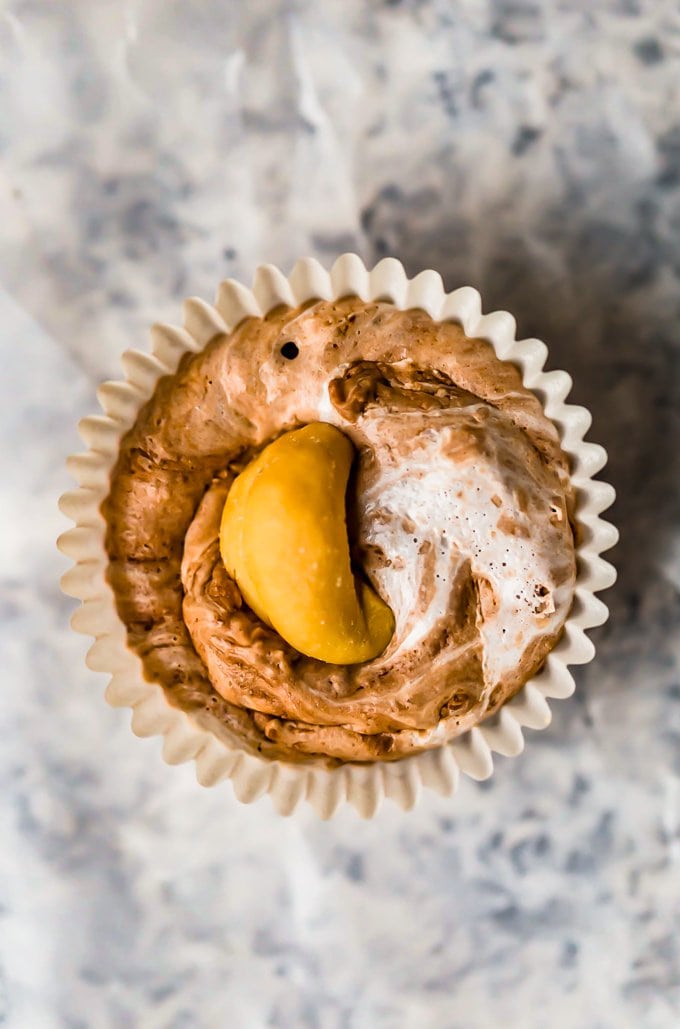 Bookmark this fantasy fudge recipe and make it for your family, for yourself, or for simple Christmas gifts. You're going to love this delicious marshmallow creme fudge, and so will everyone else. Merry Christmas!
See the recipe card below for details on how to make Fantasy Fudge. Enjoy!
If you like this recipe, try these other fun chocolate desserts: