This baked pineapple ham recipe starts with a brown sugar glaze and a healthy dose of crushed pineapple, and is baked in the oven to create sweet, caramelized slices of pork. It's an easy way to get a delicious main dish for any holiday, including Easter, Christmas, or Thanksgiving.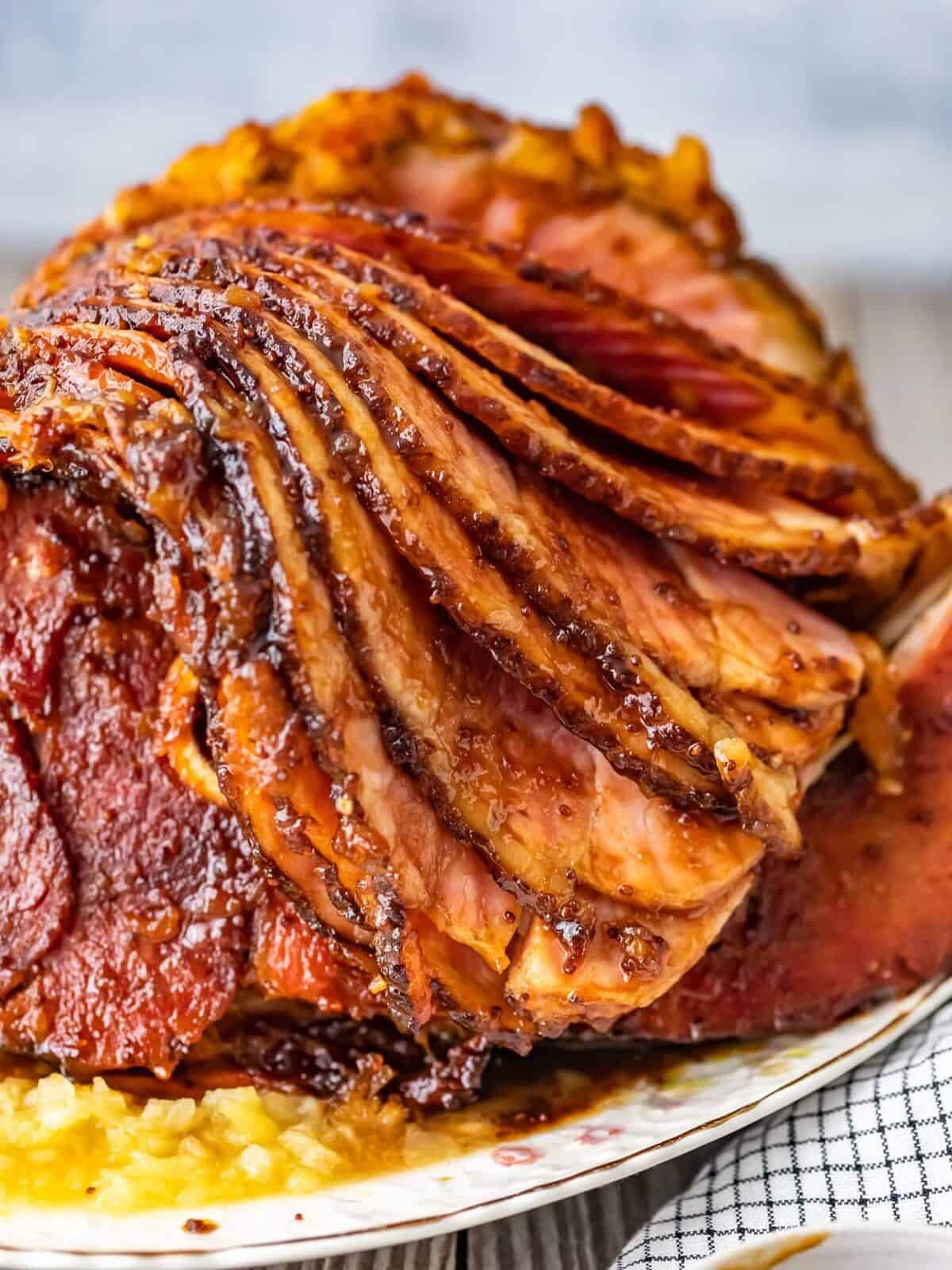 What's in Brown Sugar Pineapple Ham
The brown sugar and pineapple glaze turns a simple spiral ham into the most flavorful holiday dish.
Spiral Ham: A spiral ham is a pre-cooked and pre-sliced ham (with a spiral cut). This makes it really easy to cook, slice, and serve.
Brown Sugar: This adds a delicious sweetness to the glaze, and creates a caramelized crust when the ham bakes in the oven.
Cola: Using soda in the ham glaze adds a sweet flavor, and helps to create that syrupy consistency. It's a great secret ingredient for tenderizing meat! You can use a plain cola, or use Dr. Pepper, which has a distinctive taste that adds an extra kick.
Apple Cider Vinegar: This enhances the flavor of the brown sugar glaze.
Mustard: Use a combination of Dijon and grainy mustards. The grainy mustard adds a subtle texture, in addition to enhancing the flavor.
Spices: A mix of ginger, onion powder, red pepper flakes, and salt creates a robust flavor profile.
Pineapples: Use a whole (20 oz) can of crushed pineapple. The citric sweetness of pineapples balances out the salty pork. You can use pineapple chunks or slices instead, but I think the crushed pineapple does a better job of coating and melding into the ham.
I recommend using dark brown sugar instead of light. It contains more molasses, which creates a deeper, richer flavor. However, light brown sugar is fine as a substitute.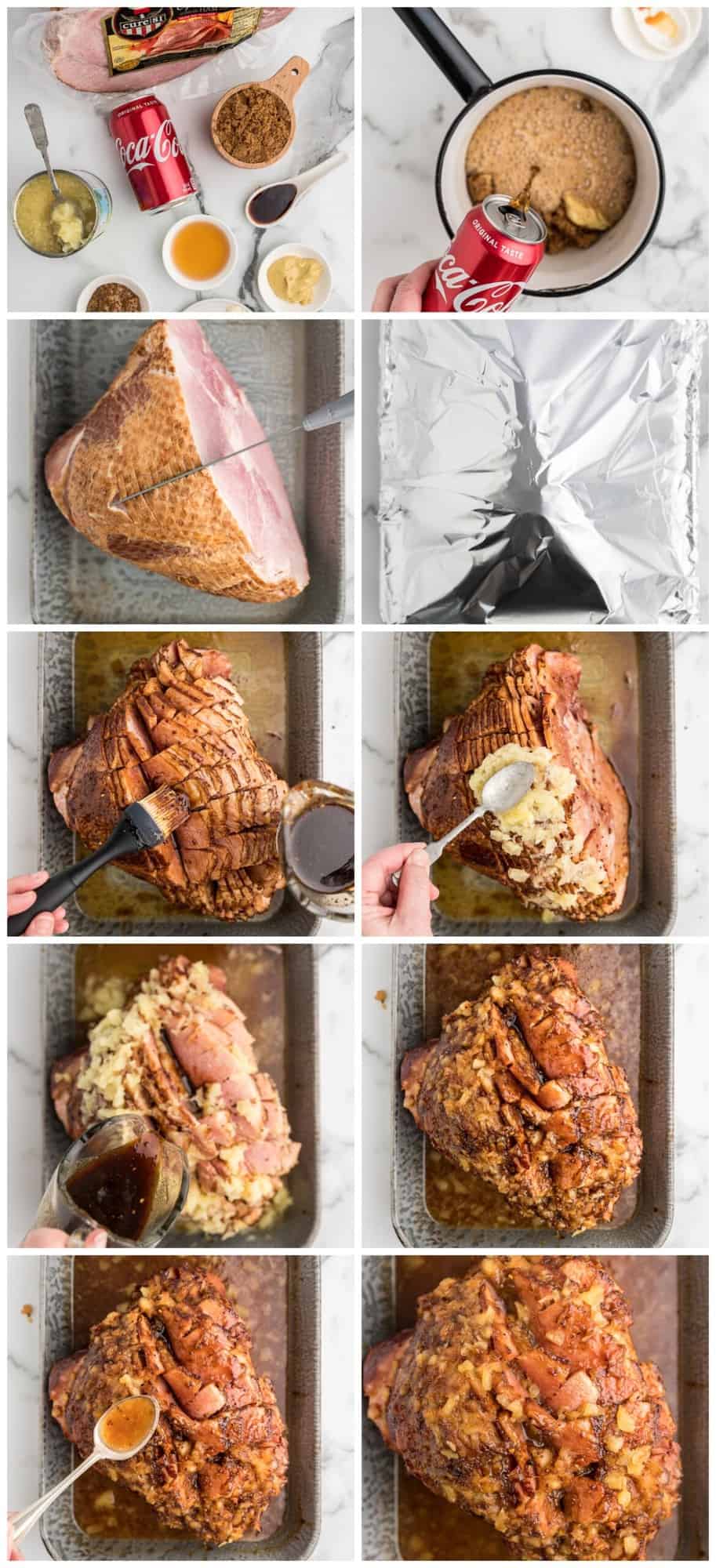 What temperature do you cook spiral ham in the oven?
Bake a spiral ham in the oven at 325F. Higher oven temperatures will likely dry out the pork before it fully cooks through.
Do you glaze a ham before or after baking?
Start by baking the ham for about an hour, then you'll glaze it throughout the rest of the baking time (every 10 minutes until it's cooked).
Should I bake pineapple ham covered or uncovered?
Cover the ham for the first part of the cooking time. Once you start glazing, you'll continue cooking uncovered.
How long do you cook pineapple ham in the oven?
The total cook time will vary depending on the size of your ham, likely between 1 1/2 to 2 hours.
To make sure your ham comes out moist, juicy, and flavorful, continue basting with the brown sugar glaze as it bakes. If you run out of glaze, spoon run-off in the bottom of the pan back over the top.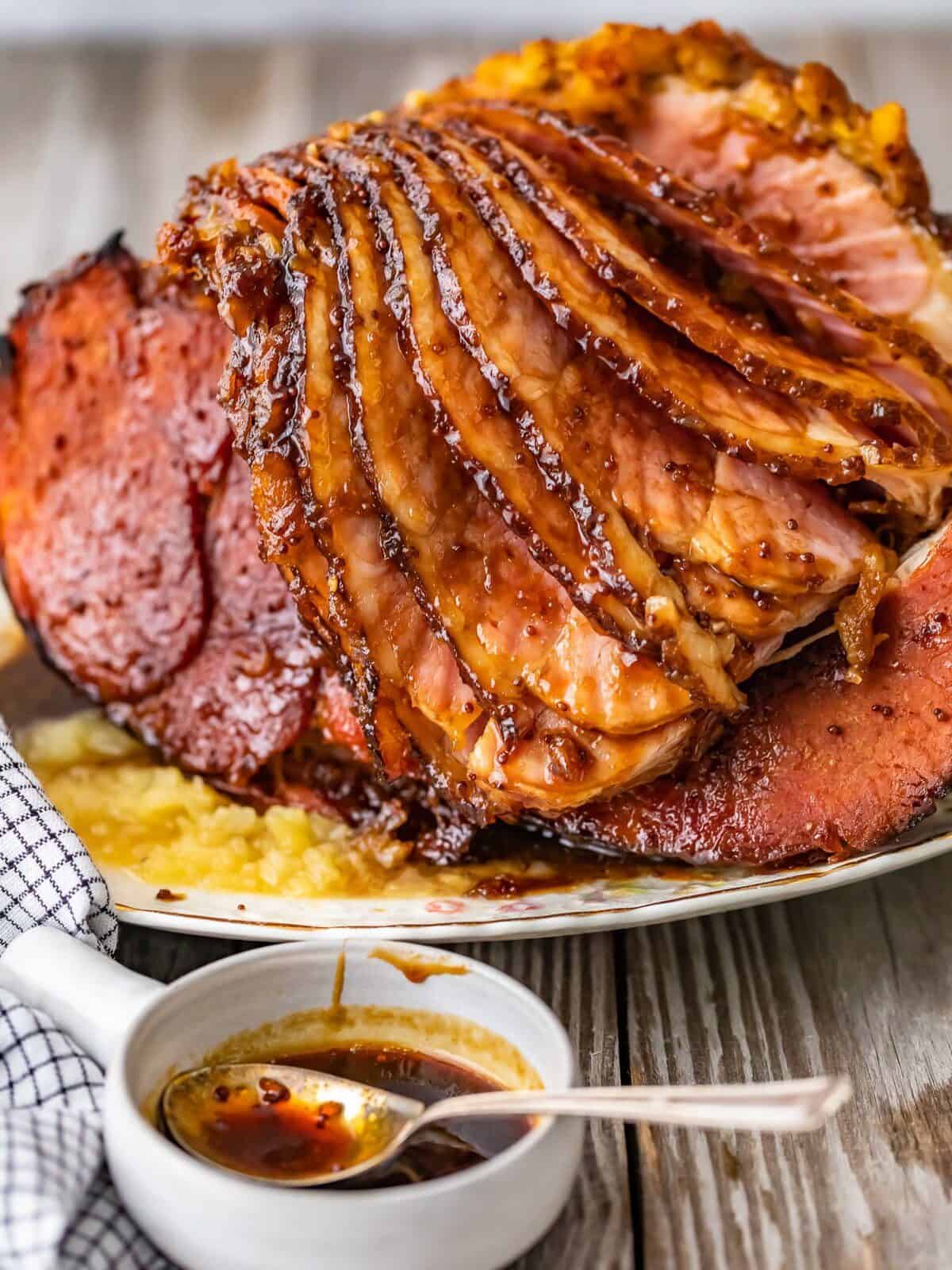 How to Store Pineapple Ham
The easiest way to store leftovers is to fully carve the ham into slices. Place the slices in a resealable bag, or stack and wrap tightly in aluminum foil. Keep it in the the refrigerator up to 4 days.
If you want to save the pineapple chunks, scoop them up and place them into a separate container, and refrigerate. It's fine to store the ham and pineapple together, but it can get a bit messy.
How to Freeze and Reheat Glazed Spiral Ham
To freeze, carve ham into slices. Wrap stacks of slices in plastic wrap or aluminum foil, then place in a freezer-safe resealable bag. You can freeze leftovers up to 2 months.
To reheat, thaw a stack of slices in the fridge. Then heat ham in the oven at 325F until fully heated through.
What to Serve with Brown Sugar Pineapple Ham
Whether serving this oven-baked spiral ham for the holidays, or for a nice family dinner, it goes so well with most of your favorite side dishes. Serve it with Instant Pot Scalloped Potatoes for a quick side. It also pairs nicely with Air Fried Broccoli, pineapple bread pudding, and corn casserole.
Heat up leftovers and serve slices on dinner rolls to make sliders. These are great for lunches!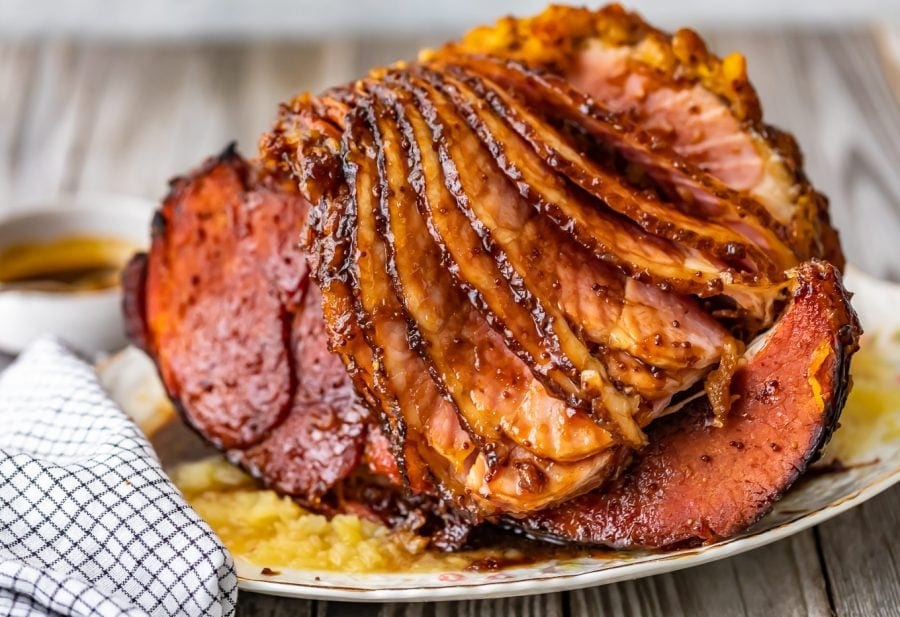 If you make this recipe be sure to upload a photo in the comment section below or leave a rating. Enjoy! You can also jump to recipe.
More Spiral Ham Recipes we Love