This Brown Sugar Pineapple Ham is the perfect Easter Ham recipe! We made a delicious cola and brown sugar glaze for ham, and combined it with crushed pineapples. This spiral ham is easy to make, and filled with SO much flavor!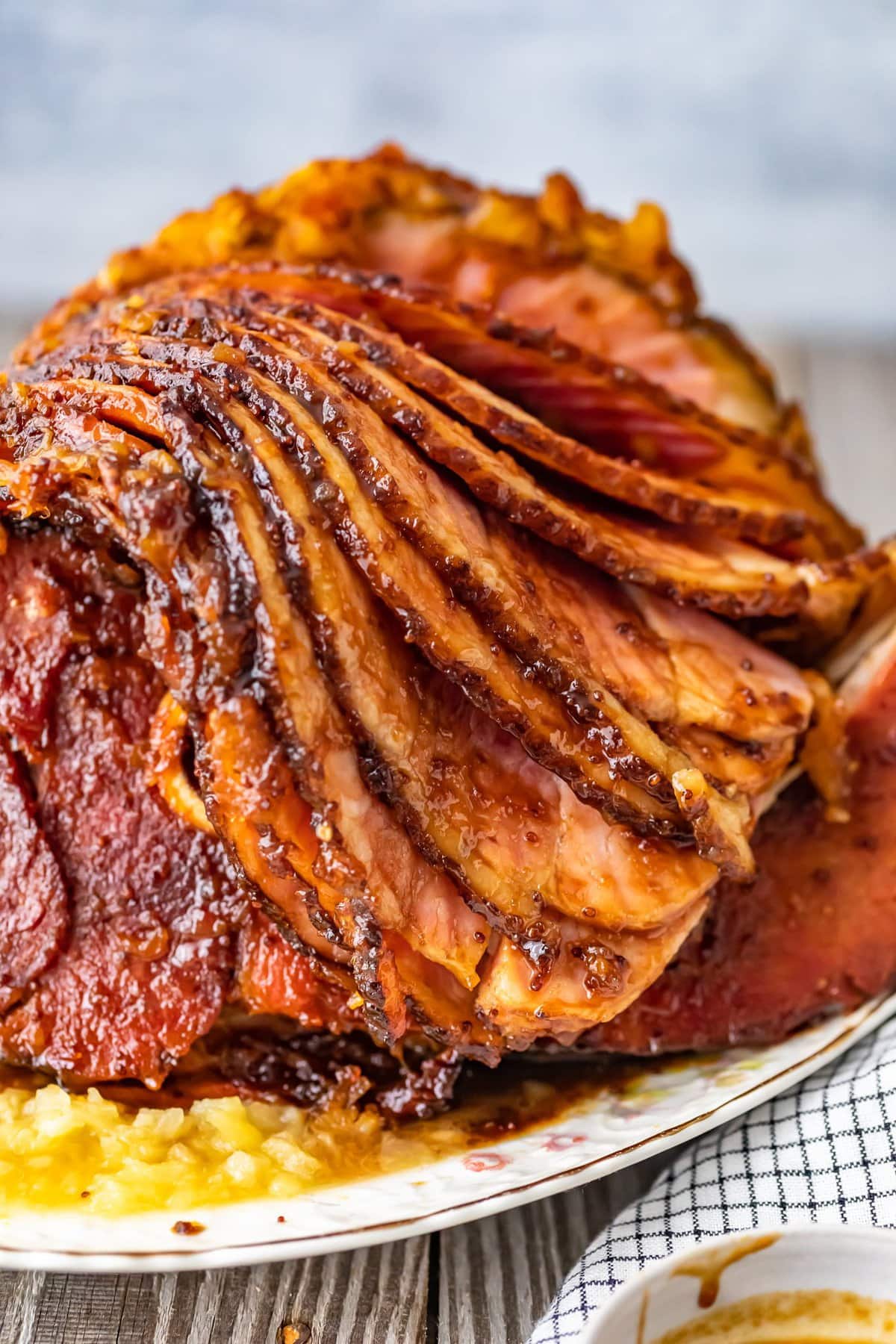 Brown Sugar Pineapple Ham
This Brown Sugar Pineapple Ham recipe is perfect for Easter or any other holiday. The brown sugar cola ham glaze is just delicious!
Nothing says EASTER like a good Easter Ham recipe. This Brown Sugar Pineapple Ham is just perfect for the holiday because it's super tasty and super easy!
This is the best spiral ham recipe out there. Simple, delicious, and something everyone will love. The glaze is a mix of cola, brown sugar, and pineapple, so it's got plenty of flavor. It will look so beautiful at the center of the table, surrounded by whatever side dishes you decide to serve.
This Pineapple Brown Sugar Ham is the PERFECT holiday or Easter ham!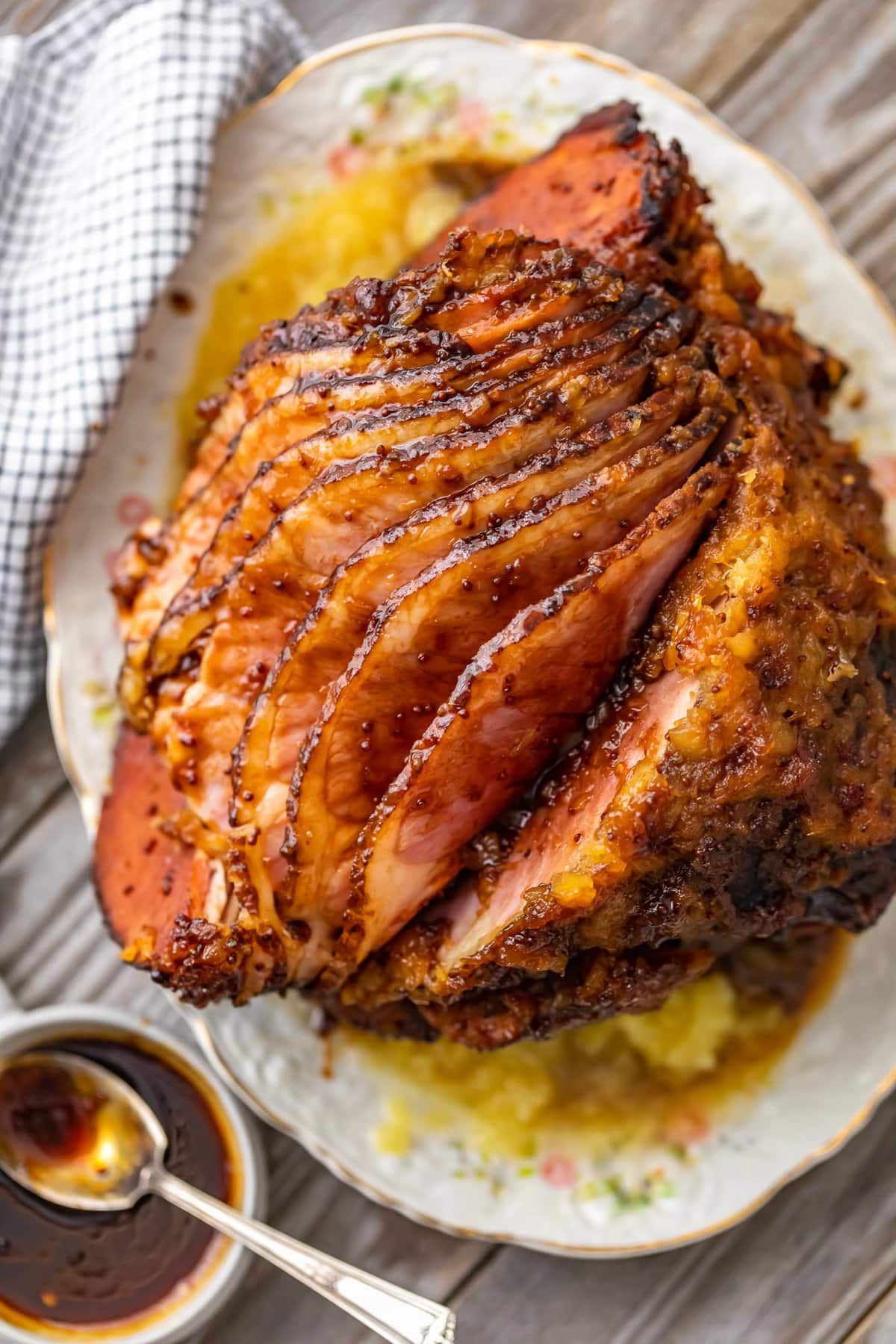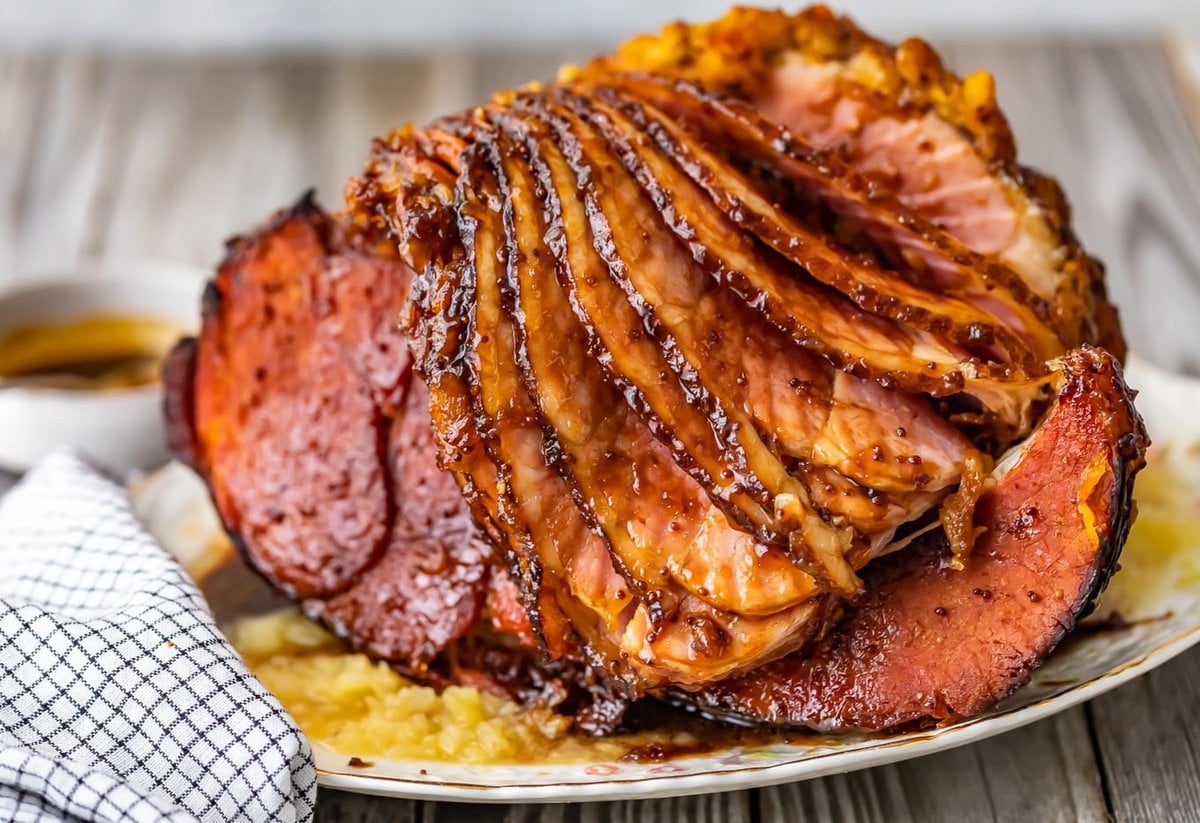 Best Spiral Ham Recipe
This spiral ham makes holidays easy, and with this amazing cola, brown sugar, and pineapple ham glaze, this just might be the BEST spiral ham recipe. Especially for Easter and other holidays!
What is a spiral cut ham?
Spiral-cut hams were made for convenience. It can be pretty difficult to cut bone-in hams, and most of us don't want to deal with that at the holiday table.
A spiral ham is cut (before you buy it) in a spiral shape around the bone. This leaves the meat on the bone, but makes it really easy to slice the ham when you're ready to serve it. Genius!
How long do you cook a spiral ham?
As with any meat, how long to cook a spiral ham depends on the size of the ham and your oven. It will vary slightly, but a good rule of thumb is about 10-15 minutes per pound of meat. However, simply following our recipe, you will get a perfectly cooked ham!
You'll be checking the internal temperature every 10 minutes as you baste and glaze, so this time will vary. But we just want to make sure we get to an internal temperature that is safe to consume (140°F) while continuously glazing to keep it moist.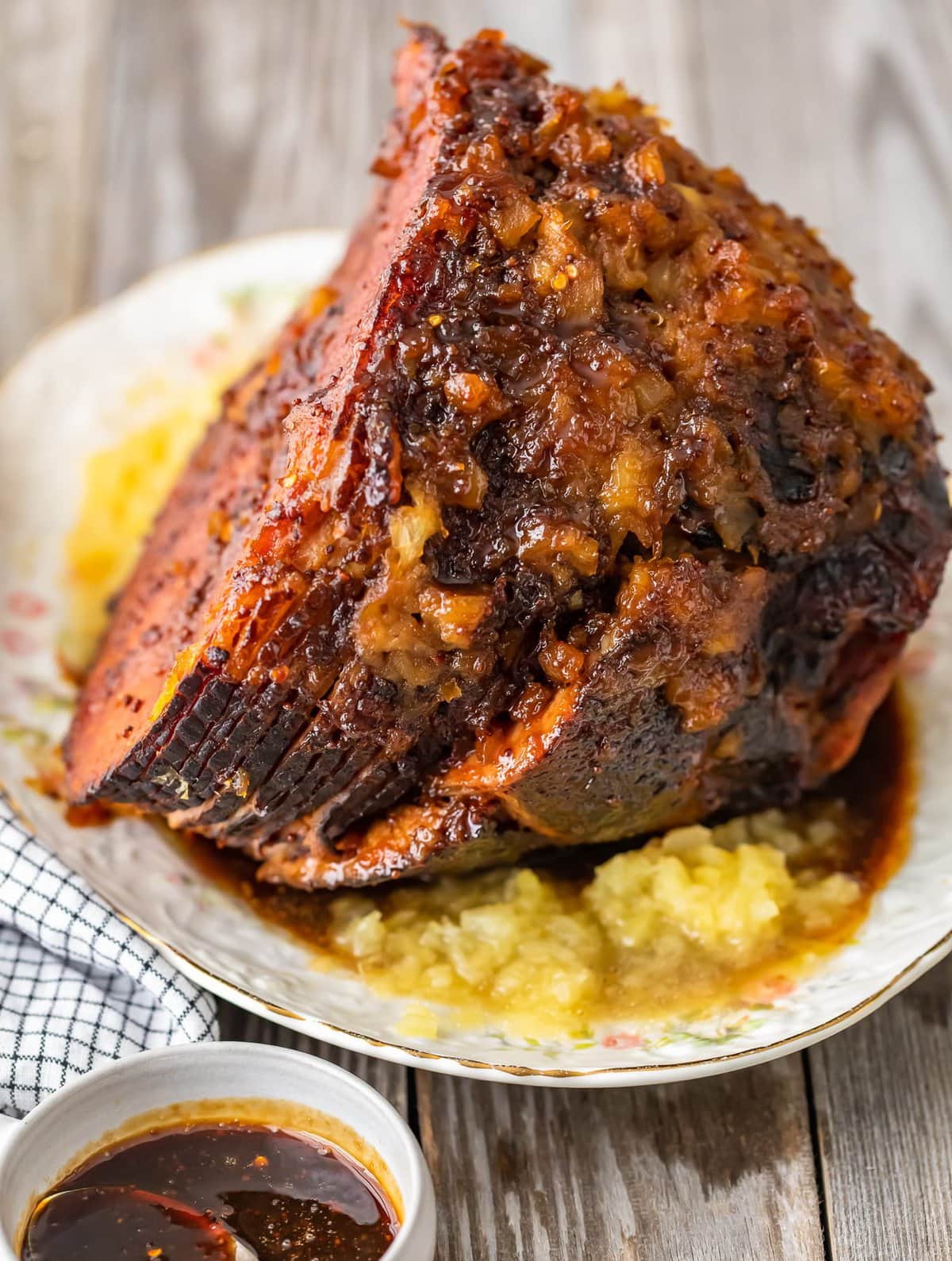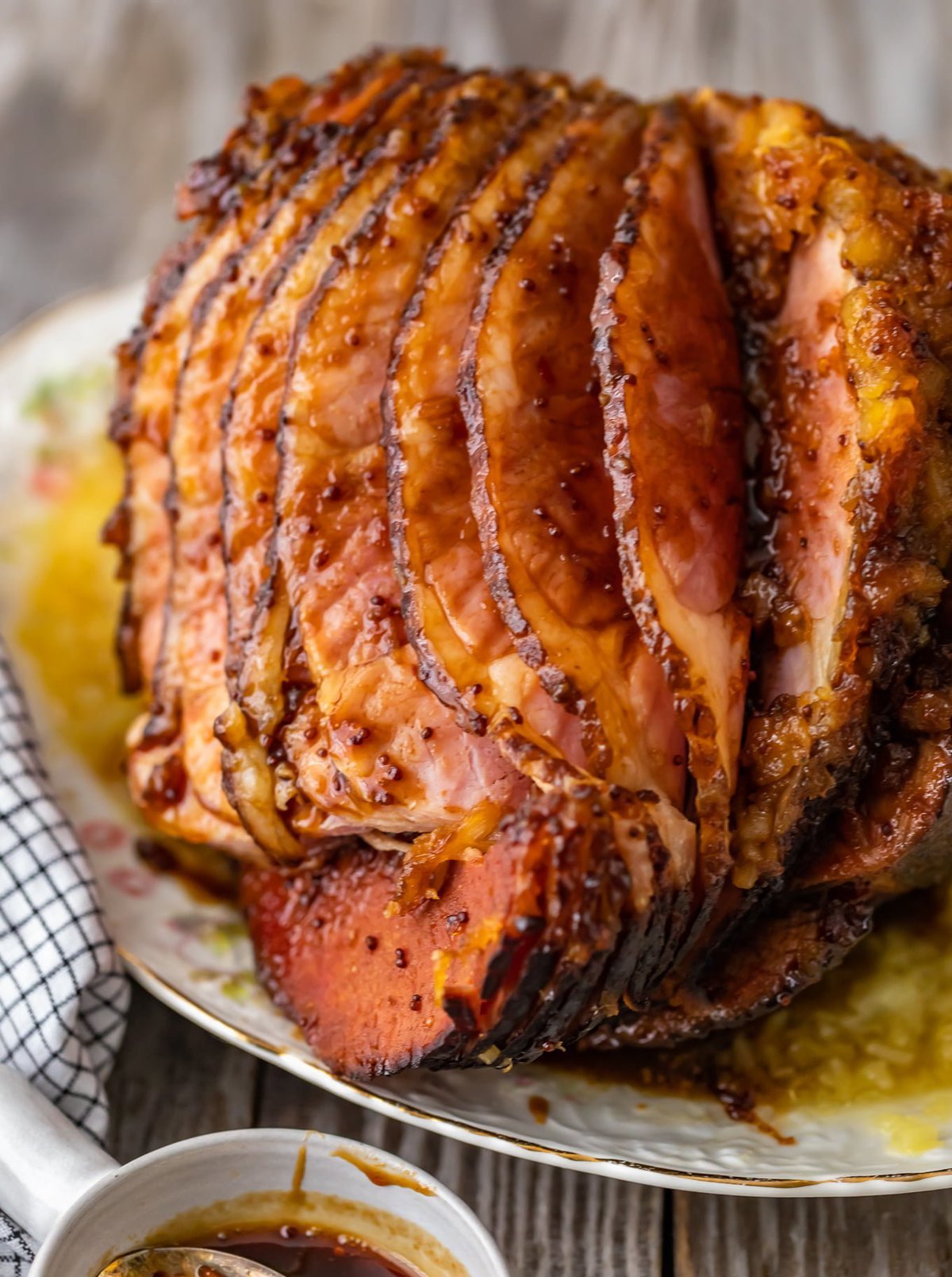 Brown Sugar Cola Pineapple Ham Glaze
The pineapple, brown sugar and coca cola ham glaze is what gives this recipe all of its flavor! It's an interesting mix of ingredients that combine to create one TASTY glaze.
We start with the cola and brown sugar ham glaze, made on the stove top. That gets poured allll over the ham, and then we add in the crushed pineapple separately, but it all mixes together as the ham bakes in the oven. We use this same glaze to baste as it bakes, so more and more flavor and moisture gets added in throughout the whole process.
Pineapple Brown Sugar Ham Glaze Ingredients:
Dark Brown Sugar
Coca Cola or Dr. Pepper
Apple Cider Vinegar
Low-Sodium Soy Sauce
Dijon Mustard
Grainy Mustard
Ginger
Onion Powder
Crushed Red Pepper Flakes
Salt
How to Make Brown Sugar Glaze for Ham
This brown sugar pineapple ham glaze is super easy to make. You can make it on the stove while the ham goes through the initial baking process, so it's ready to glaze when the ham comes out.
To make the glaze:
Combine all ingredients in a saucepan.
Bring to a boil over medium heat, then reduce heat to a simmer.
Let it simmer for 20-30 minutes, stirring often.
When it reaches a syrupy consistency, remove it from heat and set it aside until ready to use.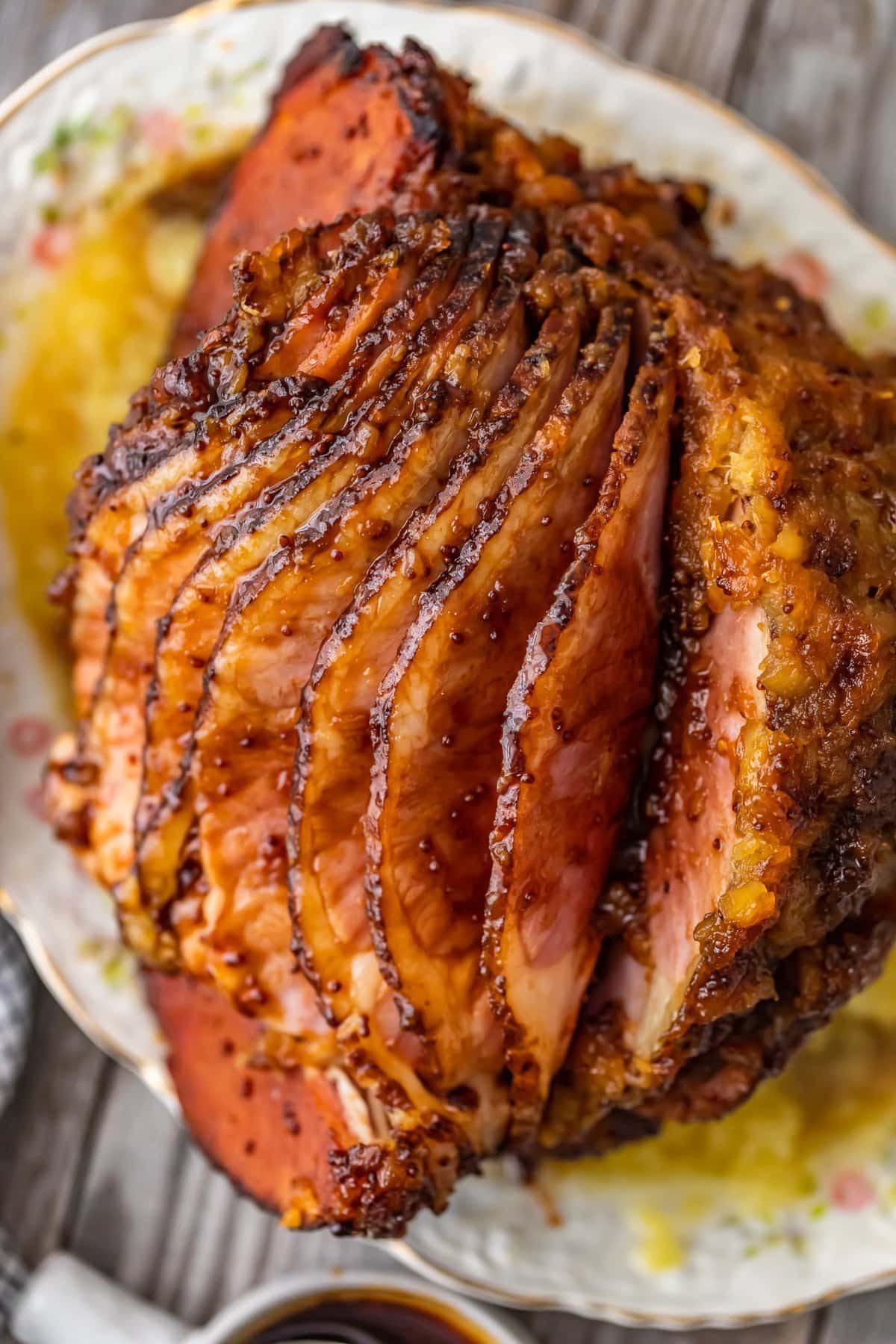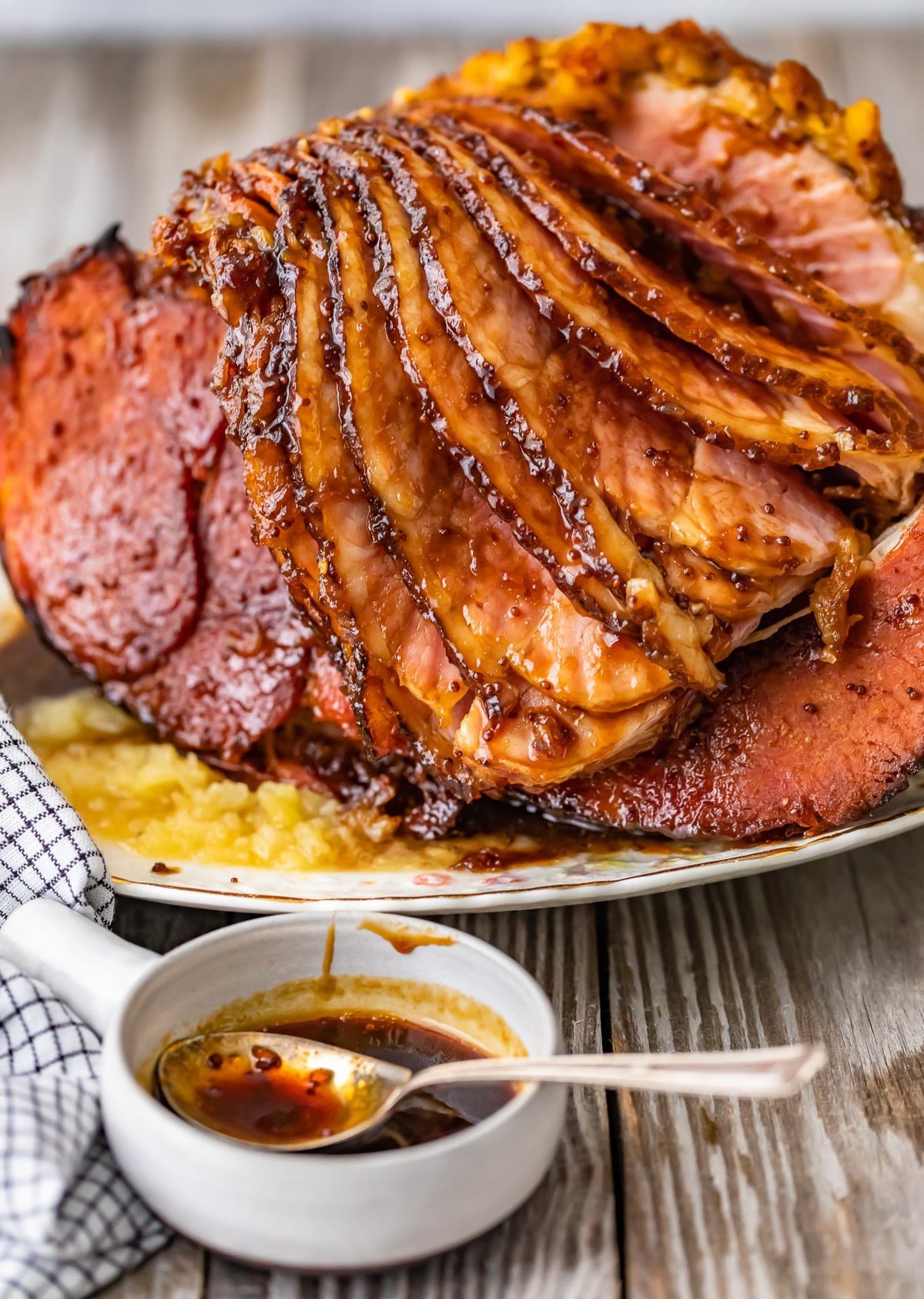 How to Make Brown Sugar Pineapple Ham
This brown sugar and pineapple ham recipe is hassle free! The glaze is easy to make, and the ham just needs a bit of basting and some time in the oven.
Start by scoring the ham. Use a sharp knife to make 1/2-inch deep cuts about 1 inch apart.
Cover the ham and bake at 325°F for 1 hour.
While the ham is in the oven, make the glaze.
Take the ham out of the oven, and brush half of the glaze over the ham and down into the slices. Then spread the crushed pineapple over it, and then about half of the remaining glaze over the surface.
Bake the ham uncovered for 15 minutes.
Now you'll want to continue glazing the ham as it cooks, about every 10 minutes. You'll need to keep cooking until the internal temperature reaches 140°F, so check every 10 minutes to make sure you don't over cook it.
Check the recipe card below for full detailed instructions!
Easy Easter Ham Recipe
This brown sugar and pineapple spiral ham is the perfect Easter Ham! It's so easy to make and takes all the stress out of a holiday meal. This just makes a great holiday ham in general. Try it for Thanksgiving or Christmas too!
If you are making it for Easter Dinner, try it with some of our favorite Easter recipes!
Favorite Easter Recipes
These recipes are all so fun for Easter Sunday!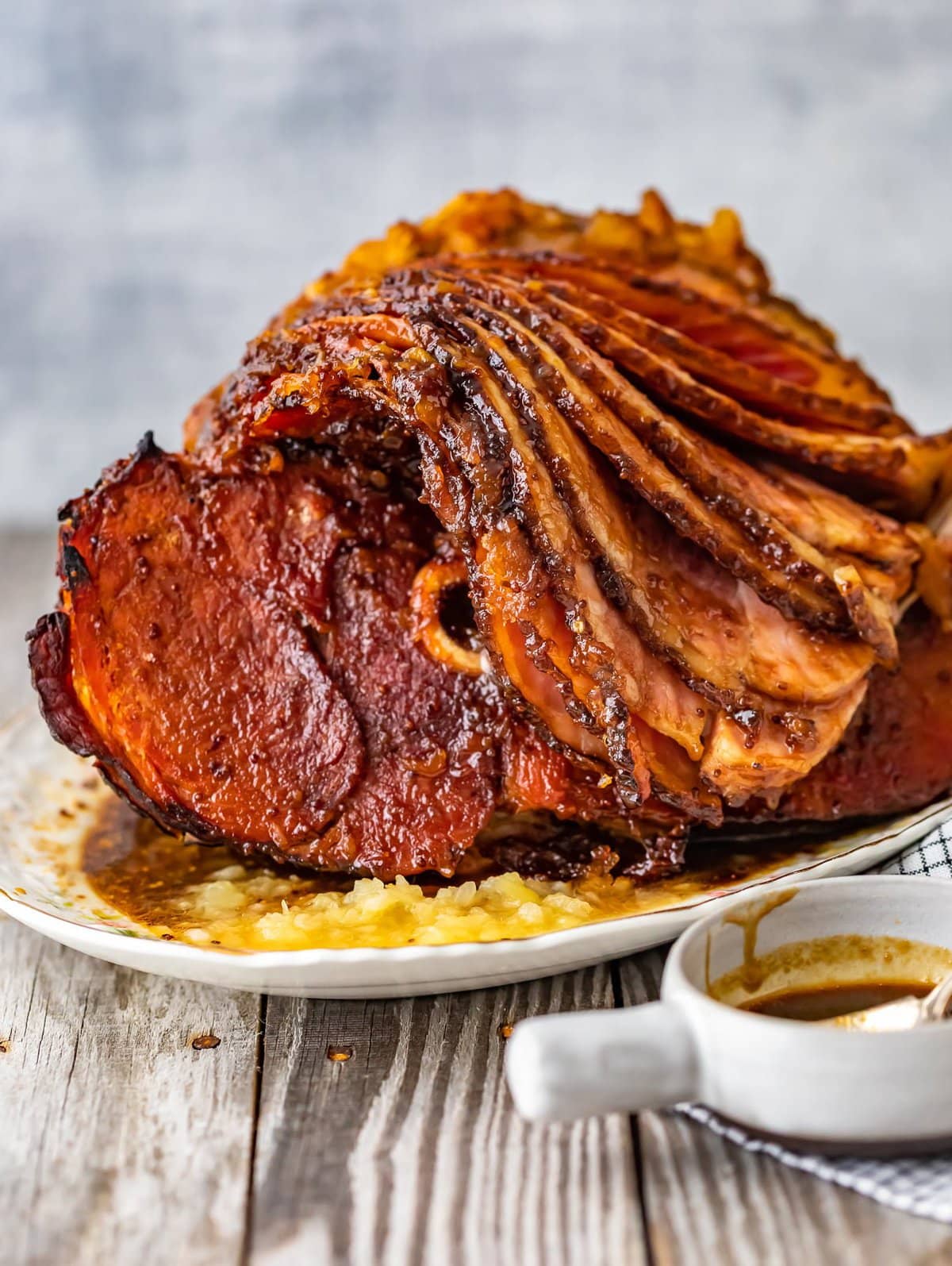 Whether you make this as your Easter Ham this holiday, or for another occasion, I hope you enjoy it as much as we do. This brown sugar pineapple ham is just delicious, and I can't for you to try it!
See the recipe card for details on how to make Brown Sugar Pineapple Ham. enjoy!
Don't forget to try these other easy pork recipes too: