Holiday Punch is our favorite EASY CHRISTMAS PUNCH RECIPE perfect for Thanksgiving or Christmas! This Vodka punch is made with Cranberry Juice, Orange Juice, Ginger Ale, Sparkling Cider and more! You can pour in the Vodka or make it your new Non Alcoholic Christmas Punch Recipe. One of our very favorite Holiday Punch Recipes.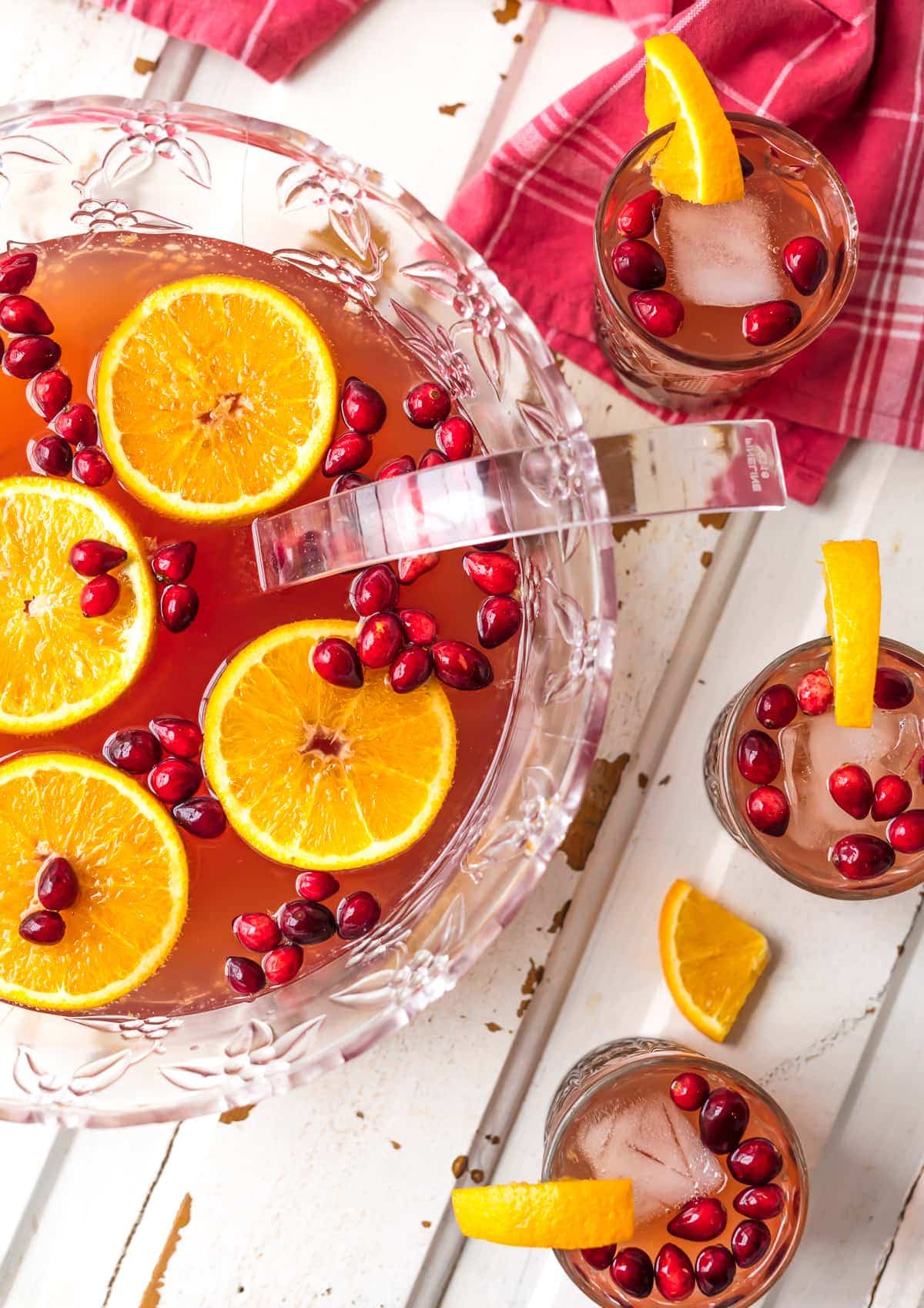 Holiday Punch Recipe – Easy Christmas Punch
Every Thanksgiving or Christmas table needs an amazing Holiday Punch Recipe.
This simple Christmas punch recipe can be made boozy or non alcoholic to fit any family's needs. You guys know I love a good cocktail recipe, but when you're throwing a party or having a holiday get together at your house, it's important to have an awesome holiday punch recipe. An EASY punch recipe. I've been searching high and low for the easiest and best drink for a crowd, and I think this is it!
This SUPER EASY HOLIDAY PUNCH has a nice zing to it, a delicious flavor, and it tastes like Fall. Perfect for Thanksgiving and Christmas. This Vodka punch recipe is sure to please. Oh, and it's pretty! And you know that's important at a holiday party, must be pretty! Easy Holiday Punch for the win!
This easy Holiday Punch Recipe will be your go-to Christmas Punch. It's delicious and it can be made with or without alcohol!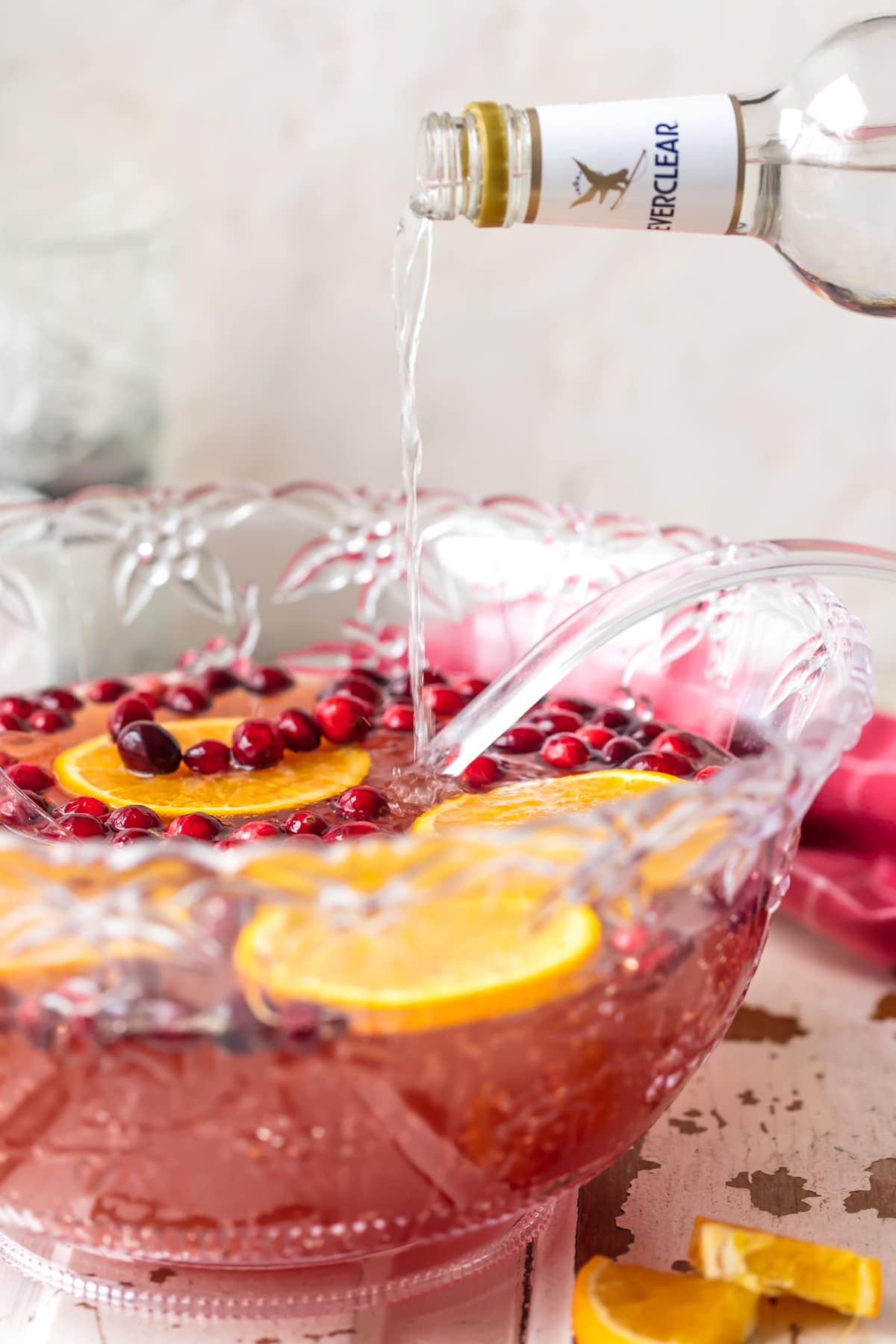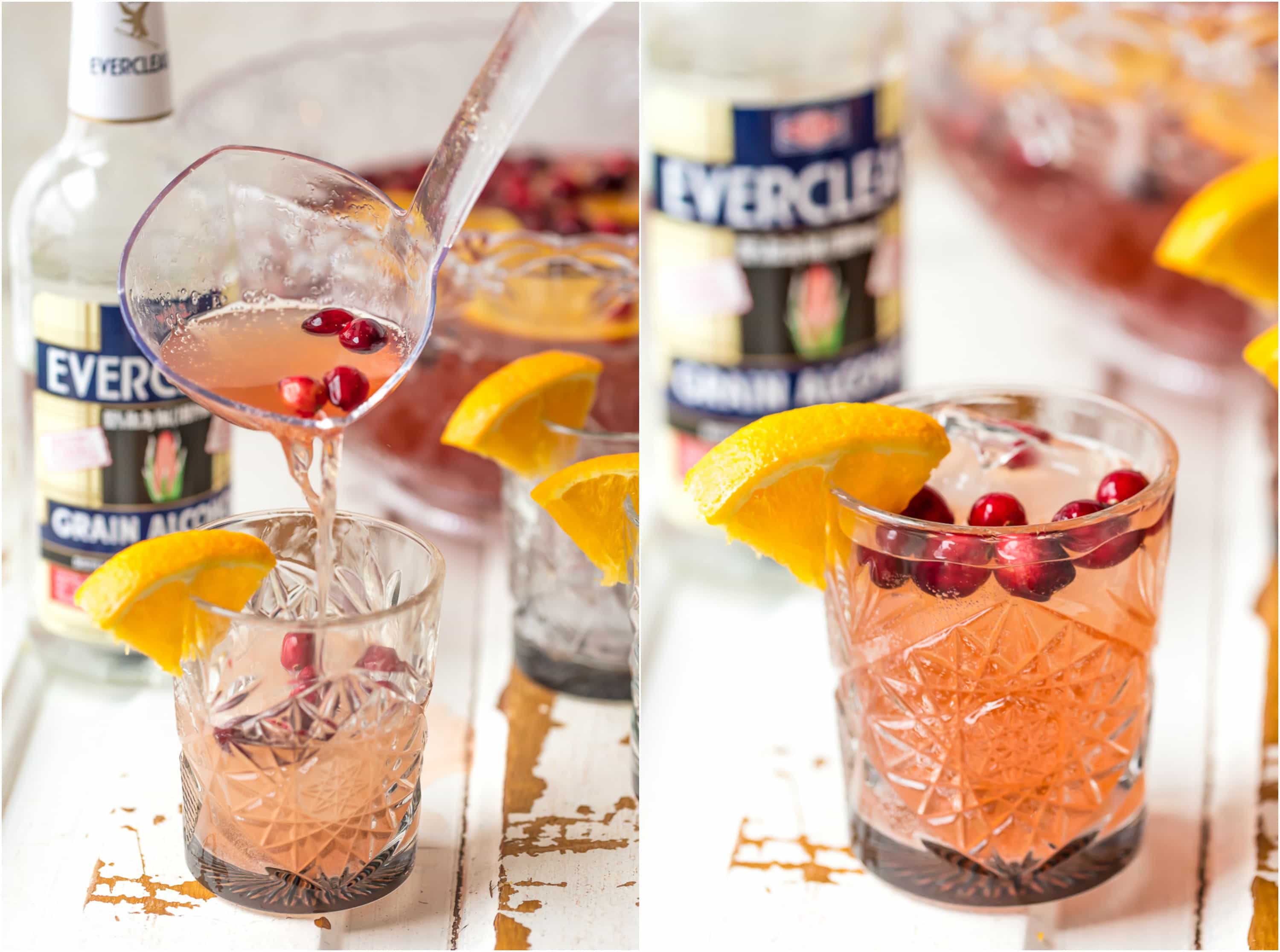 Easy Vodka Punch Recipe
I'm always a fan of EASY Punch Recipes. This Vodka Punch checks all the boxes.
I also kept this Holiday Party Punch economical by using a little Everclear®! I've used Everclear a few times this year to make some of my favorite cocktail infusions (You might remember the Homemade Peach Tea Vodka, Homemade Strawberry Shortcake Vodka, and Homemade Apple Pie Vodka!) and have been falling in love more and more with each recipe. I first fell in love when visiting their awesome website, Make It Your Own by Everclear®, and saw how endless the possibilities are when making cocktails with this 190 proof grain alcohol with no taste, making it the perfect clean slate for flavors.
It's fast to pull flavor from the ingredients you're adding and you don't even need much! One bottle goes a long way, making this SO cost effective. It's great for infusions, but also great for large batch punches. Again, you can use less, and it's lack of flavor is just perfect when you want those Fall flavors to really shine through! It's the perfect spike for this Easy Holiday Punch! MMM!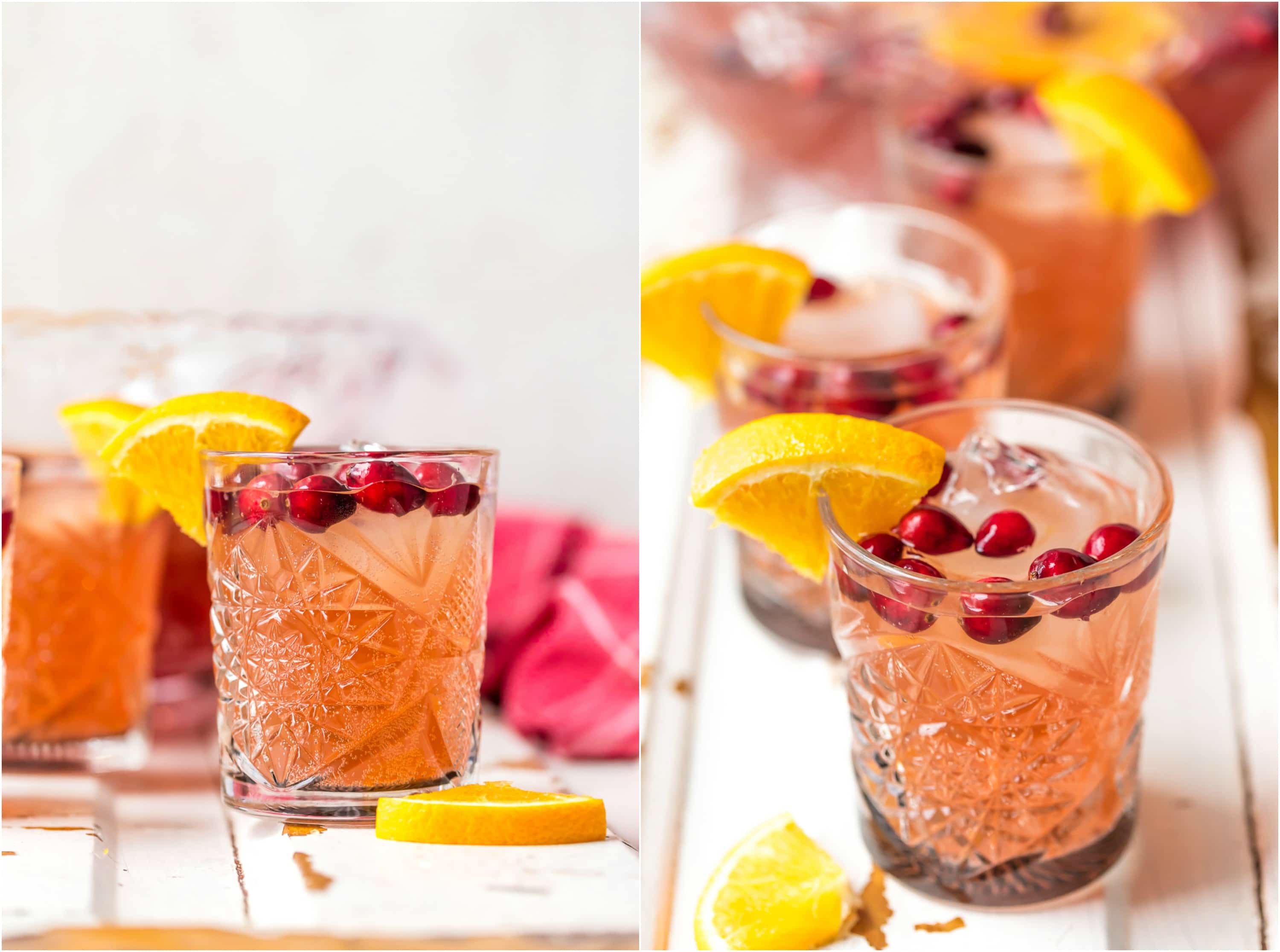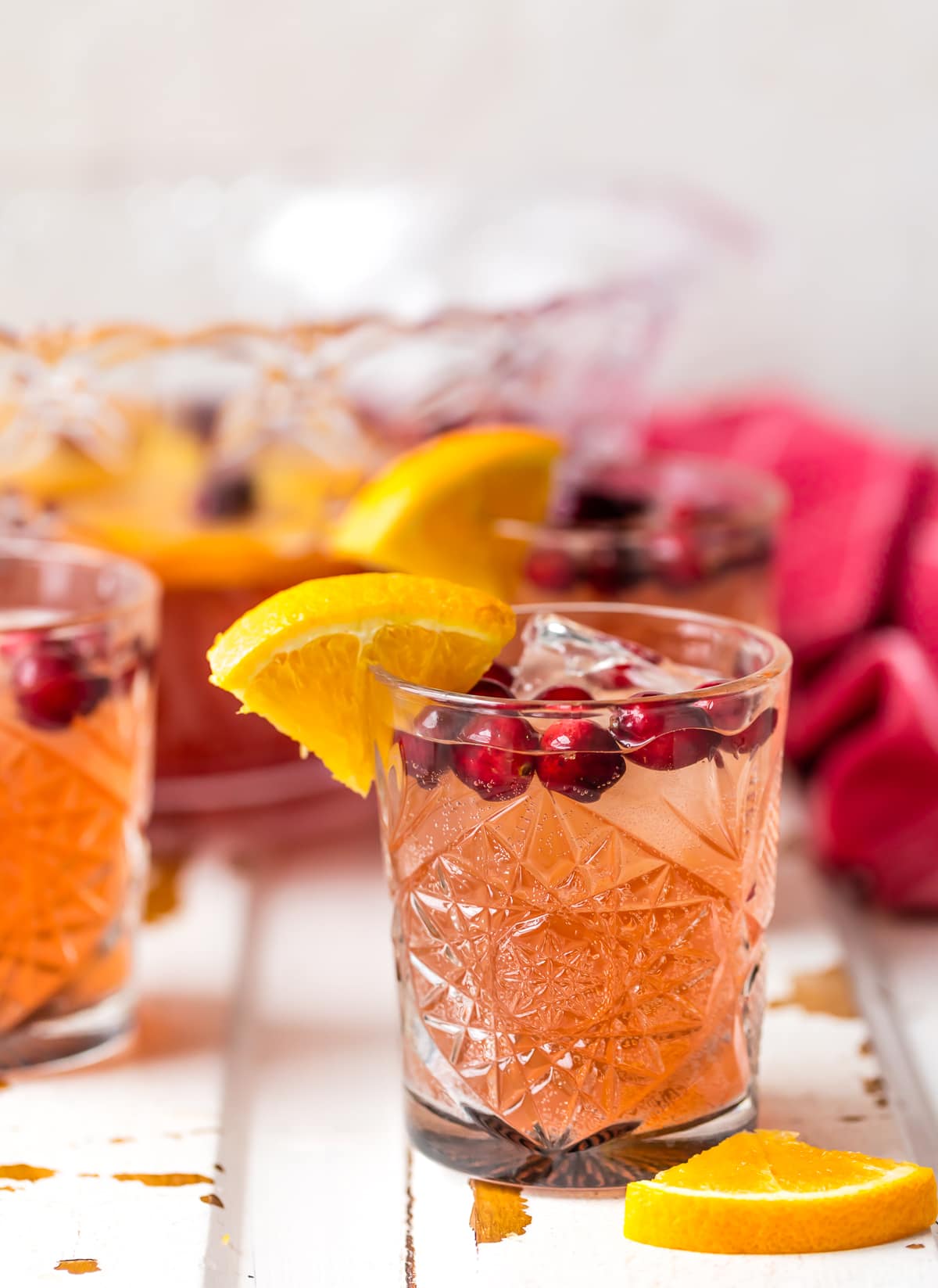 How to make Holiday Punch for Christmas
If you're on the hunt for the best holiday punch recipes, look no further! Orange and cranberry…a match made in Heaven.
I just love the flavor combination of the sparkling cider, cranberry juice, orange juice, and ginger ale. Talk about autumn in a glass! Your Thanksgiving guests will thank you, believe me! If serving for a party and want to skip the alcohol, trust me it's just as delicious as Non Alcoholic Christmas Punch.
The color is vibrant, the flavor is AMAZING, and there's virtually zero prep. Anyone and everyone can open a bag of cranberries and slice some oranges. Those are the only skills you need! If you want to go above and beyond, you can garnish with our Sugared Cranberries! Swoon.
Making a great punch is a matter of a great flavor combination. I love how the cranberry and orange juice blend together, but I also think the Sparkling Apple Cider is a huge piece of the puzzle. All the flavors of Fall! If making ahead, leave the Sparking Cider out and stir in cold at the last minute before serving. Makes sure the bubbly zip will be there for your guests!
FIND ALL THE RECIPES YOU NEED WITH MY EASY HOLIDAY RECIPES E-BOOK. OVER 130 RECIPES FROM APPETIZERS TO SIDE DISHES TO DESSERTS AND MORE!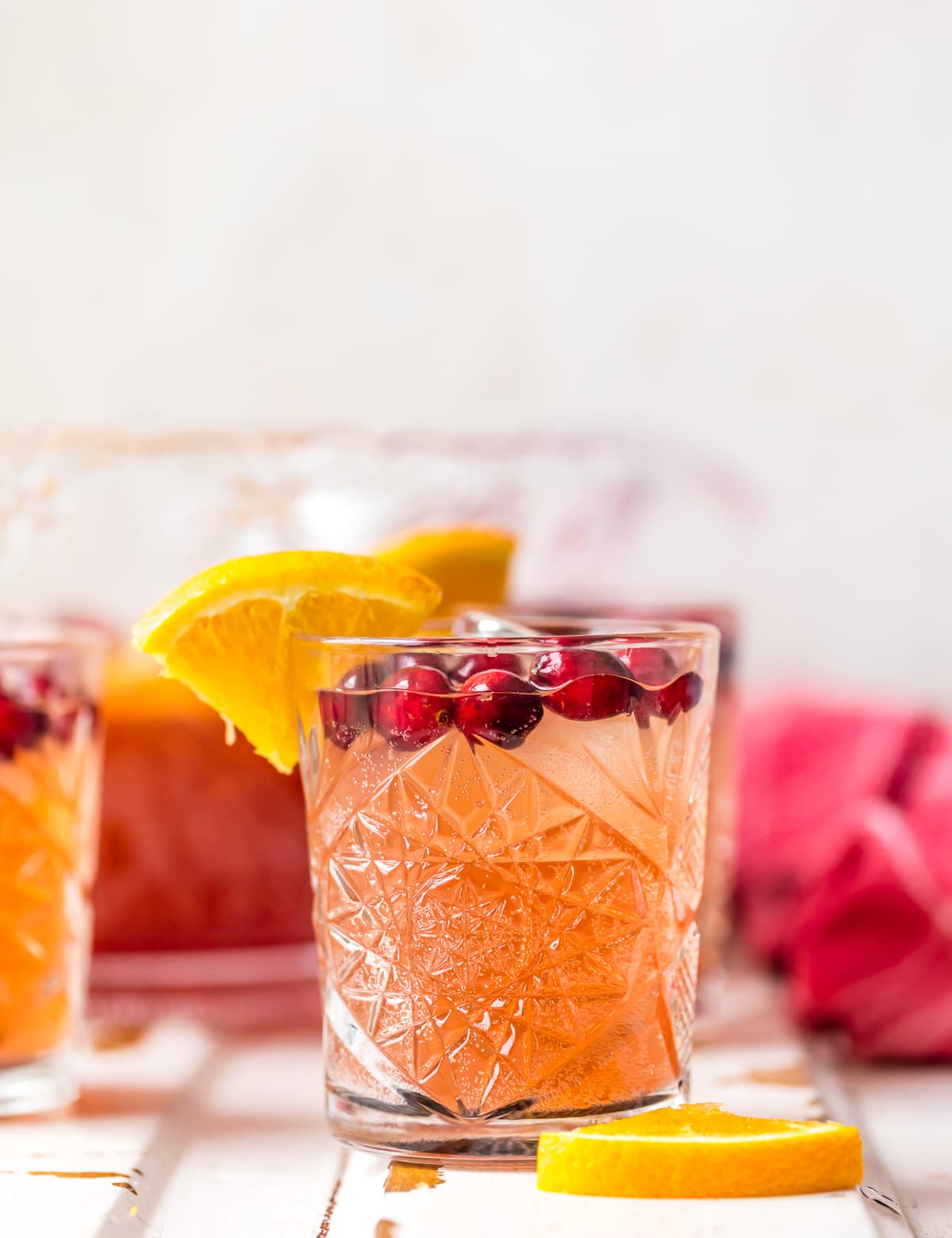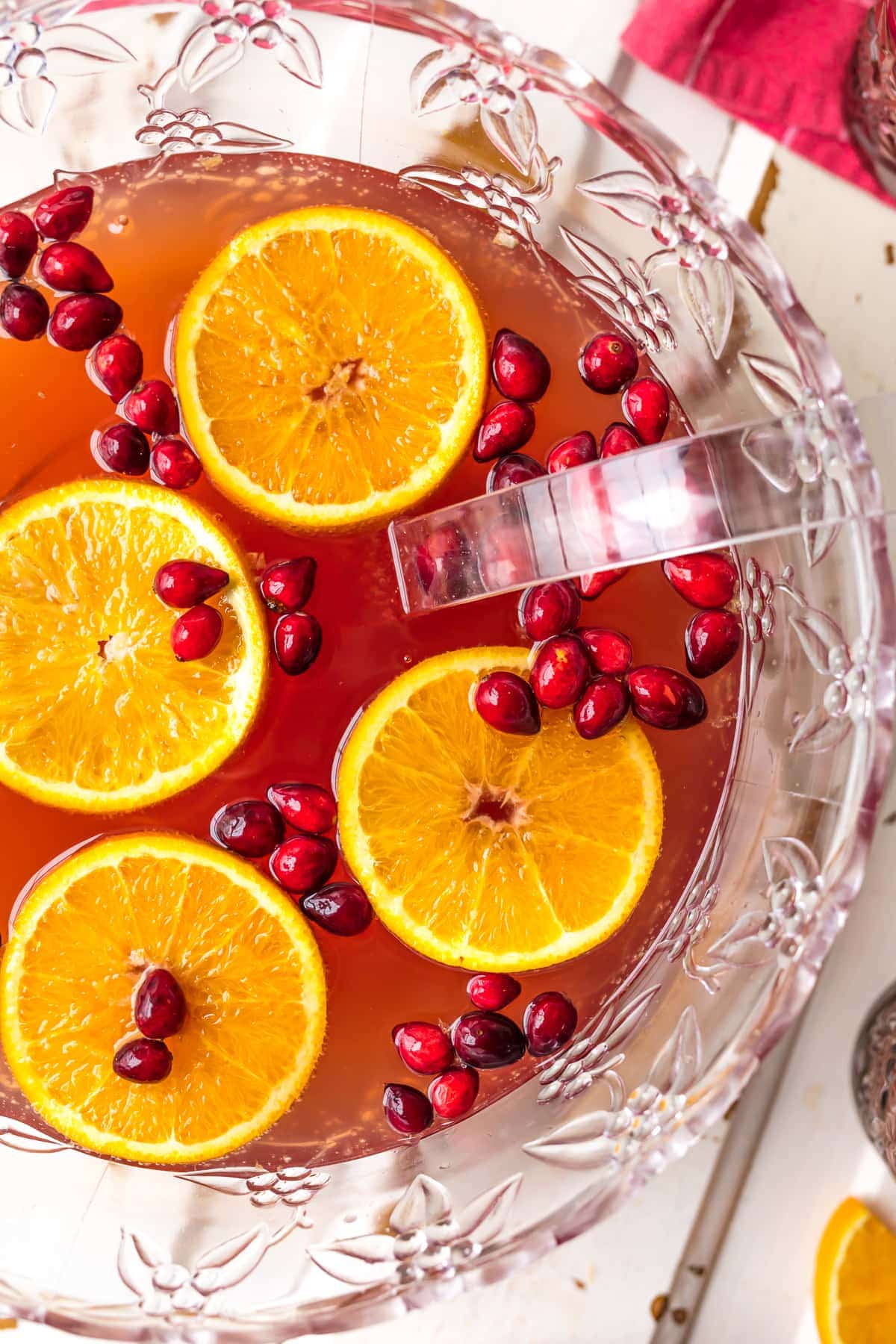 This Holiday Punch recipe is one of our favorite Thanksgiving or Christmas Punch Recipes. It's just so darn flavorful, easy, and delicious. Your party guests will LOVE it, so you better make a double batch.
I served this Holiday Punch Recipe in a VERY cheap plastic punch bowl I bought from Party City. People always compliment it and I have a little internal chuckle. I think once you pour this pretty red punch in and top with lots of fresh fruit, it can make any serving bowl look good. Just proves you don't have to have everything you see in magazines to be a great hostess.
Watch the Video and See the recipe card below for full details on how to make this Easy Holiday Punch – Christmas Punch. Enjoy!
If you like this holiday punch recipe, try some of our other favorite easy punch recipes: