Peanut Butter Blossoms are a classic cookie recipe that is easy to make and loved by all! This recipe has been in our family for years. Hershey Kiss cookies are perfect for Christmas baking but are also made for enjoying year-round, especially at Summer BBQs.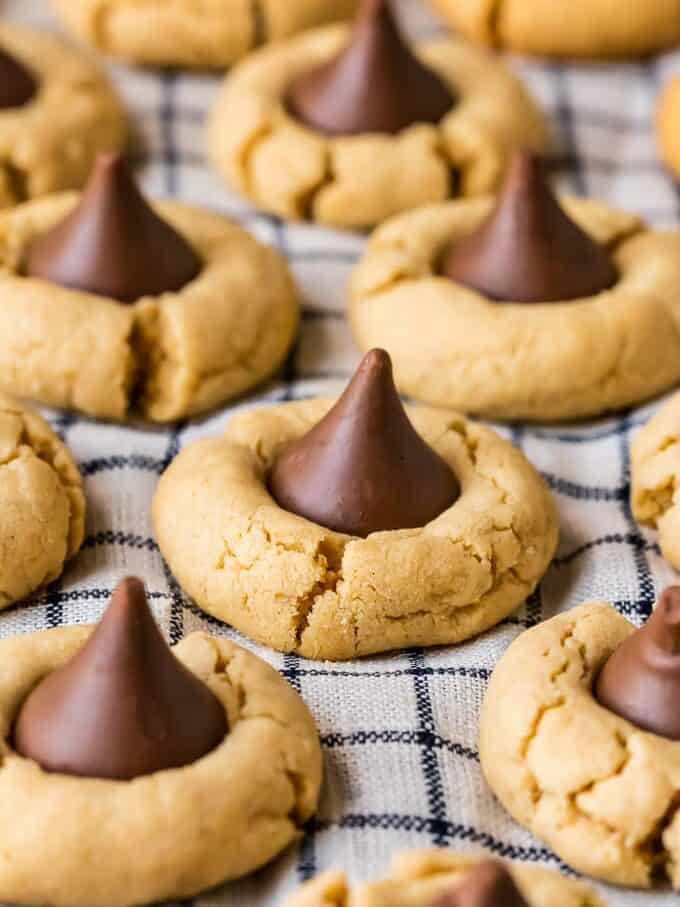 What's in Peanut Butter Kiss Cookies?
These cookies have been a family favorite for years and years, and I hope you love them as much as we do. There's just something so magical about a chocolate kiss atop the perfect peanut butter cookie. We have made this 2-bite size, which is perfect when you want to eat 20 in one sitting.
All-Purpose Flour: Gives these cookies structure and texture.
Leavening: Baking soda and baking powder combine forces to produce a light, tender, crumbly cookie.
Kosher Salt: Enhances the peanut flavor.
Unsalted Butter: Adds moisture and richness to the cookies.
Peanut Butter: I like to use classic creamy peanut butter, but you can use half creamy and half chunky if you like a bit more texture.
Sugar: Dark brown sugar and granulated sugar sweeten the cookies and give them a rich, molasses-y undertone.
Eggs: Give these cookies additional structure and richness.
Vanilla Extract: Enhances the sweetness of the cookies.
Hershey's Kisses: The perfect chocolate morsel to top your cookies with. Milk chocolate is the classic choice!
Pro Tip: If your dough seems too dry or crumbly, add a tablespoon of milk!
Variations on Peanut Butter Blossom Cookies
The easiest way to change up this recipe is to use a different type of Hershey's Kisses. Dark chocolate, special dark, strawberry, almond, cookies and cream, birthday cake, or caramel would all be delicious.
I also love Hershey's Hugs! If you're feeling extra fancy, try my Chocolate Peanut Butter Blossoms!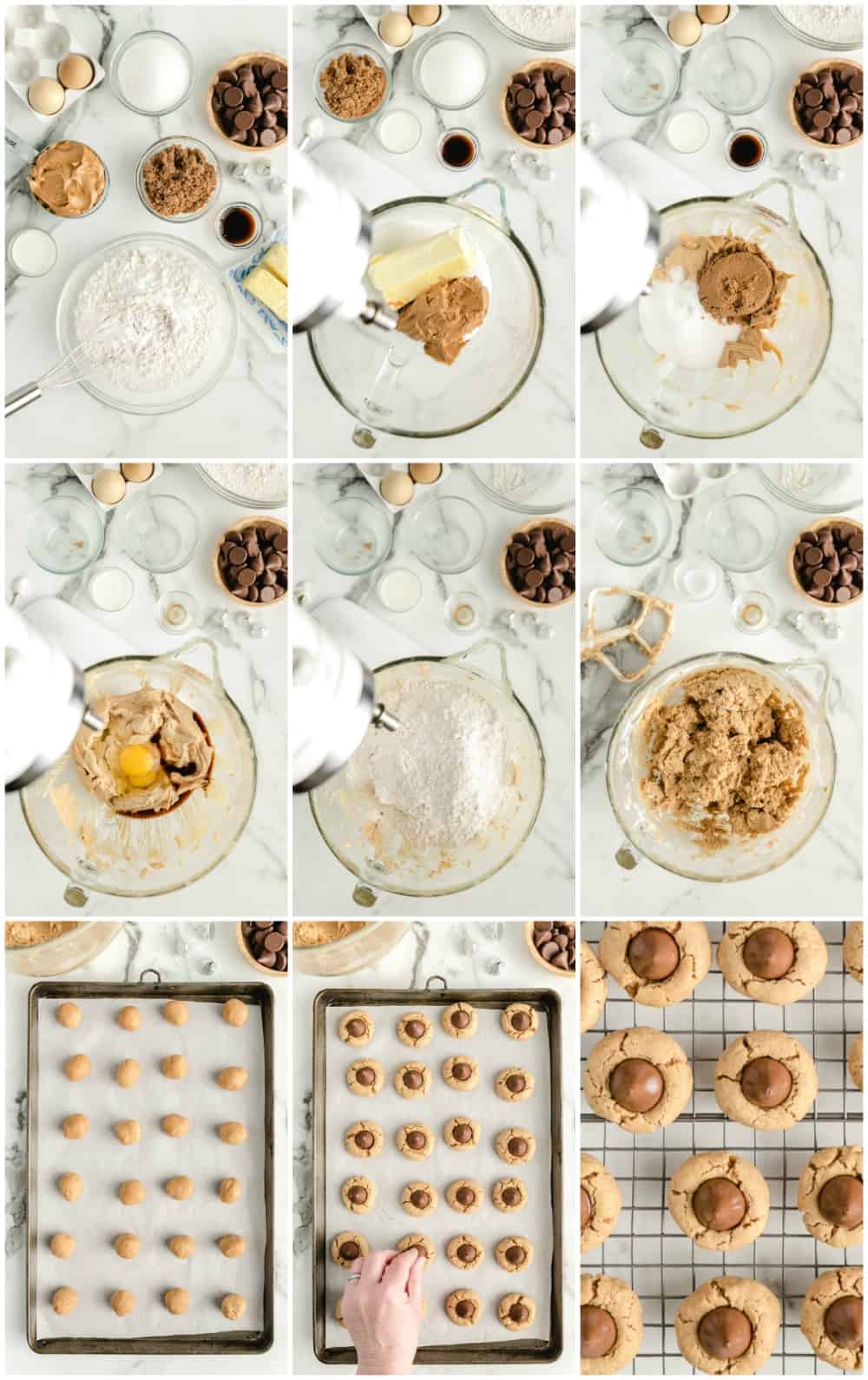 Can I make these cookies without peanut butter?
Not really! Peanut butter is key to the flavor of these cookies. You can try using a peanut butter alternative, such as almond or cashew butter, but it will change the flavor of the cookie.
How do I keep the cookies from crumbling?
It's important to follow the directions completely when making these kiss cookies. Be sure to use room-temperature eggs and butter as directed.
Can I make them gluten-free?
Absolutely! To make these cookies gluten-free, simply swap out the all-purpose flour for an equal amount of gluten-free 1:1 baking flour!
How do I keep the kisses from melting into the warm cookies?
After placing the Hershey Kiss on top of the cookie, allow them to cool completely before storing them in an airtight container. If you're concerned about melting, you can refrigerate the cookies for a few minutes before serving.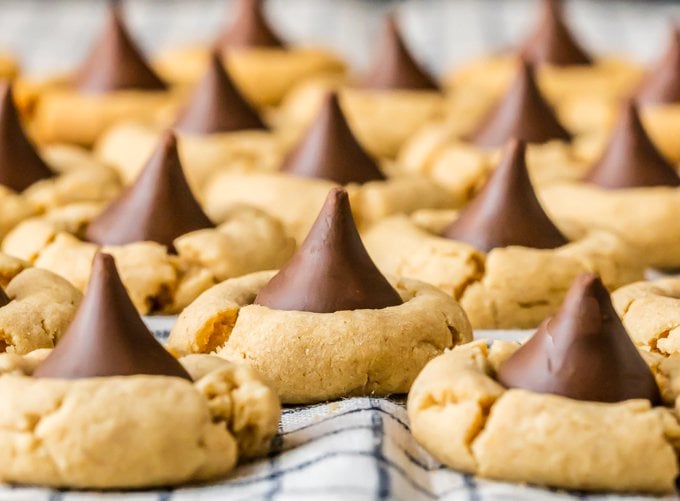 How to Store
The best way to store cookies like Peanut Butter Kiss Cookies is in an airtight container, at room temperature for up to 3 days. We like to use a quality plastic airtight container and separate the cookies with wax paper or parchment paper.
Be sure the cookies are fully cooled before attempting to store them. You can store them for up to 5 days in the refrigerator, but you'll want to let them come to room temperature before enjoying.
How to Freeze
You can freeze the dough before baking, or even freeze the completed cookies.
To freeze the dough, roll it into balls, then place the balls in a Ziplock bag too store for up to 6 months. Bake directly from frozen, adding 2-3 minutes to the final bake time.
To freeze the baked cookies, allow the cookies to cool fully, then place them in an airtight container or Ziplock bag to store for up to 3 months. Let thaw at room temperature for 2-3 hours before serving.
Serving Suggestions
These blossom cookies pair perfectly with a cold glass of milk or oat milk, iced coffee, a flat white, or a warm cup of cocoa. For an adults-only treat, pair yours with a frozen mudslide, French silk pie cocktail, or a bourbon-spiked chai.
For an ultra-indulgent treat, sandwich two cookies together with peanut butter fluff spread, cookies and cream butter, or chocolate fudge frosting.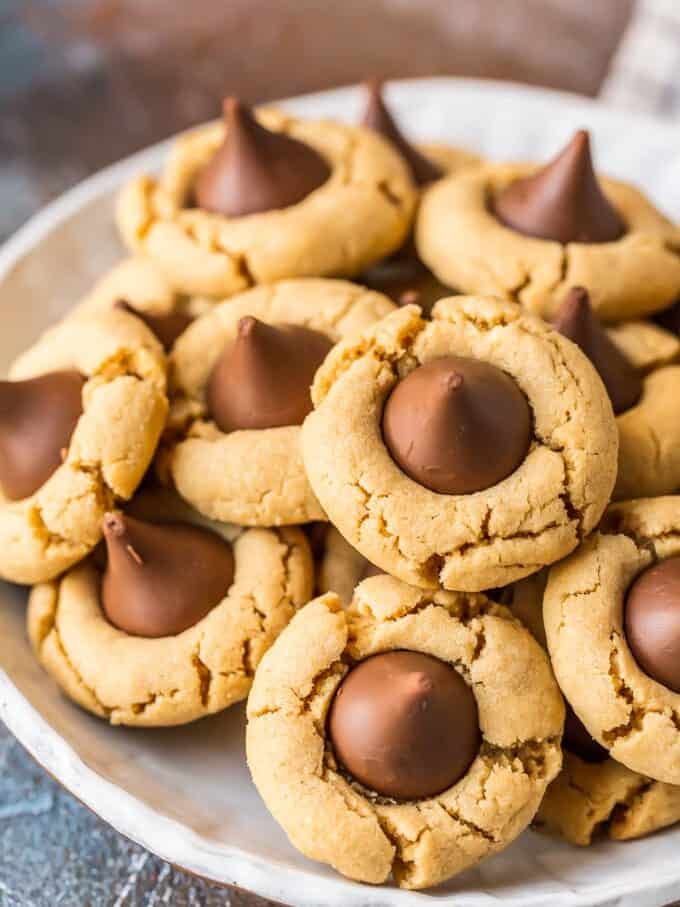 More Peanut Butter Cookie Recipes We Love