Peanut Butter Kiss Cookies are a classic cookie recipe that is easy to make and loved by all! This best Peanut Butter Blossoms Recipe has been in our family for years. Hershey Kiss Cookies are perfect for Christmas baking, but also made for enjoying year round, especially at Summer bbqs.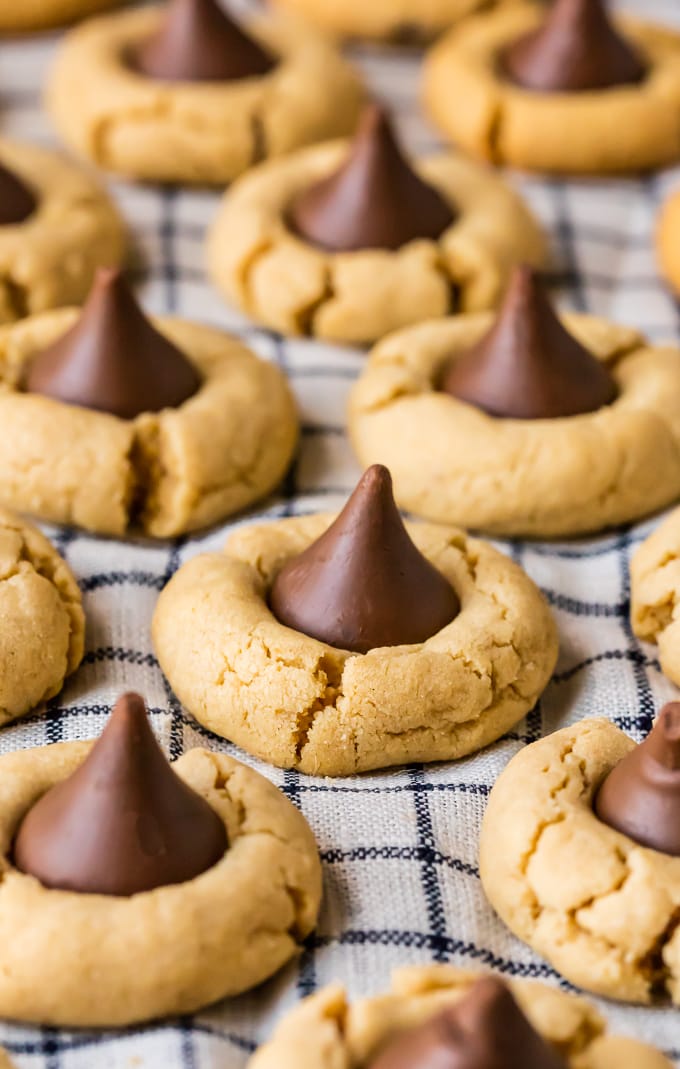 Hershey Kiss Cookies
Peanut Butter Kiss Cookies are a classic cookie recipe everyone should learn how to make. They're perfect for holidays or parties any time of year!
These Peanut Butter Kiss Cookies were my absolute favorite cookie recipe growing up. My Mom, Susie, is an amazing baker and has been so generous in sharing our favorite family recipes for years.
She spoiled us as children with all the best baking, and these Peanut Butter Hershey Kiss Cookies were always my go-to request. I simply cannot get enough of these kiss cookies!
Mom helped me originally publish these Peanut Butter Blossoms back in December of 2013, when The Cookie Rookie was just getting started. Since this is a favorite family recipe, I've redone the pictures and Mom helped me update the recipe to bring you the best Peanut Butter Kiss Cookies the internet has to offer!
This Peanut Butter Kiss Cookies Recipe is delicious, fool-proof, and an instant classic. Don't wait until Christmas to make this favorite cookie recipe, make it today!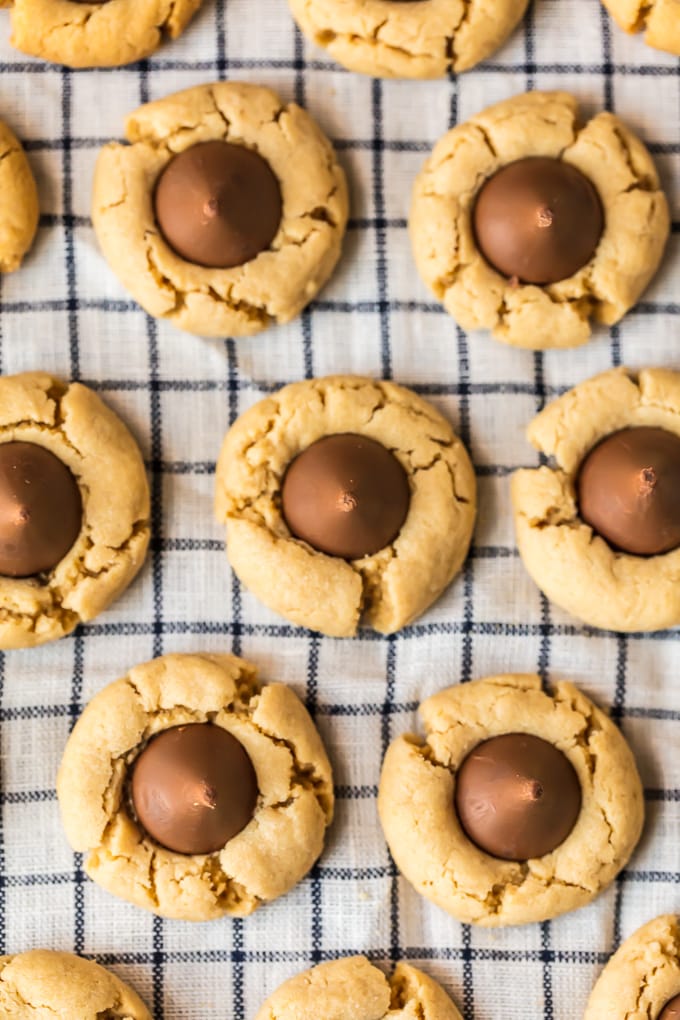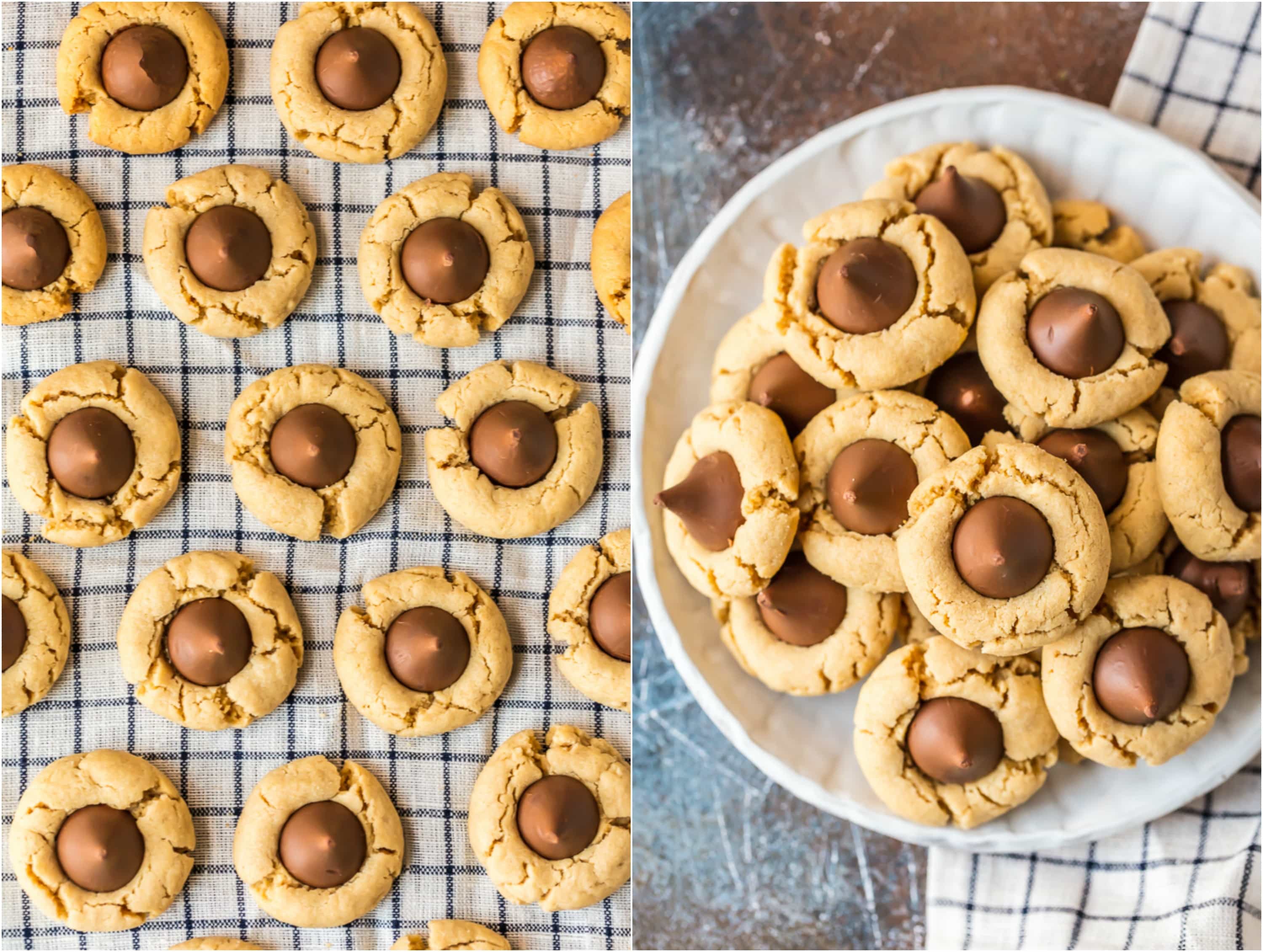 Step by Step
You can jump to the recipe card for full ingredients & instructions!
We have created the ultimate Peanut Butter Cookie Recipe that you quickly whip up, roll into balls, bake, and then press the Hershey Kisses in the center while still warm. It's that simple! Are you craving them yet?
Heat oven to 375°F and line 2 baking sheets with parchment paper.
Whisk flour, baking soda, baking powder, kosher salt, and sea salt in a medium-size mixing bowl, on medium-high speed. Set aside.
In the bowl of a stand mixer, cream together the butter and peanut butter for 2 minutes until smooth.
Add brown sugar and granulated sugar and beat for 2-3 minutes or until lighter in color and smooth.
Add eggs and vanilla and beat for 1 minute or until all ingredients are incorporated and smooth.
Turn off the mixer and add the flour mixture. Turn the mixer to the lowest speed and beat just until the flour is incorporated.
If the mixture seems too stiff, add 1 tablespoon milk, mixing just until incorporated.
Cover the dough and refrigerate for 30 minutes or until firm enough to roll into balls.
Shape the dough into ¾-inch balls and place them about 1½ inches apart on the prepared baking sheets. 20 balls work perfectly on a half-sheet baking pan (18"x13").
Bake at 375°F, for 8 minutes then remove from the oven. Press a candy kiss in the middle of each cookie. Press down just enough to set the kiss being sure not to press the candy clear to the pan.
Place the cookies back in the oven and bake for an additional 2 minutes.
Transfer the cookies to a cooling rack – remove the cookies from the baking sheet after 2 minutes.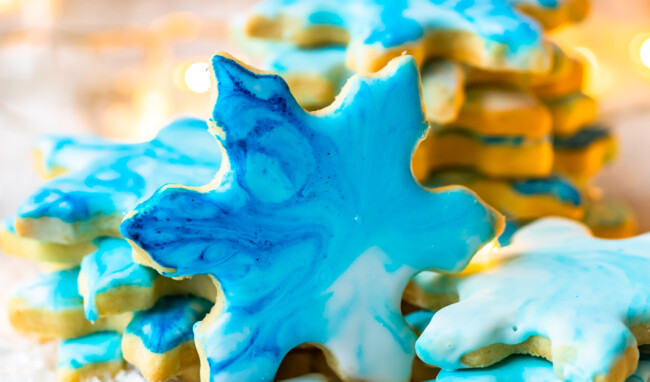 Bring on the Baking
25+ Fave Christmas Cookies
These Peanut Butter Blossoms are one of our favorite xmas cookies. Be sure to see our guide to Christmas cookies for more!
See Guide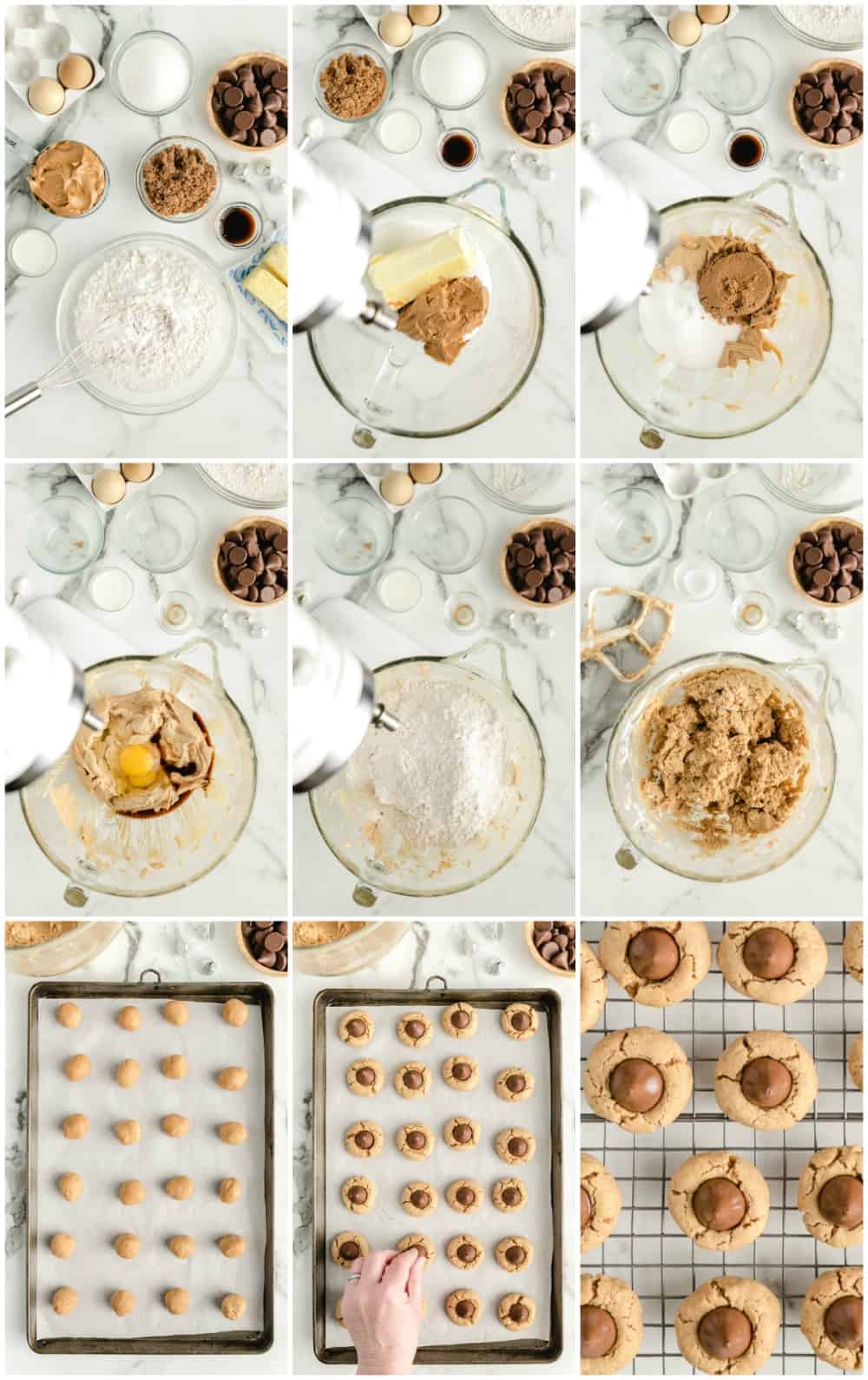 Tips!
This recipe can easily be cut in half. (But making the full batch and freezing half is a great idea!)
Any Hershey Kiss candy will work with the recipe. I used the traditional milk chocolate, but the caramel kisses would be a delicious twist.
Bake the cookies on the middle rack, one sheet of cookies at a time, for the best results.
How to keep your cookies from crumbling
It's important to follow the directions completely when making these kiss cookies. Be sure to use room temperature eggs and butter as directed.
Perfect Hershey Kiss Cookies
Baking is a science, so following the directions to a t is important! Here are some other tips and tricks for making the best Christmas cookies ever!
Use room temperature eggs and butter
Add a bit of milk if your dough is too firm
Any Hershey Kisses will work in this recipe. Switch things up by using caramel-filled or peppermint kisses!
You can cut this recipe in half easily
You can freeze the dough and make later! See below.
How to store Peanut Butter Kiss Cookies
The best way to store cookies like Peanut Butter Kiss Cookies is in an airtight container, at room temperature. We like to use a quality plastic airtight container and separate the cookies with wax paper or parchment paper. Be sure the cookies are fully cooled before attempting to store them.
How long do Peanut Butter Kiss Cookies stay fresh?
Peanut Butter Blossoms will stay soft and fresh in an airtight container (at room temperature) for 3-5 days, or you can also freeze them! Freezing cookies is an awesome option when cooking in bulk for holidays or parties.
You can bake them in advance, freeze them, and then enjoy them once the party arrives. (See below for how to freeze them)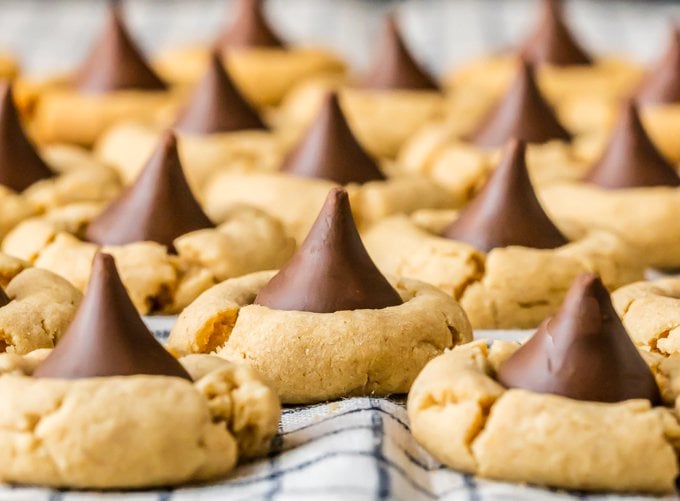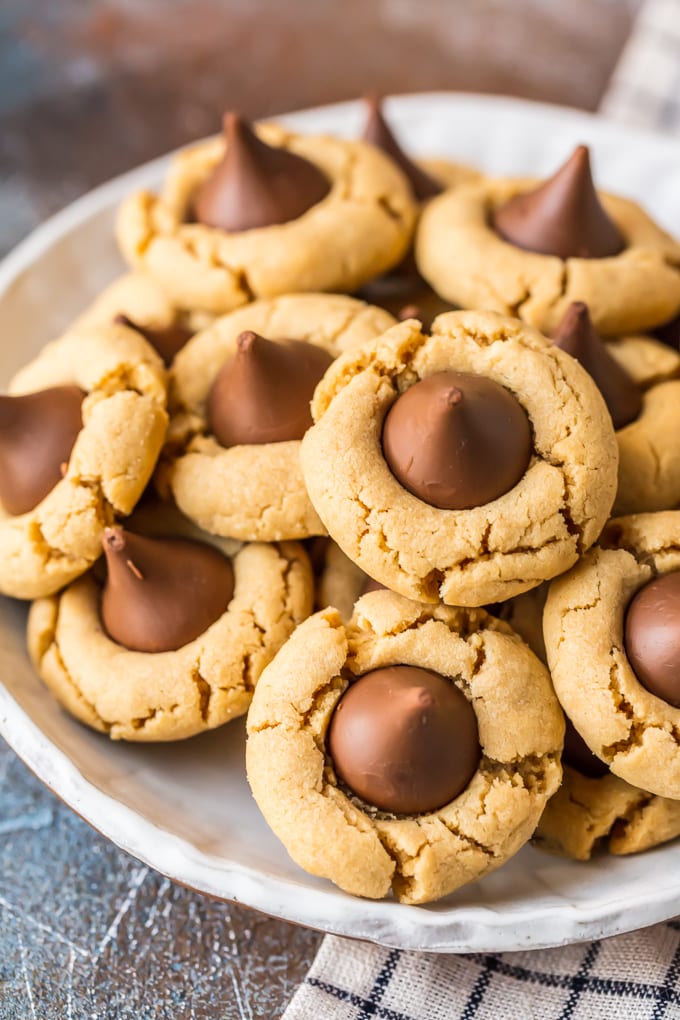 How to Freeze Peanut Butter Kiss Cookies
You can freeze the dough before baking, or even freeze the completed cookies. Here's how.
To Freeze the Peanut Butter Blossoms dough (before baking):
Follow the steps in the recipe card below for making the Peanut Butter Cookie Dough. Follow through the step for rolling the dough into balls.
Once the dough balls are formed, place the balls into a freezer-safe reusable bag and press as much air out as possible. Seal in the bag, and then place in another bag to create a double layer of protection for freezing.
Store the dough in the freezer for up to 6 months.
When ready to cook, you can cook from frozen, but add 2-3 minutes onto the cook time for the cookies.
To Freeze the Completed Peanut Butter Blossom Cookies:
Prepare the cookies fully according to instructions in the recipe card below.
Allow cookies to fully cool after baking. Do not skip this step!
Place the cookies in a rigid, airtight container for storing. Place the container into a freezer-safe ziplock bag for extra protection.
Freeze for up to 3 months.
When ready to serve, allow to thaw at room temperature for 2-3 hours before serving.
Enjoy!
More Easy Cookie Recipes
We have SO many easy Cookie Recipes perfect for all occasions. We love a good cookie hack for keeping things simple, but of course making them extra delicious. We want you to be the star of the Summer bbq or Christmas Party! We've got your back. Be sure to check out these Classic Cookies.
See All Cookie Recipes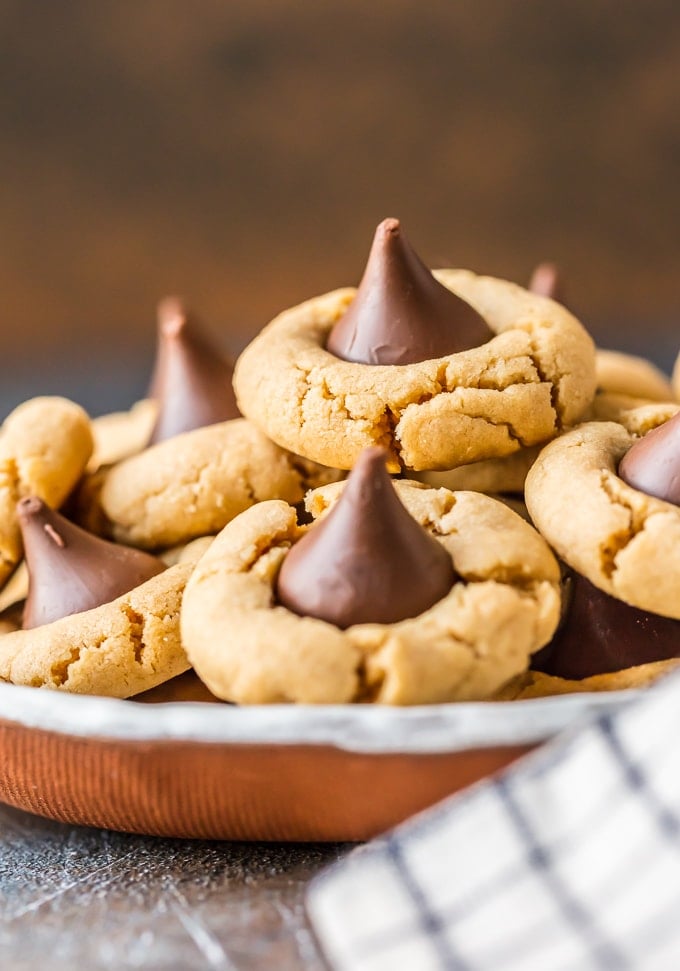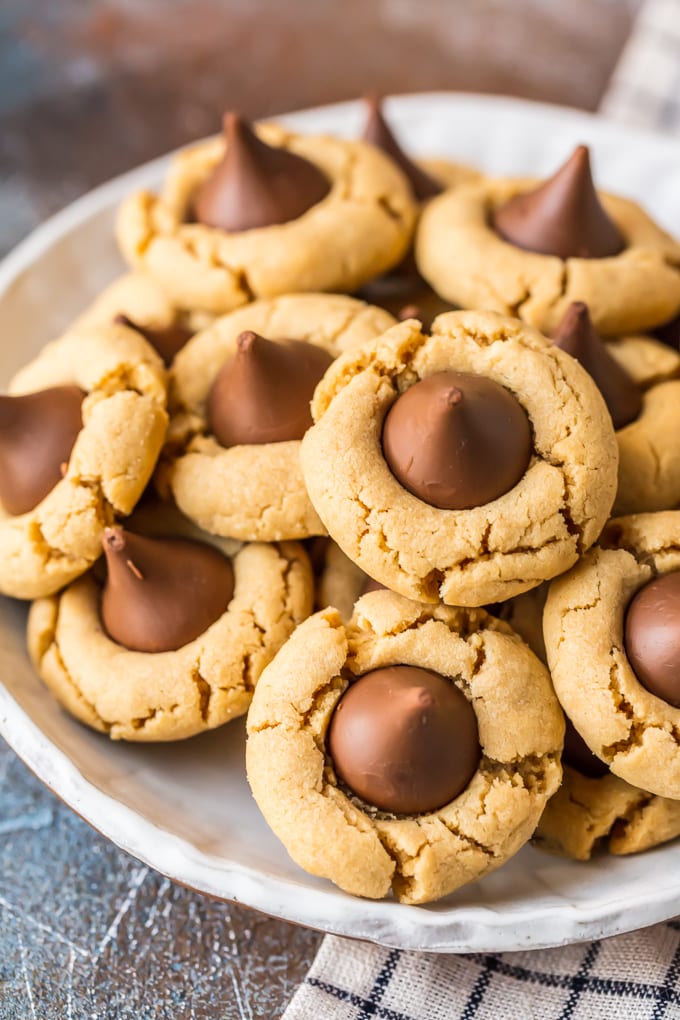 Peanut Butter Kiss Cookies have been a family favorite for years and years and I hope you love them as much as we do. There's just something so magical about a chocolate kiss atop the perfect peanut butter cookie. We have made these 2-bite size, which is perfect when you want to eat 20 in one sitting.
See the recipe card below for How to Make Peanut Butter Kiss Cookies. Enjoy!
If you love these Peanut Butter Blossoms, be sure to check out some of our other favorite Easy desserts…there's something for everyone!
If you make this recipe be sure to upload a photo in the comment section below or leave a rating. Enjoy! You can also jump to recipe.