Peanut Butter Kiss Cookies are a classic cookie recipe that is easy to make and loved by all! This BEST Peanut Butter Blossoms Recipe has been in our family for years. Chocolate Peanut Butter Cookies are perfect for Christmas baking, but also made for enjoying year round, especially at Summer BBQs. When it comes to favorite cookie recipes, these Peanut Butter Hershey Kiss Cookies can't be beat.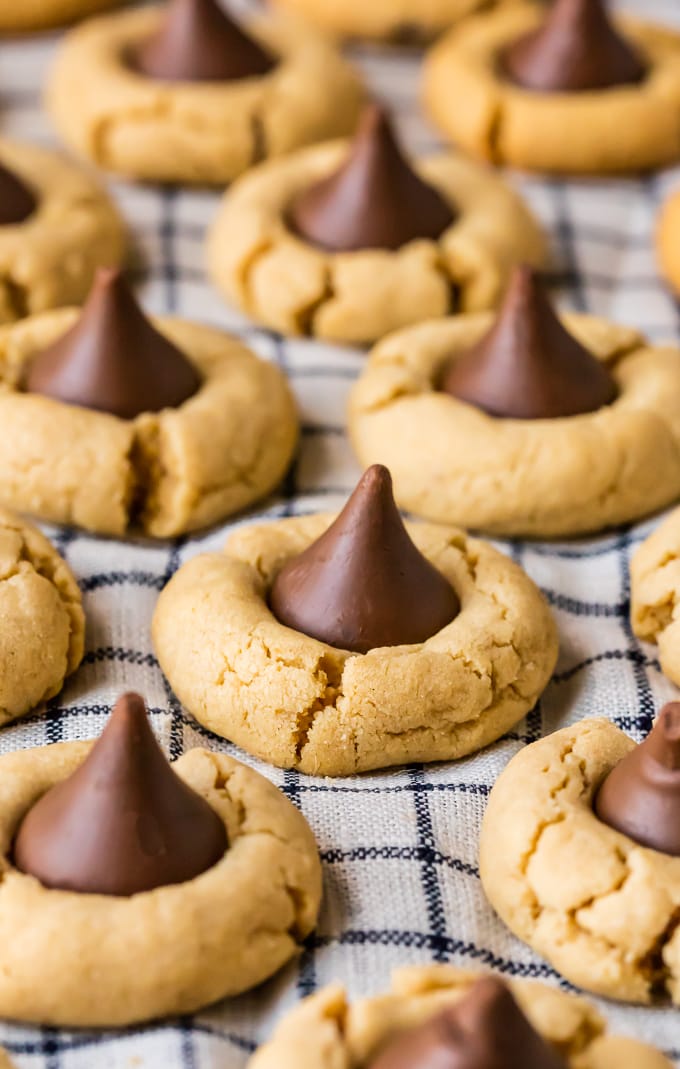 Peanut Butter Kiss Cookies – the BEST Peanut Butter Blossoms Recipe!
These Peanut Butter Kiss Cookies were my absolute favorite cookie recipe growing up. My Mom, Susie, is an amazing baker and has been so generous in sharing our favorite family recipes for years. She spoiled us as children with all the best baking, and these Peanut Butter Kiss Cookies were always my go-to request. I simply cannot get enough of this Peanut Butter Chocolate Kiss Cookies Recipe!
Mom helped me originally publish these Peanut Butter Blossoms back in December of 2013, when The Cookie Rookie was just getting started. Since this is a favorite family recipe, I've redone the pictures and Mom helped me update the recipe to bring you the VERY BEST Peanut Butter Kiss Cookies the internet has to offer!
This Peanut Butter Kiss Cookies Recipe is delicious, fool-proof, and an instant classic. Don't wait until Christmas to make this favorite cookie recipe, make it today!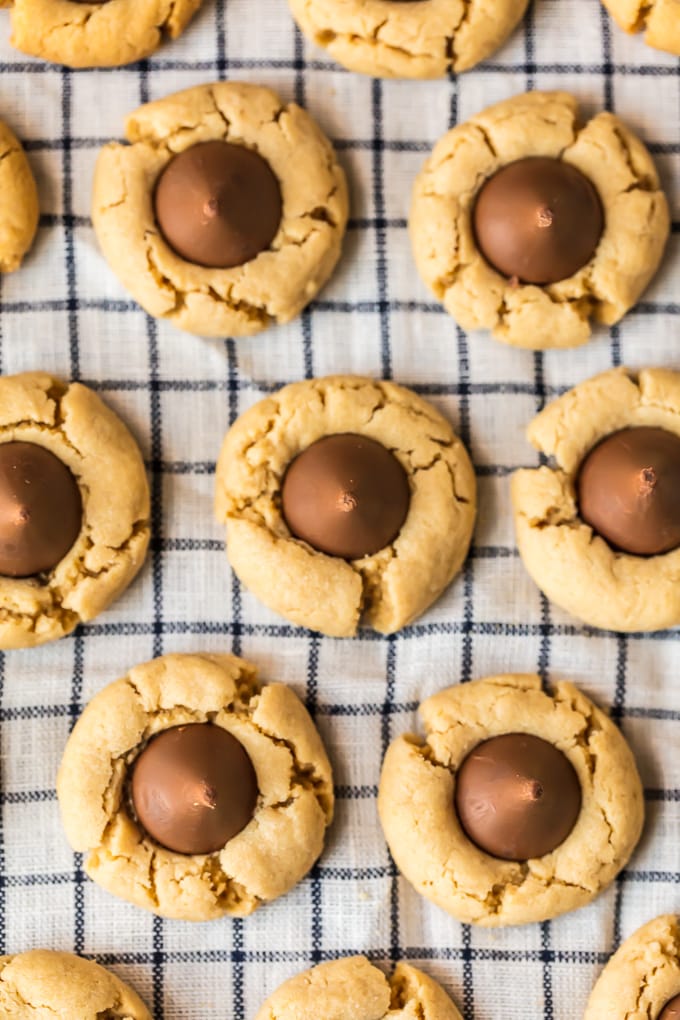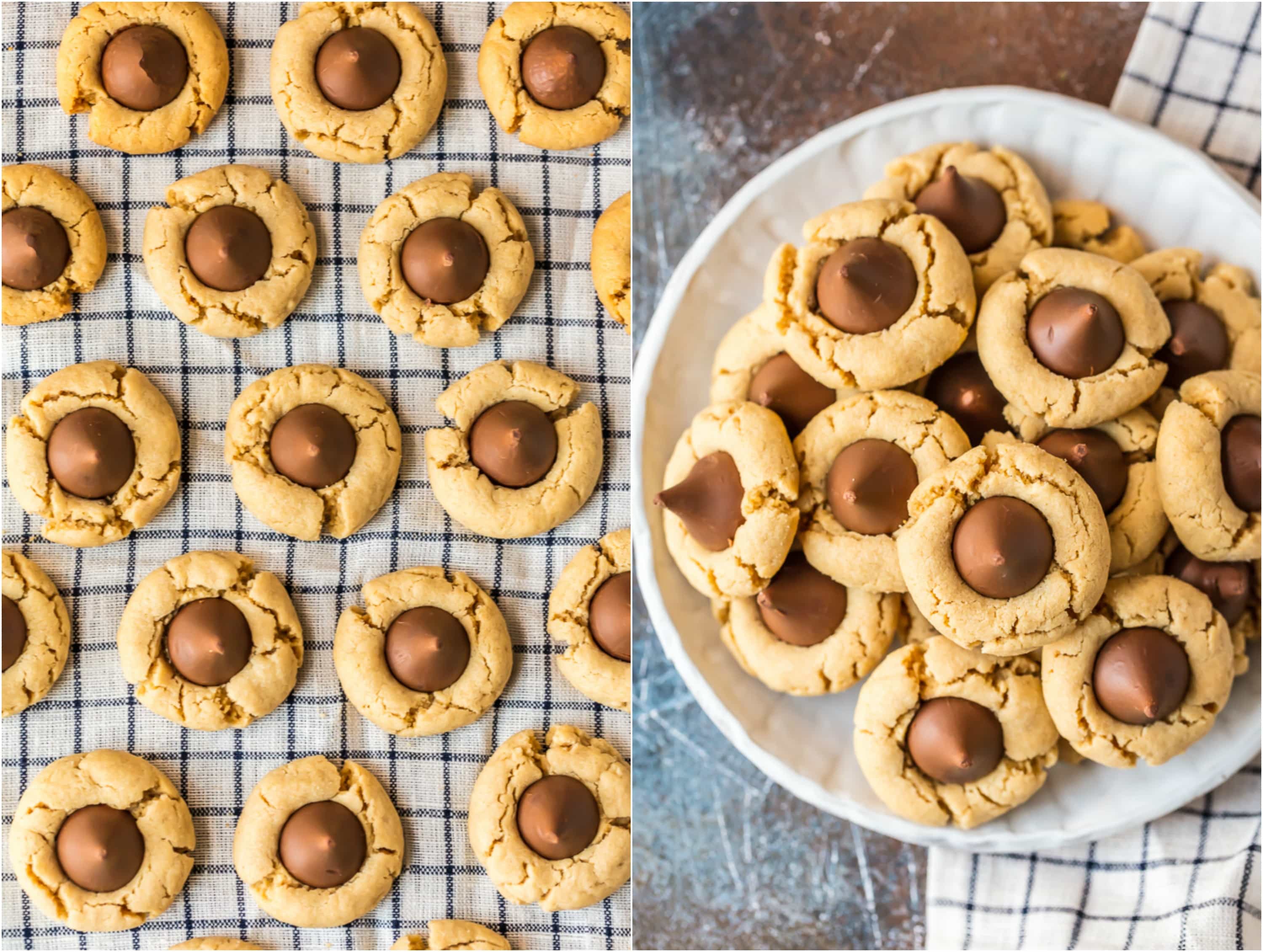 How to Make Peanut Butter Kiss Cookies:
I've left one of the pictures from the original 2013 post of this Peanut Butter Blossoms Recipe post below because it gives a good illustration of the step by step process of making these Chocolate Peanut Butter Blossoms. We have created the ULTIMATE Peanut Butter Cookie Recipe that you quickly whip up, roll into balls, bake, and then press the Hershey Kisses in the center while still warm. It's that simple! Are you craving them now?!
How to store Peanut Butter Blossoms:
The best way to store cookies like Peanut Butter Kiss Cookies is in an airtight container, at room temperature. We like to use a quality plastic airtight container and separate the cookies with wax paper or parchment paper. Be sure the cookies are FULLY cooled before attempting to store them.
How long do Peanut Butter Kiss Cookies stay fresh?
Peanut Butter Blossoms will stay soft and fresh in an airtight container (at room temperature) for 3-5 days, or you can also freeze them! Freezing cookies is an awesome option when cooking in bulk for holidays or parties. You can bake them in advance, freeze them, and then enjoy them once the party arrives.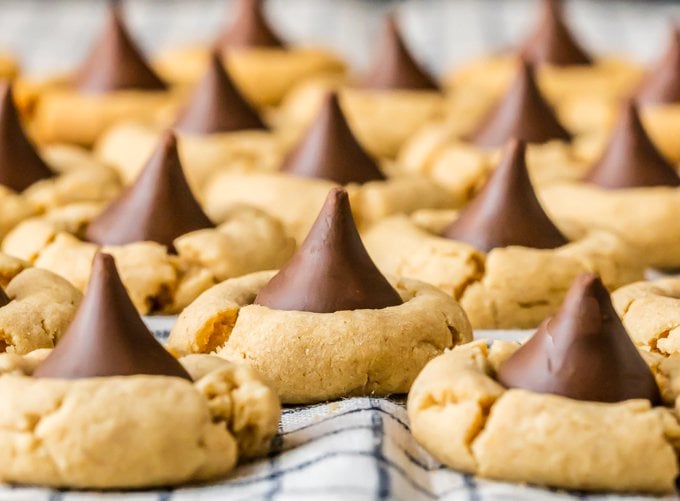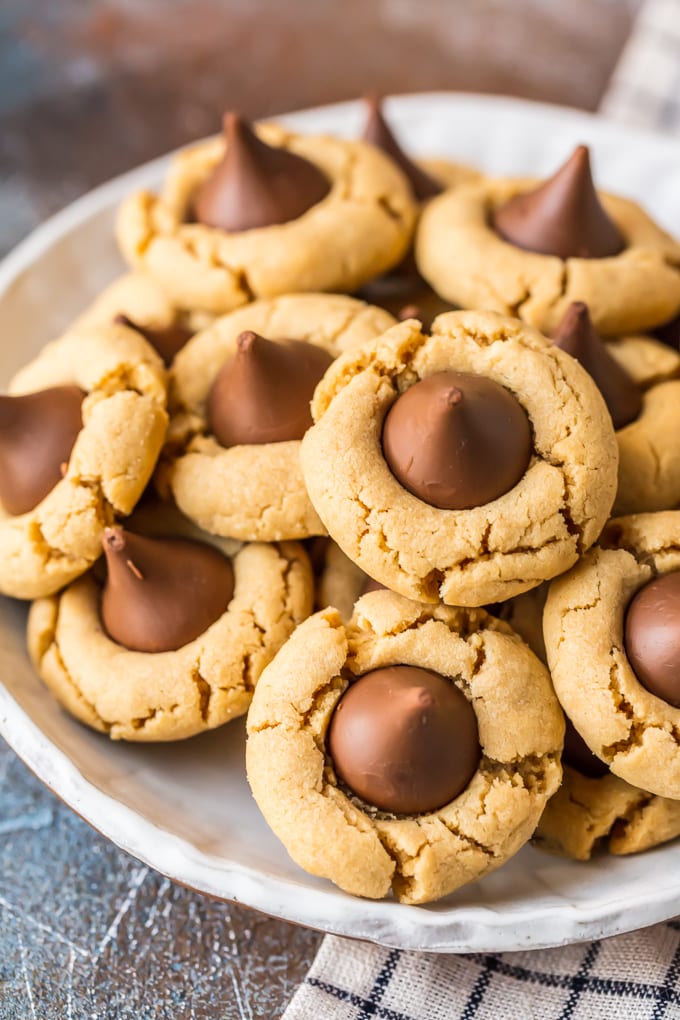 How to Freeze Peanut Butter Kiss Cookies:
You can freeze the dough before baking, or even freeze the completed cookies. Here's how:
To Freeze the Peanut Butter Blossoms DOUGH:
Follow the steps in the recipe card below for making the Peanut Butter Cookie Dough. Follow through the step for rolling the dough into balls.
Once the dough balls are formed, place the balls into a freezer safe ziplock bag and press as much air out as possible. Seal in the bag, and then place in ANOTHER bag to create a double layer of protection for freezing.
Store the dough in the freezer for up to 6 months (AWESOME!).
When ready to cook, you can cook from frozen, but add 2-3 minutes onto the cook time for the cookies.
To Freeze the COMPLETED Peanut Butter Blossom Cookies:
Prepare the cookies fully according to instructions in the recipe card below.
Allow cookies to fully cool after baking. Do not skip this step!
Place the cookies in a rigid, air tight container for storing. Place the container into a freezer safe zip lock bag for extra protection.
Freeze for up to 3 months.
When ready to serve, allow to thaw AT ROOM TEMPERATURE for 2-3 hours before serving.
Enjoy!
More EASY Cookie Recipes
We have SO many easy Cookie Recipes perfect for all occasions. We love a good cookie hack for keeping things simple, but of course making them extra delicious. We want you to be the star of the Summer BBQ or Christmas Party! We've got your back. Be sure to check out these Classic Cookies: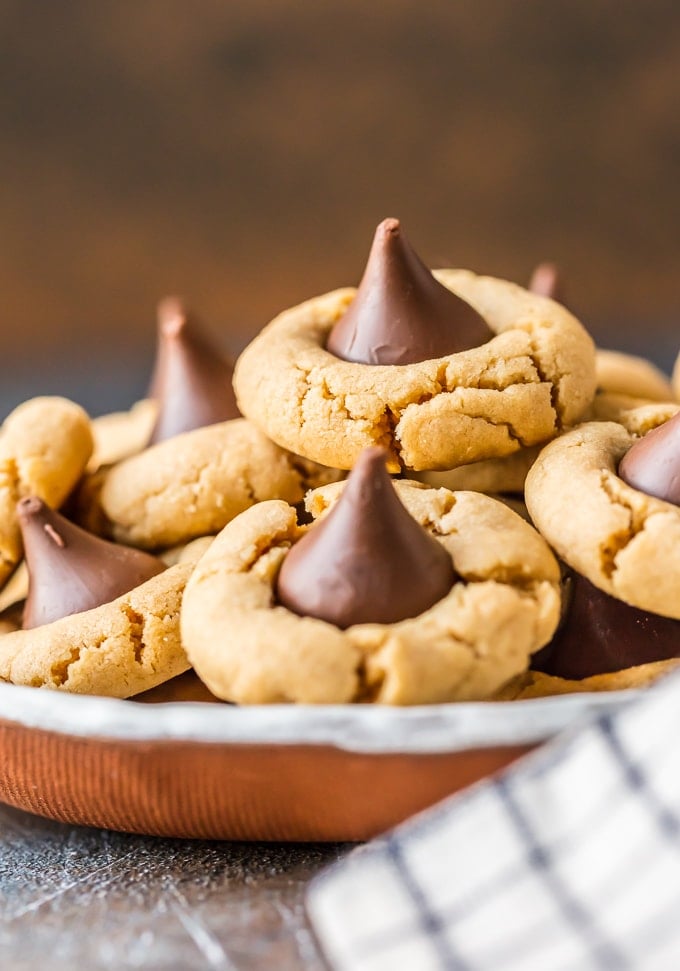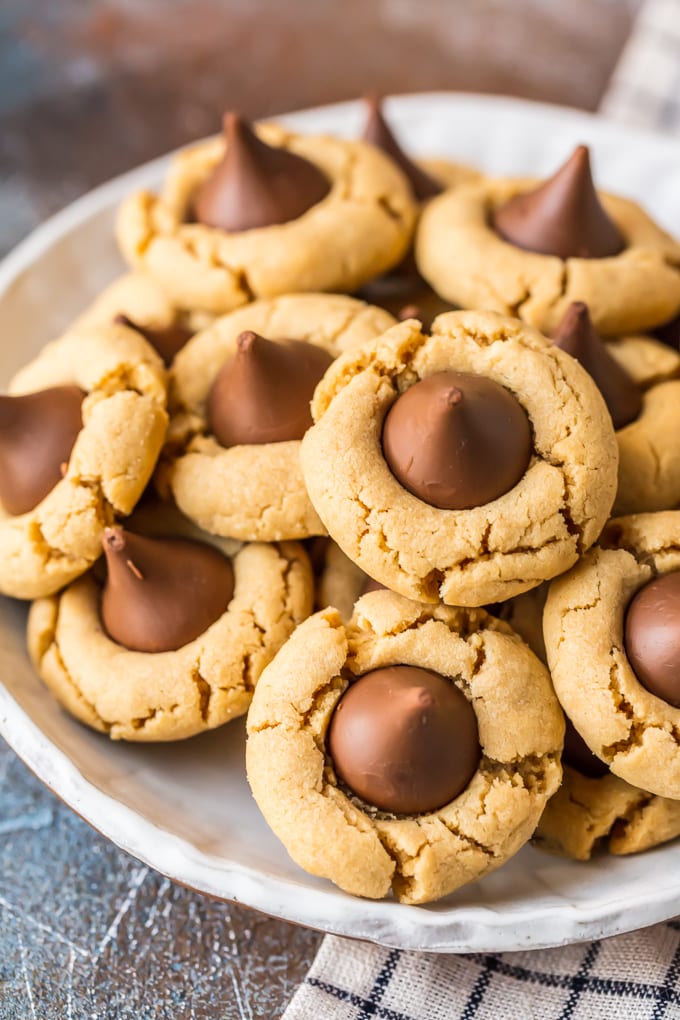 Peanut Butter Kiss Cookies have been a family favorite for YEARS and years and I hope you love them as much as we do. There's just something so magical about a chocolate kiss atop the perfect peanut butter cookie. We have made these 2 bite size, which is perfect when you want to eat 20 in one sitting. :)
See the recipe card below for How to Make Peanut Butter Kiss Cookies. Enjoy!
If you love these Peanut Butter Blossoms, be sure to check out some of our other favorite EASY desserts…there's something for everyone!