This Christmas Bark recipe is filled with so many delicious sweets. White chocolate bark mixed with peppermint chips, Oreos, M&Ms, pretzels…YUM! It's the perfect treat for the holidays, and it's so fun to make. This Oreo Peppermint Bark makes a great homemade gift too, and it's perfect for parties!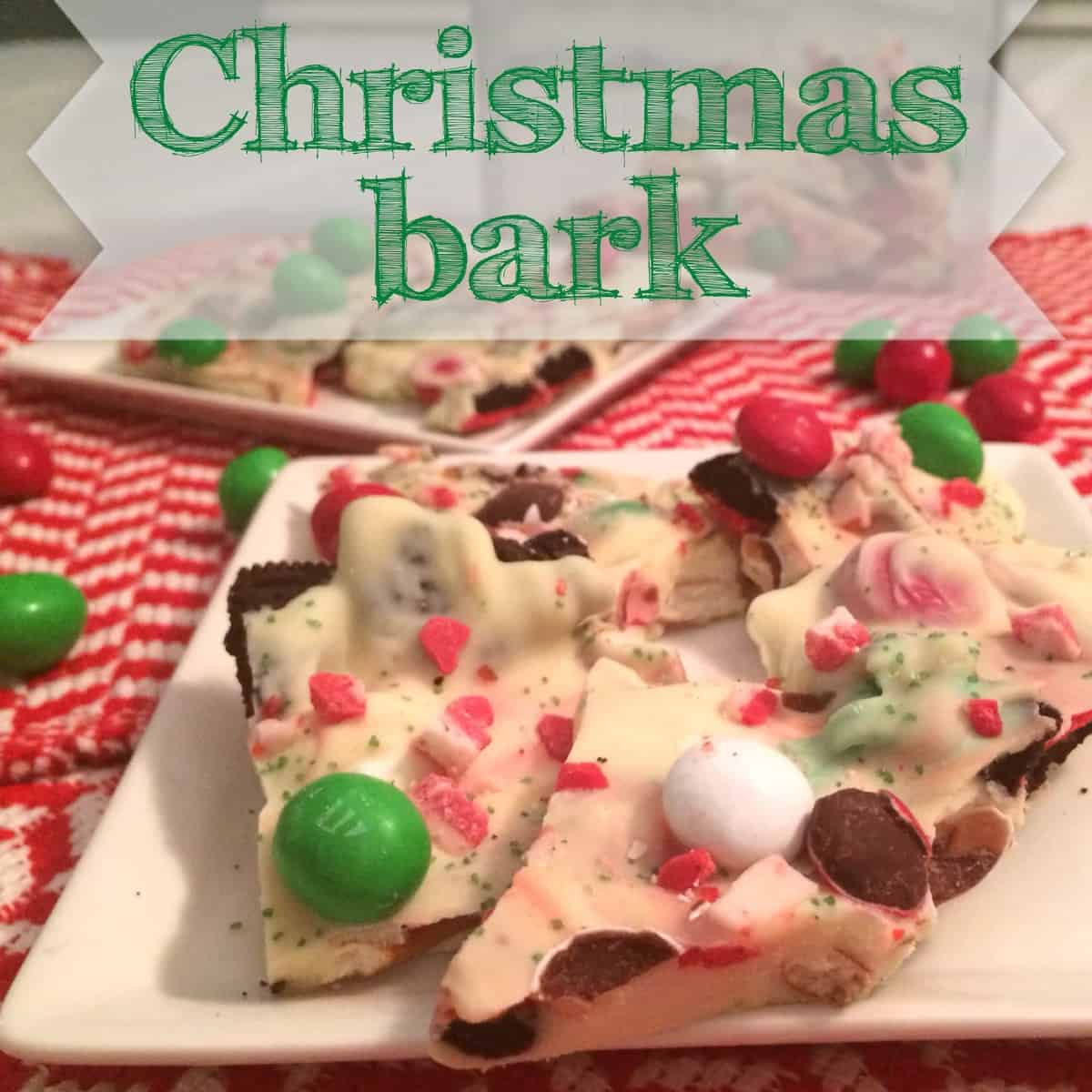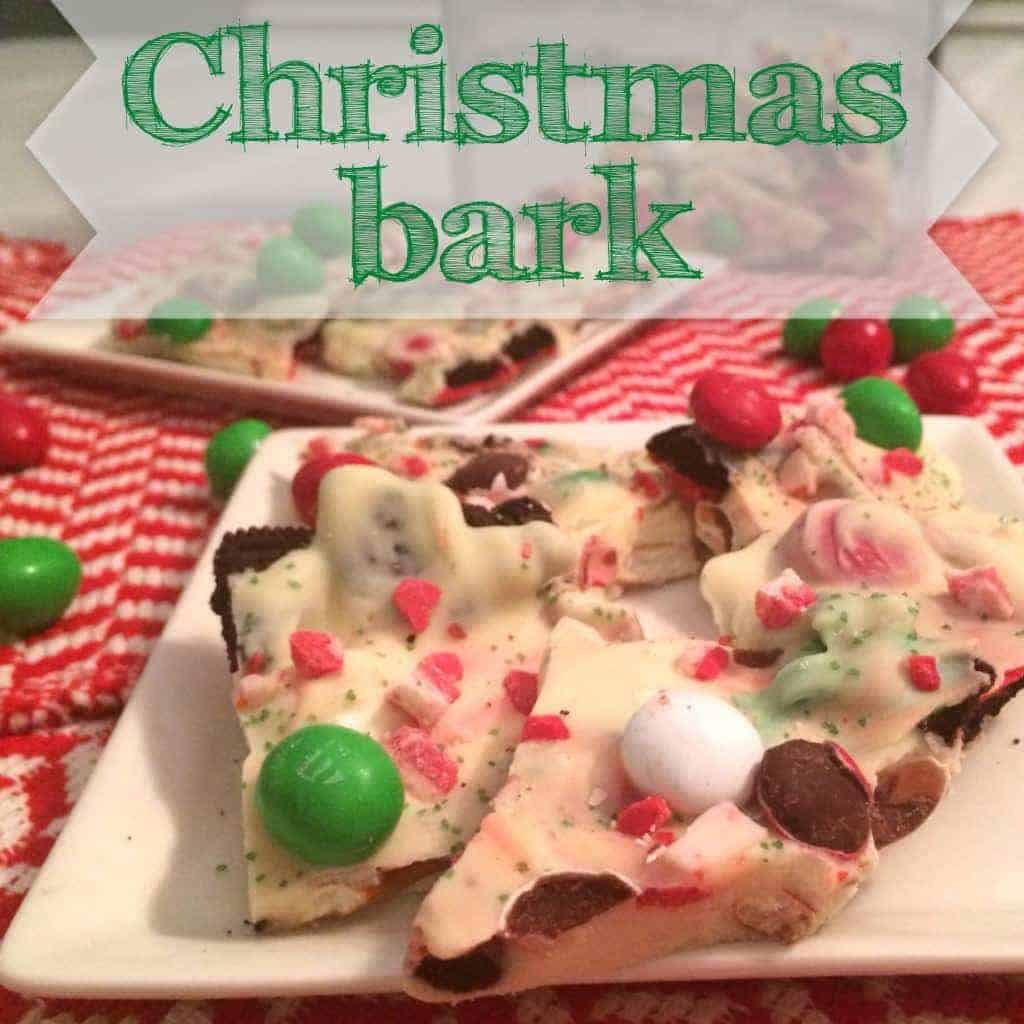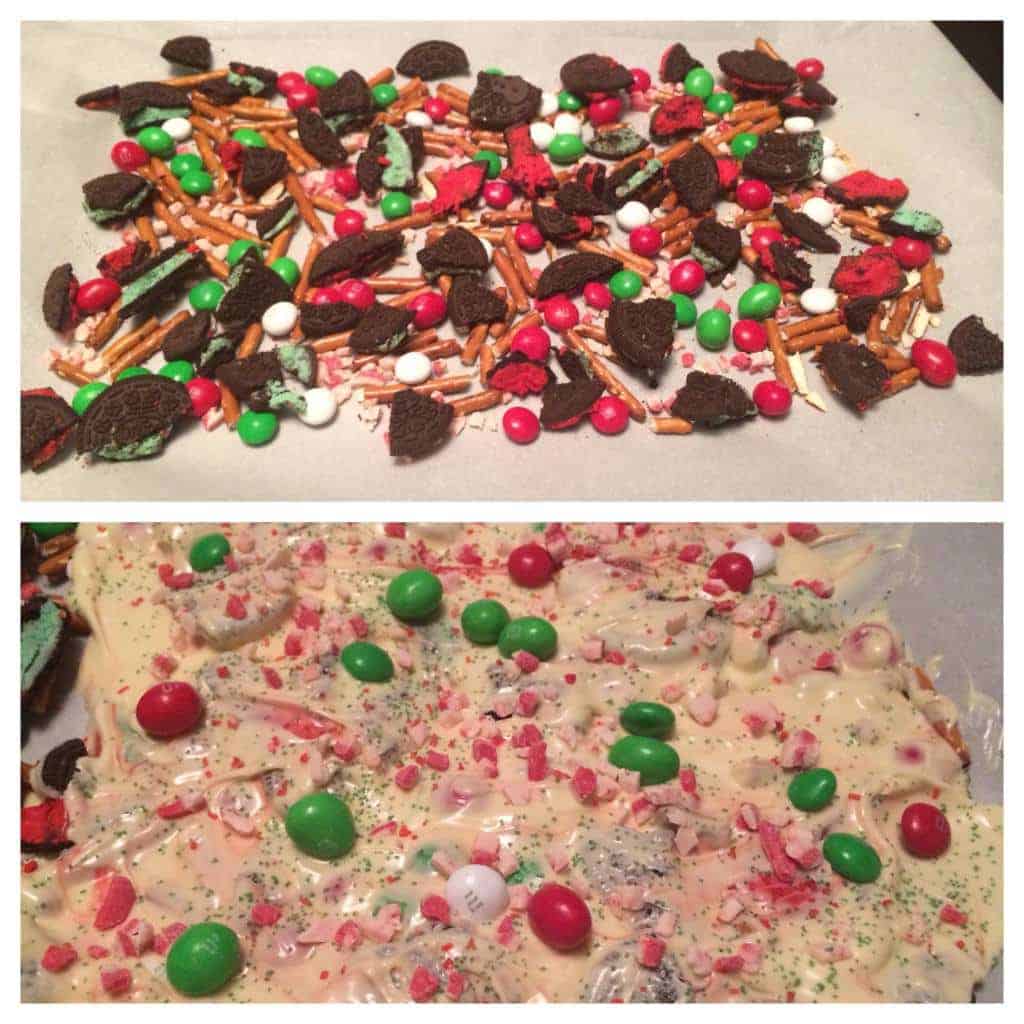 Christmas Bark
This is my favorite Christmas Bark recipe to make, share, and devour during the holidays. It's so easy to make and it's FILLED with tasty treats!
What does every self-respecting chocaholic do around the holidays? Look for ways to incorporate chocolate into every Christmas treat imaginable! And I've found a new weakness recently. Christmas Bark!
What could be better than Oreos, peppermint chips, m&ms, and pretzels all mixed together? All of those things mixed together with white chocolate. Yes, even better!
This is exactly the kind of recipe I love during the Christmas season. It's simple, it's sweet, and it's the best homemade holiday gift to give to friends and family. There are too many delicious things in it to just call it White Chocolate Oreo Peppermint Bark…M&M Pretzel Bark…too much! So Christmas Bark it is. My new favorite Christmas treat!
Everyone will love making and eating this White Chocolate Christmas Bark recipe. Enjoy!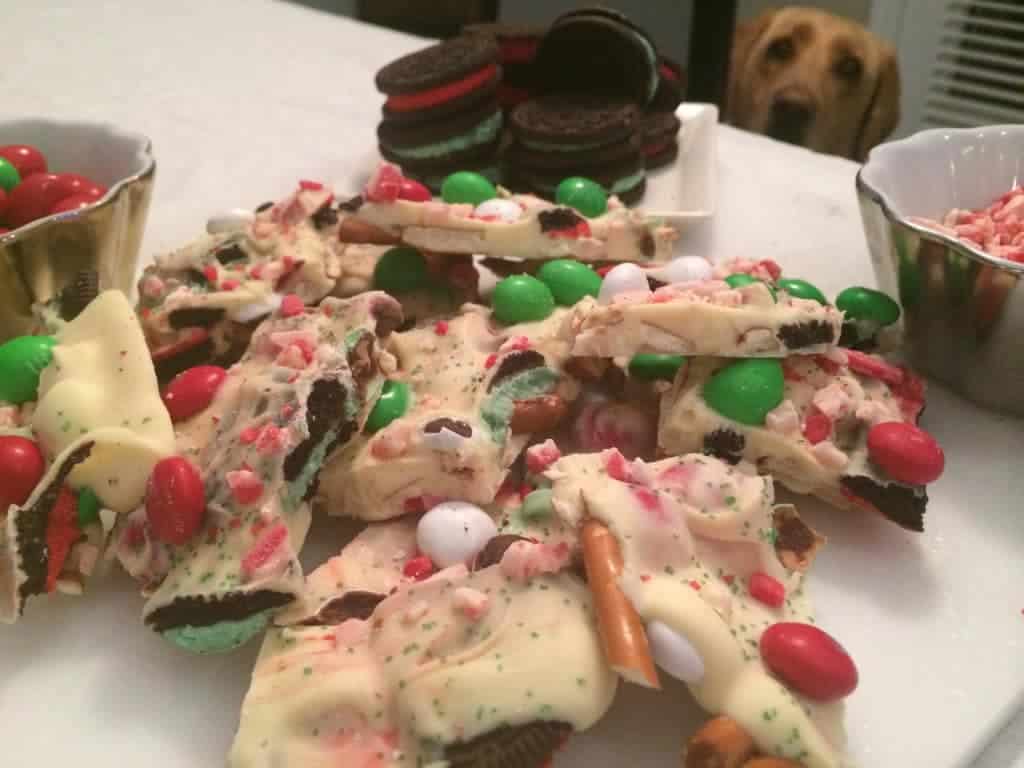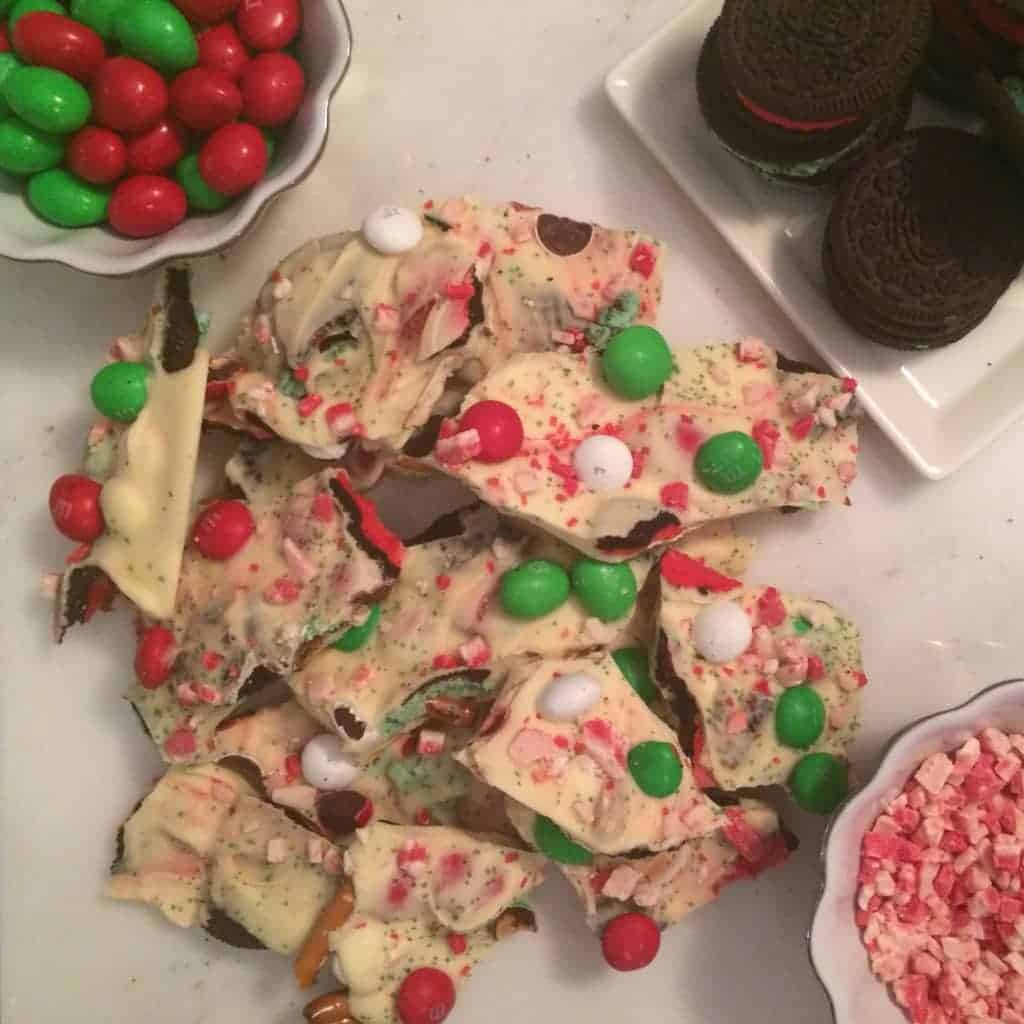 White Chocolate Oreo Peppermint Bark
The white chocolate is just so tasty with the subtle mint flavors from the candy and cookies. It's absolutely delicious!
The fun thing about chocolate bark is that you can easily make it with any flavors or ingredients you want. But here's what I used:
Peanut M&Ms
Mint M&Ms (these should be easy to find especially during the holiday season)
Pretzels (I used the little pretzel sticks)
Andes Mint Peppermint Baking Chips (any peppermint chips will do)
Red Holiday Oreos (I love these for the festive color but regular Oreos work too)
Cool Mint Oreos
Red & Green Sprinkles
Ghirardelli White Chocolate Baking Bars (I never skimp on the chocolate. Always buy the best!)
I think this Christmas bark recipe is so pretty with the fun holiday colors. So much red and green in there! This would make a great homemade gift, or a great addition to any Christmas party.
Add all of your favorite flavors into the mix! Use any flavor of M&Ms, Oreos, chocolate/baking chips, even use milk or dark chocolate instead of white chocolate if you prefer. It's so easy to make this recipe your own!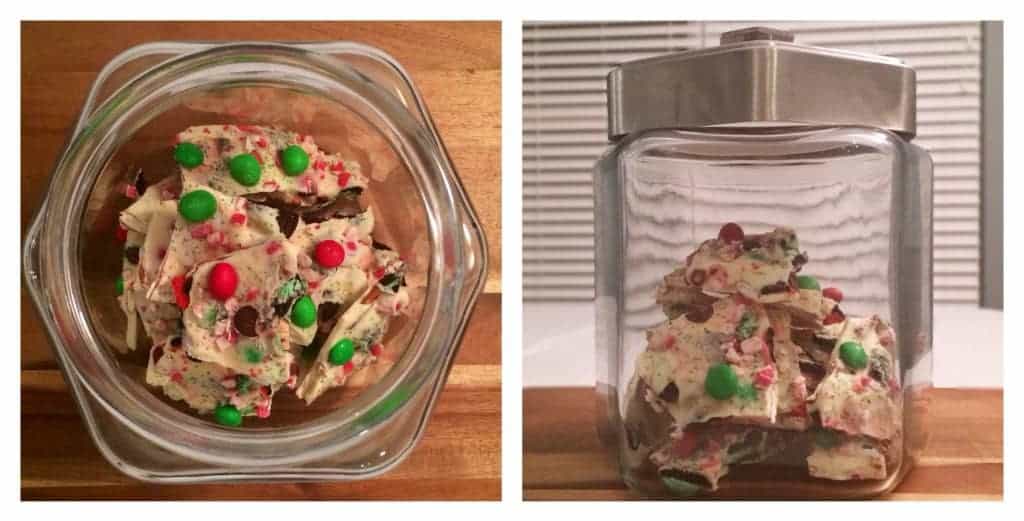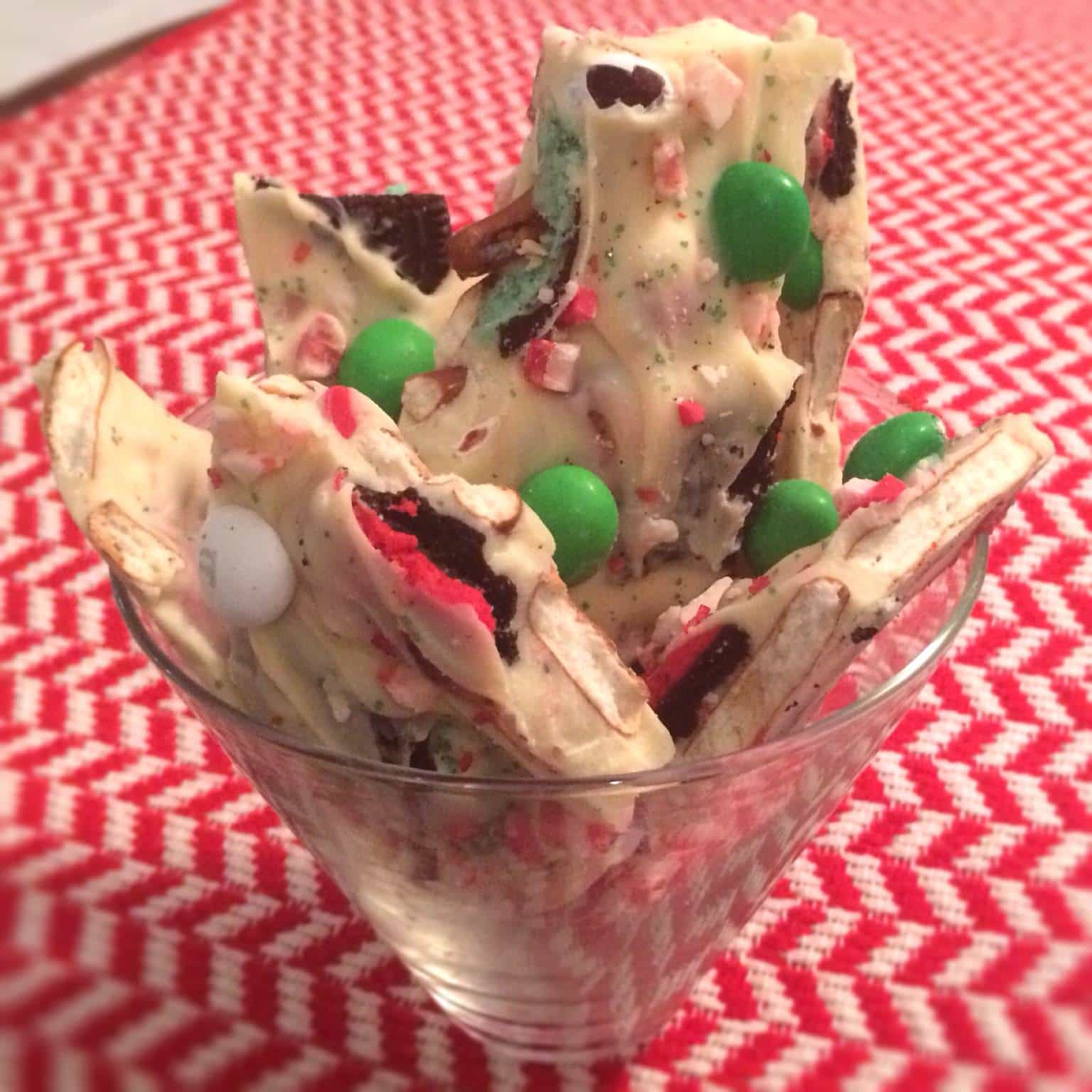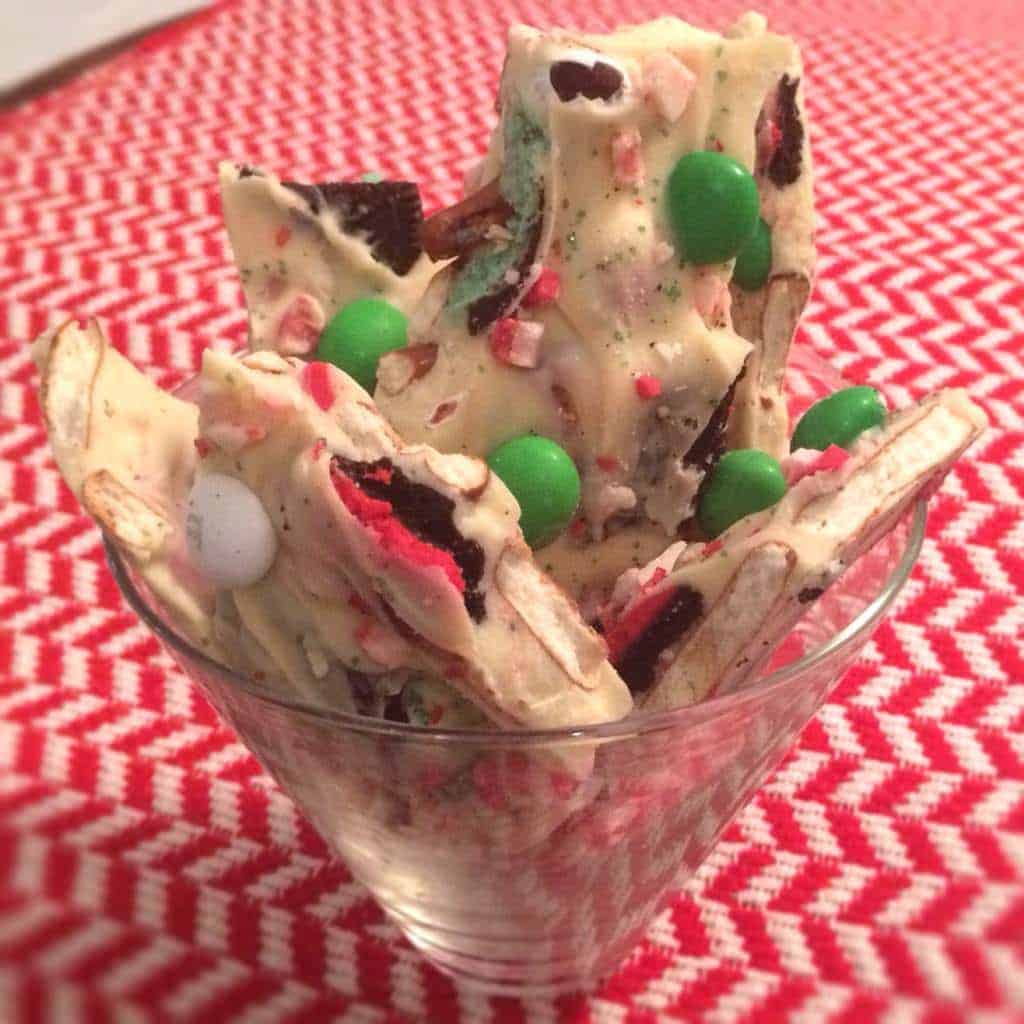 How to Melt Chocolate in the Microwave
For this recipe, you'll need to melt the white chocolate bars to pour over the candy and cookies. Here's how to melt it in the microwave:
Place chocolate in a microwave-safe container.
Microwave for about 1 1/2 minutes.
Take it out and stir the chocolate.
Then microwave for another minute until it's fully melted and smooth.
Chocolate can burn, so keep an eye on it. Give it a good stir to help everything smooth out before putting it back in to keep heating.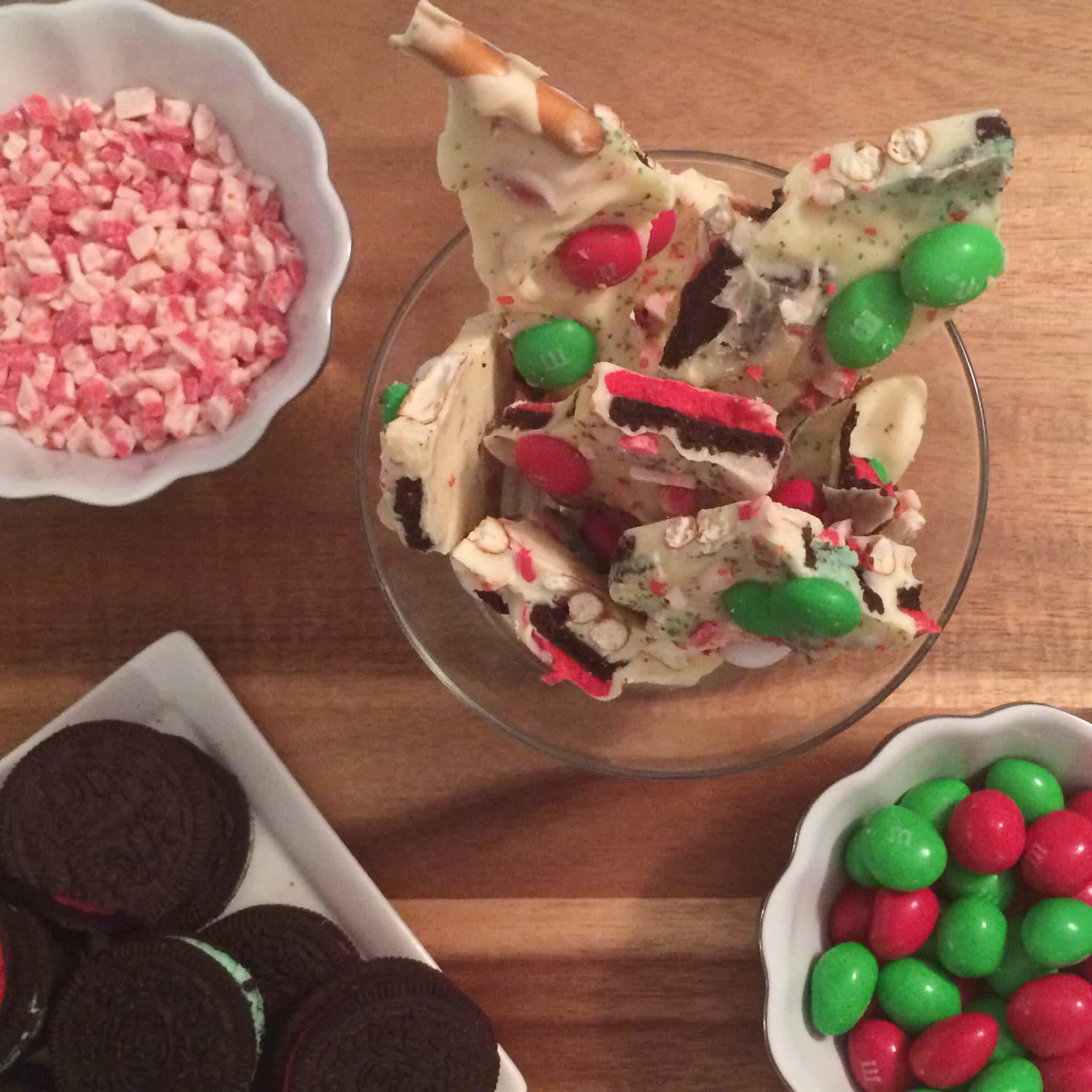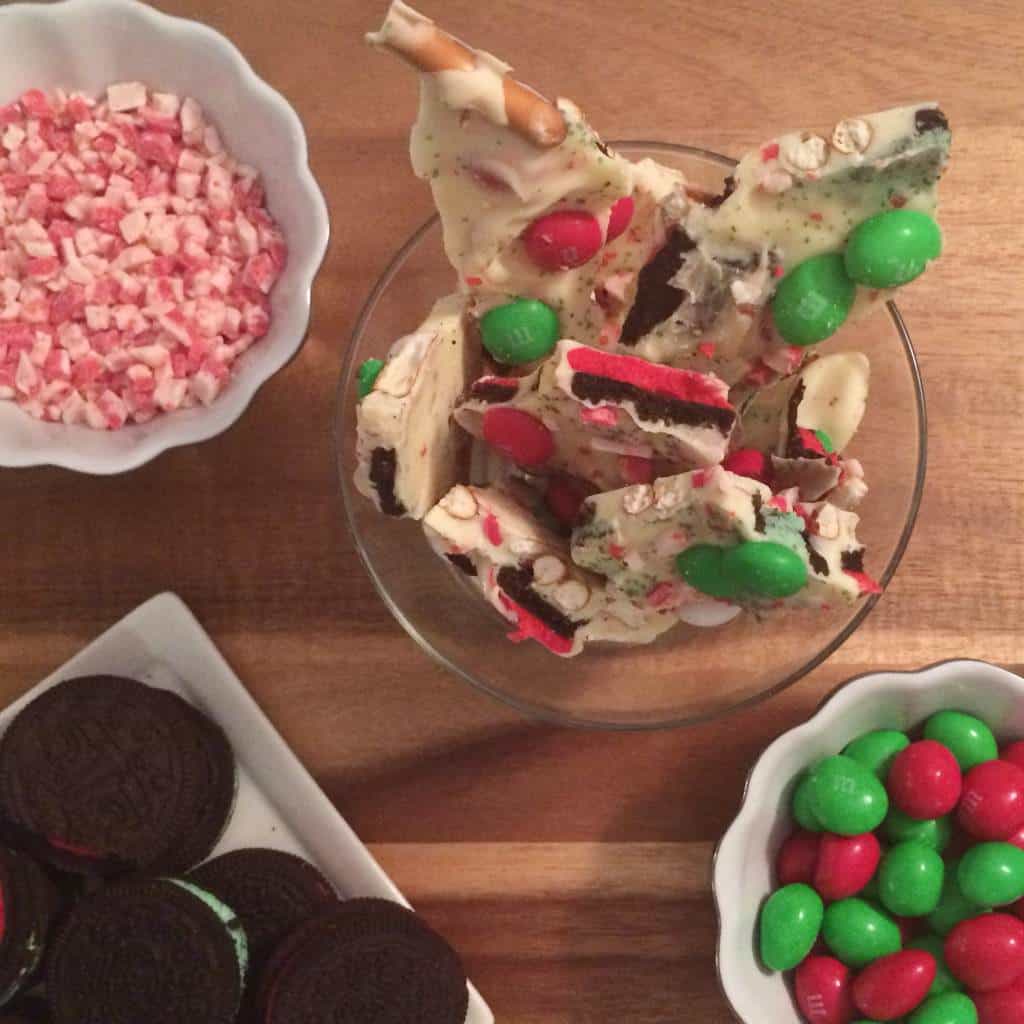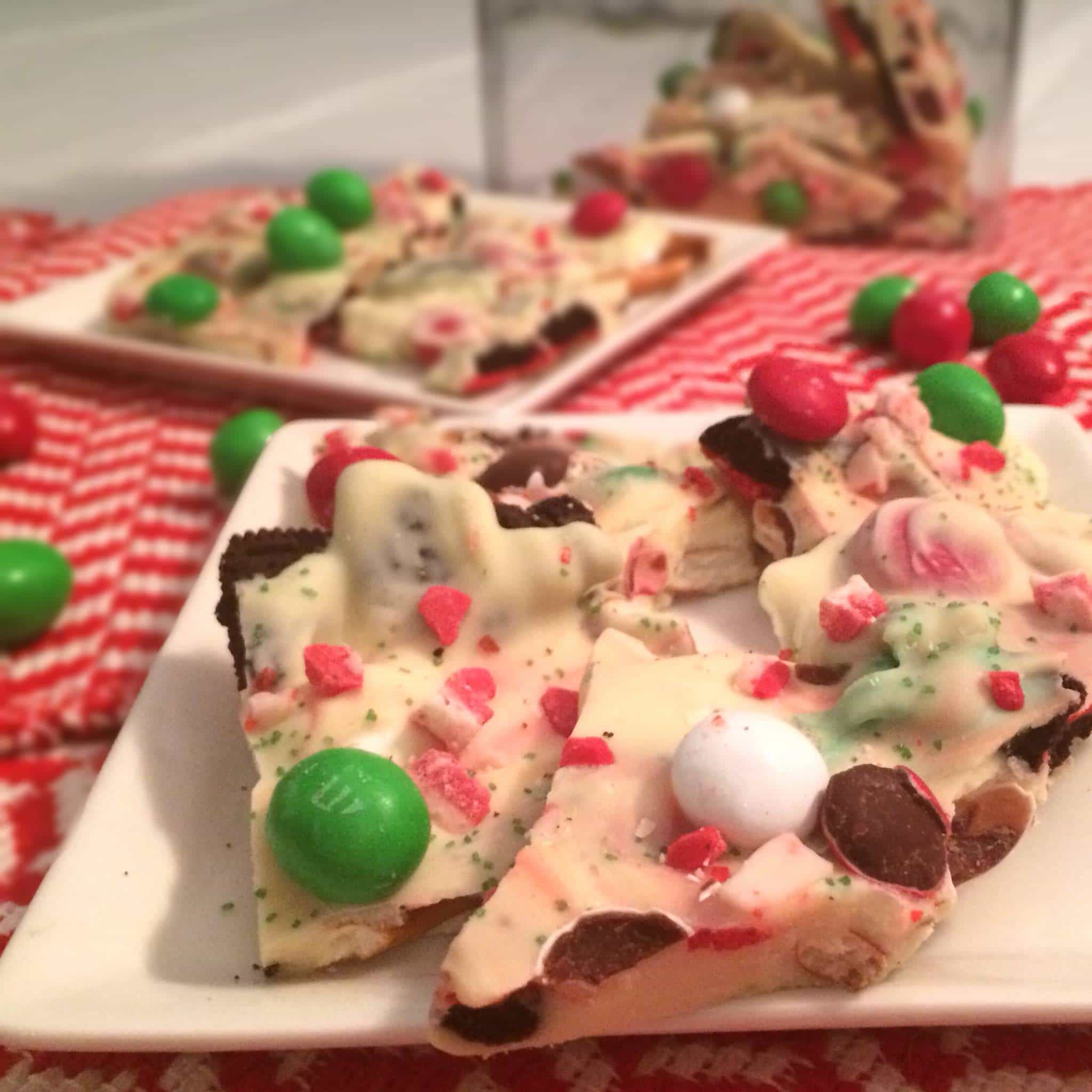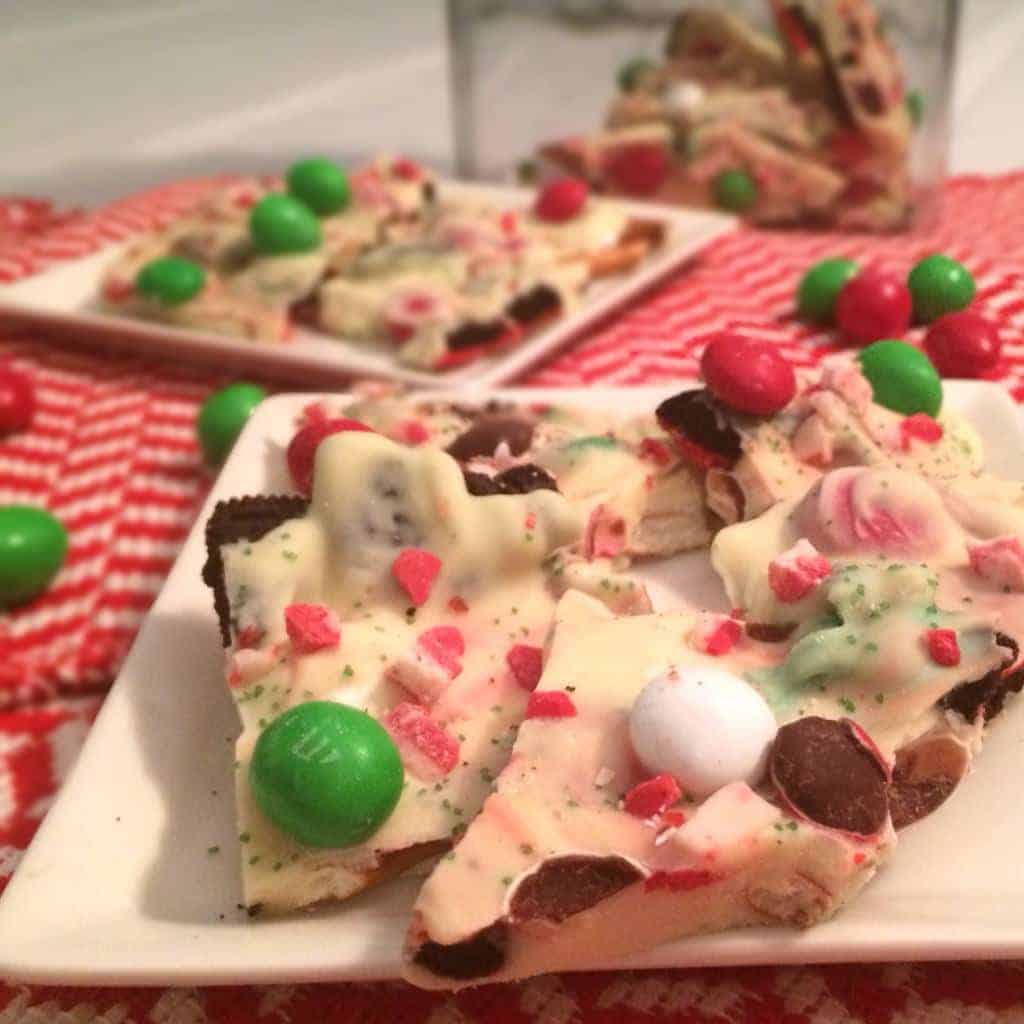 How to Make Christmas Bark
This candy peppermint bark is one of the easiest things I've ever made! I'm always surprised by how simple things can be, especially something as pretty and delicious as this.
Cover a large cookie sheet with wax paper. (Tip: I didn't have any wax paper when I first made these, so I used parchment paper and lightly sprayed it with cooking spray. LIGHTLY. I recommend wax paper but this works if you're in a jam.)

Spread broken cookies, pretzels, peppermint chips, and about 3/4 of your m&ms onto the baking sheet.

Place white chocolate in a container and microwave for 1 1/2 minutes. Stir and then microwave for another minute until melted and smooth.

Pour the melted chocolate over the cookie/candy mixture, spreading with spatula if needed to coat completely.

Sprinkle the rest of the m&m's as well as red and green sprinkles over the still melted chocolate. This won't work if it has hardened already, so do it right away.

Place the cookie sheet of bark into refrigerator until set and firm.

Once cooled, remove and gently break the bark into small pieces.
Store it in an airtight container in a cool place. Chocolate will melt (obviously) if it's kept in a spot that gets too warm, but it doesn't need to be refrigerated. It keeps for weeks, so it's the perfect thing to give to friends and family (and keep around the kitchen for snacking).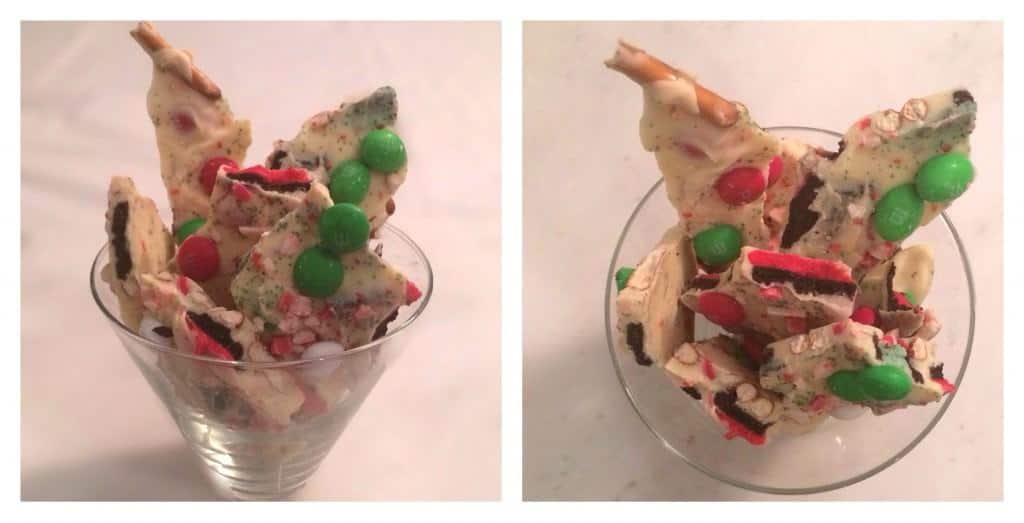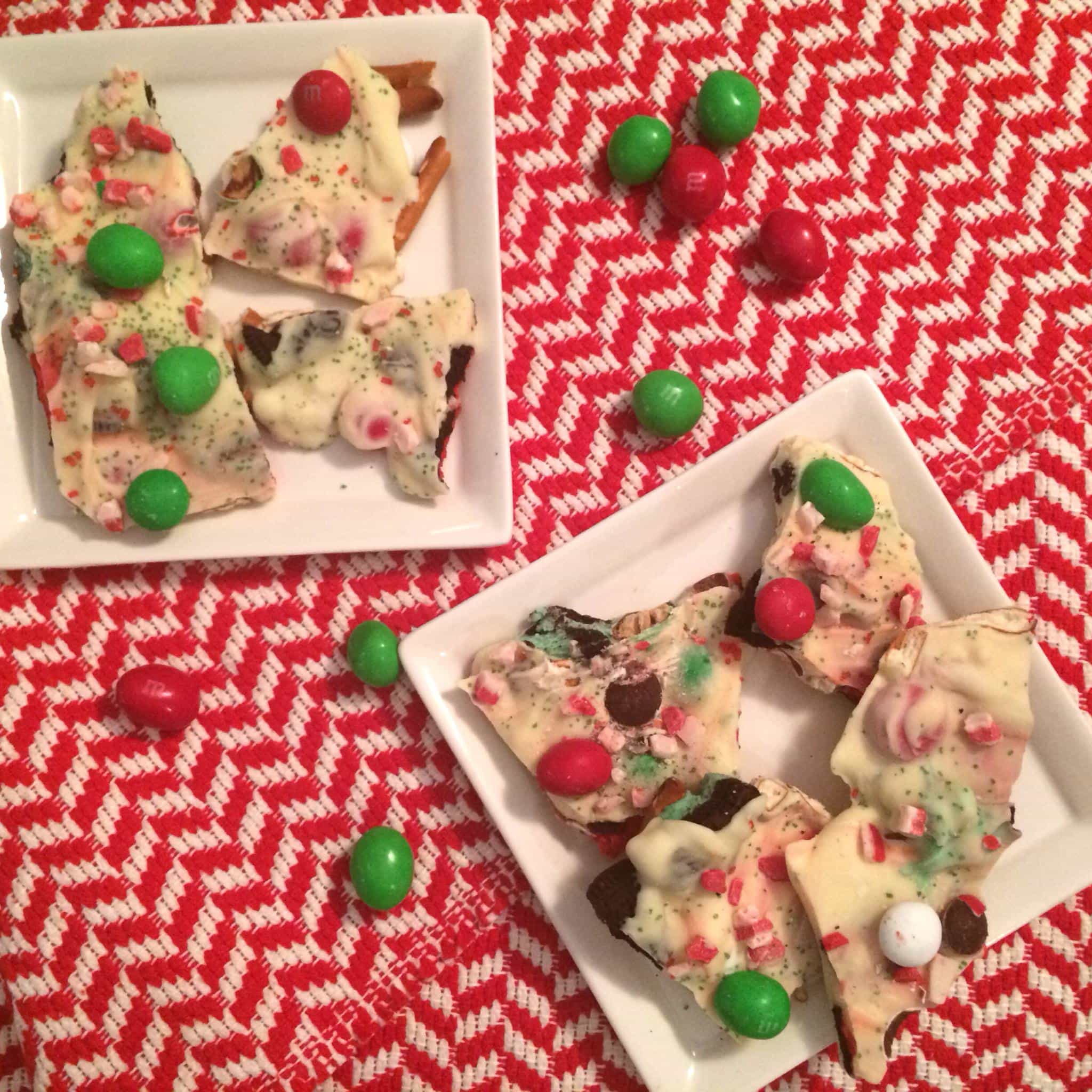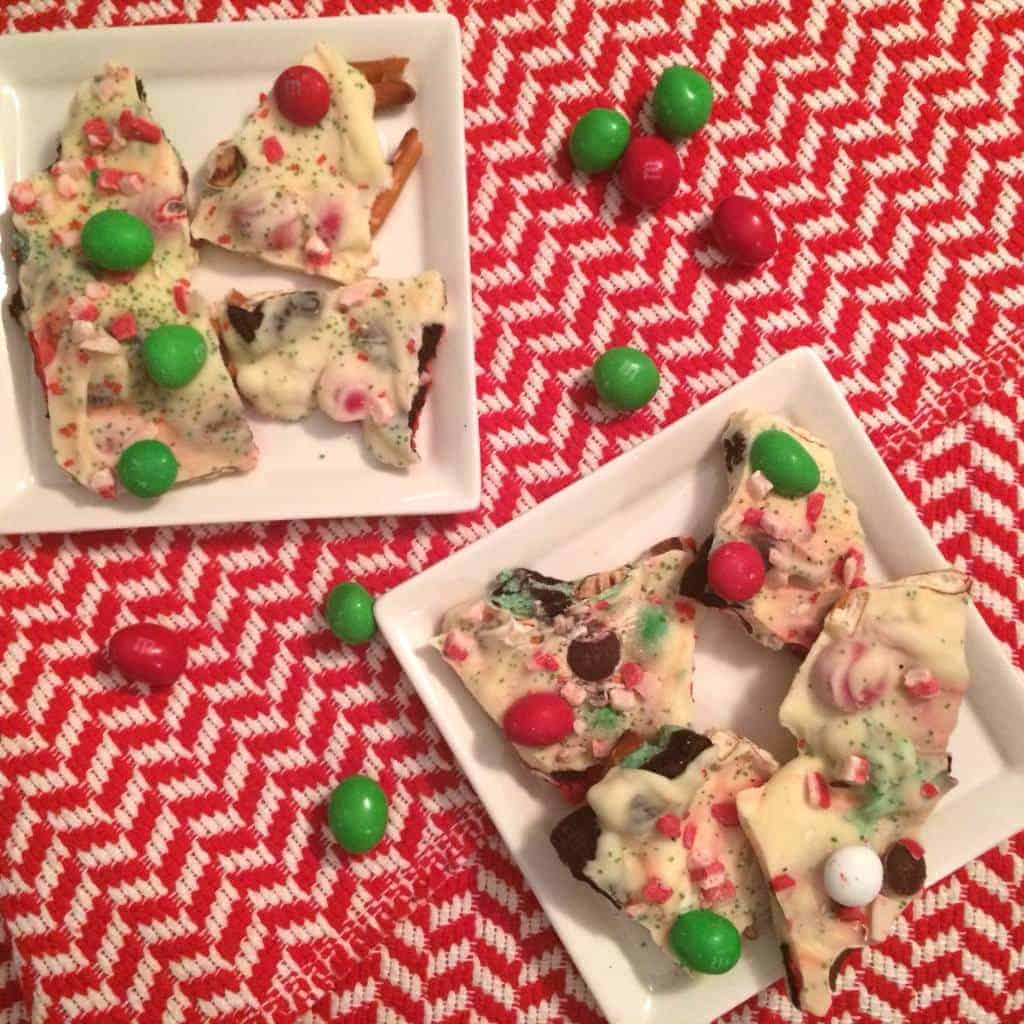 I'd love to hear about which ingredients you end up using! I want to try other flavors in the future. Peanut butter, cashews, so many options! Doesn't this Christmas Bark just make you hungry? I'm trying not to eat all of it tonight.
See the recipe card for full details on how to make Oreo Peppermint Bark for Christmas. Enjoy!
Try these other chocolate and bark recipes for the holidays:
Red White and Blue Bark
Christmas White Chocolate Lollipops