What could be better than Oreos, peppermint chips, M&M's, and pretzels all mixed together? All of those things mixed together with white chocolate. This Christmas Bark recipe makes you feel like a kid in a candy store, because there are so many sweet treats all in one spot! It's the perfect treat for the holidays, it makes a great homemade gift, and it's perfect for parties!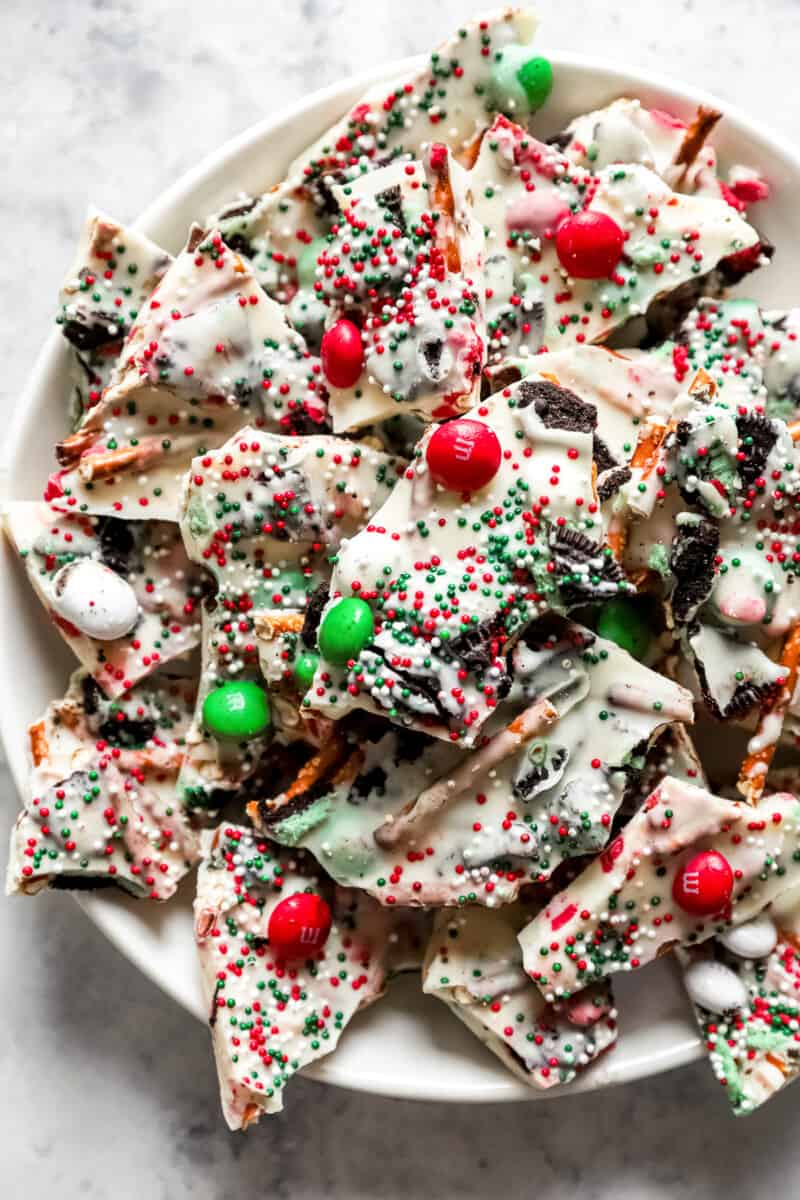 White Chocolate Peppermint Oreo Bark
Around the holidays, every self-respecting chocoholic looks for ways to incorporate chocolate into every treat imaginable. And I've found a new weakness: Christmas Bark!
When you think about it, chocolate bark is the ideal treat for someone with a sweet tooth. Take your favorite candies and snacks, and smother them with chocolate. I mean, what's not to love?
This is exactly the kind of recipe I love during the holiday season. It's simple, it's sweet, and it's the best homemade holiday gift to give to friends and family.
What makes it even more fun and festive is how cute it looks. Christmas Bark has bright holiday colors and looks just perfect for the season.
Why you'll love this Christmas Bark Recipe:
Fun and Festive: Making this candy bark recipe is almost like having an edible craft project! It always comes out looking perfectly festive!
Easy: It only takes a few minutes to melt the white chocolate, and then all you do is add in the extra treats. Super easy, even the kids can help.
Customizable: You choose which treats you want to put in the bark. I have a list of suggestions below, but it's totally up to you. I suggest keeping the add-ins small in size, so they're easier to eat.
Everyone will love making and eating this White Chocolate Christmas Bark recipe!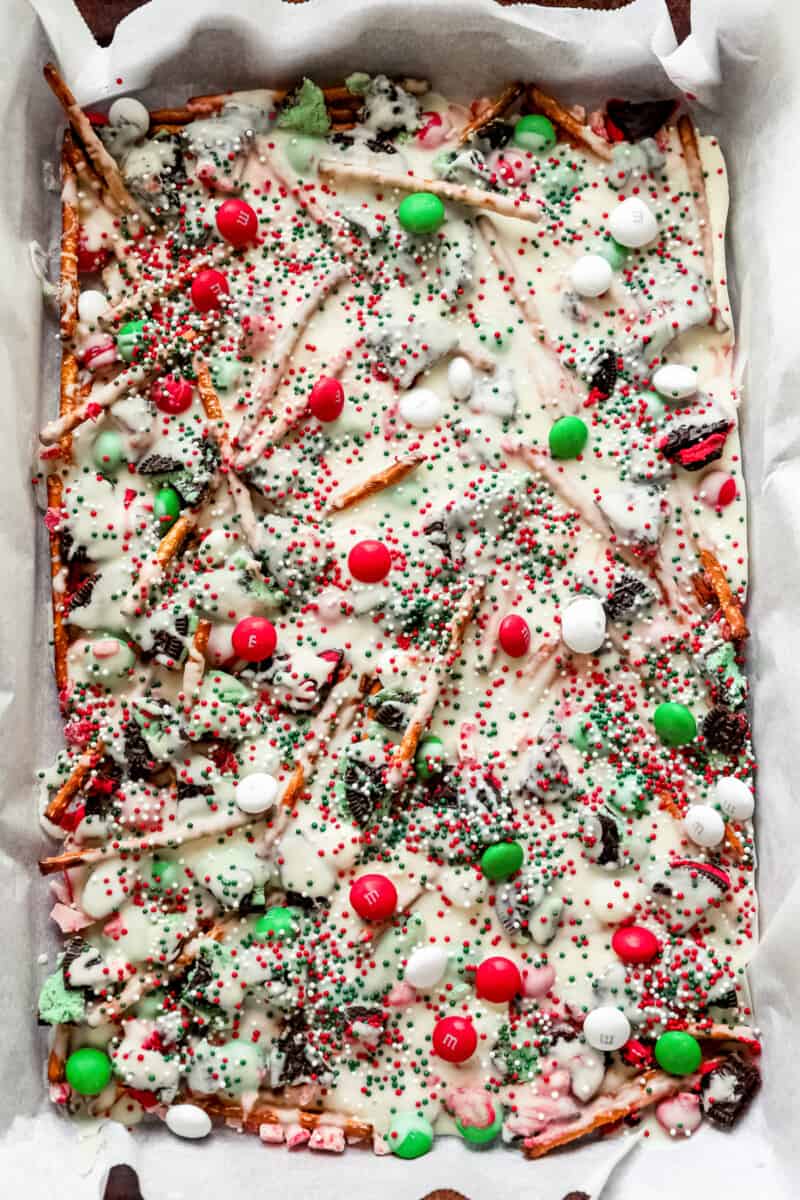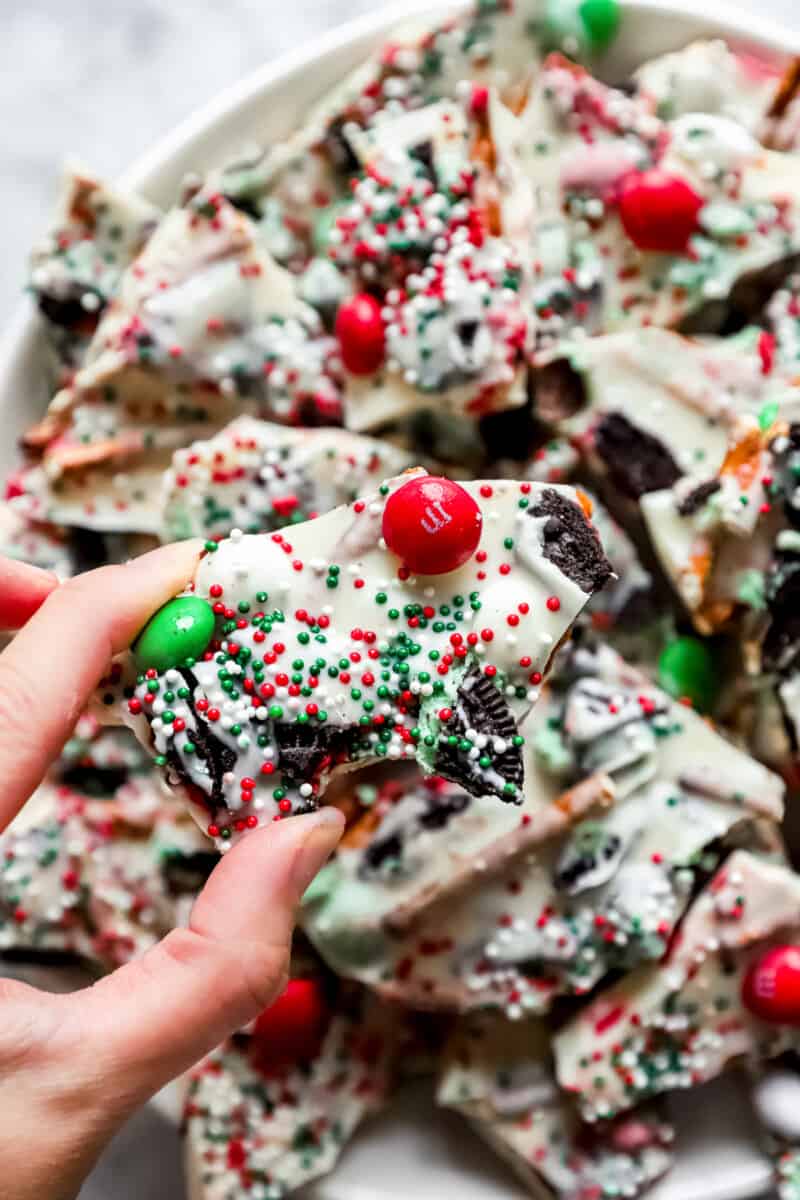 Ingredients
Use what you like or have on hand, but here are some suggestions for the most festive Christmas bark.
M&Ms: use the red and green holiday M&Ms, mint-flavored ones (easier to find during the holidays), or mix in peanut/peanut butter M&Ms. Any kind you like is fine!
Pretzels: Small pretzel sticks are the easiest to work with when making chocolate bark.
Andes Peppermint Baking Chips
Oreos: the holiday Oreos with red filling are extra festive, and mint Oreos are perfect for extra minty flavor. But regular or vanilla are just as good!
Sprinkles: keep it simple with red and green sprinkles, or use any you like.
White Chocolate: I prefer Ghirardelli white chocolate baking bars for the best quality and result. These are perfect for melting. You can make this with milk chocolate too, if you prefer.
Trademark Note: In the spirit of transparency, I want to note that some of these ingredients are trademarked products. Oreos, M&M's, Andes Mints, and Ghirardelli Chocolates are proprietary brands that I want to acknowledge and give credit to.
How to Make Christmas Bark
You can jump to the recipe card for full ingredients & instructions!
Prep a baking sheet and then spread out the add-ins.
Melt white chocolate in the microwave.
Pour the melted chocolate over the cookie/candy mixture.
Sprinkle the rest of the M&M's and sprinkles.
Chill until set and firm.
Once cooled, remove and gently break apart.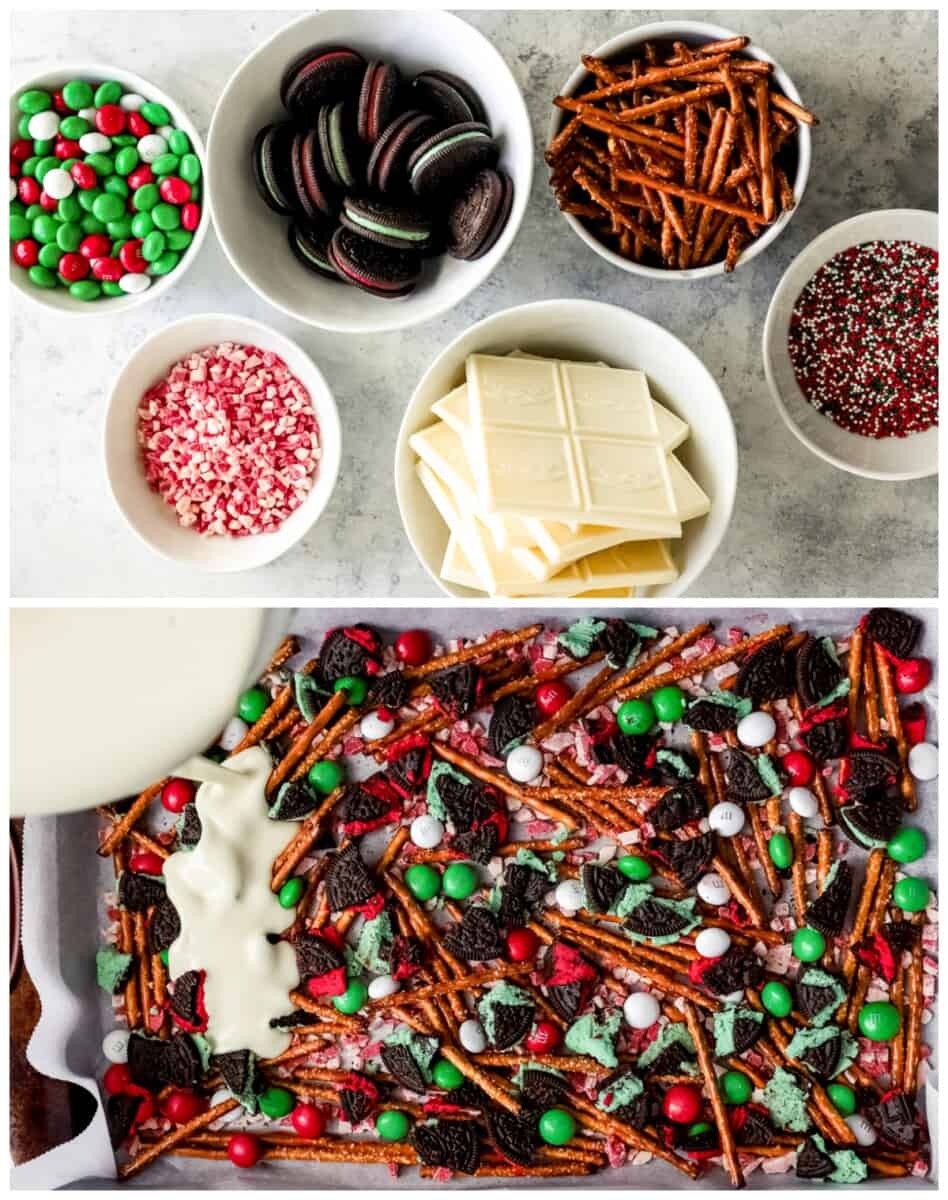 Why is it called bark?
When you see the irregularly-shaped pieces of chocolate bark, you realize it kind of resembles large pieces of tree bark. It's as simple as that!
How long does Christmas bark keep?
Store in an airtight container at room temp or in a cool place. It will keep for 2-3 weeks!
Can you freeze chocolate bark?
Yes! After the chocolate has fully cooled and been broken into pieces, place it in a freezer-safe container. It helps to arrange pieces in layers, separated by wax paper. Freeze up to 2 months. It can thaw in the fridge or at room temp.
Do you need to refrigerate chocolate bark?
Of course the chocolate will melt if it's kept in a spot that gets too warm, but it doesn't need to be refrigerated. Room temperature, or a cool, dry place (like your pantry), is fine. However, storing it in the refrigerator will keep the chocolate chilled and crisp, so it's up to you!
This Oreo Peppermint White Chocolate bark is one of the easiest things I've ever made! And when the holidays have you stressing more than usual, easy recipes are very good!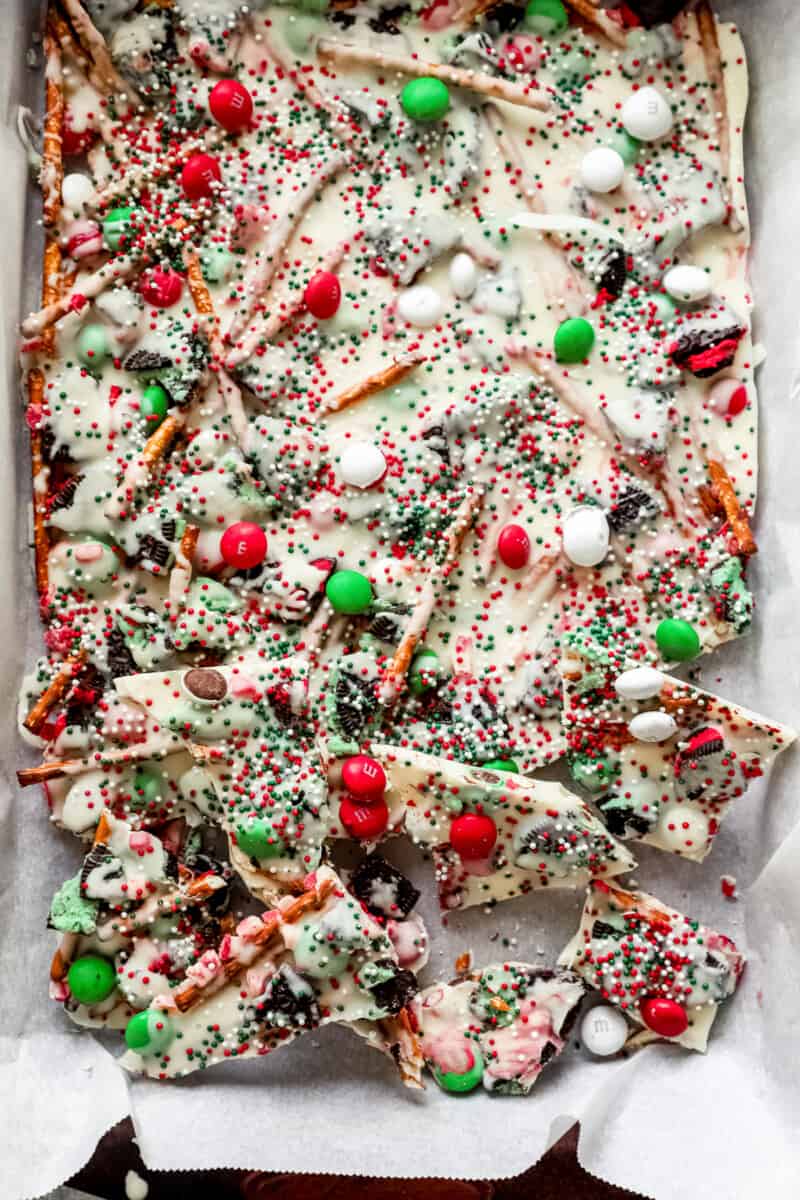 Tips!
Feel free to swap in different candies and toppings as you like. Regular Oreos or M&Ms work fine in place of the mint and holiday versions!
Wax paper works best for this recipe, but if you don't have any, spray parchment paper with non-stick spray for best results.
Make space in your fridge for a full baking sheet. Christmas bark will need at least an hour in the fridge to set!
This makes a great holiday gift! Whip up a batch, break the bark into pieces, and separate into tins or containers lined with wax paper. Perfect to bring to work or Christmas parties.
How do you melt chocolate in the microwave?
To make bark, you'll need to melt the white chocolate to pour over the candy and cookies. Here's how to melt it in the microwave:
Place unwrapped chocolate in a microwave-safe container. Break the bars into smaller pieces.
Microwave on medium power for about 1½ minutes.
Take it out and stir the chocolate.
Then microwave for another minute until it's fully melted and smooth.
Chocolate can burn, so keep an eye on it. Give it a good stir to help everything smooth out before putting it back in to keep heating. If it hardens while you're still pouring, pop back into the microwave.
How do you cut chocolate bark into pieces?
The great thing about this chocolate treat is that imperfections are more than welcome! Breaking up chocolate bark is meant to create pieces of varying shapes and sizes.
Make sure the chocolate has fully set before you handle it to start breaking it up. But you can simply use your hands to break off pieces, or use a butter knife (or another utensil) to help crack pieces.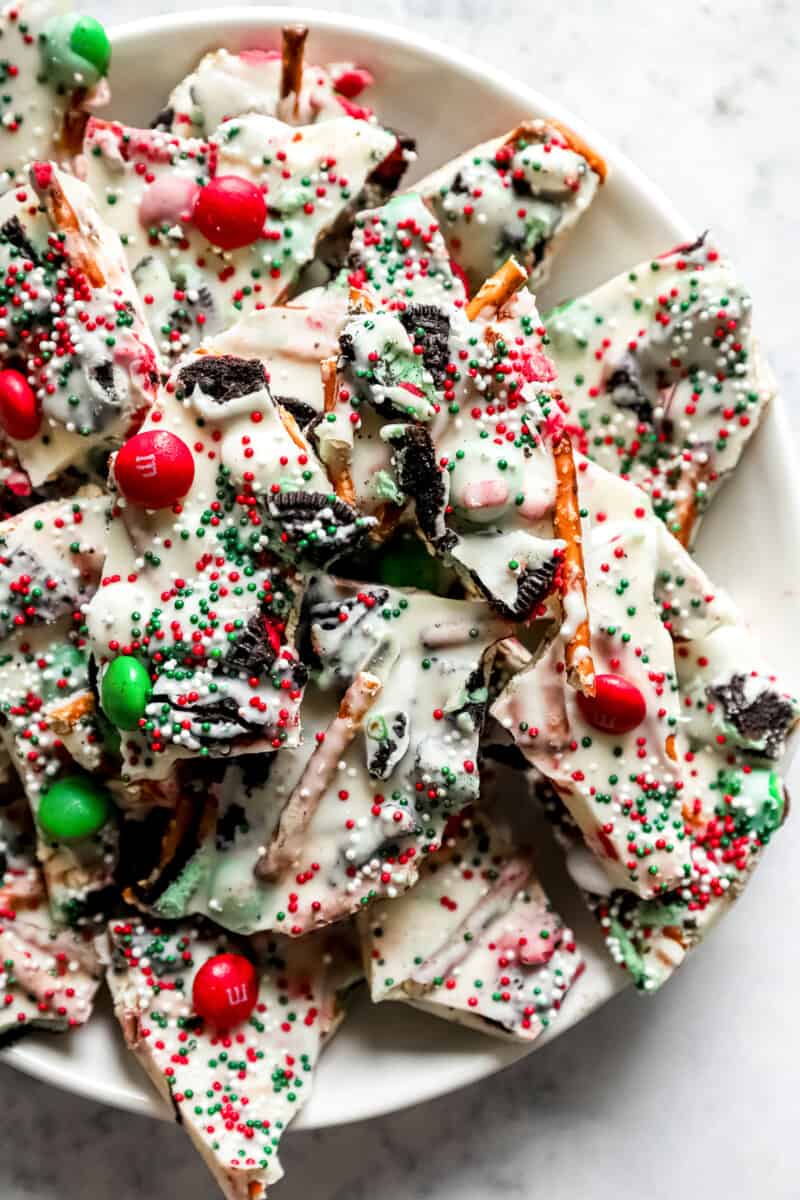 This white chocolate Christmas bark recipe has become a family favorite over the years. No holiday season goes by without it, and I'm sure your family will love it too! Make this festive treat and enjoy.
If you make this recipe be sure to upload a photo in the comment section below or leave a rating. Enjoy!