What could be better than Oreos, peppermint chips, M&M's, and pretzels all mixed together? All of those things mixed together with white chocolate! This Christmas Bark recipe makes you feel like a kid in a candy store because there are so many sweet treats all in one spot! It's the perfect holiday treat, makes a great homemade gift, and is perfect for parties!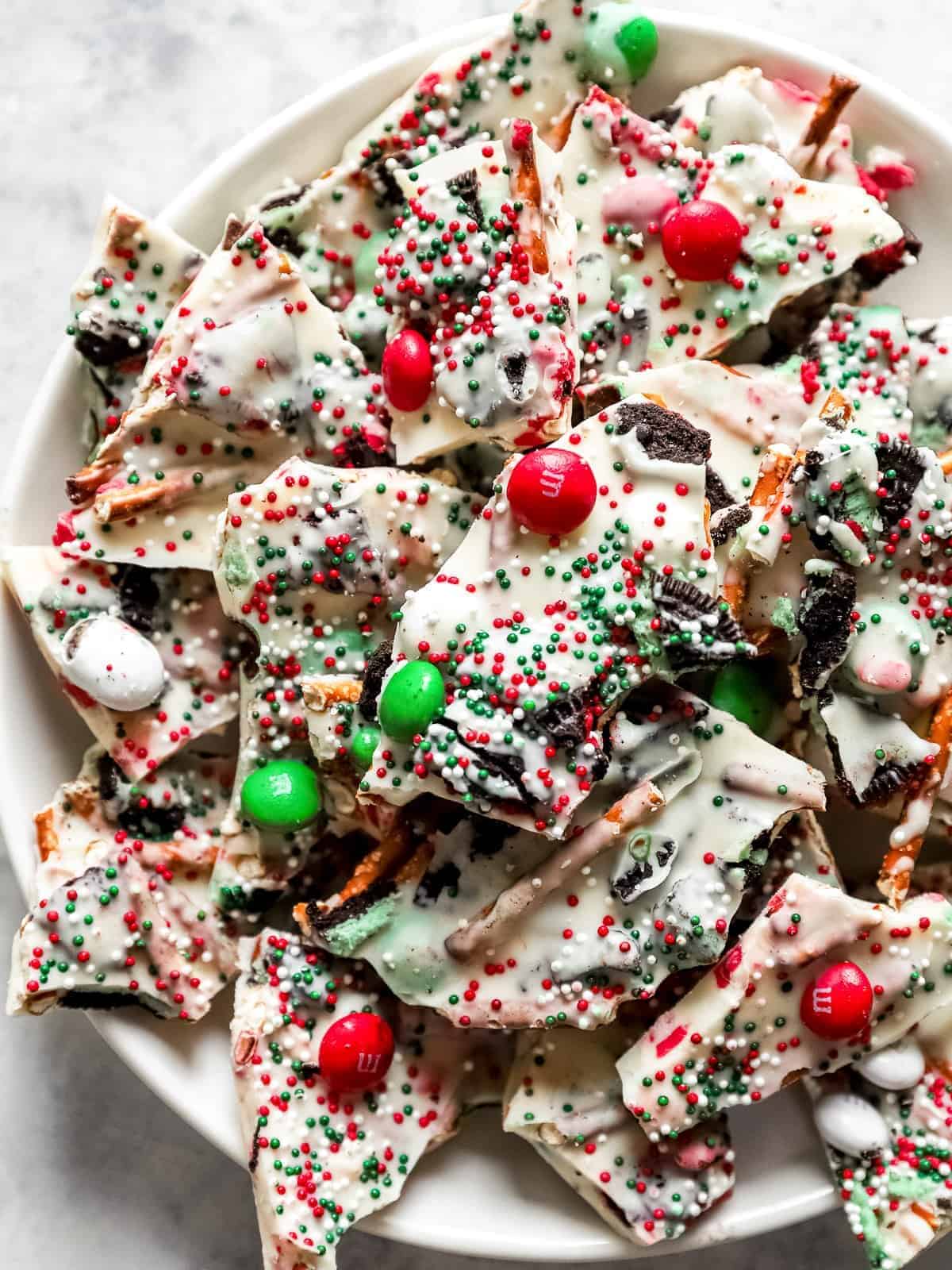 Why We Love This Christmas Bark Recipe
This white chocolate Christmas bark recipe has become a family favorite over the years. No holiday season goes by without it, and I'm sure your family will love it too! Use what you like or have on hand.
Variations on Christmas Pretzel Bark
The great thing about this recipe is that it's so easy to adapt to whatever ingredients you have on hand. You can use milk, dark, or semi-sweet chocolate instead of white chocolate and any flavor baking chips you like or have on hand. Any flavor of Oreo works, or try a different cookie altogether like Biscoff. Add crushed candy canes, candied nuts, dried cranberries, or even marshmallows!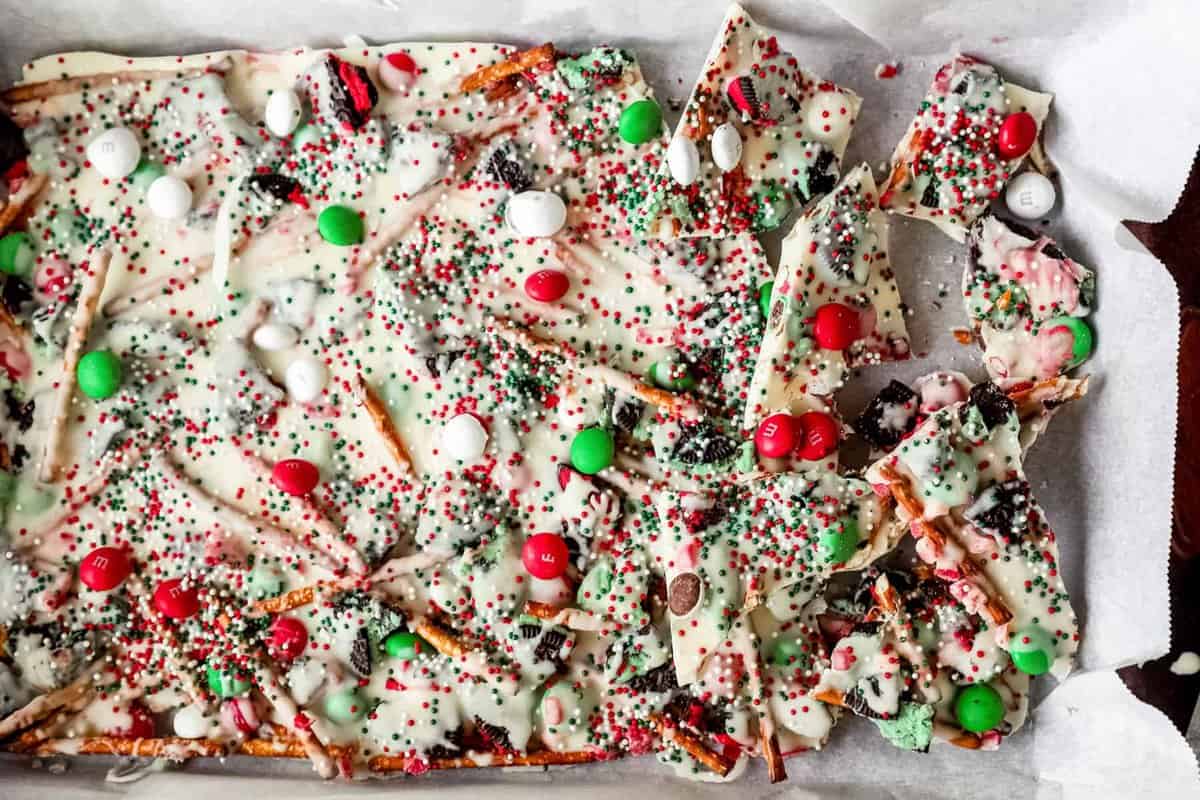 How to Store
Store leftover Christmas bark in an airtight container at room temperature for 2-3 weeks. Keep away from excess heat or moisture.
How to Freeze
Freeze Christmas bark in single layers separated with wax paper in an airtight container for up to 2 months. Let thaw overnight in the refrigerator or at room temperature.
Serving Suggestions
Serve this homemade Christmas bark with homemade eggnog, slow cooker gingerbread lattes, slow cooker peppermint hot chocolate, or peppermint mudslides and other festive snacks, like Christmas sugar cookies, Gardetto's snack mix, Chex Mix, reindeer food, rum balls, hot buttered cheerios, buckeye candies, crockpot turtle candy, or white chocolate haystacks.
Why is bark candy called bark?
When you see the irregularly-shaped pieces of chocolate bark, you realize it kind of resembles large pieces of tree bark. It's as simple as that!
How long does Christmas bark keep?
Store in an airtight container at room temp or in a cool place. It will keep for 2-3 weeks!
How do you cut chocolate bark into pieces?
Make sure the chocolate has fully set before you handle it to start breaking it up. But you can simply use your hands to break off pieces, or use a butter knife (or another utensil) to help crack pieces.
Does bark need to be refrigerated?
Of course the chocolate will melt if it's kept in a spot that gets too warm, but it doesn't need to be refrigerated. Room temperature, or a cool, dry place (like your pantry), is fine. However, storing it in the refrigerator will keep the chocolate chilled and crisp, so it's up to you!
Why won't my chocolate bark harden?
This recipe is pretty foolproof since we're using baking chips and baking bars, which are already tempered. But if your chocolate isn't hardening up after an hour in the fridge, it's likely that it needs to be re-tempered. Follow this guide to chocolate tempering to re-temper the chocolate.
Can you freeze chocolate bark?
Yes! After the chocolate has fully cooled and been broken into pieces, place it in a freezer-safe container. It helps to arrange pieces in layers, separated by wax paper. Freeze up to 2 months. It can thaw in the fridge or at room temp.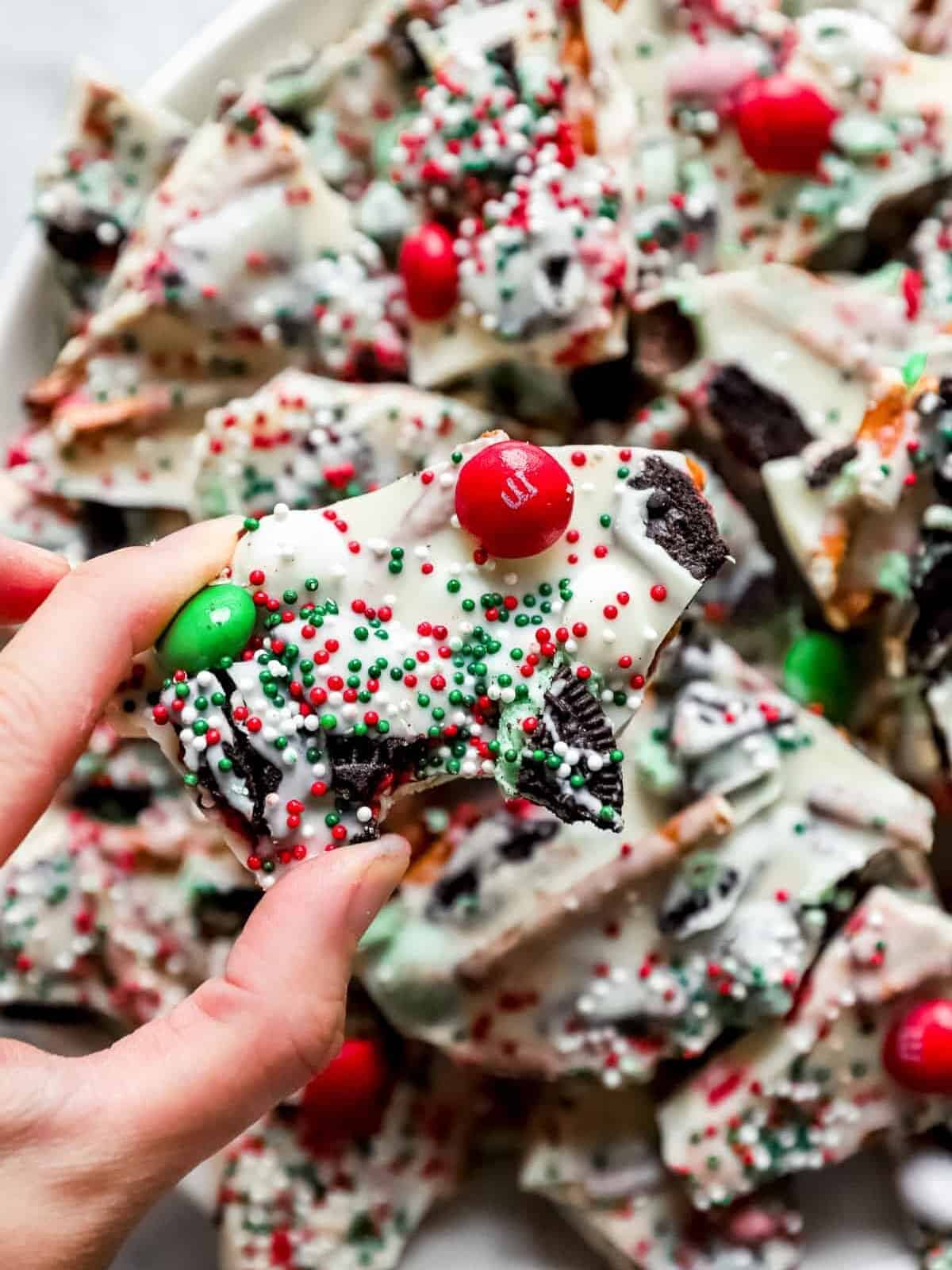 More Bark and Toffee Recipes To Try