Bacon Wrapped Turkey Breast is the perfect centerpiece for your Thanksgiving meal. This turkey breast is perfectly cooked and wrapped in crispy bacon, making it juicy, succulent, and tender. It's easy to prep and it's sure to please your guests this year!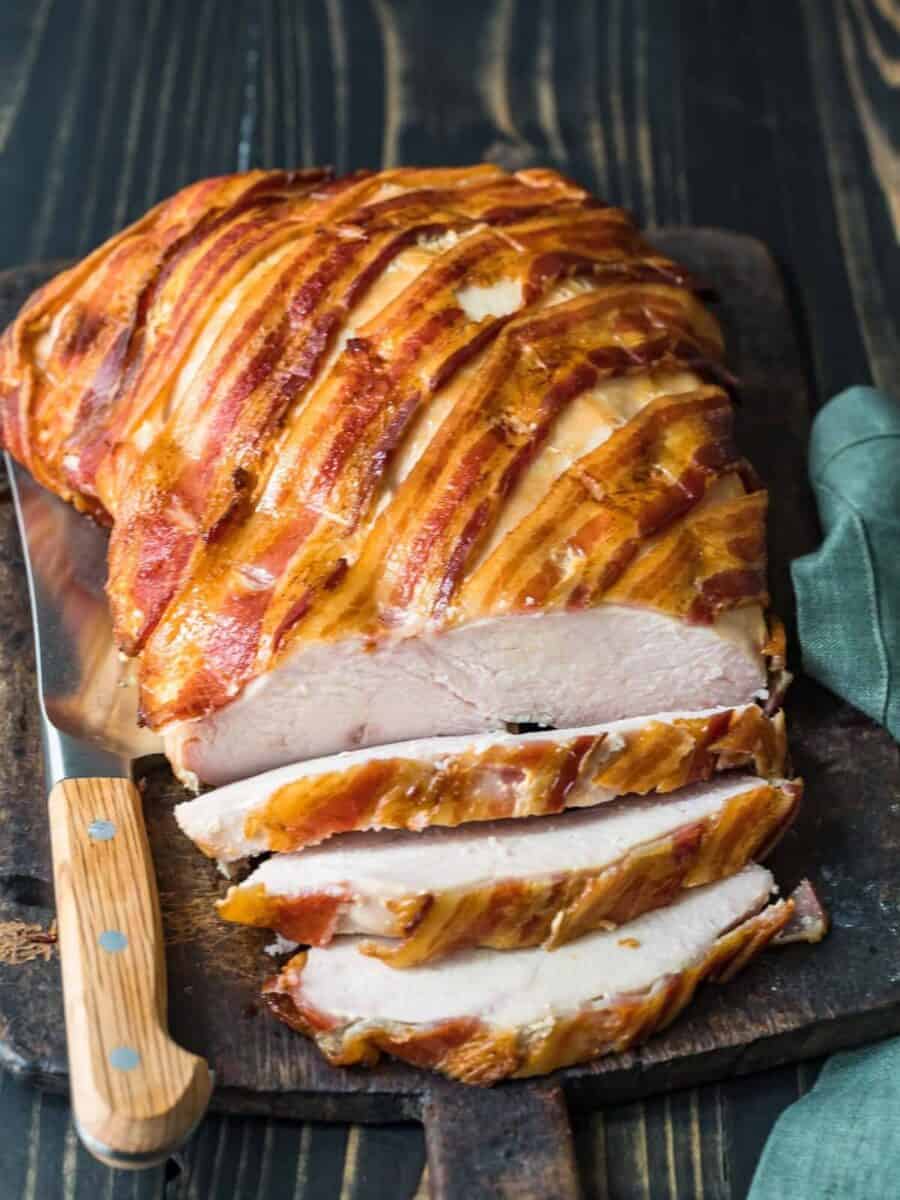 Why We Love this Bacon Wrapped Turkey Breast Recipe
Easy. Simply place the turkey on a cutting board and wrap the strips of bacon around it (or as much as you can), one right next to the other. Use toothpicks to secure the bacon directly into the turkey.
Juicy. Besides the fact that it's delicious, the layer of bacon actually helps to keep the turkey moist while roasting in the oven. It's like an extra layer of protection for extra juiciness!
Bacon-y. I'm kind of obsessed with wrapping things in bacon around here. Bacon Wrapped Shrimp, Bacon Wrapped Asparagus, Bacon Wrapped Pork Tenderloin… I just really love bacon! So it seemed only fitting that I'd try covering turkey breast in bacon too, and it turned out perfectly!
Variations on Turkey Breast Wrapped in Bacon
You can add other flavorful ingredients to the brine, like fresh herbs or garlic. You can also use smoked or seasoned bacon to add even more flavor. Try adding wrapping your turkey in my favorite sweet and spicy bacon!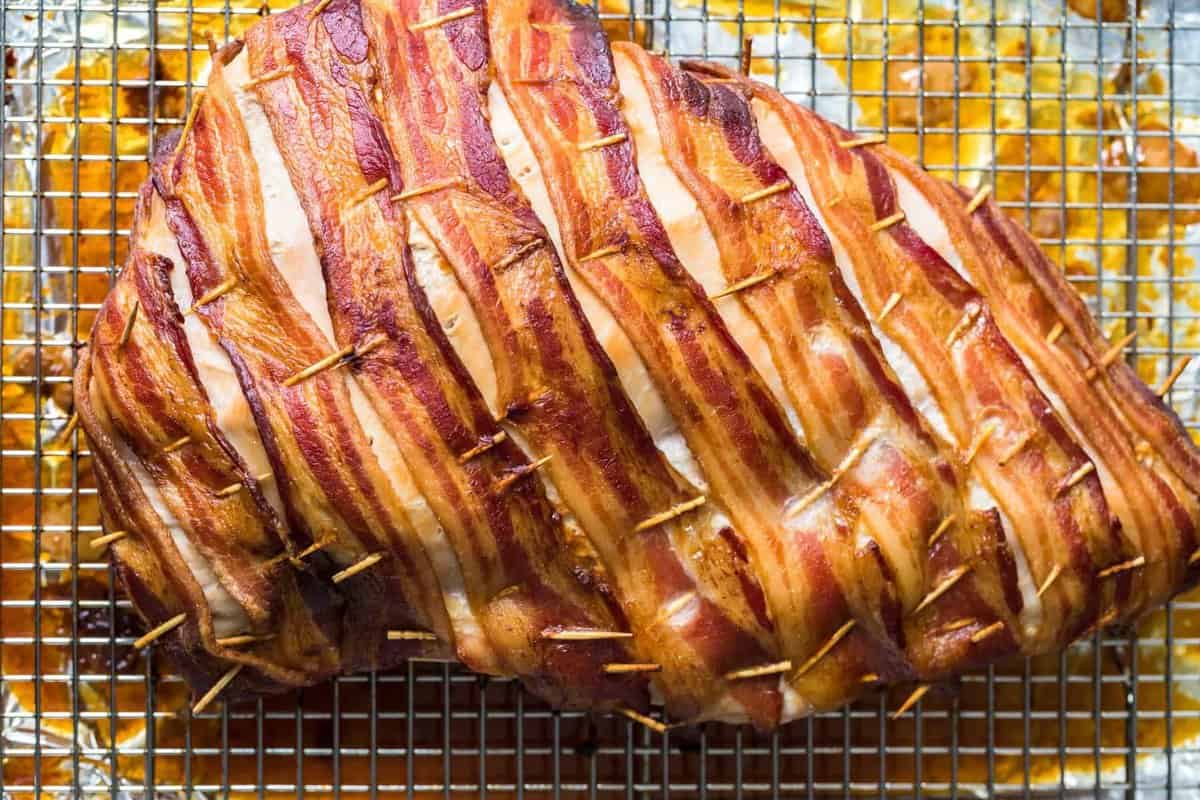 How to Store and Reheat
Store leftover bacon wrapped turkey breast in an airtight container in the refrigerator for up to 3 days. Reheat in a 350°F oven or in the microwave in 30-second increments until warmed through.
How to Freeze
Freeze bacon wrapped turkey breast in an airtight container or Ziplock bag for up to 3 months. Let thaw overnight in the refrigerator before reheating.
Serving Suggestions
This delicious Thanksgiving centerpiece should be accompanied by all of your usual and favorite side dishes, like Sheet Pan Scalloped Potatoes, Brussels Sprouts Gratin with Bacon, Crunchy Sweet Potato Casserole with Pecan Topping, Best Herb Roasted Potatoes (Simple Seasoned Potatoes), or Honey Glazed Carrots Recipe with Ginger.
Why serve turkey breast at Thanksgiving?
It can be a hassle cooking a whole turkey on Thanksgiving. Timing is everything and it can be really easy to under- or over-cook parts of it. A turkey breast cooks much more evenly and it's a great option if you don't have a big crowd to cater for.
Should I use fresh or frozen turkey breast?
Generally speaking, there is no quality difference between fresh or frozen turkey breast. Just remember to allow enough time for your turkey to thaw before brining it.
Should I roast turkey breast covered or uncovered?
There's no need to cover it with this recipe.
Can I cover it with bacon ahead of time?
You certainly can if you prefer. Wrap it then keep it refrigerated until it's time to cook. However, keep in mind that you'll be brining it first, and that requires up to 24 hours ahead of time as well. But if you are prepared a couple days before cooking, then you certainly can wrap it the night before.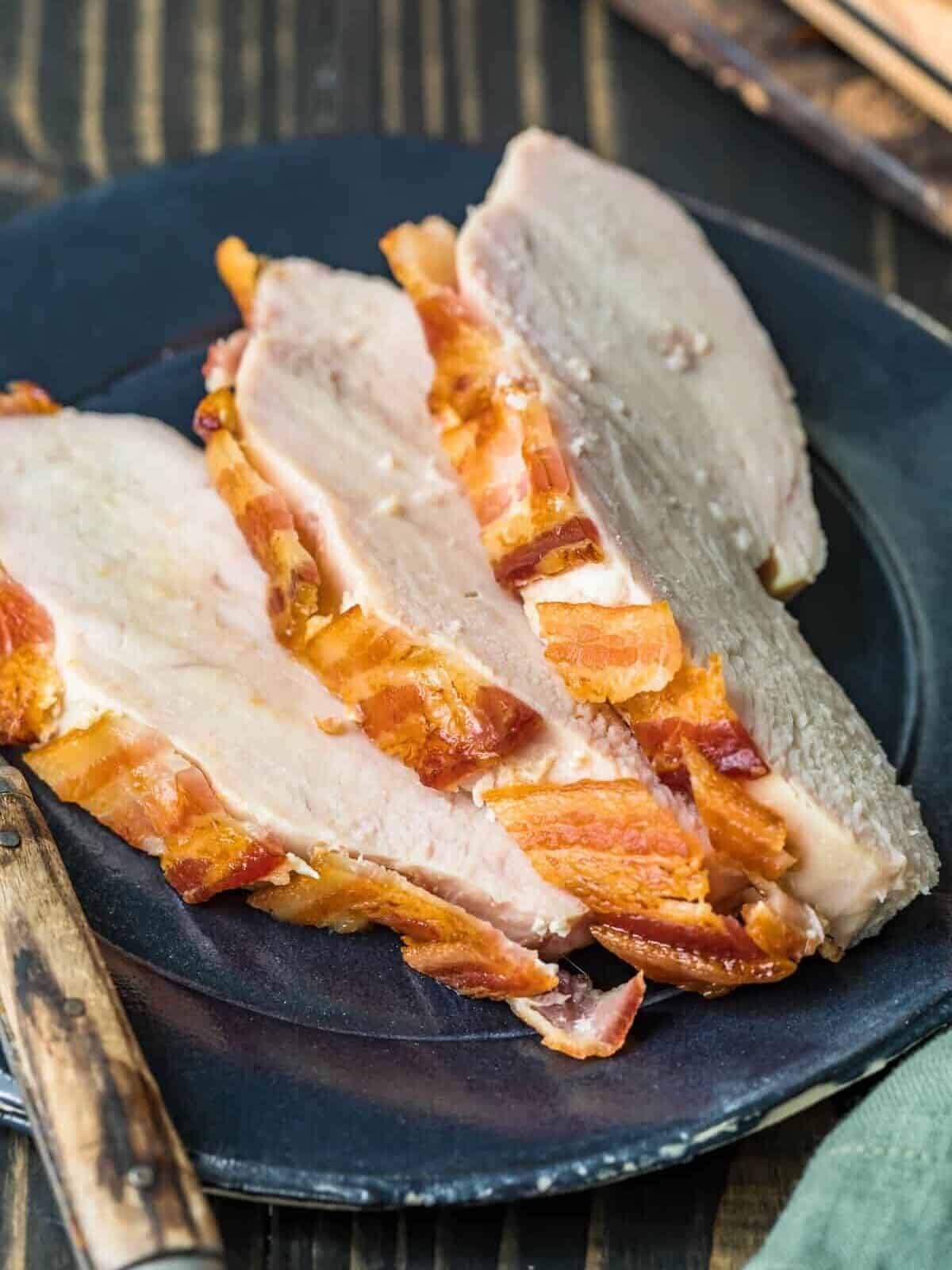 More Turkey Breast Recipes We Love
5-Star Review
"Such a TASTY recipe! In love with it, and will be making it over and over!" – Jennifer
How to Make Bacon Wrapped Turkey Breast Step by Step
Brine the Turkey: Combine 3 quarts of cold water ½ cup of kosher salt, ⅓ cup of granulated sugar, and 10 whole peppercorns in a large bowl and stir until the salt and sugar dissolve. Submerge a boneless, skinless turkey breast in the brine, cover, and refrigerate for 24 hours.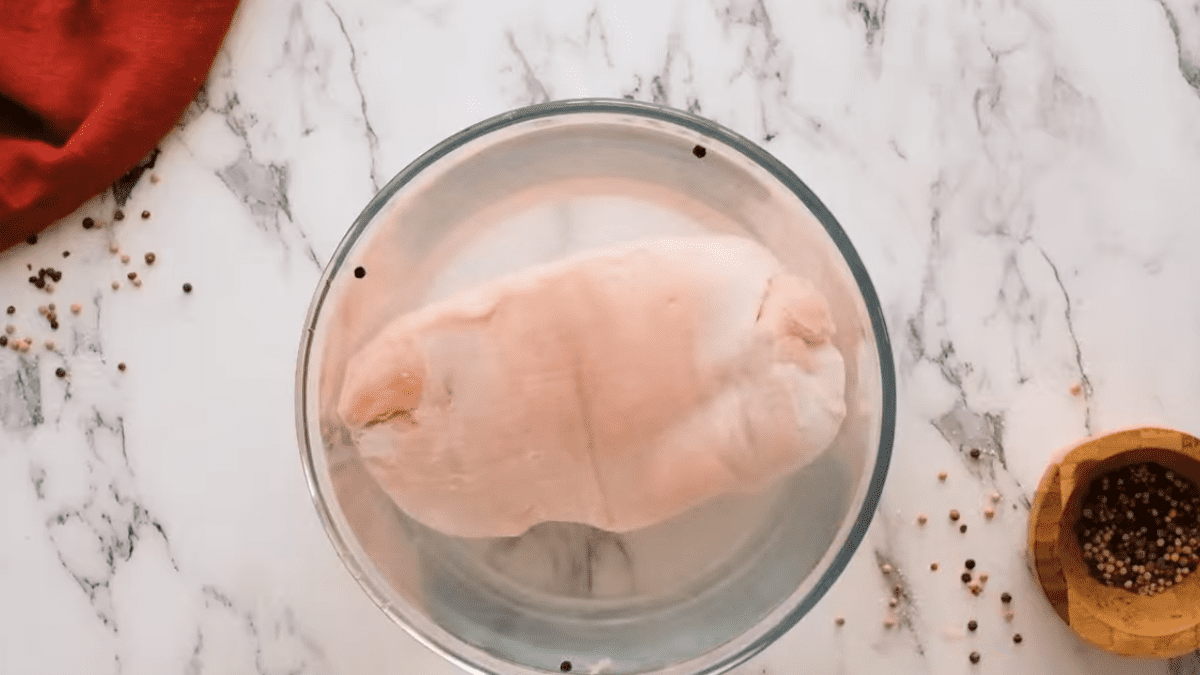 Prep the Turkey: When you're ready to cook, remove the turkey from the brine, discard the brine, and pat the turkey dry with paper towels. Set your oven to 340°F and spray a large rimmed baking sheet and a metal cooling rack with nonstick spray. Set the rack over the tray and set aside for now.
Wrap the Turkey: Set the turkey on a cutting board and wrap 10-12 slices of raw bacon around the turkey. Be sure to cover the entire exposed surface, of the turkey, and secure the bacon in-place with toothpicks.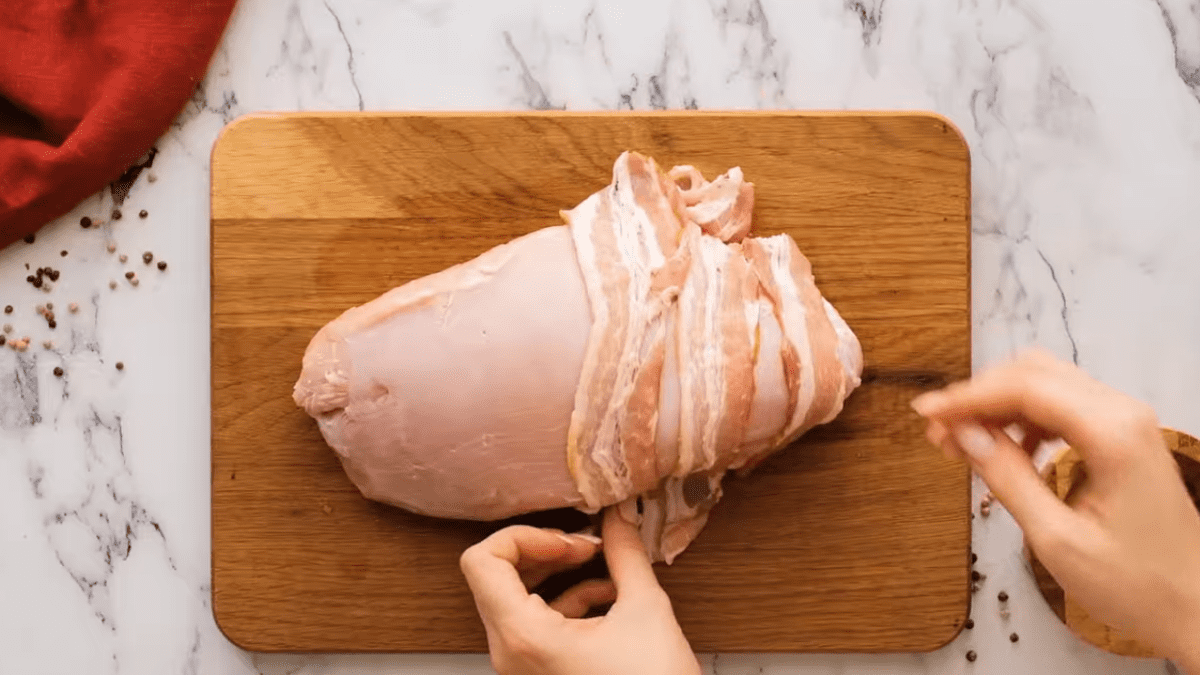 Roast the Turkey: Place the turkey on the prepared wire rack, bacon-side up. Roast the turkey in the preheated oven for 60 minutes, or until the internal temperature registers 160°F on an instant-read thermometer. If the turkey isn't fully cooked, rotate it and bake for an additional 15-30 minutes, or until it reaches temperature.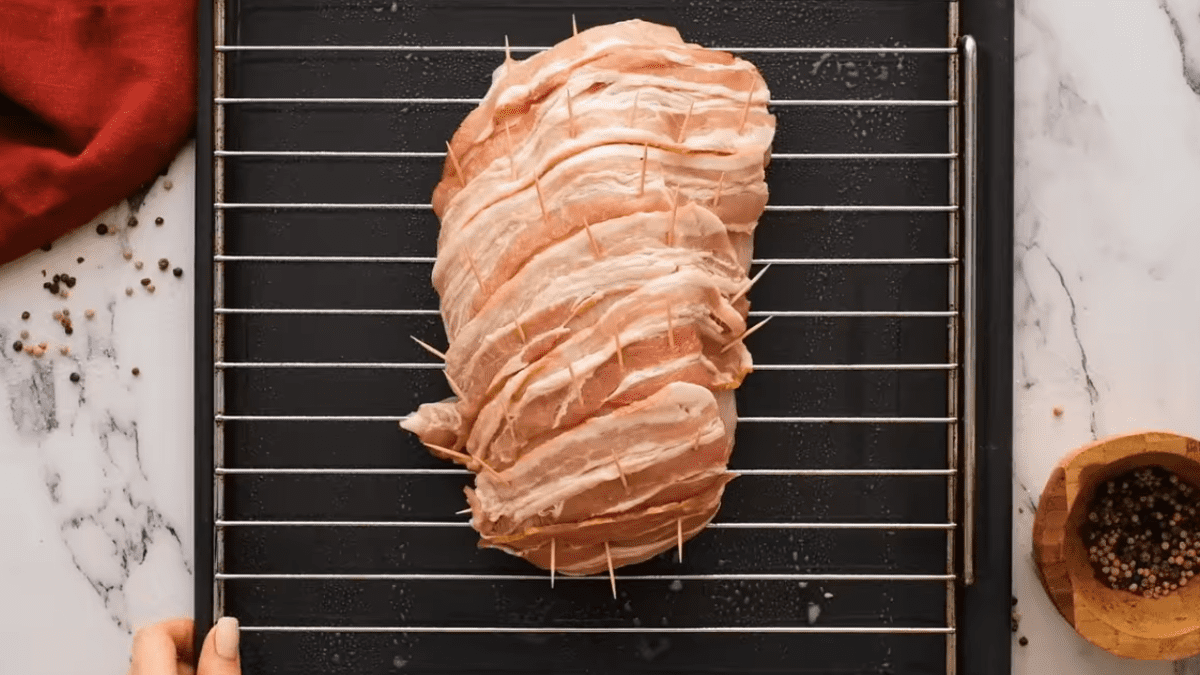 Broil the Turkey: If you'd like the bacon brown and crispy, set the oven to broil and cook just long enough to crisp the bacon. Watch carefully, as it can quickly burn.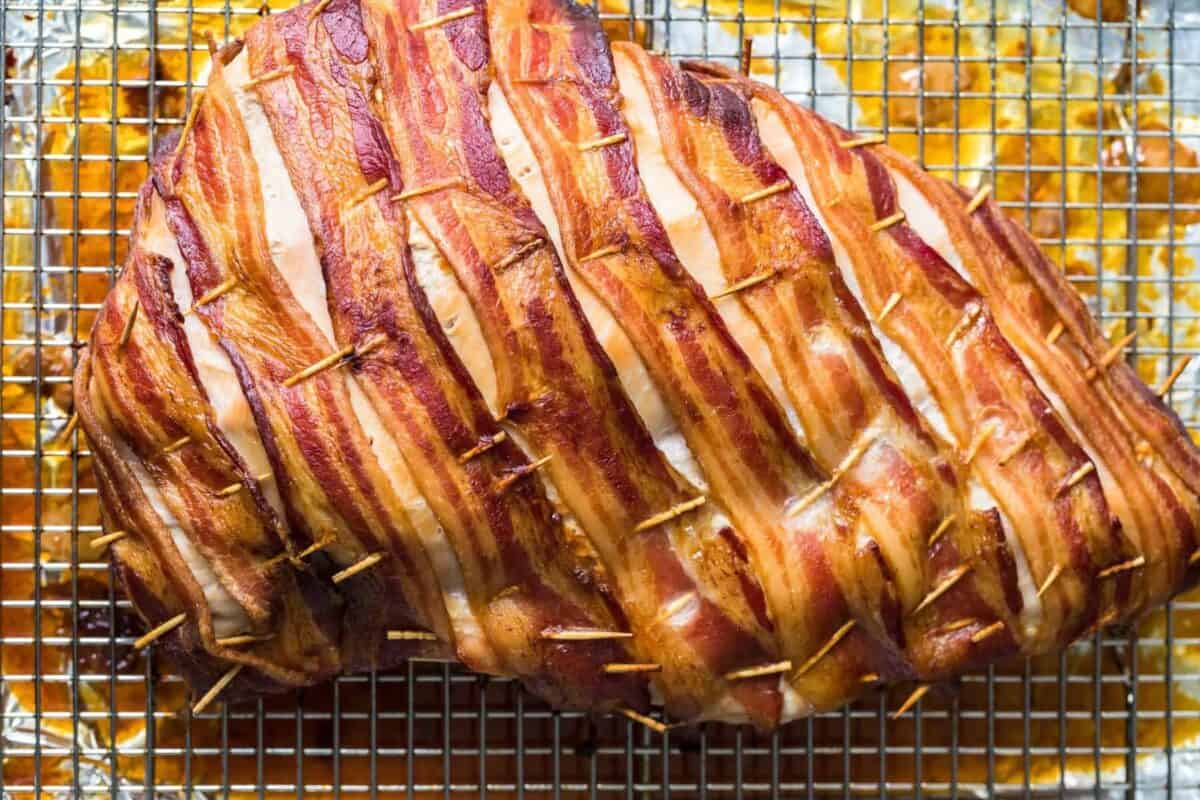 Rest and Slice: Transfer the turkey to a cooling rack and remove the toothpicks. Let it rest for 15 minutes before slicing to seal in the juices.