Bacon Wrapped Turkey Breast is the perfect centerpiece for your Thanksgiving meal. This turkey breast is perfectly cooked and wrapped in crispy bacon, making it juicy, succulent and tender. It's easy to prep and it's sure to please your guests this year!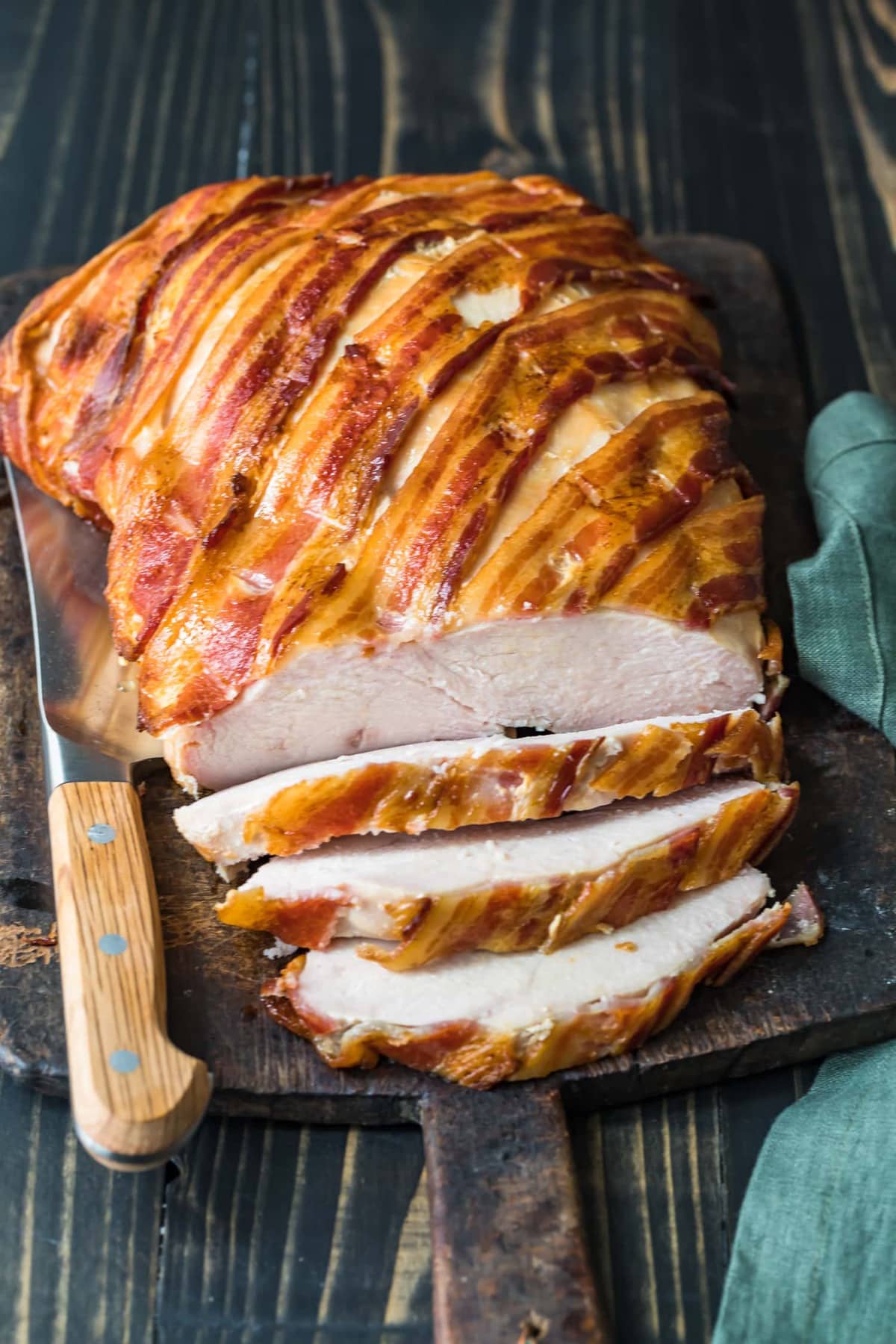 Bacon Wrapped Turkey Recipe
This bacon-wrapped turkey breast recipe is one of my favorite Thanksgiving turkey ideas. I love finding new, creative, and delicious ways to make a turkey for holidays. This one is easy to make, and so flavorful!
After all, is it even Thanksgiving if you don't have turkey? It can be a hassle to cook a whole bird, so turkey breast is a great option for smaller gatherings. And what's better than covering food in crispy bacon?
Why You'll Love this Bacon Wrapped Turkey Breast Recipe:
JUICY: This turkey breast is brined before roasting for ultimate juiciness. No dry turkey here!
COVERED IN BACON: Everything tastes better wrapped in strips of bacon.
PERFECT FOR HOLIDAYS: Shake up the holiday table (a little bit) with this creative turkey recipe. It's perfect for Thanksgiving and Christmas!
I'm kind of obsessed with wrapping things in bacon around here. Try this Bacon Wrapped Shrimp, Bacon Wrapped Asparagus, or Bacon Wrapped Pork Tenderloin. So it seemed only fitting that I'd try covering turkey breast in bacon too, and it turned out perfectly!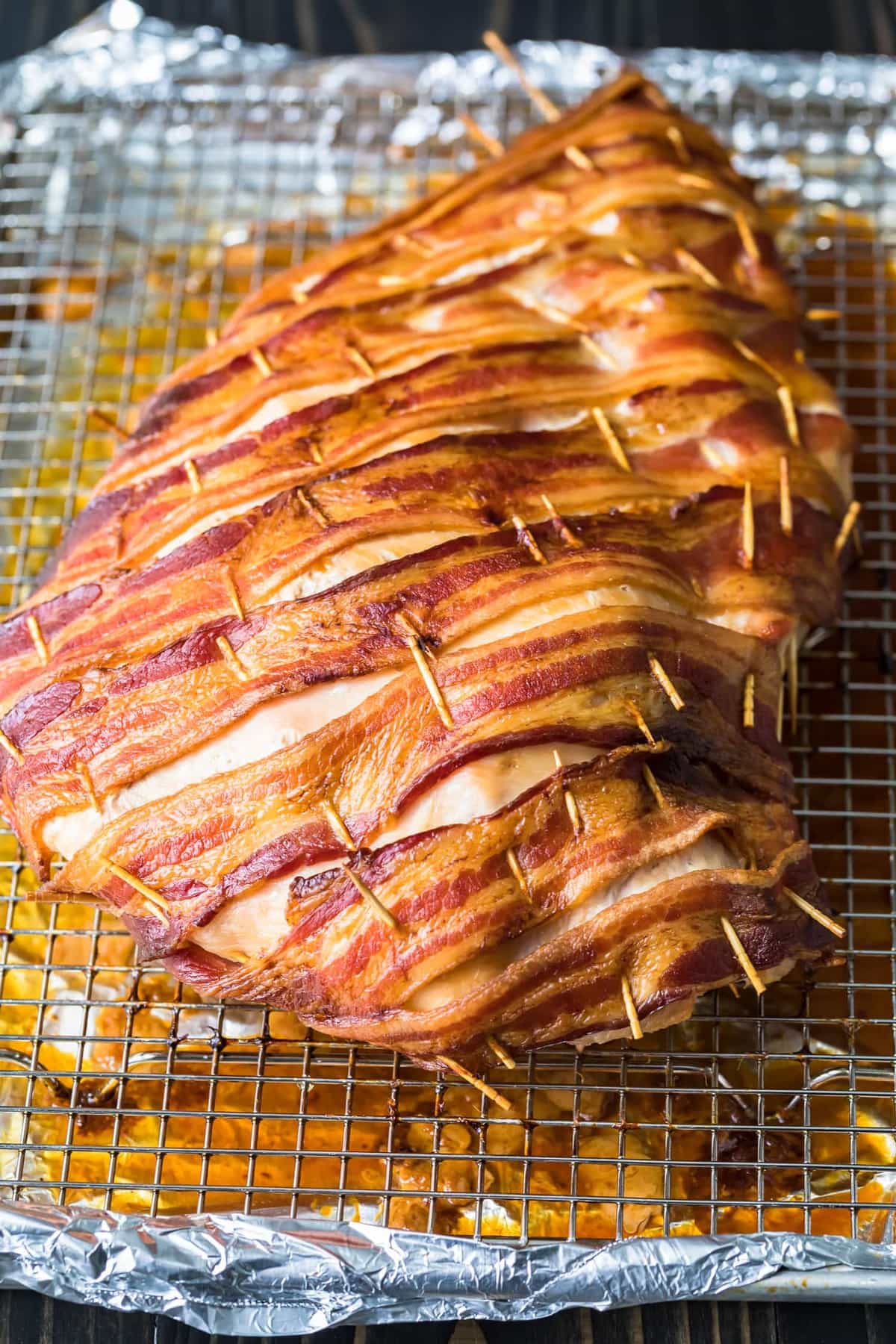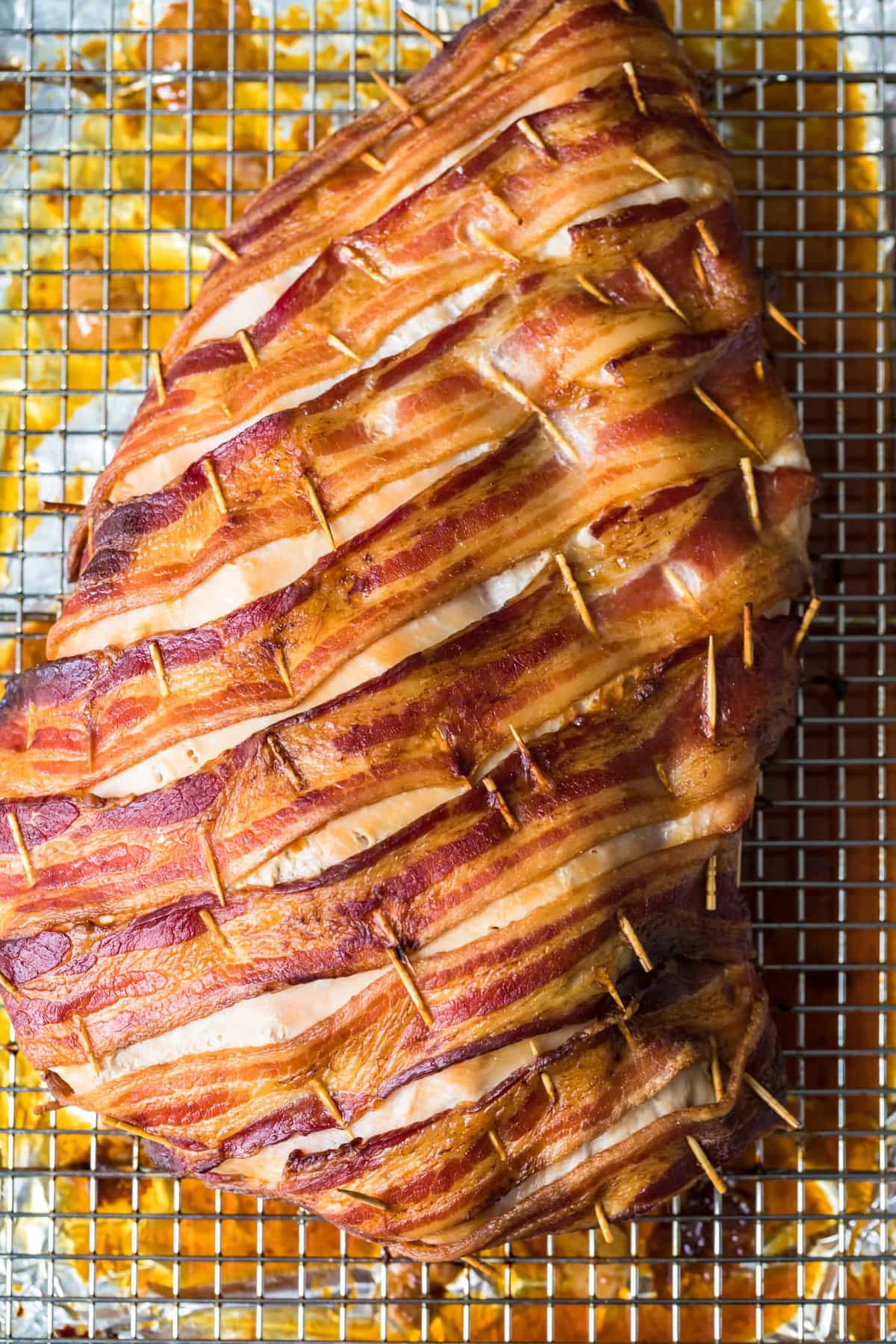 Brine Ingredients:
Cold Water
Kosher Salt
Granulated Sugar
Peppercorns (optional)
How to Brine
Note: This is the first step in the recipe. Do this BEFORE covering the turkey in bacon. You'll need 24 hours to brine, so do this the day before cooking.
Combine all ingredients in a bowl large enough to fit the turkey breast, and stir until sugar and salt are dissolved.
Fully submerge the turkey breast in the brine.
Cover bowl and refrigerate for 24 hours.
Remove turkey from the brine when ready to cook and pat it dry with paper towels.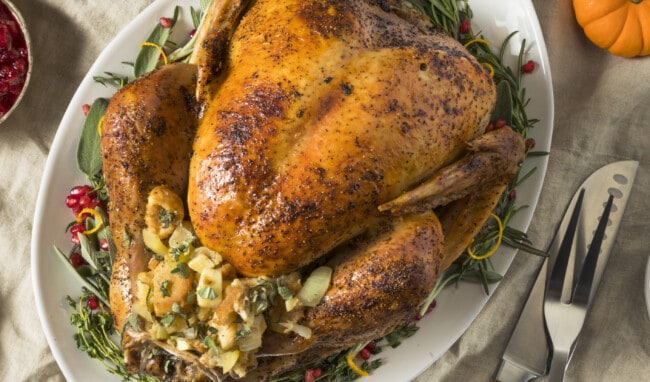 All the Tips and Tricks
How to Cook Thanksgiving Turkey!
Everything you need to know for Thanksgiving entertaining.
See Turkey Guide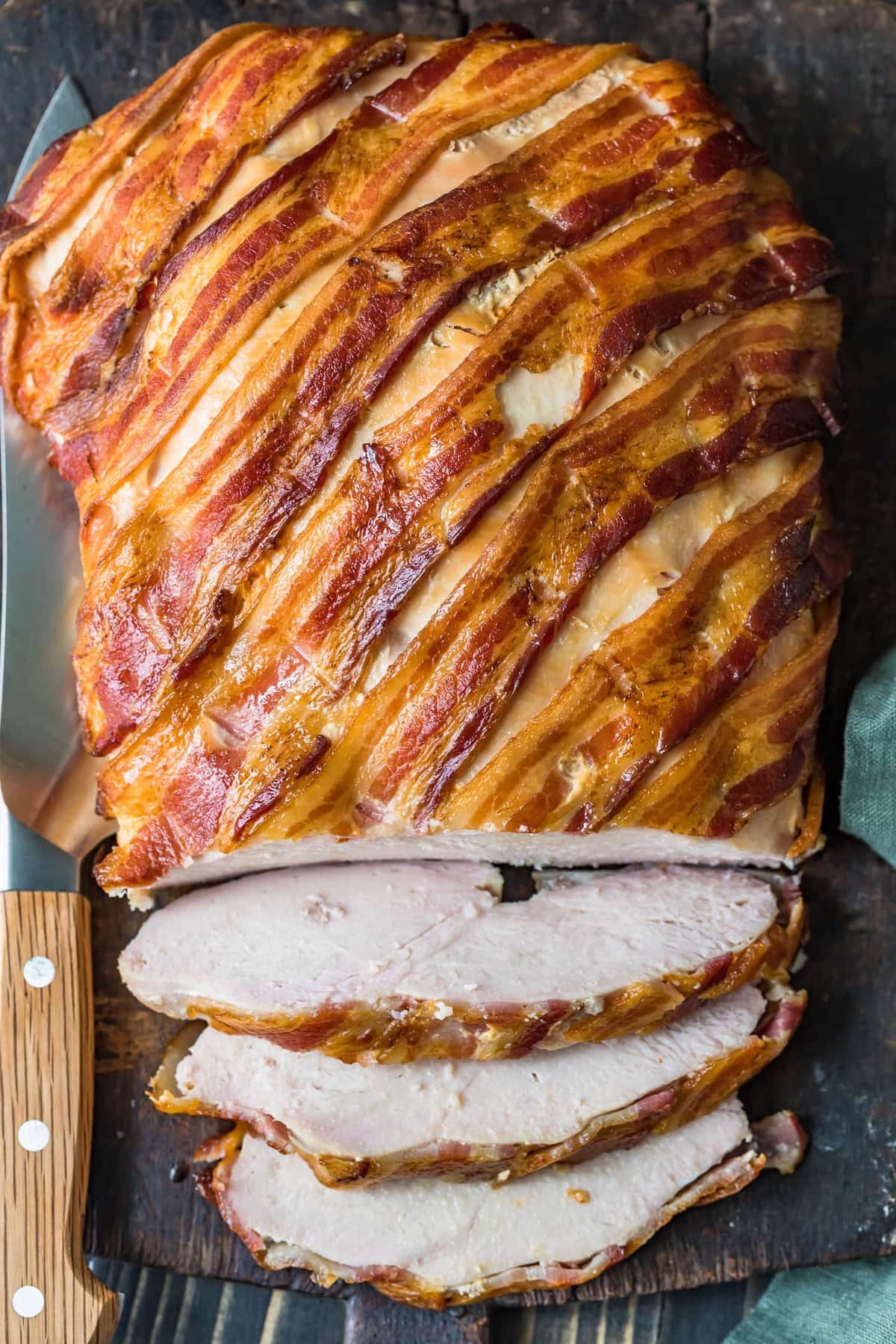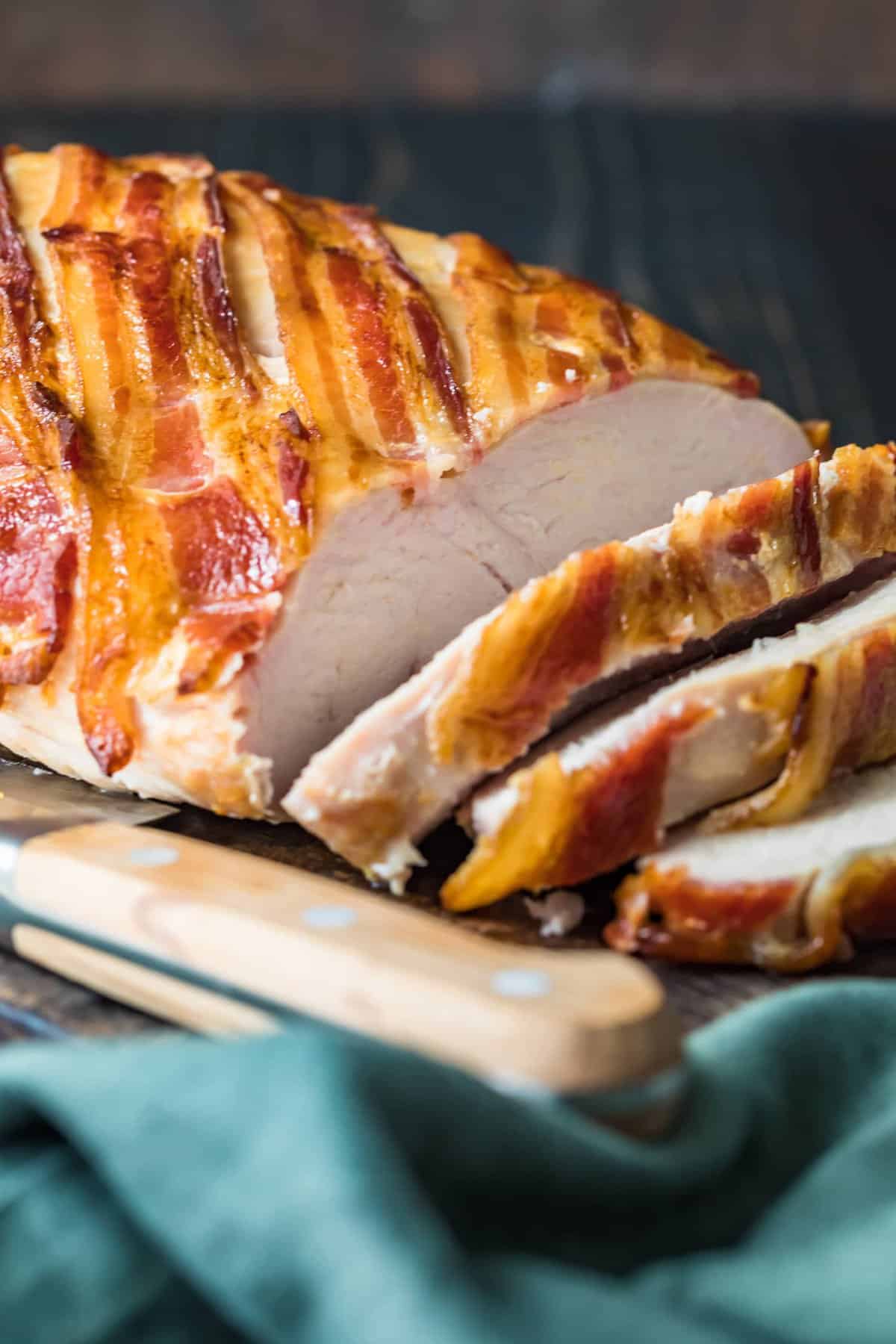 How to Make Bacon Wrapped Turkey Breast
This easy bacon-wrapped turkey recipe is such a fun Thanksgiving turkey idea, and so simple to make!
You can jump to the recipe card for full ingredients & instructions!
Brine: Start with brining the turkey (see section above for details or check the recipe card).
Wrap in Bacon: Set the turkey breast on a cutting board and wrap bacon around the turkey. *Be sure to cover the entire surface, and secure the bacon with toothpicks.
Roast: Place the turkey on the rack, bacon-side up. Then roast the turkey 60 minutes at 340°F. *Internal temperature should be 160°F.
Rest: Transfer the turkey to a cooling rack and remove the toothpicks. Let the turkey rest 15 minutes before slicing.
Tips!
Don't skip the brining! It makes such a difference. Leave it to brine for 24 hours if possible.
Be sure to cover the whole surface of the turkey with bacon.
Use an instant read thermometer to check the turkey's internal temperature (should be 160°F).
If the turkey hasn't reached 160°F, rotate it and bake an additional 15-30 minutes (or until the internal temperature reaches 160°F).
Let the turkey rest 15-30 minutes before carving and serving.
If the bacon isn't browned, set the oven to broil and cook the turkey just long enough to crisp the bacon.
Watch the video to see the step by step recipe!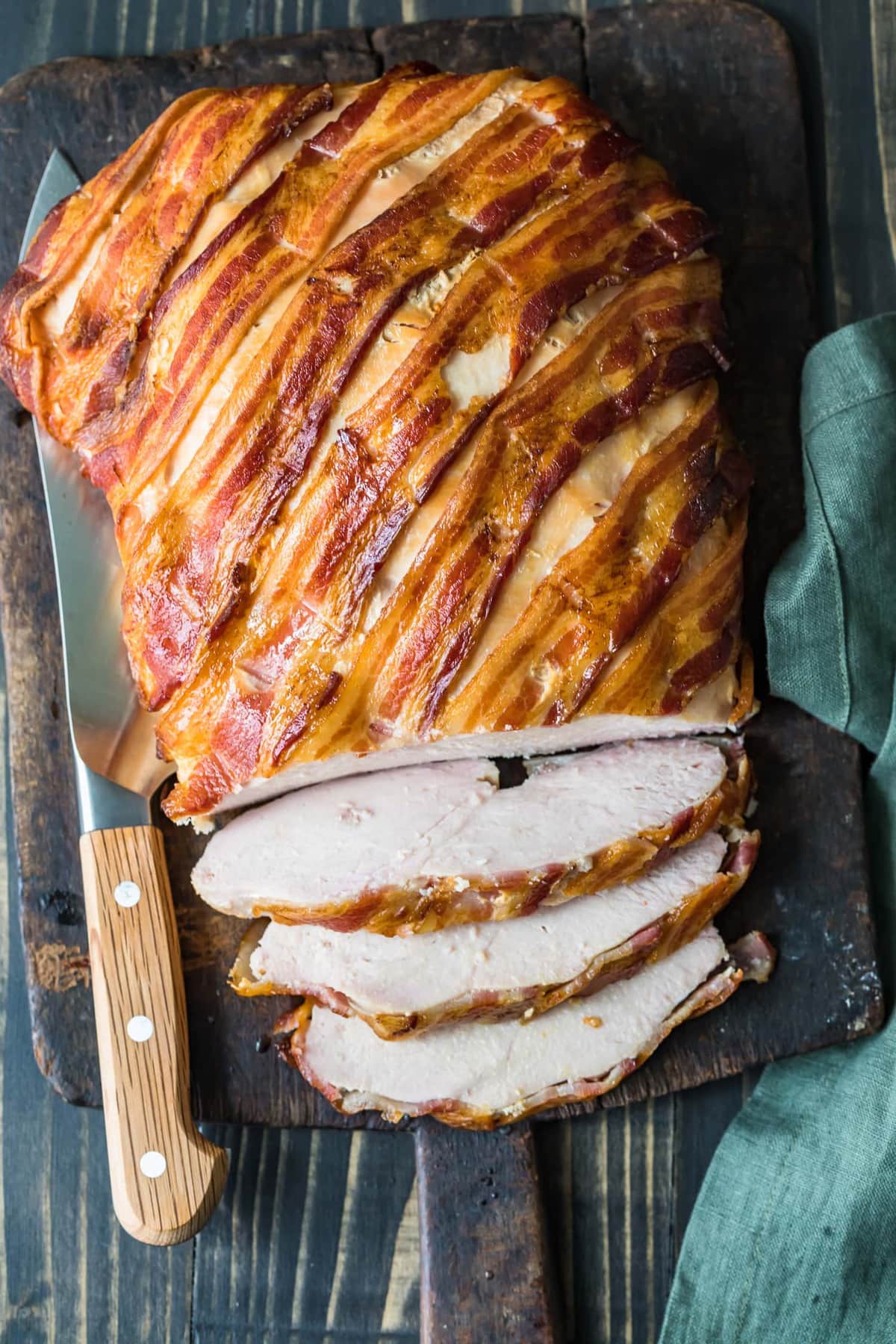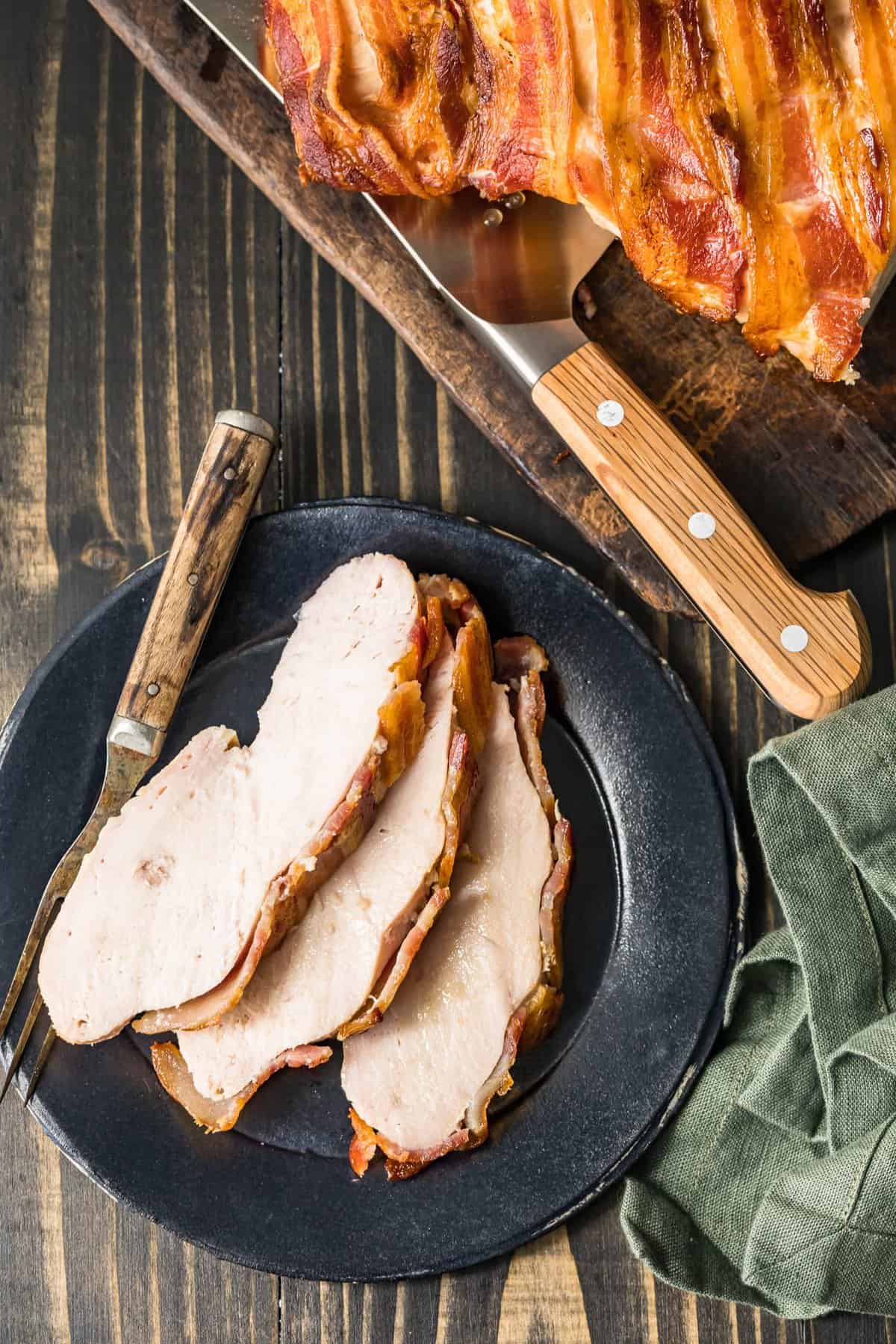 Serving Suggestions
This delicious Thanksgiving center-piece should be accompanied by all of your usual and favorite side dishes. Here are some of my favorites sides to serve with this bacon wrapped turkey!
Why serve turkey breast at Thanksgiving?
It can be a hassle cooking a whole turkey on Thanksgiving. Timing is everything and it can be really easy to under- or over-cook parts of it. A turkey breast cooks much more evenly and it's a great option if you don't have a big crowd to cater for.
Should I use fresh or frozen turkey breast?
Generally speaking, there is no quality difference between fresh or frozen turkey breast. Just remember to allow enough time for your turkey to thaw before brining it.
Why do you put bacon on turkey?
Besides the fact that it's delicious, the layer of bacon actually helps to keep the turkey moist while roasting in the oven. It's like an extra layer of protection for extra juiciness!
How long does it take to cook a 3 pound turkey breast?
This recipe requires about 60-90 minutes of cooking time in the oven.
How do you wrap the turkey with bacon?
This process is actually really easy with turkey breast (much easier than covering a whole turkey). Place turkey on a cutting board, and just wrap the strips of bacon all the way around it (or as much as you can), one right next to the other. Use toothpicks to secure the bacon directly into the turkey.
Should I roast turkey breast covered or uncovered?
There's no need to cover it with this recipe.
Can I cover it with bacon ahead of time?
You certainly can if you prefer. Wrap it then keep it refrigerated until it's time to cook. However, keep in mind that you'll be brining it first, and that requires up to 24 hours ahead of time as well. But if you are prepared a couple days before cooking, then you certainly can wrap it the night before.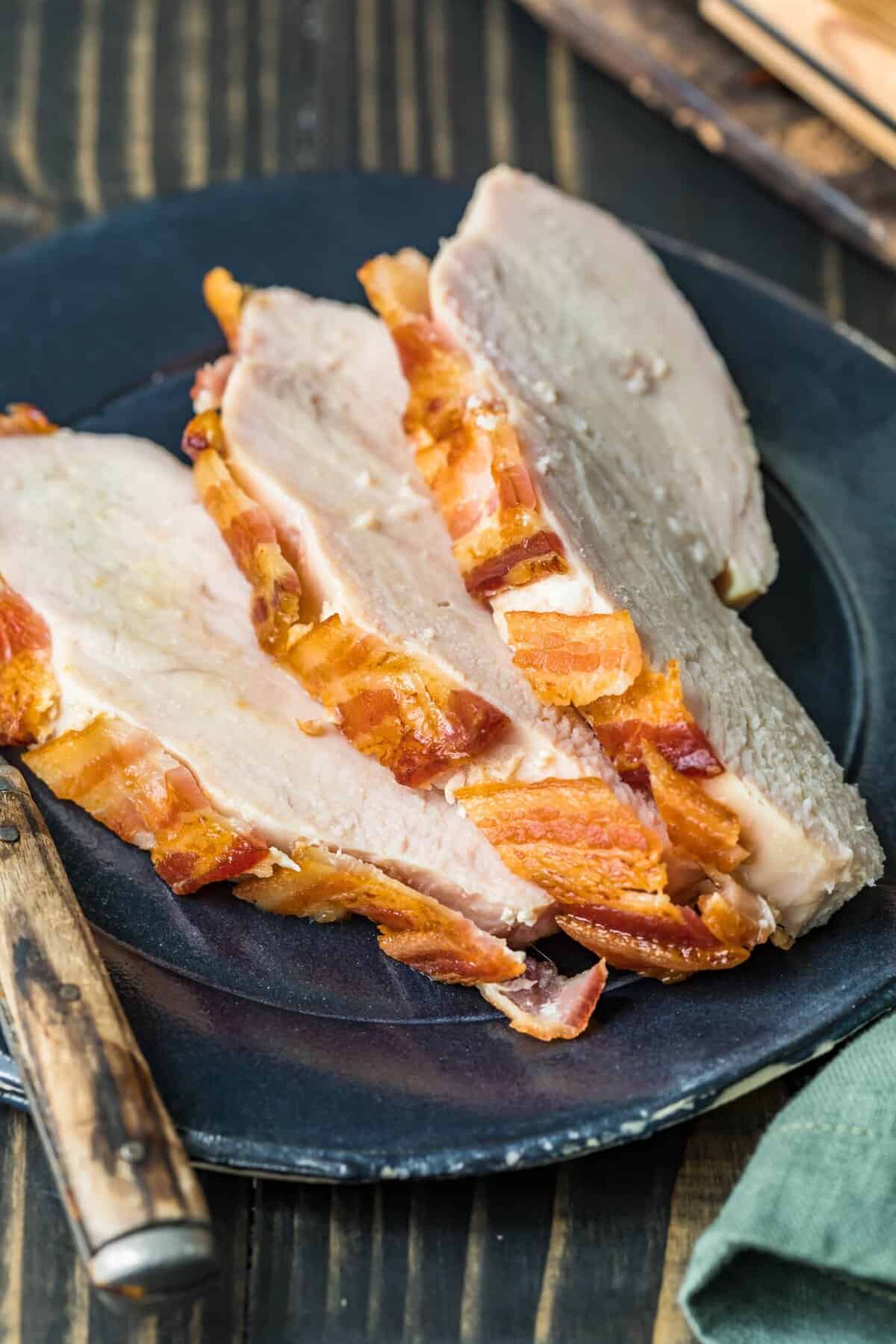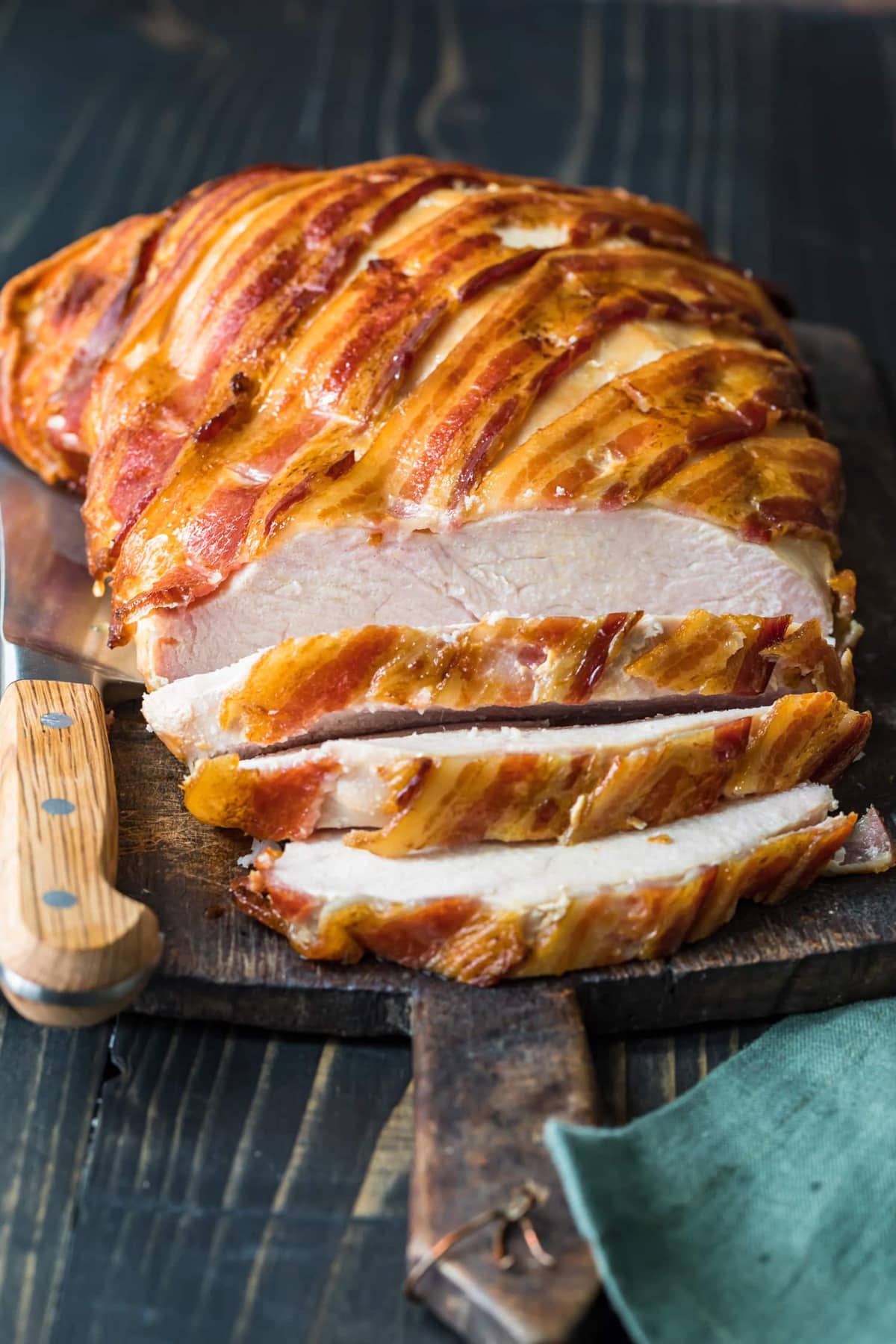 This oven-roasted, bacon-wrapped turkey breast will be everyone's new favorite holiday recipe. Served with plenty of sides, it'll make the perfect feast!
If turkey breast covered in bacon isn't the right recipe for you, don't worry. There are plenty more creative and traditional turkey ideas for you to try, no matter which cooking method you prefer.
More Thanksgiving Ideas
Whether you need more help with the turkey, some dessert ideas, or more side dishes to fill the table, we've got you covered!
Thanksgiving Recipes
If you make this recipe be sure to upload a photo in the comment section below or leave a rating. Enjoy! You can also jump to recipe.