If you are hosting a crowd this Thanksgiving, then you have to try this Crockpot Green Bean Casserole! Simple and quick to prep, the slow cooker does all of the hard work leaving your hands free to cook up the rest of the meal.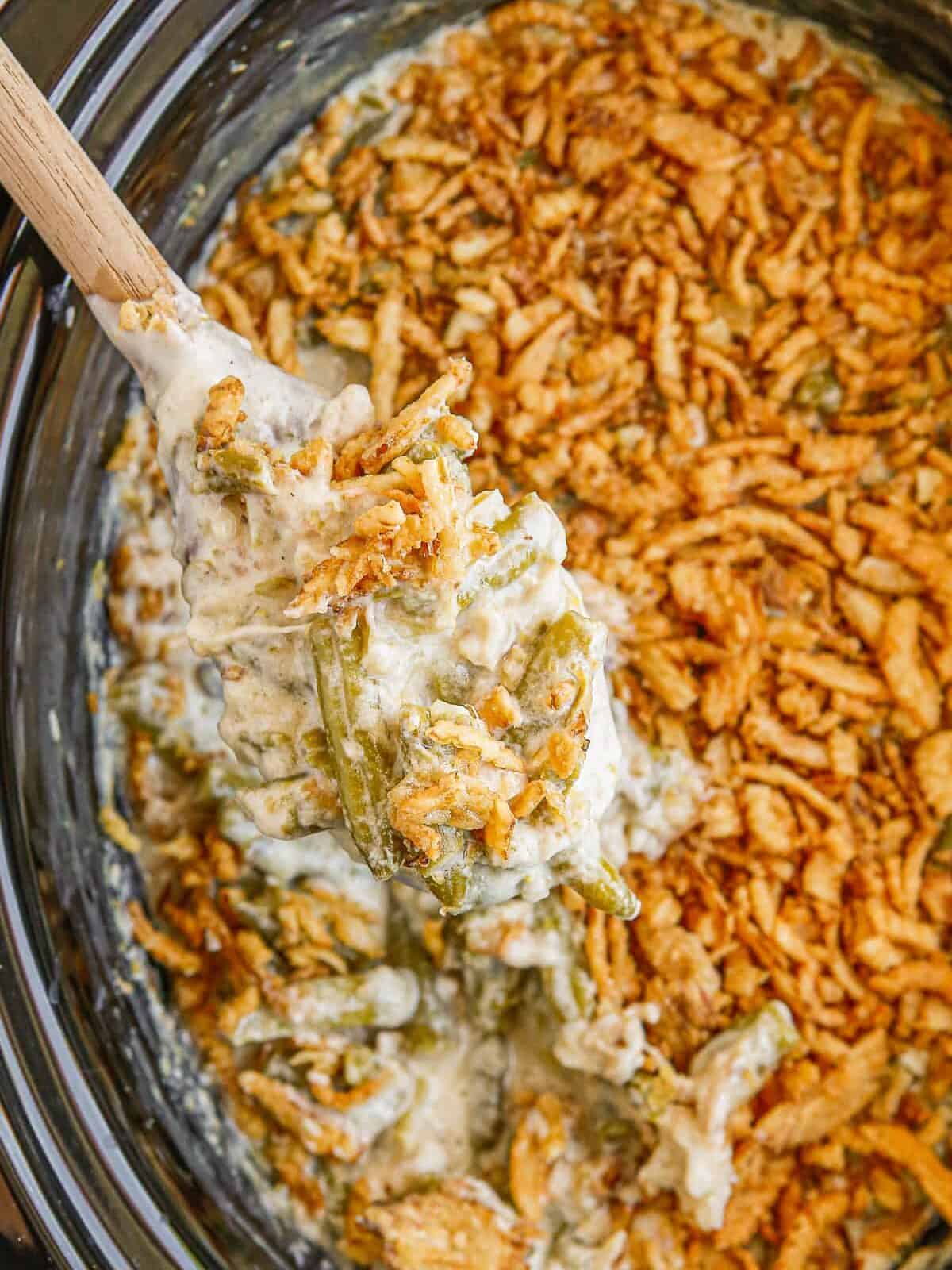 What's in Slow Cooker Green Bean Casserole?
Made with mushroom soup, it's creamy and cheesy, and topped off with those crunchy fried onions. This is one side dish that everyone will want the recipe for!
Green Beans: Canned green beans work best for this recipe, but you can use fresh if you prefer a bit more snap.
Cream of Mushroom Soup: Infuses these green beans with so much rich umami flavor.
Milk: Makes these green beans super creamy.
Sour Cream: Adds richness and a tangy flavor.
Seasonings: Garlic powder, salt, and pepper enhance the natural flavor of the green beans.
Parmesan Cheese: Adds a bit of umami tanginess to the dish.
French Fried Onions: Add that perfect casserole crunch!
Pro Tip: For non-mushroom lovers, swap the cream of mushroom with condensed cream of chicken soup.
Variations on Green Bean Casserole in the Crockpot
There are lots of ways to jazz up this delicious casserole. Try adding crumbled cooked bacon and sautéed mushrooms for an even richer flavor. Or add some shredded cheddar cheese for an extra cheesy flavor. For a spicy casserole, add diced jalapeños or use crispy fried jalapeños in place of the onions.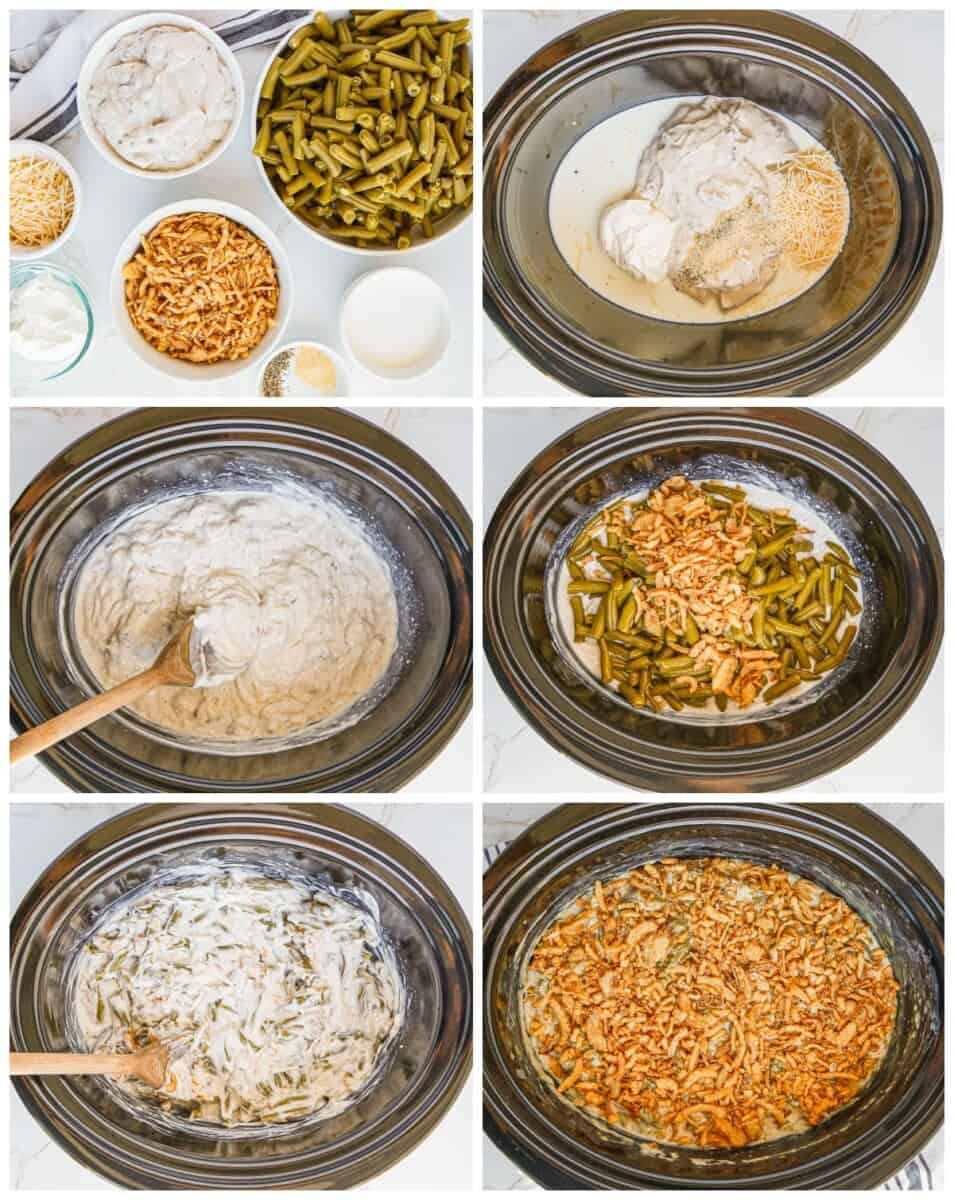 What are the best beans to use in green bean casserole?
I make this casserole with canned green beans as they don't require any prep, just drain them and they are ready to use. You can use fresh green beans if you prefer, just rinse and trim them first. Frozen green beans would need to be defrosted and drained to get rid of any excess water.
Can I substitute heavy cream for milk in green bean casserole?
Sure! You can use heavy cream or half-and-half for a richer, creamier casserole.
How do you keep green bean casserole from getting mushy?
Make sure not to overcook the casserole, since the green beans have already been cooked.
Why is my green bean casserole so watery?
I've designed this recipe to yield a perfectly creamy casserole, but you may have a different crockpot or different kitchen conditions. If your casserole seems water, try adding a thickener like flour or cornstarch and continue cooking it for a bit longer.
Can green bean casserole be made ahead and reheated?
Yes! You can prep the dish the night before and keep covered and refrigerated til ready to cook. Add an additional 30 minutes on to the cooking time if you do this.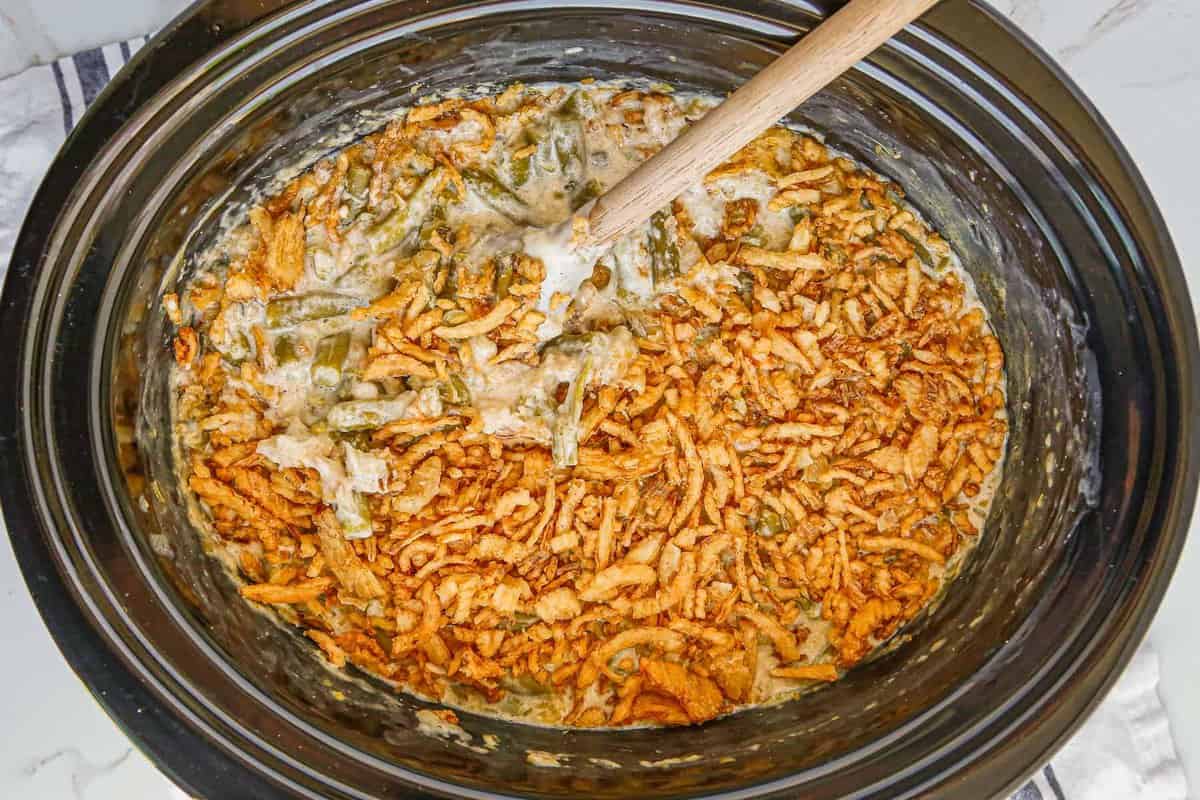 How to Store and Reheat
Leftovers are the best thing about Thanksgiving! Place them in an airtight container and they will keep well in the fridge for up to 5 days. They are easily reheated over medium-low on the stovetop to serve.
How to Freeze
Freeze crockpot green bean casserole in an airtight container for up to 3 months. Let thaw overnight in the refrigerator before reheating. I recommend adding more crispy onions after reheating the casserole, as the frozen and defrosted ones will turn mushy.
Serving Suggestions
Green bean casserole pairs so well with Thanksgiving favorites, like my favorite easy Thanksgiving turkey and gravy, candied sweet potatoes, honey glazed carrots, make ahead mashed potatoes, roasted Brussels sprouts, loaded mac and cheese, vegetarian stuffing, creamed corn, cheesy roasted broccoli, and cranberry sauce.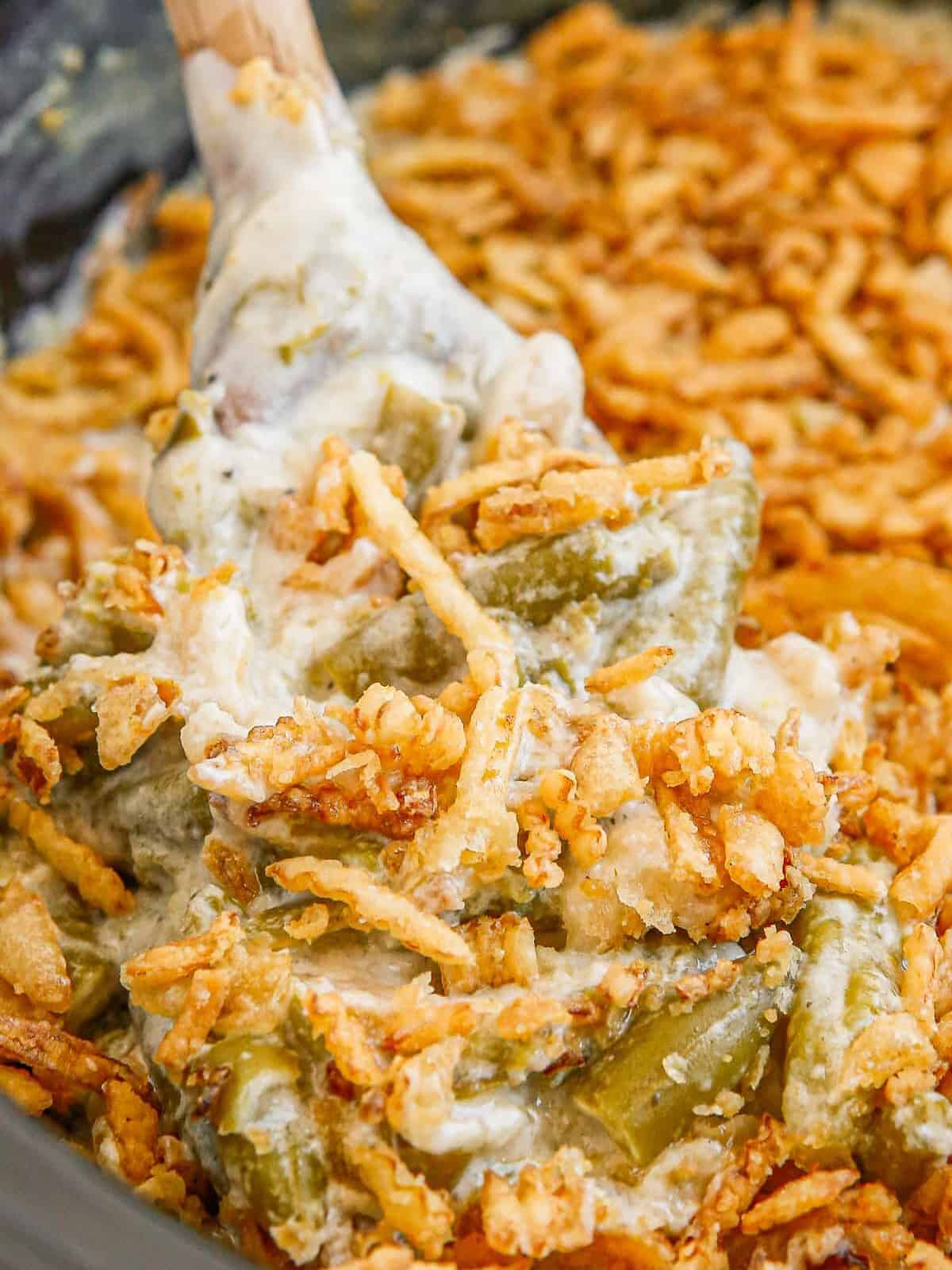 More Green Bean Casserole Recipes We Love